The Watercooled 512GB T-FORCE CARDEA Liquid M.2 PCIe SSD Review – Form Over Function?
The T-FORCE CARDEA Liquid stands out from other M.2 form factor SSDs (Solid State Drives) by using a clear cover that holds a colored liquid acting as an attractive and unique type of heatsink. Boasting fast M.2 SSD speeds, the CARDEA Liquid SSD is designed to be the focus of a PC that is meant to be displayed.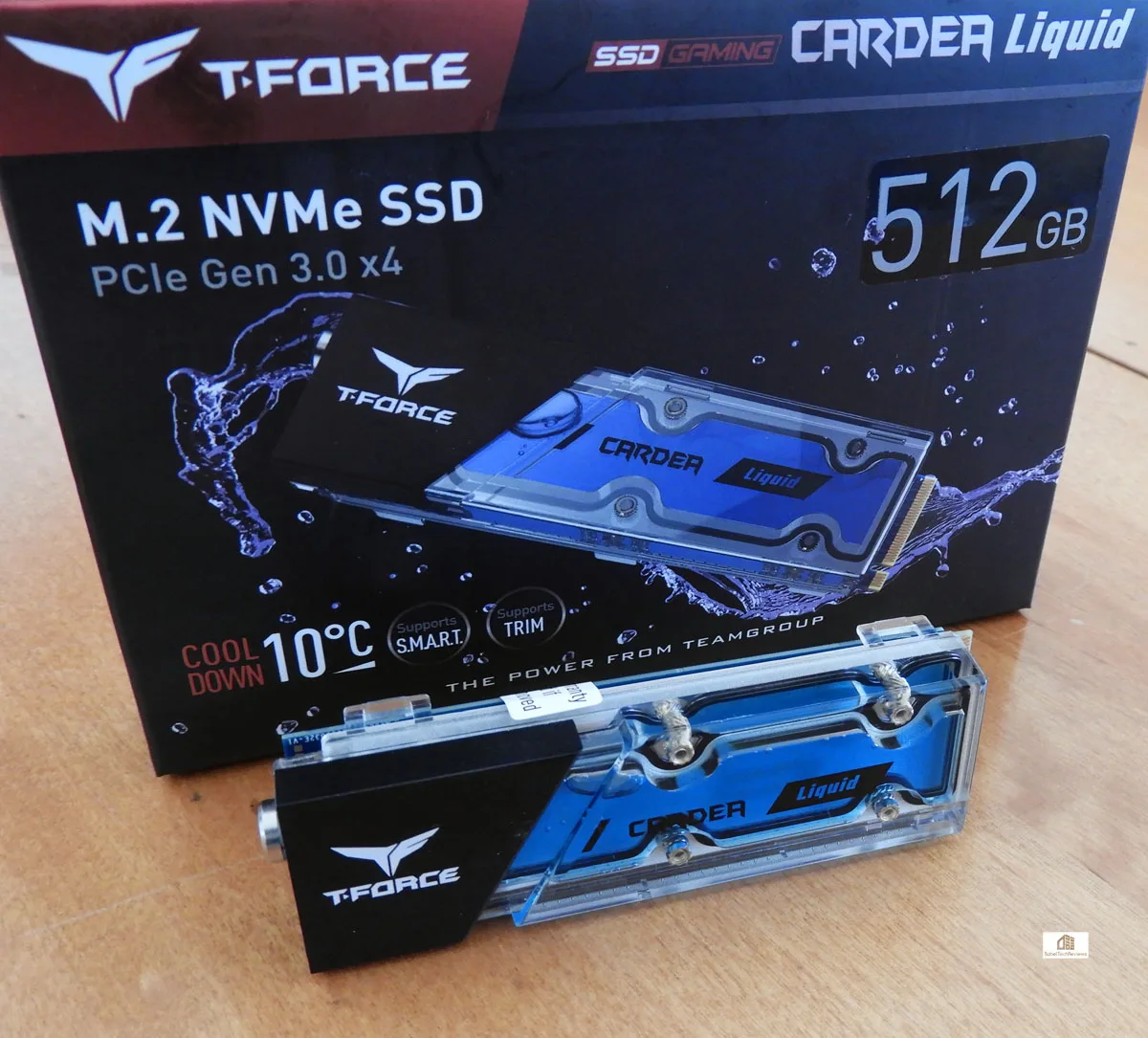 [UPDATED at 6 AM PT on 01/30/20. MSRP of the 512GB version is $100.90 and $169.99 for the 1TB version.] Currently, the 512GB version we are reviewing is unavailable anywhere we looked and our review sample came directly from Team Group. We will focus on the CARDEA Liquid SSD performance to see if it can match its eye-pleasing design by comparing it with six other drives. Three of the drives are 500GB SATA III based SSDs, one is a portable 240GB USB 3.1 SSD, one is a 2TB solid state hard drive, and the fastest in BTR's library until now is the 480GB Kingston A-1000 NVMe M.2 SSD.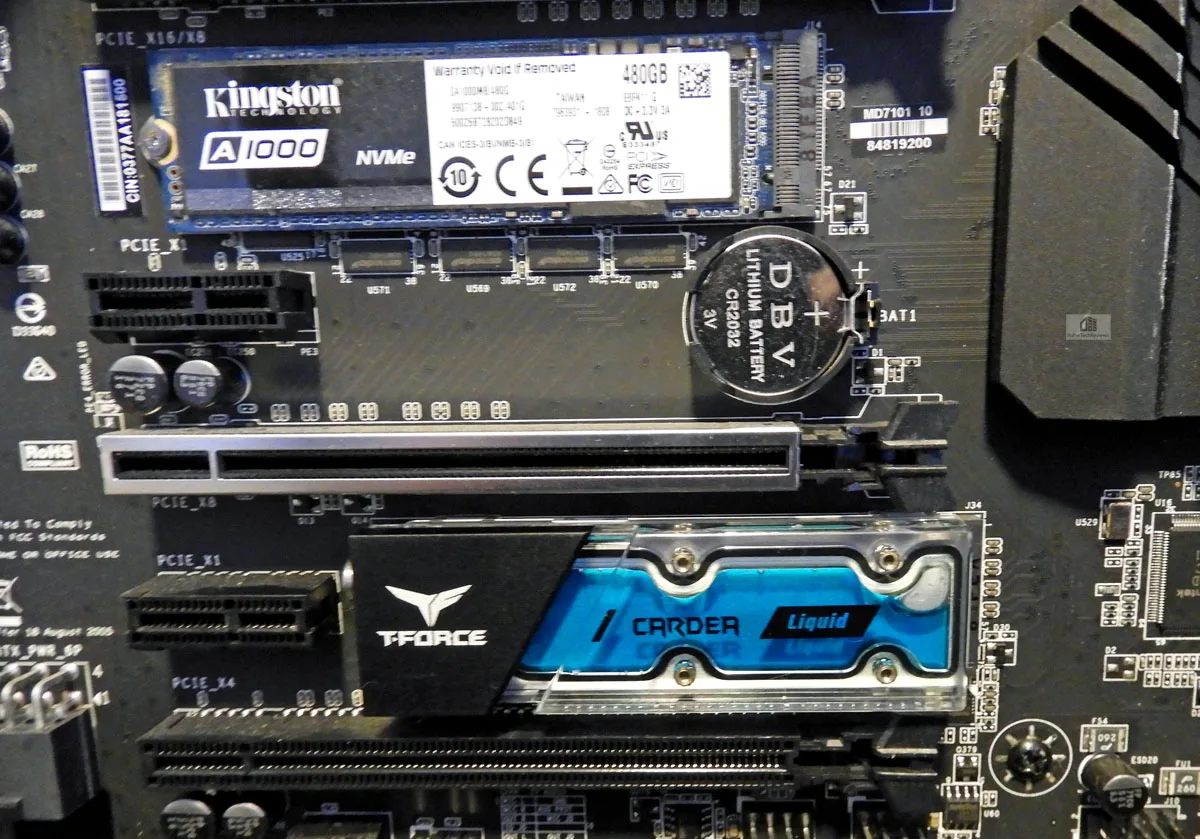 BTR uses two identical 480GB Team Group L5 LTE SATA III SSDs as boot drives – one for AMD and one for NVIDIA – together with a 1.92 TB SanDisk SATA III SSD and a 2 TB Micron 1100 SATA III SSD for our primary game storage. In addition, we also use a T-FORCE Vulcan SATA 500GB SATA III SSD for additional storage whereas previously we used a 2TB Seagate FireCuda Solid State Hard Drive (SSHD) for additional storage.
BTR's test setup uses Windows 10 64-bit, featuring an Intel Core i7-8700K overclocked to 4.8GHz for all cores as set in the EVGA Z370 FTW motherboard's BIOS, and 16 GB of T-FORCE XTREEM DDR4 at 3866MHz. The settings and hardware are identical except for the four drives being tested, and the graphics are powered by a RTX 2060 SUPER Founders Edition (FE). BTR's October review of the PD400 GB SSD and January review of the DELTA MAX SSD were set up using the same drivers and conditions, so we will reuse those results for this evaluation.
We benchmark with all of our drives at less than 90% capacity, and in addition, all of the drives have been in use for months except for the CARDEA Liquid SSD which has been "dirtied" using IOmeter as well as being used for storage, so our testing tends to give more real world performance results.
Here are the features and specifications of the T-FORCE CARDEA LIQUID SSD taken directly from the T-FORCE website.
FEATURES
World's first water cooling M.2 solid state drive.
Superior performance – read speed up to 3400 MB/s[1] which can improve the speed and performance of the overall system.
Support latest NVMe1.3 protocol.
Support S.M.A.R.T./TRIM technology – monitoring hard drive status efficiently and bring out its best performance.
Structure design is a combination of craftsmanship and fashion.
Specifications
Details and specifications can be found on the Team Group website.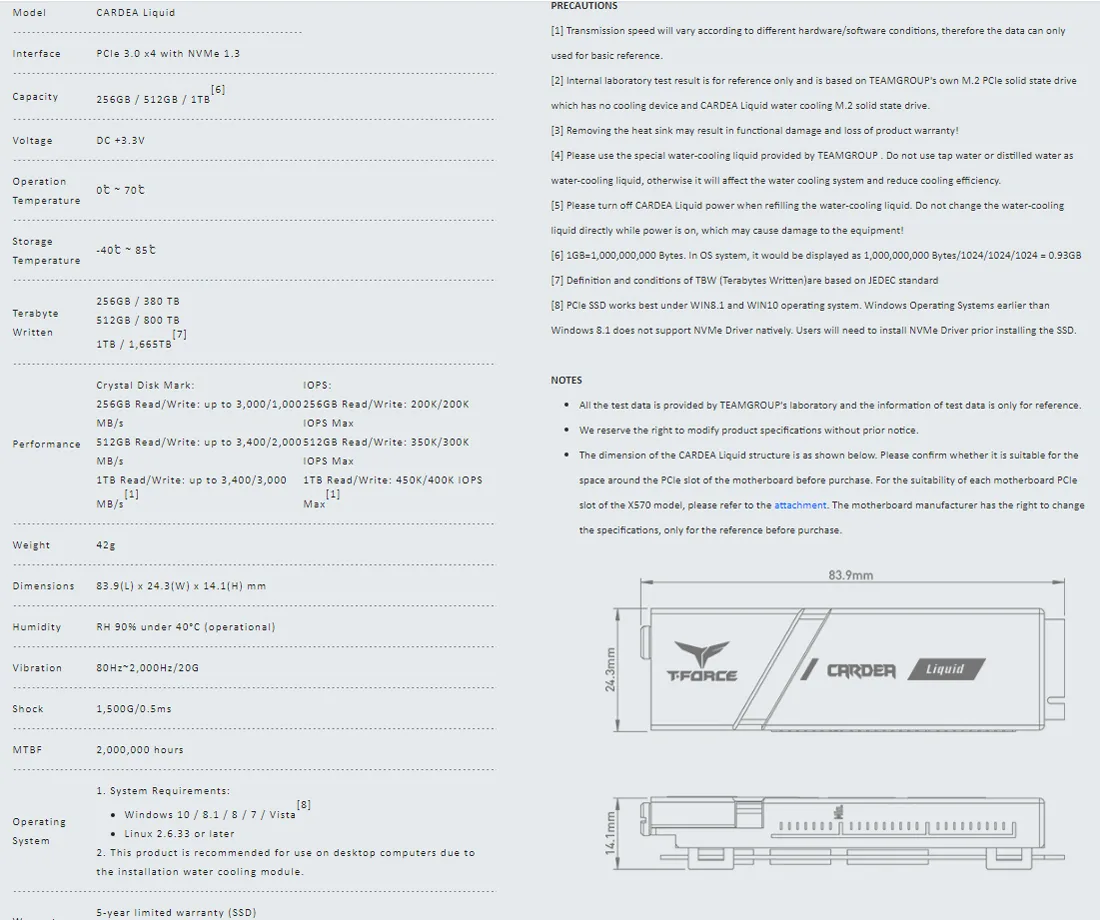 The key highlight is that the CARDEA Liquid M.2 PCIe SSD is very good-looking when it is displayed as a focus of a well thought-out PC built for display. Besides good-looking, it is fast, durable, uses little power, and it is backed by Team Group's 5-year warranty. Please note that the heatsink is only warrantied for 1 year.
Next we unbox the T-FORCE CARDEA Liquid SSD.
Unboxing
The T-FORCE CARDEA Liquid 512GB M.2 NVMe SSD comes in a small box that claims a "10C cool down" as well as supporting S.M.A.R.T. and TRIM.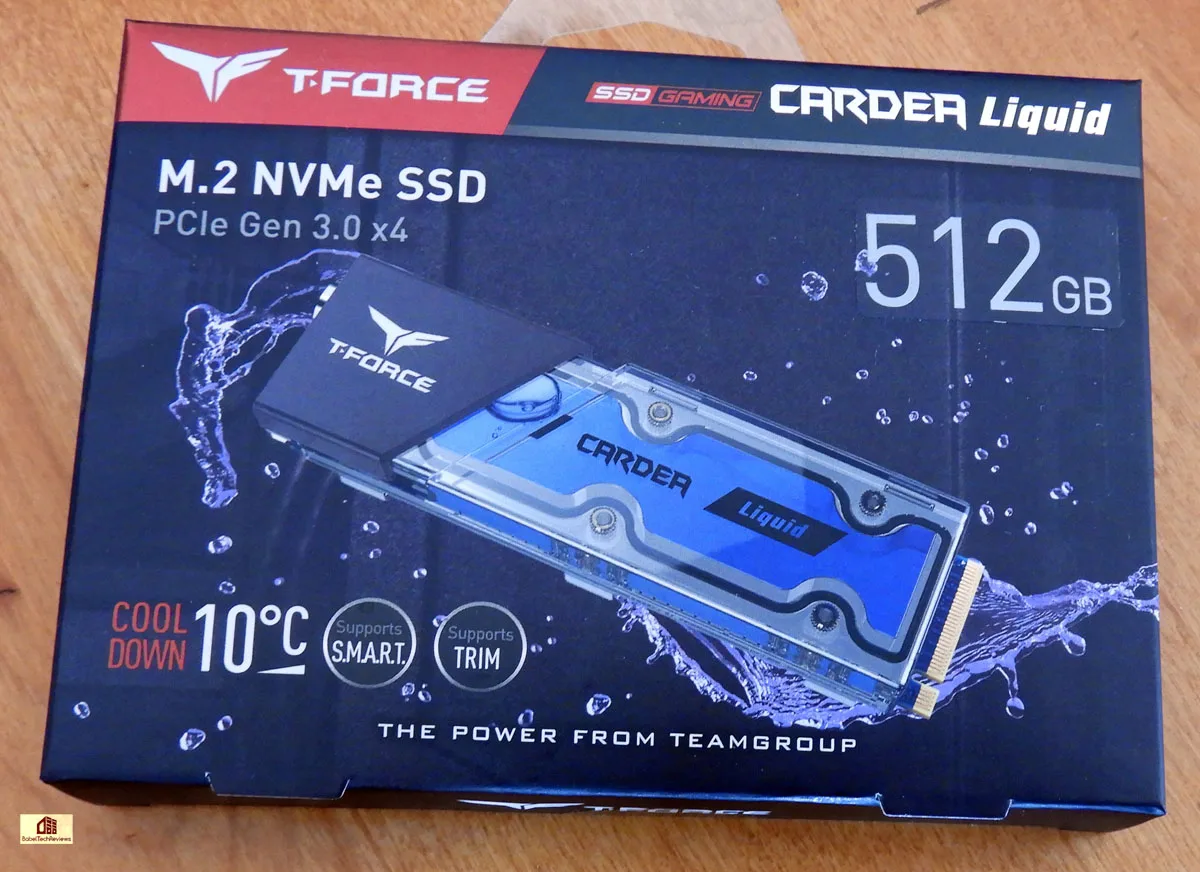 The other side of the box gives some specifications that show it is certainly fast but not blazing fast for a NVMe M.2 PCIe SSD. It quotes Crystal Disk Mark that we also confirmed as having Read speeds up to 3,400MB/s and 2000MB/s Write speeds. We note a 5-year warranty on the SSD but only 1 year on the heatsink.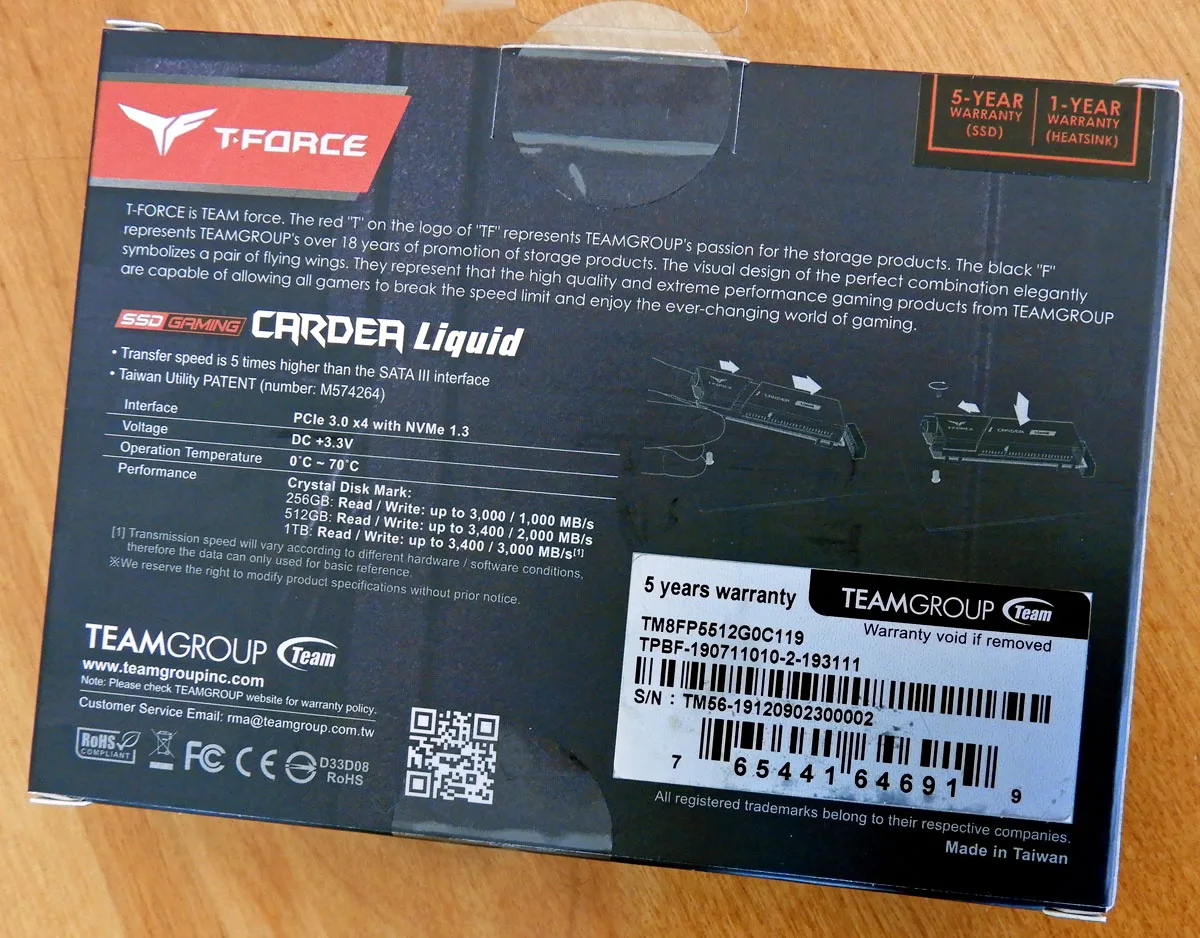 The SSD arrives well packaged with a user manual, a badge, and a liquid coolant refill kit.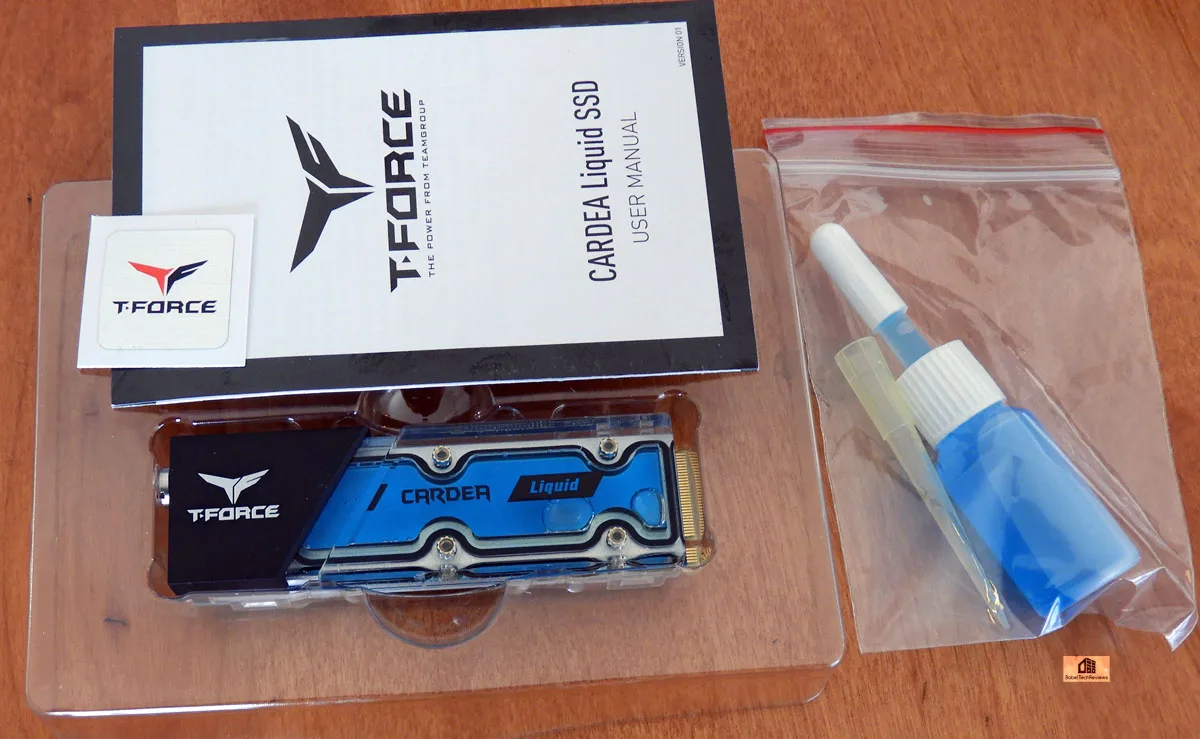 Here is a closer look at the T-FORCE CARDEA Liquid SSD which looks great with an all-blue inner surface due to the colored cooling liquid contrasted with the stylized T-FORCE logo in white on a sliding black metal cap.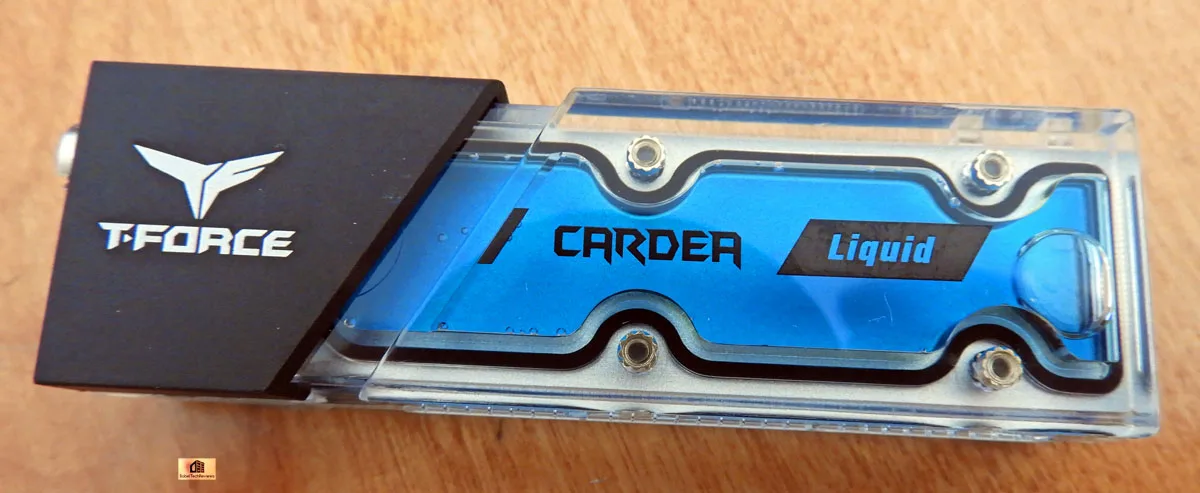 The CARDEA Liquid's obverse features the PCB covered by the 5-year warranty sticker. The "Warranty Void if Removed" sticker tends to tear quite easily when installing the SSD into the M.2 slot.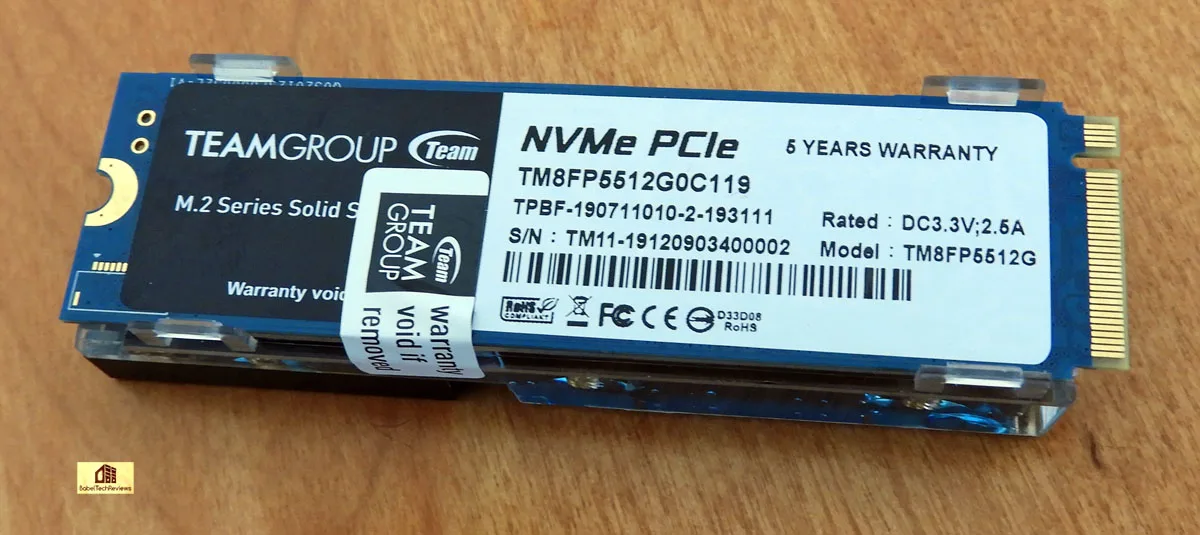 You can gauge the amount of water in the reservoir by looking at the edge.

The cap slides to expose the screw covering the inlet. Eventually, a user will have to add liquid and Team Group recommends against using tap or distilled water. They also say that mineral oils should not be used. They offer a kit to change the color of your CARDEA Liquid SSD by simply changing to a different colored fluid. We will cover this kit in a short follow-up review after we receive it from Team Group.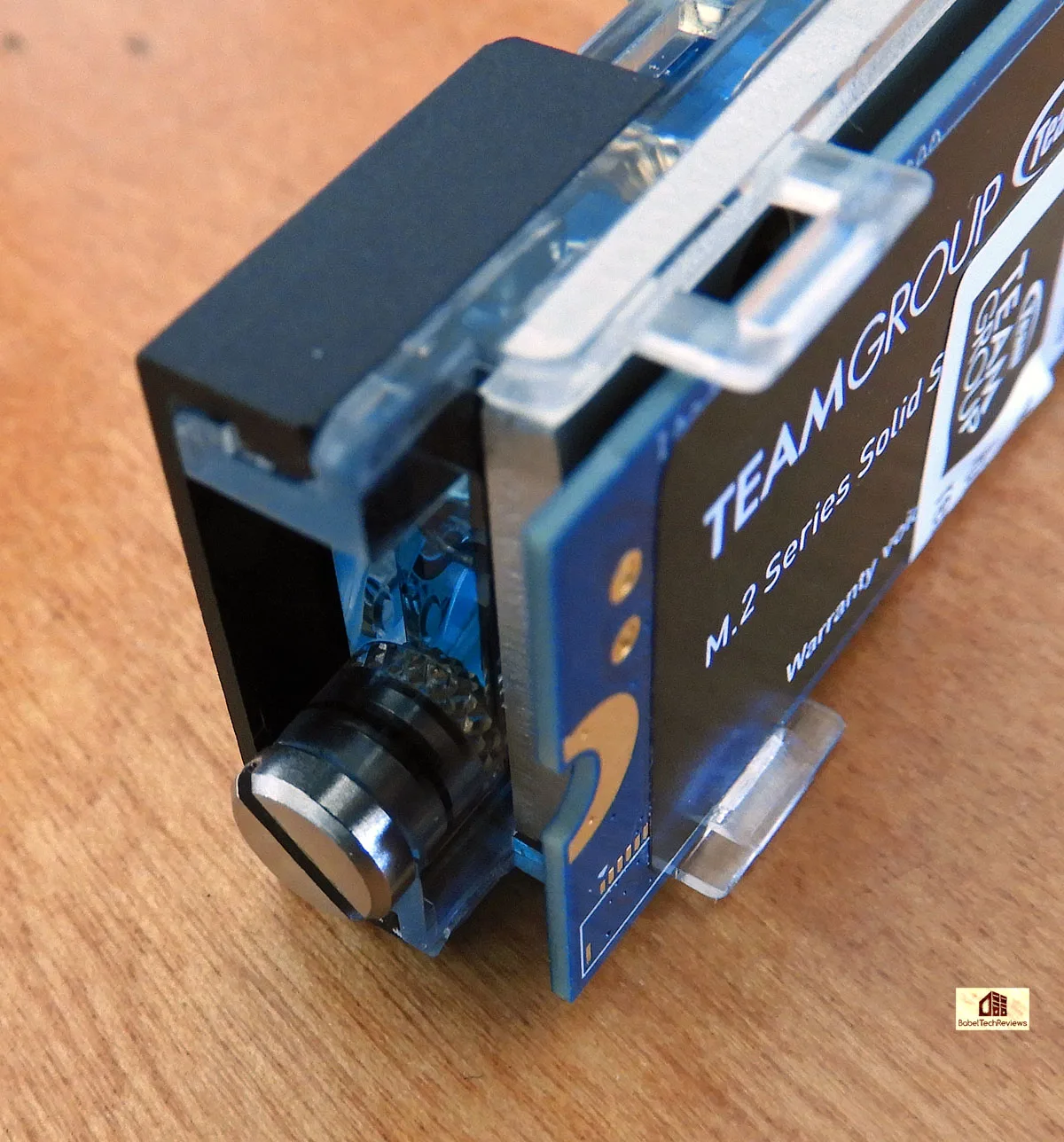 After installing the SSD, the user may need to format it before using it. If you are planning to clone it, make sure both disks are GUID or convert one of them first.
Lets look at our test configuration next.
Test Configuration – Hardware
Intel Core i7-8700K (HyperThreading and Turbo boost is locked on to 4.8 GHz for all six cores. Coffee Lake DX11 CPU graphics.
EVGA Z370 FTW motherboard (Intel Z370 chipset, latest BIOS, PCIe 3.0/3.1 specification, CrossFire/SLI 8x+8x), supplied by EVGA
T-FORCE XTREEM 16GB DDR4 (2x8GB, dual channel at 3866MHz), supplied by Team Group
RTX 2060 SUPER Founders Edition 8GB, stock clocks, on loan from NVIDIA
T-FORCE CARDEA Liquid 512GB SSD Supplied by Team Group
T-FORCE DELTA MAX 500GB SSD Supplied by Team Group
Team Group PD400 External/Portable 240GB SSD, Supplied by Team Group
T-FORCE Vulcan 500GB SSD Supplied by Team Group
Kingston A1000 480 GB NVMe PCIe SSD, supplied by Kingston
Team Group L5 LITE 3D 2.5″ 480 GB SSD
2TB Seagate 7200 rpm SSHD (Solid State Hard Drive)
Edifier R1280T active desktop speakers
Monoprice Crystal Pro 4K
ETEKCITY LaserGrip 774 infrared thermometer
Test Configuration – Software
Nvidia's GeForce 431.60 WHQL drivers were used. High Quality, prefer maximum performance, single display.
VSync is off in the control panel.
AA enabled as noted in games; all in-game settings are specified with 16xAF always applied.
All results show loading time in seconds.
Highest quality sound (stereo) used in all games.
Windows 10 64-bit Home edition.
Latest DirectX
All games are patched to their latest versions at time of publication.
MSI's Afterburner, latest version.
IOmeter
HD Tach
HD Tune
AS SSD
ATTO
Crystal DiskMark
Windows Explorer File copying
PC Game & Level Loading Suite
World of Warcraft (PCMark 8)
Battlefield 3 (PCMark 8)
Synthetic Benching Suites
SiSoft Sandra 2020
AIDA64
PCMark 8
Nvidia Control Panel settings:
We used MSI's Afterburner to set the power and temp limits to their maximums.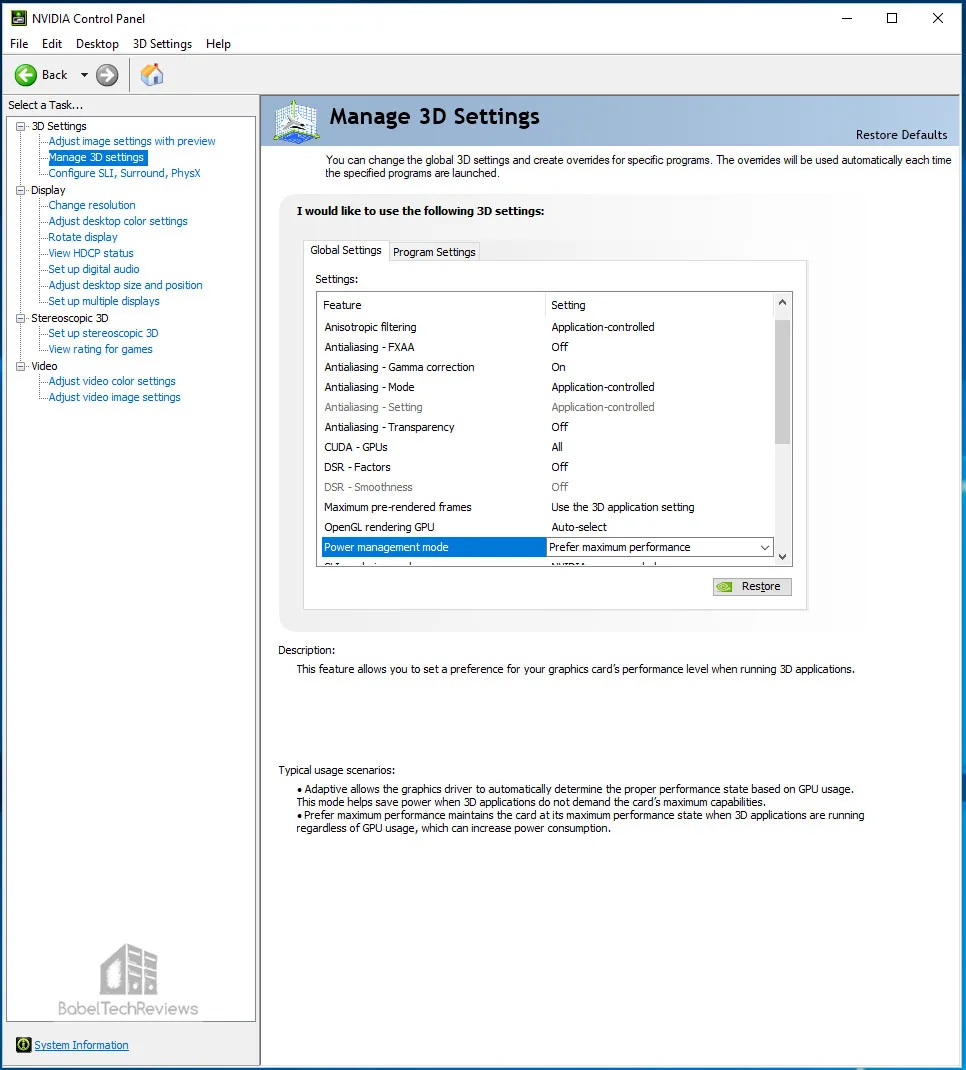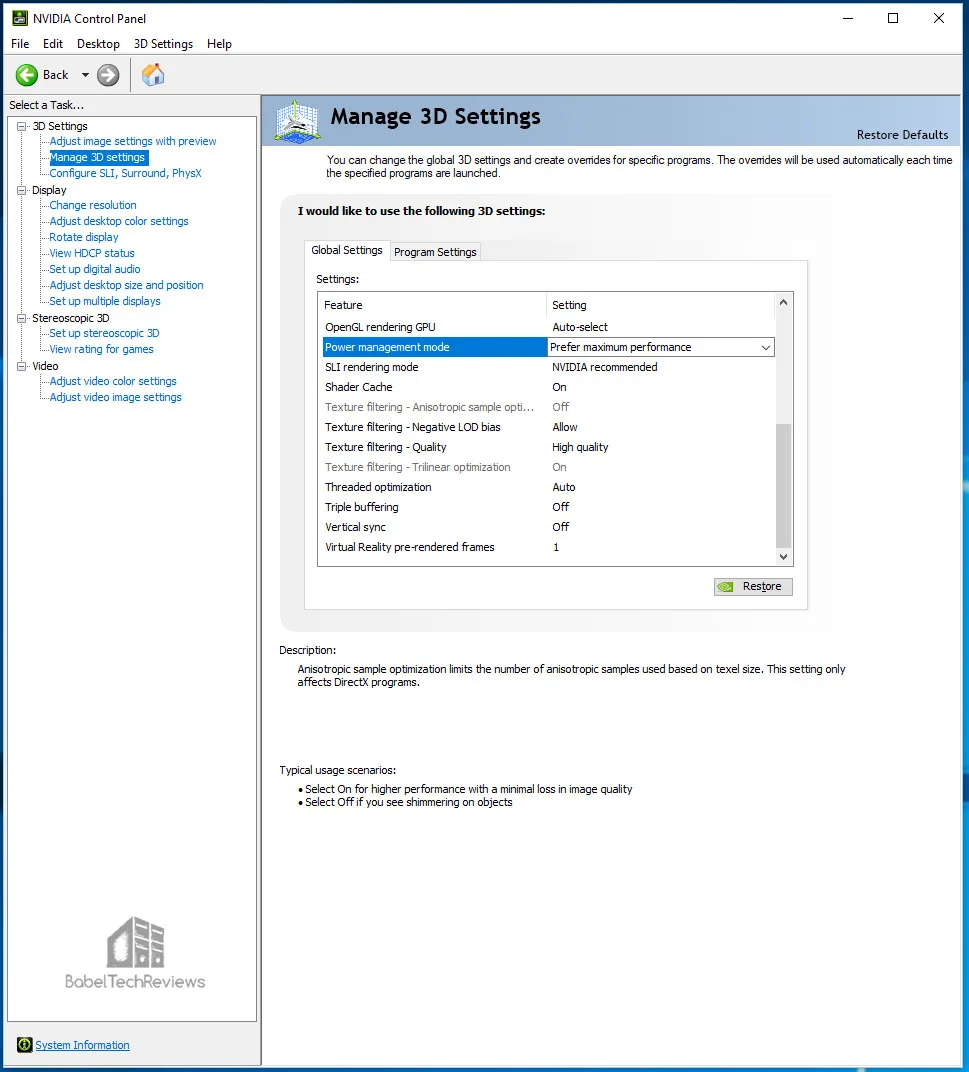 Let's head to our benching results.
Benchmarking the T-FORCE CARDEA Liquid M.2 PCIe SSD
Benchmarking SSDs is not an exact science as there is usually some variability between runs. However, by using multiple real world and synthetic tests, it may be possible to get a good idea of the CARDEA Liquid M.2 PCIe SSD's relative performance across all seven of our tested drives.
First, we will will look at synthetic benchmark suites to highlight the differences between our drives and we shall start with PCMark 10.
PCMark 10
UL (formerly Futuremark) is well-respected as a developer and publisher of PC benchmark applications for nearly two decades. Although PCMark benches are synthetic tests, they provide a good measure of system performance. PCMark 10 is UL's seventh major update to the PCMark series. PCMark 10 was primarily developed for Windows 10 and it builds upon the PCMark 8 platform for a complete package of vendor-neutral and easy-to-use benchmarks for home or office environments.
Unfortunately, in comparison to PCMark 8, PCMark 10 is missing key elements including detailed storage testing, and it is not possible to test attached drives as with the earlier suite. We use PCMark 10's Extended settings.
To properly compare the PCMark 10 scores, look at the detailed results of each SSD you want to compare remembering that the Kingston A-1000 is the only other M2 SSD and the T-FORCE Vulcan would be the overall fastest SATA-based SSD. The results are presented in approximate order of the fastest to the slowest drive ending with the portable USB SSD and the solid state hard drive (SSHD).
First we look at the CARDEA Liquid 500 GB SSD system that scores 8973 taking the top position by a large margin.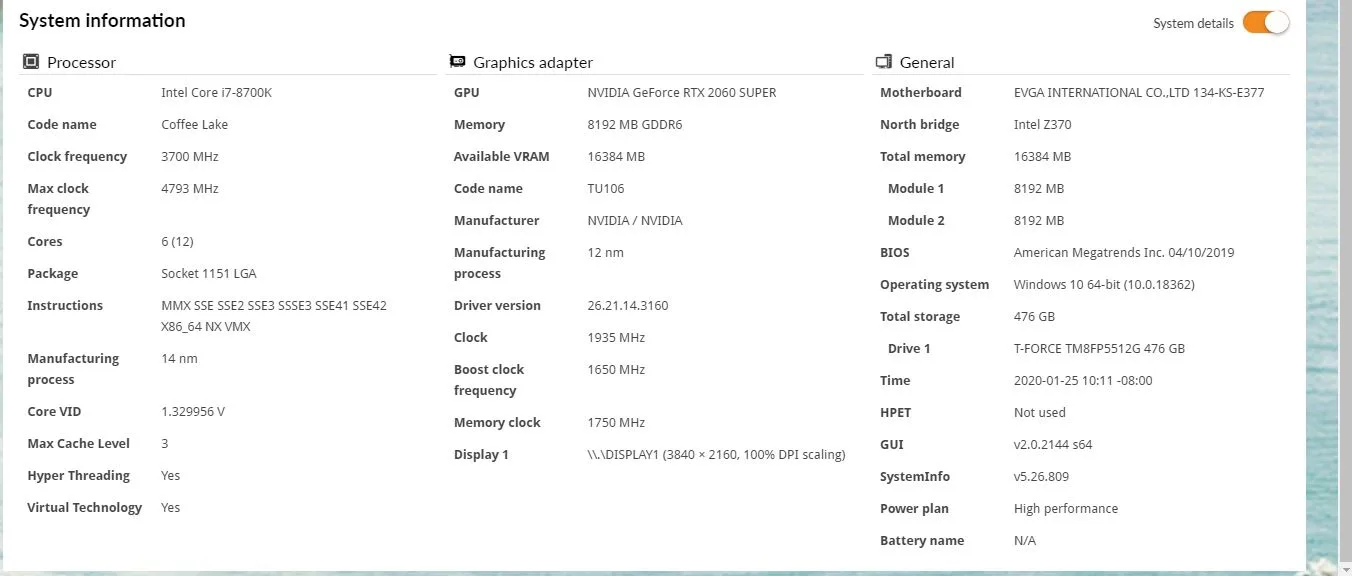 Next the online scores.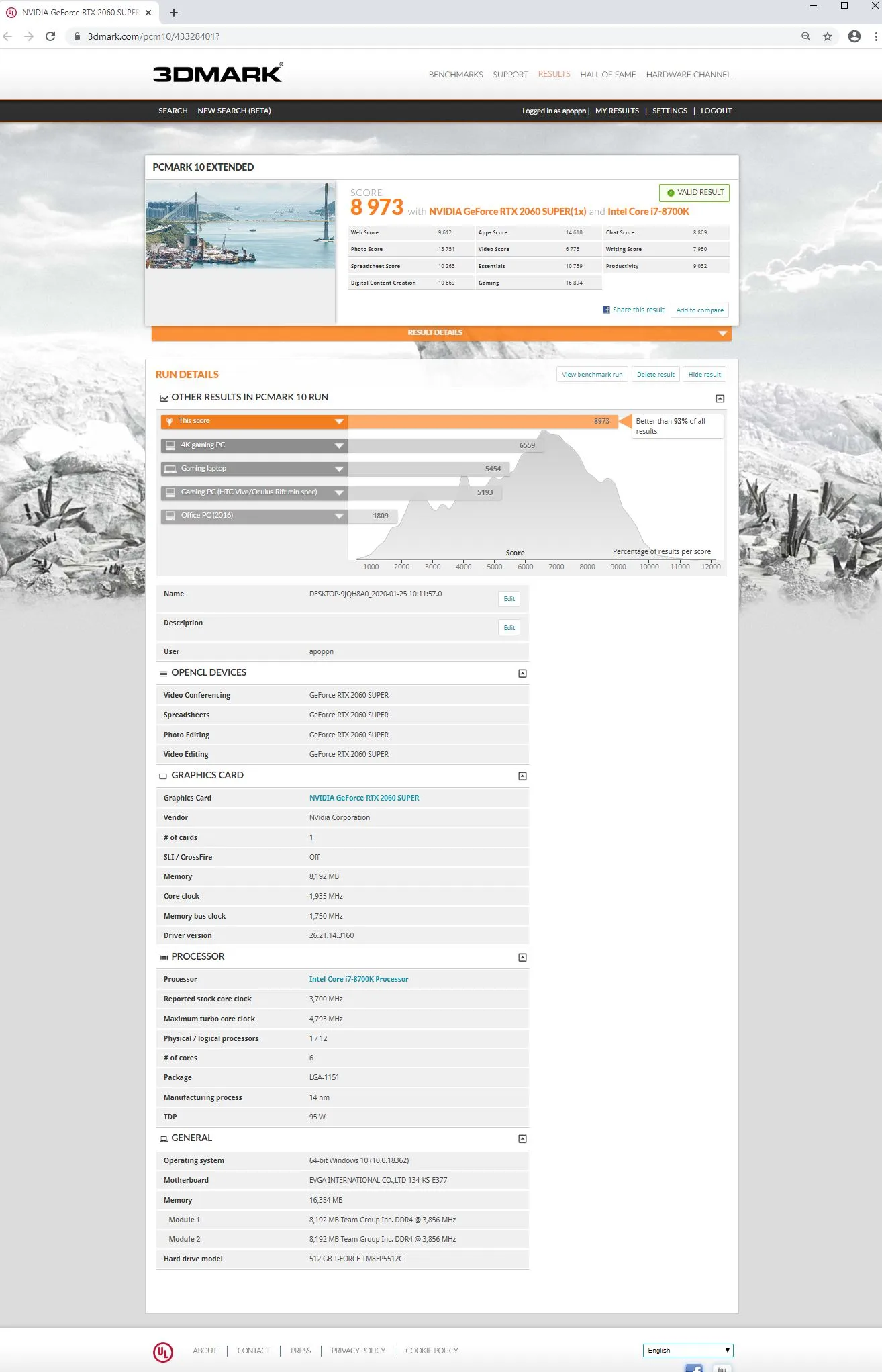 The same PC with the Kingston A1000 480 GB SSD scores 8863 which is ahead of the 480GB Team Group PC score, but it is a bit behind the T-FORCE Vulcan 500GB SSD results.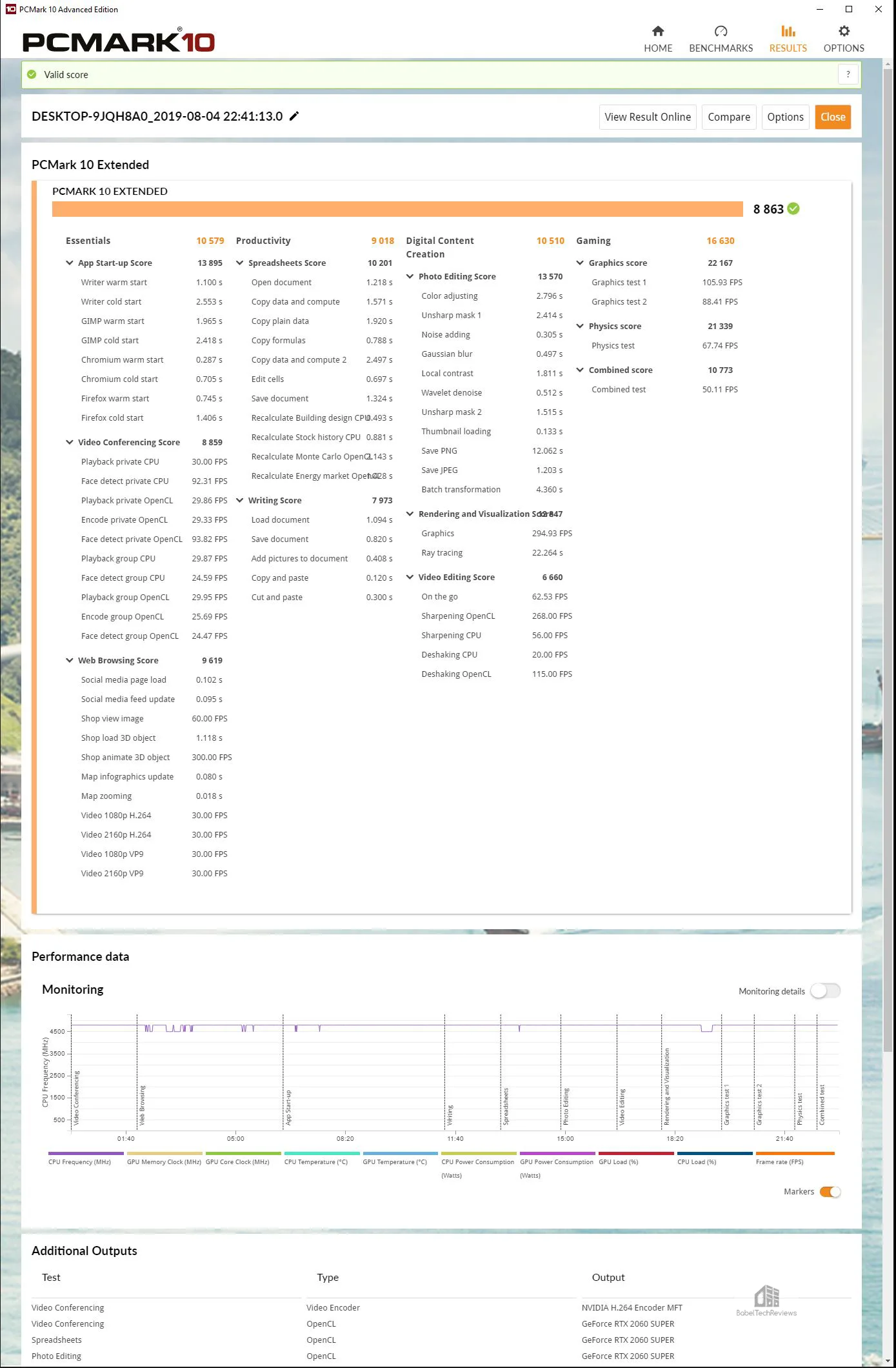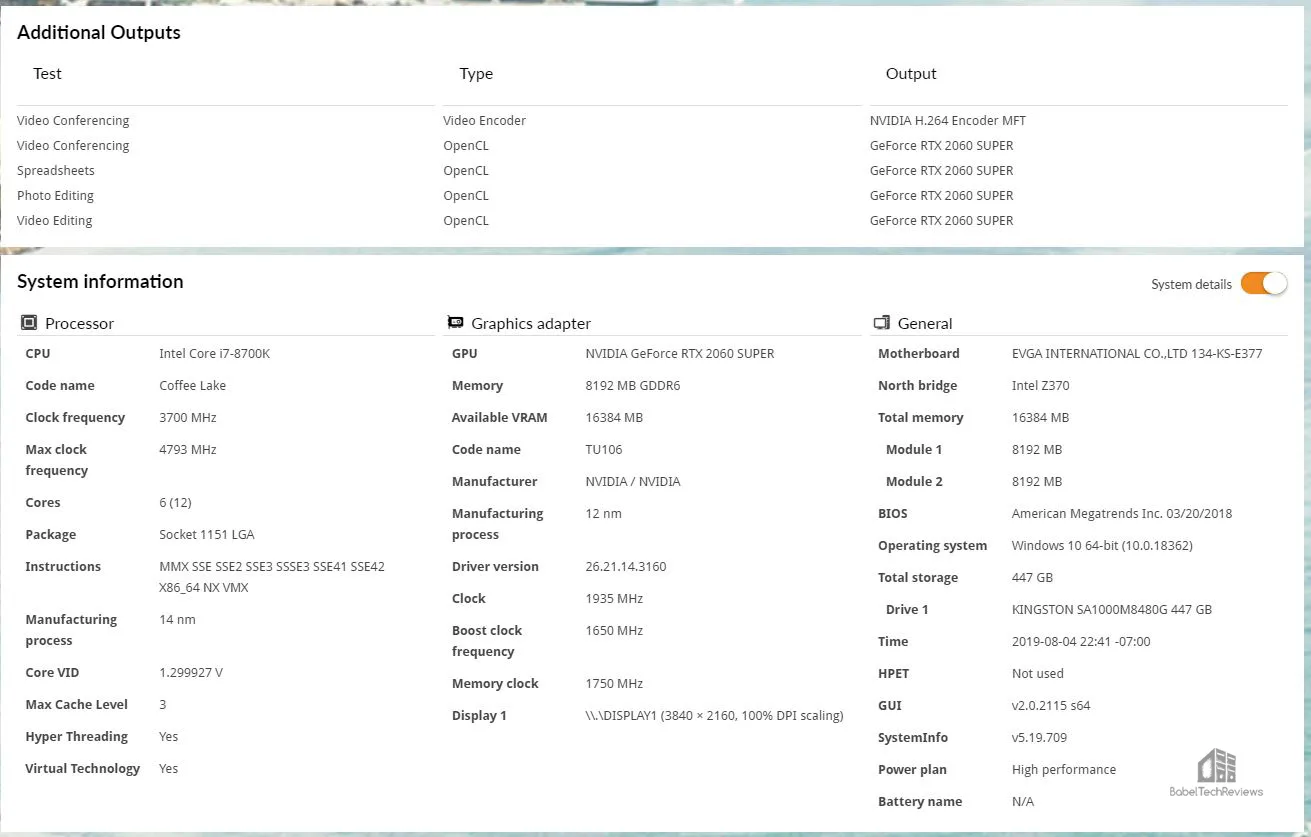 The system with the T-FORCE Vulcan 500GB SSD scores 8880.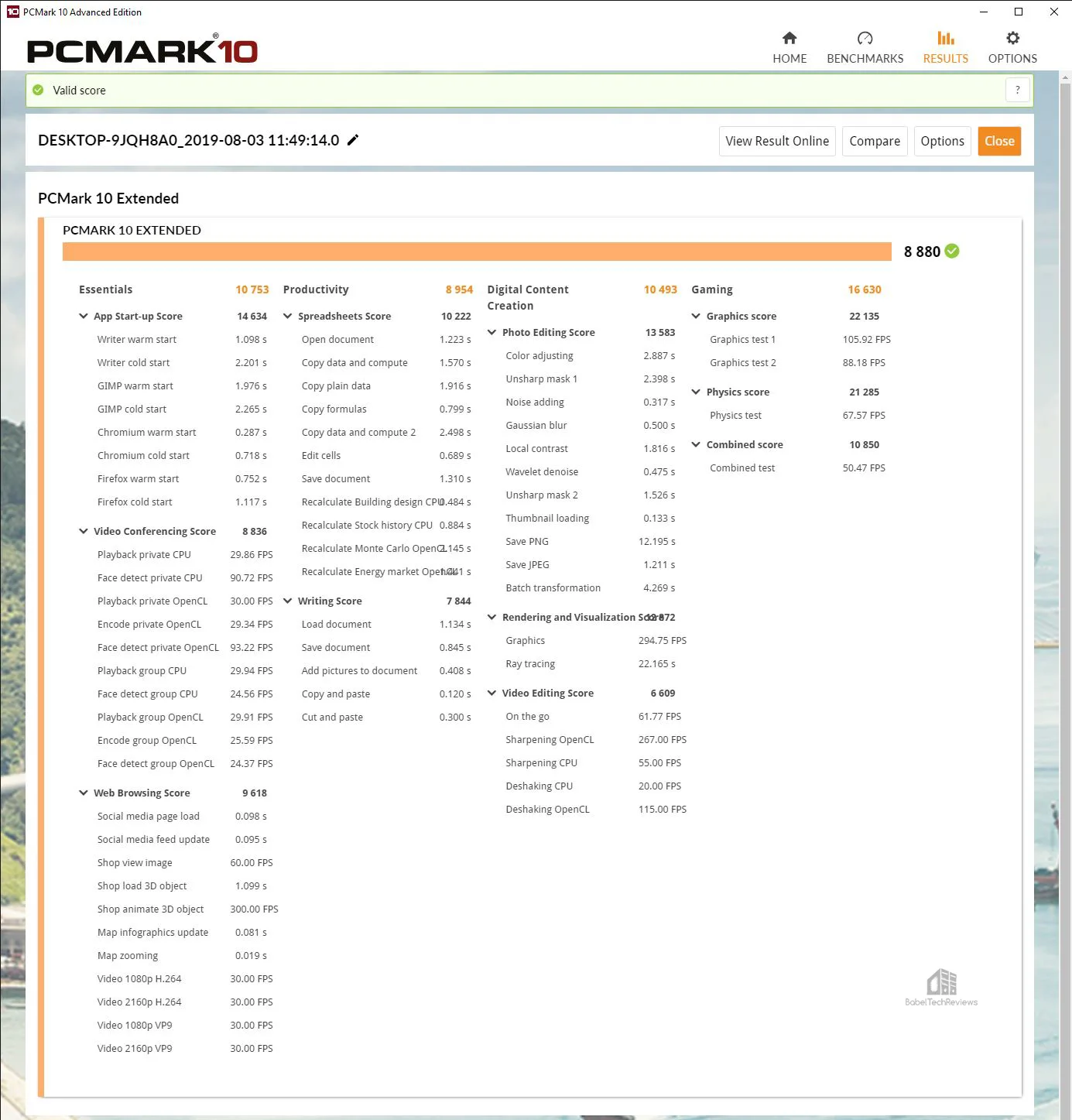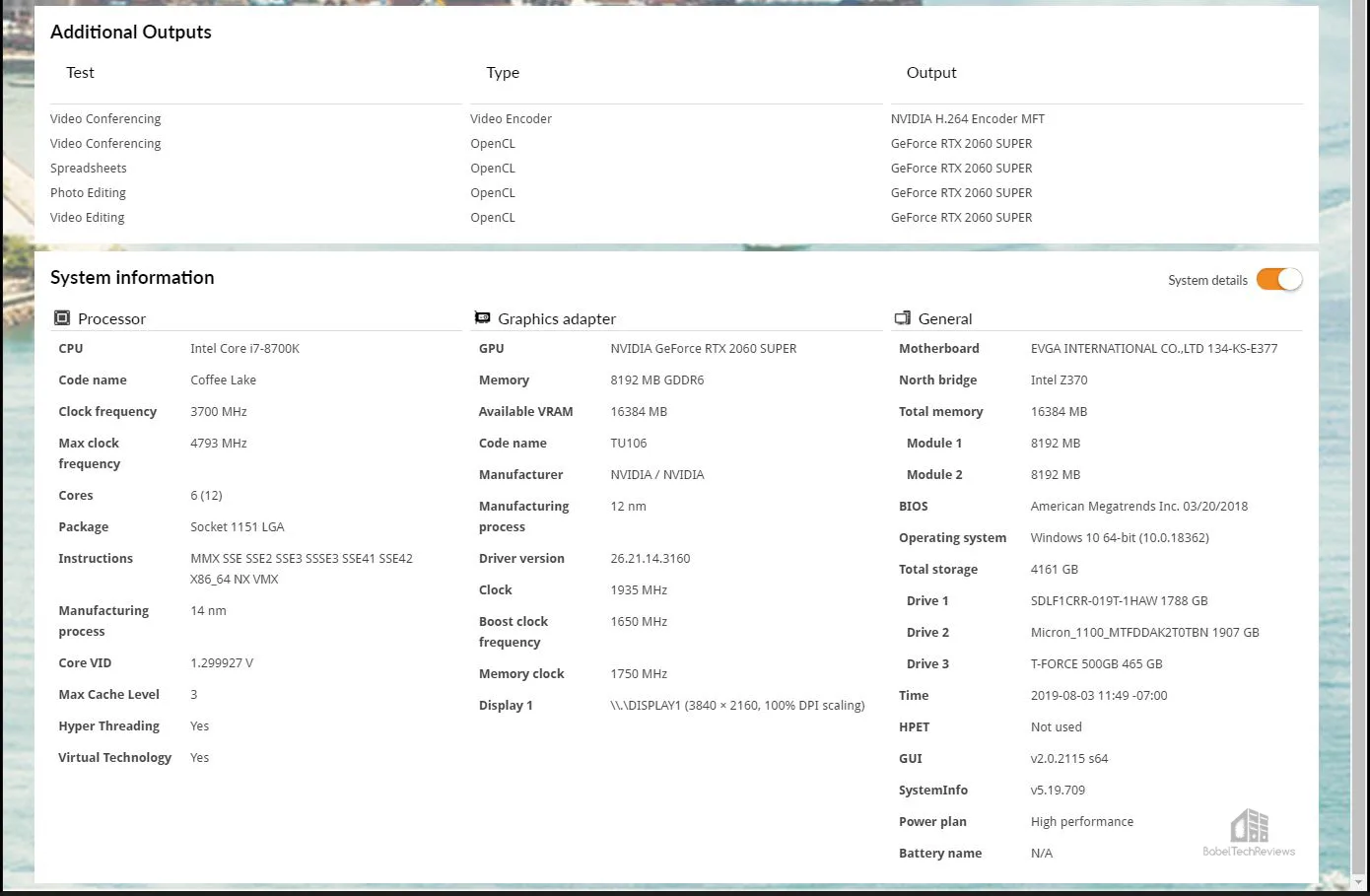 The system with the T-FORCE Delta Max 500GB SSD scores 8849
The same system with the Team Group 480 GB SSD scores 8831.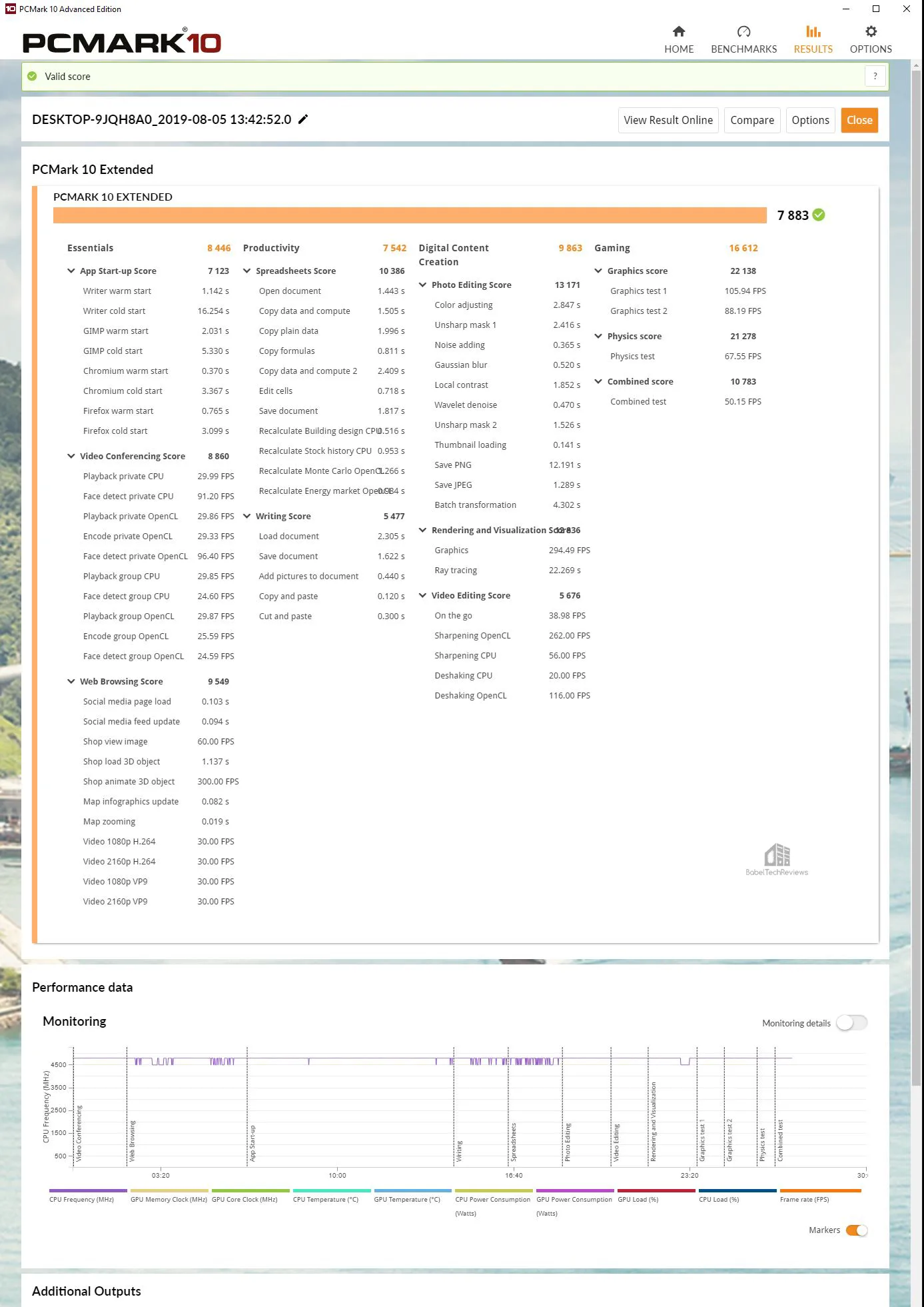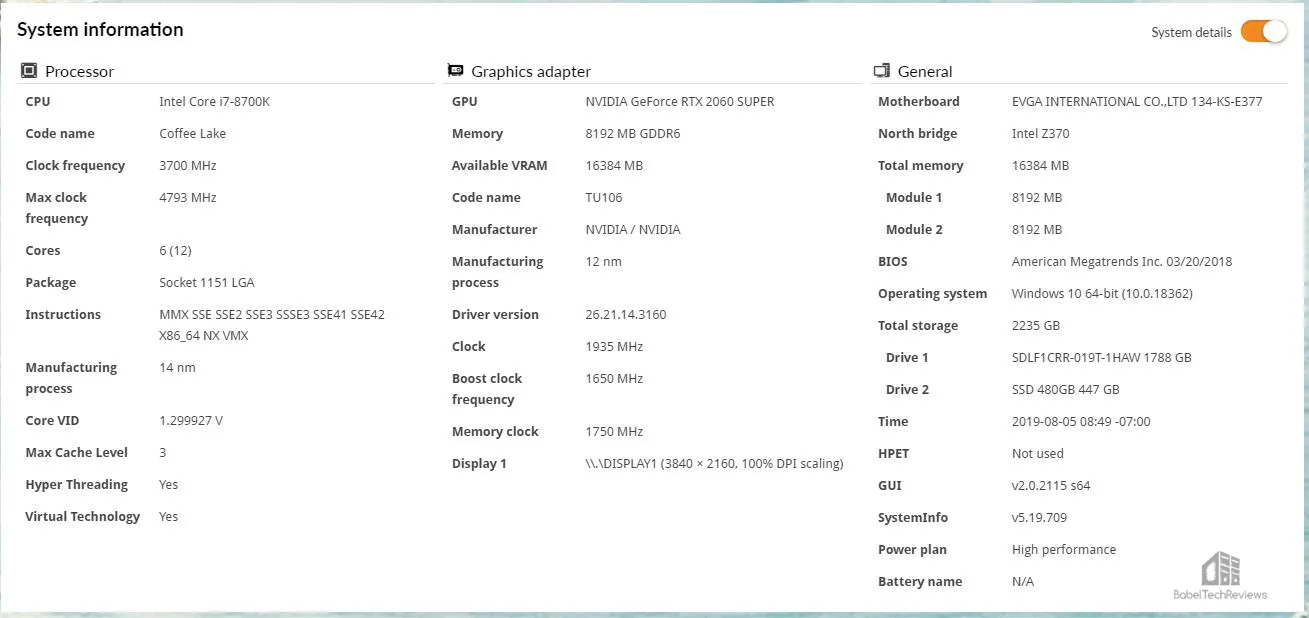 The FireCuda 2TB SSHD scores 7883.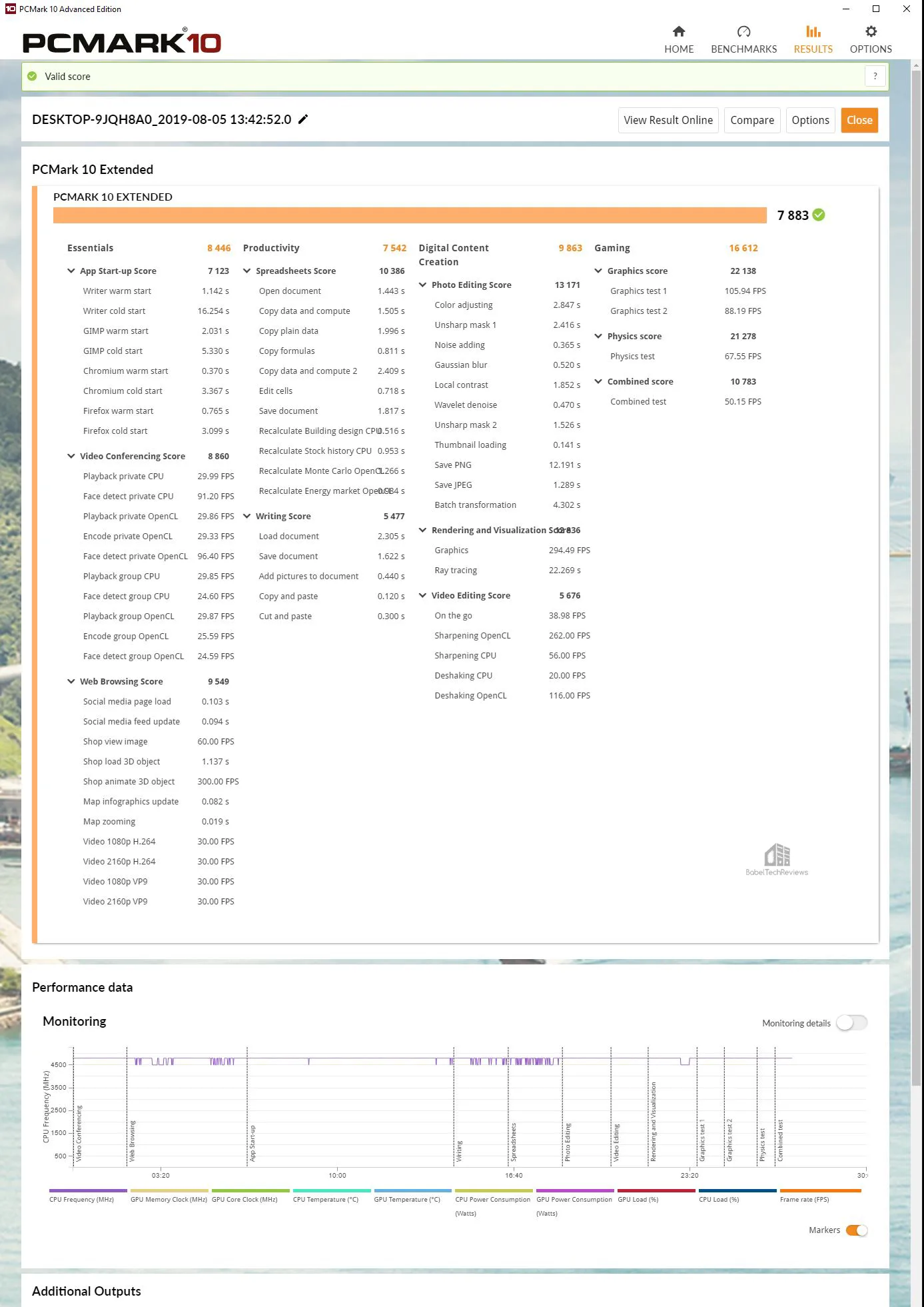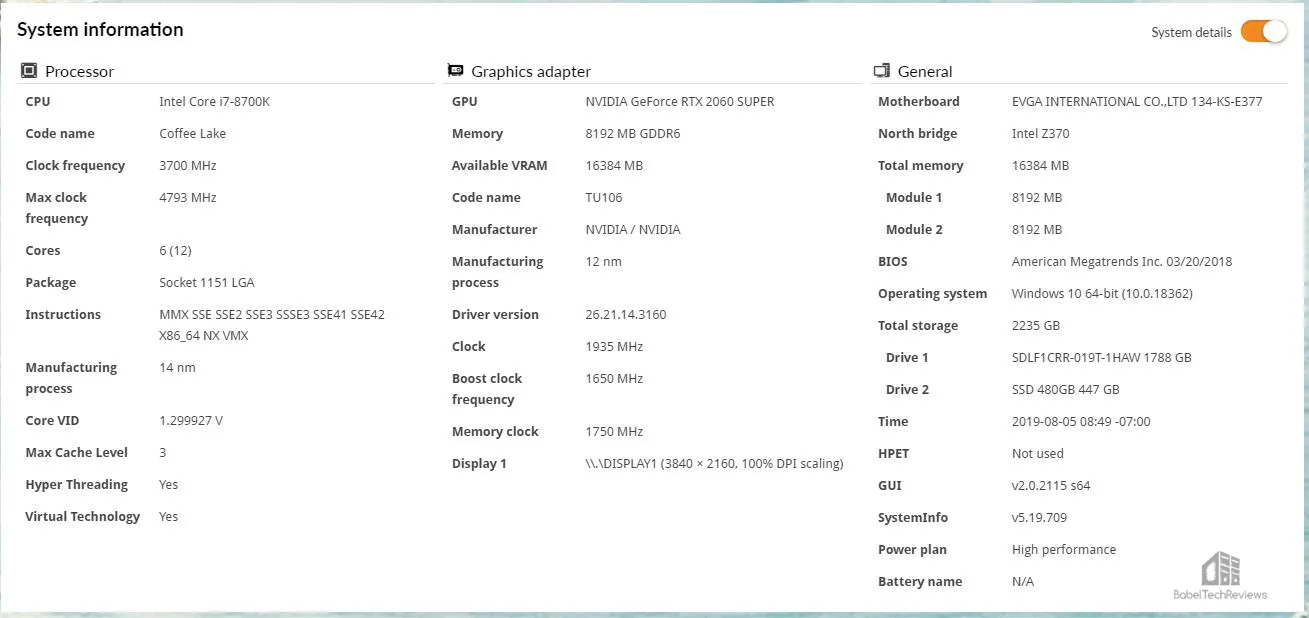 Here is the summary of the six drives that were tested using PCMark 10.

The T-FORCE CARDEA Liquid gets the highest score by a margin of 93 points followed by T-FORCE Vulcan 500GB SSD PC followed by the Kingston A-1000 and then the DELTA MAX with the Team Group L5 LTE SSD as the slowest tested SSD. There isn't a lot of difference in overall performance between the five slower SSDs nor is it easy to see exactly where one scores higher by looking at the individual tests. Fortunately, PCMark 8 is a better storage test and it is up next.
PCMARK 8
PCMark 8 has an excellent storage test which actually uses real world timed benchmarks that include loading World of Warcraft and Battlefield 3 as well as timing how long it takes to load popular Adobe and Microsoft apps.
The T-FORCE CARDEA Liquid 500GB SSD scores 5076 with a total Storage 2.0 Bandwidth of 599.03 MB/s. And for gamers, it took 57.4 seconds to load World of Warcraft and 131.5 seconds for Battlefield 3 to load.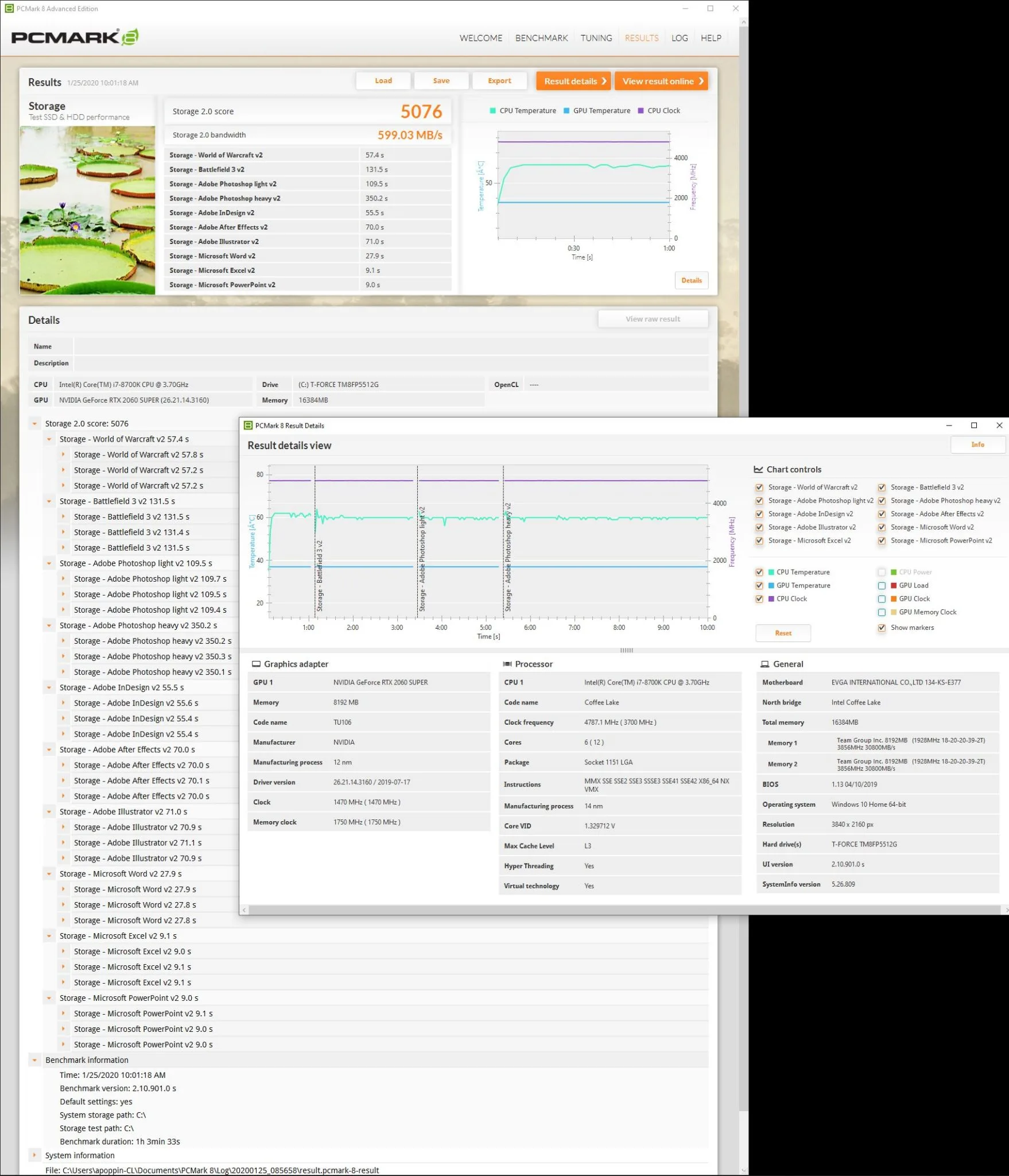 Here are the online CARDEA Liquid results.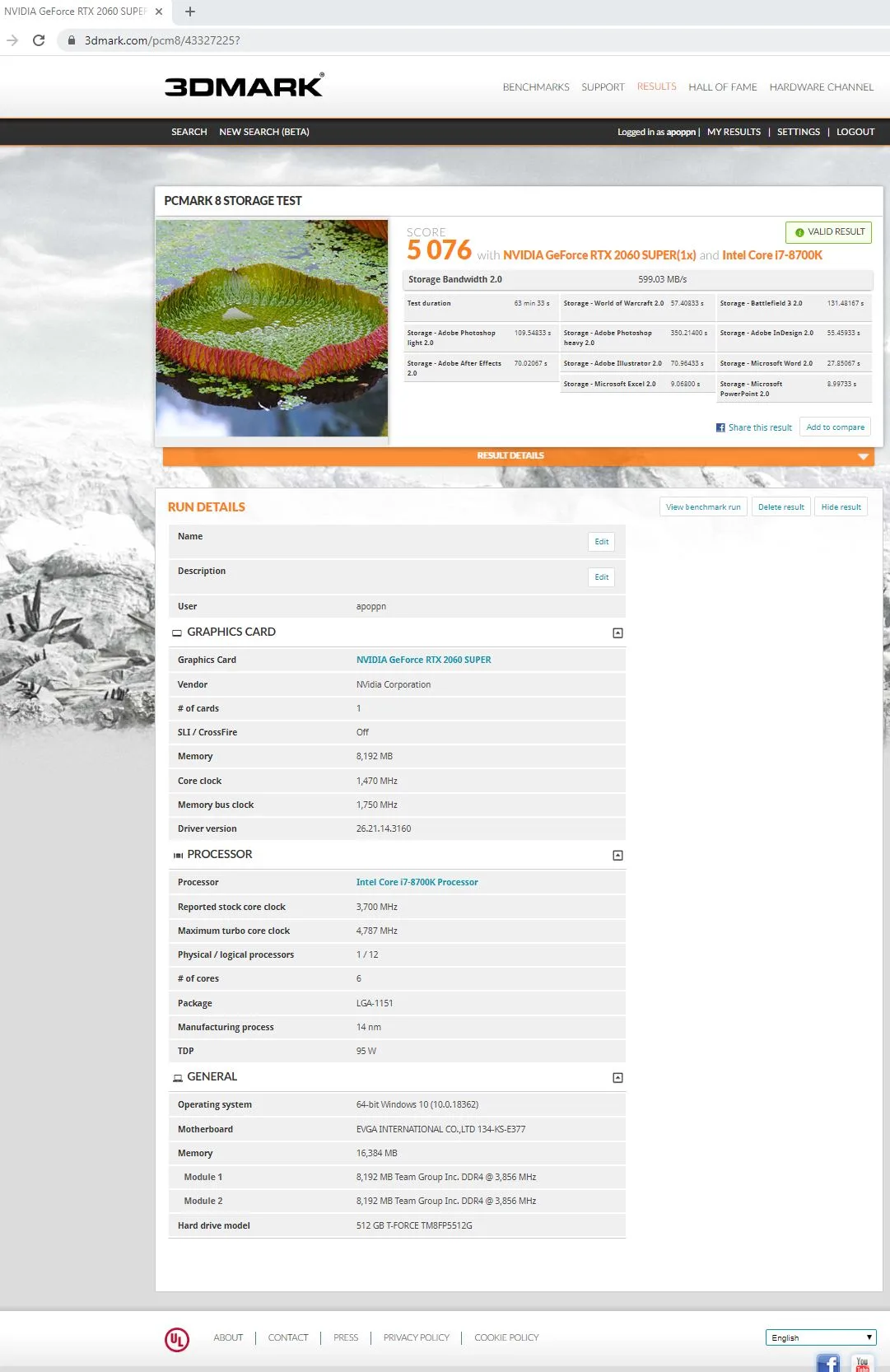 The Kingston A1000 480 GB SSD scores 5032 with a total Storage 2.0 Bandwidth of 401.30 MB/s. Of primary interest to gamers, it took 58.0 seconds to load World of Warcraft and 132.6 seconds for Battlefield 3 to load.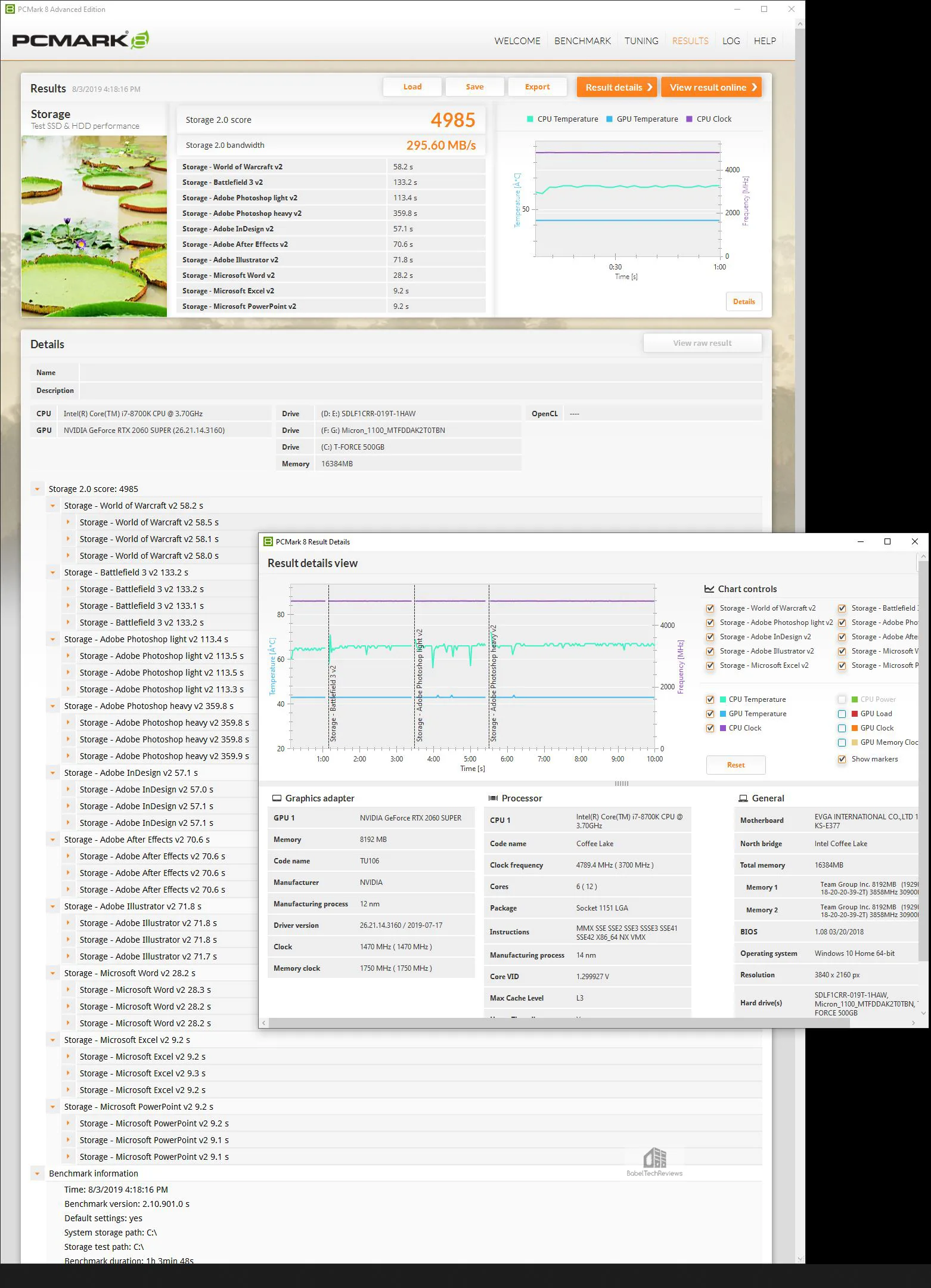 The T-FORCE Delta Max 500GB SSD scores 4962 with a total Storage 2.0 Bandwidth of 252.94 MB/s. And for gamers, it took 58.4 seconds to load World of Warcraft and 133.7 seconds for Battlefield 3 to load.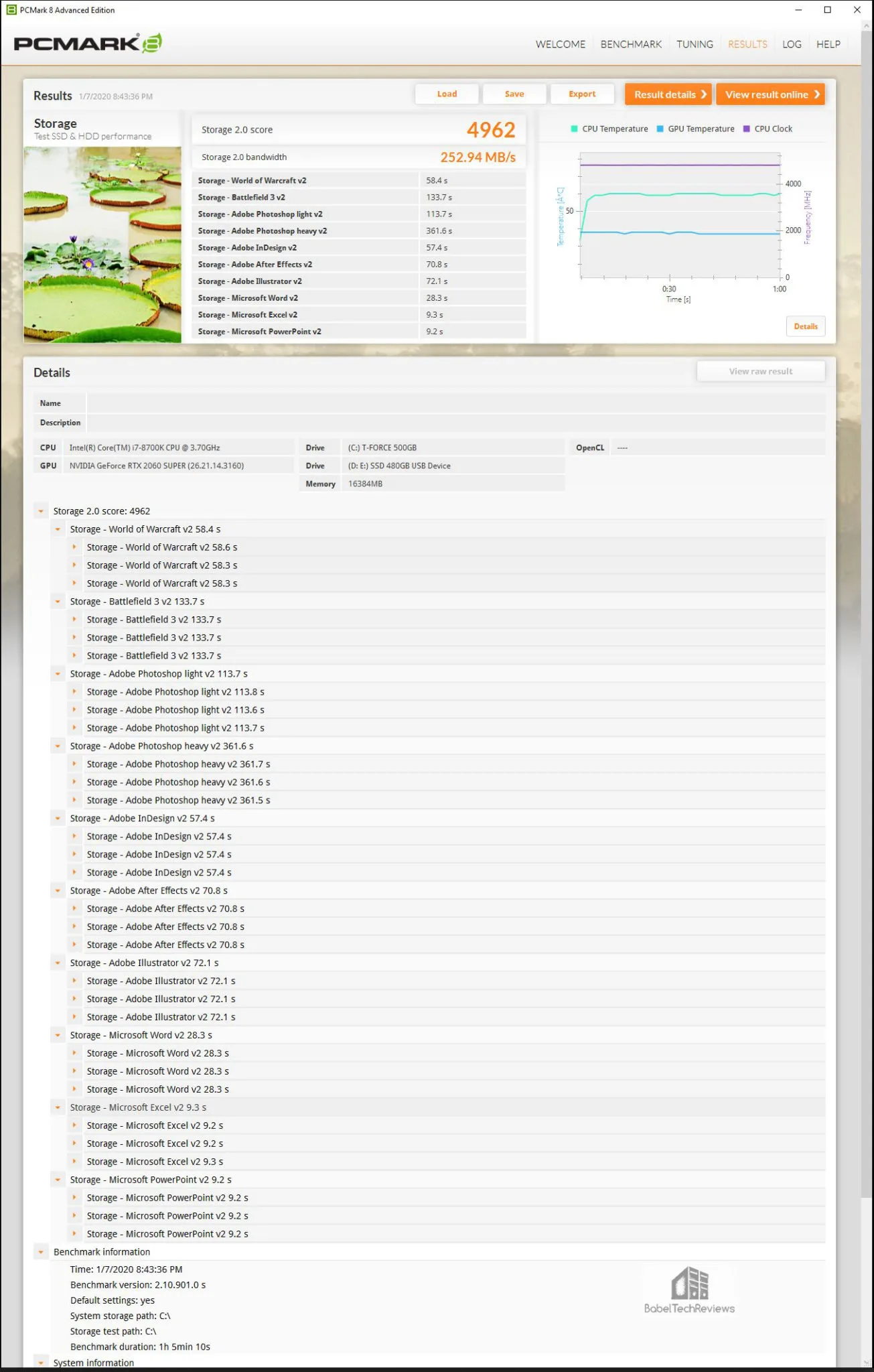 The Team Group L5 480 GB SSD scores 4959 with a total Storage 2.0 Bandwidth of 253.36 MB/s. Most importantly for a gamer, it took 58.6 seconds to load World of Warcraft and 133.8 seconds for Battlefield 3 to load.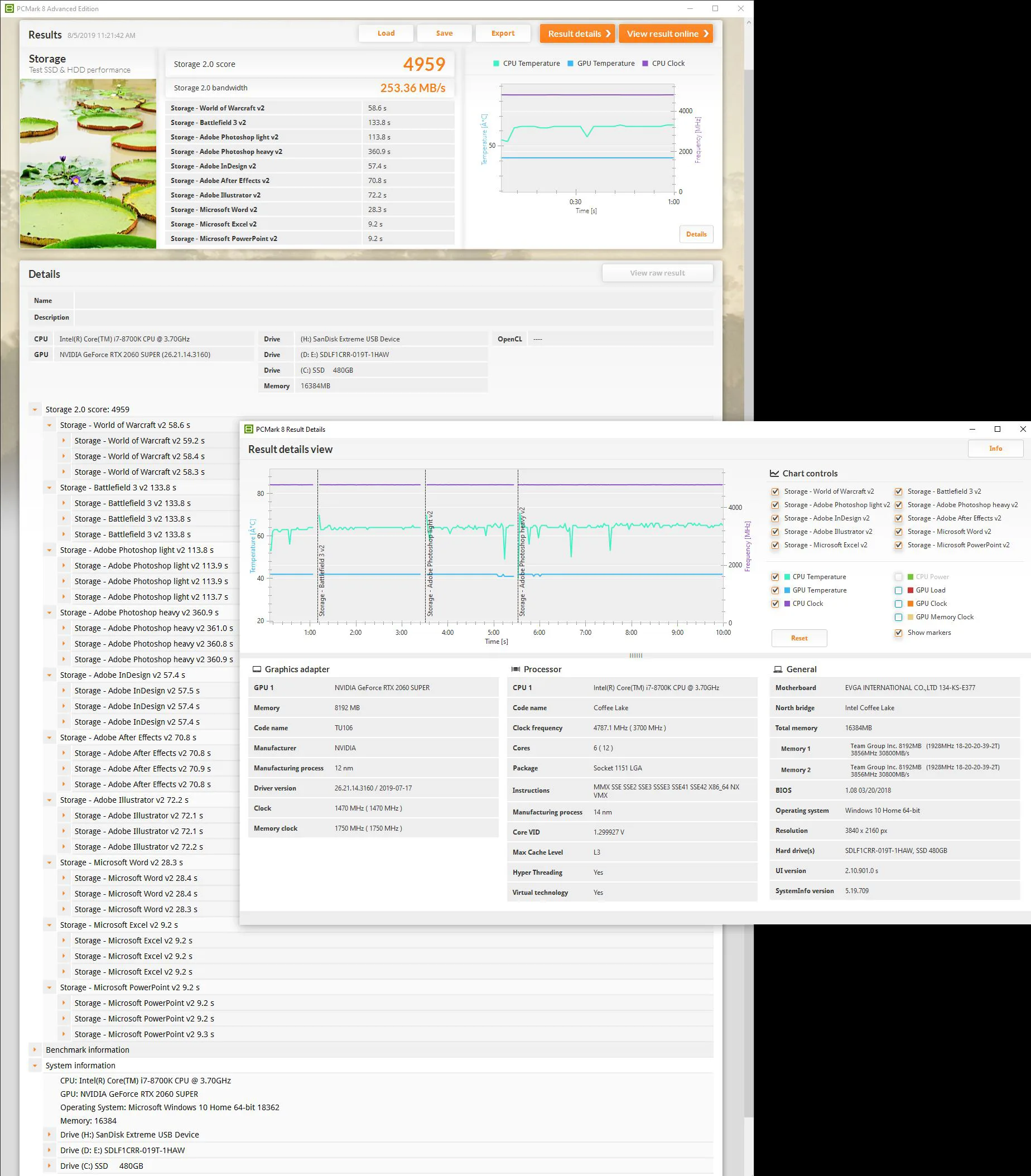 Here is the PCMark 8 comparative loading times chart for World of Warcraft and for Battlefield 3. All of these charts are also included in the Summary.
Here are the comparative overall PCMark 8 scores including storage bandwidth results.

The Kingston PCIe A1000 M.2 480GB SSD is the fastest drive overall, however, there isn't a lot of practical difference between its results and any SATA – or even external USB 3.1 Gen 1 SSD game loading speeds. In contrast to using any SSD, the SSHD takes nearly twice as long to load the tested two games. A SSHD only takes advantage of repeated loading of levels or games, and after 2 or 3 loads, then it will set up more quickly, approaching SSD speeds.
Here is the ATTO Team Group PD400 240GB SSD results: