Intro
The Watercooled 512GB T-FORCE CARDEA Liquid M.2 PCIe SSD Review – Form Over Function?
The T-FORCE CARDEA Liquid stands out from other M.2 form factor SSDs (Solid State Drives) by using a clear cover that holds a colored liquid acting as an attractive and unique type of heatsink.  Boasting fast M.2 SSD speeds, the CARDEA Liquid SSD is designed to be the focus of a PC that is meant to be displayed.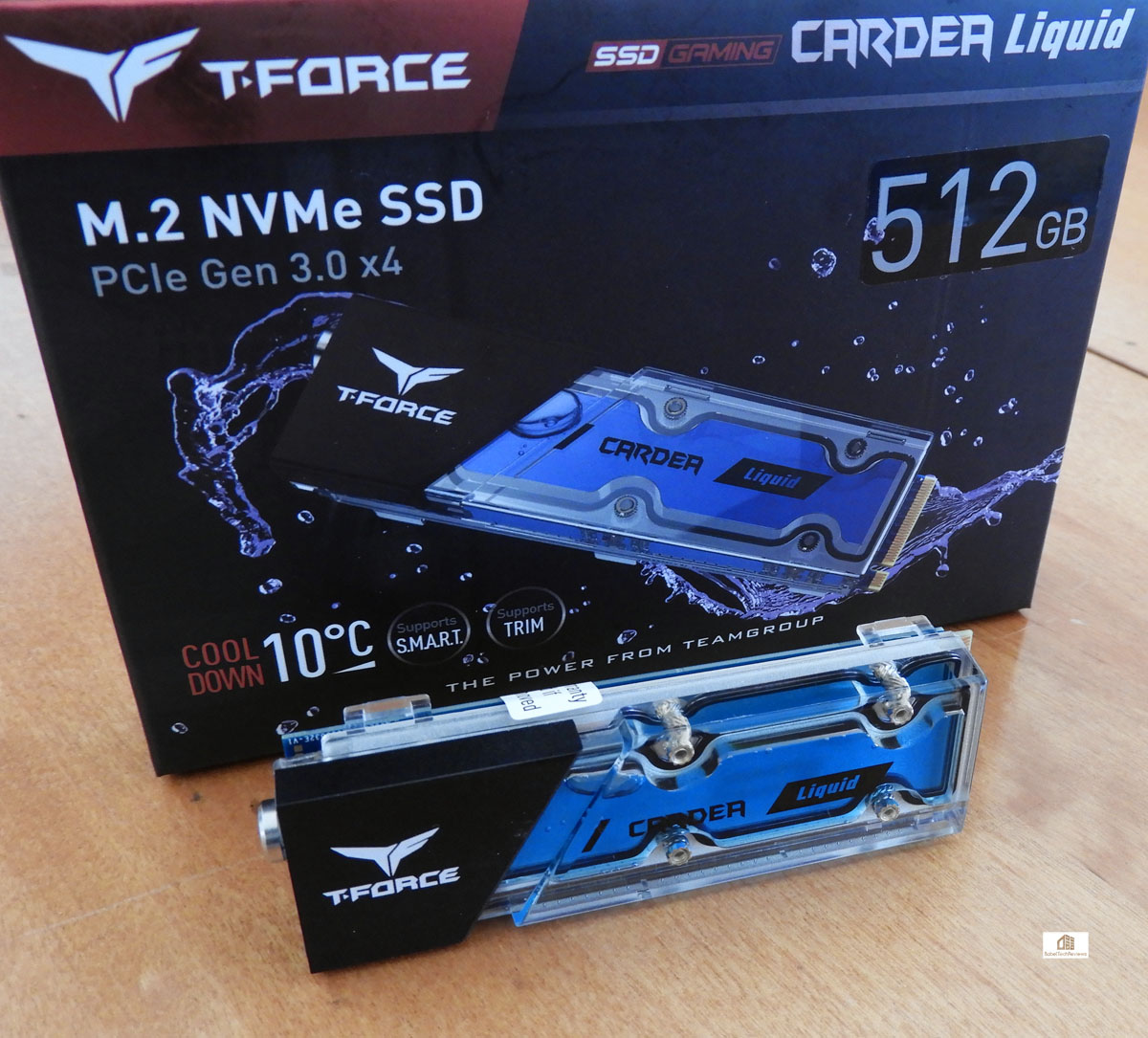 [UPDATED at 6 AM PT on 01/30/20.  MSRP of the 512GB version is $100.90 and $169.99 for the 1TB version.]  Currently, the 512GB version we are reviewing is unavailable anywhere we looked and our review sample came directly from Team Group.  We will focus on the CARDEA Liquid SSD performance to see if it can match its eye-pleasing design by comparing it with six other drives.  Three of the drives are 500GB SATA III based SSDs, one is a portable 240GB USB 3.1 SSD, one is a 2TB solid state hard drive, and the fastest in BTR's library until now is the 480GB Kingston A-1000 NVMe M.2 SSD.
BTR uses two identical 480GB Team Group L5 LTE SATA III SSDs as boot drives – one for AMD and one for NVIDIA – together with a 1.92 TB SanDisk SATA III SSD and a 2 TB Micron 1100 SATA III SSD for our primary game storage.  In addition, we also use a T-FORCE Vulcan SATA 500GB SATA III SSD for additional storage whereas previously we used a 2TB Seagate FireCuda Solid State Hard Drive (SSHD) for additional storage.
BTR's test setup uses Windows 10 64-bit, featuring an Intel Core i7-8700K overclocked to 4.8GHz for all cores as set in the EVGA Z370 FTW motherboard's BIOS, and 16 GB of T-FORCE XTREEM DDR4 at 3866MHz. The settings and hardware are identical except for the four drives being tested, and the graphics are powered by a RTX 2060 SUPER Founders Edition (FE).   BTR's October review of the PD400 GB SSD and January review of the DELTA MAX SSD were set up using the same drivers and conditions, so we will reuse those results for this evaluation.
We benchmark with all of our drives at less than 90% capacity, and in addition, all of the drives have been in use for months except for the CARDEA Liquid SSD which has been "dirtied" using IOmeter as well as being used for storage, so our testing tends to give more real world performance results.
Here are the features and specifications of the T-FORCE CARDEA LIQUID SSD taken directly from the T-FORCE website.
FEATURES
World's first water cooling M.2 solid state drive.
Superior performance – read speed up to 3400 MB/s[1] which can improve the speed and performance of the overall system.
Support latest NVMe1.3 protocol.
Support S.M.A.R.T./TRIM technology – monitoring hard drive status efficiently and bring out its best performance.
Structure design is a combination of craftsmanship and fashion.
Specifications
Details and specifications can be found on the Team Group website.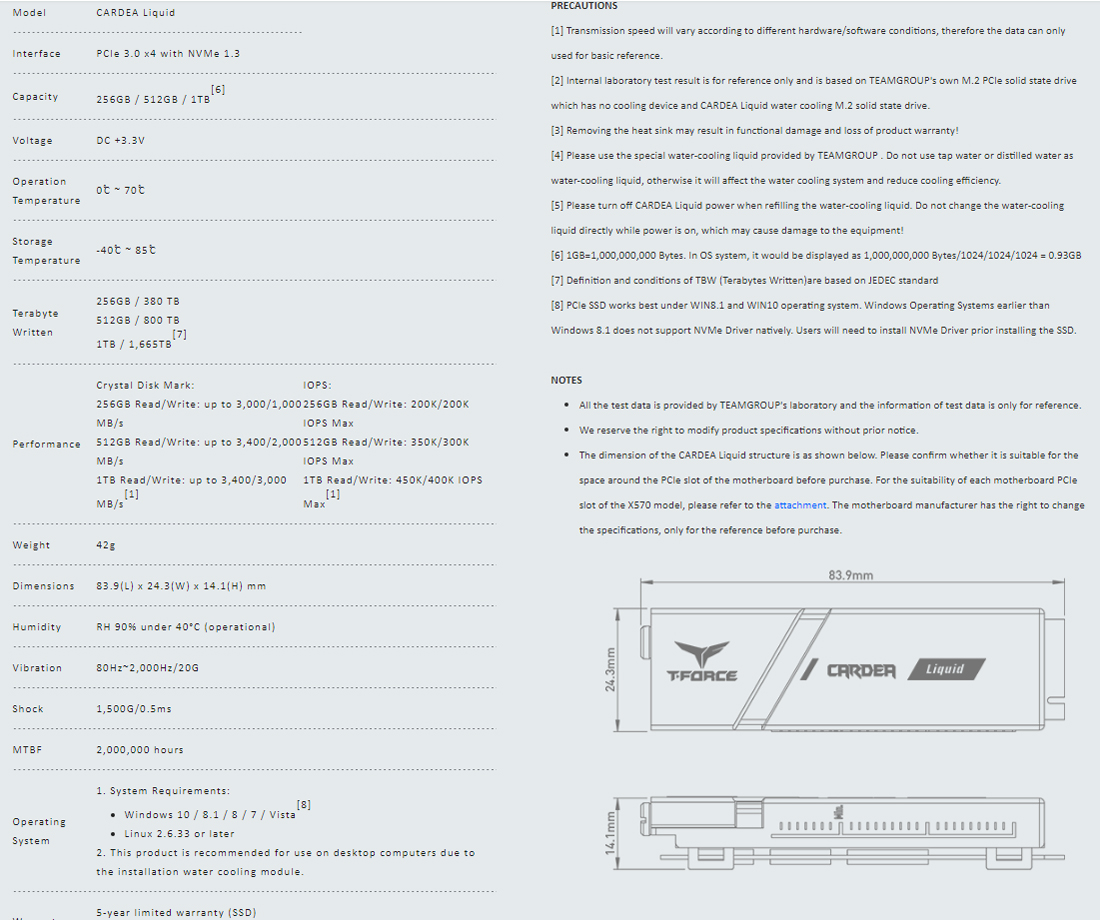 The key highlight is that the CARDEA Liquid M.2 PCIe SSD is very good-looking when it is displayed as a focus of a well thought-out PC built for display.  Besides good-looking, it is fast, durable, uses little power, and it is backed by Team Group's 5-year warranty.  Please note that the heatsink is only warrantied for 1 year.
Next we unbox the T-FORCE CARDEA Liquid SSD.