Intro
The T-FORCE Delta Max 500GB SSD Review – SATA SSD maxed-out RGB
The T-FORCE DELTA MAX stands out from other SSDs (Solid State Drives) by using an addressable RGB module to create "water flowing" lighting in multiple colors across nearly its entire top surface – unlike any other SSD.  With a mirrorlike black surface, the DELTA MAX SSD is designed to be the focus of a beautifully-lit PC, and the 500GB version we are reviewing commands a premium price of $99 on Amazon.  We will focus on performance to see if it matches up to its eye-pleasing design.
We have five SSDs in BTR's PC storing more than 3TB of mostly games, and yet we always need more storage.  Using hard disk drives (HDD) or even Solid State Hard Drives (SSHD) are no longer even considered because of how slowly they load games and levels compared with SSDs.  We are going to focus on the T-FORCE DELTA MAX 500GB RGB SSD to see if it is suitable for storing, loading, and launching games and how it compares with other storage solutions.
BTR uses two identical 480GB Team Group L5 LTE SSDs as boot drives – one for AMD and one for NVIDIA – together with a 1.92 TB SanDisk SSD and a 2 TB Micron 1100 SSD for our primary game storage.  In addition, we also use a T-FORCE Vulcan SATA 500GB SSD for additional storage whereas previously we used a 2TB Seagate FireCuda Solid State Hard Drive (SSHD) for additional storage.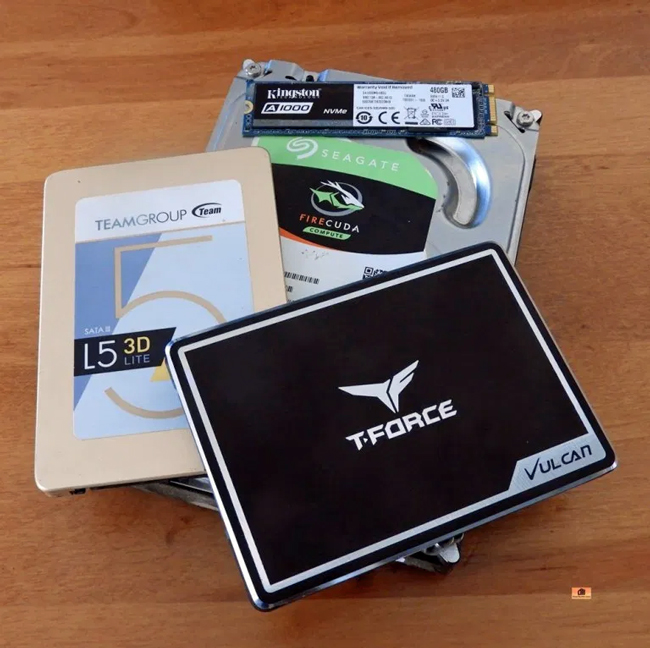 For this review, we are going to compare the performance of the above four drives together with a 240GB Team Group PD400 USB 3.0 SSD to the $99.99 500GB T-FORCE DELTA MAX SSD, but we can already see it is priced about the same as the faster NVMe SSDs.  Since the 240GB version isn't being sold in the USA, so we will use $54.99 for the 480GB PD400 at Amazon.  The T-FORCE  Vulcan 500GB SSD is sold at Amazon for $65.99; the Kingston A1000 480GB NVMe SSD is $103.57, the 480GB Team Group L5 SSD is $64.99, and a 2 TB FireCuda SSHD  sells for $73.86 which is a 7200 rpm Seagate HDD coupled with 8 GB of flash drive.
BTR's test setup uses Windows 10 64-bit, featuring an Intel Core i7-8700K overclocked to 4.8GHz for all cores as set in the EVGA Z370 FTW motherboard's BIOS, and 16 GB of T-FORCE XTREEM DDR4 at 3866MHz. The settings and hardware are identical except for the four drives being tested, and the graphics are powered by a RTX 2060 SUPER Founders Edition (FE).   BTR's October review of the PD400 GB SSD was set up using the same drivers and conditions, so we will reuse those results for this evaluation.
We benchmark with all of our drives at less than 90% capacity, and in addition, all of the drives have been in use for months except for the DELTA MAX SSD which has been "dirtied" using IOmeter as well as being used for storage, so our testing tends to give more real world performance results.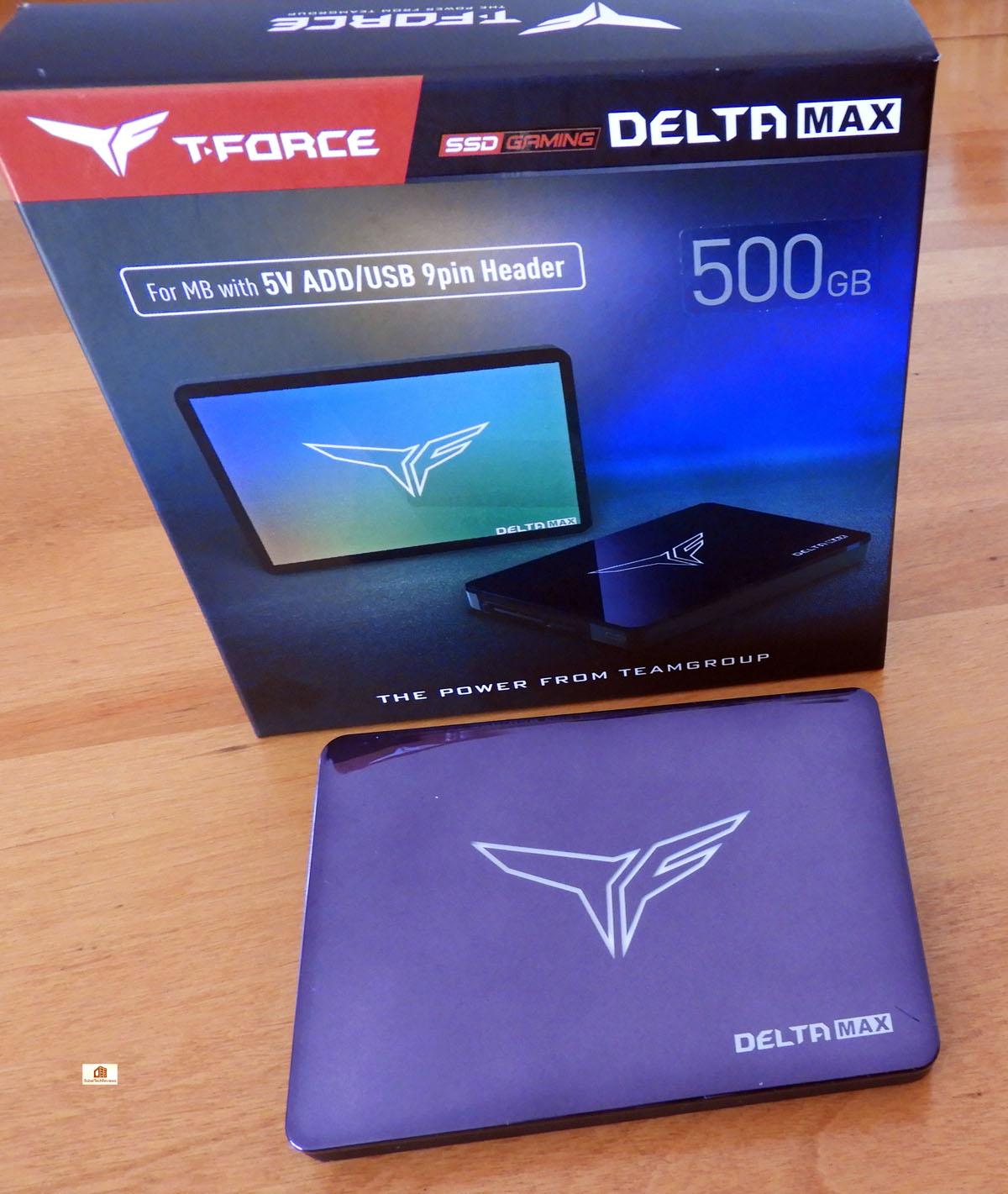 Here are the features and specifications of the Team Group PD400 portable SSD taken directly from the T-FORCE website.
FEATURES
Simple design mirror can present a mirror like reflection effect
Exclusive in luminous mode and motherboard synchronization function
The world's one and only independent dual control interface
Using addressable RGB LED module
Leading industry with largest proportion of luminous area
3-year product warranty with free technical support service.
Specifications
Details and specifications can be found on the Team Group website.  Note that it is designed for desktop PCs as its addressable RGB module adds about 2.5mm to a typical 7mm SSD's thickness making it unsuitable for many notebooks.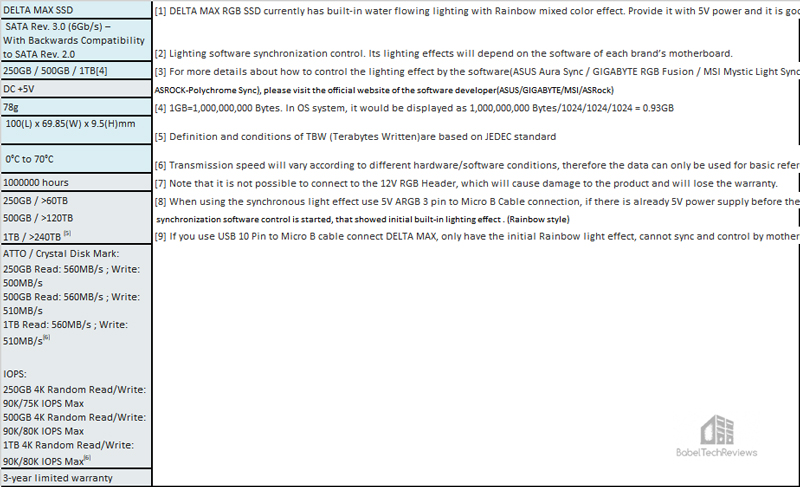 The single most important key highlight is that the DELTA MAX SSD is very good-looking when it is a dark mirror surface, but far more striking when the lights play across its large RGB display module. Using a 5V micro-USB or ADD cable, it can interface with many motherboards' software to create the largest area of addressable LEDs for customization of its lighting sequences.  Besides good-looking, it is fast, durable, uses little power for the light it outputs, and it is backed by Team Group's 3-year warranty.
Next we unbox the T-FORCE DELTA MAX.