The Kingston A1000 NVMe 480 GB SSD review
Solid State Drives (SSD) have advantages for gamers over using Hard Disk Drives (HDD) by saving game level and loading times, and by giving many apps a noticeable performance boost. SSD pricing has recently softened, and we now use a 480 GB SATA III 3D NAND SSD as our C drive. Last week, Kingston sent us their entry-level 480 GB A1000 NVMe SSD (SA1000M8/480G) which they claim is 'affordable' as well as "twice as fast as a SATA-based SSD", and we are here to test it.

BTR uses two identical boot drives – one for AMD and one for NVIDIA – together with a 1.92 TB SanDisk SSD for our primary game storage and a 2 TB Seagate FireCuda SSHD (Solid State Hard Drive) for additional storage. In addition, we just purchased a 2 TB Micron 1100 SSD from Rakuten/Platinum Micro on sale for $269 which will replace our 2 TB SSHD, and we now have an all-SSD PC.
For this review, we are going to compare six SSDs from several generations – the original Kingston 240 GB HyperX (brown) and its faster memory-equipped sibling, the 240 GB HyperX Blue; a 1.92 TB SanDisk enterprise-class SSD, our new 2 TB Micron 1100 SSD, and the 480 GB Team Group SSD – to a 2 TB FireCuda SSHD which is a 7200 rpm Seagate HDD coupled with 8 GB of flash drive.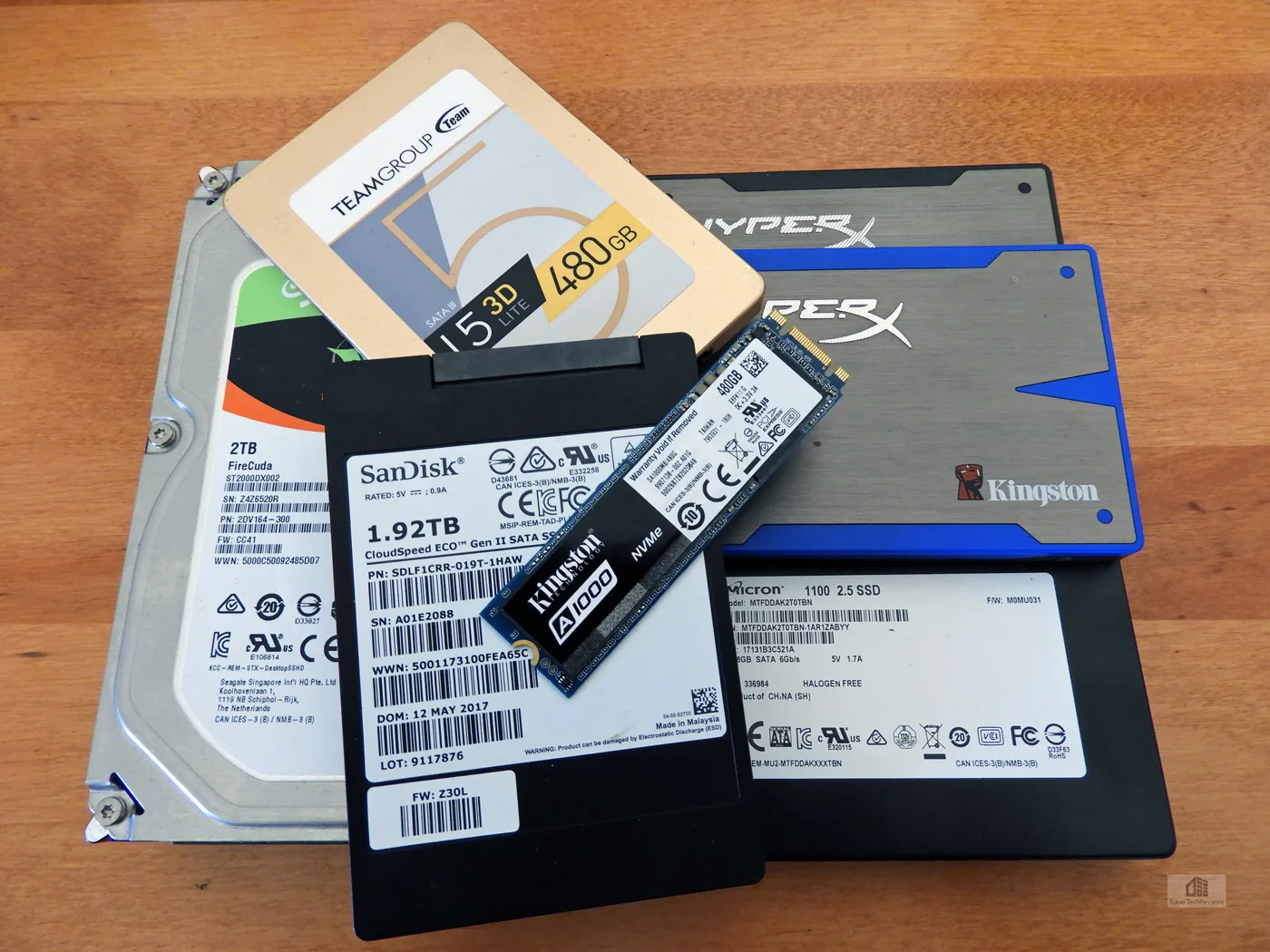 Both HyperX SSDs use 25nm MLC and the second generation of SandForce SSD controller (SF-2281). The 1.92 TB SanDisk CloudSpeed ECO Gen II SSD (SXPLFA) is a Generation II 15nm MLC SSD with an emphasis on enterprise reliability. In contrast, the Team Group SSD, the Micron 1100 2 TB enterprise SSD, and the Kingston A1000 all use 3D NAND.
This testing setup uses Windows 10 64-bit, featuring an Intel Core i7-8700K overclocked to 4.7 GHz for all cores as set in the EVGA Z370 FTW motherboard's BIOS, and 16 GB of HyperX DDR4 at 3333MHz. The settings and hardware are identical except for the seven drives being tested, and the graphics are powered by a GTX 1070 Ti Founders Edition (FE). We benchmark with all of our drives at less than 75% capacity, and in addition, all of the drives except for the Kingston A1000 and the Micron 1100, which we have "dirtied" using IOmeter, have been in use for months, so our testing results are real world.
Here are the features and specifications of the Kingston A1000 from Kingston's website, and it is currently selling there for $218.40.
A1000 Features and Specifications :
20X faster than a hard drive1: With incredible read/write speeds the A1000 will not only increase performance but can also be used to breathe new life into older systems.
M.2 2280 Form Factor: Multi-purpose SFF connector replaces small mSATA and mini-PCIe slots.
Single-sided design: Integrates easily into designs with M.2 connectors; ideal for thin and light notebooks and in systems with limited space.
Multiple capacities: Available in a range of capacities up to 960GB2 to meet your data storage requirements.
Form Factor: M.2 2280
Interface: PCIe NVMe Gen 3.0 x2 Lanes
Capacities2: 240GB, 480GB, 960GB
Controller: Phison 5008
NAND: 3D TLC
Sequential Read/Write1:

240GB: up to 1,500/800MB/s
480GB: up to 1,500/900MB/s
960GB: up to 1,500/1,000MB/s

Random 4K Read/Write:

240GB: up to 100,000/80,000 IOPS
480GB: up to 100,000/90,000 IOPS
960GB: up to 120,000/100,000 IOPS

Power Consumption: 0.011748W Idle / 0.075623W Avg / 0.458W (MAX) Read / 0.908W (MAX) Write
Dimensions: 80mm x 22mm x 3.5mm
Operating Temperature: 0°C to 70°C
Storage Temperature: -40°C to 85°C
Weight:

240GB: 6.4g
480GB: 7g
960GB: 7.6g

Vibration operating: 2.17G Peak (7-800Hz)
Vibration non-operating: 20G Peak (20-2000Hz)
Life Expectancy: 1 million hours MTBF
Warranty/support3: Limited 5-year warranty with free technical support
Total Bytes Written (TBW)4:

240GB: 150TB
480GB: 300TB
960GB: 600TB
Of course, there is the fine print, and the details and disclaimers can be found on the Kingston website. Important key highlights are that the A1000 drive is fast, durable, tiny – it uses very little power, and it is backed by Kingston's 5-year warranty with superb customer service. Here are the specifications for those who prefer to read them on a compact chart.

The datasheet can be downloaded as a .pdf here and it mentions, "Hard Drive Cloning Software – Download Coupon" as included. Indeed there is a coupon for a free download of the industry standard's Acronis True Image HD cloning software included with the A1000. This Acronis cloning software is a very nice money-saving feature for most users.
The specifications look good for an entry-level NVMe SSD. Let's take a closer look by unboxing the Kingston A1000 NVMe SSD next.
PCMARK 8
Here are the 2 TB SSHD storage test results scoring 3027 and 17.98 MB/s bandwidth.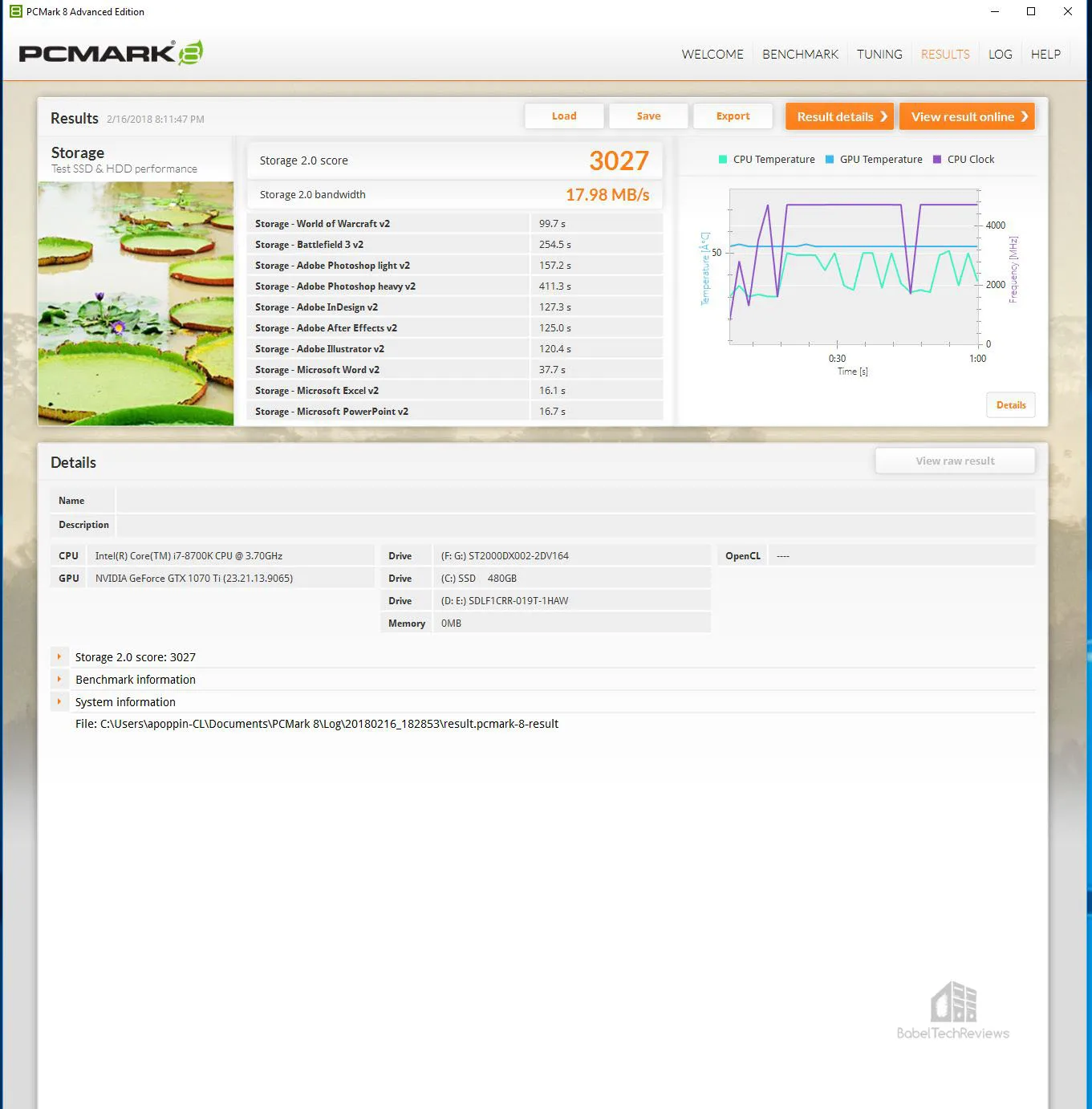 Here are the 2TB FireCuda SSHD online storage test results summarized, and most importantly for a gamer, it took 99.7 seconds to load World of Warcraft and 254.5 seconds for Battlefield 3 to load.