Intro
T-FORCE 1TB DELTA MAX WHITE ARGB SSD Review
Eighteen months ago, BTR reviewed a 500GB T-FORCE DELTA MAX which visually stands out from other SATA III solid state drives (SSD).  It's mirrorlike black surface uses an addressable RGB (ARGB) module to transform its top surface into "water flowing" lighting in multiple colors.  The 1TB DELTA MAX WHITE RGB SSD is designed to give discriminating PC gamers a color choice to make this SSD the focus of a beautifully lit all-white build PC.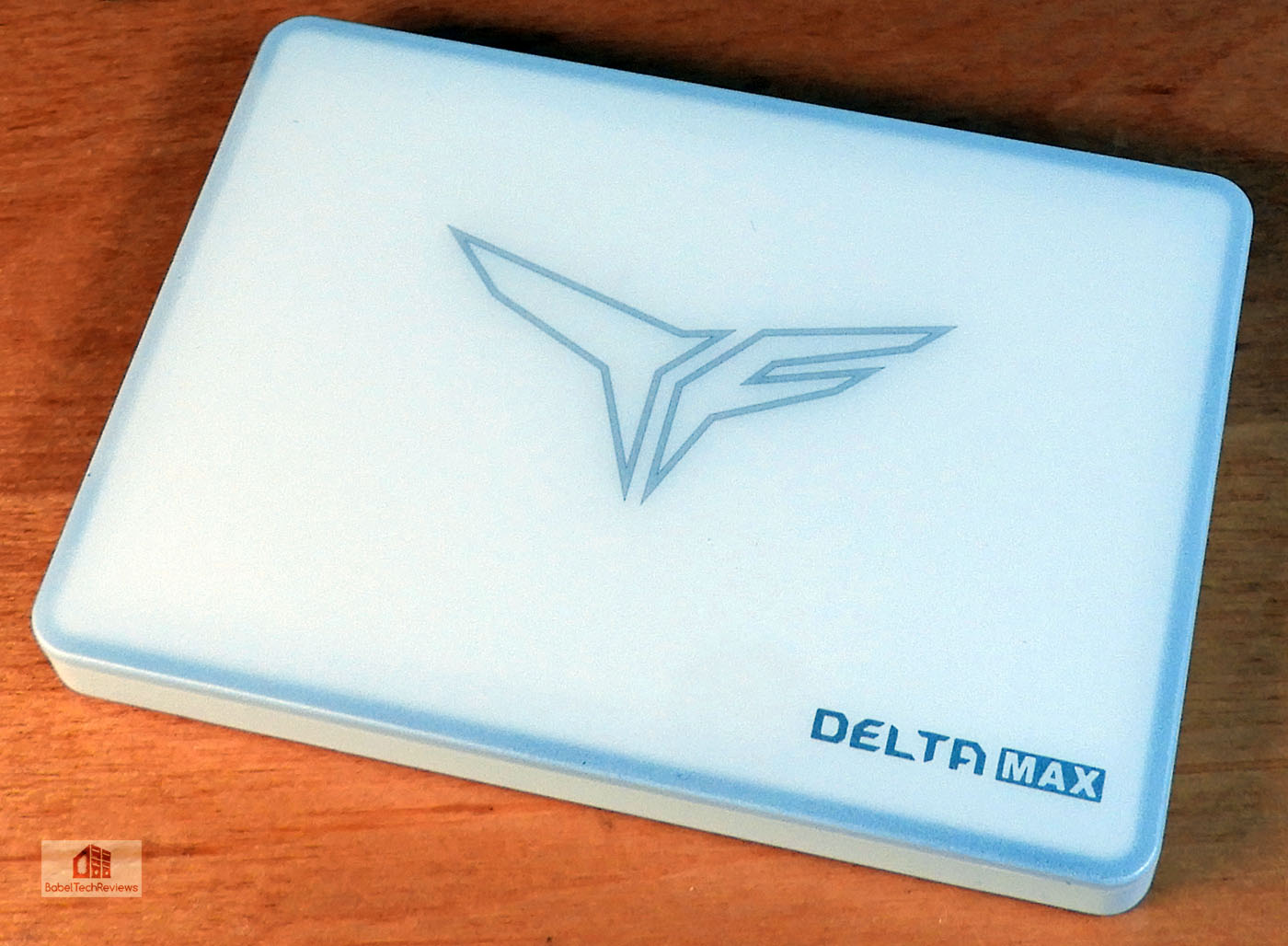 The DELTA MAX SSD has a dual control interface, providing 5V and USB 10-pin ports for synchronized lighting effects. In addition, it features 3D NAND flash memory that protects player data and with a smart management system that helps prolong its lifespan.  We will focus on performance to see if it matches up to its eye-pleasing design and we will compare it with six other SSDs.
The DELTA MAX SSD is a fast 1TB SATA III drive with Read/Write specs of 560MBps Read/510MB/s Write.  Although its specifications indicate that it is slower than PCIe NVMe SSDs, we want to see if it will make a practical difference for gamers and if SATA III is relevant to high-end PC gaming.
Our 1TB DELTA MAX review sample came directly from TeamGroup, and we will focus on its performance by comparing it with five other SSDs.  Besides benchmarking the DELTA MAX, we are going to focus on our other four fastest PCIe NVMe drives – the 1TB CARDEA Ceramic C440, the CAEDEA IOPS SSD, the CARDEA Liquid 512GB SSD, and the 1TB MP33 SSD – as well as our fastest SATA III SSD, the T-FORCE Vulcan 500GB drive.
The 1TB DELTA MAX WHITE is currently $112.49 at Amazon and the black version is also $112.49, the lowest price we have seen in weeks.   The T-FORCE Vulcan 500GB SATA III SSD can be found for $53.99 and the 1TB version is $92.69; the Liquid CARDEA NVMe2 512GB drive is $84.99, but the 1TB version is $139.49; and the PCIe Team Group MP33 1TBB SSD is $89.99.  The CARDEA Ceramic C440 1TB is a Gen 4 x4 drive currently premium priced $160.99 at Amazon as a 5000MBps/ 4400MBps drive.  However, the 1TB CARDEA IOPS drive is priced at $129.99. and it is a Gen3 x4 PCIe M.2 2280 SSD with Read/Write Speed up to 3400/3000 MB/s
BTR's test setup uses Windows 10 64-bit featuring an Intel Core i9-10900K overclocked to 5.1/5.0GHz for all cores as set in the EVGA Z490 FTW motherboard's BIOS, and 16 GB of T-FORCE XTREEM DDR4 at 3600MHz. The settings and hardware are identical except for the four drives being tested, and the graphics are powered by Intel's integrated CPU graphics.  
We benchmark with all of our drives at less than 80% capacity, and in addition, all of the drives have been in use for months except for the DELTA MAX which has been "dirtied" using IOmeter as well as cloned from another SSD, so our benchmarking tends to give more real world performance results over using brand new drives. Here are the features and specifications of the T-FORCE DELTA MAX taken directly from TeamGroup's website.
FEATURES
Translucent Aurora White
Largest translucent area for you to switch at will
Smart optimization
The world's first dual control interface
Supports multiple lighting control software
Taiwan Utility Patent (number:M583110)
Taiwan Invention Patent (number:I697761)
United States Patent (number:US10803713B1)
China Utility Patent (number:CN 209766039 U)
Specifications
The specifications are also found on the TeamGroup website and it is the same for either the black or the white DELTA MAX.  TeamGroup's SATA SSDs comes with a 3-year warranty while their NVMe PCIe SSDs have 5 years.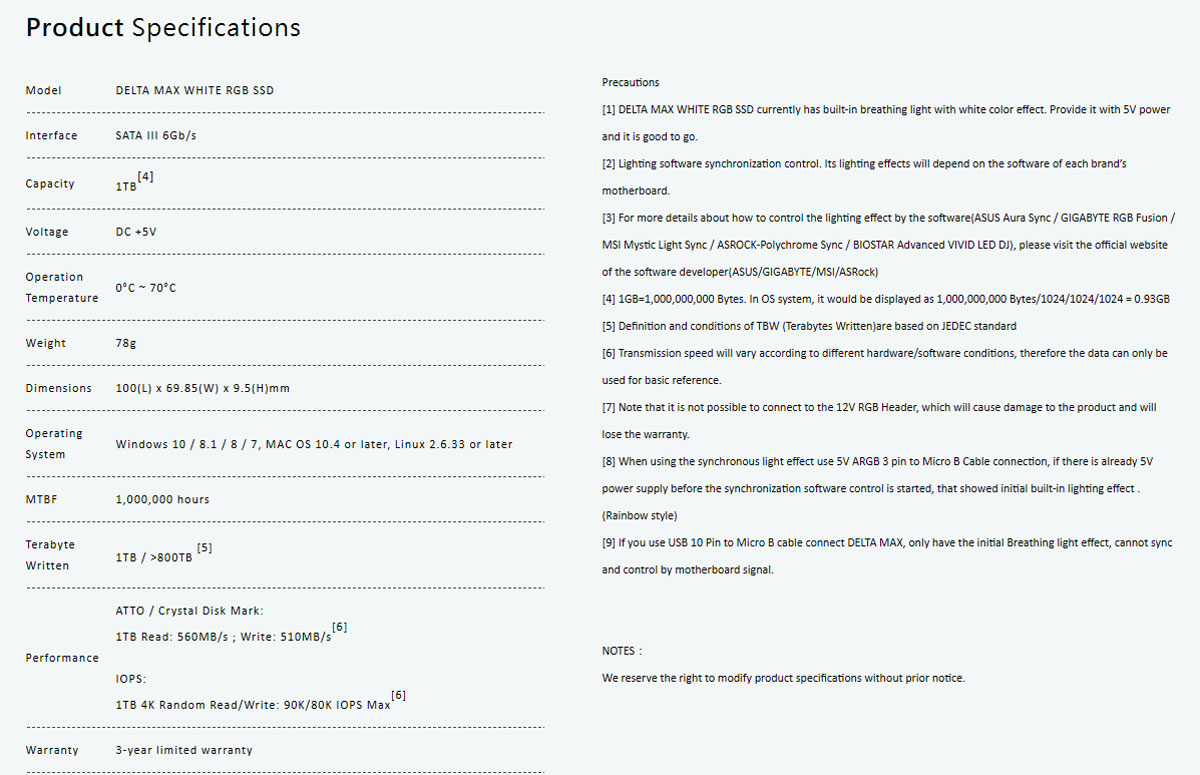 The difference between the two DELTA MAX SSDs are in their surface color. 
The original DELTA MAX SSD we reviewed was glossy black while this one is Aurora White.  The White DELTA MAX obviously will go best in an all-white build, but we think it fits nicely in a mostly black build also.  
The only lighting differences are that the ever-changing colors are a bit more intense on the regular DELTA MAX than with the White edition (below).

Above all else, both DELTA MAX are very good looking SSDs that would look good in any build but the White edition would look great especially in an all-white build.
Next we unbox the T-FORCE DELTA MAX and take a closer look at it.