TEAMGROUP Announces the 8TB MP34Q M.2 PCIe SSD and HIGH ENDURANCE Surveillance System Memory Card
Your Best Solutions for High-Performance Mass Storage
Our friends at TeamGroup have just announced an 8TB M.2 PCIe SSD and a high endurance memory card for surveillance systems. Here is their press release:
July 15, 2021, Taipei_ To meet the market demand for large-capacity data storage, TEAMGROUP today announced two high-performance, huge-capacity storage products: the TEAMGROUP MP34Q M.2 PCIe SSD, which utilizes QLC Flash and the PCIe Gen3x4 interface and comes with capacities up to 8TB; and the HIGH ENDURANCE CARD designed for high-resolution surveillance systems. Whether it is for computer equipment or security systems used at home or a business, TEAMGROUP provides reliable upgrade solutions for those who seek the best performance and stability.

Today the company announced the TEAMGROUP MP34Q M.2 PCIe SSD, which utilizes QLC Flash and the PCIe Gen3x4 interface. It also supports NVMe 1.3 and the Dual Cache technologies: SLC Caching and DRAM Cache Buffer. The MP34Q M.2 PCIe SSD offers a massive capacity of up to 8TB, excellent read/write speeds of up to 3,400/3,000 MB/s, and an official five-year warranty with purchase, so consumers can buy and upgrade with confidence.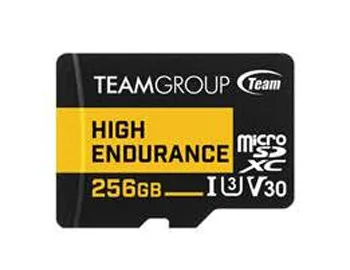 The HIGH ENDURANCE CARD designed specifically for surveillance equipment has a Video Speed Class V30 and supports 4K and Full-HD recording and playback. With multi-protective and durability features, it can not only withstand both high and low temperatures, but it is also shockproof, waterproof, anti-static, and x-ray proof. Moreover, it provides long-term stable storage performance for write-intensive workloads. The HIGH ENDURANCE CARD comes with capacities of up to 256GB and allows you to read and write 40,000 hours of surveillance footage, making it the perfect card for advanced security system storage.
PRODUCT
CAPACITY
MSRP (USD)
TIME AVAILABLE FOR SALE (EXPECTED)
MP34Q M.2 PCIe SSD
2TB
299.99
Mid August, 2021
4TB
699.99
8TB
1299.99
HIGH ENDURANCE CARD
64GB
12.99
Early August, 2021
128GB
21.99
256GB
35.99
Learn More ?
? About TEAMGROUP ?
As a leading provider of memory storage products and mobile applications to the consumer market, Team Group Inc. is committed to providing the best storage, multimedia and data sharing solutions. All TEAMGROUP's memory module products come with a lifetime warranty, repair and replacement services. Team Group Inc., also listed company at stock exchange market in January, 2019. In 2016, TEAMGROUP established T-FORCE gaming series which includes all the gaming memory module. In 2020, TEAMGROUP established T-CREATE brand for creative users. For more information, please visit the TEAMGROUP website at www.teamgroupinc.com or follow our social media including Facebook: www.facebook.com/teamgroupinc /Twitter: https://twitter.com/teamgroupinc Instagram: https://www.instagram.com/teamgroupinc