Intro
The T-FORCE CARDEA C440 Gen 4 x4 PCIe NVMe 1TB SSD Review – 5GB/s using a Z490 Intel Motherboard with limited Bandwidth
The T-FORCE CARDEA Ceramic C440 Gen 4 x4 PCIe SSD (Solid State Drive) is a fast drive with Read/Write specs of 5000MB/s Read / 4400MB/s Write for the 1TB capacity.  Although its specifications indicate that it is faster than most PCIe SSDs and significantly faster than any SATA III-based SSD, we want to see if this speed increase will make a practical difference for gamers.
Our review sample came directly from TeamGroup and we will focus on the C440's performance by comparing it with three other SSDs.  We are not really sure why TeamGroup sent it to us because the fastest Intel platform Z490 is a PCIe Gen3 motherboard that only supports speeds of 3400MB/s Read / 3000MB/s Write unlike the Ryzen 5000 series platform which can handle double the Intel PCIe bandwidth.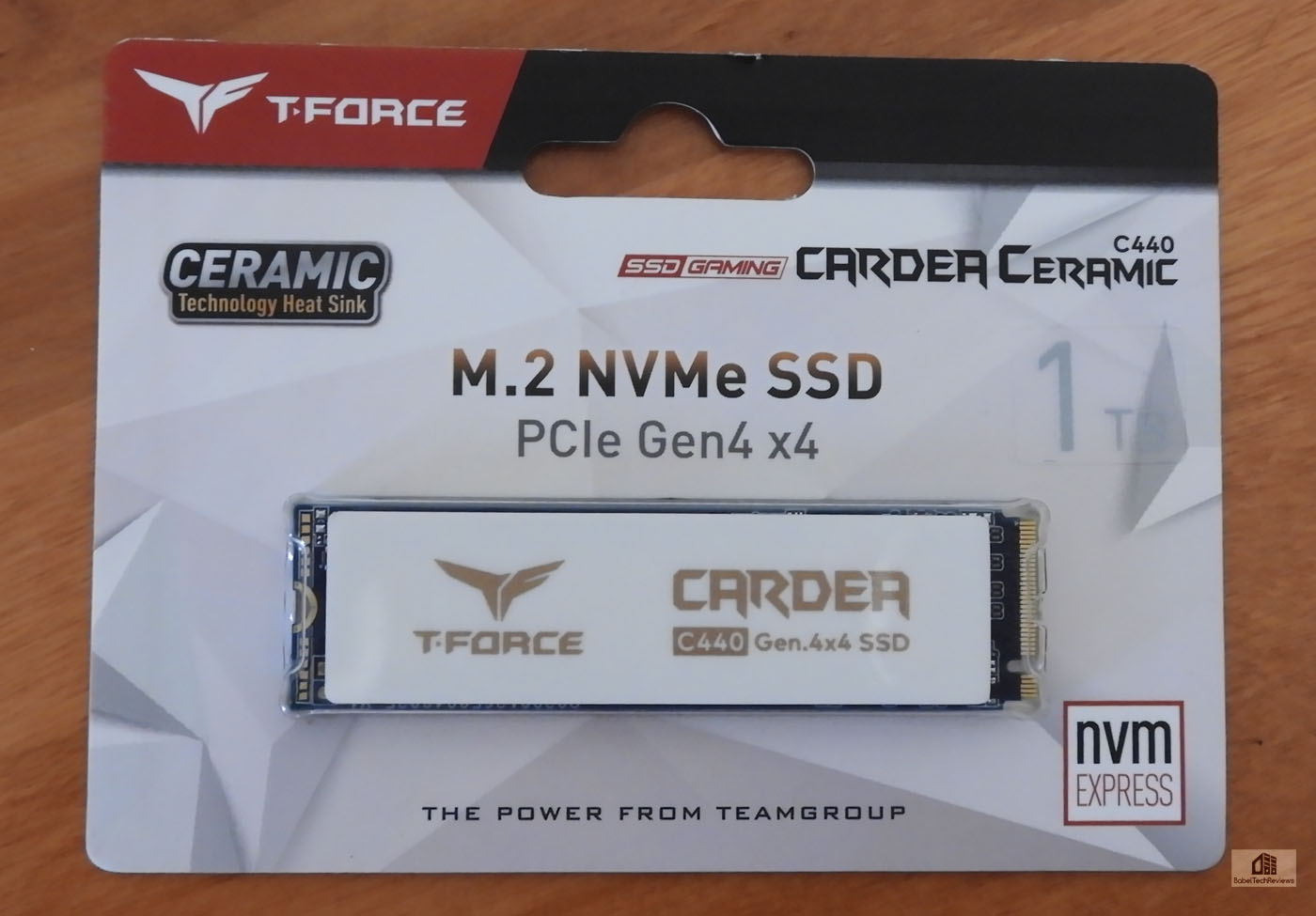 We have six SSDs (Solid State Drives) in BTR's flagship i9-10900K PC with more than 6TB of total storage for games, and yet we always need more capacity.  Using a mechanical 7200 rpm HDD or a Solid State Hard Drive (SSHD) is out of the question because of how slowly they load games and levels compared to SSDs.
BTR uses two 1TB TeamGroup MP33 NVMe PCIe SSDs – one for AMD and one for NVIDIA.  Primary storage for our 50-plus PC games and 25-plus VR games are provided by two enterprise SATA III SSDs: a 1.92TB SanDisk SSD and a 2TB Micron 1100 SSD. In addition, we also use a T-FORCE Vulcan SATA III 500GB SSD and a 1TB TeamGroup SATA III GX2 for additional storage.  The very fastest SATA III SSDs generally max out around or below 560/500MB/s while the PCIe NVMe drives are much faster.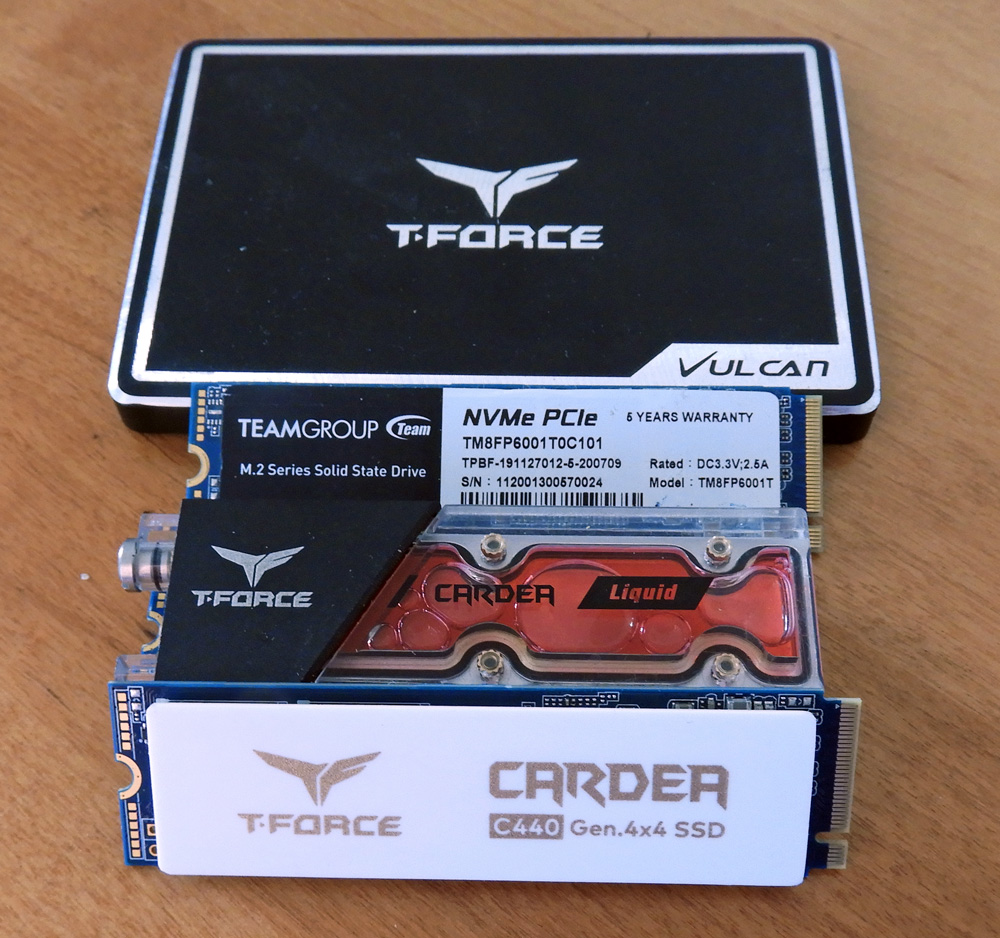 We have already benchmarked HDDs and SSHDs previously, and they are painfully slow in comparison to any SSD.  So this time, we are just going to concentrate on our three fastest PCIe NVMe drives – the 1TB CARDEA Ceramic C440, the CARDEA Liquid 512GB SSD, and the 1TB MP33 SSD – as well as our fastest SATA SSD, the T-FORCE Vulcan 500GB drive.
The T-FORCE Vulcan 500GB SATA III SSD can be found for $58.99 and the 1TB version is $105.99; the Liquid CARDEA NVMe2 512GB drive is $82.99, but the 1TB version is $134.99; and the PCIe Team Group MP33 1TBB SSD is $91.99.  The C440 comes in just two capacities – 1TB at $189.99 and 2TB at $364.99.  However, the CARDEA Ceramic C440 drive is currently discounted to $166.99 at Amazon, so you can see that high speed PCIe Gen 4 x4 SSDs are priced at a premium.  So let's see if the C440 it is worth its price premium – even on an Intel Z490 motherboard.
BTR's test setup uses Windows 10 64-bit featuring an Intel Core i9-10900K overclocked to 5.1/5.0GHz for all cores as set in the EVGA Z490 FTW motherboard's BIOS, and 16 GB of T-FORCE XTREEM DDR4 at 3866MHz. The settings and hardware are identical except for the four drives being tested, and the graphics are powered by Intel's integrated CPU graphics.  We tested the CARDEA Ceramic C440 using no PCIe drives attached, but the bandwidth the Z490 motherboard provides is the same whether we have no other drives connected or if we use our video card, a PCI soundcard, and 5 other SSDs.
We benchmark with all of our drives at less than 80% capacity, and in addition, all of the drives have been in use for months except for the CARDEA Ceramic C440 which has been "dirtied" using IOmeter as well as cloned from the TeamGroup MP33 SSD, so our benchmarking tends to give more real world performance results over using brand new drives. Here are the features and specifications of the T-FORCE CARDEA Ceramic C440 SSD taken directly from TeamGroup's website.
FEATURES
Unleash the ultimate power
Beautiful and thin as a snowflake
Top specification that breaks through the limit
Aerospace ceramic material for better heat dissipation
Trustworthy smart management technology
Taiwan Utility Patent (number: M595313)
Chinese Utility Patent (number: CN 210984280 U)
5 year limited warranty
Specifications
The specifications are also found on the TeamGroup website.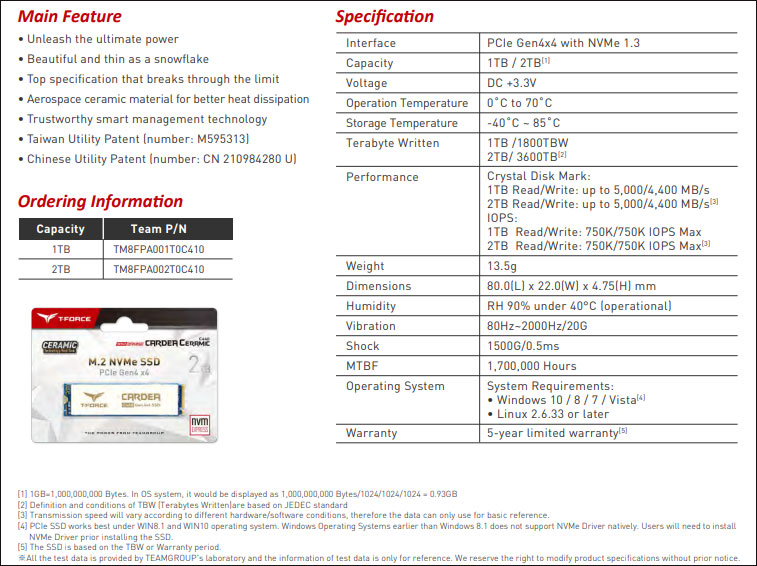 The key highlights are that the CARDEA Ceramic C440 Gen 4 x4 PCIe NVMe 1.3 SSD is fast, durable, uses little power, uses ceramic cooling technology, and is backed by TeamGroup's 5-year warranty.  Above all else, it is a very good looking SSD that would look incredible in an all-white build (but we think it also looks great in an all-black build).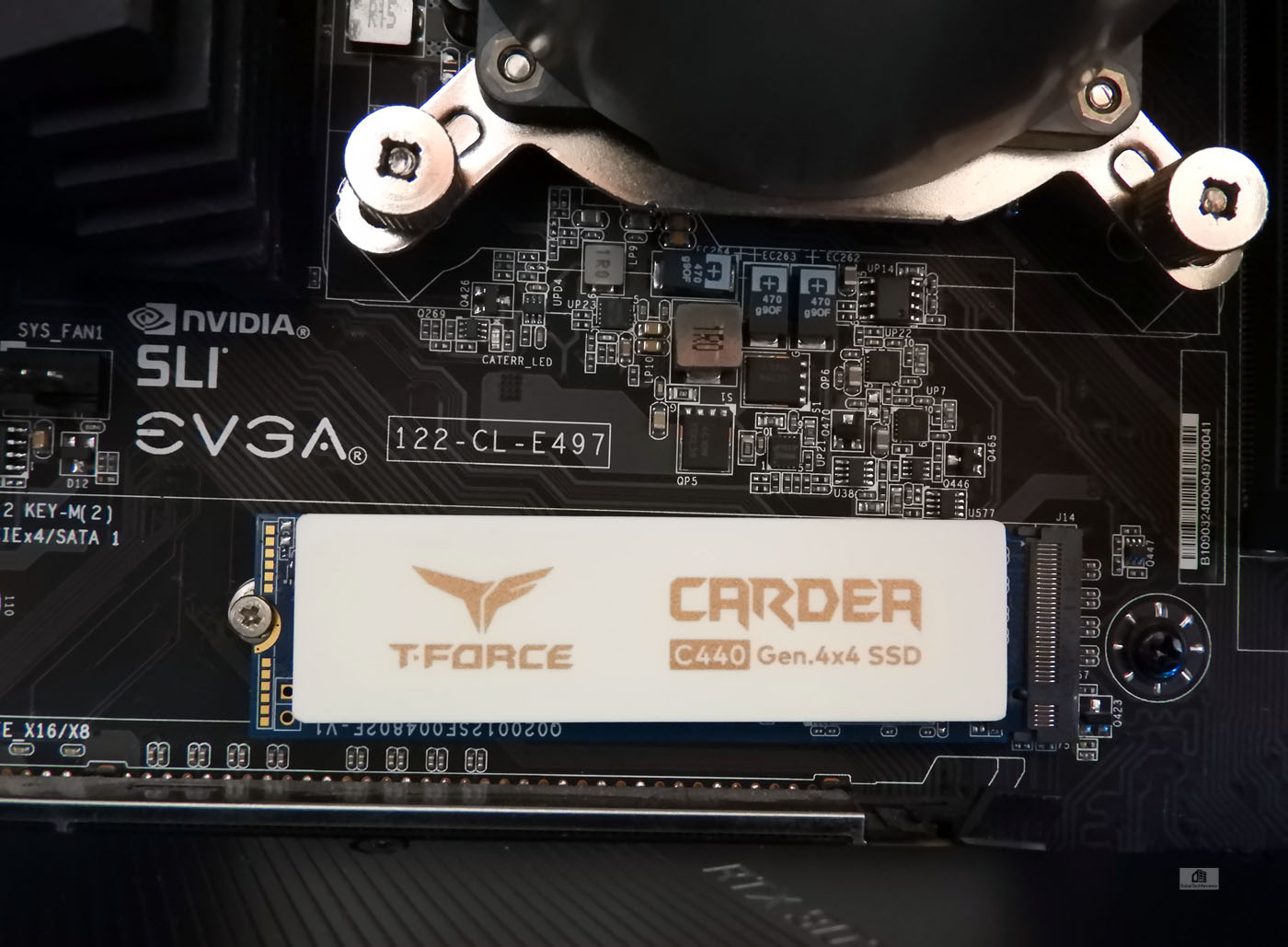 Next we unbox the CARDEA Ceramic C440 SSD and take a much closer look at it, including without its heatsink.