Streaming Services Light Up Global Availability of Targeted Content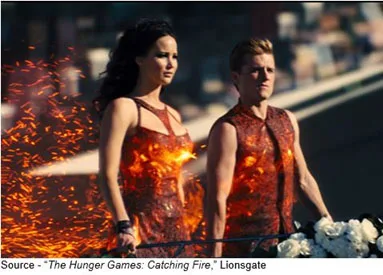 2019 was just a warm-up but 2020 is really going to be the golden year of M&E.
It will be the year of content directed/produced by females and an abundance of heroine leads.
It will be the year graphic novels will keep theaters healthy. Just look at 2019's top-ten box office films being led by Disney's Marvel series.
It will be the year streaming content providers will be recognized as viable contenders and will drive serious, above-the-line profits (subscriber growth); and M&E players will find M&A may provide accelerated growth and potential market dominance.
It will be the year where East melds with West as entertainment discovers a borderless world.
It will be the year where consumers find bundles tolerable; and in fact, appealing.
When Disney acquired Fox, including all of the "out of the world" potential of Stan Lee's Marvel comics, it combined it with its home-grown content and had the potential of capturing international audiences – both male and female.
Yes, there were a lot of guy hero stuff, but both Marvel and DC made a concerted effort to level the playing field for really good female superheroes and supervillains.

Wonder Woman, Captain Marvel and Black Widow will be joined by some of the characters who are deeper in the Marvel archives including Ms. Marvel, Hawkeye (Kate Bishop) and She-Hulk – it's not easy being green.
While Martin Scorsese doesn't think much of superhero movies, four of the top ten grossing films were from Marvel Studios, meaning they could become the lifeblood theaters need.
Theatrical magic still attracts audiences. Even our kids don't even blink at spending two months of their streaming service budget for tickets and ridiculously expensive popcorn.
Try as they might, the US theater market is no match for the Asian and other international markets — China, South Korea and Japan. France, Germany, Mexico and Spain.
Consumers have "discovered" that superheroes are the escape they need from political issues as well as political statements because they provide refreshing perspectives to all who stand up for peace, justice and the underdog.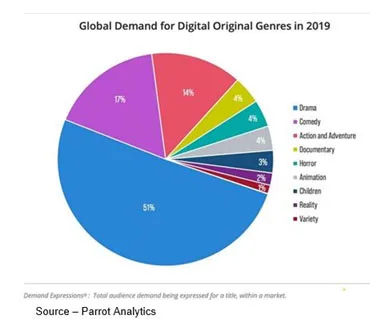 Superheroes will dominate the big screen this year but most of the attention (and action) is
on the FAANGD (Facebook, Amazon, Apple, Google, Disney) and BAT (Baidu, Alibaba, Tencent) D2C (direct to consumer) work. It will prove to be a boon to indie filmmakers as streaming services focus on filling their rosters with a wide range of content that will appeal to people … everywhere.
Most countries have laws that dictate that platforms must have 30 percent of the content
produced locally. Initially, that looked like a big obstacle for content distributors, but it
turned out it was a blessing in disguise. It turns out that content produced in the EMEA
(Europe, Middle East, Africa) India, Latin America and most of Asia is also of interest to
consumers in other countries.
A good video story is a good video story.
The US-China trade issues have had a negative effect on streamers on both sides of the border, they have been especially hard on Chinese filmmakers. If content fails to attract enough of the country's 1.5B population – 305M active subscribers (158M in US), it is very difficult to play elsewhere, on any screen.
China's producers and distributors are deep in their discussions with counterparts around the globe to develop solutions that will benefit the global M&E industry.
The battle for exclusive content not only continues unabated but is thriving.
While the capture and use of personal data is subject to interpretation because of the CCPA (California Consumer Privacy Act) and GDPR (General Data Protection Regulation), it doesn't appear to be an issue for services like Netflix, which doesn't share or sell subscriber information. Drawing on the viewer inputs and experience, they've beefed up their production budget to $15+B to develop new films and TV series that will attract more subscribers around the globe.
The viewer data is something that's almost impossible to put a price on.
And, while Netflix also carries a heavy debt load, CEO Hastings is bullish that their aggressive investment will pay off later this year as it is able to balance new development that will drive new viewers, reduce audience churn and grow its own content library, which has the potential to reduce licensing costs.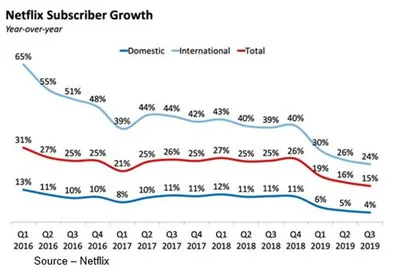 Still, tech born Netflix has a big acquisition target on its back as other streamers look to jump start their global content reach.
What are the Pros and Cons of these streamers?
AT&T already has an outsized burden of its own with the acquisition of TimesWarner/HBO.
Google and its YouTube could be potential hunters but the mix of so-so user content with professional fare would probably drive more millennials away than it would capture, and Spotify would be a more likely target for the IP-focused company.
Facebook has the funds, but the focus and understanding is in short supply as they work to capture market share from YouTube.
Bezos enjoys the Hollywood scene–especially the awards ceremonies, and has gained a lot of experience with his team on acquiring and managing projects but…
Verizon is pretty happy with its relationship with Disney as well as its content development and streaming performance. Hans Vestberg might have just a little Hollywood glitter envy when it comes to AT&T's Stephenson, but certainly not when it comes to his debt load.
Disney's Iger already has about 30+ percent of the content universe and an open door to the leading content creators worldwide, so Netflix would only add content and distribution–both of which they have.
Apple is off to a modest start and certainly has the financial war chest to become a major streaming player with the right global content resources and strategy.
Because M&E is an industry without borders; Baidu, Alibaba, MoviStar,Tencent and more could easily set their minds to be truly international entertainers.
Problems are on the horizon because too many folks think the same way about streaming services as WarnerMedia's new boss, Bob Greenblatt, "It's getting to be a crowded field, but we think there's room to carve out a very good consumer base for us."
As Allan McLennan, PADEM Media Group's chief executive, noted, "The barriers for service providers are beginning to lower so that viewers can easily have an overabundance of streaming options and we will start to see a realignment of service offerings as people begin to reevaluate their "TV" budget and what they really want to have available to them."
"The marketplace has started to fracture due to an ever increasing number of subscription services and people are beginning to find it difficult to both justify their expenditures, ie budgt as well as keep track of which of the services that have the shows they want to watch. What will be key will be how offerings drive viewer financial engagement models through new currencies that will now require tradable, intelligent advertising measurement and enhanced subscription tiers " he noted.
To control and manage the embarrassment of content options, the strongest participants – content and finances – will strengthen their D2C relationships by making the most of the invaluable subscriber data.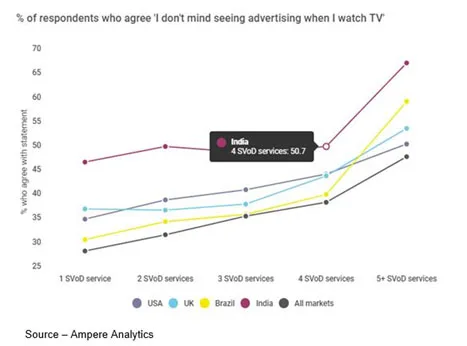 There will be three to four dominant SVOD and streaming TV suppliers that will lead in the coming year with new original/new content.
The majority of the services will further develop relationships with device manufacturers like Samsung, TiVo, Roku, Amazon, TCL and LG that will also offer ad-supported and subscription content from a single central access point.
"AVOD services like Tubi, PlutoTV, Vudu, Xumo, Peacock, Sinclair and others will be 'rediscovered', McLennan predicted. "People will realize the ad blocks are no longer 8-10-minute segments but much shorter (2-3 minutes). They will also be less irritating, less interruptive; and in many ways, more enjoyable thanks to improved targeting and personalization."
"People are less inclined to subscribe to multiple services for just a few shows," he emphasized, "so streaming services will need to expand globally–both in content and reach, as quickly as possible to justify viewer loyalty. If not, they risk their content being pirated."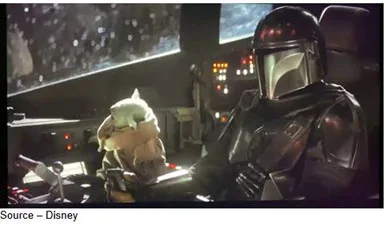 Disney +'s The Mandalorian was pirated in less than three hours after its release as Disney + was only initially available in five countries – The Netherlands, Canada, Australia, New Zealand and the US.
As a result, digital piracy was the only option for people awaiting its release in other countries.
"Piracy has plagued the video entertainment industry for years," said McLennan. "It even includes the time-tested piracy of people bringing video cameras into theaters, theaters that now enable uploading live capture immediately to cloud-based distribution."
On an optimistic note, piracy will always be a part of our industry, but as streaming platforms become more available around the globe and content is more accessible and more affordable, piracy will begin to be reduced and will be more manageable.
We certainly hope so because it's important for D2C services to remember that people – young and old – are the customers … not the enemies.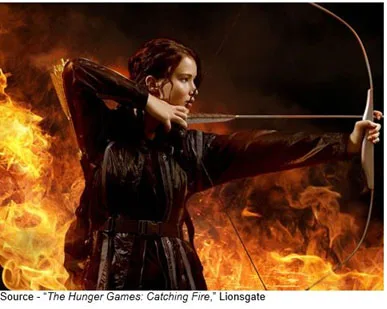 We understand that being benevolent is a strain for the streaming services until they can deliver content globally because until then, they know what Johanna Mason meant when she said, "Yeah, well, yes! I am angry. You know, I'm getting totally screwed over here."
# # #