There are winners, losers…we liked these CES winners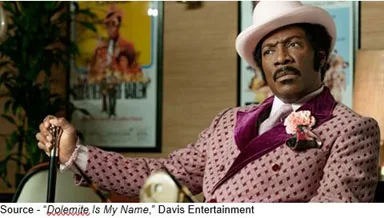 Covering CES is easy.
All it requires is:
A constant intake of water – desert air sucks it out of you
A good smartphone – for taking notes, keeping track of what/where, responding to requests/or not
A couple of good battery packs – keeping smartphone charged (forget the cutesy stuff and give us long battery life)
Focus – even though there's no way you can see all the good, bad, WTF,
Ultra-comfortable shoes
Oh, the Delta exoskeleton would be nice.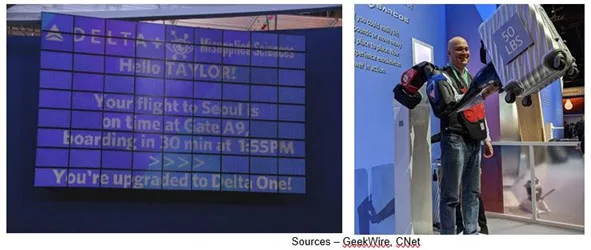 Delta Airlines was at CES bigtime, talking about their personalized passenger AI tools and the exoskeleton to make it easier to handle your baggage without testing the strength of handlers and your baggage.
This year's show can best be summed up in one word … connected.
It didn't matter what business you're in; there was a connected idea, product, service, discussion for you. All you had to do was find it in the 2.9M sq. ft of 4,500 company exhibits from around the globe plus six days of intensive, informative keynotes and panel sessions.
Of course … fifty percent of the eager start-ups won't be back – no market, not enough of a market, totally inexperienced management, no meaningful business/marketing plan, money/credit cards run out.
A lot of the products were "This is tomorrow!" Others…"WTF were they thinkin?"
All you have to do is pick the winners from the losers.
Easy beazie as our daughter would say.
Moving People
Vehicles/transportation excites everyone and CES attracts the biggest, best from around the globe as well as folks who want them … now!

Okay, it's a concept but when Mercedes brings in James Cameron to unveil their Avtr, you know they're out to make a statement that they are looking to the future with their inside and out auto design.
The Avtr incorporates design ideas Mercedes will be using in other vehicles:
– compostable graphene-based battery free of rare earth materials
– seats of vegan leather
– floor composed of hand-harvested Indonesian timber
– multidirectional bionic flaps that somehow supply energy to the car
– wrap-around screen to manage, entertain
– detect, monitor, merge with everyone when they're seated
You'll never look at Elon's Tesla Model 3 with envy again.
Sony surprised folks with their Vision-S concept car that actually works, even though they have no intention in taking on the big iron folks (we think).
They showed off entertainment everywhere with 360-degree audio; panoramic dash as well as camera, LIDAR, radar, ultrasonic sensors; 0-60 in 4.5 sec; 150 mph top end and an electrically powered 300 mi range. Well, you and auto folks get the idea.
Oh yeah, there are way too many LIDAR and sensor solutions people are pushing … too many to survive.

Henrik Fisker (Revero, Emotion) is back with the Ocean, an electric crossover sorta' like an SUV but cooler.
Due in 2022, it's priced right ($38K or $379 lease) and for folks with lots of sun can give you 300 mile plus range powered by a lithium-ion battery pack and electric motors over each axle.
During the unveiling, Fisker called the Ocean "the world's most sustainable vehicle." It has a full-length solar roof, recycled carpeting, vegan interior, "eco-suede" interior textiles and will use discarded rubber waste.
We were impressed with the Byton electric cars when we got our first look at it at last year's CES. First thing that hits you is the 48-inch post-to-post screen that can be customized into segments to suit you.
From the outside, the car looks "interesting" but on the inside the interior and software are still in what we'd call beta stage. Their world-class roster of designers and engineers still have work to do before they ramp up production in their huge Chinese manufacturing facility. Think of it as a low-cost Tesla.

If you like to feel your music while driving, the Continental Ac2uated Sound system is a great aftermarket product. The Seinnheiser speakerless audio system's actuators vibrate your interior – dash, pillars, door panels, headliner – to produce totally immersive surround sound.
And if you think James Corden's Carpool Karaoke looks like fun, Carkit AI's Roxie could help you (almost) enjoy those endless hours in traffic. Plug it into your car's cigarette lighter socket and BAM!! your car is a hands-free mobile karaoke room.
Choose music from Apple Music, Spotify, TuneIn, whatever and you're "on the air", having a ball and looking like a fool to the folks in the car next to you. You can do it all for under $150.

If you want to get above it all, Bell Helicopter (and Hyundai) are racing to deliver their VTOL (vertical takeoff and landing) air taxis. Bell's electric-powered beauty has a range of 150 miles and will easily handle 4-5 passengers.
Management describes it as safe, quiet, clean and green.
Hot on their tail is the Hyundai S-A1 electric VTOL that is being developed for Uber's flight-sharing service. With a range of 60 miles, the S-A1 has a range of 60 miles at 180 mph. Cost per trip? If you have to ask, forget it!
Both are a lot different from the air taxis in Fifth Element and Blade Runner 2049 and there's a lot less violence.
TV Time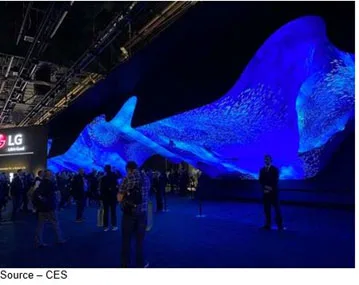 When you think of CES, you envision big, beautiful screens so, it's rather fitting that LG's expansive moving image screen dominated the main entrance to Central Hall as a warm-up to the brilliance that lies ahead.
Once they sucked you into their booth, they showed off their 8K rollable OLED screen that delivered a beautiful picture but at $60K…
There may not be any 8K content any time soon, but that hasn't stopped the screen folks from encouraging people to upgrade to "something better."

Samsung again highlighted it'sr Wall MicroLED-based set which is getting closer to reality. Until then, there are still 88-, 93-, 110-, 150-inch screens to buy.
Obviously targeting Gen Z and Gen Alpha viewers, they showed off the Sero that rotates between landscape and portrait mode so they can show mom and dad what they're watching on their smartphones … we'll wait.
According to NPD, OLED TV's deliver the best picture quality available (we know, it's subjective) and OLED sales grew 20 percent last year with lower pricing by LG, Sony, Samsung, TLC, Hisense, Vizio, everyone.
Ratcheting up the heat, Vizio (#3 US seller) showed off it's newest in the P-Series QuantumX line that delivers excellent picture quality … economically. Top that off with the SmartCast platform with a new TV OS that is fast, responsive, lets you share home videos, better voice and free streaming channels … they're on a roll.
Smart Home Stuff
Now that we've seen our next home screen, it's time to trick your residence out with the best smart home tools the industry has dreamt up. They've come up with smart solutions you didn't even know you wanted … or needed.

We have no idea how folks got so paranoid but there are cameras for inside, outside the house and probably cameras for places we don't even want to know about.

Folks are determined to make the kitchen smarter than we are and that includes Bosch's beautiful connected refrigerator that tracks what food it has at the time and suggests recipes so you don't have to run to the store.
Even if you're a PBJ sandwich cook, the Julia appliance and Smart Kitchen Hub can turn you into a chef. It will suggest digital recipes and appliance controls. The unit will even weigh, chop, steam and more.
Go back to watching your TV and BAM! done.
LG showed off a new family of ThinQ appliances including an oven with air fry and a washer and dryer that determines what clothes you're cleaning and chooses the best cycle.
There were lots of smart lighting solutions but the Sengled bulbs were neat even if you have to upgrade to their newest Smart Hub. The vintage-style LED and fake filaments were retro cool. In addition, it supports the Apple HomeKit and Siri voice control.
To give your place that designer look, Philips Hue's line of outdoor lighting included wall-mounted sconce lights, Lilly spotlights and the Econic pedestal footpath light.

Like to sing in the shower? Need to send someone a note or order something? The Kohler Moxie needs to be in your shower. The showerhead, waterproof Bluetooth speaker supports Alexa and Harman Kardon gives premium sound.
We want the EnvisionBody app and smartphone projectors for a couple of mirrors around the house. Sure, it's designed to keep you motivated to stay in shape but it's so much easier to use the phone's camera and their algorithms, AR; look in the mirror and say, "Damn dude you still got it!"
Personal Care
There was an increased number of personal care and "personal aid" products this year–beyond Lora DiCarlo's items; but we were most impressed with the growing volume of health and wellness products. A lot of them will eventually connect to your health records and if you choose, to your physician.

Apple has a strong lead in the wellness area with it's smartwatch with a growing list of fitness and healthcare features but the Withings could a great option. It can monitor passive heart rate, give ECG readings and check sleep apnea issues. And yes, it has the usual array of fitness, sleep tracking features.
The WSJ reported that more women than men are working today and when we came across the Willow wireless Bluetooth-connected breast pump, we thought it had to be a welcome solution for today's modern woman. We know, equal pay would also be welcome and reasonable but…
AR, VR, MR
We have constant "discussions" with friends about whether AR, VR, MR, XR are ever going to be real (consumer successful) but CES showed that the reality solutions are alive, well and growing. Still, they're a long way (if ever) from being a volume consumer product category.
This year's CES had the best offering of AR, VR we've seen … anywhere!

Most folks think of AR as having to put on some cool glasses attached to something but Audi showed off their Intelligence Experience with the car windows being video screens with icons that popped up as points of interest, electric charging stations, shopping/eating locations, real-time HUD display and even suggested breathing exercises based on your health info.
Qualcomm showed off it's XR Smart Viewers while Nreal easily has the best AR glasses in the bunch. And the competition is heating up with strong efforts from MadGaze, OGlasses and others.
Sony and Facebook like to tout how successful their VR solutions are but with Sony's PS VR sales of 5M units, that's not a lot to brag about. Still, there are a growing number of sets for gamers while most of the applications right now are in industrial and healthcare applications.
The RealMax standalone headset is interesting in that it lets you switch between AR and VR. It also includes 6DoF (degrees of freedom), 100 degrees FOV (field of view).
Expect more from them and others next year.
Computers
The basic tools of business and enjoyment almost get lost in the glitter and glam of CES but as AMD's CEO Lisa Su pointed out in her keynote, kicking Intel while they're down is a big deal for her company. They racked up big sales last year but are still 10X behind Intel. However, with their Ryzan and new Threadripper the lady tech leader is showing no mercy.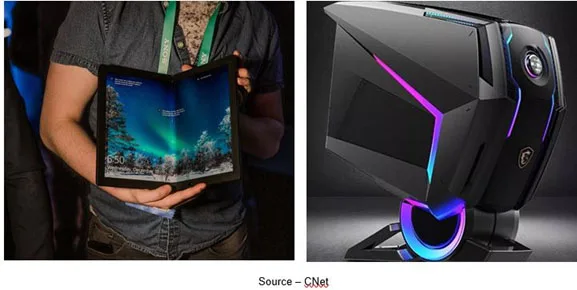 If you're into expensive foldable phones, you're going love the foldable notebooks unveiled by Dell and Lenovo. The ThinkPad X1 Fold has a 13-in. diagonal screen when unfolded and looks like a thin book. How durable are the screens (any of them) going to be is a big question, especially when your credit card takes such a big hit.
There were a lot of superpowered tablets, laptops and desktops but for the serious gamer or person who wanted to look super cool the MSI MEG Aegis Ti5 takes the prize. It may look like alien headgear, but it has a load of adjustment features and is powered by Intel Core i9 CPU and Nvidia's GeForce RTX 2080 Ti graphics and yes it will be 5G ready.
Friendship, Companionship
We suddenly realized there was a new category of solutions at CES we thought were just cute but actually fill a void for darn near everyone. Our devices have made us more connected and more isolated, more alone. People complain about the problem all the time and now there are a lot of solutions – autonomous friends, companions!

The MarsCat and Yukai's headless kitten were big hits but we're more of a dog person so, Tombot's golden retriever pup, Jennie, is the kind of "friend" we'd like to come home to after a really crappy day. Pet her, talk to her and she responds without judging and is just someone you like to be around.
If you like a little more action, a little more response; Groove X's huggable robot LOVOT more than fits the bill. You can hug it, pet it, talk to it and will be your new best friend. But he (she?) will also patrol the house just in case.

Samsung has spent $22B and has about 1,000 AI specialists working on the advanced technology and they plan on having it everywhere. So, at CES this year, co-CEO H.S. Kim showed off Ballie, a personal and personable robot that rolls around the house. It follows you around, responds to commands, records/stores stuff, and well he (it?) can kinda' grow on you. Ballie looks fun, smart and helpful; but best of all, Kim promised it would keep secrets secret!
But if you're more into "real" people, Samsung's NEON may be more to your liking. Like your video-game characters, they're computer-generated "folks" who talk, behave like humans. They remember, learn and can be great (according to Samsung) friends, collaborators, companions. But more than just a casual relationship, they can also serve as teachers, financial advisors, healthcare providers, concierges and people who will hang out with you without judging.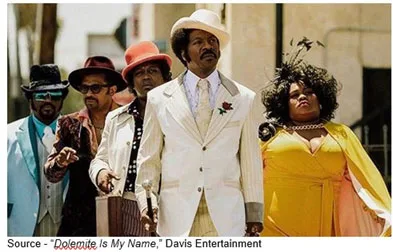 There's a lot more to CES than just glitzy booths and products that may or may not ever make it to market, but that's for another time.
The key for all of the 4500 exhibitors is to figure/carve out their place.
As Ruby Ray Moore so aptly said, "Cause every city in America got those same five blocks. And those folks is going to love it!"
# # #