Conclusion
Final Thoughts
The $599 RTX 3070 Ti FE performed well performance-wise compared to the RX 6800. However at only around 3-10% faster than the $100 less expensive RTX 3070 it is not priced particularly well based on its value to performance.  It does have faster GDDR6X memory, slightly more cores and a mini-clockspeed bump together with a much better cooling system
If a gaming enthusiast wants a very fast card upper-midrange card, the RTX 3070 Ti is an excellent card for ultra 1080P or 1440P gaming.  It can also be used for 4K gaming if settings are lowered.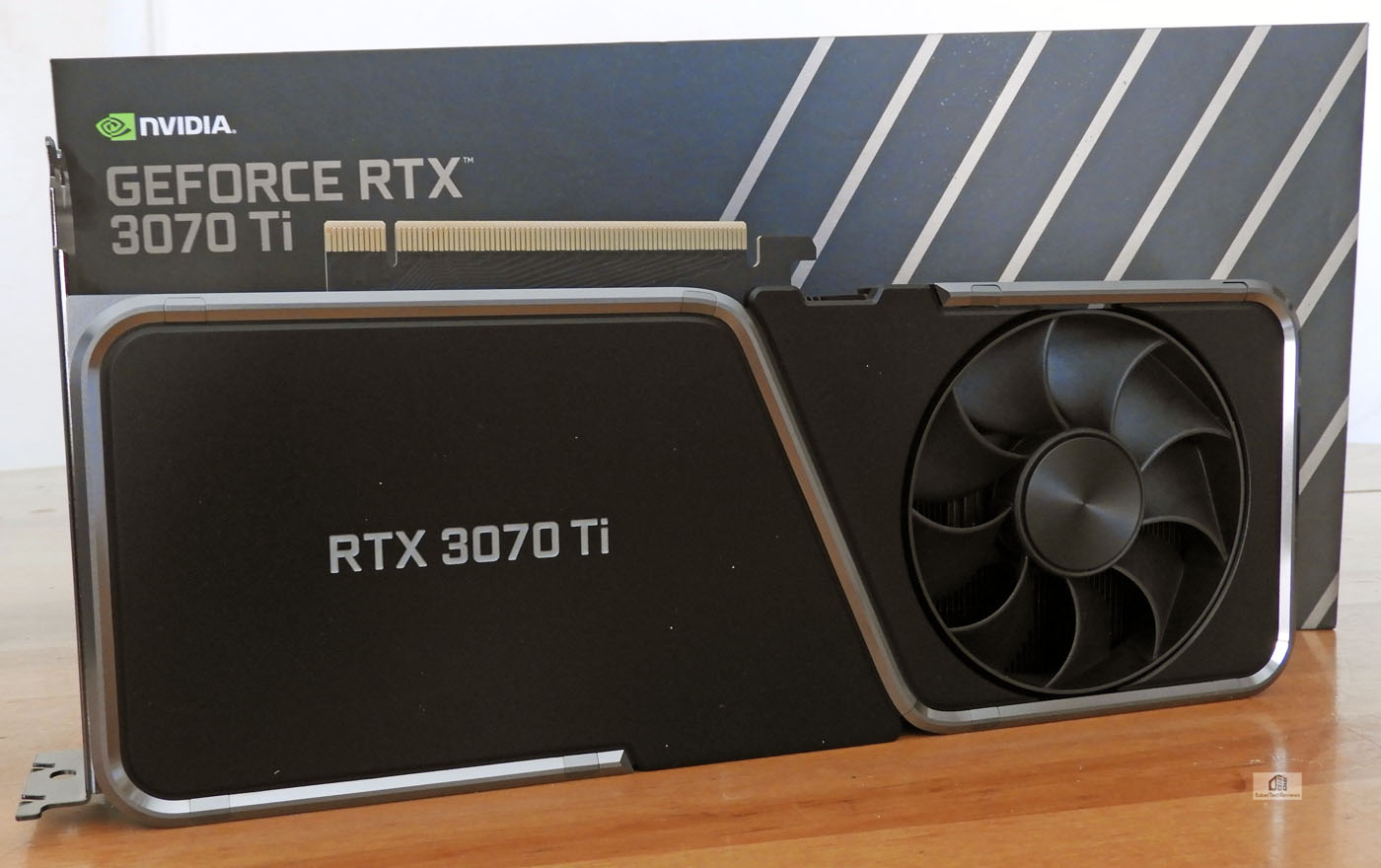 The Founders Edition of the RTX 3070 Ti is well-built, solid, and good-looking, and it stays cool and quiet even when overclocked.  The RTX 3070 Ti Founders Edition will offer a solid upgrade for first generation Turing owners of the RTX 2070 or any earlier generation cards. However, it is not really an upgrade from a $499 RTX 3070 FE which has a higher value to price ratio – if it can be found at MSRP.
Pros
The RTX 3070 Ti is fast enough for VR gaming with the Vive Pro 2 at 100% SteamVR render resolution
The RTX 3070 Ti is perfect for 1440P or 1080P gaming although settings have to be lowered for 4K; and it's also very useful for intensive creative, SPEC, or GPGPU apps
Ray tracing is a game changer in every way and the RTX 3070 Ti is much faster than the RX 6800 XT or RX 6800 XT when DLSS 2.0 or ray tracing features are enabled.  DLSS 2.0 has been rightly called "a miracle" for gamers including for VR gamers
Reflex and Broadcast are important features for competitive gamers and broadcasters
Ampere improves over Turing with AI/deep learning and ray tracing to improve visuals while also increasing performance with DLSS 2.0 and Ultra Performance DLSS
The RTX 3070 Ti Founders Edition design cooling is quiet and efficient and its upgraded flow-through design is a real upgrade over the RTX 3070 FE.  The GPU in a well-ventilated case stays cool even when overclocked and it remains quiet using the stock fan profile
The industrial design is eye-catching and it is solidly built
Cons
High Price
Lack of availability
The Verdict
If you are a gamer who plays at maxed-out 1080P, 1440P, or even at 4K with lesser settings, you may want to upgrade to a RTX 3070 Ti. The Founders Edition offers good performance value as an upgrade from previous generations with the additional benefit of being able to handle ray tracing much better.  It is much faster in ray traced games than any Radeon, and DLSS 2.0 is a true game changer that brings extra performance without any compromise in visuals.
The RTX 3070 Ti Founders Edition is available starting tomorrow for $699 from NVIDIA's online store, and USA customers can purchase these cards also directly from Best Buy both online and in person.  Only a relatively few lucky gamers will be able to buy one at SEP, but we believe the supply issue will ease and pricing will return to normal by the Autumn and this review will be even more useful in making a high end card selection then.
Stay tuned, there is a lot more on the way from BTR.  Next week, we will test multiple cards in VR using the brand new Vive Pro 2.  We are in touch with HTC/Vive and hope to have answers and solid performance results by then.  Stay tuned to BTR!
Happy Gaming!