The Sim Side: 2021 Test Suite Overview, Part 1 – Assetto Corsa Competizione
Our goal is to deliver relevant content to BTR's audience. No matter how well written, researched, or illustrated, our effort will fall flat if it fails to engage. The Sim Side has two goals: first, to share the immersion and excitement of virtual reality (VR) simulation with newcomers and veteran PC gamers alike. Second, and just as important, our goal is to cover the latest hardware in detail with reliable and repeatable test data. This calls for a software suite that captures a broad cross-section of the simracing, flightsim, and space communities. With those goals in mind, we've chosen the following lauded sim-titles for our 2021 test suite:
Simracing – Assetto Corsa Competizione
Flightsim – IL2 Sturmovik: Great Battles Series
Flightsim – Digital Combat Simulator World (DCS)
Space – Elite Dangerous: Horizons & Odyssey
The above five titles encompass a major portion of the modern sim-communities' player-base. Additionally, they each utilize radically different game engines while featuring robust VR support. Given that variety, we're assured that any GPU, CPU, or VR HMD will be adequately challenged in future reviews.
Today, we kick off our five part test-suite overview with a look at Kunos Simulazioni's Assetto Corsa Competizione.
Background
Kunos Simulazioni is an Italian development studio that specializes in developing realistic racing simulations. Started as a one man operation in 2005, Kunos remains a small developer with less than 40 employees. To date, Kunos has released six games, the most recent being Assetto Corsa (2014) and Assetto Corsa Competizione (2019). While Assetto Corsa grew to cover an amazing breadth of motorsport from Go-Karts to Formula One, Assetto Corsa Competizione (ACC) exclusively focuses on the world of international GT (GT3 and GT4) racing. Notably, ACC's attention to detail is so complete that it was deemed the official simulator of the Fanatec GT World Challenge.
Door to door
ACC presents itself in a straightforward manner with simple menus that get you into the action. For the most part, the menu system is logical and easy to navigate although one may initially struggle to find certain settings such as field of view (FoV), driver position, etc. These settings are only accessible once you're ready to drive in View Settings via the ESC key.
To those familiar, Competizione stands in marked contrast to Assetto Corsa, which was/is infamous for it's byzantine layered-menu system. When compared to it's predecessor, ACC is far easier to navigate.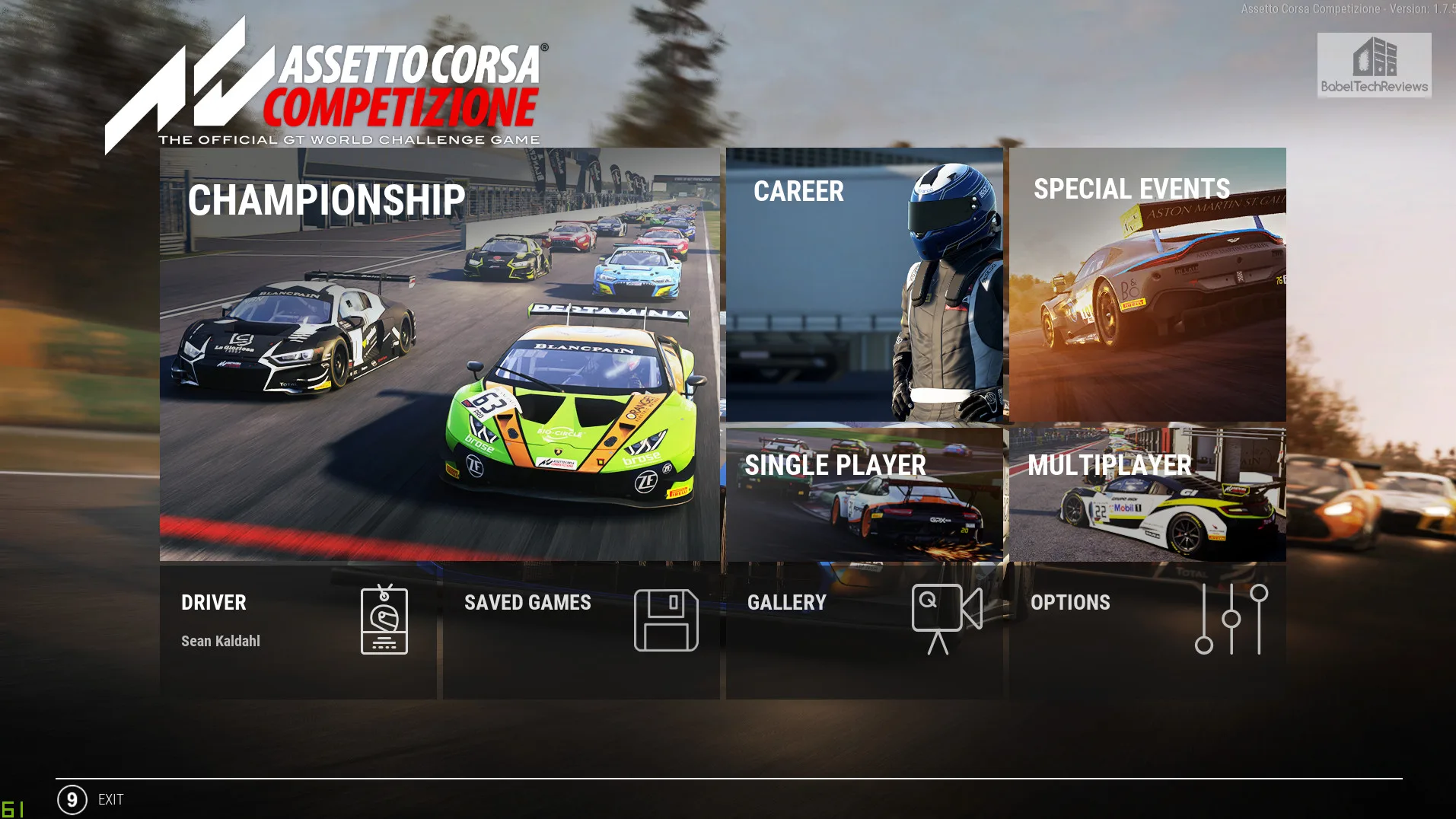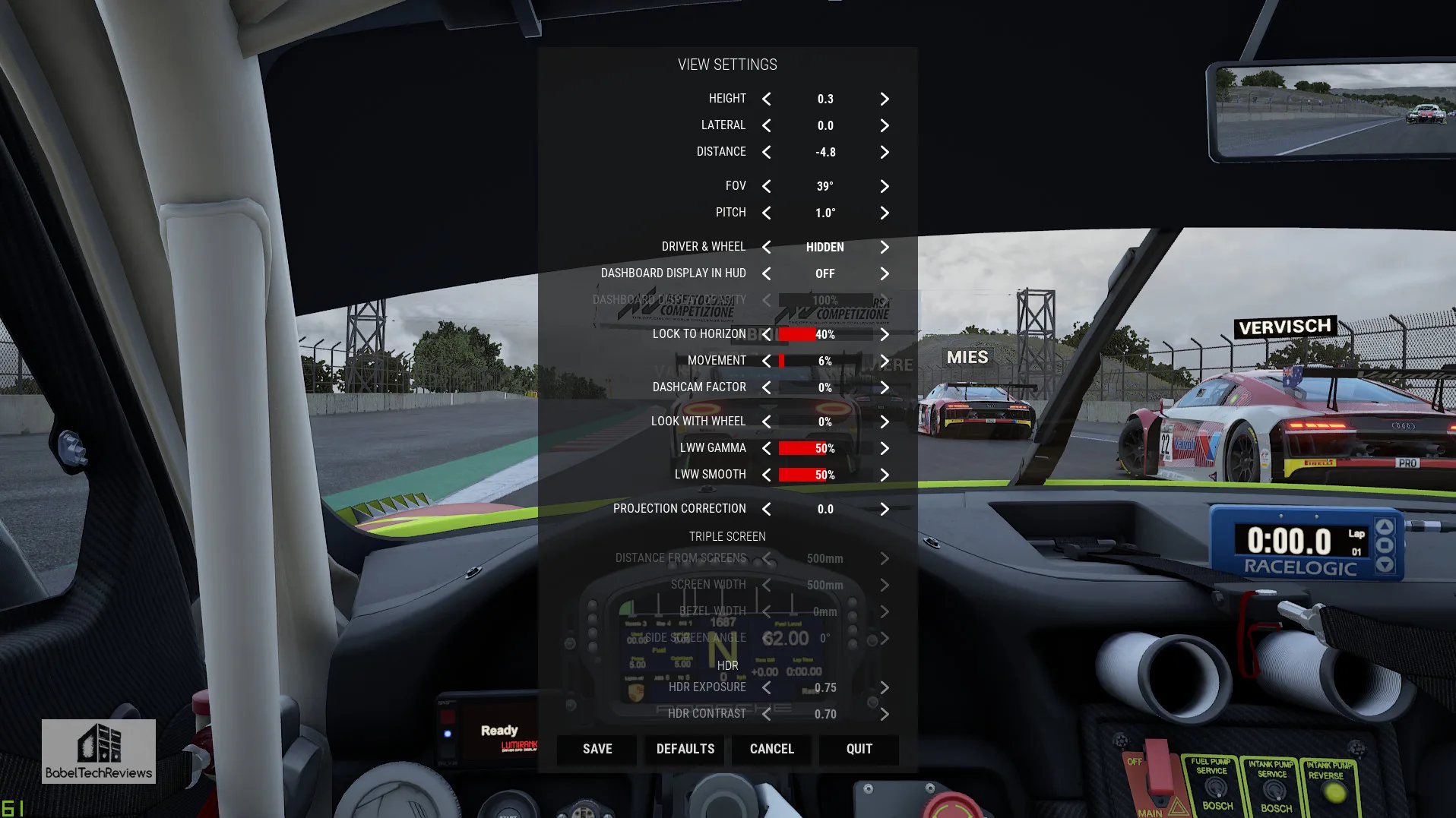 Setup of a force feedback wheel and pedal set is relatively straightforward as is the setup of various controls required to drive (ABS, Traction Control, Engine map, etc.) To set up, one simply clicks the function and then moves the appropriate control or presses the desired button to map it. One can also have multiple control configurations saved to allow for different wheels, button boxes, etc.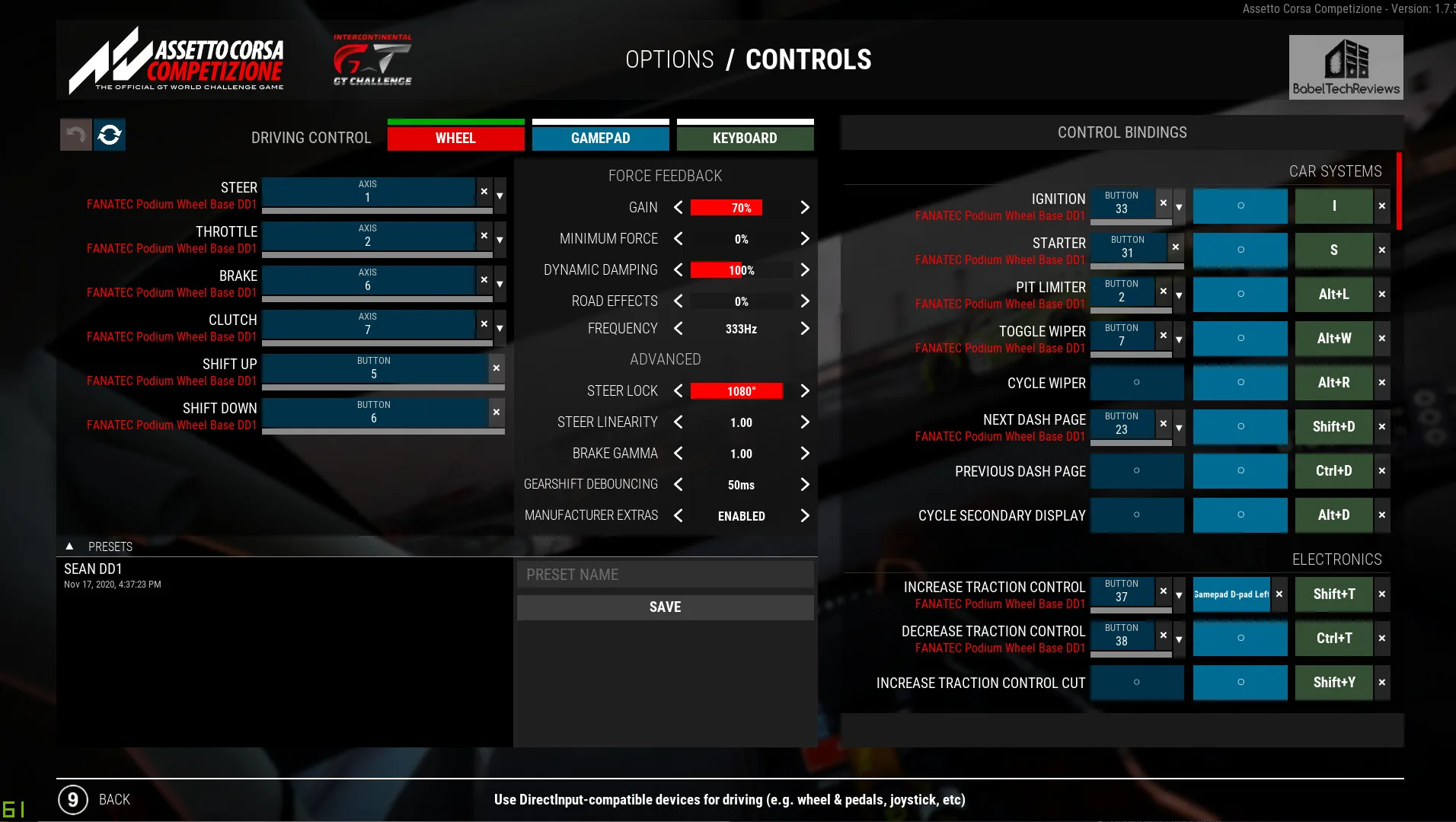 The game is notable for leaving the original Assetto Corsa game-engine behind in lieu of an early branch of the Unreal Four (UE4) engine. In all, Kunos has done a competent job with the tire physics, chassis-flex, and environmental variables. However, when compared to purebred sims such as iRacing or rFactor 2, ACC's handling can sometimes feel mushy, tending towards too much grip at the limit. Besides that one observation, ACC presents GT racing with aplomb and facilitates a trouble-free multiplayer racing experience.
Performance
ACCs graphics can be tuned to handle most modern system configurations and will deliver stunning visuals on a monitor with a powerful enough PC. Unfortunately, attaining fluid performance in VR poses a challenge requiring work by the end-user to find the best mix of detail and performance to ensure high FPS.
The following system was used for my experiences with ACC. This hardware configuration using a GTX 1080 Ti was able to maintain a smooth but 40 FPS ASW-bound VR output on an Oculus Rift S with a blend of settings between VR Low and VR High:
Hardware
CPU: AMD Ryzen 9 3900X (12c/24t) – PBO 4.5GHz Boost
Motherboard: ASUS ROG Crosshair VII Hero X470 – BIOS 3004
Memory: Crucial Ballistix RGB 3600 32GB DDR4 – 2x16GB, dual channel at 3600MHz
GPU: EVGA GTX 1080 Ti SC2 – stock clocks
GPU: NVIDIA RTX 2070 Founders Edition – stock Clocks
Sound Card: Creative Labs Sound Blaster AE-7
SSD: Samsung 970 Evo 1TB NVME M.2
PSU: Seasonic Focus+ Gold 850W
VR HMD: Oculus Rift S – Quality Setting
Sim Gear – Fanatec DD1 Wheelbase, Fanatec Formula V2 Rim, Fanatec CSL ELite LC pedals
For anyone interested in running ACC in VR on older-gen hardware, a GTX 1080 Ti-class card should be regarded as the bare minimum for acceptable performance. Since tuning ACC's VR settings for older gear can be so challenging, The Sim Side will be investigating how to optimize ACC's VR performance later this Spring.
The good news is that NVIDIA Ampere and AMD RDNA2 GPUs have zero problem running ACC at high settings in VR. Unfortunately, as of March 2021, most enthusiasts are still unable to upgrade to one of these new GPUs. Hopefully, this situation will not persist much longer. Once able to upgrade, users can expect stellar performance, as seen in a previous BabelTechReviews VR Wars Article: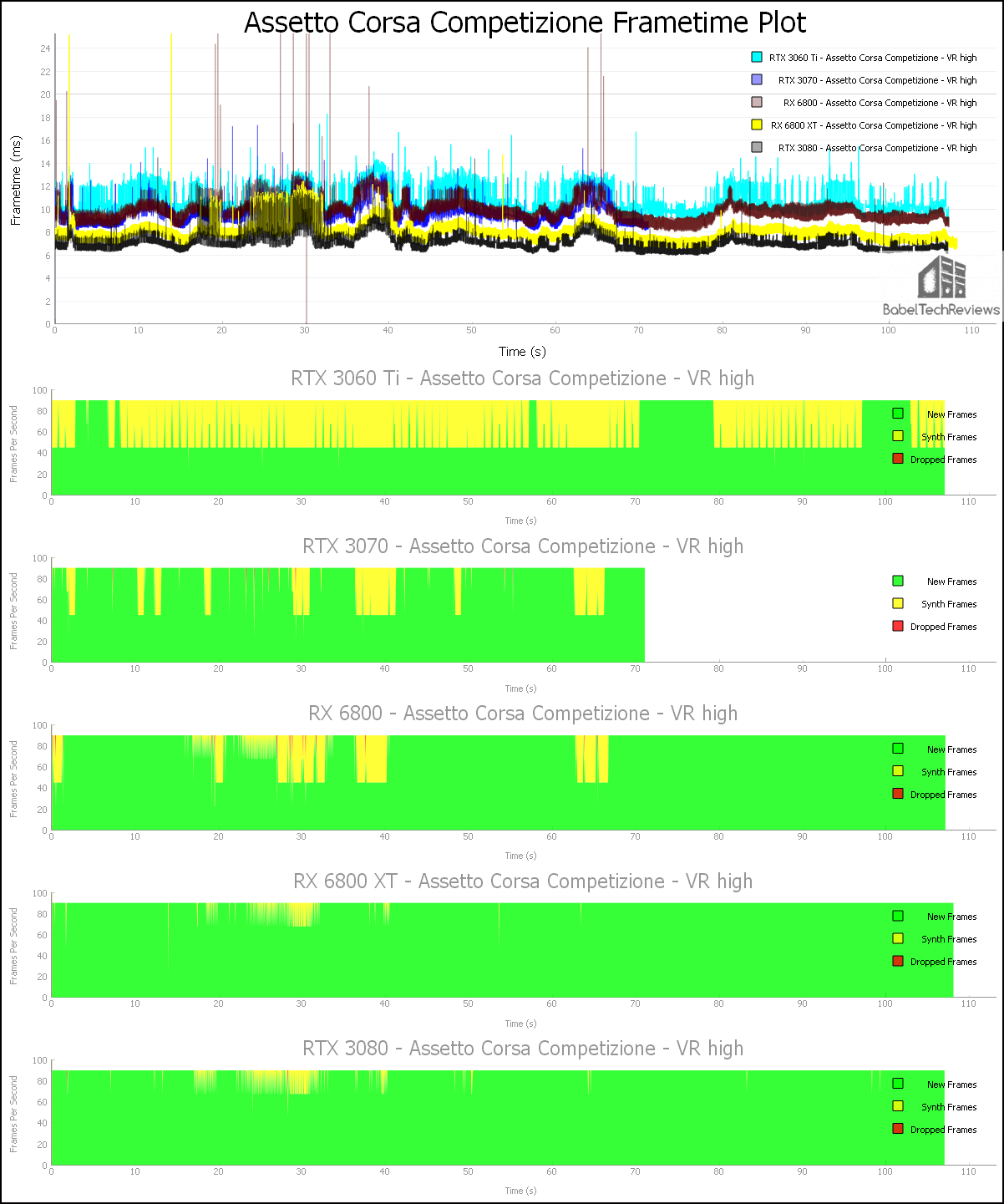 As you can see, a RTX 3060 Ti has to generate synthetic frames almost all of the time to push 'VR-High'. The remaining cards all run the game far better without having to dip into synth-territory often. With additional settings tweaks, one should be able to run almost any modern VR HMD smoothly in ACC with a RTX 3070 or better.
Realism / Immersion
Once in the driver's seat, one can't help but be impressed by the realistic and well-appointed vehicle interiors. Nearly every aspect of a modern GT racecar is faithfully recreated with all of the safety equipment and digital racing aids represented. When engrossed, especially in VR, one notices the additional fine-details Kunos included. Imagine my surprise when hitting the gas pedal and noticing my digital foot doing the same. In all, their interior modeling is top-notch.
The cars in ACC truly come to life when driven hard. Forgiving its sometimes vague handling, ACC excels in its presentation of the ferocity of GT racing. Racing against the AI actually feels like you're going door-to-door with human opponents. Sometimes when plummeting headlong into the braking zone, instead of recklessly charging as hard as possible, the AI will lift, cross behind, and attempt an early-apex pass among other tactics. Indeed, there's enough variety in AI behavior that offline racing never gets boring.
Lastly, in this authors' opinion, ACC's most outstanding aspect is its sound design. Autosport is a visceral thrill with the roar of engines and the scream of tires at their limits. Assetto Corsa Competizione doesn't just approximate of the sounds of motorsport, it is the sound of motorsport. From the painful wail of the Porsche 991 RSR, to the shriek of carbon pads and steel disks transforming velocity to heat, ACC nails every symphonic cue a gearhead might be listening for.
Ultimately, ACC demands high-fidelity PC audio, and louder is better.
Staying Power
Officially released as a v1.0 product in September of 2019, Assetto Corsa Competizione is the newest of the five sims we've chosen. Unlike most PC games, a solid simulation builds and evolves over time. While this has certainly been true for its predecessor, Assetto Corsa, it remains to be seen if Kunos Simulazioni will stick with UE4 for further use in its Assetto Corsa franchise. Regardless, ACC has released four expansions to date, with the latest in February 2021 focusing on the British GT Championship. When the base sim plus expansions are considered in addition to the ability to customize your team and car liveries, ACC has plenty to offer for those who wish to experience the thrill of GT racing.
Closing Thoughts
While not the most technically precise racing sim on the market, ACC shines. Lap after lap, it draws you in both with it's visual beauty, and the raw power of it's soundscape. If one wants a break from the razor-thin handling margins of other simracing titles, ACC is the answer.
Assetto Corsa Competizione is available for PC on Steam for $39.99.
– Stay tuned for Part II this week with the biggest name in Simracing: iRacing