Entertainment is More than Just a Good Movie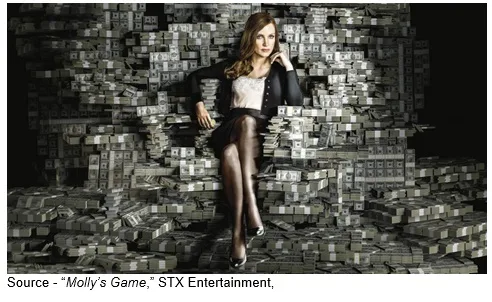 With her Mac and iPhone in hand, our daughter sat us down awhile back and said, "Dad, streaming isn't all about movies and shows. There's more … lots more."
Yeah, we know.
Thanks to video conferencing software companies, production teams stayed on track during the WFH periods.
But it was "the other" streaming that kept our daughter and people occupied and sane.
She, and more than 1B people around the globe have stuck with the Apple ecosystem–partially because of its services–movies/TV shows on iTunes, the App Store, Mac App Store, Apple Music, Apple TV+, Apple Arcade and Apple News+.
Those "little" items produced up to $15.8B in Q1 sales for the company, up from $12.7B for the same period the year before.
The services stimulated the sale of Apple (and others) earpods/headphones, speakers, bigger/better monitors/TV screens, mics and other stuff so people could enjoy the other streaming … more music, more games, more podcasts.
Universal Music
When Voyager One left our universe, it carried two gold records containing a range of our music and other sounds of Earth. It never looked back, and we kept right on creating and listening, taping our fingers and our feet.

While the RIAA once mounted lawsuits around the globe to squelch streaming music, singers/musicians have begun viewing their libraries as goldmines they can share and profit from.
Whether it's background white noise we have on constantly while we work or kids/adults listening through their earbuds, streaming music rocks.
Music streaming globally grew more than 21.2 percent last year, resulting in more than 1T on-demand streams last year.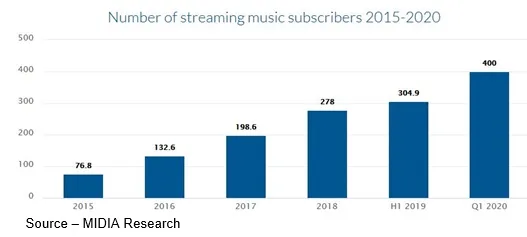 More than 400M people regularly subscribed to music channels last year, each spending an average of $156 annually while the "average" consumer spends less than $15 on streaming music.
To keep pace with their audiences, the number of songs uploaded to online services increased more than eight-fold in recent years and the demand/supply continues to grow.
Worth an estimated $26B last year, the global streaming market is estimated at a CAGR of 7.4 percent between 2020-2027 and is expected to reach $46.9B in 2027.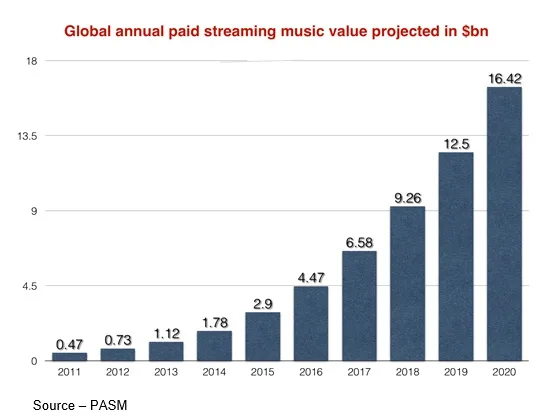 Music streams account for 75 percent of the industry revenue, dwarfing physical (12 percent), digital download (11 percent) and sync (3 percent).
While streaming revenues are dominated by North American listeners; Europe accounts for 29 percent, Latin America (16.8 percent), Brazil (15.4 percent, Asia/Australasia (11.7 percent and South Korea (17.9 percent).
In total, the global revenue for recorded music reached $20+B last year with streaming accounting for 46.9 percent of the total global revenues.
Overall, the music industry had a 34 percent growth in total streaming revenue last year.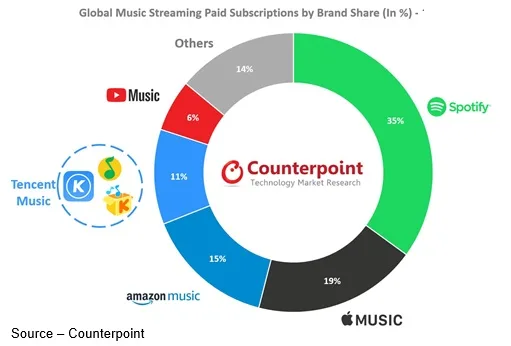 We aren't saying that buds implanted in your ears is the best way to enjoy your music; but hey, if you like it … cool.
However, the number one reason to stay with or switch music streaming platforms is the quality of the sound of music (56 percent). After that, the priorities are:
Low price – 56 percent
Ease of making playlist – 48 percent
Ease of downloading – 43 percent
Good algorithm for finding music – 36 percent
Exclusive music – 24 percent
Brand trust – 19 percent
Virtual assistant – 10 percent
Availability of video – 12 percent
Spotify had the highest share of music subscribes worldwide last year – 35 percent, accounting for more than 144M subscribers.
France's Deezer is aggressively pursuing Spotify, growing from 2M in 2012 to 10M last year.
Apple Music, Amazon, Tencent, and YouTube Music have their own strong user bases with market shares of 19 percent, 15 percent, 11 percent and 6 percent respectively.
The great thing is that streaming has enabled artists to reach an ever-larger global audience, and music fans have been able to enjoy a much more diverse catalog of content from … everywhere.
Streaming music has not only helped the industry continue to grow, it has also proven that music really is a global and is truly a universal language we can all understand and enjoy.
Serious Play
Our pixel-pushing friend, Jon Peddie (Jon Peddie Research), is fond of saying there are two types of people in the world – those who play video games and those who lie.
But we really haven't been into games since our years of working with the Tramiel's/Atari to roll out two fantastic gaming platforms – Atari 2600/5200 game consoles and the fantastic 8/16-bit, color screen Lynx handheld.
A helluva' lot of fun!
But today, it's a whole new game played across almost every platform and device you can imagine.
Gaming has gone crazy in the era of social distancing. For example, Steam – a storefront for personal video gaming – had over 23M concurrent players in March of last year while Nintendo had profits soar 41 percent with the release of Switch's Animal Crossing: New Horizons.
Socialization among regular and new players has fostered a new strength of global relationships with the new interactive content. Microsoft recorded a 130 percent increase in multiplayer engagements mid-last year and CTA found that 26 percent of Americans played video games for the first time during the at-home period.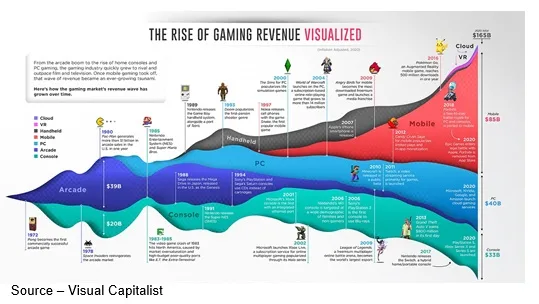 Gaming emerged as the dominant social media platform last year, moving from simple, battle royale games to live virtual concerts inside games and interactive, non-linear experiences.
To keep employees interested, involved and connected as people increasingly WFH, companies have even begun using video games as a dynamic alternative to Zoom meetings.
With the arrival of new consoles last year, the gaming software market enjoyed a significant bump in sales across all sectors – PC, console, mobile and VR.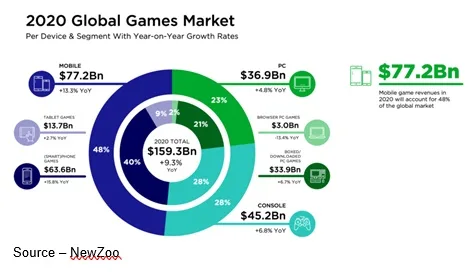 Increasingly, video games are following the streaming industry model. With 16 percent growth in gaming subscriptions, it has become the fastest growing segment in the gaming software market.
Over the past few years (prior to the lockdown), esports events had gained a strong foothold into the gaming industry that has transformed the industry from a singular medium to a global content/event space. Millions of fans around the globe play less-celebrated contests and also follow their favorite players on YouTube and Twitch.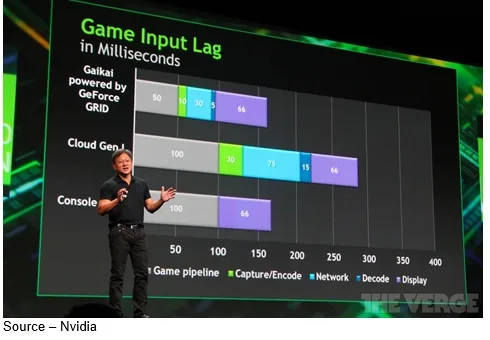 Purists have long discussed the benefits of PC gaming which have become a strength and focus of firms such as Nvidia and AMD. With the ability to deliver increasingly powerful (and expensive) GPU chips and cards, they make ultra-realistic PC, VR and XR gaming possible.
"The challenge for gamers is that video cards are expensive and in short supply right now because of the current cryptocurrency mining craze," noted Mark Poppin, founder of BabelTechReviews, "In addition, fabs have strong demand from other sectors, including the automotive and film production industries.
"Since even used/older video cards are ridiculously expensive, we've suggested that gamers who need to upgrade take advantage of services such as Nvidia's GeForce Now Cloud service. It provides fast, seamless play action for those with robust internet connections," he explained.
"Then, as supplies increase, crypto currency mining crashes and prices are "normalized,' players can buy the latest video card and optimize their desktop experience with the newest PC, VR games," he added.
VR/XR gaming is expected to grow to $20.8B this coming year; and as 5G network service becomes more widely available, it will continue to expand the realism and play of system and cloud games.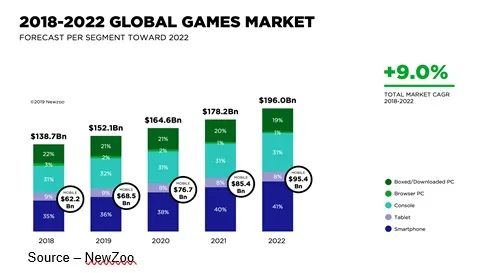 Video gaming is rapidly becoming the fastest growing media behavior and the next dominant tech platform around the globe. A new paradigm is emerging as more digital activities – search, social, film/TV entertainment, shopping and events – take place inside gaming.
For example, Fortnite (free-to-play) has more than 300M registered users logging onto various activities resulting in more than $5B this past year through micro-transactions.
Last year, video gaming was the largest moneymaker in entertainment. Topping movies and sports, it produced more than $162.32B and is expected to top $300B over the next five years.
While global in nature, each region has a different focus.
APAC accounts for the largest revenue; and, as the SEA population continues to grow, so does the number of gamers–especially in the mobile (free-to-play) segment.
Recently, Forbes tapped the Middle East as the leader in the gaming industry with revenues expected to reach $6B this year.
With one of the most spoken languages in the world (Arabic), the MEA region shows the greatest potential for new game development and localization.
Over the past six years, gaming revenue in Europe has increased 55 percent and countries such as France, Germany, Italy, Spain and the UK are experiencing significant growth in game development.
Major industry names including Tencent, Activision, Blizzard, Ubisoft and Zynga are "helping" Europeans play an average of 8.6 hours per week.
In the Americas, the industry continues to be robust because of technology improvements such as ray tracing and AI upscaling that enhance the game play. Because of the lockdown, industry analysts estimate that three out of four people played video games and will keep up with their new entertainment in the coming year(s).
Some of the fastest growing gaming markets are in South America where people primarily play online games.
The gaming industry will achieve more than $196B in revenues next year with giants like Google and Apple intent on capturing their share. Game play is becoming so popular there is increasing media crossover with games converted to books, novelettes and films to take the industry well beyond the PC/console.
Podcast Streaming
Podcasting has improved a lot over time. Originally, you'd have to be really familiar with software using Audio Hijack Pro to record Google voice to a landline phone, record it, move the audio files to your editing software and then hope it came out right.
Today, people can use apps like Zencaster and SquadCast, set up their virtual recording studio and they're ready (almost) to chat with the world, become globally famous and make tons of money.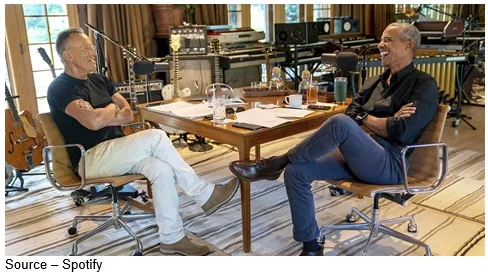 Technology has improved so dramatically that people can produce podcasts with just a couple of buttons … and this past year, they did.
iHeartRadio is the leading podcast publisher worldwide with 266.06M unique streams/downloads.
By mid-2020 more, than 1M podcasts were available in the iTunes library according to Chartable and Spotify also saw substantial growth with triple-digit growth.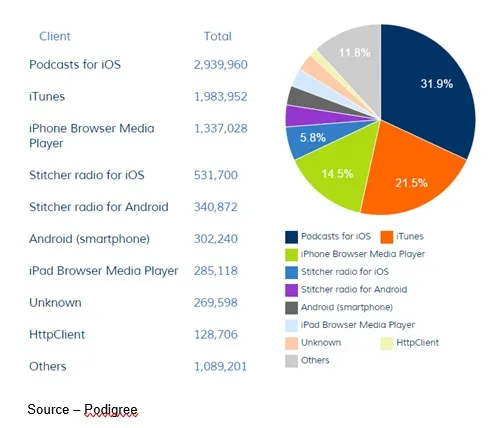 Last year, two-thirds of US consumers listened to podcasts at least once in a while. 23 percent listened several times a week.
On a monthly basis, 49 percent of 12- to 34-year-olds listen to podcasts on a monthly basis, while 10.8 percent listen daily.
Edison Research reported that 54 percent of listeners 12+ were male and 45 percent were female with 43 percent listening to the entire episode and 44 percent listening to most of the episodes.
There are about 73M podcast listeners in the US with Apple having the largest share (60.9 percent) followed by Spotify (8.5 percent), Overcast (3.1 percent), Castbox (2.4 percent), Stitcher (2 percent), and others (23.1 percent).
Demographically, podcast consumers are 10 percent 12-17 years, 39 percent 18-34 years, 35 percent 35-54 and 16 percent 55+.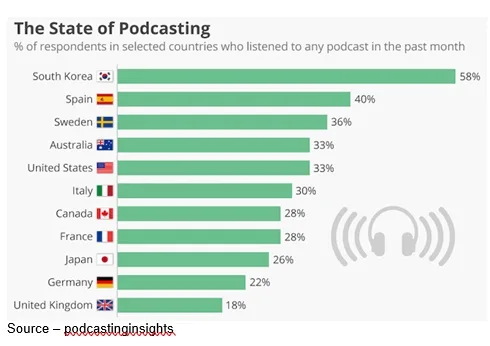 Top reasons for listening to podcasts are to learn a new thing (74 percent), entertainment (71 percent), stay up to date with current topics (60 percent), relax (51 percent), be inspired (47 percent), escape (37 percent), and companionship (24 percent).
While the pandemic elevated video streaming and gaming in people's entertainment consumption, platforms like YouTube and TikTok pushed the increase in non-studio and personality-driven productions, dramatically increasing the interest in podcasting.
The growth and increased listenership indicate that there is still plenty of room for growth in podcasting around the globe.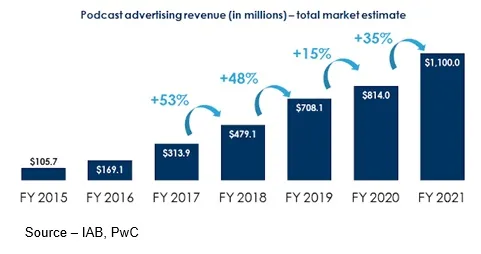 Podcast ad revenue is expected to reach $1+B this year and to increase more than 100 percent over the next two years. Most podcast ads are purchased quarterly (38.2 percent) with 24.3 percent bought annually.
Host-read ads are the most preferred (63.3 percent), followed by announcer-read/pre-produced ads (35 percent).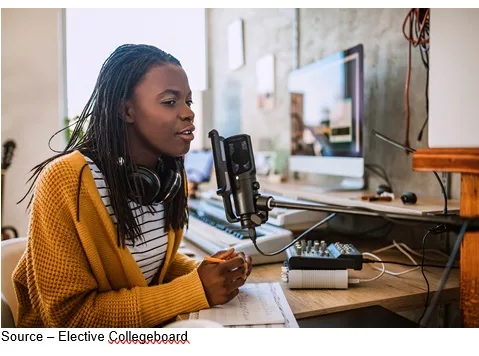 The top five podcast program genres were news/politics/current events (18.4 percent), comedy (13.9 percent), business (12.8 percent), education (10.6 percent), and arts & entertainment (10 percent).
The leading podcast revenue producers were retail (22.2 percent), financial services (20.7 percent), B2B (14.1 percent), arts & entertainment (9.6 percent), and telecommunication (7.1 percent).
In other words, folks will continue to invest in entertainment and streaming content in the year ahead. Total spending on streaming services and software is expected to reach $112B this year, an increase of 11 percent over 2020.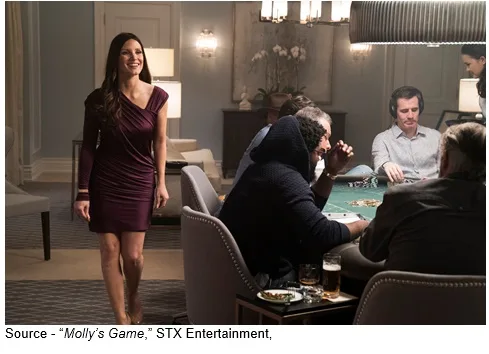 Growth across all sectors of streaming will remain strong as people increasingly want to be involved with and enjoy their content.
Just do us a favor.
Take Louis Butterman's advice to Molly in Molly's Game when he told her, "There's a saying in my business. Don't break the law when you're breaking the law."
Keep it on the down low.
# # #
Andy Marken – [email protected] – is an author of more than 700 articles on management, marketing, communications, industry trends in media & entertainment, consumer electronics, software and applications. An internationally recognized marketing/communications consultant with a broad range of technical and industry expertise especially in storage, storage management and film/video production fields; he has an extended range of relationships with business, industry trade press, online media and industry analysts/consultants.