Intro
The RTX 3070 Founders Edition Arrives at $499 – Performance Revealed – 35 Games, SPEC, Workstation, and GPGPU Benchmarked 
BTR received the RTX 3070 8GB Founders Edition (FE) from NVIDIA and we have been testing its performance by benchmarking 35 games, and also by overclocking it.  NVIDIA claims that at $499 it is as fast as the Turing Flagship, the RTX 2080 Ti, which launched at $999 to $1,199 so we compared their performance.  In addition, although the RTX 3070 is a gaming GeForce card, we have added workstation, SPEC, and GPGPU benches.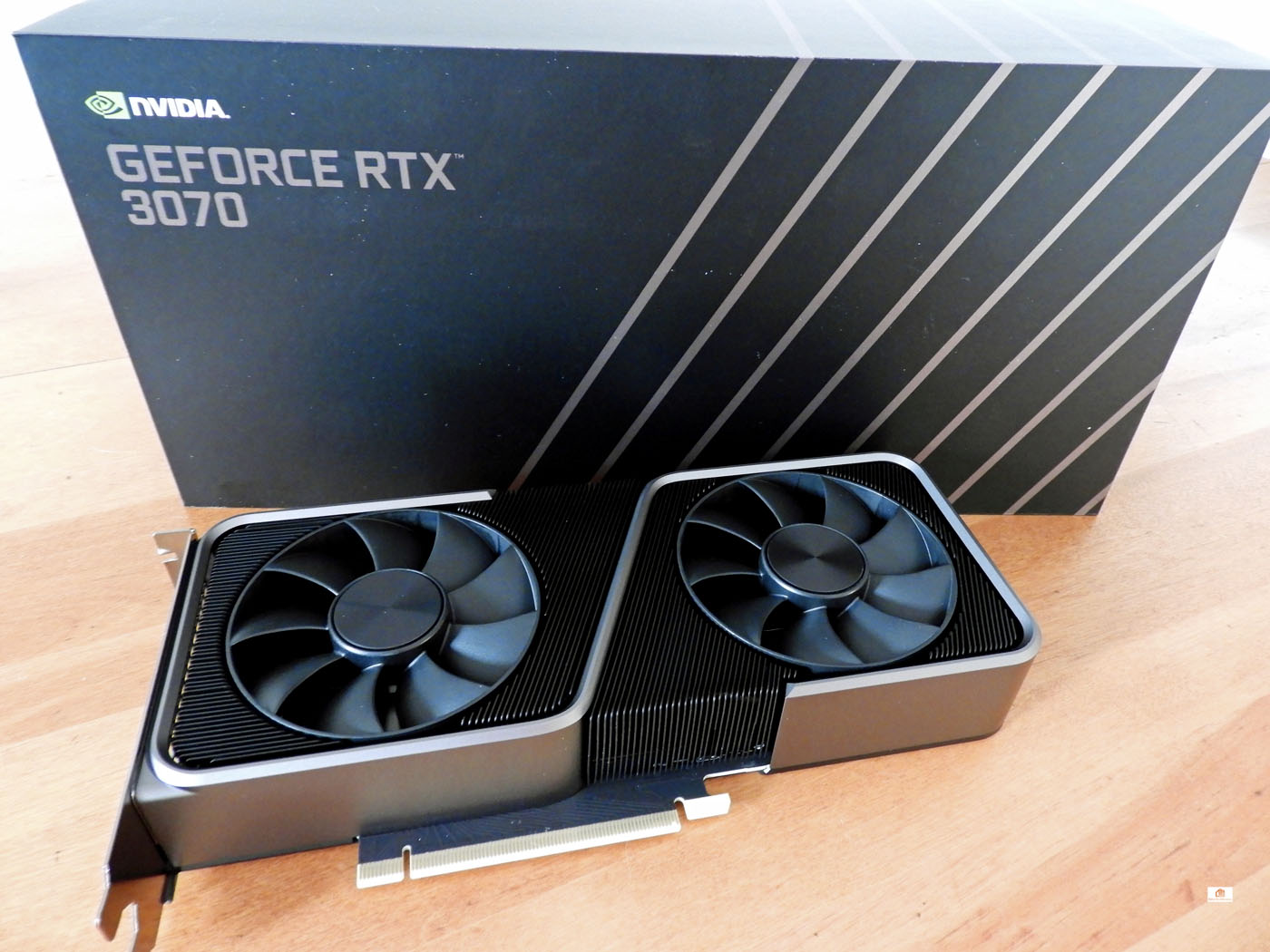 We have already covered Ampere's features in depth and we have already reviewed the RTX 3080, the 3070's $699 faster brother that comes equipped with 10GB of vRAM.  This review will consider whether the new RTX 3070 FE at $499 delivers a good value as a compelling upgrade from the Pascal GTX 1080 Ti or even from the Ampere RTX 2070 SUPER, the refresh of the RTX 2070 FE which launched at $699 two years ago.
The RTX 3070 is not based on the GA102 chip like the RTX 3080 and the RTX 3090, but rather it uses a separate smaller GA104 GPU chip.  Below is the full-chip diagram.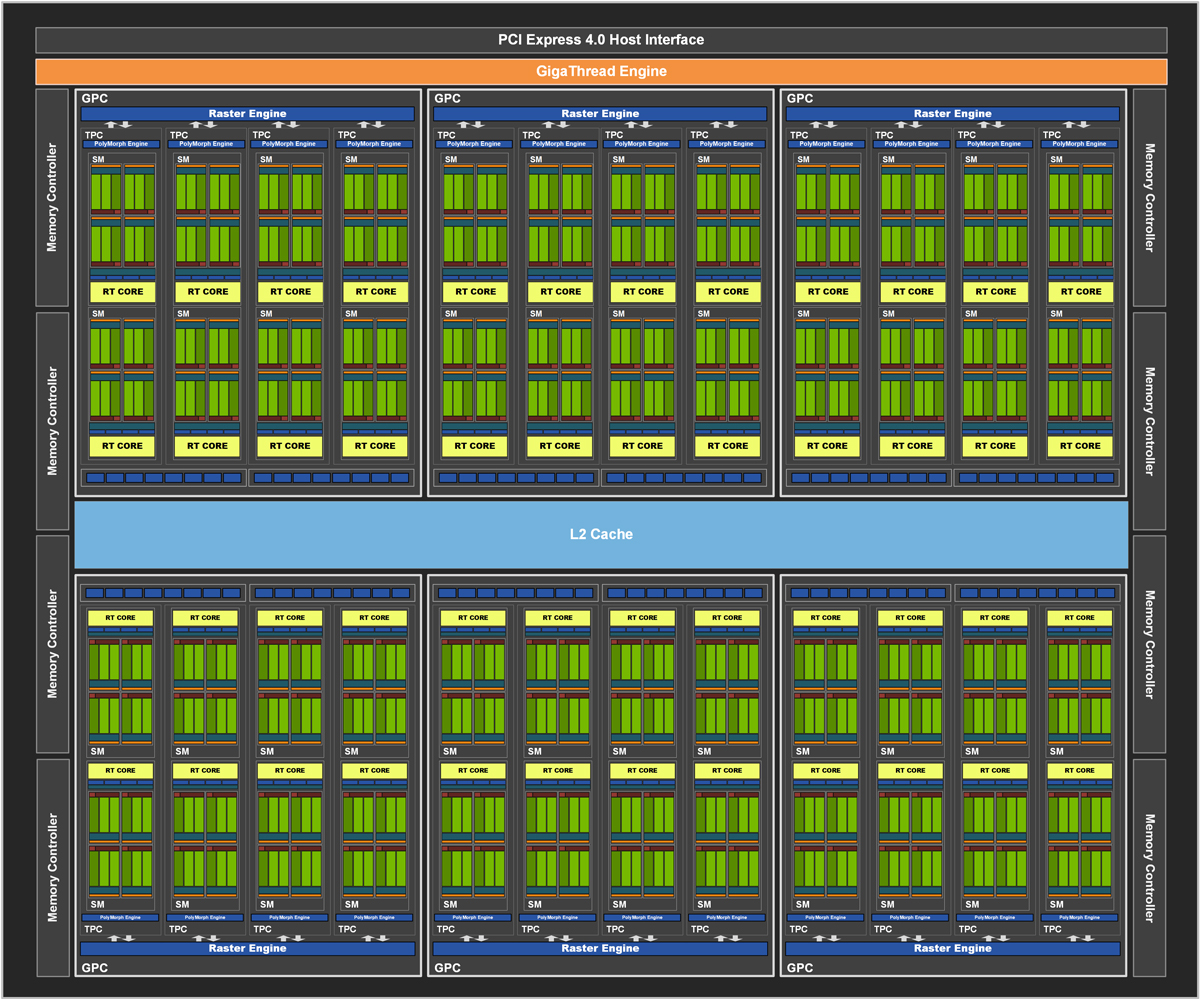 The RTX 3070 FE uses 64 SMs, 5888 CUDA cores, 184 3rd Generation Tensor and 46 RT cores, along with 184 Texture Units and 96 ROPs.  The Boost Clock is 7000MHz, and 8192MB of GDDR6 on a 256-bit memory bus provide 448GB/s bandwidth, all within a 220W total GPU power envelope.
Since we have overclocked the RTX 3070, we will compare its overclocked performance versus stock.  We have added Crysis Remastered to our benching suite to see "Can it Run Crysis" at 1080P, 1440P, and at 4K.  In addition, we will also post SPECworkstation3 GPU results and a brand new version of the improved SPECviewperf 2020 benchmark which released on October 15.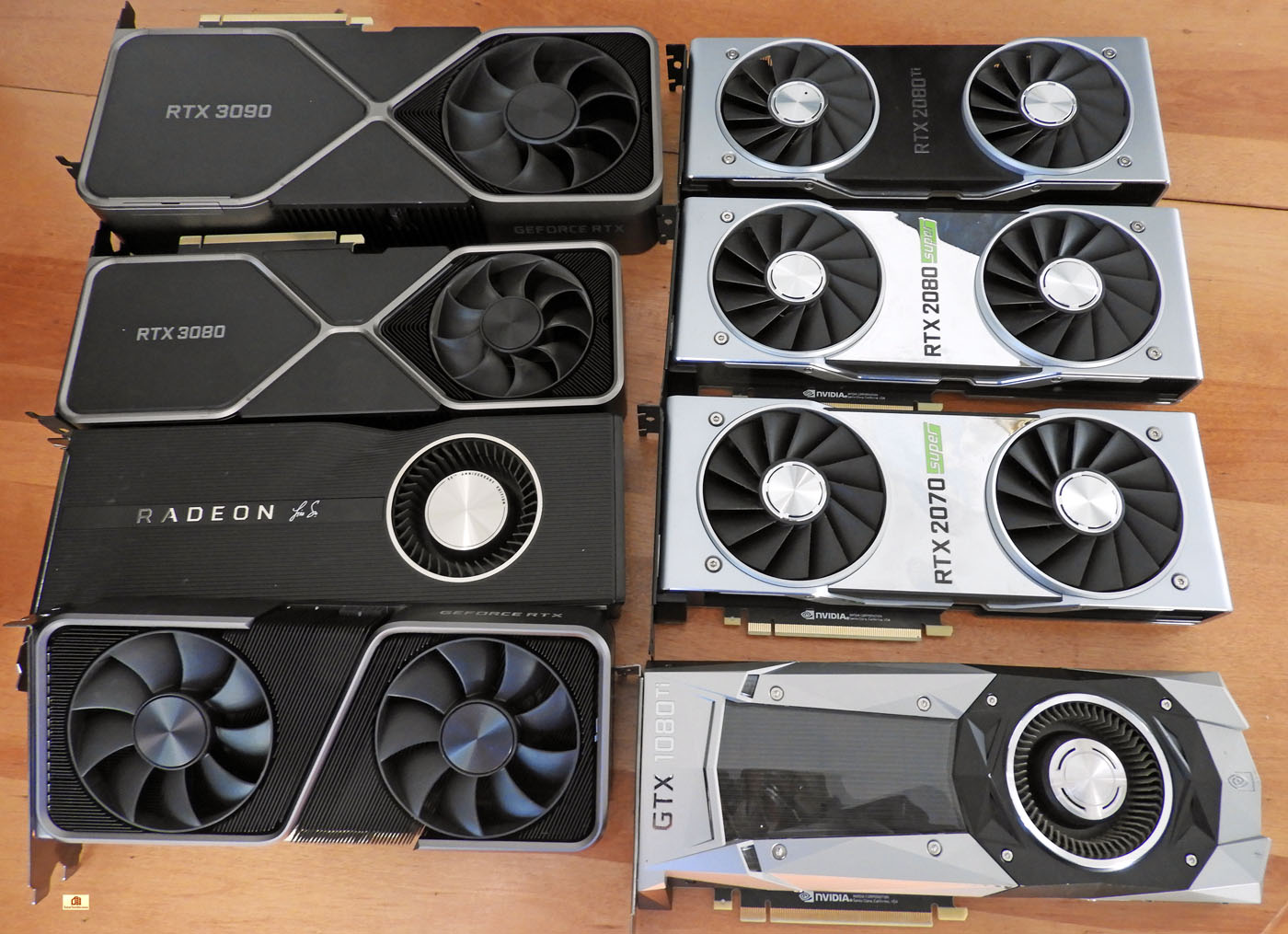 Besides comparing the RTX 3070 FE's performance with the RTX 2080 Ti FE, BTR's test bed includes the fastest Ampere cards – the RTX 3080 FE and the RTX 3090 FE – and the Turing RTX 2080 and the RTX 2070 SUPER FE.  We also test NVIDIA's flagship Pascal cards, the TITAN Xp plus the GTX 1080 Ti FE.  This time, we have added AMD's fastest Navi card, the RX 5700 XT Anniversary Edition to compare its performance also.
We benchmark using Windows 10 64-bit Pro Edition at 1920×1080, 2560×1440, and at 3840×2160 using Intel's Core i9-10900K at 5.1/5.0 GHz and 32GB of T-FORCE DARK Z 3600MHz DDR4 on a EVGA Z490 FTW motherboard.  All games and benchmarks use the latest versions, and we use recent GeForce Game Ready drivers for games.
Let's first unbox the RTX 3070 Founders Edition before we look at our test configuration