Intro
The RTX 3070 Ti Arrives at $599 – 25 Pancakes Games,  Vive Pro 2 VR Performance, and GPGPU Benchmarks
BTR received the RTX 3070 Ti 8GB Founders Edition (FE) from NVIDIA and we have been testing its performance by benchmarking 25 games and five VR games using the new Vive Pro 2, and also by overclocking it with an emphasis on ray tracing and DLSS.  Although the RTX 3070 Ti is a gaming card, we have added workstation, SPEC, and GPGPU benches.  Although we feature the Vive Pro 2 to see if a RTX 2080 Ti / RTX 3070/Ti class of card can power its extreme resolution, this is not a review of the new headset yet.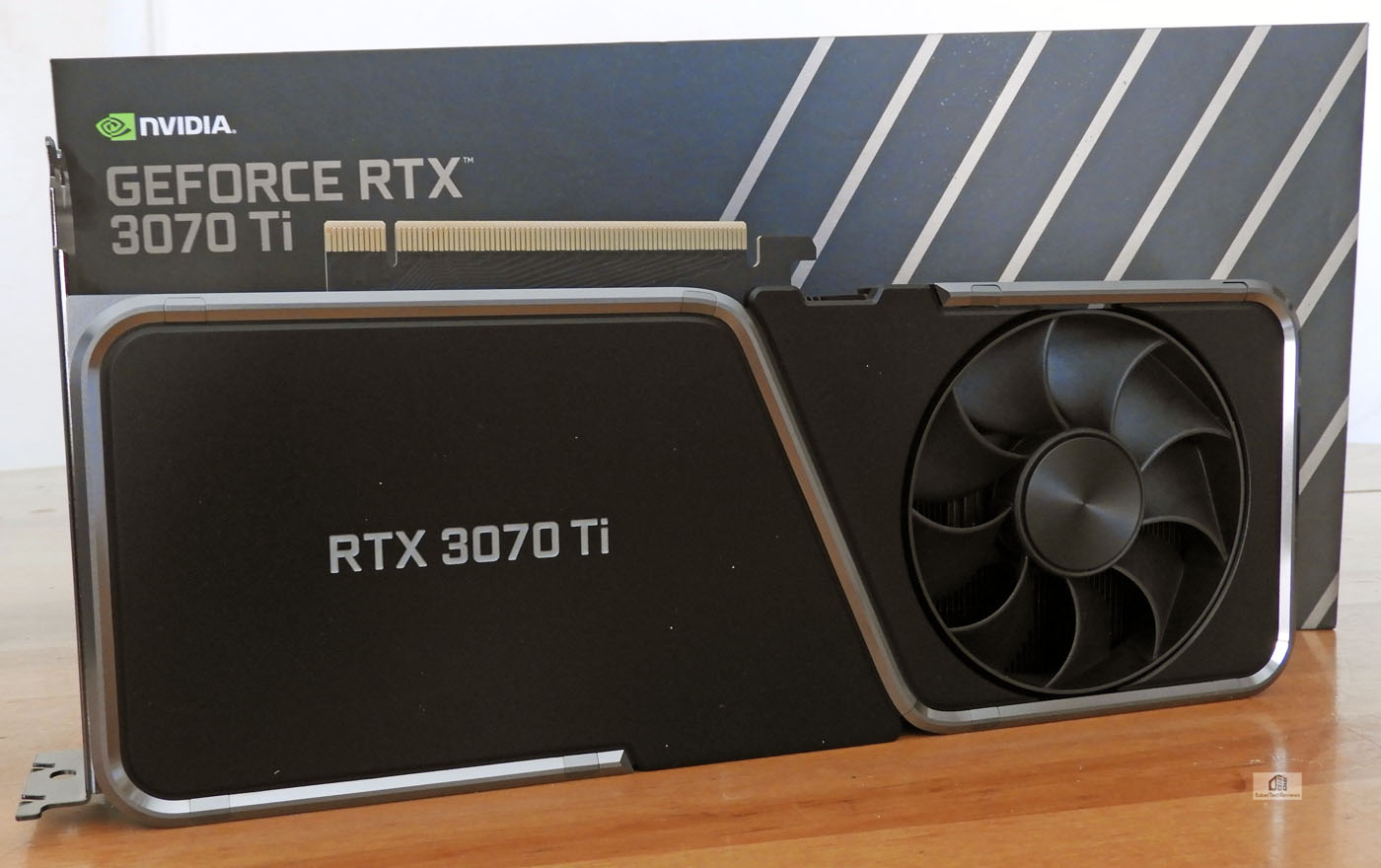 We are going to compare performance using eight top cards to see where the RTX 3070 Ti FE fits in – the RTX 3070 Ti, 3080 Ti FE, the RTX 3090 FE, the RTX 3080 FE, as well as versus the reference RX 6800, RX 6800 XT, and the Red Devil RTX 6900 XT.  However, because of supply/demand issues, all suggested pricing is meaningless as only a very lucky few gamers will get them at or close to MSRP/SEP.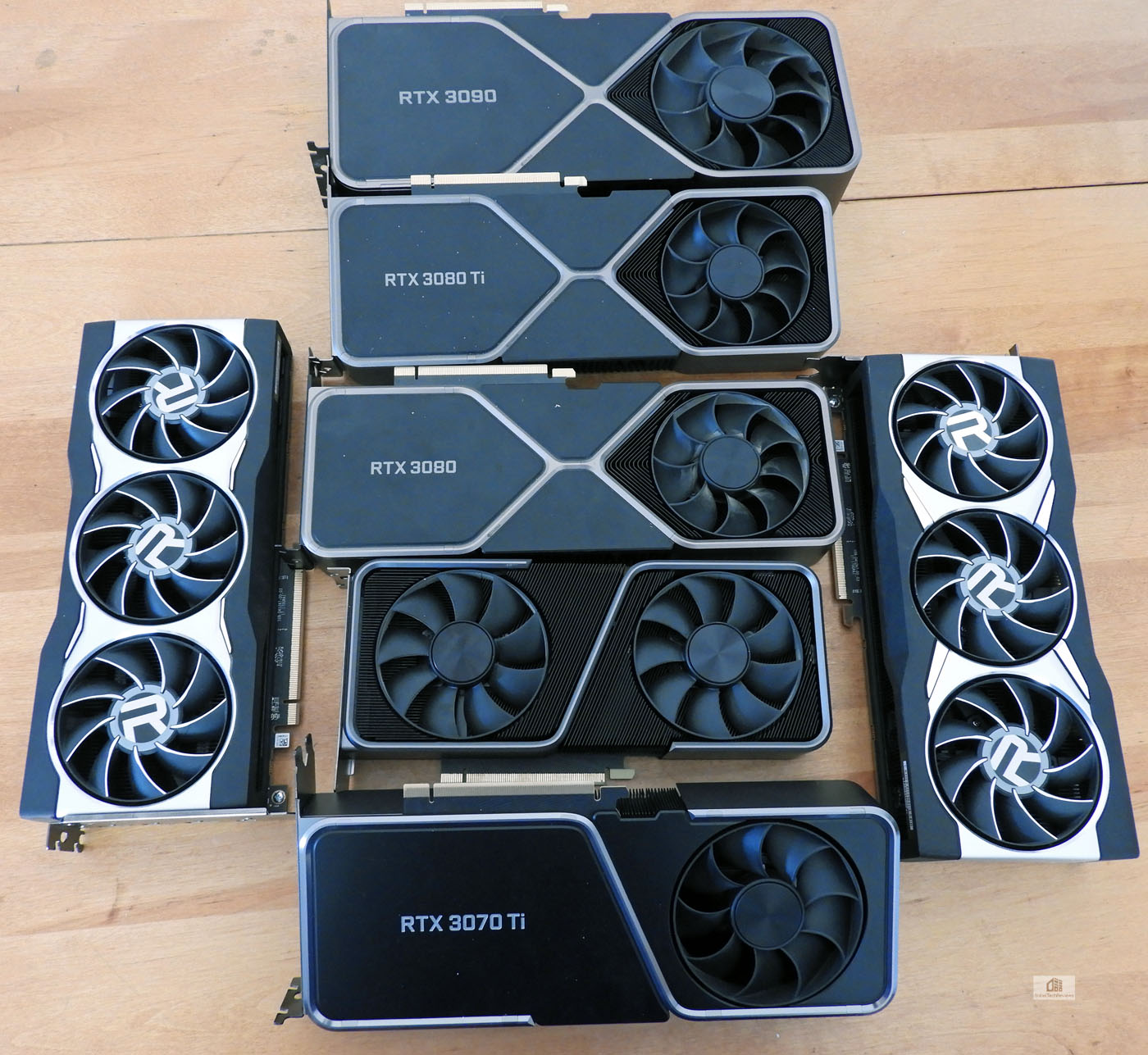 NVIDIA indicates that the RTX 3070 Ti has been in full production and stockpiled for over a month, so they are already in the hands of retailers and have been there for weeks so they can build supply. Even so it will still sell out probably within a few minutes or less because the demand is incredibly high.  Fortunately, the end of the COVID-19 and Crypto pandemics are in view and a new 'Roaring 20s' for gamers may soon appear on the horizon with lower prices and better availability by the Autumn.
Specifications
We have already covered Ampere's features in depth and we have reviewed the RTX 3070, the 3080 Ti's $499 slower brother that comes equipped with 8GB of GDDR6 vRAM.  The RTX 3070 Ti is a GDDR6X upgrade over the RTX 3070.  Besides its faster memory, the 3070 Ti also has more CUDA Cores and slightly higher clock speeds, as well as a flow-through cooler design similar to the RTX 3080/3080 Ti/3090.
This review will consider whether the new RTX 3070 Ti FE at $599 – $100 more than the RTX 3070 – delivers a good value.  Below are the specifications comparing the RTX 3070 Ti with the RTX 2070 as well as with the RTX 3070.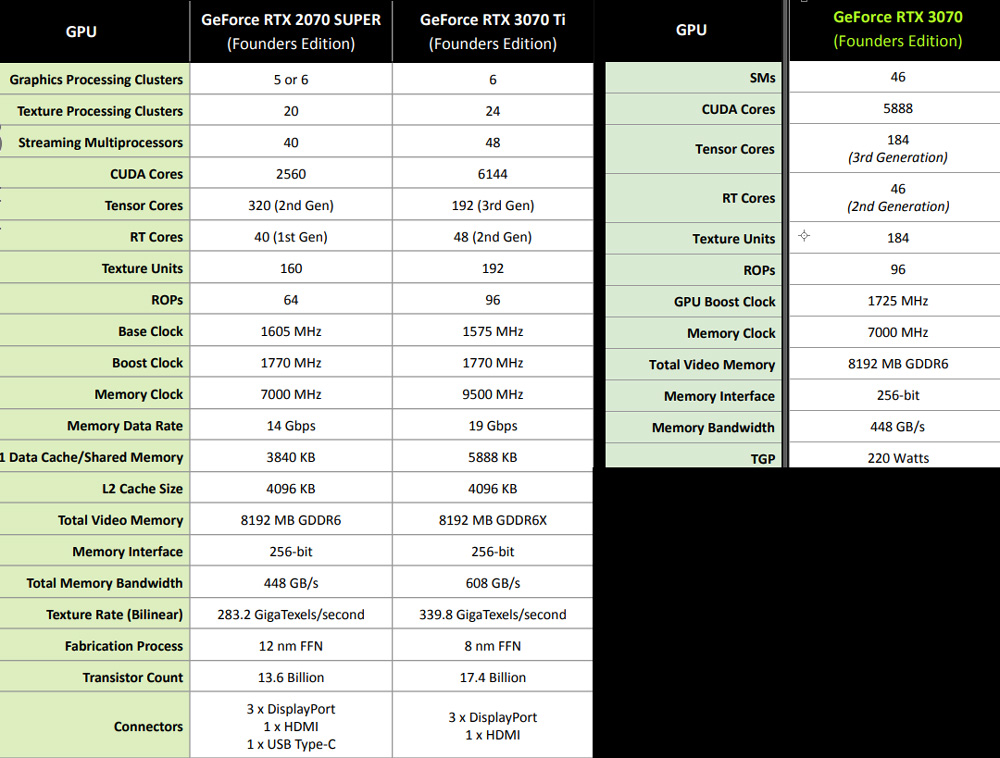 Since the RTX 2080 Ti launched in 2018, there are now more than 130 games and applications supporting NVIDIA's RTX tech including ray tracing and Deep Learning Super Sampling (DLSS).  Since all of the vendors and console platforms now support ray tracing technology, we will focus on these newer games.  NVIDIA's Reflex latency-reducing technology is also now supported in 12 of the top 15 competitive shooters and we will follow up this review with an upcoming latency review.  
We benchmark using Windows 10 64-bit Pro Edition at 1920×1080, 2560×1440, and at 3840×2160 using Intel's Core i9-10900K at 5.1/5.0 GHz and 32GB of T-FORCE DARK Z 3600MHz DDR4 on a EVGA Z490 FTW motherboard.  All games and benchmarks use the latest versions, and we use the most recent drivers.
Let's first unbox the RTX 3070 Ti Founders Edition before we look at our test configuration