VR Sim Wars: The Red Devil RX 6900 XT "Ultimate" vs. the RTX 3090 FE with the Reverb G2
This review features a follow up VR performance showdown focusing on sims between the Red Devil RX 6900 XT and the RTX 3090 Founders Edition (FE) using the Reverb G2 and FCAT VR. On a short-term loan from PowerColor, we recently received a Red Devil "Ultimate" Edition which is an unlocked card that is built for overclocking by allowing for higher voltage.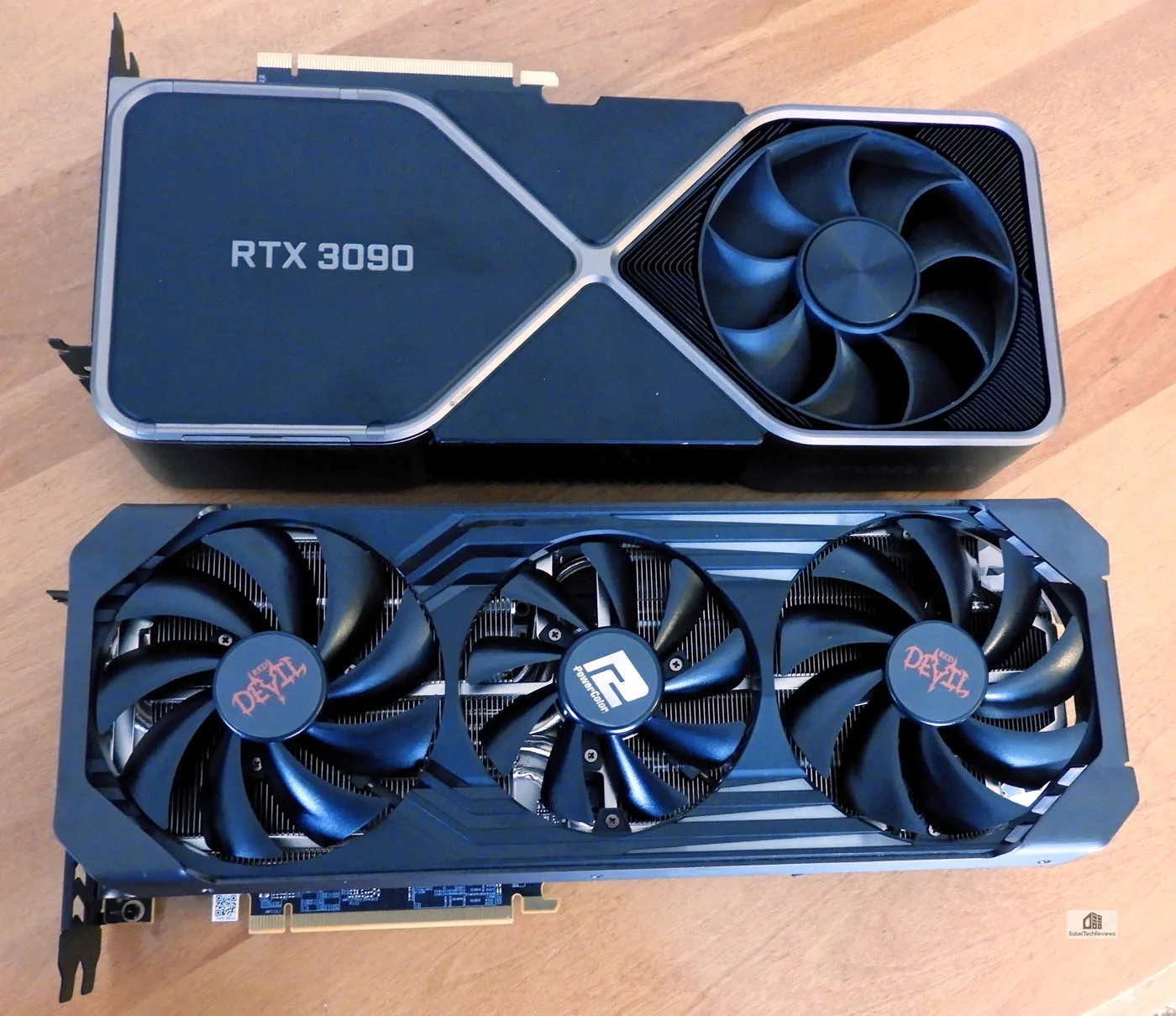 Although we had originally planned to overclock the Red Devil RX 6900 XT Ultimate versus the overclocked RTX 3090 FE, we had issues with our ANTEC/Seasonic 1000W power supply and the card's protection circuitry so we had to abort overclocked benchmarking after we lost our favorite 1TB CARDEA Ceramic PCIe Gen 4 x4 SSD to a transient power surge. However, we will compare stock benchmarks also since we found that both NVIDIA and AMD have each improved performance since January.
Our main focus for this review is on using the HP Reverb G2 with three popular sims: Elite Dangerous, Assetto Corsa: Competizione, and Project CARS 2. BTR's testing platform is an overclocked Intel Core i9-10900K, an EVGA Z490 FTW motherboard, and 32 GB of Vulcan Dark Z DDR4 at 3600MHz on a clean install of Windows 10 64-bit Pro Edition using NVIDIA's GeForce Game Ready Driver, 466.11, and AMD's Adrenalin Software 21.3.2 drivers.
After we received the Red Devil RX 6900 XT on a short-term loan in January, we tested 35 pancake games to validate its performance versus the NVIDIA flagship, the RTX 3090 FE and also overclocked them. The two cards traded blows and the performance was close in multiple rasterized games, but the GeForce was the faster card as well as being more expensive at MSRP. Although we will update our results using 14 pancake games today, this review will focus on VR sim performance using arguably the best headset for sims – the very demanding Reverb G2.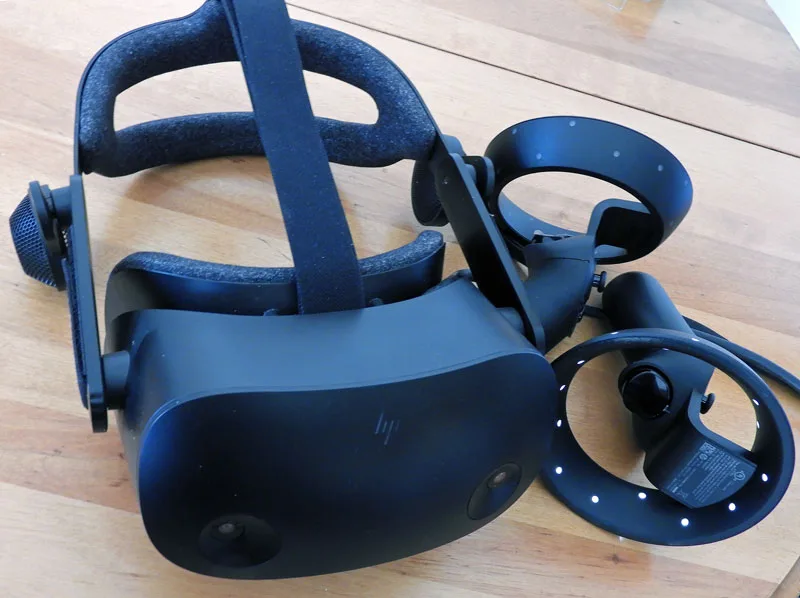 The Red Devil RX 6900 XT "Ultimate" Edition.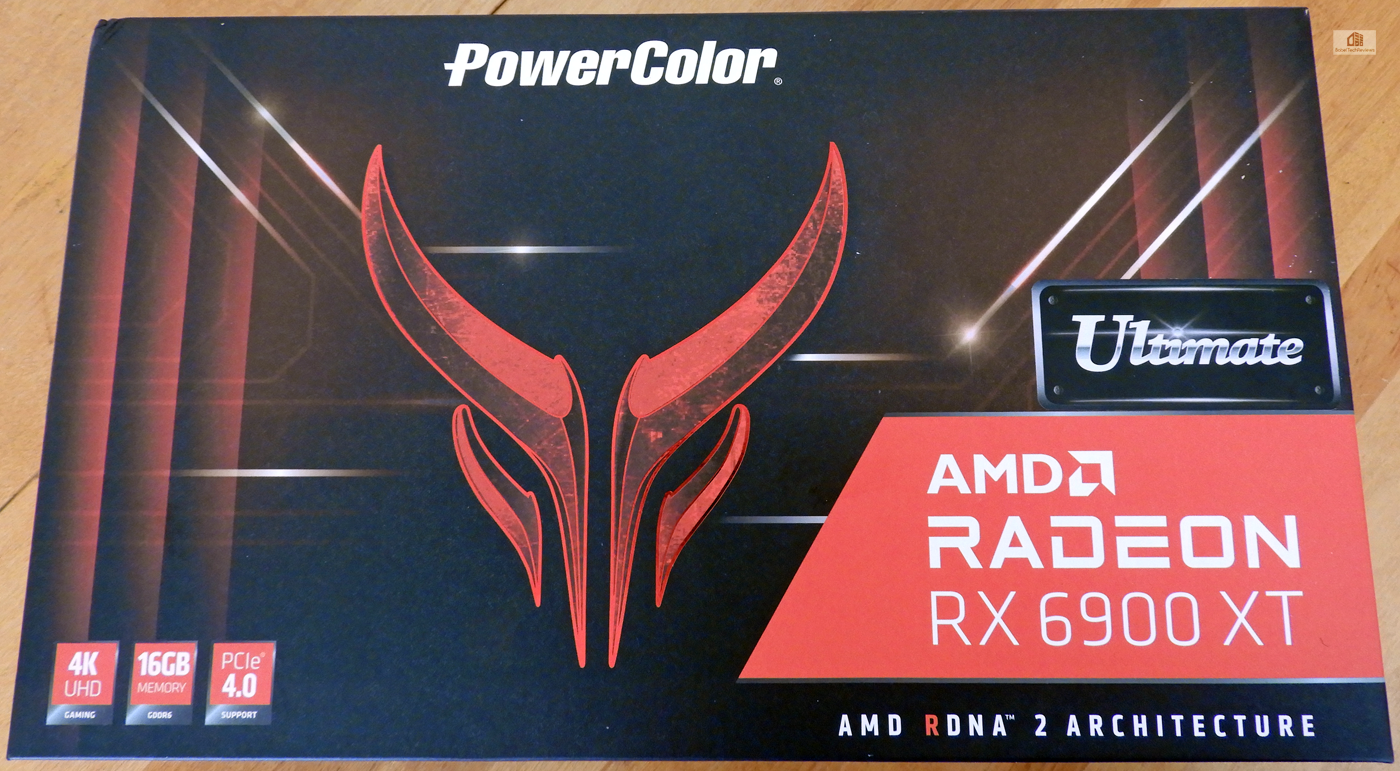 The Red Devil RX 6900 XT "Ultimate" edition is the same as the regular edition and performs identically out of the box with stock clocks. The Ultimate Edition is unlocked and aimed at more extreme overclocking with pre-selected and binned GPUs. It features a 303W 'Unleash BIOS' vs the 289W on the regular Red Devil.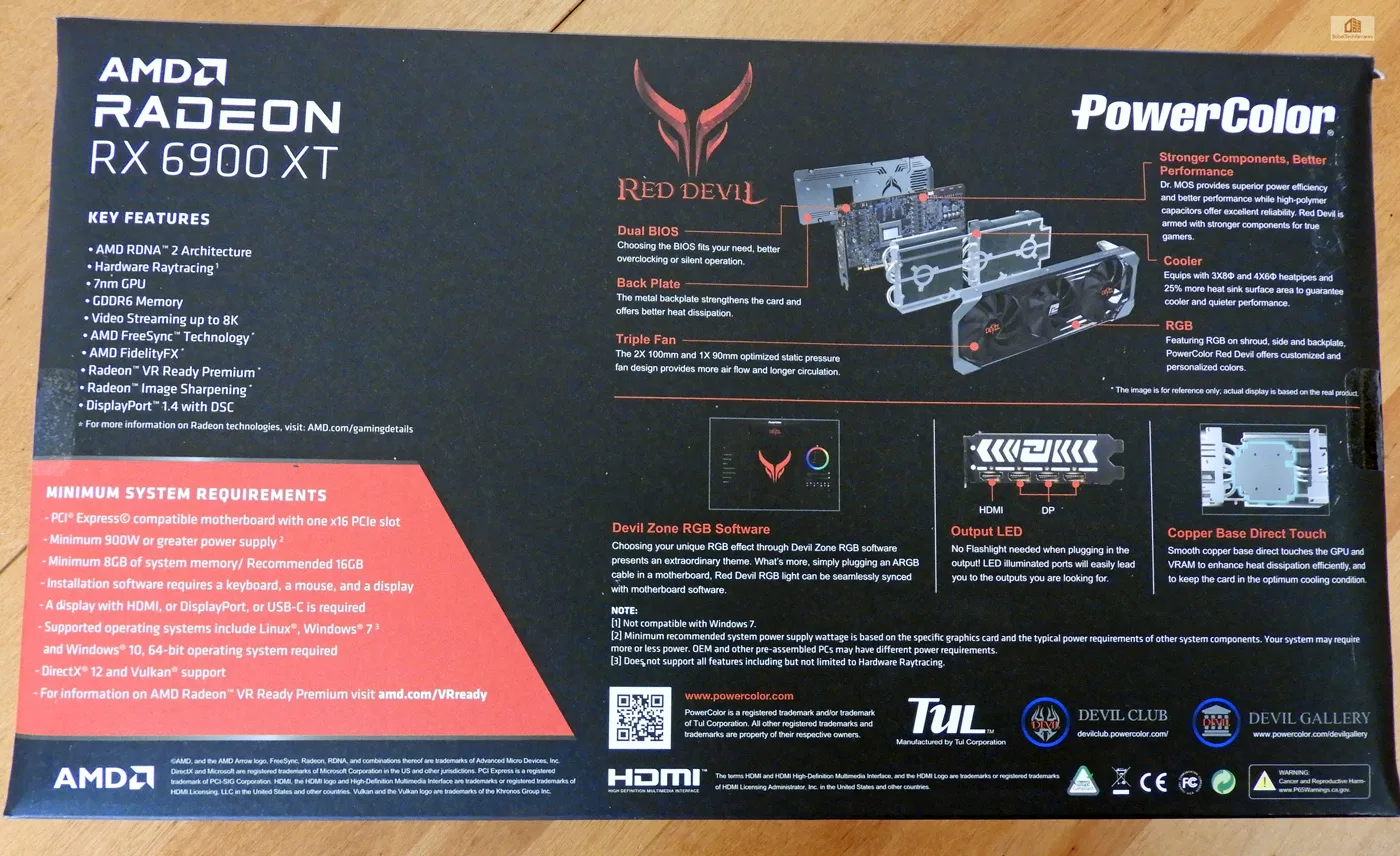 This means there are no clock limits as the Ultimate edition will unlock any limits on the AMD Wattman overclocking tool, whereas there are clock limits on the regular Red Devil RX 6900 XT. It means you can go as far as the ASIC allows as long as you can keep it cool. Well, we ran into issues and were unable to complete overclocked benching. Here are the Ultimate edition features according to PowerColor:
The Ultimate series come with a specially binned GPU, having a better silicon together with a higher power limit, will clock higher
comparative to the normal series.
AMD drivers will recognize this special series and will unlock much higher minimum and maximum clock settings on AMD Wattman OC tool.
The card has 2 modes, OC and Silent. 303W / 272W Power target. There's a bios switch on the side of the card. We designed this card to be able to maximize the overclock potential under air cooling as well a run whisper quiet on the silent mode. OC – Game 2235MHz / Boost 2425MHz
Silent – Game 2135MHz / Boost 2335MHz
The board has 16 Phase VS the 11+2 Phase VRM design on the reference design meaning is over spec'd in order to deliver the best stability and overclock headroom, not only capable of well over 400W but by having such VRM it will run cooler and last longer.
DrMos and high-polymer Caps are used on our Design, no compromises.
Our cooler features 2 x 100mm with a center 1x90mm fan, all with two ball bearing fans with 7 heat pipes (3X8? and 4X6? heatpipes) across the high density heatsink with copper base. As you might notice the PCB is shorter than the cooler, this design is a continuation of what we already implemented in many generations previously and just now has become almost a industry standard.
RGB is enhanced, Red Devil now connects to the motherboard aRGB (5V 3 pin connector).
Red Devil has Mute fan technology, fans stop under 60C!
The ports are LED illuminated. Now you can see in the dark where to plug.
The card back plate does not have thermal pads but instead we did cuts across the backplate for the PCB to breath, which under high heat scenarios is more beneficial than having thermal pads as the back plate can become a heat trap.
Buyers of Red Devil Limited edition will be able to join exclusive giveaway as well access to the Devil Club website. A membership club for Devil users only which gives them access to News, Competitions, Downloads and most important instant support via Live chat.
Here is what comes in the Ultimate box.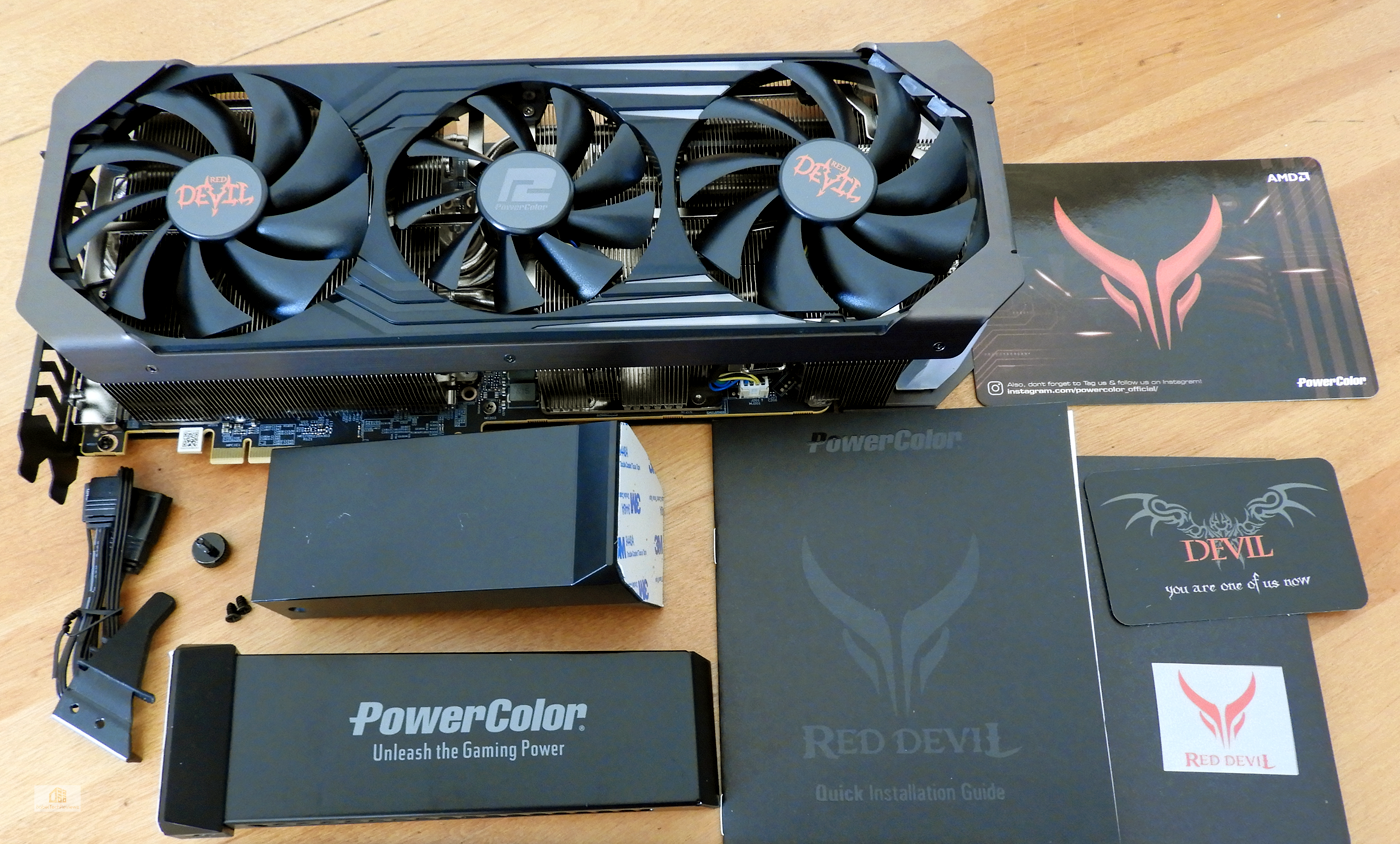 The Ultimate edition is very similar to the regular Red Devil RX 6900 XT edition, the only differences being that the card is binned and unlocked. It's a shame we were unable to overclock it, but we are glad to be able to retest it in VR and with regular games before we had to send this one back to PowerColor also.
Up next is our test configuration which are the same for PC games as PC VR games.
Test Configuration – Hardware
Intel Core i9-10900K (HyperThreading/Turbo boost On; All cores overclocked to 5.1GHz/5.0Ghz. Comet Lake DX11 CPU graphics)
EVGA Z490 FTW motherboard (Intel Z490 chipset, v1.3 BIOS, PCIe 3.0/3.1/3.2 specification, CrossFire/SLI 8x+8x), supplied by EVGA
T-FORCE DARK Z 32GB DDR4 (2x16GB, dual channel at 3600MHz), supplied by Team Group
Reverb G2, on loan from HP/Reverb
Red Devil RX 6900 XT Ultimate edition 16GB, stock clocks, on loan from PowerColor.
RTX 3090 Founders Edition 24GB, stock clocks, on loan from NVIDIA
1TB Team Group MP33 NVMe2 PCIe SSD for C: drive
1.92TB San Disk enterprise class SATA III SSD (storage)
2TB Micron 1100 SATA III SSD (storage)
1TB Team Group GX2 SATA III SSD (storage)
500GB T-FORCE Vulcan SSD (storage), supplied by Team Group
ANTEC HCG1000 Extreme, 1000W gold power supply unit
BenQ EW3270U 32? 4K HDR 60Hz FreeSync monitor
Samsung G7 Odyssey (LC27G75TQSNXZA) 27? 2560×1440/240Hz/1ms/G-SYNC/HDR600 monitor
DEEPCOOL Castle 360EX AIO 360mm liquid CPU cooler
Phanteks Eclipse P400 ATX mid-tower (plus 1 Noctua 140mm fan)
Test Configuration – Software
GeForce 466.11 Game Ready drivers – High Quality, prefer maximum performance, single display, no optimizations, Vsync is off as set in the NVIDIA control panel
Adrenalin Software 21.3.2 – All optimizations are off, Vsync is forced off, Texture filtering is set to High, and Tessellation uses application settings
Windows 10 64-bit Pro edition; latest updates v2004.
Latest DirectX
All games are patched to their latest versions at time of publication
FCAT-VR Capture (latest non public Beta 04/21)
FCAT-VR Beta 18 (non public)
SteamVR – at 100% resolution unless specified
3 VR Sim Game, 14 Pancake benchmark suite & 1 synthetic test
Synthetic
Unigine Superposition VR Benchmark
3DMark Fire Strike & Time Spy
VR Sim Games
Assetto Corsa Competizione
Elite Dangerous
Project CARS 2
Pancake Games
DiRT 5
Godfall
Death Stranding
Ghost Recon: Breakpoint
Red Dead Redemption 2
Borderlands 3
Wolfenstein Youngblood
World War Z
Strange Brigade
Rainbow 6 Siege
Horizon Zero Dawn
Metro Exodus
Total War: Three Kingdoms
Far Cry New Dawn
First we are going to check the performance of 14 pancake games
14 PC Games
Most gaming results show average framerates in bold text, and higher is better. Minimum framerates are next to the averages in italics and in a slightly smaller font. The games benched with OCAT show average framerates but the minimums are expressed by frametimes in ms where lower numbers are better. Column one represents the stock RTX 3090 FE performance next to the stock Red Devil RX 6900 XT Ultimate edition performance results in the second column.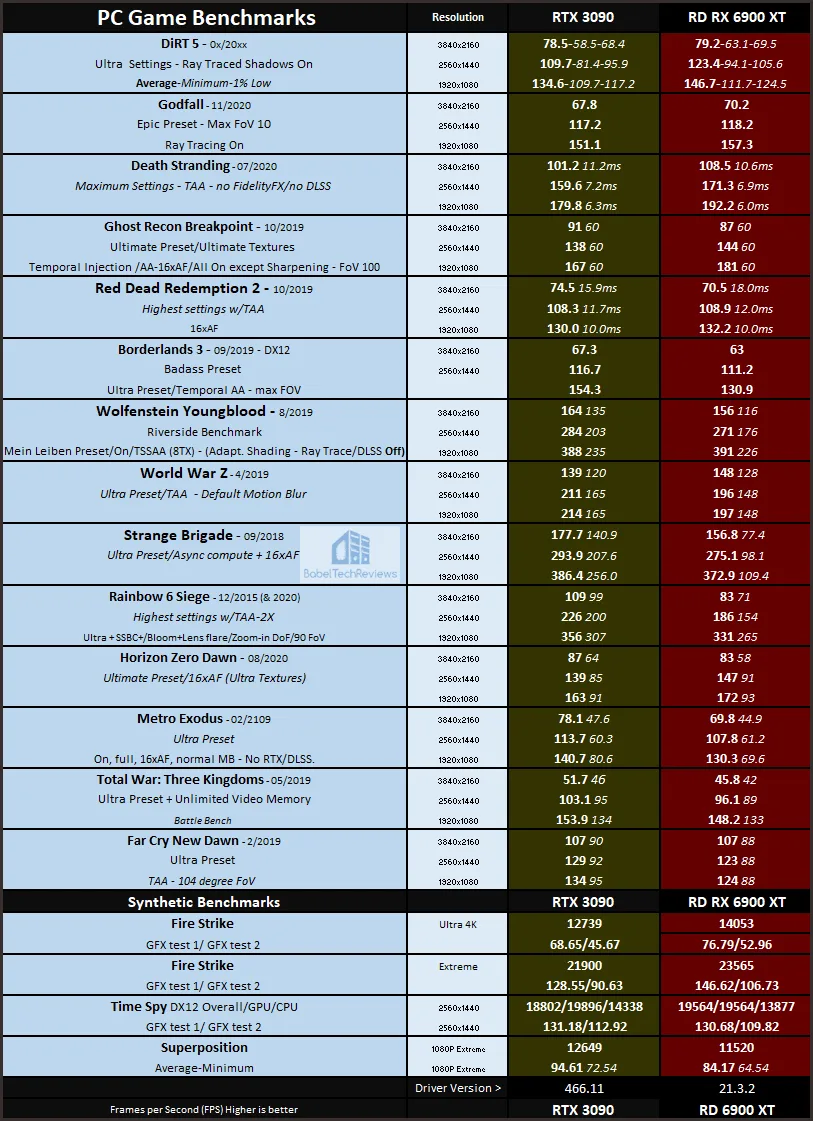 Compared with our last benchmarks between the Red Devil RX 6900 XT and the RTX 3090 FE, there has been a general performance increase for both cards. The Red Devil wins three games outright and it ties or trades blows in six others depending on the resolution although the RX 3090 still maintains the overall lead. So let's look at our three featured VR sim games next.
VR Sims
The Reverb G2 is a much more demanding headset than the Vive Pro or the Valve Index by virtue of its higher resolution. This higher resolution gives it exceptional clarity with no screen door effect, but its tracking isn't as perfect as lighthouse tracking for many action games. The G2 is considered one of the best headsets for racing and flight sims and we are going to compare the performance of the RX 6900 XT versus the RX 3090 – first at each game's Ultra settings and also, if necessary, at more "playable" settings to minimize reprojection.
Some VR gamers prefer to lower the SteamVR render resolution for the G2 which is extremely high and mostly used to compensate for the lens' distortion instead of lowering the preset or by dropping individual settings. It is a viable option but we prefer to test at SteamVR's 100% resolution for benchmarking purposes.
Also, please note that FCAT VR doesn't distinguish dropped frames from synthesized frames using the G2 like it properly does for the Valve Index and the Vive Pro. We suggest that the vast majority of the frames reported as dropped are actually synthetically generated (reprojected) frames.
It is important to remember that BTR's charts use frametimes in ms where lower is better, but we also compare "unconstrained framerates" which shows what a video card could deliver (headroom) if it wasn't locked to either 90 FPS or to 45 FPS by the HMD. In the case of unconstrained FPS which measures just one important performance metric, faster is better.
Let's individually look at our 3 sim VR games' performance using FCAT VR. All of our games were benchmarked at 100% SteamVR resolution as we compare the stock-clocked Red Devil RX 6900 XT with the stock RTX 3090 FE using the Reverb G2 and FCAT VR.
First up, Assetto Corsa Competizione.
Assetto Corsa Competizione (ACC)
BTR's sim/racing editor, Sean Kaldahl created the replay benchmark run that we use for both the pancake game and the VR game. It is run at night with 20 cars, lots of geometry, and the lighting effects of the headlights, tail lights, and everything around the track looks spectacular.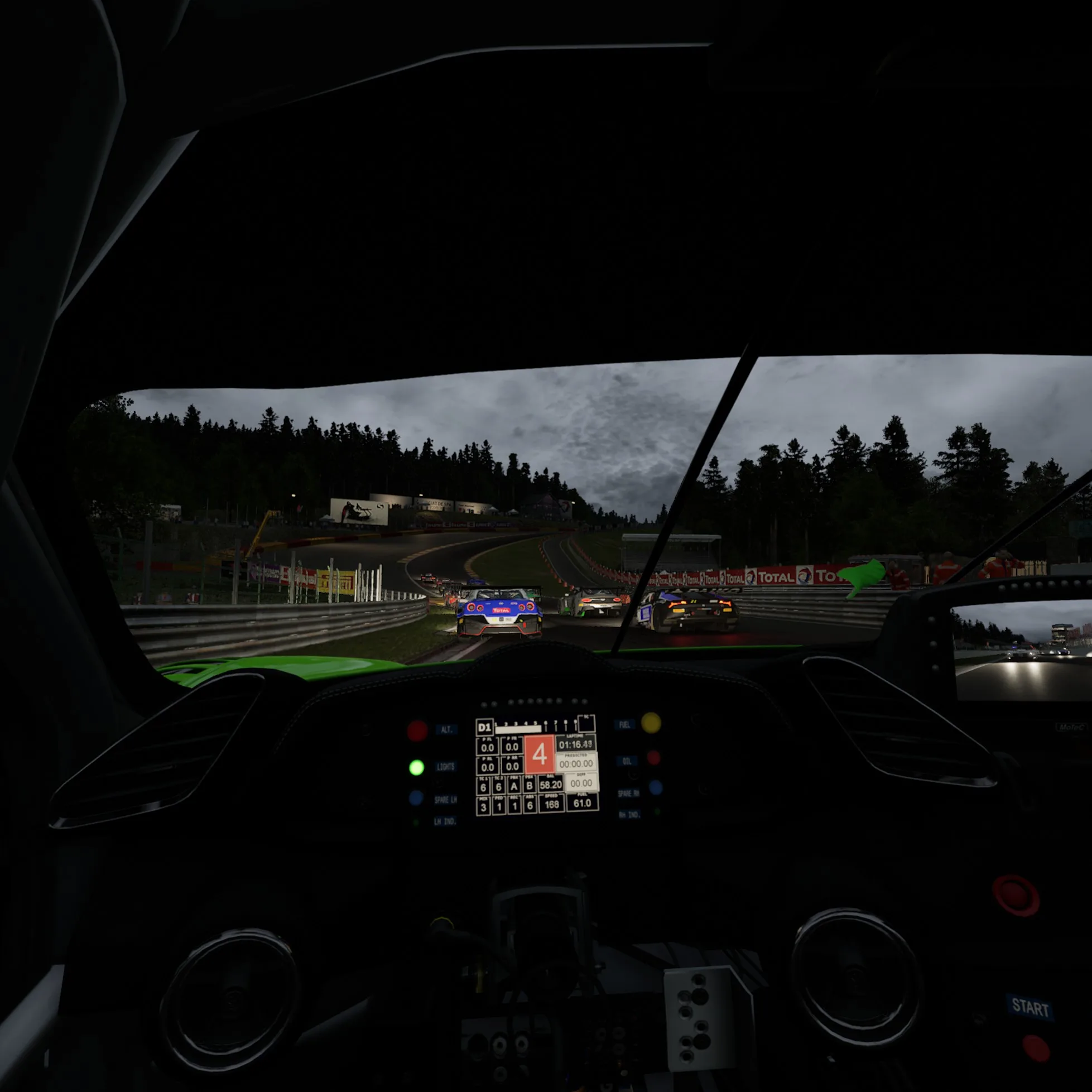 Just like with Project CARS, you can save a replay after a race. Fortunately, the CPU usage is the same between a race and its replay so it is a reasonably accurate benchmark using the Circuit de Spa-Francorchamps.
iRacing may be more accurate or realistic, but Assetto Corsa Competizione has some appeal because it feels more real than many other racing sims. It delivers the sensation of handling a highly-tuned racing machine driven to its edge. We test the VR High preset first.
VR High
Here are the ACC FCAT VR frametimes using VR High.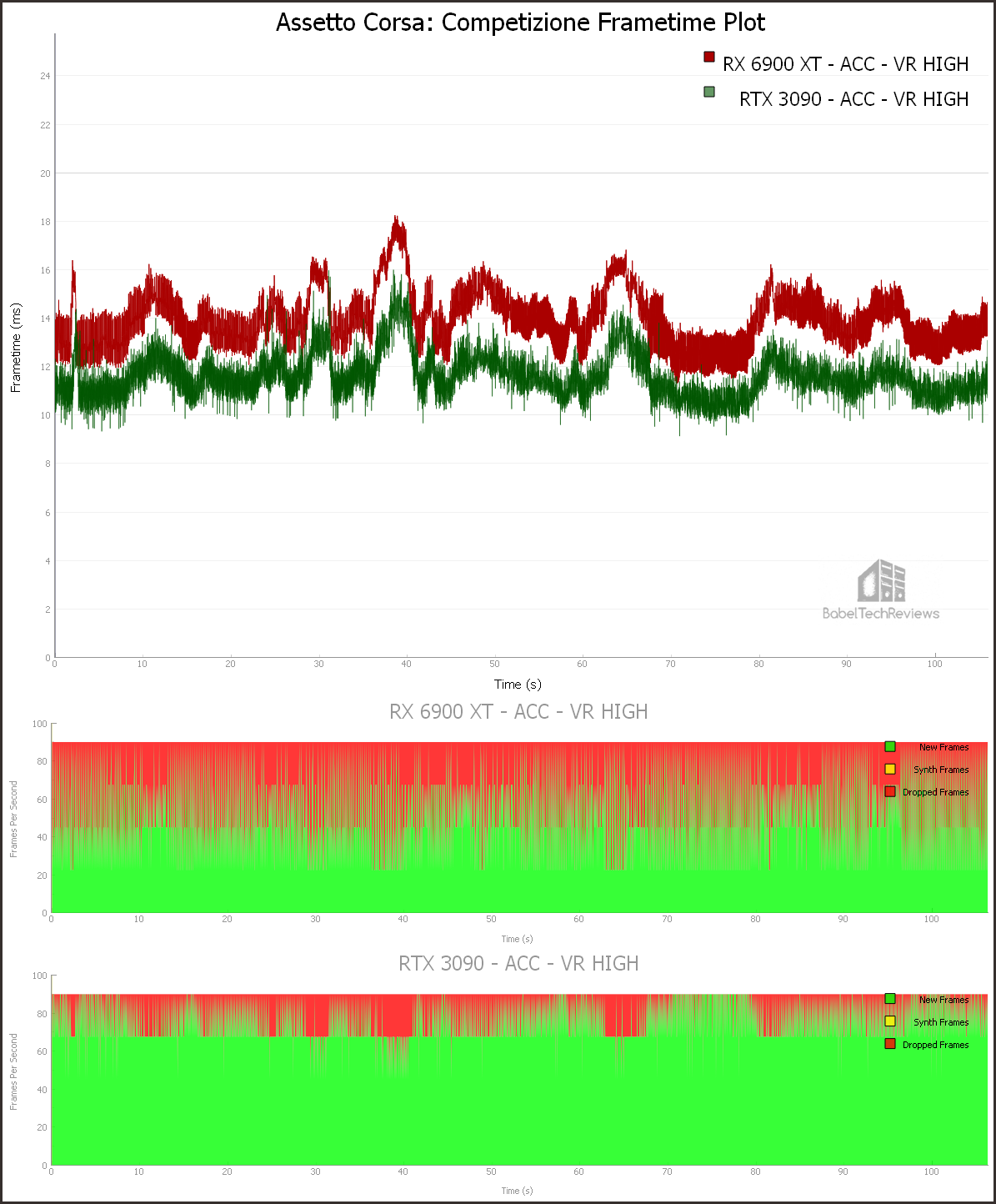 Here are the details are reported by FCAT-VR:

The RX 6900 XT delivered 72.12 unconstrained FPS with 5802 (49%) dropped or synthesized frames but no Warp misses.
The RTX 3090 delivered 86.48 unconstrained FPS together with 1623 (17%) dropped or synthetic frames along with no Warp misses.
The ACC racing experience is better with the RTX 3090 since less than 20% of its frames need to be synthesized compared with nearly 50% using the RX 6900 XT. However, there is no way that either of these cards can play on VR Epic without lowering the resolution, and it is best to have no synthesized frames, so we will try VR Low next – unfortunately there is no VR Medium.
VR Low
Here are the ACC frametimes using VR Low.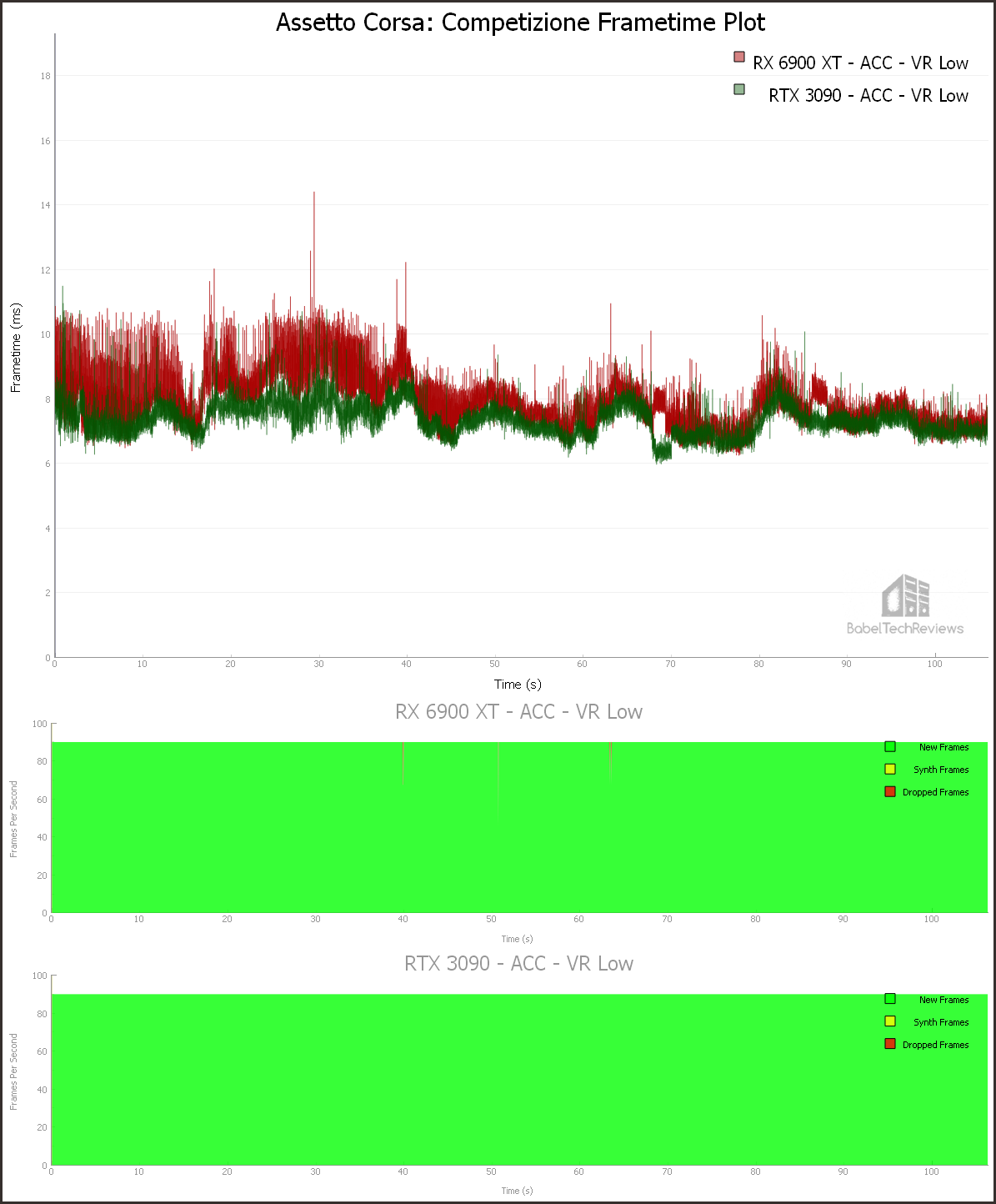 Here are the details are reported by FCAT-VR:

The RX 6900 XT delivered 126.27 unconstrained FPS with 6 dropped or synthesized frames and no Warp misses.
The RTX 3090 delivered 136.11 unconstrained FPS with no dropped, synthesized frames, or Warp misses.
FIXED TEXT – 04/19/2021 9:45 AM PDT
Both cards play ACC similarly on VR Low. The RTX 3090 has more performance headroom and it is possible to play it on VR High with minimal reprojected or synthesized frames by lowering a few settings. The RX 6900 XT is best suited for playing ACC on VR Low.
Next, we check out Elite Dangerous next.
Elite Dangerous (ED)
Elite Dangerous is a popular space sim built using the COBRA engine. It is hard to find a repeatable benchmark outside of the training missions.
A player will probably spend a lot of time piloting his space cruiser while completing a multitude of tasks as well as visiting space stations and orbiting a multitude of different planets (~400 billion). Elite Dangerous is also co-op and multiplayer with a very dedicated following of players.
We picked the Ultra Preset and we set the Field of View to its maximum. Here are the frametimes.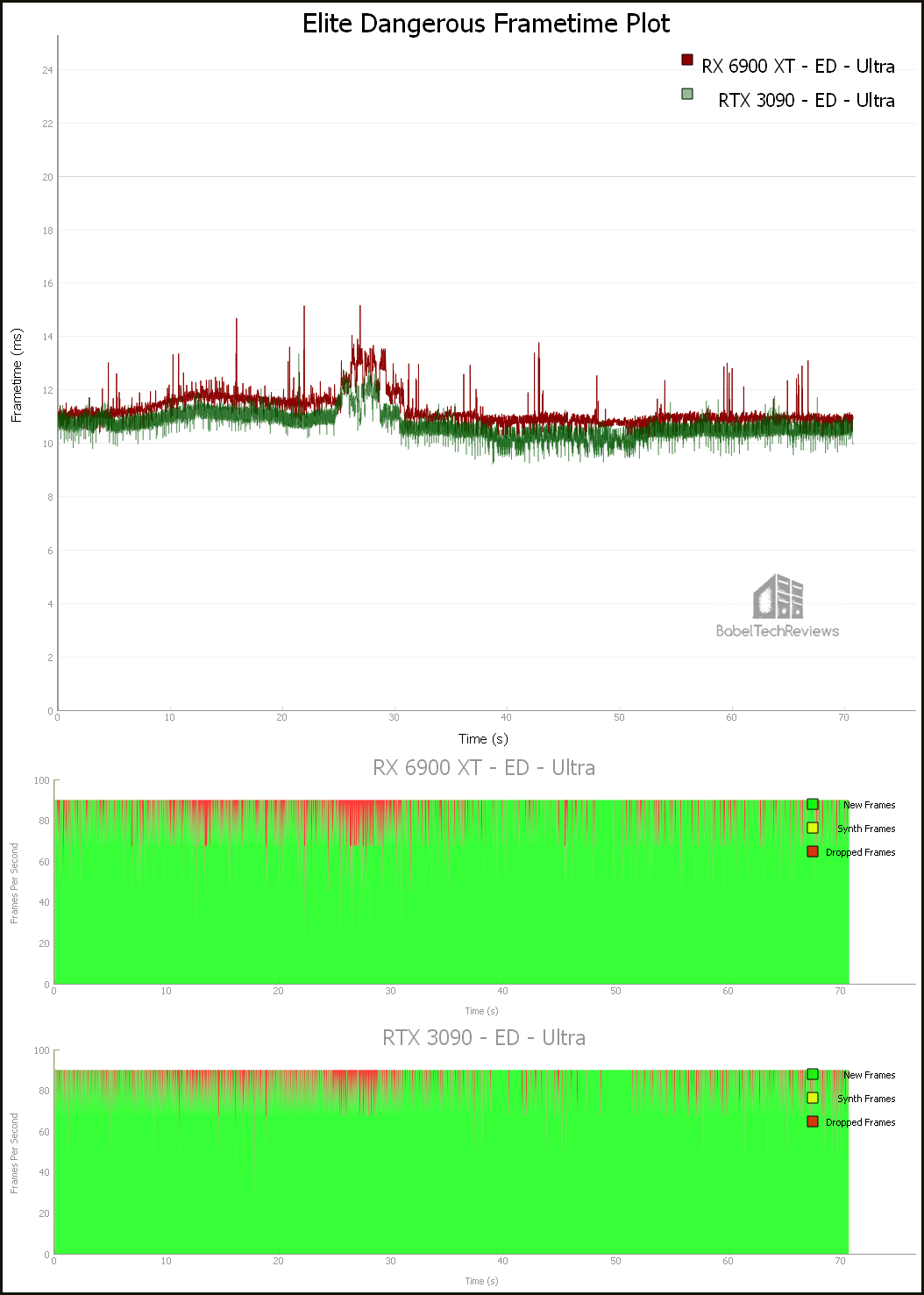 Here are the details as reported by FCAT-VR:

The RX 6900 XT delivered 93.65 unconstrained FPS with no Warp Misses but with 450 (7%) dropped or synthesized frames..
The RTX 3090 delivered 89.21 unconstrained FPS with no Warp Misses either, but with 584 (9%) dropped or synthetic frames.
The experience playing Elite Dangerous at Ultra settings is not perceptibly different on either video card and Ultra is a good option if a player doesn't mind less than 10% of the frames are reprojected or synthesized. If not, individual settings or the SteamVR render resolution may be lowered to keep delivered framerates at a constant 90 FPS.
Let's continue with another demanding VR game, Project CARS 2, that we still like better than its successor.
Project CARS 2 (PC2)
There is a real sense of immersion that comes from playing Project CARS 2 in VR using a wheel and pedals. It uses its in-house Madness engine, and the physics implementation is outstanding. We are disappointed with Project CARS 3, and will continue to use the older game instead for VR benching.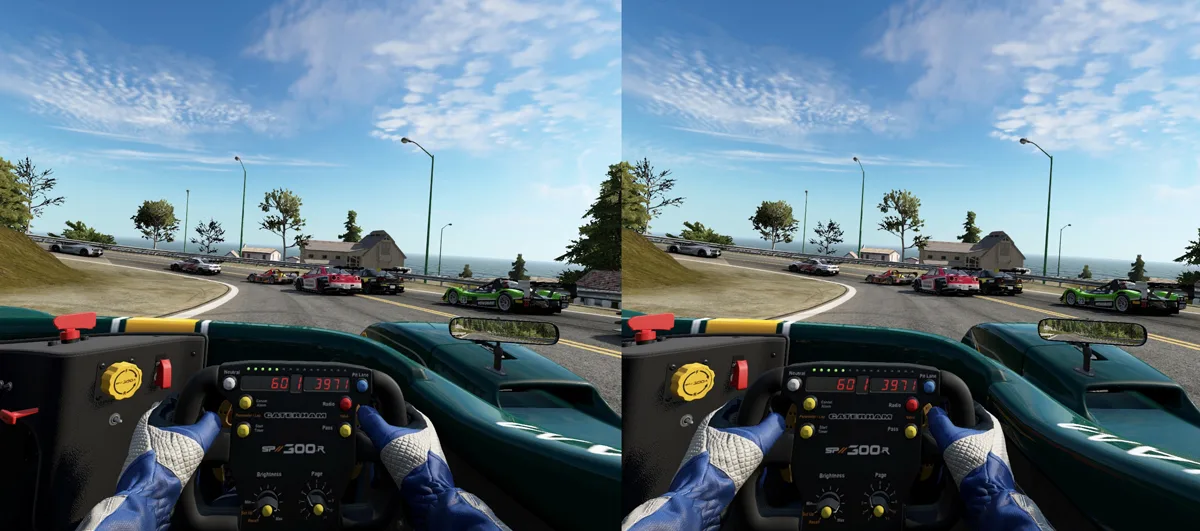 Project CARS 2 offers many performance options and settings and we prefer playing with SMAA Ultra rather than to use MSAA.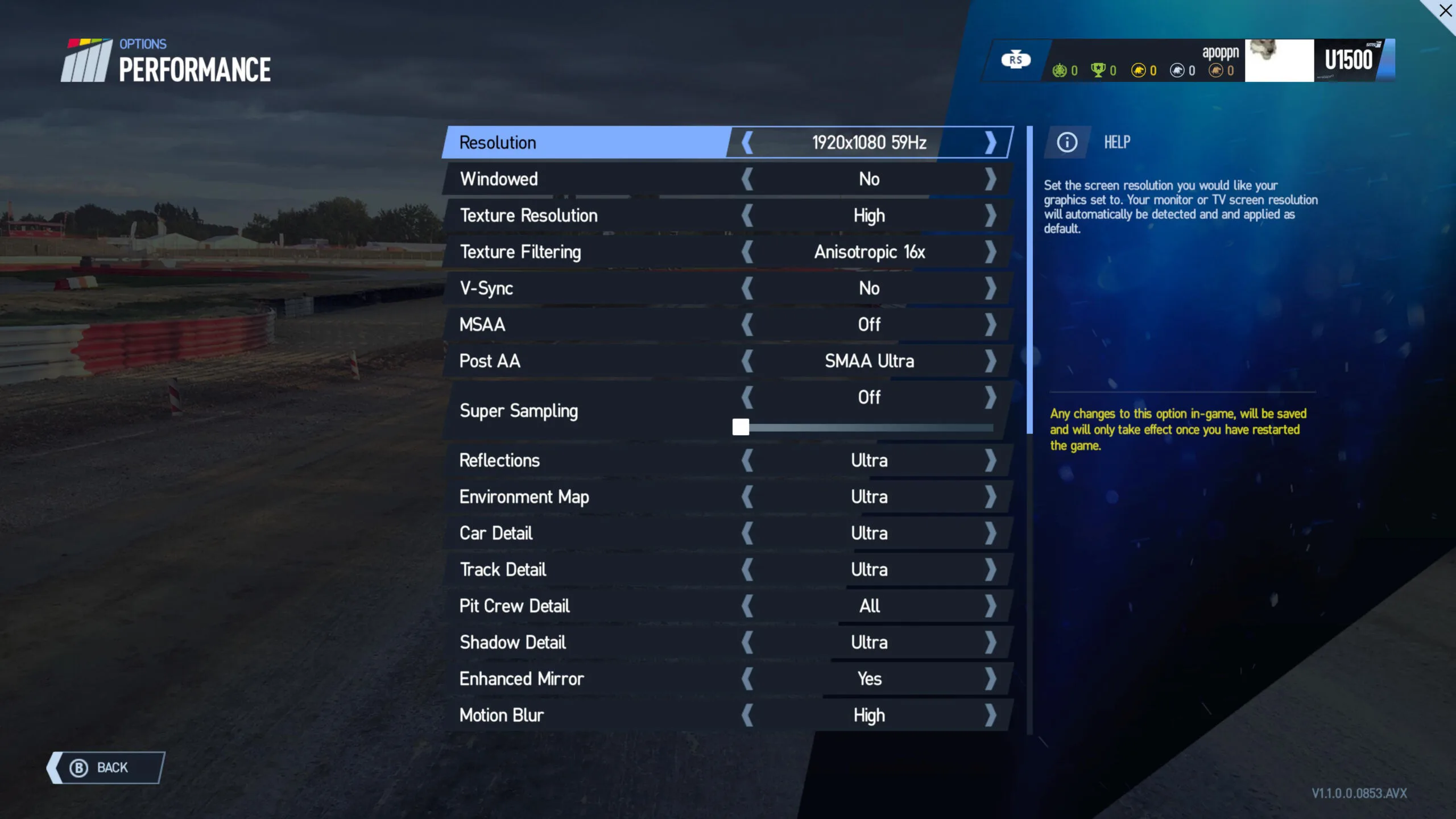 We used maximum settings including for Motion Blur although it looks best to us with on Low or Medium. For lesser cards, we would also recommend lowering grass and reflections to maximize framerate delivery as motion smoothing or reprojection tends to cause visible artifacting.
Ultra
Here is the frametime plot.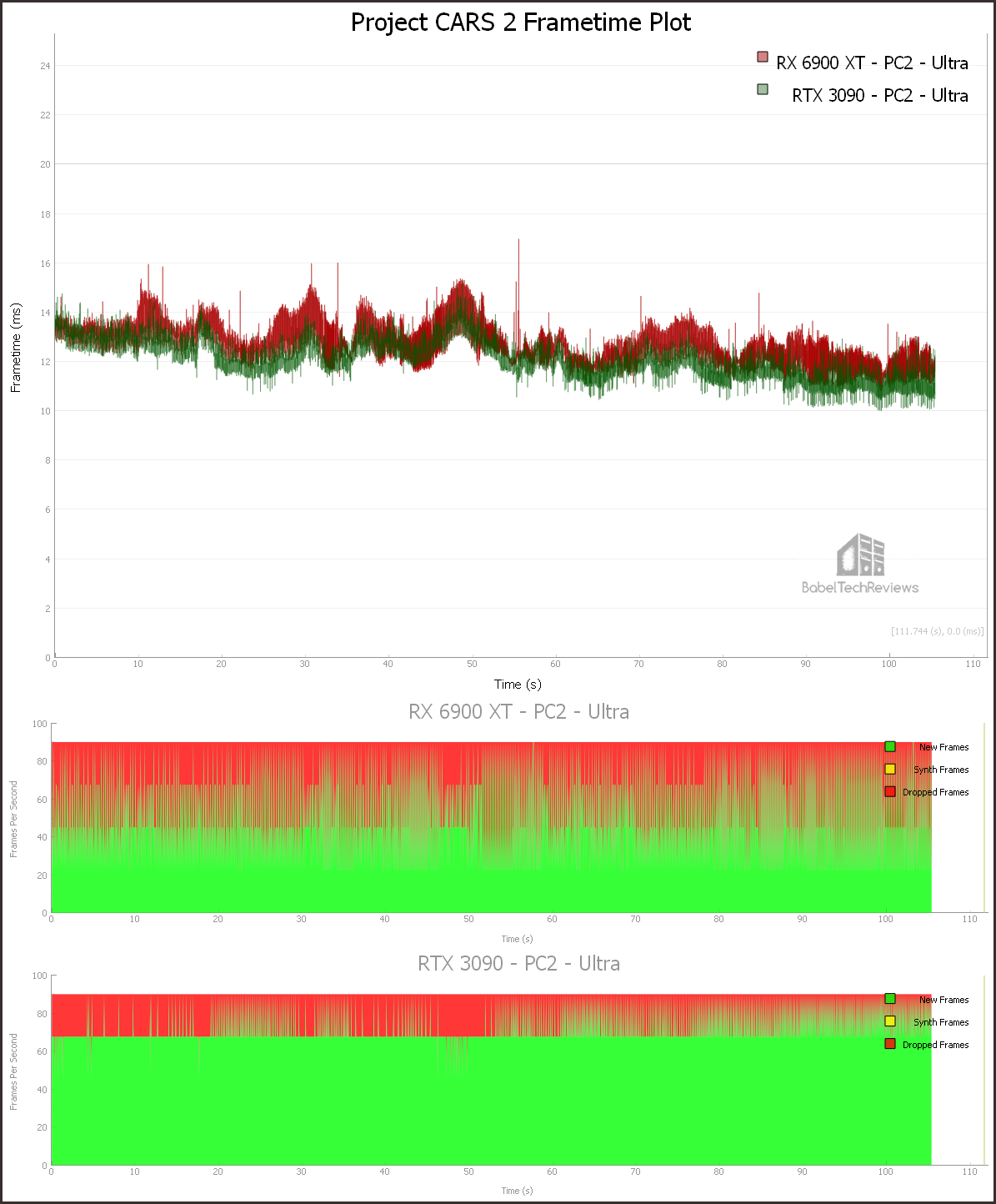 Here are the FCAT-VR details.

The Red Devil RX 6900 XT delivered 78.68 unconstrained FPS, with 1 warp miss and 5802 of its frames (49%) had to be synthesized.
The RTX 3090 delivered 82.77 unconstrained FPS with 1913 (20%) dropped or synthesized frames but with no warp misses
The VR experience playing Project CARS 2 on our maximum settings is better on the RTX 3090 since the RX 6900 XT requires almost 50% of its frames to be synthesized whereas the RTX 3090 only requires 20%. If you want maximum settings without reprojection, the only other acceptable option is to lower the SteamVR render resolution.
Next up the PC2 Medium preset.
Medium
Here is the frametime plot.
Here are the FCAT-VR details.

The Red Devil RX 6900 XT delivered 104.51 unconstrained FPS, with 226 (2%) dropped or synthesized frames but no Warp misses.
The RTX 3090 delivered 100.81 unconstrained FPS with 314 (3%) synthesized or dropped frames and with no Warp misses.
The experience playing Project CARS 2 on the Medium preset is similar using either card.
Let's look at our overall Unconstrained Framerates Chart.
Unconstrained Framerates
The following chart summarizes the overall Unconstrained Framerates (the performance headroom) of our two cards using our 3 sim VR test games. The preset is listed on the chart and higher is better.

The RX 3090 FE delivers higher unconstrained frames in three out of five sim benchmarks over the Red Devil RX 6900 XT in this one important performance metric. But unconstrained framerates are just one metric that has to be taken together with the frametime plots to have any meaning.
Let's check out our conclusion.
Conclusion
It is great to see AMD delivering a card that is performance competitive with the RX 3090 in VR as well as in rasterized PC games. Several of the FCAT VR frametime plots indicate the RTX 3090 delivers a smoother VR experience at higher settings. However, the RX 6900 XT distinguishes itself from the RX 6800 XT as a faster card for playing at our demanding VR settings better than it does with pancake games, and the Red Devil is a fine RX 6900 XT indeed.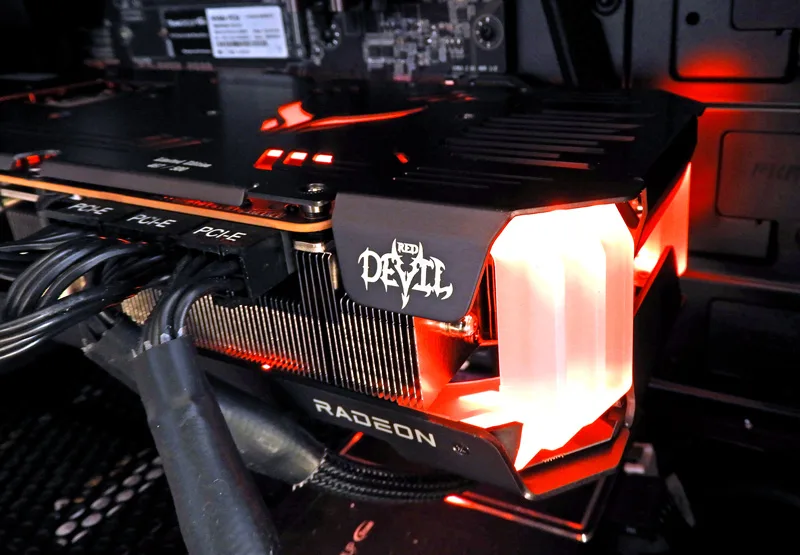 The Ultimate edition of the Red Devil RX 6900 XT is for overclockers who want a 3-year factory warranty for a card that can be potentially overclocked higher than the regular edition although it won't give higher performance at stock compared to the regular Red Devil. We can only hope that the dual pandemics – crypto mining and COVID-19 – will end soon and that pricing and availability will return to normal – there is hope on the horizon.
Next week, we are going to review new software and will afterward return to VR by continuing to benchmark the Red Devil RX 6700 XT versus the RTX 3070 and the RTX 3060 Ti. We have added Borderlands 2 to our VR benching suite and may also add Medal of Honor: Above and Beyond.
Happy VR Gaming!