Software Adrenalin Edition 21.4.1 Brings New Features and Functionality
AMD has just released AMD Adrenalin Software edition 21.4.1 this morning which brings new functionality and features. We will look at the new features and functionality of this newly redesigned software interface that puts an emphasis on capture, streaming, and sharing from any device with a high-speed Internet connection. AMD now also allows for a minimal or a "driver only" installation also.
We have already noted that AMD has increased performance of the RX 6900 XT via drivers since January so we will not focus on performance. Instead, we have sent a RX 6700 XT to our fellow editor, Rodrigo Gonzalez, so that he will perform regular driver performance analyses as they are released to inform and benefit Radeon users.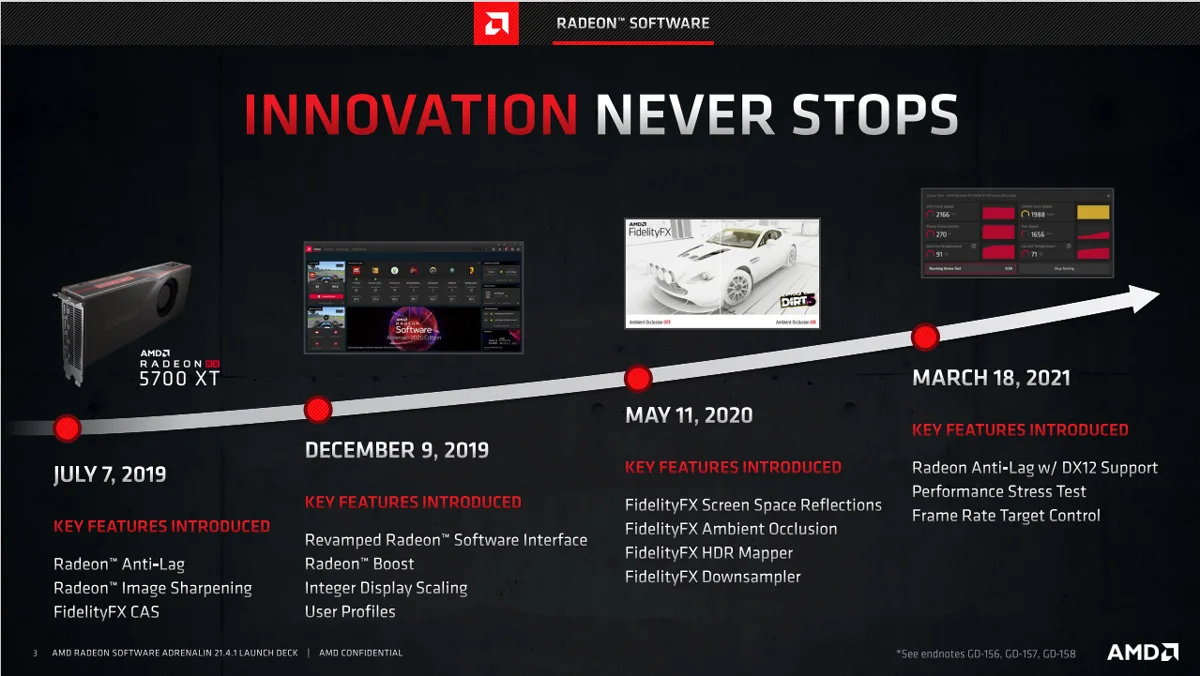 The AMD Adrenalin Software edition 21.4.1 is AMD's special annual update which introduces important new features that we will cover, so let's look at what it brings new for Radeon owners as we have had a little time to spend with it. From AMD's website we see that it expands on earlier editions, especially on Software Adrenalin from the 2020 edition. See the website for the footnote links.
AMD Link – A free application to connect a gaming PC with a tablet, phone or TV – and now another Windows-based PC – lets users turn any screen into a gaming powerhouse from virtually anywhere. The new AMD Link Game feature allows users to invite a friend to connect to their PC from another AMD Radeon system to play games that support local multiplayer or split screen mode. AMD Link also offers 144 FPS (max)2, higher bandwidth streaming options, support for 5.1 surround sound audio, and reduced streaming latency of up to 60 percent in CS:GO.3
Simplified User Interface – Based on community feedback, the latest software release provides several customizable installation options. Gamers can elect to do a full installation or a minimal installation with a streamlined user interface, or a small-footprint, driver-only installation. Additional updates include an improved search bar, the availability of additional gameplay stats on the games tab and more.
Expanded Performance Metrics & Tuning – Users can now view both Radeon graphics and Ryzen™ processor performance metrics from a single location, including CPU utilization, clock speed, temperature, voltage, power consumption, and fan speed, enabling them to better optimize system performance and power efficiency.
Enhanced Recording and Streaming – Integrating all recording and streaming settings under a single tab, the new AMD Radeon Software release offers scene editor usability enhancements, improved sorting and tagging functionality, and a new wizard4 to make it easier for entry-level users to begin streaming.
Color Deficiency Correction4 – Customizable settings allow users with the three major color vision deficiency conditions – protanopia, deuteranopia and tritanopia – to experience games in more vivid detail without any expected performance impact.
Microsoft® PlayReady AV1 Support4,5 – Support for the open-source, royalty-free PlayReady AV1 hardware-accelerated decode for AMD Radeon RX 6000 Series graphics cards ensures high-quality, protected content.
AMD Crash Defender4 – A new stability feature to ensure systems "stay alive," preserve data and fully recover from potential hangs or crashes in select scenarios. Paired with the AMD Bug Report Tool, Radeon Software can provide a more complete picture of user-submitted issues for quicker resolution by AMD support teams.
AMD Adrenalin Software edition 21.4.1 New Features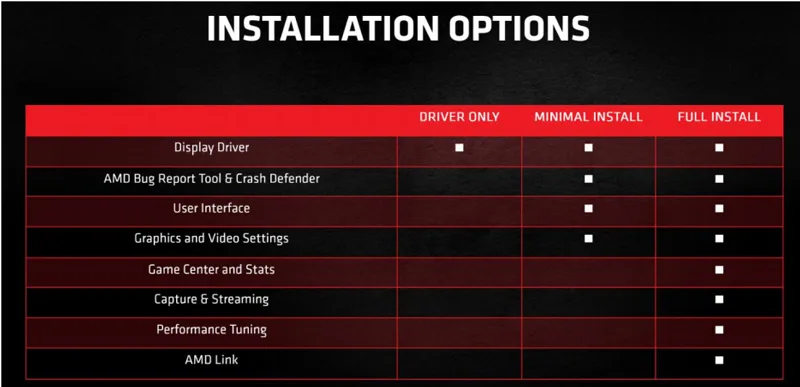 One of the best new features of the new software installer is the ability to customize it. You can install all of the features and experience everything the all-in-one gaming control panel offers or just a minimal install. And there is even an option to install the driver only for a minimalist approach.
There are far too many new features that AMD has released with this Radeon Software Adrenalin Edition to cover in detail, so we will give BTR's readers just a quick overview. In addition, this reviewer is not a couch gamer who prefers a keyboard and a mouse on the desktop, and even feels uncomfortable using a controller except for VR games. So although we don't stream games to our TV or to tablets, we did give it a quick look. All of the following images were captured from our own PC except as captioned from AMD.
AMD Radeon Software Adrenalin 2020 Edition introduced to gamers several new and improved features using one-click presets for an easy way to optimize software and system settings for individually tailored and optimized gaming. And these have been further refined. Because it is so complex, there is a search function that we will use regularly until we get used to it.
What we especially like about it is that there is still no need to sign into it and go through an annoying security check, nor do we have to give our email address and password just to access the program as their competitor requires.
The new game center Home tab gives gamers the option to launch games from one location regardless of the platform and adjust their settings for each individual game while tracking gaming and performance stats without ever leaving their game. In addition, an integrated web browser enables users to browse online for game information including for walkthroughs and tutorials.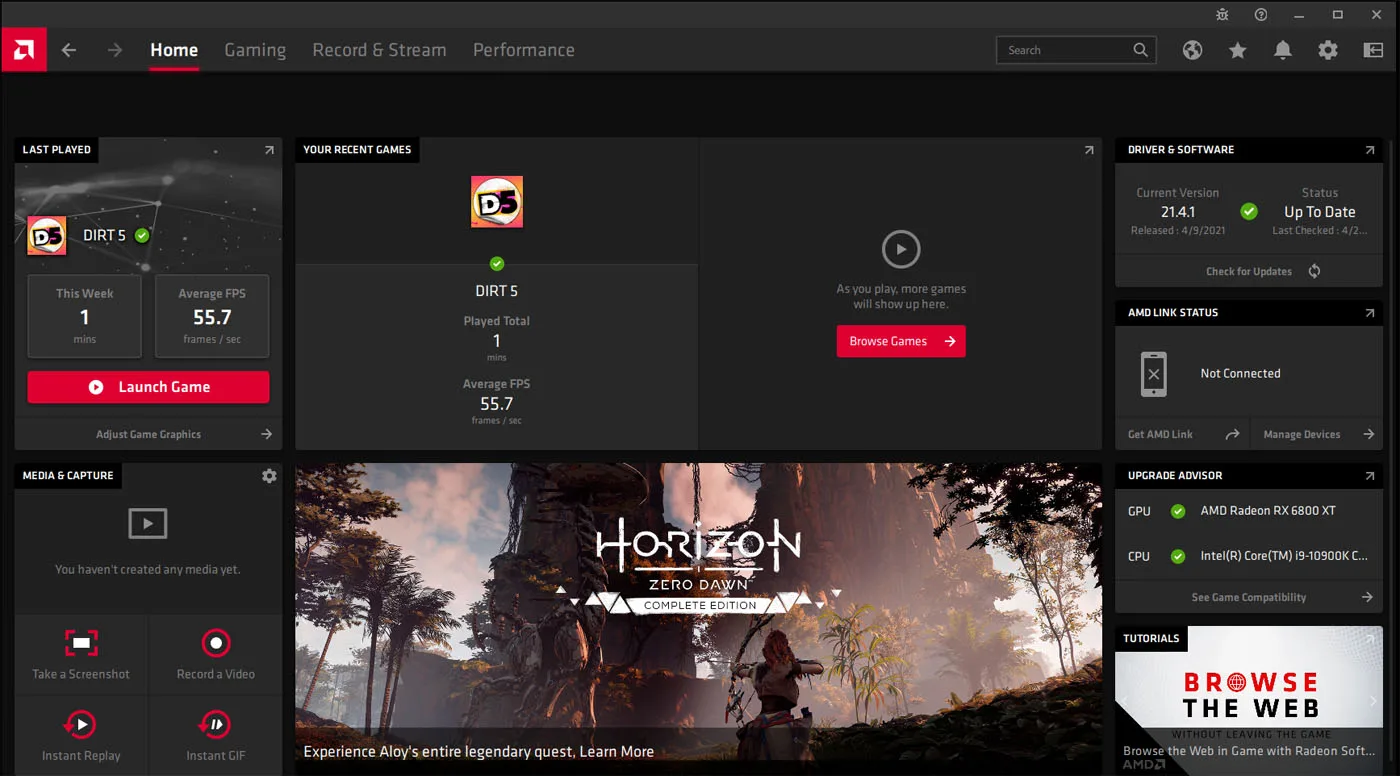 You can see everything at once from the home page and even know if your software is up to date. AMD Software Adrenalin edition 21.4.1 also adapts to you and will customize itself, for example, showing the details of your last played game.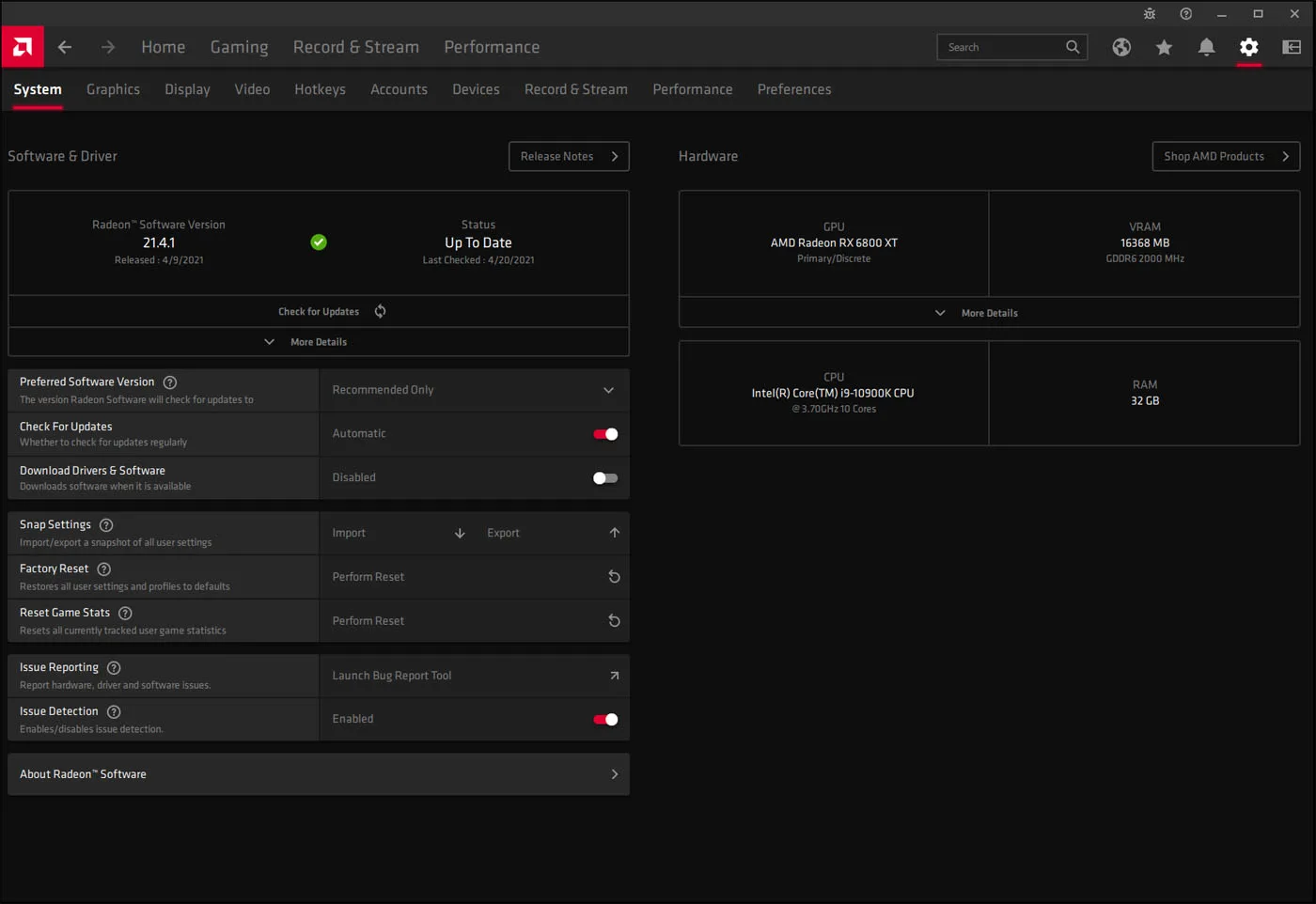 The system tab gives multiple details, and we leave everything at default for our own reviews. But it is highly customizable for those who like optimizing it for personal use.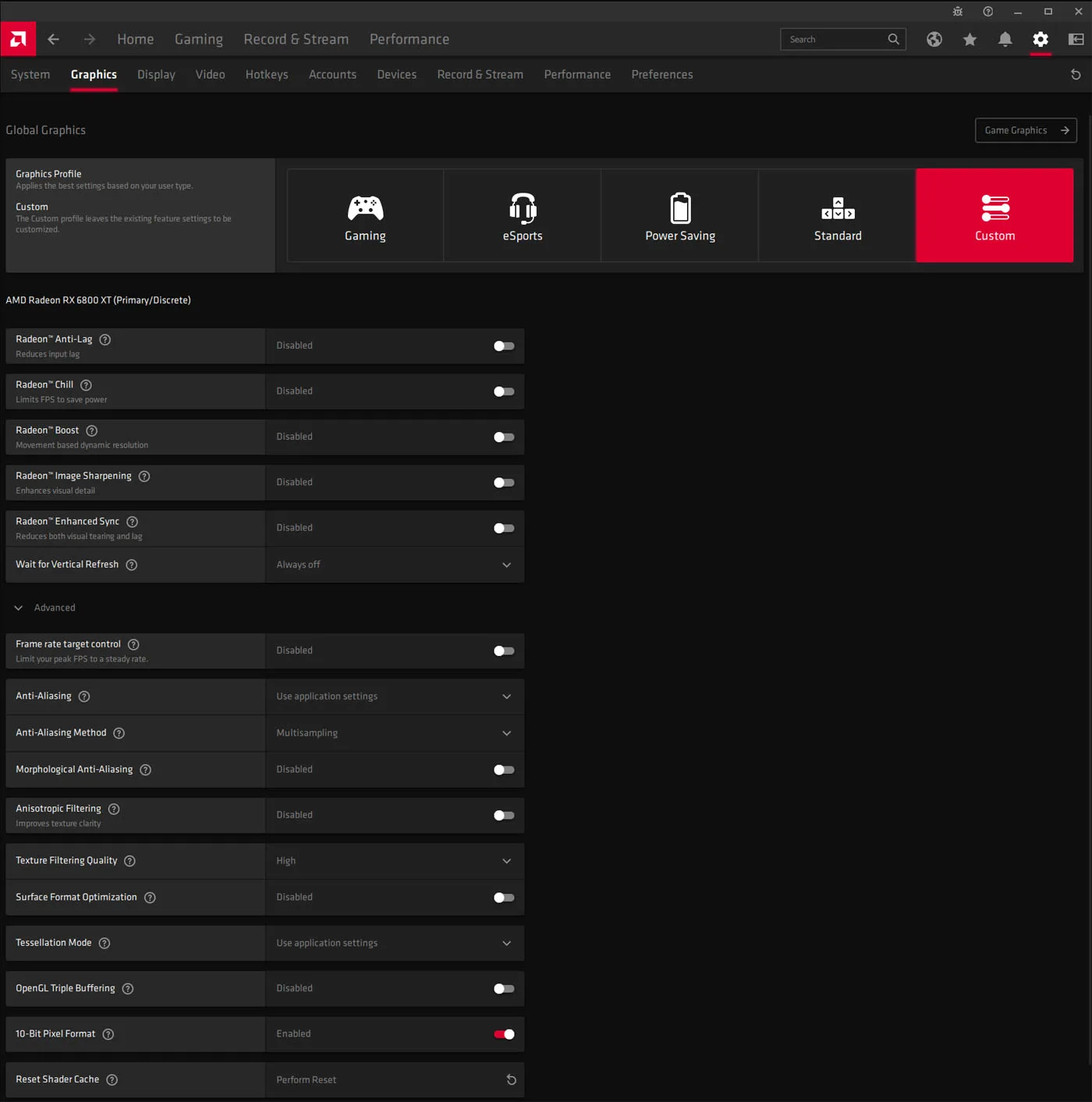 After the new drivers are installed, you can do a Quick setup or skip it for the more advanced features. You are asked to describe your gaming as "Gaming", "eSports", "Power Saving", "Standard" or "Custom", and the latest Radeon Software Adrenalin Edition will make suggestions based on your profile.
For the most precise benchmarking, we always pick Custom Global Performance settings for our benchmarking which have to be accurate and repeatable especially because we benchmark driver performance changes, and Surface Format Optimization and other image quality optimizations are disabled.

However, there are new features such as Anti-Lag which are quite valuable for the games that support it. Input lag is the time it takes between when a gamer clicks a button or a mouse and when the computer registers a response on the screen. Responsiveness is important especially for action games and to eSport gamers.
Radeon Anti-Lag improves the pacing of the CPU workload by allowing it to overlap with the GPU workload so the CPU does not get too far ahead of the GPU. According to AMD, Anti-Lag may shrink input lag by up to 16.7 milliseconds at 60 FPS with a noticeably quicker response time.
We have the means to test and accurately measure the end-to-end latency of a PC from the mouse click to the response on the screen and we will bring our readers a full review of Anti-Lag in the not too distant future.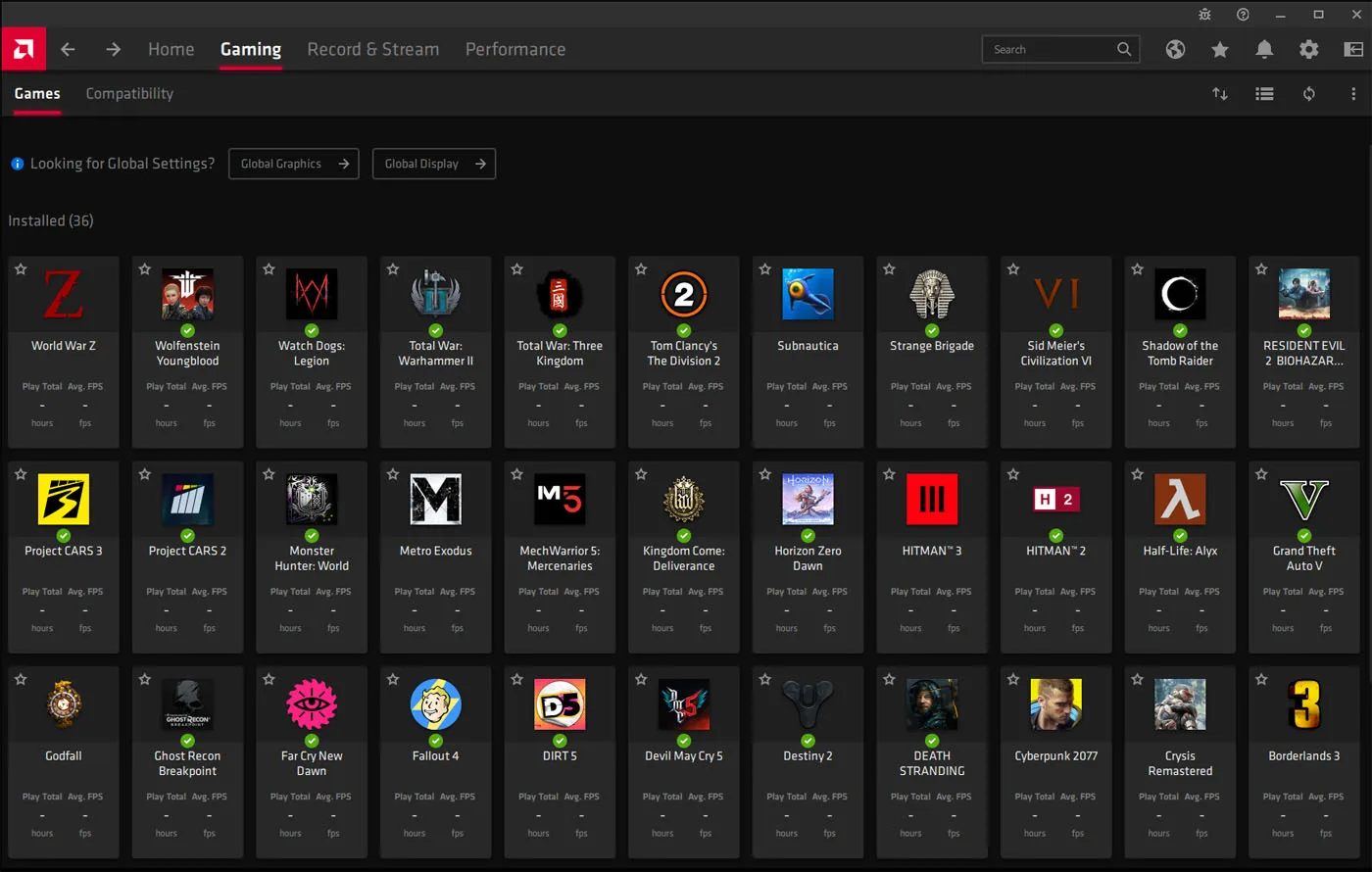 A gamer still has a choice to start from the full home AMD Software edition 21.4.1 app or pick a sidebar by using one of many shortcuts; in this case ALT+Z for the sidebar or ALT+R for the full desktop view. There are multiple shortcuts available to get where you want to go instantly. Above we see some of our installed games that we can launch from the Games tab.
There are tabs for everything with an emphasis on capture, record &streaming, and sharing.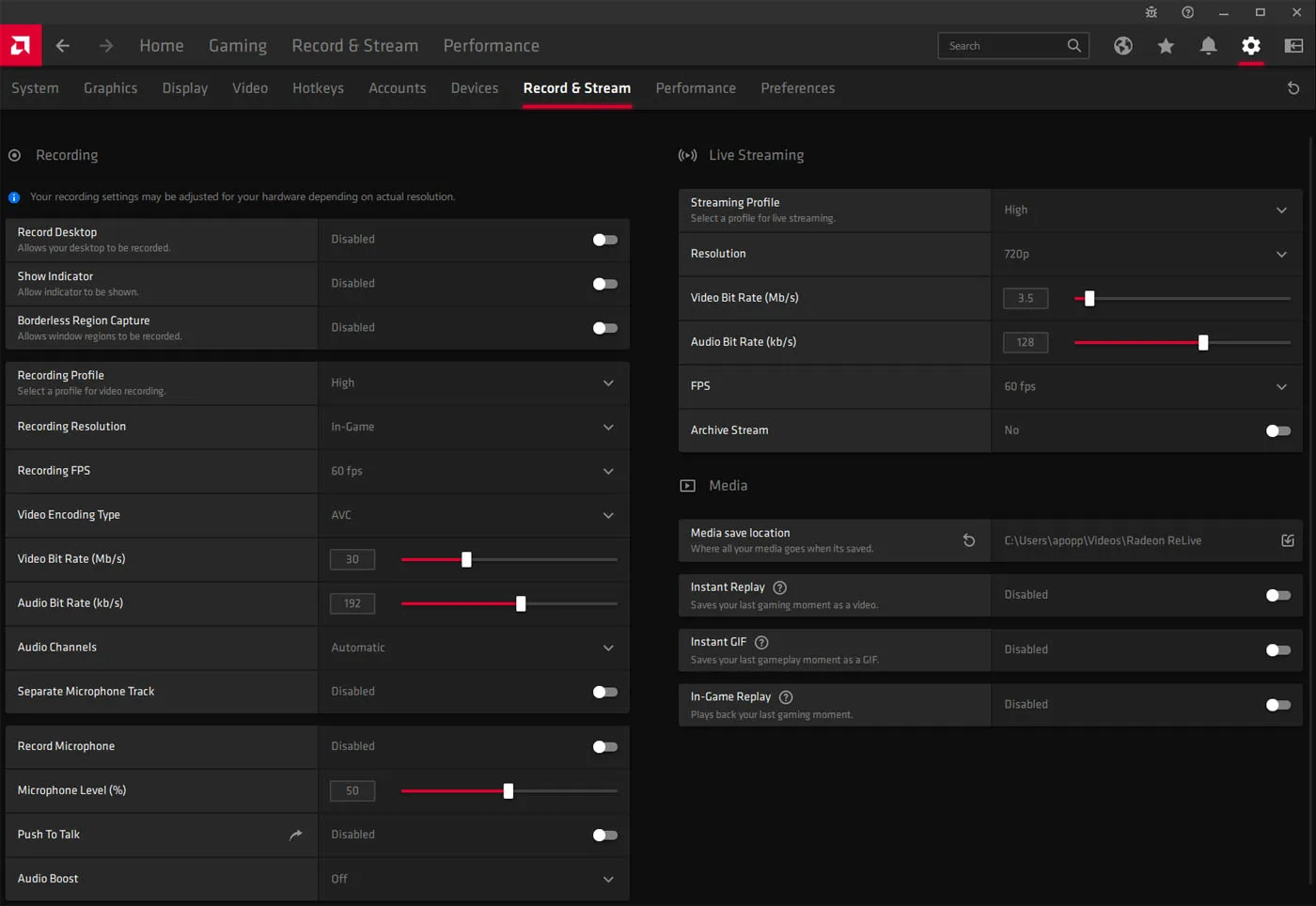 You can even customize VR and VR streaming.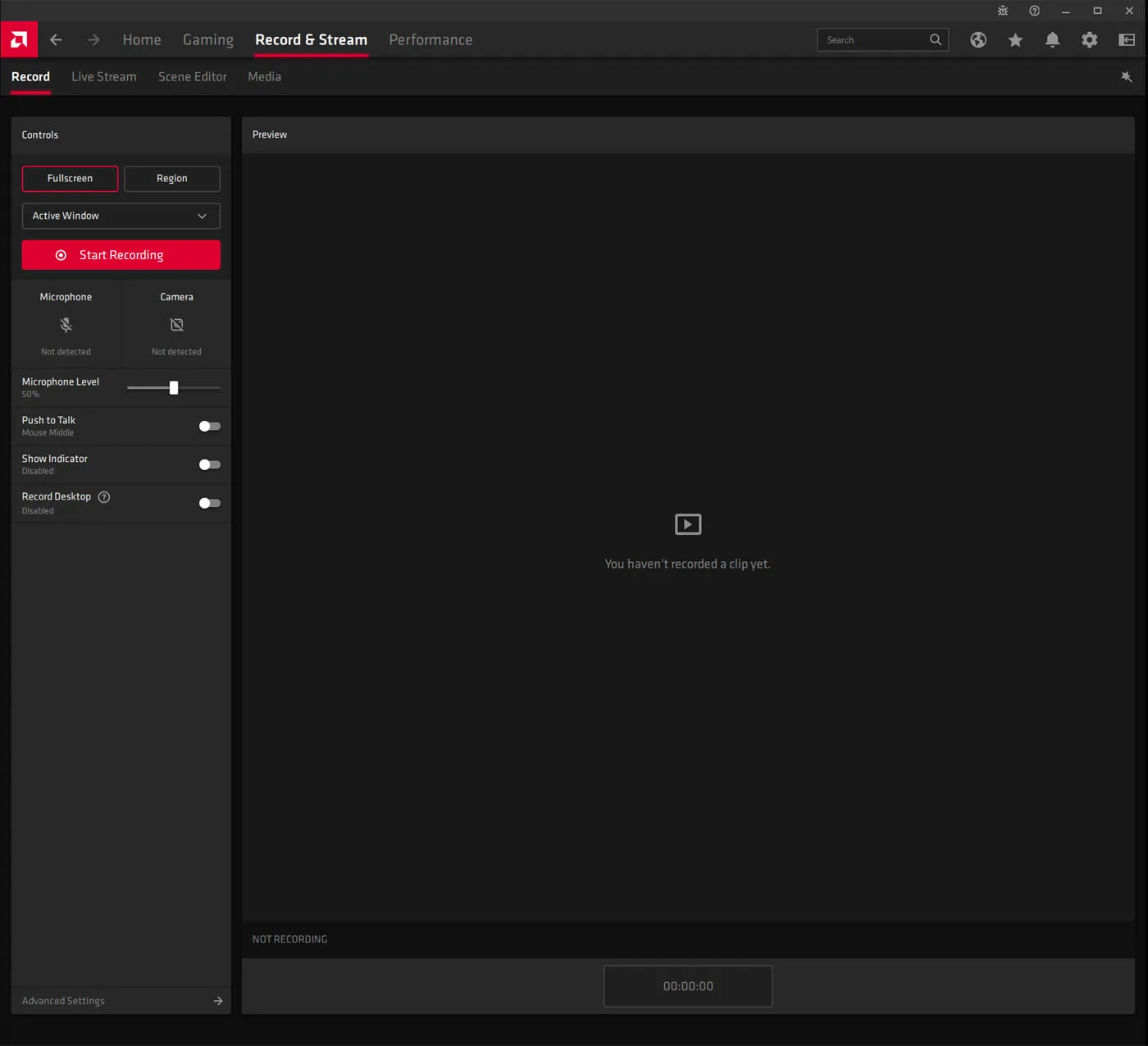 We don't record and stream our games as this is not BTR's focus, but streamers will love the new features as a new wizard steps them through an easy process to get their system configured for either media capture or for streaming. The updated interface offers a new location for the media section to view and edit media captured on the PC.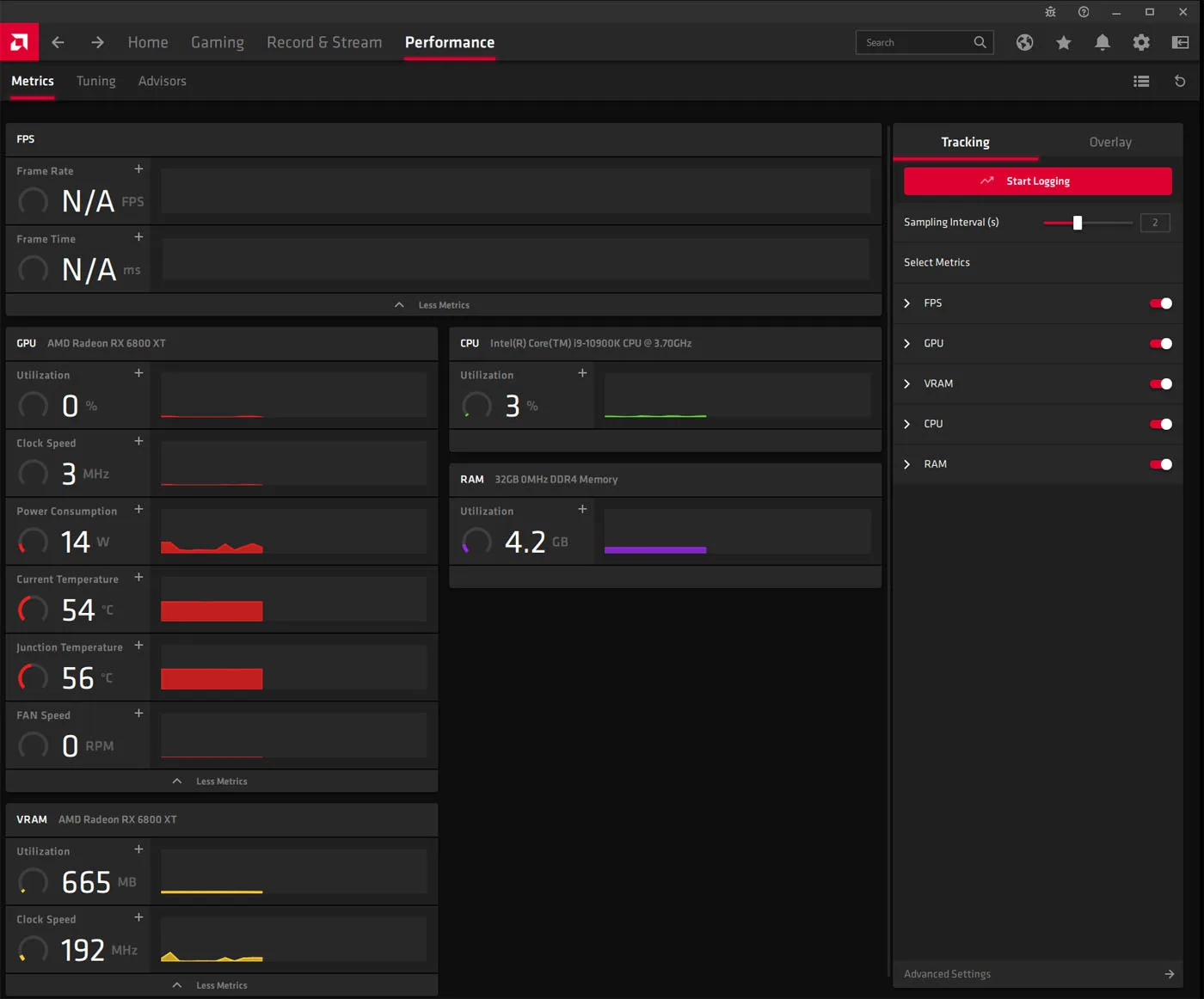 We are far more interested in the performance metrics features. If a gamer chooses the Automatic Performance settings there is still an automatic scanner to overclock the GPU and vRAM and even a stress test to test overclocks.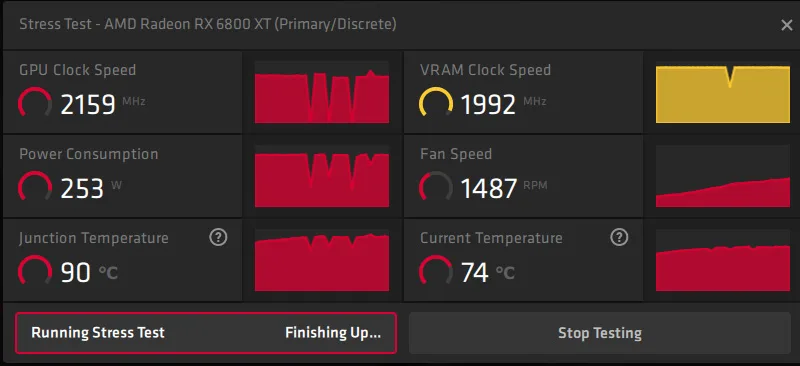 The Performance tab gives fine control over the GPU, vRAM tuning, Power tuning, and fan speed controls.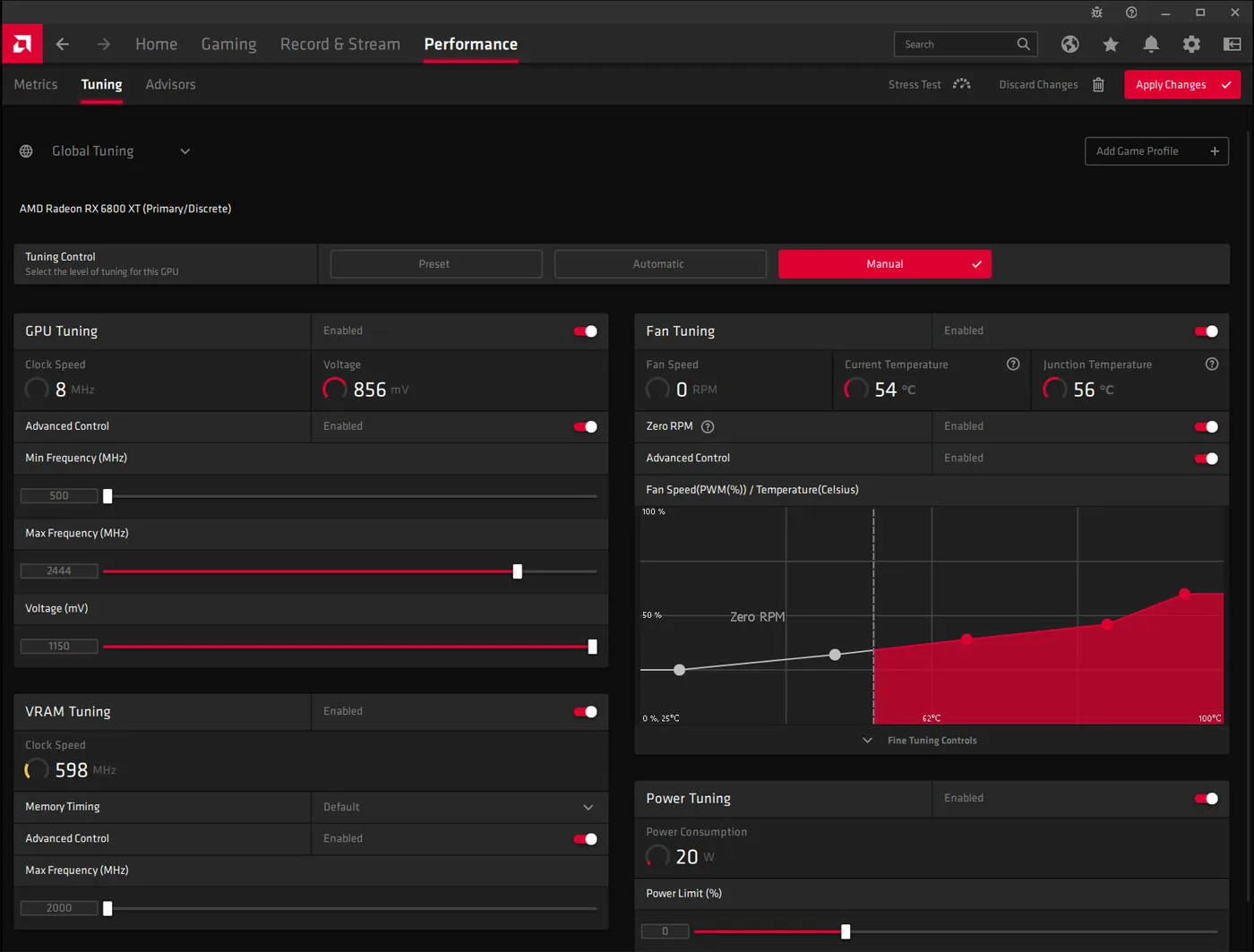 As with the earlier editions, the updated AMD Software Adrenalin edition 21.4.1 provides a very readable set of graphs to give the user an overview of the GPU stats at a glance.
There is also fine control available over display settings. We now have a BenQ 32″ 4K FreeSync display that use use for personal gaming, but we never use variable refresh rate (VRR) for benchmarking.
AMD's Link Server can connect your phone, tablet, or TV to stream from your PC from anywhere as long as you have a fast connection. You can also use this tab to use Radeon ReLive VR as long as you enable SteamVR integration. The AMD Link app gives mobile gamers the ability to stream a Radeon-powered PC to their mobile device, Smart TV or almost any Windows device powered by Radeon graphics. AMD Link allows for gaming virtually anywhere, uses voice recognition controls, and even tracks performance metrics.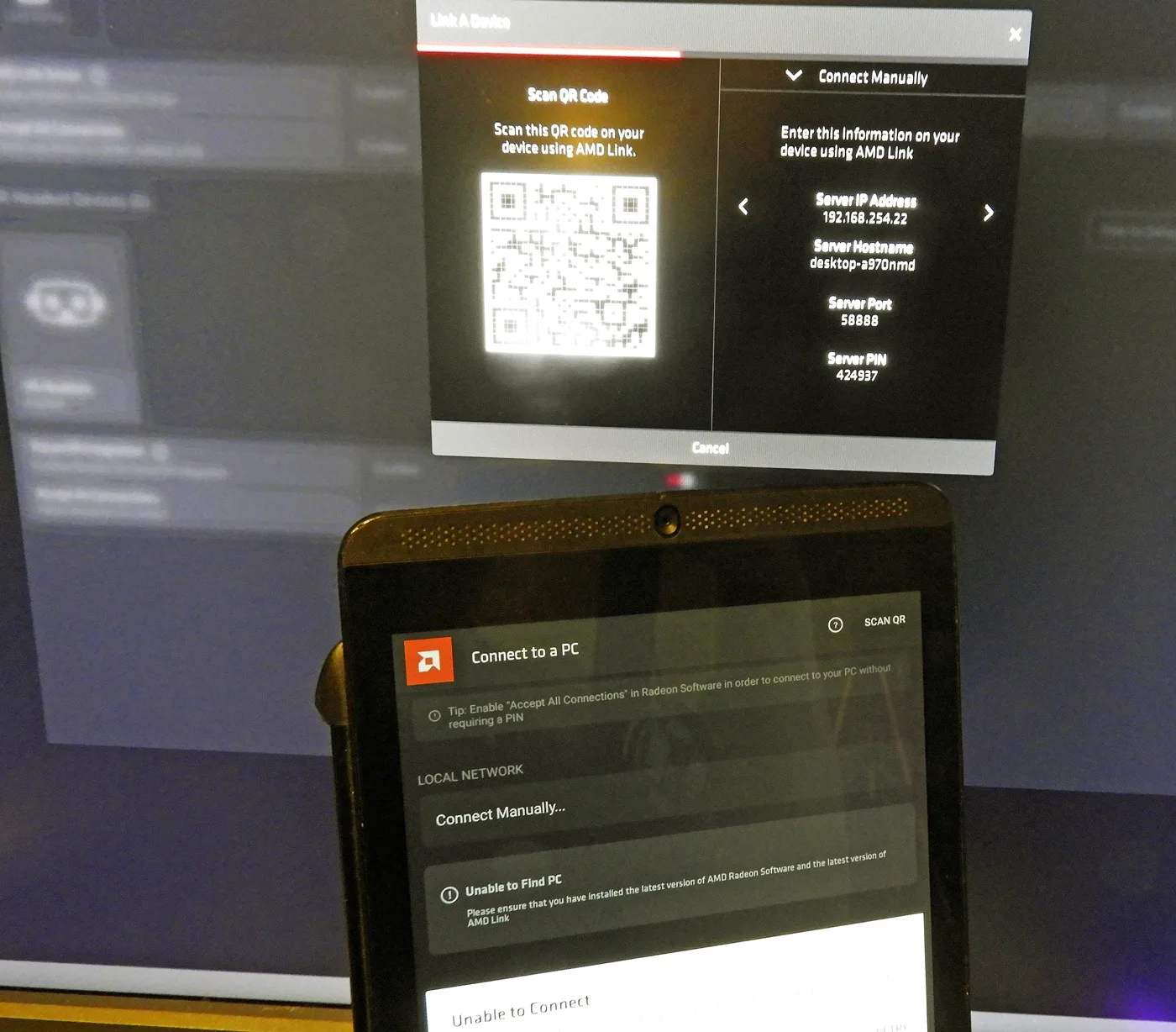 However, we never use any kind of streaming ourselves as we prefer to play all of our PC games on a desktop, but we tried it with an old Shield tablet that is running on Android 7.0 – the bare minimum for Link. It is very easy to do.
We got the Link app from Google Play and installed it on our tablet. You can also install it directly from the AMD control panel. We went through the steps and allowed the connection – but it failed possibly because it is an old Nvidia device. We haven't even turned on our LG SmartTV since last year since everything we do uses our desktop PC and two notebooks with multiple displays.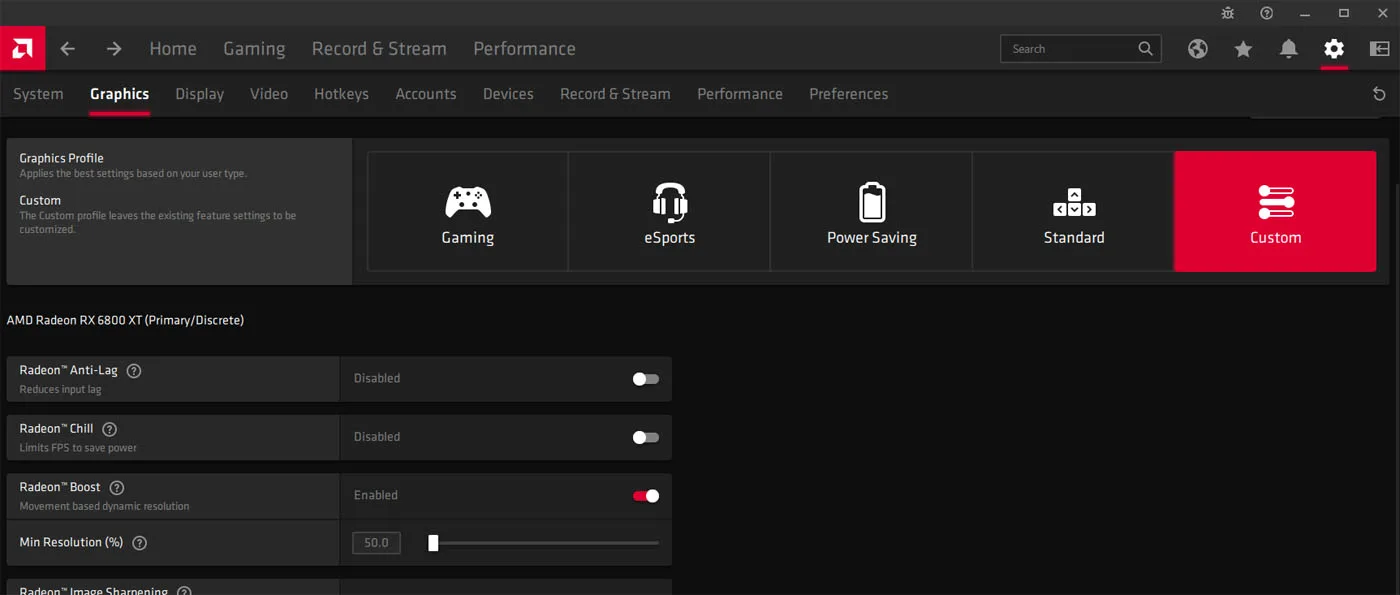 Besides what we have briefly covered, Radeon Boost delivers extra performance and improves game smoothness for the games supported. In this updated driver, this feature now takes advantage of the variable rate shading (VRS) hardware found on RX 6000 series graphics cards and supported DirectX12 titles. Boost reduces shading rates in certain areas of a frame to deliver extra performance and increased responsiveness without significantly impacting image quality. We also plan to test it.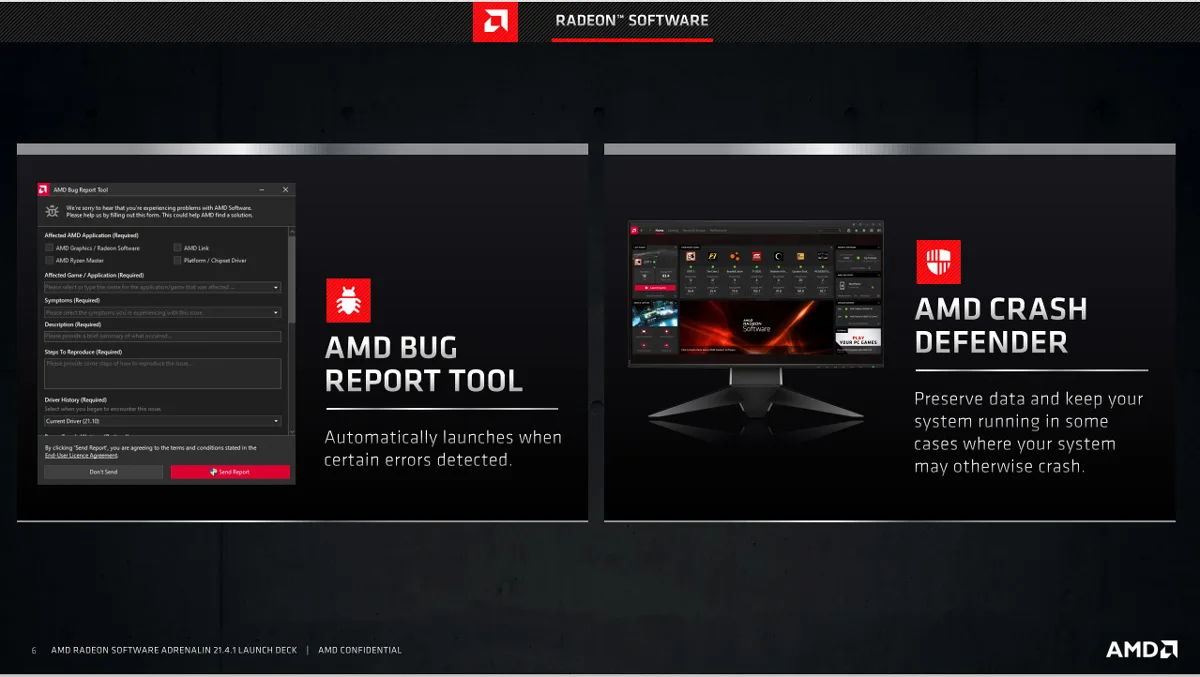 Finally, there is an new feature that includes an improved bug report tool and a crash defender that may help to keep your PC up whereas it would crash with earlier drivers. We did not get to test this feature as we didn't experience any near-crashes with the latest driver.
The download links for today's new AMD Software Adrenalin edition 21.4.1 can be found starting here. For the highlights, features, and known issues, go here.
Conclusion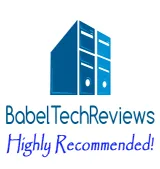 We would recommend upgrading to the latest AMD Software Adrenalin edition 21.4.1 from any previous driver set because the new features are welcome and impressive. Game performance has improved over the past few months by comparing the RX 6900 XT from January to last week's driver update. In addition, the latest driver's stability is very good. The new features of the AMD Software Adrenalin edition 21.4.1 annual update are welcome and are well worth exploring, and its advantages greatly outweigh any disadvantages.
We especially like the installation options that allow for a driver-only install, a minimal install, or a full installation. AMD Software Adrenalin edition 21.4.1 will probably please almost every Radeon gamer.
The AMD Software Adrenalin edition 21.4.1 has become an improved all-in-one platform for launching games, capturing, streaming, sharing, and fine tuning performance with multiple new or improved features over the last edition. It is highly recommended for Radeon gamers!
Rodrigo has received his RX 6700 XT today and upgraded his PC and display so Radeon gamers can expect him to analyze and track driver performance changes just as he does for GeForce gamers now. And you can expect his latest GeForce 466.11 performance analysis tomorrow! BTR has something good for every gamer including for VR. Stay tuned!