Intro
 The Red Devil RX 6900 XT takes on the RTX 3090 in 35 Games, GPGPU & SPEC Workstation Benchmarks – Part 1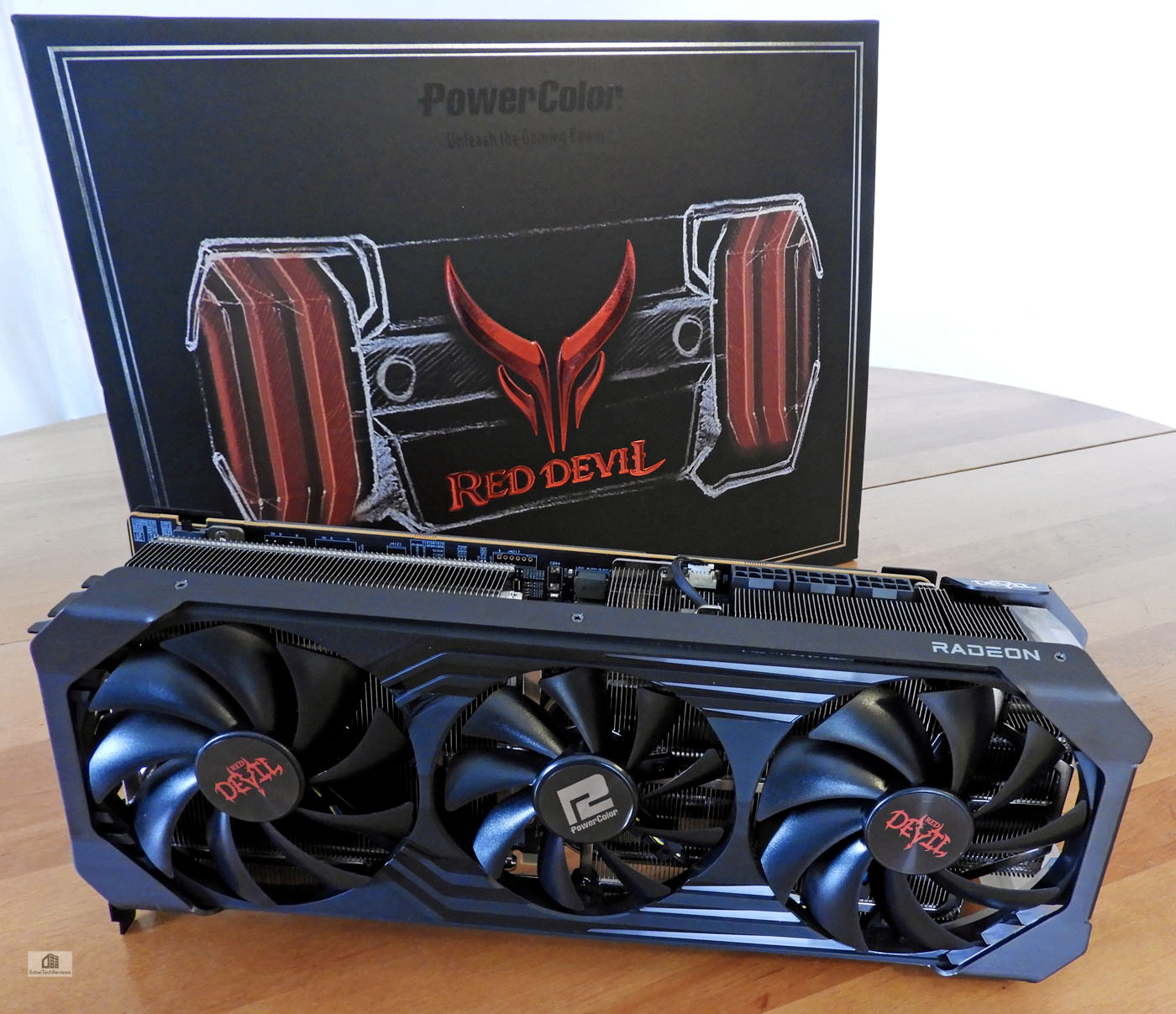 The Red Devil RX 6900 XT Limited Edition arrived at BTR for evaluation on a two-week loan from PowerColor the day before Christmas although it launched earlier at $1139 or at $1179 for the Limited Edition.  We have been comparing it with the $649 RX 6800 XT reference version and benching it versus the $1499 RTX 3090 Founders Edition (FE) and versus the $699 RTX 3080(FE).  We are featuring the Red Devil RX 6900 XT in a three part review, and this Part 1 features 35 games, GPGPU, workstation, SPEC, and synthetic benchmarks.  Part 2 will compare 15 virtual reality (VR) games, and Part 3 will focus on overclocking and power draw versus the RTX 3090 FE.
We will also compare the performance of these competing cards with the RX 5700 XT Anniversary Edition (AE) and the GTX 1080 Ti FE to see how older cards fare, and we also include all of the GeForce Turing Super cards and the Ampere cards to complete BTR's 12-card Big Picture.
The Red Devil RX 6900 XT is factory clocked 90MHz higher than the reference version at 2250MHz using the OC BIOS.  According to its specifications, the Red Devil RX 6900 XT boost can clock up to 2340MHz out of the box.  It also looks different from older generation classic Red Devils, arriving in a more neutral gray color instead of in all red and black.  The Red Devil RX 6900 XT features a RGB mode whose LEDs default to a bright red which may be extensively customized by PowerColor's DevilZone software.
The Red Devil RX 6900 XT Features & Specifications
The Red Devil RX 6900 XT specifications include an Engine/Game clock of 2105MHz that will Boost up to 2340MHz, and it uses 16GB of DDR6 at 16Gbps on PCIe 4.0.  The Game clock is the expected GPU clock while running average high-load gaming scenarios with a regular non-overclocked total graphics usage situation.  It's a high power-draw card, and PowerColor recommends a 900W PSU to power it.  We will test the power draw and overclocking in Part 3.
Specifications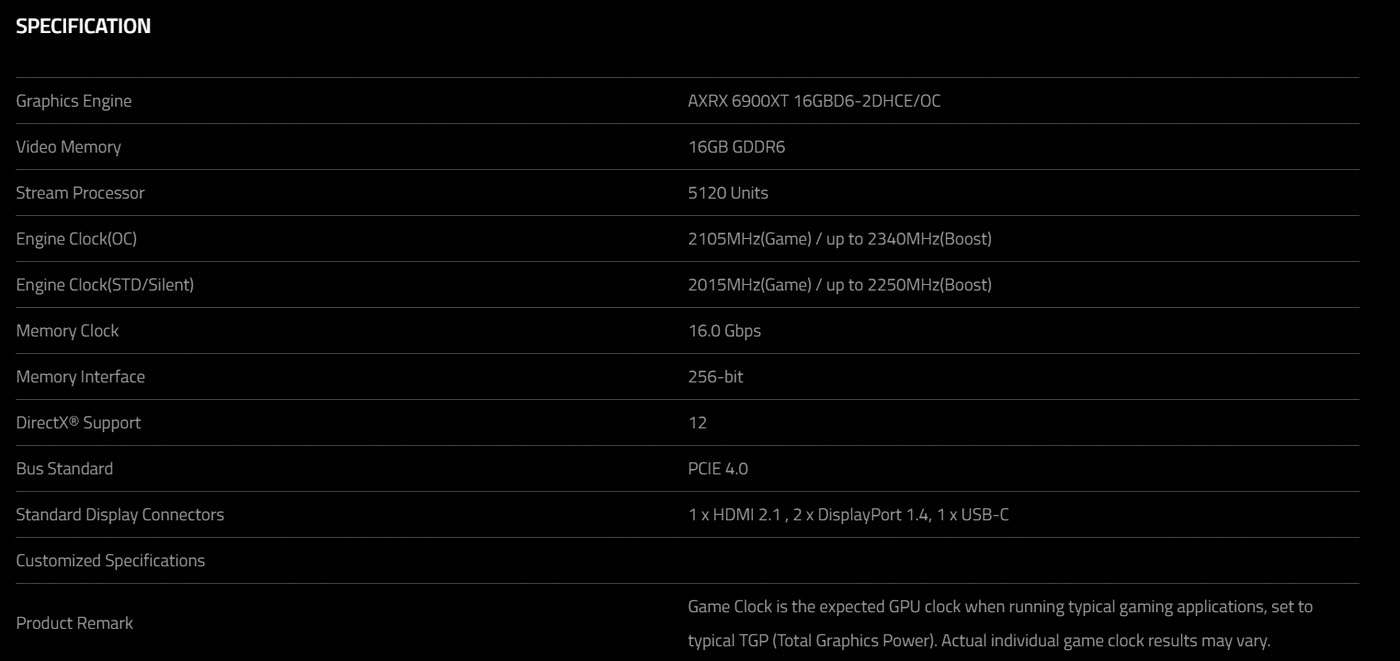 Features
Here are the Red Devil RX 6900 XT features.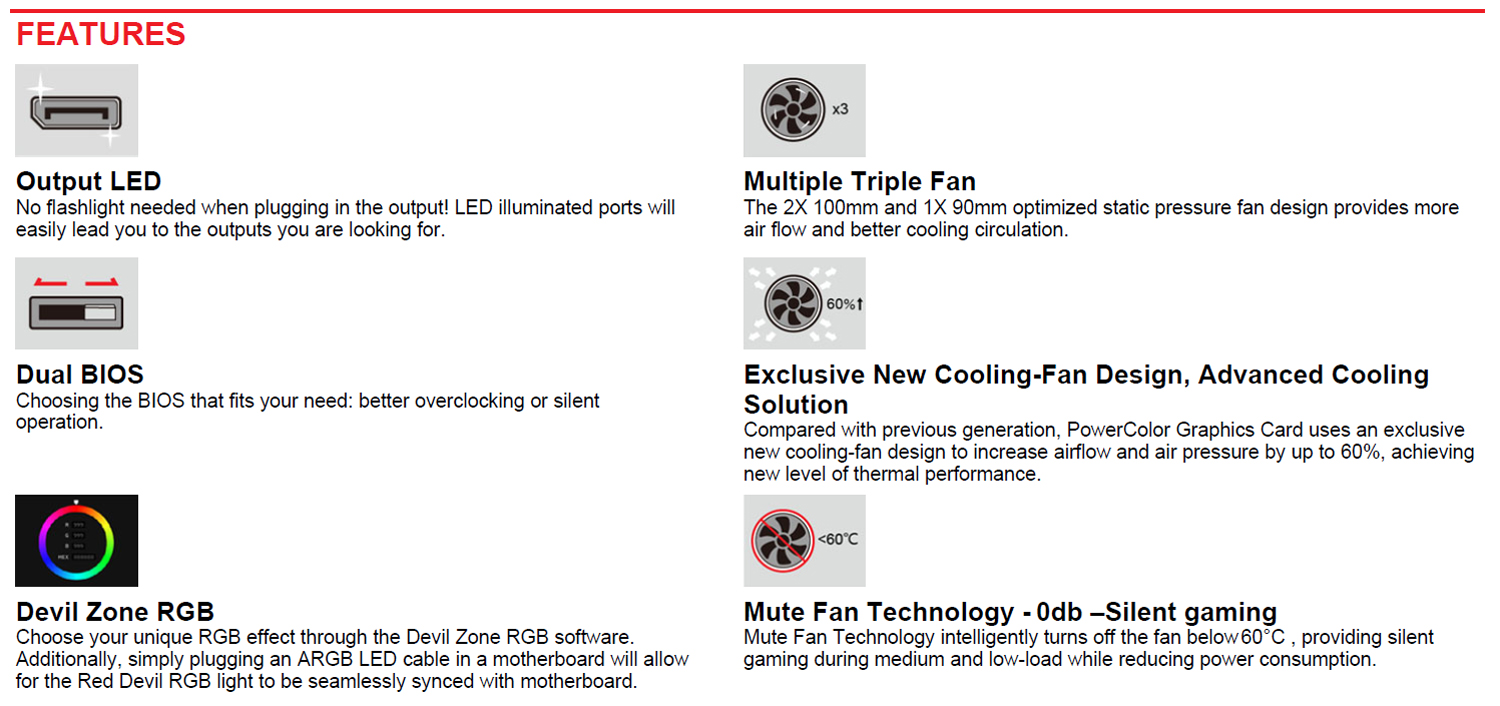 Additional Information from PowerColor
The Red Devil has 2 modes, OC and Silent with a BIOS switch on the side of the card. Even on performance mode it's said to be considerably quieter than reference board and the silent mode is indeed very quiet.
The board has 16 Phase versus the 11+2 Phase VRM design on the reference design. Red Devils are over-spec'd in order to deliver the best stability and overclocking headroom.  It's not only capable of using well over 400w, but by having the best VRMs, it will run cooler and last longer.
DrMos and high-polymer Caps are used without any compromise.
The cooler features 2 x 100mm with a center 1x90mm fan, all with two ball bearing fans with 7 heat pipes (3X8Φ and 4X6Φ heatpipes) across a high density heatsink with a copper base. The PCB is shorter than the cooler.
The RGB is enhanced and the Red Devil RX 6900 XT connects to the motherboard using aRGB (5V 3-pin connector).
It uses mute fan technology and the fans stop under 60C.
The ports are LED illuminated so as to see in the dark where to plug in cables.
The card back plate does not use thermal pads, rather there are openings across the backplate for the PCB to 'breathe'.
Red Devil RX 6900 XT Graphics Card Limited Edition provides  unique and high-quality crafted Red Devil keycaps to make your keyboard look Devilish.
Red Devil RX 6900 XT Graphics Card Limited Edition includes card stands for mounting it and displaying it vertically in your PC.
Buyers of the Red Devil Limited Edition will be able to join exclusive giveaways as well access to the Devil Club website. A membership club for Devil users only gives them access to news, competitions, downloads and instant support via live chat.
Contrary to social media speculation, the Limited Edition uses the same GPU as the "regular" edition but differentiates itself by bundling two Red Devil keycaps and vertical mounting stands for $40 more.  Here are the bundles link.
The Big Navi 2 Radeon 6000 family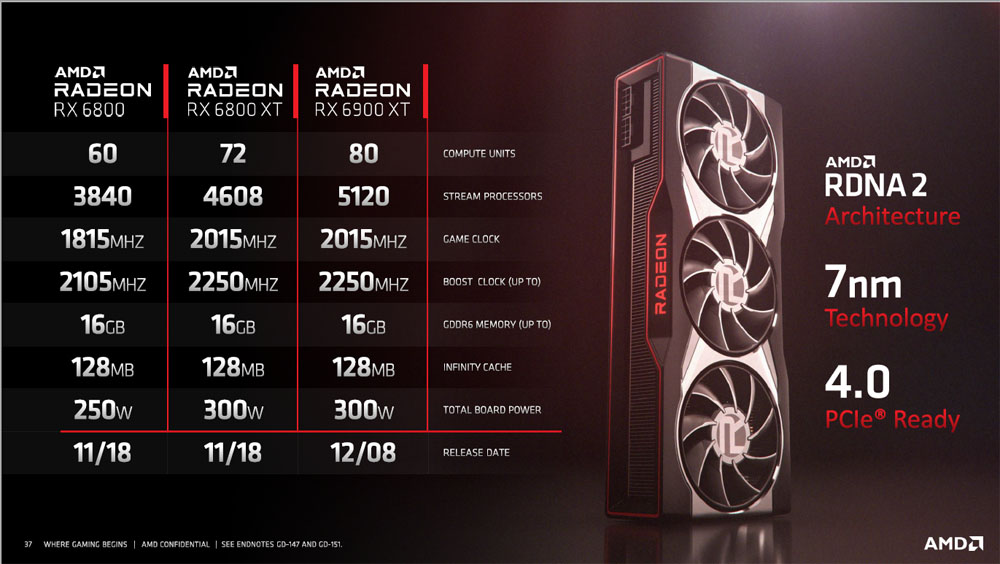 The Radeon 6800 competes with the RTX 3070 and is priced a little higher at $579 while the RTX 6800 XT at $649 competes with the RTX 3080 at $699.  The reference RTX 6900 XT released at $999 to compete with the $1499 RTX 3090 and the Red Devil is priced around 15% more than the reference version.
Above is a die shot of the GPU powering the Radeon 6000 series courtesy of AMD.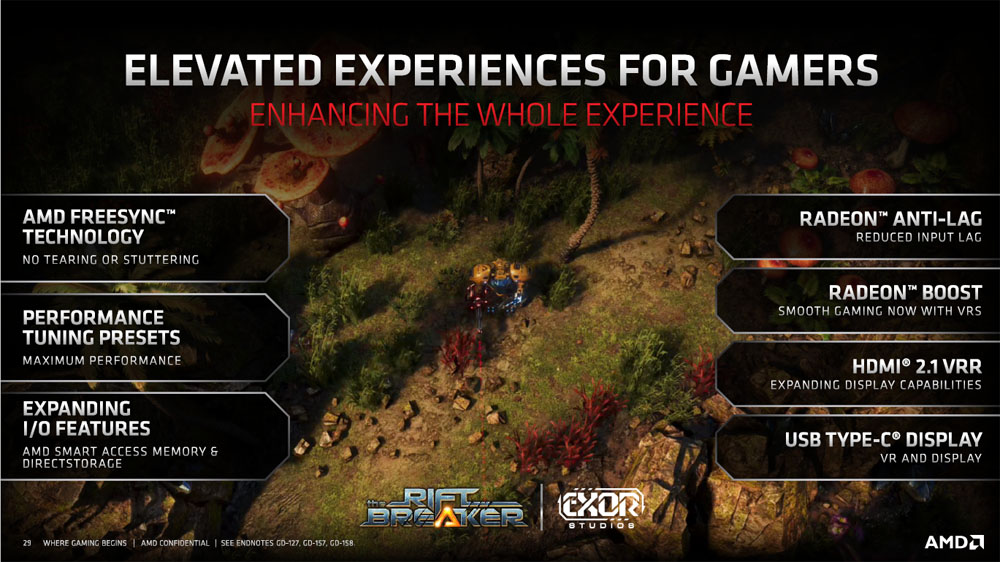 AMD has their own ecosystem for gamers with many unique new features for the Radeon 6000 series including low-latency modes for eSports gamers and FidelityFX upscaling for better image quality without impacting performance.  Ray tracing is now featured and premium VR support continues to be supported.
The RX 6900 XT is AMD's flagship card, and the Red Devil represents one of the best choices for a partner card by virtue of its high-quality components and carefully selected GPUs coupled with good support and great warranty service.
The Test Bed 
BTR's test bed consists of 35 games and 3 synthetic game benchmarks at 1920×1080, 2560×1440, and at 3840×2160 as well as SPEC, Workstation, and GPGPU benchmarks.  Our latest games include Cyberpunk 2077, Watch Dogs: Legions, Call of Duty Black Ops: Cold War, Godfall, and Assassin's Creed: Valhalla, and we will test ray tracing performance in selected games. The testing platform uses a recent clean installation of Windows 10 64-bit Pro Edition, and our CPU is an i9-10900K which turbos all 10 cores to 5.1/5.0GHz, an EVGA Z490 FTW motherboard, and 32GB of T-FORCE Dark Z DDR4 3600MHz. The games, settings, and hardware are identical except for the cards being compared.
Part 2, coming later this week, will feature 15 VR games' performance versus the RX 3090, the RTX 3080, and against the RX 6800 XT.  Part 3 will feature overclocking and power draw using the same cards.
First, let's take a closer look at the new PowerColor Red Devil RX 6900 XT.