Two weeks ago, AMD released its new AIO liquid cooled flagship Fiji Fury X processor in a vain attempt to take the performance crown from Nvidia's TITAN X and GTX 980 Ti. During that time, BTR has received an EVGA GTX 980 Ti SC+ card from EVGA for review, as well as purchased a Sapphire Fury X from retail.  We have put each one through their paces with what is probably the largest PC game benchmark suite in the English language.  Since both cards retail for $679, they make for a natural comparison and we will use 3 resolutions up to 4K to determine the overall winner.
We have already benchmarked the reference GTX 980 Ti and found it to be just 3% slower than the TITAN X, and we have updated our benchmark suite to Nvidia's latest WHQL 353.30 GeForce drivers.  We will not recap Nvidia's Maxwell GM220 architecture here as with our TITAN X/GTX 980 Ti launch articles, but will instead focus on the new EVGA GTX 980 Ti SC versus the Sapphire Fury X.  And in preparation for Fury X, we downloaded and used the latest 15.15b Catalyst beta drivers, and we have updated our 290X/290X CrossFire results from Catalyst 15.5 Beta to 15.6 Beta for Batman: Arkham Knight and for the Witcher 3.  We also benchmark the "Kite Demo" which runs on Unreal Engine 4 on the latest drivers for each card.
We have spent approximately 50 hours with the Fury X, and before it, more than 40 hours with the EVGA GTX 980 TI SC+, and we will give the reader our impressions of both benching and playing the latest PC games.  We have managed to not only overclock the Fury X core, but also the HBM (High Bandwidth Memory) and we will give overclocked results for not only the Fury X, but also for the overclocked reference GTX 980 Ti, the factory overclocked and further overclocked EVGA GTX 980 Ti SC+, and also the stock and overclocked TITAN X results.  We will then place this into our larger context which we call "The Big Picture".
Besides comparing with AMD's last generation flagship, the 290X, we will add 290X CrossFire to our benching results along with the GTX 980 and GTX 980 SLI, and also the GTX 780 Ti results.  And we have quite a lot to say about the Fury X pump noise, and evidently there is even a third variation of this pump which is what we have.
Let's briefly look at each of our main two competing cards individually.  This evaluation is focused on each card's performance, not on the architecture.  First up is the EVGA GTX 980 Ti SC+ ACX 2.0, and then we will introduce the Sapphire Fury X.
The EVGA GTX 980 TI SC+ ACX 2.0+
The EVGA GTX 980 TI SC+ ACX 2.0+ is offered with a bundle of Batman: Arkham Knight.  Nvidia aimed for just under GTX TITAN X performance on a single card and with 6GB of vRAM instead of 12GB.  However, the EVGA GTX 980 Ti SC+ is factory overclocked to match or beat the stock TITAN X which we shall test along with the maximum overclock for our own particular card.
This card features EVGA's ACX 2.0+ cooling technology. EVGA's ACX 2.0+ brings new features to the current excellent EVGA ACX 2.0 cooling technology. According to EVGA, a memory MOSFET Cooling Plate reduces MOSFET temperatures up to 13%, and optimized Straight Heat Pipes additionally reduce GPU temperature by 5C. ACX 2.0+ coolers also feature optimized swept fan blades, double ball bearings and an extremely low-power motor.  What this means is that this card is kept cool while being very quiet.
As a recap, here are the specifications for the reference GTX 980 Ti:
Here are the specifications and key features for the EVGA GTX 980 Ti SC+.  The EVGA card's base clock is 1102MHz, up 102MHz over the reference clock, and the EVGA boost clock is 1190MHz, 115MHz higher than Nvidia's guaranteed minimum reference boost of 1075MHz.
From what we can see, the specifications of the EVGA GTX 980 Ti SC+ are impressive and it clocked higher than the reference version, and with a quieter cooler.  You are also covered by EVGA's 3-year warranty with a further warranty extension available upon registration within 90 days of purchase. The GTX 980 Ti reference versions are generally chosen for multi-GPU configurations, while the SC+ is best chosen as a single card.
Let's take a brief look at the Sapphire Fury X.
The Sapphire Fury X
When AMD released the Fury X as their premium brand, it is clear that they had originally intended to beat the $1000 TITAN X in at least price to performance with a significantly cheaper card.  However, Nvidia preempted AMD's launch by introducing the GTX 980 Ti at $649 with only a 3% average performance deficit to the TITAN X.   Just as with the Hawaii launch, AMD has evidently increased the clockspeed of their newest Fury X flagship card, ignored the GTX 980 Ti, and aimed once again for TITAN X performance.
AMD is aiming very high.  They call their Fury X, the "world's most advanced" graphics card and they point to their accomplishment in using HBM.  Unfortunately, they were only able to equip their flagship Fury X with 4GB of HBM video memory while their repackaged 290/290Xes in the form of 390/390X now feature 8GB although the cards are generally too weak to utilize the extra vRAM except in CrossFire configurations.
All of the Fury X cards are the same except for the box and the accessories each of AMD's partners may choose to include.  There is no game bundle offered with the Fury X.
On Sapphire's website, they say this about their Fury X:
The AMD Radeon™ R9 Fury X graphics card is the world's first total solution GPU with AMD-pioneered High-Bandwidth Memory (HBM) on-chip delivering extreme performance for unbelievably "real" 4K and VR experiences.
Much is made of Liquid VR for immersive Virtual Reality headsets, but these will not be available this year.  And FreeSync, DX12, Eyefinity, CrossFire and TrueAudio are featured for the Sapphire Fury X.  TriXX, Sapphire's overclocking utility is also featured.  Here are the specifications from the Sapphire site: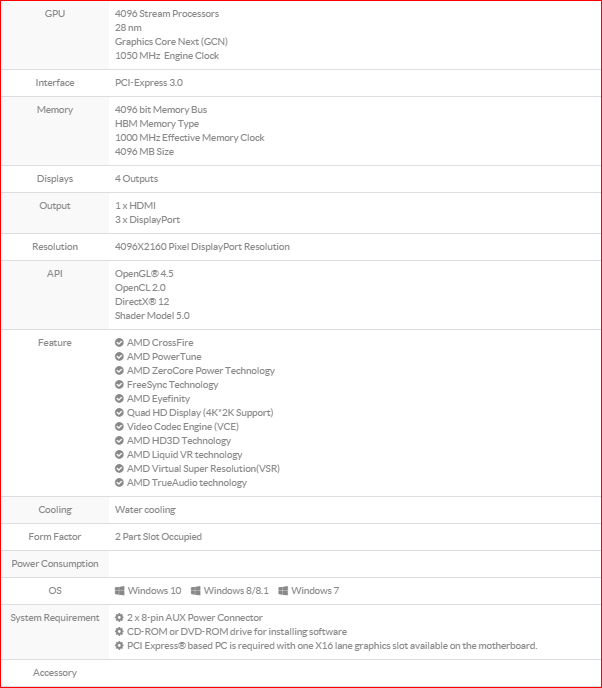 What's New with the Sapphire Fury X?
The specifications of the Fury X are quite impressive, especially compared to the R9 290X/390X. The chip that the Fury X is based on is a new and very large GPU from AMD that features High Bandwidth Memory.  HBM is "stacked" video memory that uses an Interposer to communicate via a very wide 4096 bit bandwidth at an effective 1000MHz memory clock rate.  It means that Fury X will not be starved for bandwidth.  The only issue is that there is only a 4GB framebuffer, compared with the 6GB of the GTX 980 Ti and with the 12GB of the TITAN X.  AMD has promised to "manage" the memory with drivers so that the framebuffer is not overfilled, but their drivers have been sub-par for most of this year.  We will see if 4GB is enough for Fury X and how performance compares with its main competitor, the GTX 980 Ti.
Our Testbed of Competing Cards
Here is our testbed of competing cards and we shall test 32 games and 3 synthetics using Core i7-4790K turbo locked to 4.4GHz, ASUS Z97+ motherboard and 16GB of Kingston "Beast" 2133MHz HyperX DDR3:
Sapphire Fury X – $679 (AMD's new flagship single GPU card, plus our own OC)
EVGA GTX 980 Ti SC+ – $679 (plus our own OC)
GTX 980 Ti – $649 -(Nvidia's mainstream GM220 single-GPU Maxwell flagship, plus our own OC)
GTX TITAN X – $1000 (plus our own OC)
GTX 980, $499, formerly $549 and Nvidia's flagship before the TITAN X
GTX 980 SLI
GTX 780 Ti –  discontinued, formerly $649, dropped to $499 – (the Maxwell single GPU former flagship)
R9 290X – reference non-throttling 1000MHz Uber mode, originally $579 – discontinued
R9 290X CrossFire – reference 1000MHz, non-throttling Uber mode.
This evaluation will pit the stock and overclocked reference and EVGA GTX 980 Ti against the reference and overclocked Sapphire Fury X, as well versus the stock and overclocked GeForce TITAN X, and the GTX 980, and the GTX 780 Ti, against our PowerColor reference design R9 290X at locked-on boost speeds (1000MHz), as well as with the VisionTek R9 290X in CrossFire.  We are using 32 modern games and 3 synthetic benchmarks at 1920×1080, 2560×1440, and at 3480×2160 resolutions.
We will also look very closely at the just-released Batman: Arkham Knight and the recent the Witcher 3 to compare GameWorks features 'on' versus 'off', and we will look at performance in the latest version of the "Kite Demo" on Unreal Engine 4.
How does the EVGA GTX 980 Ti SC+ compare with its rival, AMD's top single GPU, the Sapphire Fury X at $679 each?
This is the big question: How does the EVGA GTX 980 Ti SC+ at $679 compare with the Sapphire Fury X at $679 and with the TITAN X at $1000? Of course, TITAN X is a special-purpose halo card that is equipped with 12GB of very expensive Samsung GDDR5 for multi-display gaming, and its extra-large framebuffer makes it suitable for Single-Precision compute and CUDA programming, and it commands a steep price premium.
First, let's take a closer look at the new EVGA GTX 780 Ti SC+.