Two weeks ago, AMD released its new AIO liquid cooled flagship Fiji Fury X processor in a vain attempt to take the performance crown from Nvidia's TITAN X and GTX 980 Ti. During that time, BTR has received an EVGA GTX 980 Ti SC+ card from EVGA for review, as well as purchased a Sapphire Fury X from retail. We have put each one through their paces with what is probably the largest PC game benchmark suite in the English language. Since both cards retail for $679, they make for a natural comparison and we will use 3 resolutions up to 4K to determine the overall winner.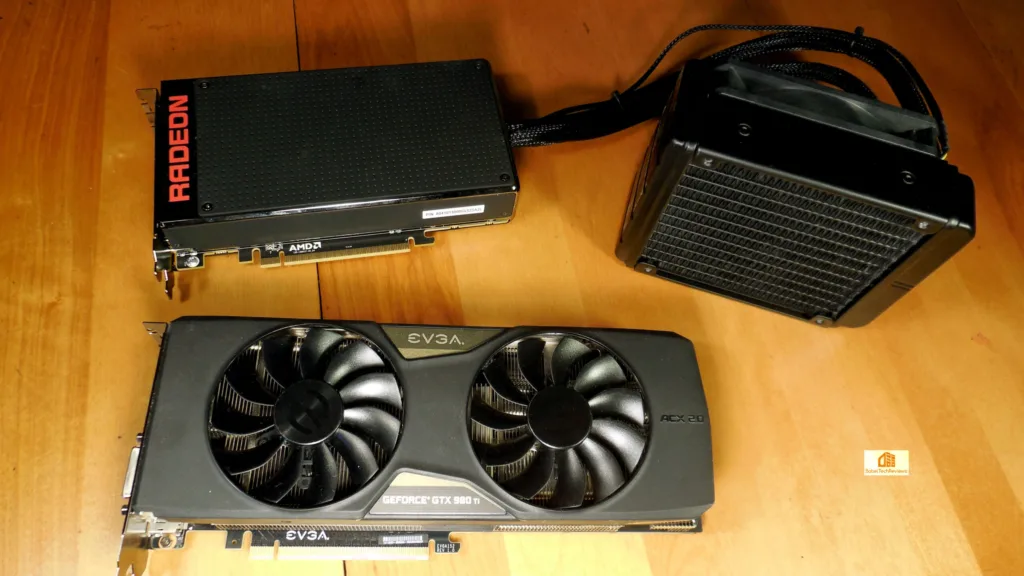 We have already benchmarked the reference GTX 980 Ti and found it to be just 3% slower than the TITAN X, and we have updated our benchmark suite to Nvidia's latest WHQL 353.30 GeForce drivers. We will not recap Nvidia's Maxwell GM220 architecture here as with our TITAN X/GTX 980 Ti launch articles, but will instead focus on the new EVGA GTX 980 Ti SC versus the Sapphire Fury X. And in preparation for Fury X, we downloaded and used the latest 15.15b Catalyst beta drivers, and we have updated our 290X/290X CrossFire results from Catalyst 15.5 Beta to 15.6 Beta for Batman: Arkham Knight and for the Witcher 3. We also benchmark the "Kite Demo" which runs on Unreal Engine 4 on the latest drivers for each card.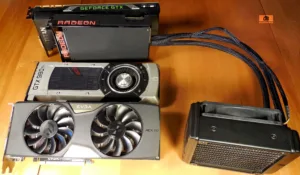 We have spent approximately 50 hours with the Fury X, and before it, more than 40 hours with the EVGA GTX 980 TI SC+, and we will give the reader our impressions of both benching and playing the latest PC games. We have managed to not only overclock the Fury X core, but also the HBM (High Bandwidth Memory) and we will give overclocked results for not only the Fury X, but also for the overclocked reference GTX 980 Ti, the factory overclocked and further overclocked EVGA GTX 980 Ti SC+, and also the stock and overclocked TITAN X results. We will then place this into our larger context which we call "The Big Picture".
Besides comparing with AMD's last generation flagship, the 290X, we will add 290X CrossFire to our benching results along with the GTX 980 and GTX 980 SLI, and also the GTX 780 Ti results. And we have quite a lot to say about the Fury X pump noise, and evidently there is even a third variation of this pump which is what we have.
Let's briefly look at each of our main two competing cards individually. This evaluation is focused on each card's performance, not on the architecture. First up is the EVGA GTX 980 Ti SC+ ACX 2.0, and then we will introduce the Sapphire Fury X.
The EVGA GTX 980 TI SC+ ACX 2.0+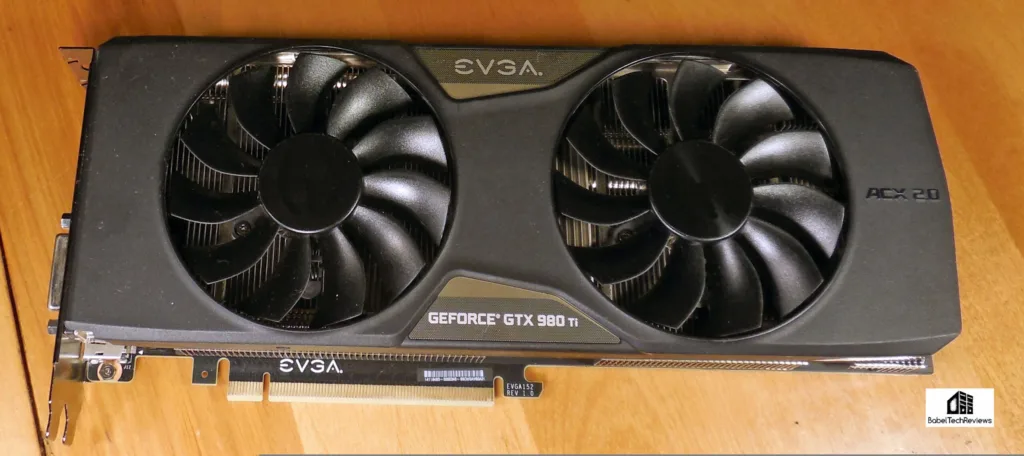 The EVGA GTX 980 TI SC+ ACX 2.0+ is offered with a bundle of Batman: Arkham Knight. Nvidia aimed for just under GTX TITAN X performance on a single card and with 6GB of vRAM instead of 12GB. However, the EVGA GTX 980 Ti SC+ is factory overclocked to match or beat the stock TITAN X which we shall test along with the maximum overclock for our own particular card.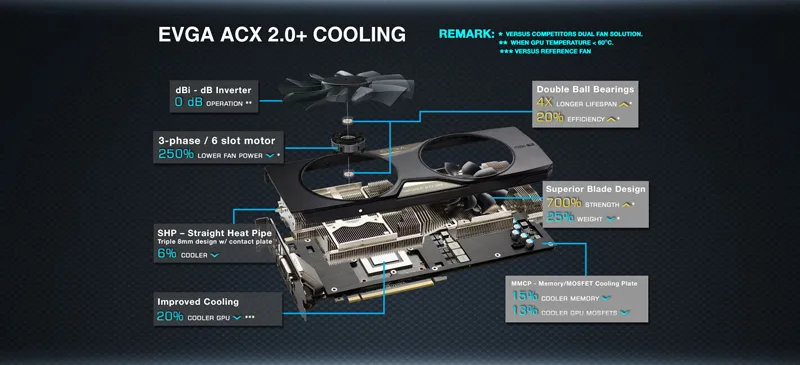 This card features EVGA's ACX 2.0+ cooling technology. EVGA's ACX 2.0+ brings new features to the current excellent EVGA ACX 2.0 cooling technology. According to EVGA, a memory MOSFET Cooling Plate reduces MOSFET temperatures up to 13%, and optimized Straight Heat Pipes additionally reduce GPU temperature by 5C. ACX 2.0+ coolers also feature optimized swept fan blades, double ball bearings and an extremely low-power motor. What this means is that this card is kept cool while being very quiet.
As a recap, here are the specifications for the reference GTX 980 Ti: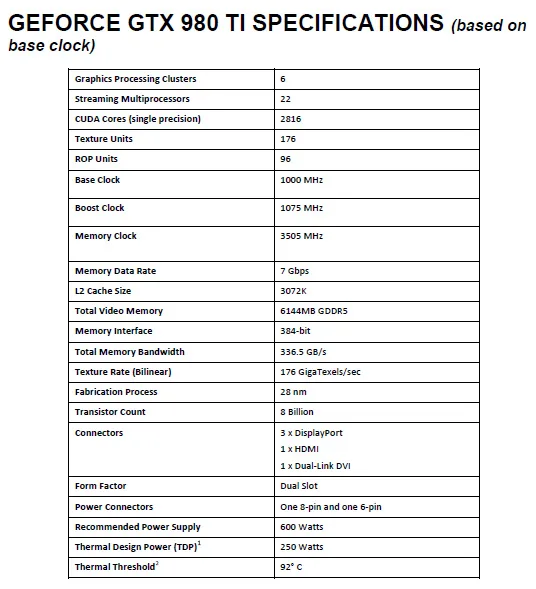 Here are the specifications and key features for the EVGA GTX 980 Ti SC+. The EVGA card's base clock is 1102MHz, up 102MHz over the reference clock, and the EVGA boost clock is 1190MHz, 115MHz higher than Nvidia's guaranteed minimum reference boost of 1075MHz.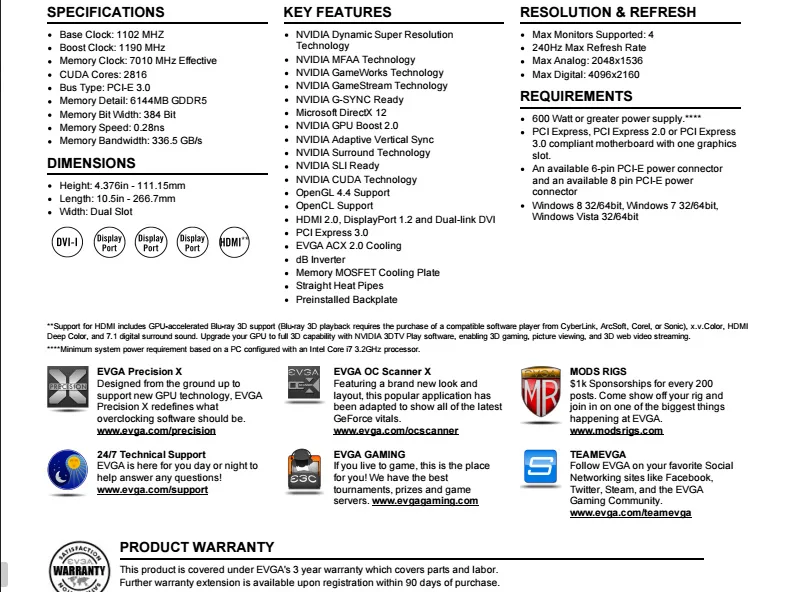 From what we can see, the specifications of the EVGA GTX 980 Ti SC+ are impressive and it clocked higher than the reference version, and with a quieter cooler. You are also covered by EVGA's 3-year warranty with a further warranty extension available upon registration within 90 days of purchase. The GTX 980 Ti reference versions are generally chosen for multi-GPU configurations, while the SC+ is best chosen as a single card.
Let's take a brief look at the Sapphire Fury X.
The Sapphire Fury X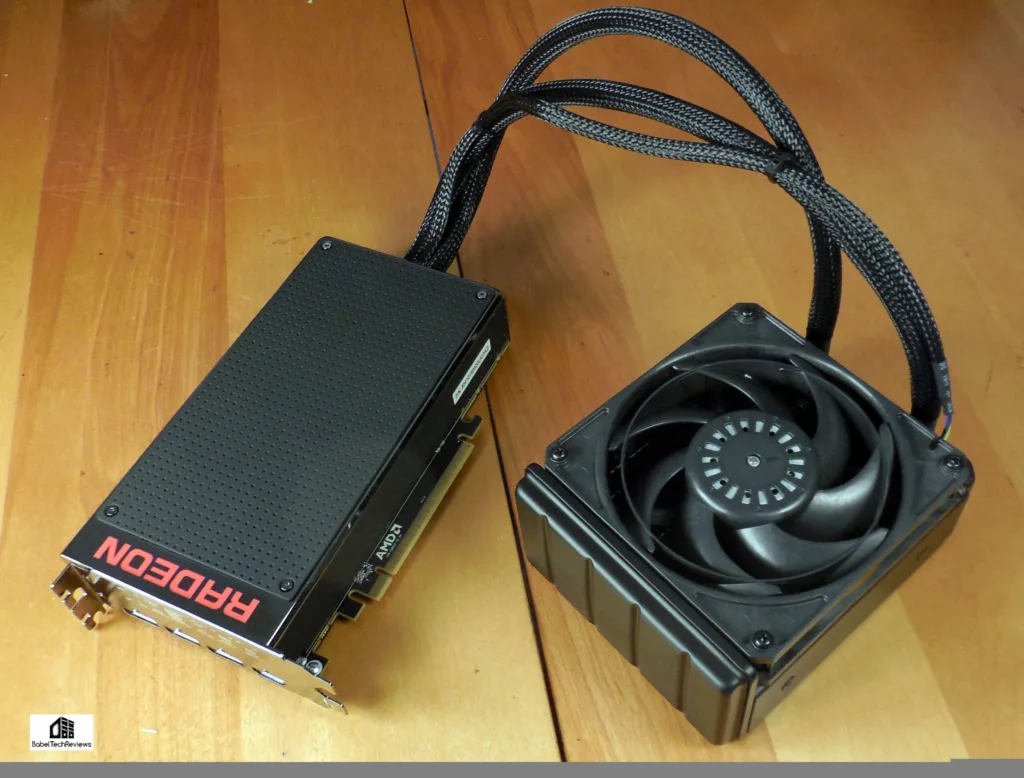 When AMD released the Fury X as their premium brand, it is clear that they had originally intended to beat the $1000 TITAN X in at least price to performance with a significantly cheaper card. However, Nvidia preempted AMD's launch by introducing the GTX 980 Ti at $649 with only a 3% average performance deficit to the TITAN X. Just as with the Hawaii launch, AMD has evidently increased the clockspeed of their newest Fury X flagship card, ignored the GTX 980 Ti, and aimed once again for TITAN X performance.
AMD is aiming very high. They call their Fury X, the "world's most advanced" graphics card and they point to their accomplishment in using HBM. Unfortunately, they were only able to equip their flagship Fury X with 4GB of HBM video memory while their repackaged 290/290Xes in the form of 390/390X now feature 8GB although the cards are generally too weak to utilize the extra vRAM except in CrossFire configurations.
All of the Fury X cards are the same except for the box and the accessories each of AMD's partners may choose to include. There is no game bundle offered with the Fury X.
On Sapphire's website, they say this about their Fury X:
The AMD Radeon™ R9 Fury X graphics card is the world's first total solution GPU with AMD-pioneered High-Bandwidth Memory (HBM) on-chip delivering extreme performance for unbelievably "real" 4K and VR experiences.
Much is made of Liquid VR for immersive Virtual Reality headsets, but these will not be available this year. And FreeSync, DX12, Eyefinity, CrossFire and TrueAudio are featured for the Sapphire Fury X. TriXX, Sapphire's overclocking utility is also featured. Here are the specifications from the Sapphire site: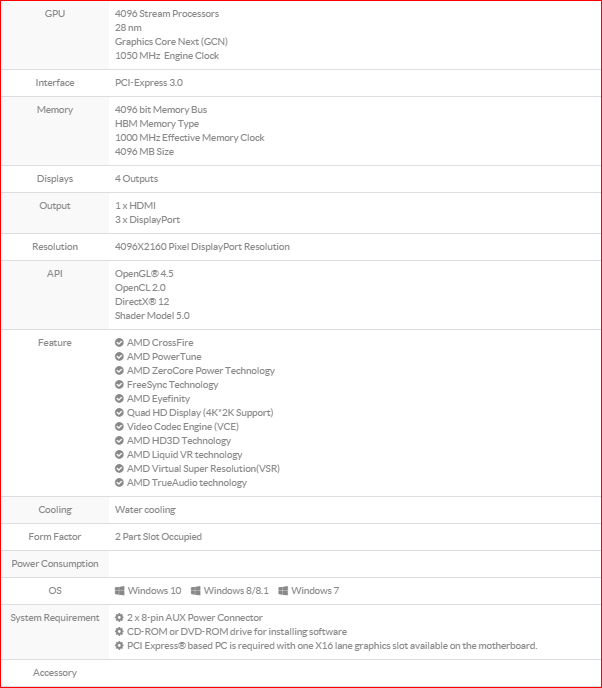 What's New with the Sapphire Fury X?
The specifications of the Fury X are quite impressive, especially compared to the R9 290X/390X. The chip that the Fury X is based on is a new and very large GPU from AMD that features High Bandwidth Memory. HBM is "stacked" video memory that uses an Interposer to communicate via a very wide 4096 bit bandwidth at an effective 1000MHz memory clock rate. It means that Fury X will not be starved for bandwidth. The only issue is that there is only a 4GB framebuffer, compared with the 6GB of the GTX 980 Ti and with the 12GB of the TITAN X. AMD has promised to "manage" the memory with drivers so that the framebuffer is not overfilled, but their drivers have been sub-par for most of this year. We will see if 4GB is enough for Fury X and how performance compares with its main competitor, the GTX 980 Ti.
Our Testbed of Competing Cards
Here is our testbed of competing cards and we shall test 32 games and 3 synthetics using Core i7-4790K turbo locked to 4.4GHz, ASUS Z97+ motherboard and 16GB of Kingston "Beast" 2133MHz HyperX DDR3:
Sapphire Fury X – $679 (AMD's new flagship single GPU card, plus our own OC)
EVGA GTX 980 Ti SC+ – $679 (plus our own OC)
GTX 980 Ti – $649 -(Nvidia's mainstream GM220 single-GPU Maxwell flagship, plus our own OC)
GTX TITAN X – $1000 (plus our own OC)
GTX 980, $499, formerly $549 and Nvidia's flagship before the TITAN X
GTX 980 SLI
GTX 780 Ti – discontinued, formerly $649, dropped to $499 – (the Maxwell single GPU former flagship)
R9 290X – reference non-throttling 1000MHz Uber mode, originally $579 – discontinued
R9 290X CrossFire – reference 1000MHz, non-throttling Uber mode.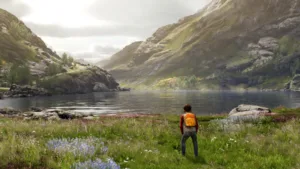 This evaluation will pit the stock and overclocked reference and EVGA GTX 980 Ti against the reference and overclocked Sapphire Fury X, as well versus the stock and overclocked GeForce TITAN X, and the GTX 980, and the GTX 780 Ti, against our PowerColor reference design R9 290X at locked-on boost speeds (1000MHz), as well as with the VisionTek R9 290X in CrossFire. We are using 32 modern games and 3 synthetic benchmarks at 1920×1080, 2560×1440, and at 3480×2160 resolutions.
We will also look very closely at the just-released Batman: Arkham Knight and the recent the Witcher 3 to compare GameWorks features 'on' versus 'off', and we will look at performance in the latest version of the "Kite Demo" on Unreal Engine 4.
How does the EVGA GTX 980 Ti SC+ compare with its rival, AMD's top single GPU, the Sapphire Fury X at $679 each?
This is the big question: How does the EVGA GTX 980 Ti SC+ at $679 compare with the Sapphire Fury X at $679 and with the TITAN X at $1000? Of course, TITAN X is a special-purpose halo card that is equipped with 12GB of very expensive Samsung GDDR5 for multi-display gaming, and its extra-large framebuffer makes it suitable for Single-Precision compute and CUDA programming, and it commands a steep price premium.
First, let's take a closer look at the new EVGA GTX 780 Ti SC+.
Unboxing the EVGA GTX 980 Ti SC+
The EVGA GTX 980 Ti SC+ comes in a standard sized box that advertises the 6GB GDDR5, the fact that it is "SC+ Superclocked", and that it is ready for GameStream/GameWorks/G-SYNC/DX12. It also comes with a backplate.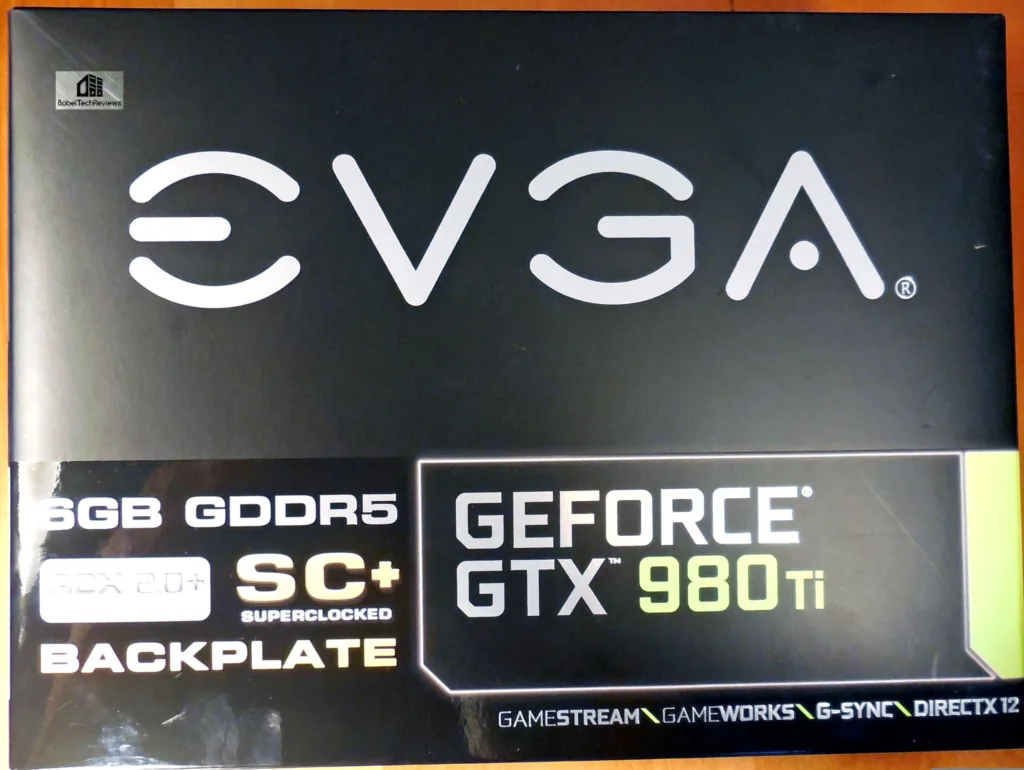 The back of the box shows that it uses ACX 2.0+ cooling, supports 4 concurrent displays and advertises the Key features, as well as emphasizes the 3-year EVGA warranty.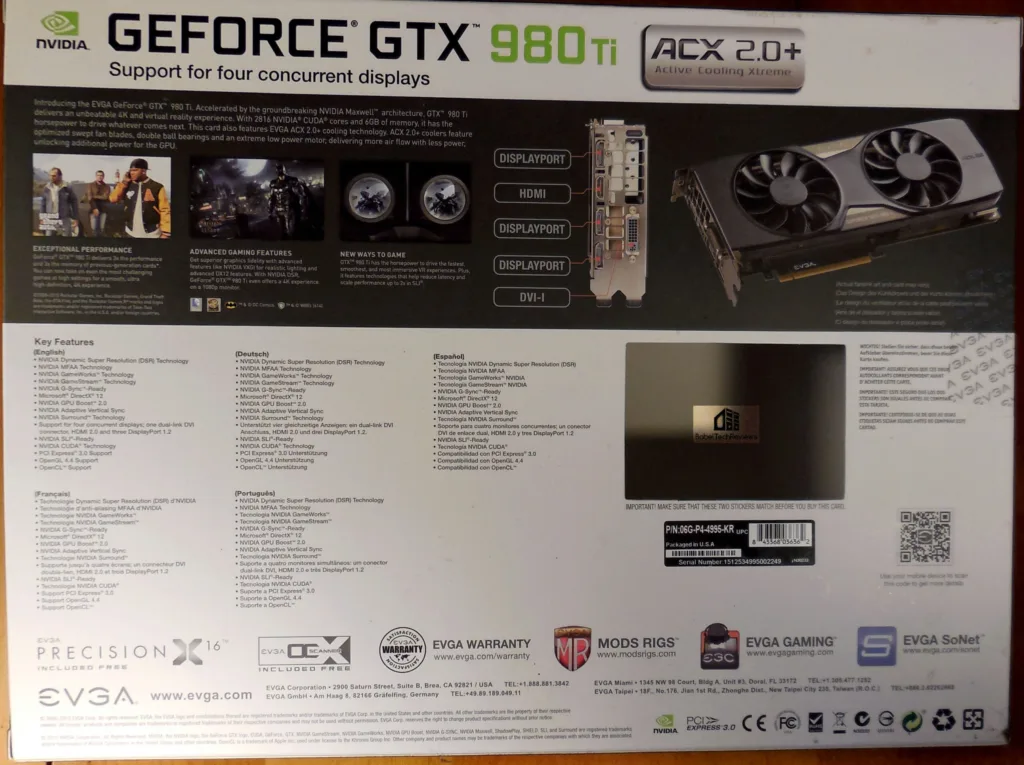 The box end caps give the system requirements and more information about the EVGA card.

Here is everything out of the box. The card is packed securely in a anti-static plastic clamshell. It comes with a large poster, a "Powered by EVGA" metal decal for your PC, a couple of decals for your window or car, user and installation guides, two 6-pin to one 8-pin PCIe power cable adapter plus a dual molex to 6-pin PCIe adapter, and a 50% off coupon that we wish we had a couple of months ago when we purchased a 1000W EVGA PSU which is now reliably powering BTR's flagship benching PC.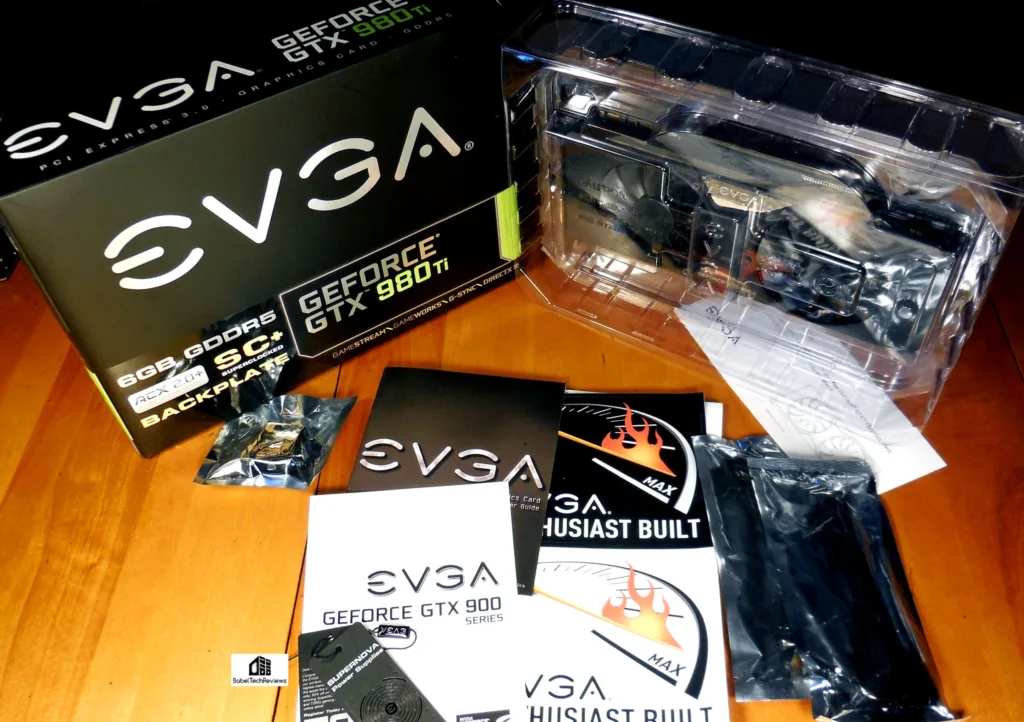 The EVGA GTX 980 Ti SC+ ACX 2.0+ is a handsome dual-fan card that covers a large radiator. The fans spin relatively slowly compared with the reference version – about 1500 rpm maximum for the EVGA card, and 3000 rpm maximum for the reference GTX 980 Ti. Of course, this makes perfect sense because there are two slower turning ACX 2.0+ fans to remove the GPU heat, compared with a double speed single fan in the reference version.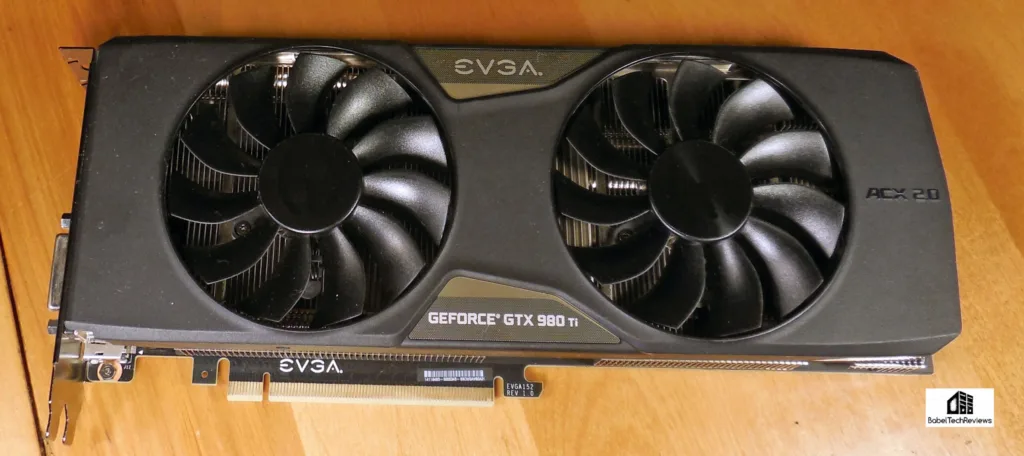 We turn the card on its edge and look at the slim design cooling fins which allow the card to fit into a PC motherboard's double slot configuration. Besides the power from the PCIe slot, there are 6-pin plus 8-pin connectors.

Here is a look from the other edge. The heatsink area is quite large.
Another view.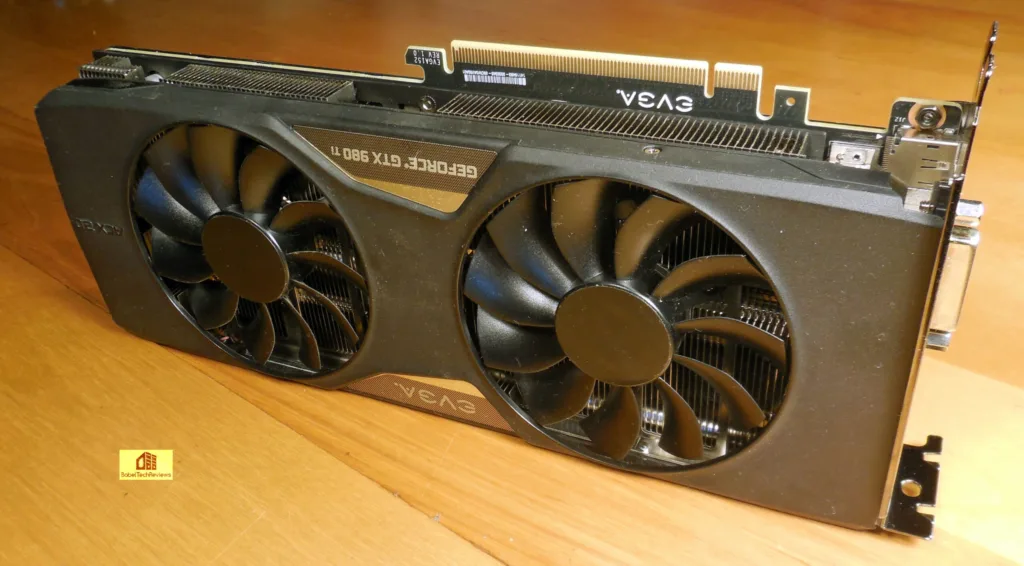 The EVGA GTX 980 TI SC+ as tested comes with a backplate. It can also be ordered without the backplate, so make sure of your version. It looks great from either side and a backplate looks much better inside of a case than a raw PCB.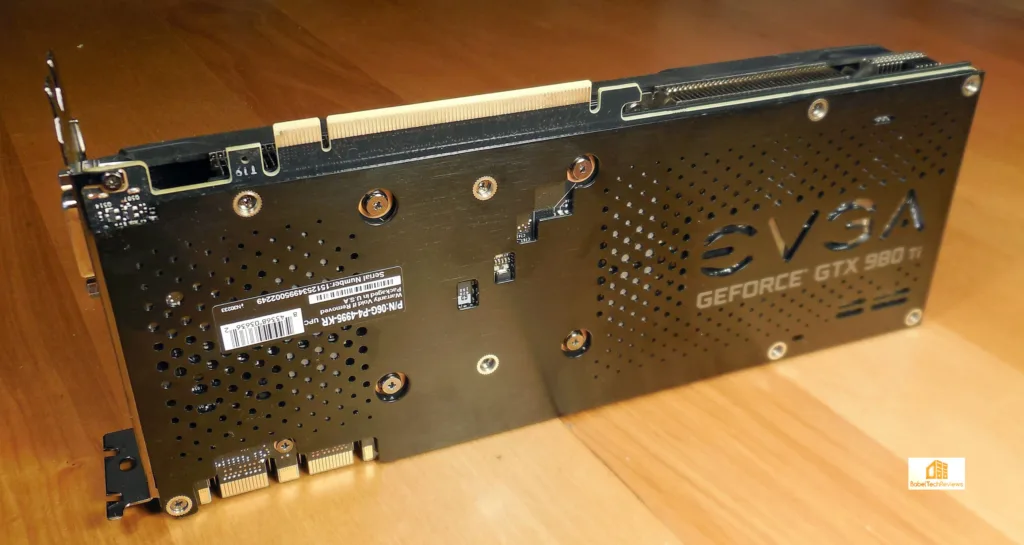 There are one dual link DVI port, 3 Display Ports and a HDMI 2.0 port. Unfortunately for its competitor, the Fury X only comes with 3 DisplayPorts and 1 HDMI 1.4 port, making it somewhat unsuitable for gaming at 60Hz on a 4K TV without an active DP adapter.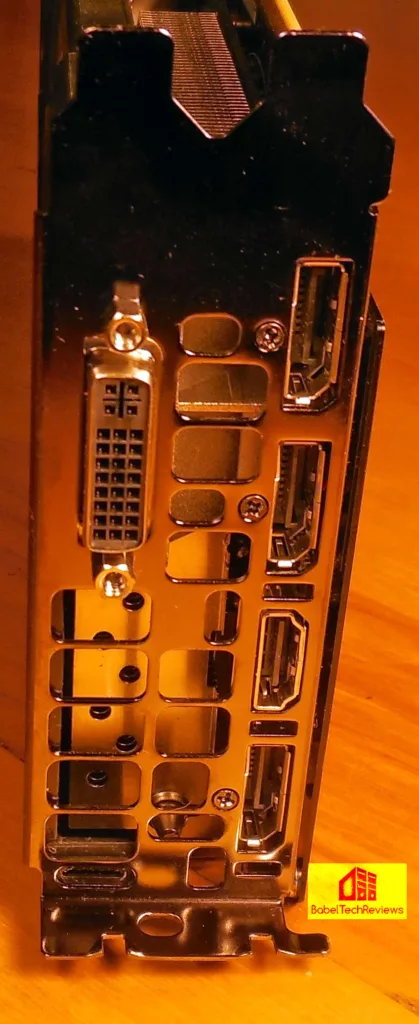 Now let's unbox and examine the Sapphire Fury X.
Unboxing the Sapphire Fury X
In contrast to the EVGA box, the Sapphire Fury X box is huge. It advertises the ultra-wide 4096-bit and 450GB/s bandwidth. Also, 4K, Liquid VR and FreeSync are advertised.

On the back, we are admonished, "Don't Just Upgrade, Revolutionize". The Fury X is awarded Sapphire's highest performance rating, a "5" out of 5. HBM is featured as well as the styling complete with AIO liquid cooling and lighted RADEON letters on the edge along with GPU activity lights. Eyefinity is also touted as Fury X is designed for multi-panel gaming.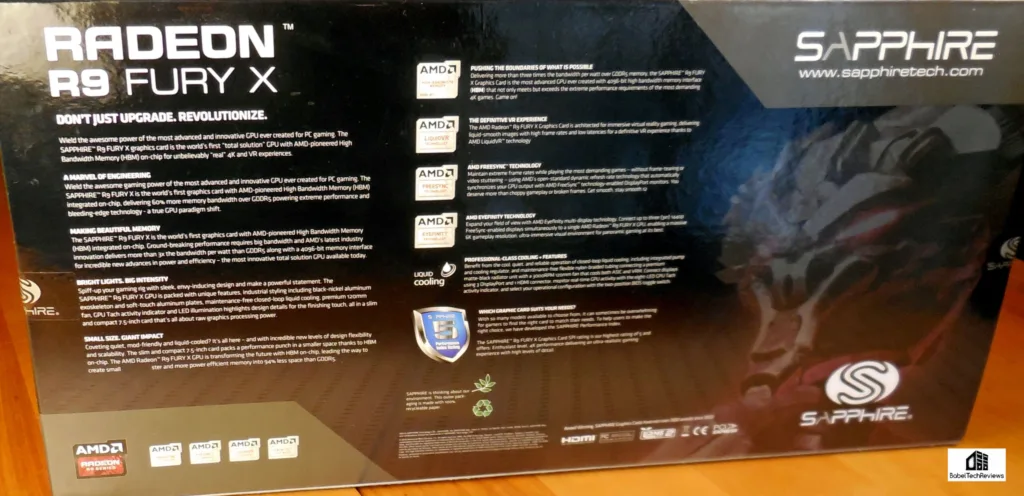 System requirements are detailed and a 750W PSU is recommended as minimum.


The packing is superb and it designed to stand up to your delivery person on a bad transport day.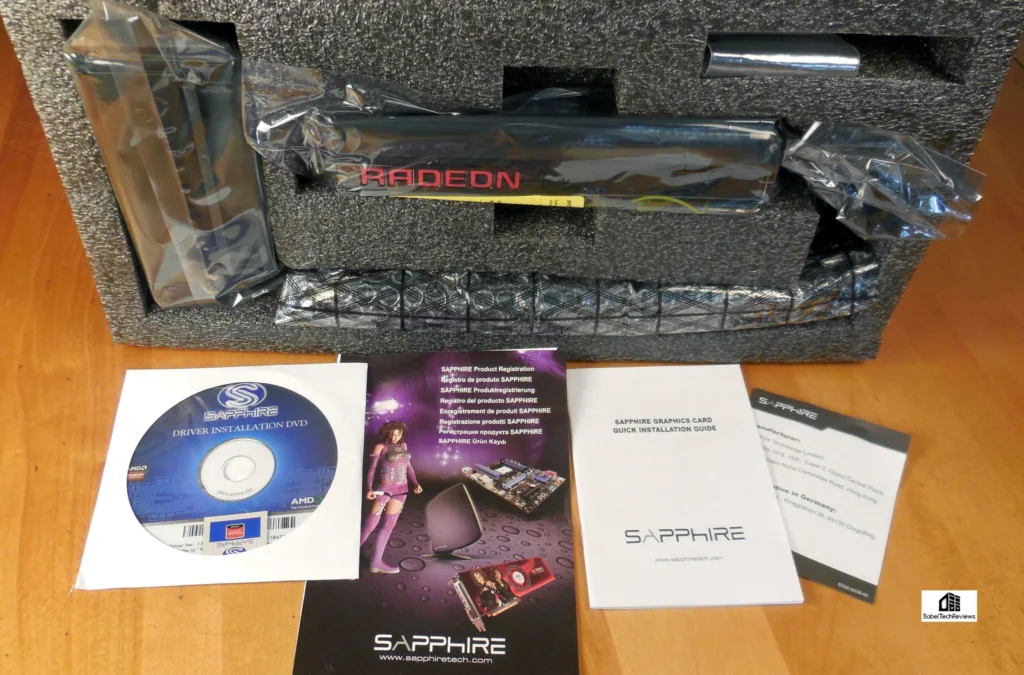 Inside the box is a driver CD, a quick installation guide, and information about registering your Fury X with Sapphire. Also included is a 1.8m (6′) HDMI cable, and a DisplayPort to DVI adapter. There are screws for installing the radiator into the PC chassis and a archaic DVI to VGA adapter.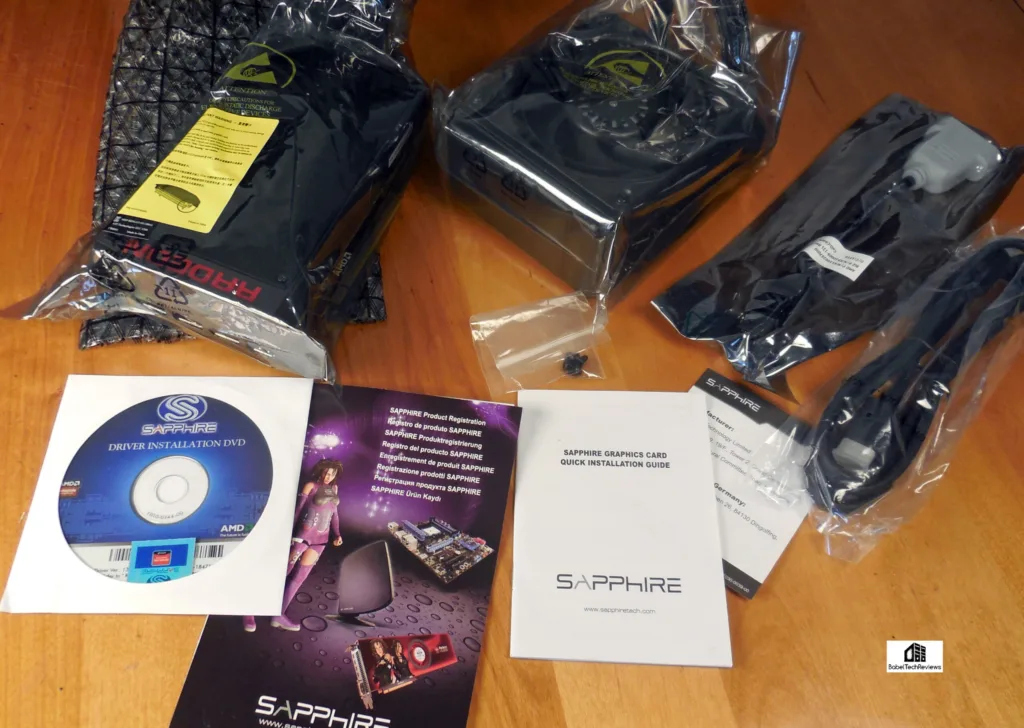 The Radeon Fury X is styled very well with an aluminum exoskeleton and soft touch sides. The radiator is large and it is connected to the pump inside the card by braided cables.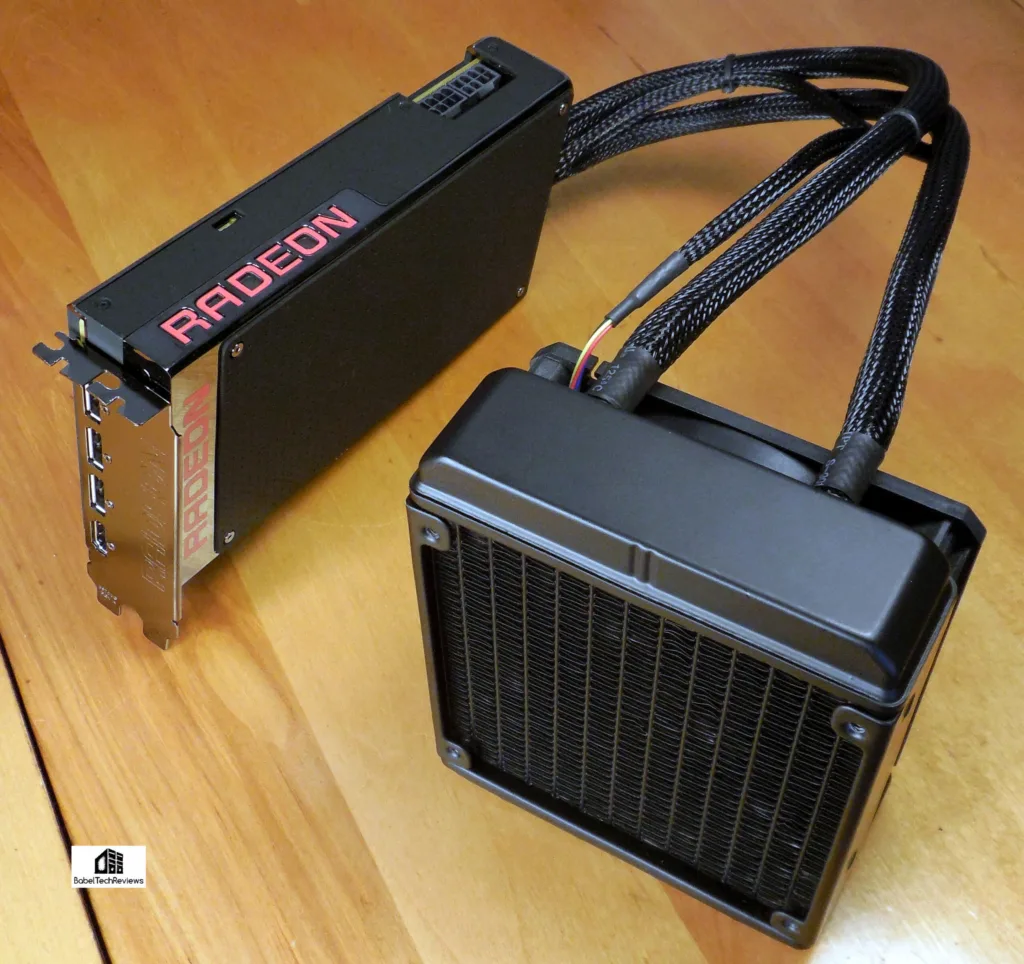 Two 8-pin connectors are available but there are no adapters included with the card in case your PSU only supports one 8-pin and one 6-pin PCIe cable. The Radeon Logo lights up and is a perfect counter to the lighted GeForce logo. AMD definity succeeded in making Fury look like a premium brand.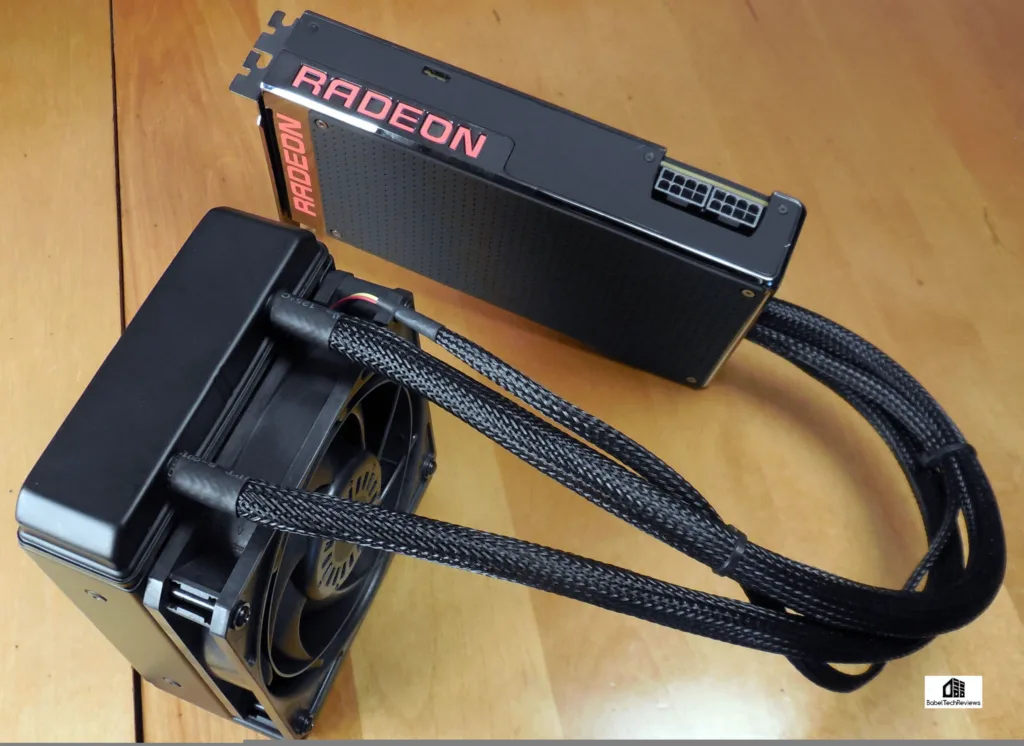 Here is the other side with the soft touch sides a very nice feature.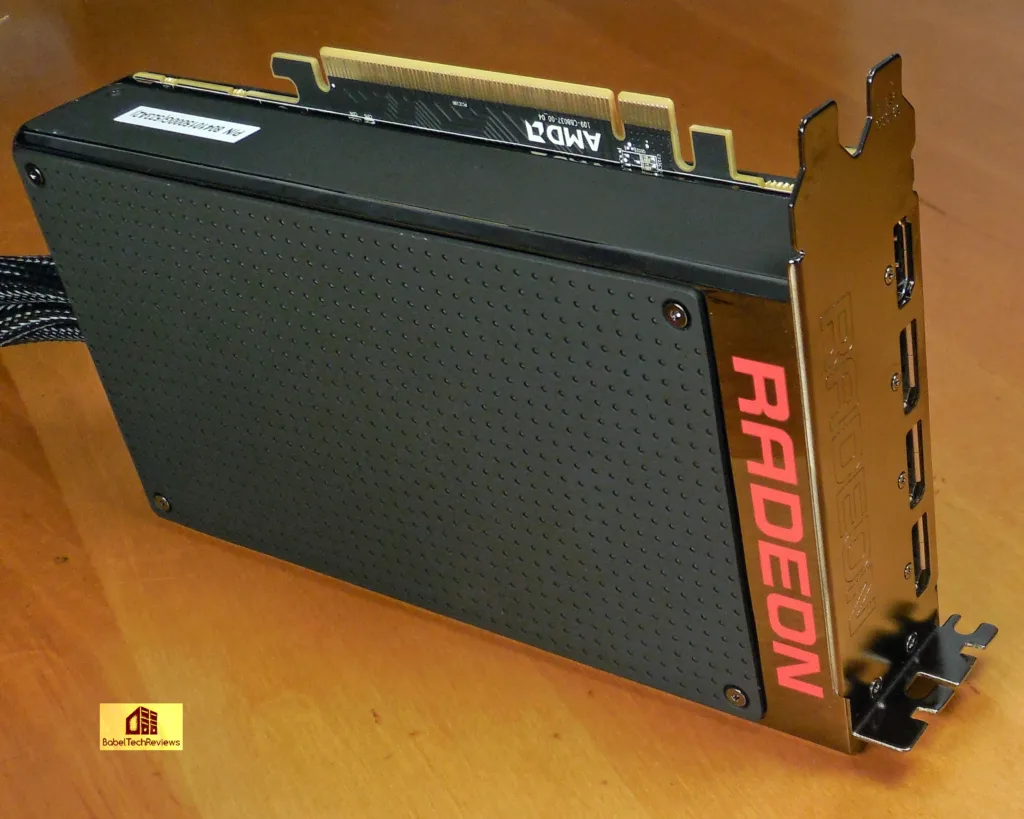 Here is the Sapphire Fury X with its radiator side by side. There are no CrossFire fingers/bridges with Hawaii and Fiji GPUs.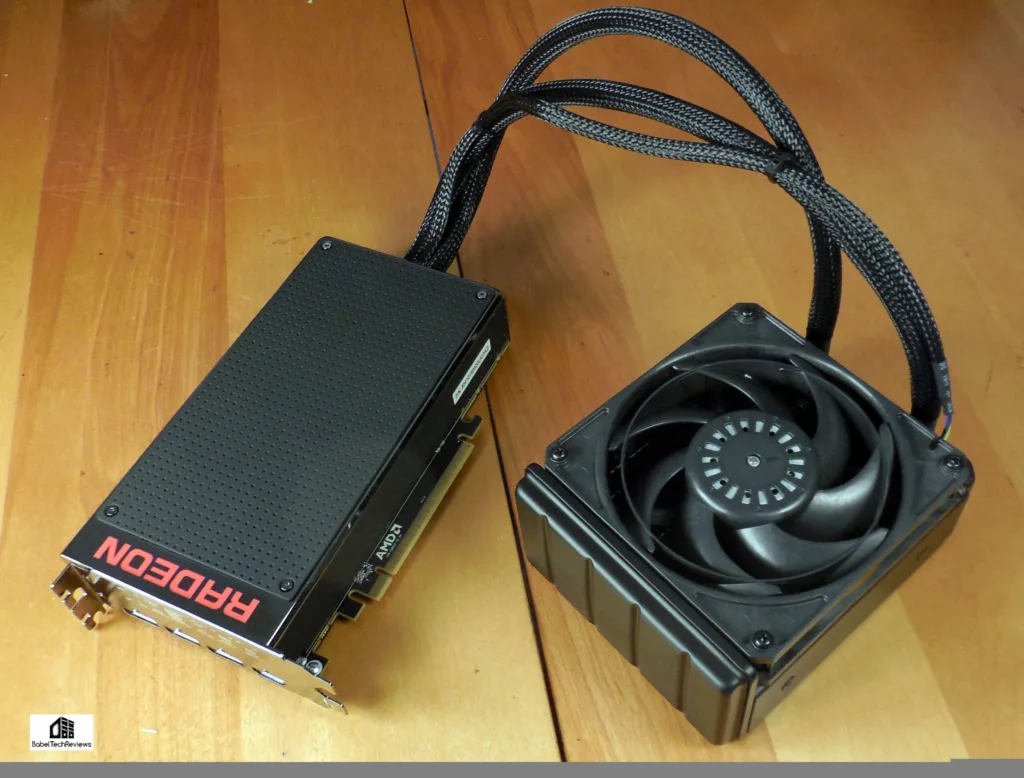 AMD did not include a HDMI 2.0 port like its GeForce competitor. That means that most 4K TVs will require an active adapter to run over HDMI at 60Hz. Most current 4K TVs do not use DisplayPort and this a serious disadvantage for Fury X 4K TV gamers compared with the GTX 980 Ti.

The Fury X Pump
We removed nine screws and opened up our Fury X to see what version of the pump we got since we were getting excessive pump noise. Evidently, there are three pump versions – (1) the version the reviewers got with the Cooler Master sticker, (2) another pump version with an embossed Cooler Master logo, and (3) this one with the plainly embossed Cooler Master logo. Since AMD has given no way to differentiate the "fixed" pumps from the noisy ones without opening them up, it is a matter of pure luck as to which one you will get from retail right now. If you are "sensitive" as we are, the pump noise can be intolerable.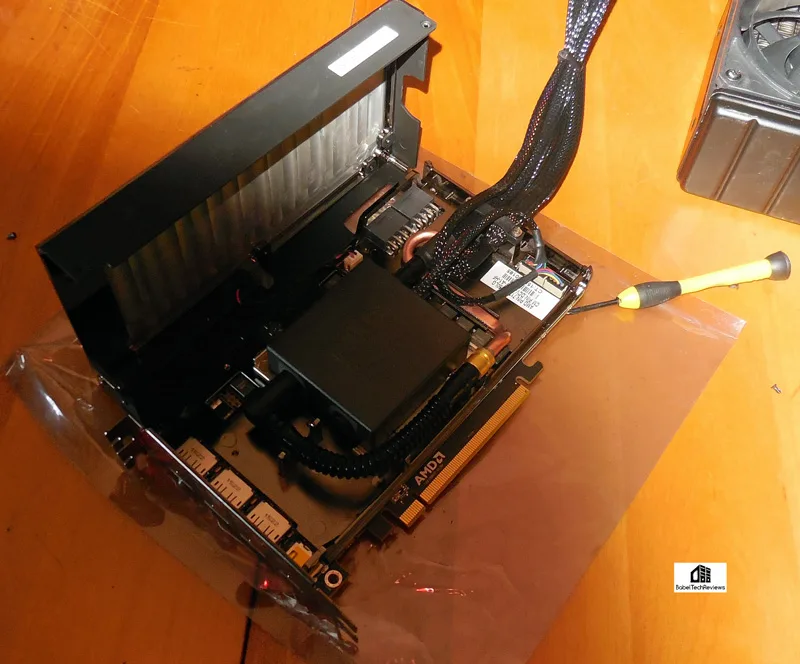 The Sapphire Radeon Fury X is a handsome card. AMD has got their industrial design right and it is nice to have a small card, although the cooler itself is big and perhaps may be hard to fit in many smaller cases. We would have issues with our own large Thermaltake full tower case trying to fit more than one Fury X inside, although we would be glad to move fans around to test Fury X CrossFire.
SLI, Tri-SLI, and CrossFire X – Is 4GB HMB enough for 4K?
The GTX 980 Ti can be set up for Tri-SLI by using three GTX 980 Tis just as the TITAN X and GTX 980 are. They can even be set up for Quad-SLI. SLI'd cards need to be connected with SLI bridges whereas the Hawaii (290/390 series) GPUs and Fiji Fury X do not require CrossFire bridges as communication between the cards is carried out over PCIe.
Fury X and Hawaii GPUs can use up to 4 GPUs in a CrossFire X configuration. Since we have two GTX 980 Tis, you can expect further reviews that show SLI scaling. We hope to eventually acquire another Fury X for another CrossFire versus SLI showdown.
When we test SLI vs CrossFire, we will look particularly at Fury X CrossFire to see if 4GB is a large enough framebuffer for 4K with high details and AA applied compared with using the 6GB framebuffer the GTX 980 Ti provides. We doubt it is enough because we were able to easily exceed the 4GB HBM limit in GTA V, although framerates were too low to be considered playable by a single Fury X. With two Fury Xes in CrossFire, we expect the framerates will then be playable, but will probably hit the framebuffer wall just as a single Fury X does now.
In fact, Max Payne 3 will not even run at 3840×2160 with max details and even 8XMSAA with Fury X now! The game will not allow you to set 4K settings with a 4GB vRAM equipped card unless you lower settings. See the bottom left side of the screenshot below: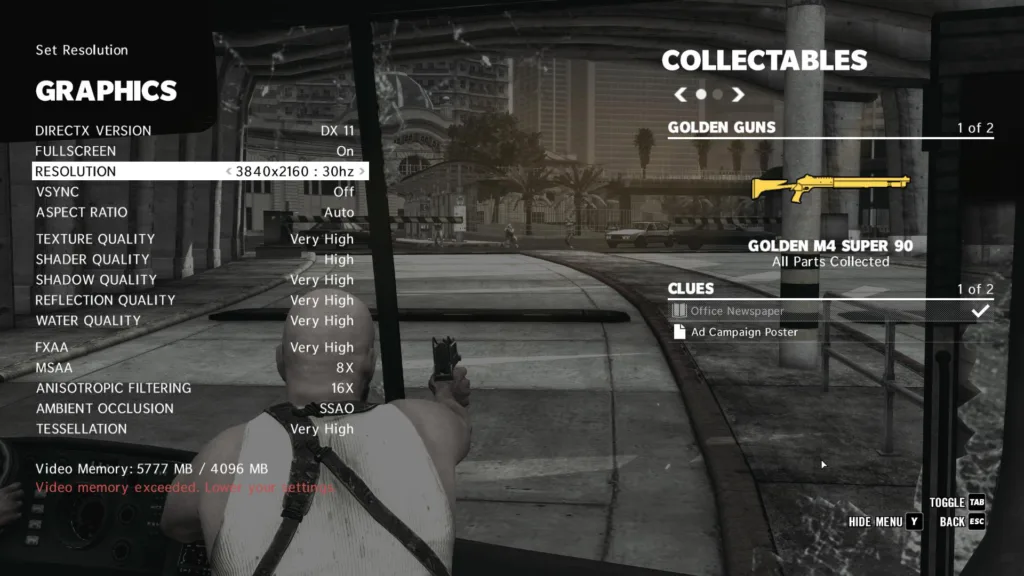 The specifications look extraordinary for both the GTX 980 Ti and the flagship Fury X, with solid improvements over just about anything else from the previous generation. Let's check out their performance after we look over our test configuration on the next page.
Test Configuration
Test Configuration – Hardware
Intel Core i7-4790K (reference 4.0GHz, HyperThreading and Turbo boost is on to 4.4GHz; DX11 CPU graphics), supplied by Intel.
ASUS Z97-E motherboard (Intel Z97 chipset, latest BIOS, PCOe 3.0 specification, CrossFire/SLI 8x+8x)
Kingston 16 GB HyperX Beast DDR3 RAM (2×8 GB, dual-channel at 2133MHz, supplied by Kingston)
Sapphire Fury X, 4GB HBM, reference and overclocked further, purchases by BTR from Newegg.com
VisionTek R9 290X, 4GB, stock reference (non-throttling) Uber clocks (also tested in 290X CF)
PowerColor R9 290X PCS+ (BF4 edition), 4GB, reference Uber (non-throttling) clocks (also tested in 290X CF)
EVGA GTX 980 Ti SC ACX 2.0, reference and overclocked further, supplied by Nvidia
GeForce GTX 980 Ti, 6GB reference clocks and further overclocked, supplied by Nvidia
GTX TITAN X, 12GB, reference clocks and further overclocked, supplied by Nvidia
Two GTX 980s, 4GB, reference clocks, supplied by Nvidia (also tested in SLI)
GTX 780 Ti, 3GB, reference clocks, supplied by Nvidia
Two 2TB Toshiba 7200 rpm HDDs
EVGA 1000G 1000W power supply unit
Cooler Master 2.0 Seidon, supplied by Cooler Master
Onboard Realtek Audio
Genius SP-D150 speakers, supplied by Genius
Thermaltake Overseer RX-I full tower case, supplied by Thermaltake
ASUS 12X Blu-ray writer
Monoprice Crystal Pro 4K
Test Configuration – Software
Nvidia GeForce 353.30 WHQL drivers for the GTX TITAN X and for both of the GTX 980 Tis. GeForce 352.90 used for all other GeForce cards. High Quality, prefer maximum performance, single display, use application settings except for Vsync. The latest EVGA Precision X is used for overclocking.
AMD Catalyst 15.15b (15.15.1004) for Fury X and 15.4 Beta for 290X/290X CrossFire (15.6 Beta used for Batman: AK, Kite Demo, and for the Witcher 3). The latest MSI Afterburner is used for overclocking. High Quality, all optimizations off, use application settings except for Vsync.
VSync is off in the control panel.
AA enabled as noted in games; all in-game settings are specified with 16xAF always applied; 16xAF forced in control panel for Crysis.
All results show average, minimum and maximum frame rates except as noted.
Highest quality sound (stereo) used in all games.
Windows 8.1 64, all DX10 titles were run under DX10 render paths; DX11 titles under DX11 render paths. Latest DirectX
All games are patched to their latest versions at time of publication.
Here is the settings we always use in AMD's Catalyst Control Center for our default benching.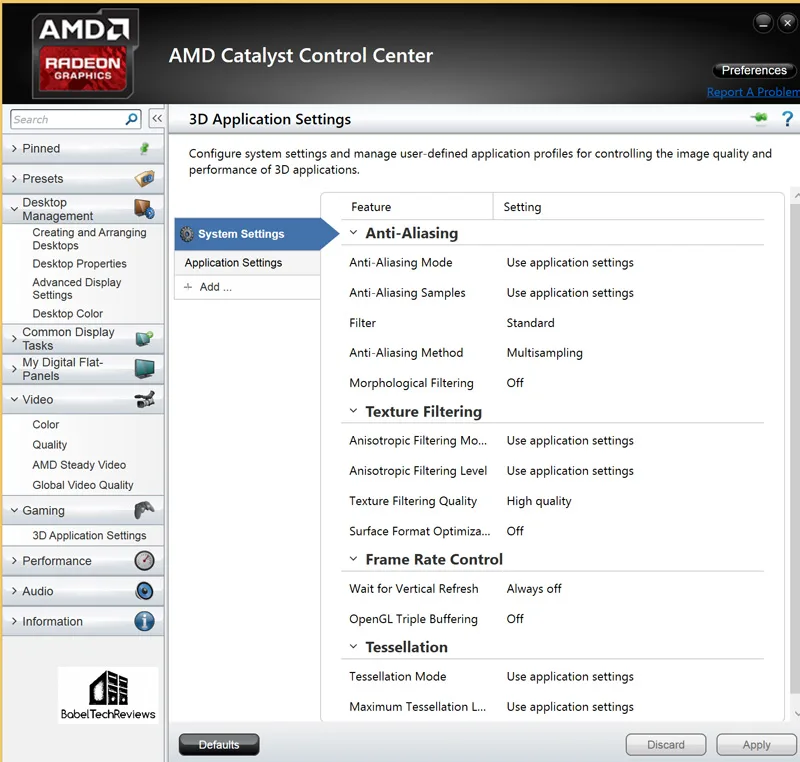 Here is Nvidia's Control Panel and the settings that we run: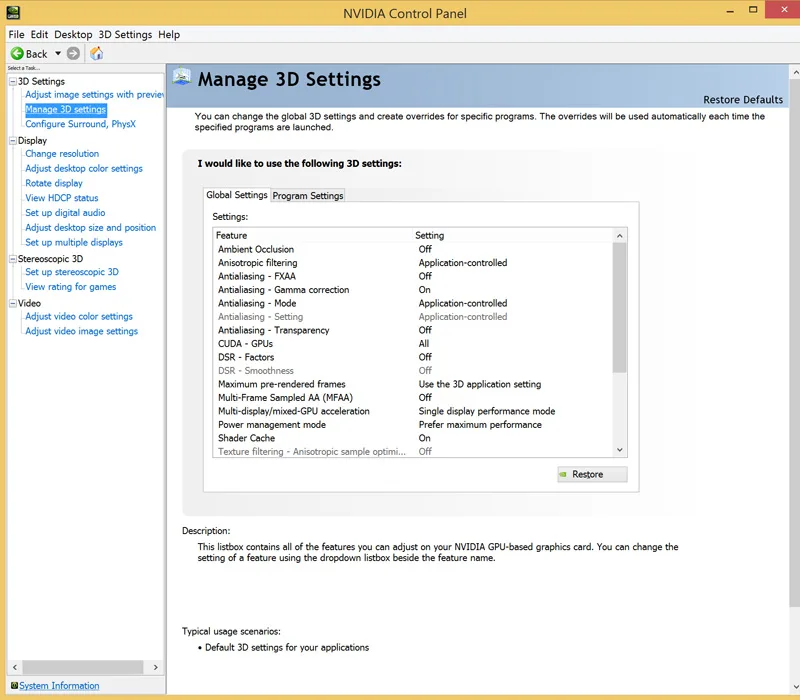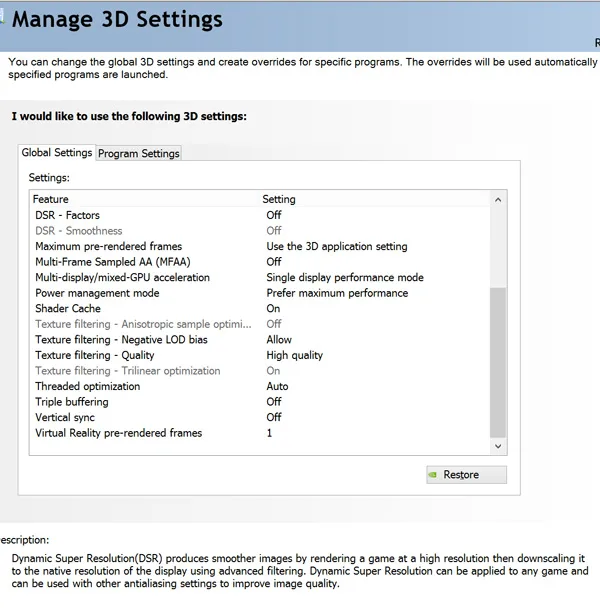 The 32 Game benchmarks & 3 synthetic tests
Synthetic
Firestrike – Basic & Extreme
Heaven 4.0
Kite Demo, Unreal Engine 4

DX10

Crysis

DX11

STALKER, Call of Pripyat
Max Payne 3
the Secret World
Sleeping Dogs
Hitman: Absolution
Tomb Raider: 2013
Crysis 3
BioShock: Infinite
Metro: Last Light Redux (2014) (including PhysX on vs off)
Battlefield 4
ArmA 3
Batman: Arkham Origins
Thief
Sniper Elite 3
Watch_Dogs
GRID: Autosport
Middle Earth: Shadows of Mordor
Alien Isolation
Assassin's Creed Unity
Civilization Beyond Earth
Far Cry 4
Dragon's Age: Inquisition
Metal Gear Solid V: Ground Zeroes
The Crew
Evolve
Total War: Attila
Wolfenstein: The Old Blood
Grand Theft Auto V
ProjectCARS
the Witcher 3 (inc. HairWorks, On vs Off)
Batman: Arkham Origins (including GameWorks On vs Off)
The above is our test bench. Let's check out overclocking next.
Overclocking the Sapphire Fury X and the EVGA GTX 980 Ti SC+
Overclocking the EVGA GTX 980 Ti SC+ ACX 2.0+
Overclocking the GTX 980 Ti and the EVGA GTX 980 Ti SC+ are just as easy as overclocking the GeForce TITAN X, the GTX 980, or any other Maxwell architecture-based card. The EVGA GTX 980 Ti SC+ is already overclocked from the EVGA factory; the "SC" stands for SuperClocked. The EVGA card's base clock is 1102MHz, up 102MHz over the reference clock, and the EVGA guaranteed minimum boost clock is 1190MHz, 115MHz higher than Nvidia's guaranteed minimum reference boost of 1075MHz. We also managed a completely stable additional +130MHz offset on the EVGA card's core and an extra +450MHz offset on the SC+ memory.
Our EVGA user overclock compares favorably with the maximum overclock we obtained with the reference GTX 980 Ti – +230MHz core/+500MHz memory. The memory on our particular sample of the reference GTX 980 Ti actually clocks 50Mhz higher than the EVGA GTX 980 Ti SC+ and the average boost core was within a few MHz of each other: the reference version peaked at 1418MHz and hit 1408MHz regularly, while the EVGA GTX 980 Ti peaked at 1419Mhz but settled in at a slightly lower 1394MHz. This also compares well with our TITAN X which we could overclock +200MHz core/+400MHz memory
We did not adjust any of our cards' fan profiles (except for the 290Xes whose fans were allowed to spin up to 100% to prevent throttling), nor voltage for our benchmark runs. We did however, push up the temperature and power target controls to maximum since we tested in Summer (warm – 78F-80F) conditions. We also made very sure to warm up all of our cards before benching.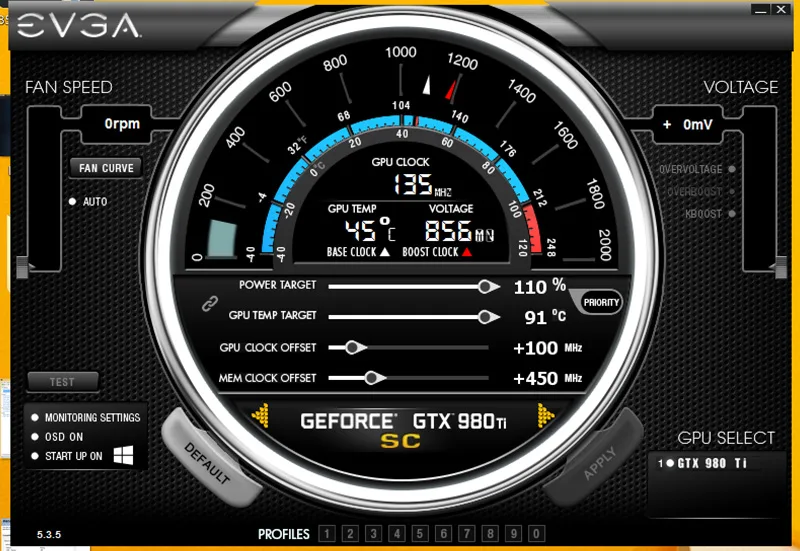 We used the very latest version of EVGA PrecisionX 16 v5.3.5 for GPU overclocking. This version has some major updates including full OSD support for DirectX 12 (making it the first available application to support OSD in DX12). The changelist is below:
Full OSD support for Microsoft DirectX 12
Redesigned OSD interface
Adds ability to change OSD color
Fix Grand Theft Auto V incorrect FPS
Supports GTX 980 Ti
Various other bug fixes
You can download PrecisionX directly here: www.evga.com/precision where you can download it for free. It is also available for free on Steam.
Moving up the power slider to 110% and the temperature up to the maximum 91C using EVGA's Precision showed very little performance gain over simply setting the temperature limiter to 85C. However, we always run our benches with both PowerTune and AMD's PowerDraw to their maximum although we never touch the voltage nor fan profile (except for the 290X fan profile which is allowed to spin up to 100% to prevent throttling)
Temperatures running at stock settings were no issue for Boost as the fan profile remained extraordinarily quiet at maximum load. We use Heaven 4.0 as our universal example, running 2560×1440 in a Window to stress our graphics cards. See our tables comparing the progressive overclocking between the reference GTX 980 Ti and the EVGA GTX 980 Ti SC+ following the Fury X overclocking discussion below.
The reference GTX 980 Ti's VGA fan became noticeable over 60% and much more so at 75%. Our reference GTX 980 Ti appears to let the fan spin up a bit higher than the TITAN X with a little more noise under full load.
In contrast, the EVGA GTX 980 Ti SC+ never – ever – got loud even under full overclocking load with the GPU at 100% usage for an extended period. The GPU also stayed much cooler as the EVGA ACX 2.0+ cooling system is far more effective in cooling the hot GM220 GPU than the reference version. The reference version is only superior in one instance – when you are running SLI, it is better to exhaust the heat of two or more cards directly out the back of the case instead of dumping the hot air into the case. If you have just one GTX 980 Ti, the EVGA card is the better choice.
Overclocking the Sapphire Fury X
We used the latest version of MSI's Afterburner which exposed HBM overclocking. Overclocking the Fury X is problematic and there appears to be almost no headroom as the 1050MHz clocks appear to be very close to their maximum even under the stock watercooling. After many hour of experimenting with our Sapphire Fury X, we found we could manage only +25MHz offset to the core, for a maximum of 1075MHz. Adding +5MHz more offset instantly crashed the PC and even +1MHz more (1076MHz) was unstable in many games. We also found that the heat from the radiator increased significantly with this mini-overclock.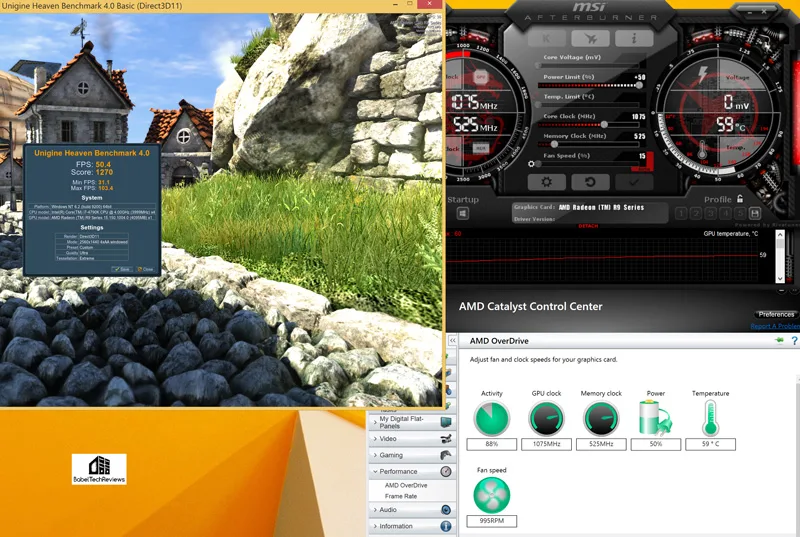 Overclocking the HBM was just as disappointing. We originally settled on a +25MHz overclock, but had to dial it back to a +24MHz offset. Any higher caused instant artifacting in any demanding game. Here is the comparison between overclocking the FuryX compared with the reference and EVGA GTX 980 Ti: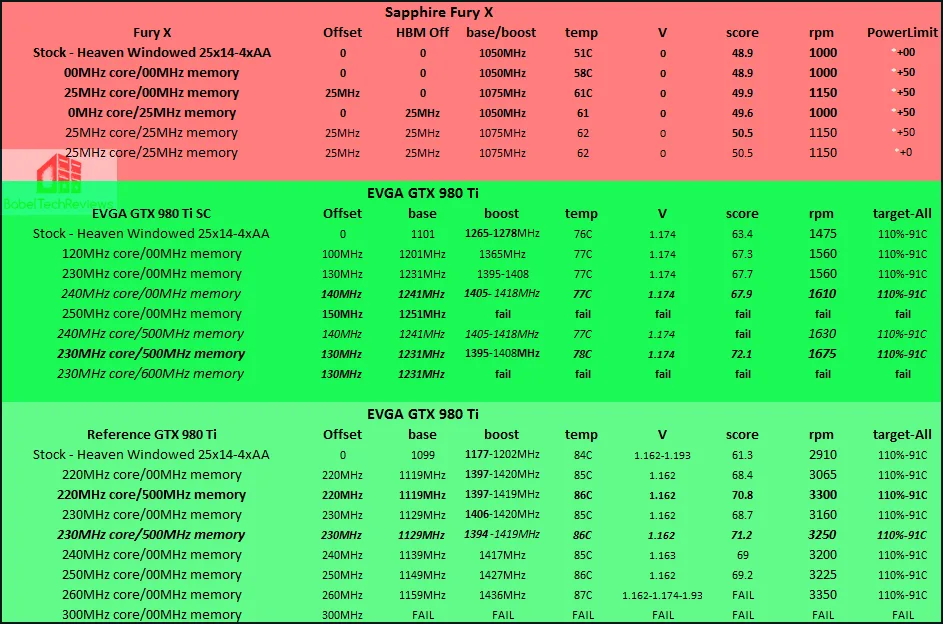 Fury X runs cool but it requires watercooling to do it. We would say that even when voltage tools are exposed, Fury X will not be a great overclocker as it appears to be already pushed to the edge, much like Hawaii GPUs ran originally at launch with the reference coolers. It appears that AMD wanted to take on the TITAN X at all costs. How did they do performance-wise compared with the big Maxwell GeForce cards? The performance results are on the next page.
The Fury X Pump Noise
Unfortunately, some of the reviewers reported that some of the review units had issues with pump noise with the Fury X. AMD was quick to reassure customers that only the review units were affected, but this turned out to be untrue. Yesterday, after hearing complaints from customers who bought Fury X, often posting videos on Youtube as proof, AMD admitted that there were what they called, isolated issues with "sensitive" customers. AMD is giving their customers no clue which cards are noisy or not until we buy them and get them home. AMD recently said that an RMA should be OK for the noise issue with their partners.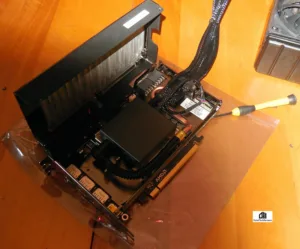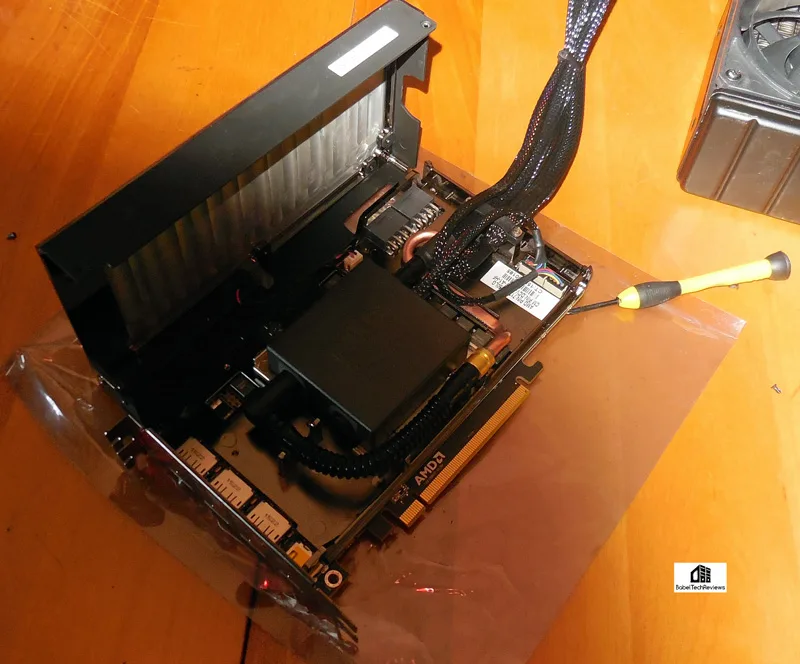 This reviewer is a "sensitive" customer who has extraordinary hearing that extends into the very high frequency range, and this particular Fury X pump puts out unwanted frequencies in the ultra high (over 20KHz) range which leads to headaches, irritation, and a left over tinnitus-like ringing in the ears that can last for hours after an extended gaming or benching session.
Even the HyperX Cloud closed headset which works so well to block reference 290X CrossFire noise, is ineffective for these ultrasounds. We have a difficult time recommending Fury X until the defective pumps are out of circulation as no customer has any way of knowing which version is noisy or not, or if they are sensitive to it or not. Sapphire's RMA procedure farms out their RMAs and may charge their customer a RMA fee in addition to paying for sending the card back.
Ideally a customer who is sensitive to the Fury X pump noise should RMA with the seller. Hopefully the noisy pumps will be gone from stock within the usual 30 day return window. We will contact Newegg ourselves for a RMA and update you on BTR forum. In the meantime, we purchased a special set of ear protection from Amazon.com for $18 that attenuates nearly 30db of ultrasonics and should provide protection for our precious hearing while benching Fury X.
The Fury X is a very hot running GPU at the reference AMD clocks. Downclocking it a little results in a lower power draw and cooler temperatures coming from the radiator although performance suffers a little. We will explore this in a later evaluation as we have had our Fury X only for 5 days.
Let's head to the performance charts and graphs to see how the EVGA GTX 980 Ti SC+ compares with Sapphire Fury X and with the top cards of Summer, 2015.
Performance summary charts & graphs
Here are the summary charts of 32 games and 3 synthetic tests. The highest settings are always chosen and it is DX11 when there is a choice; DX10 is picked above DX9, and the settings are ultra or maxed. Specific settings are listed on the Main Performance chart. We have added the "Kite Demo" on Unreal Engine 4 using the default settings at 1920×1080 as measured by Fraps.
The benches are run at 1920×1080, 2560×1440, and 3840×2160. All results, except for Firestrike, show average framerates and higher is always better. In-game settings are fully maxed out and they are identically high or ultra across all platforms. "NA" means the game would not run at the settings chosen, and "X" means the benchmark was not tested at all. An asterisk* means that there were issues with the benchmark, usually visual artifacting.
The main summary chart: The Big Picture
This main summary chart is what we call, "The Big Picture" since it places our two test cards into a much larger test bed. Please bear in mind that the TITAN X OC and reference GTX 980 Ti OC, as well as GTX 980/980SLI/780 Ti results are on slightly older drivers (352.90 vs. 353.30), so there will be some slight variability.
This chart tends to be information overload, so we also break it down into smaller charts for ease of viewing and discussion.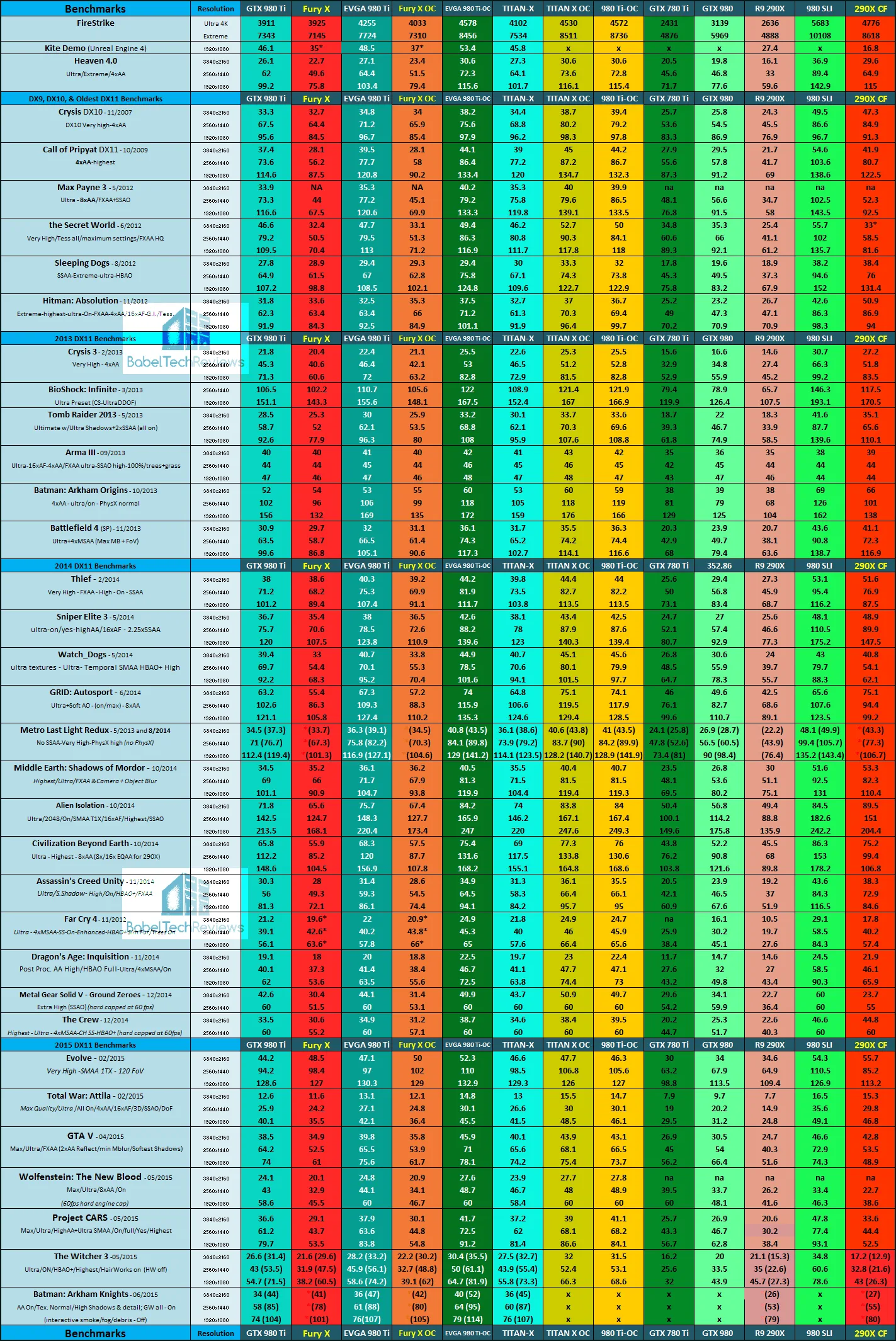 Our chart provides a lot of information across 32 games and 3 synthetics. What we can take away from the results generally is that the EVGA GTX 980 Ti SC+ is the fastest single GPU video card – period! Overall, the GTX 980 Ti is significantly faster than the Fury X. It is a blowout at 1920×1080 where the Fury X is held back by a CPU bottleneck due to drivers, architectural differences, and DX11 multi-threading. It is closer at 2560×1440, but the GTX 980 Ti is about ten percent faster. At 4K, the Fury X finally becomes competitive, but is still bested by the GTX 980 Ti overall.
When we compare the $679 Sapphire Fury X against the $679 EVGA GTX 980 Ti SC+, the gap widens further in favor of the GeForce. And the EVGA card is generally faster than the reference TITAN X, although they trade blows, including the reference GTX 980 Ti, when they are all overclocked to their maximum. As an added bonus, the GTX 980 Ti SC+ is the quietest card of all tested including the Fury X because of the pump noise. Otherwise, the Fury X would probably be slightly quieter than the SC+ overall.
The Overclocked EVGA GTX 980 Ti SC versus the Overclocked Sapphire Fury X versus GTX 980 SLI and R9 290X Crossfire
This chart will give us a comparison directly between overclocked results for the Fury X versus overclocked results for the EVGA GTX 980 Ti SC+ as well as a comparison with 290X CrossFire and GTX 980 SLI.

With Fury X'es lack of voltage controls partially to blame, overclocking is poor and the gap widens significantly in favor of the the further overclocked EVGA GTX 980 Ti SC+. We know the reference GTX 980 Ti can also be clocked just as high, and it is very impressive to see an overclocked GTX 980 Ti running reasonably close in performance to GTX 980 SLI. Fury X turns in a less impressive performance versus reference 290X CrossFire, however, and we suspect drivers are partially to blame.
GameWorks – Batman: AK & the Witcher 3
Batman: Arkham Knight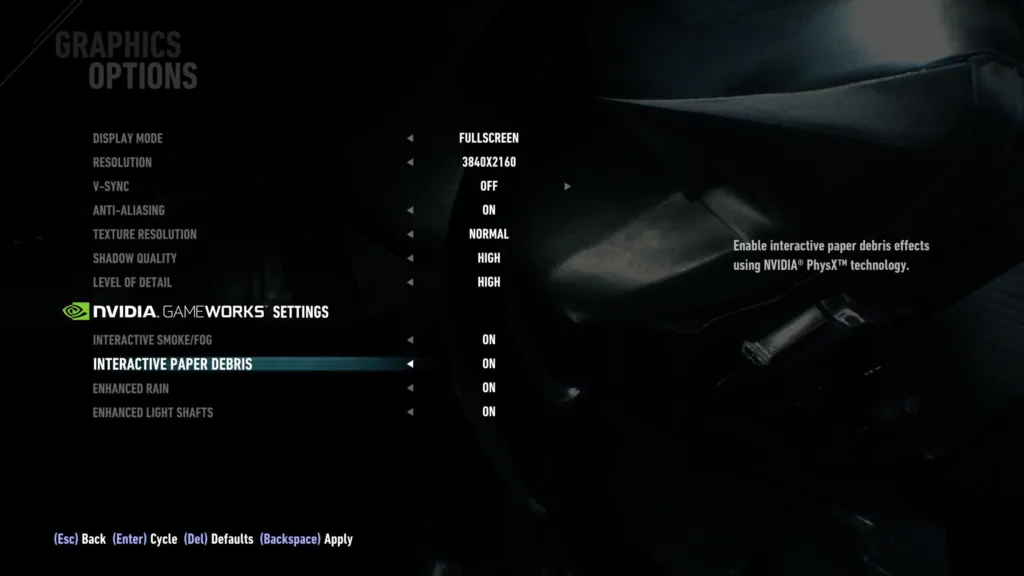 We test Nvidia's GameWorks in Batman: Arkham Knight which makes great use of PhysX/CUDA for Interactive Fog/Smoke and Interactive Debris, and it is a shame to play it without them on Fury X as AMD cards cannot run CUDA. We test these settings Off versus On with GeForce cards, but run with GameWorks' Enhanced Rain and Enhanced Light Shafts on all cards
Check out the combined tw3/Batman: AK chart under the Witcher 3 discussion.
the Witcher 3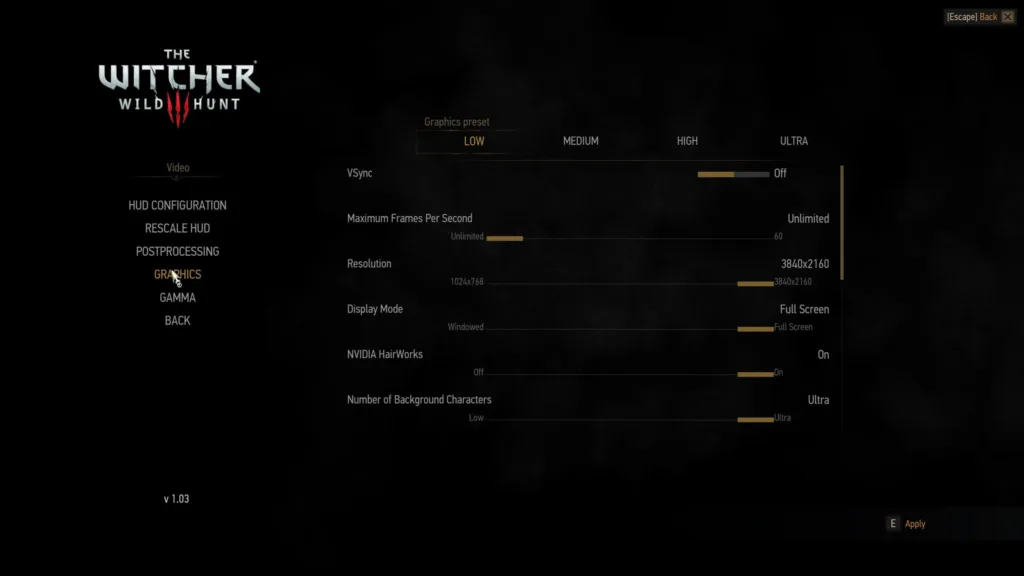 We also test the Witcher 3 with HairWorks On versus Off for all cards. Here are selected cards featuring the Fury X and the GTX 980 Ti results:

Fiji's Fury X evidently has a stronger tessellation engine than Hawaii's R9 290/390 series. Let's head for our conclusion.
The Conclusion
Unfortunately, the lackluster Fury X performance at less than 4K resolution, the minimal 4GB framebuffer that depends on AMD drivers to manage that may not work well for CrossFireX at 4K, the hot running Fiji chip with little overclocking headroom, and the lack of quality control with a noisy pump, are negatives that accumulate for a general non-recommendation at even $650 at this moment in time.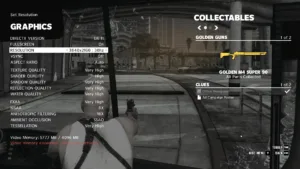 AMD has missed their target, and Fury X fell quite short of the performance of the TITAN X and the GTX 980 Ti. At $679, the EVGA GTX 980 Ti is quite a bargain performance-wise compared with the $679 Sapphire Fury X. The EVGA GTX 980 Ti has a larger 6GB framebuffer which makes it suitable for SLI at 4K, whereas the 4GB Sapphire Fury X is somewhat on the edge even as a single GPU.
Why would AMD repackage their R9 290 4GB series into 390 8GB series to tout 8GB for a relatively weak card that only takes advantage of the extra vRAM in CrossFire, yet Fury X only has a 4GB framebuffer? This limitation may make Fury X CrossFire unsuitable for 4K gaming with maximum details and added MSAA. There may be a limited upgrade path for Fury X at 4K with CrossFire. And Max Payne 3, a 2012 game, cannot run on Fury X at 4K with maximum details like the GTX 980 Ti can because of Fury's limited framebuffer.
We found little overclocking headroom with Fury X, up from its reference 1050MHz core clock. We were only able to manage +25MHz offset to the core, and less than that for the memory. This lack of headroom casts doubt that voltage controls will make much difference although we will test it when the tools become available. In contrast, the GTX 980 Ti appears to have no difficulty overclocking from the reference 1000MHz core to near 1400MHz! And the EVGA GTX 980 Ti SC+ does it in style and also very quietly, with no issues with its excellent cool and quiet cooling system.
The Fury X pump noise lottery is very worrisome as AMD has given their noise sensitive customers no guidance for RMAs, leaving it to their partners. Worst of all, there is no way to tell which cards are affected. When these pump issues are properly addressed, then the Fury X will be more attractive – but perhaps not at $650 if we look just at current performance. Fury X performance is simply not up to overall GTX 980 Ti performance. This Fury X launch was somewhat disappointing, although the card is quite an engineering marvel that looks great. At a lower price, and with a fixed pump and with better overclocking tools, it can be quite attractive. On looks alone, it is a handsome card that will look great in any PC. And with a properly tuned pump, it will be quiet indeed.
Let's sum it up:
Sapphire Fury X Pros
The Sapphire Fury X is very impressive as an "Exotic Industrial Design". It is heavy, solid, and looks great. The AIO cooling may appeal to some.
At 4K the Fury X trades blows with the reference GTX 980 Ti.
Fury X is a fast card and a good replacement for the 290X as AMD's flagship. It is innovative and bold to chose HBM.
FreeSync eliminates tearing and stuttering.
Sapphire Fury X Cons
The price. At $650, Fury X performance is overall slower than the $650 reference GTX 980 Ti. At $679 the Sapphire Fury X is significantly slower than the $679 EVGA GTX 980 Ti SC+
The pump noise may be a deal breaker at this moment in time. It is a matter of luck whether you get a bad pump or not or worse, that you may get a replacement Fury X with the same noise issues.
Even with watercooling, there is a lot of heat coming from the radiator.
Overclocking of the memory and the core are poor, and there are no voltage tools yet available.
A 4GB of framebuffer is minimal for 4K, and we expect possible issues with Fury X CrossFire at 4K at high details/AA.
Installing 1 large radiator may be difficult for some smaller cases; CrossFire may compound the issue with multiple radiator placement.
Drivers are immature and they have been AMD's weakness for 2015.
Lack of HDMI 2.0 may turn off 4K TV gamers.
We have no trouble giving a big recommendation to the EVGA GTX 980 Ti SC+ ACX 2.0+. At $679 it looks great, runs cool and is very quiet, and its out of the box performance is just about equal to the stock $1000 TITAN X. The only reason one might choose a reference GTX 980 Ti at $649 instead is to use multiple cards for SLI.
We would like to award BTR's highest Award – "Kick Ass" to the EVGA GTX 980 Ti SC+ ACX 2.0+
EVGA GTX 980 Ti SC+ Pros
The bundle with Batman: Arkham Knights with the EVGA GTX 980 Ti SC+ is a nice extra. The game is outstanding and it will be patched.
The EVGA GTX 980 Ti SC+ matches the $1000 TITAN X in performance, and it beats its Fury X competitor overall at the same price!
TDP and power draw are good and it is very quiet in comparison to almost any other high-performance video card and significantly quieter than the reference GTX 980 Ti, especially when overclocked.
Overclockability is excellent – GPU Boost 2.0 works as advertised.
It is possible to use three of these cards for extreme Tri-SLI performance
The GeForce Experience and GameWorks, including ShadowPlay, enhance the gaming experience. G-SYNC promises to revolutionize gaming by syncing the display to the GPU and allowing for smooth framerates without stuttering or tearing.
Cons
None. We would choose the EVGA GTX 980 Ti SC+ in every situation over the reference GTX 980 Ti except for SLI.
The Verdict:
If you are buying the ultimate single-GPU flagship video card right now and looking for the highest performance in a single GPU, the GTX 980 Ti is the only reasonable choice for $650 and the EVGA card is well deserving of the extra $30. We feel it deserves BRT's highest award – the "Kick Ass" award – because it is unique in design and performance for a video card as well as being the very fastest, equal to the TITAN X. The TITAN X would only be picked for extreme gaming situations like multi-screen 4K gaming where the 12GB of framebuffer might be useful over the Ti's 6GB.
We do not know what the future will bring, but the GTX 980 Ti brings an excellent top-performer to the GeForce family and it clearly establishes itself as the very fastest single-GPU video card in the world. On top of this, the EVGA GTX 980 Ti SC+ is highly recommended for its excellent cooling and quietness as well as the great EVGA warranty and support.
We will have to recheck this evaluation when Fury X drivers have improved; when the pump issues are completely sorted out, and when overclocking tools become available for the Radeon. However, we doubt the picture will change very much, and we suspect that there may be downward pressure on Fury X pricing after stock becomes readily available.
If you currently game on an older generation video card, you will do yourself a big favor by upgrading. The move to a GTX 980 Ti or Fury X will give you better visuals on the DX11 pathway, and you are no doubt thinking of multi-GPU if you want to get the most in gaming performance. Price is the only issue and if you are a bang-for-buck gamer, a pair of GTX 970s or R9 390s cost about the same or more, but they have all of the issues associated with multi-GPU gaming. And if you are looking for ultimate performance, the GTX 980 Ti is faster than the Fury X.
AMD offers their own set of features including Eyefinity 2.0 and FreeSync, but their flagship Fury X as represented by the Sapphire Fury X card, simply cannot touch the raw power of the GTX 980 Ti – especially when overclocking is considered.
Stay tuned, there is a lot coming from us at BTR. Next up we will look at AMD's latest Beta drivers and then we will set up for a GTX 980 Ti SLI evaluation.
Happy Gaming!
Mark Poppin
BTR Editor-in-Chief