(This evaluation was originally published by this author on Alienbabeltech in November and was subsequently lost in their database crash and has been restored here. It has been rewritten and expanded today to include the GTX 980's Backplate thermal analysis in single space SLI for this review. Happy New Year and welcome to BabelTechReviews!)
Nvidia has finally created a SLI bridge worthy of their awesome GPUs. Up until now, we have had this: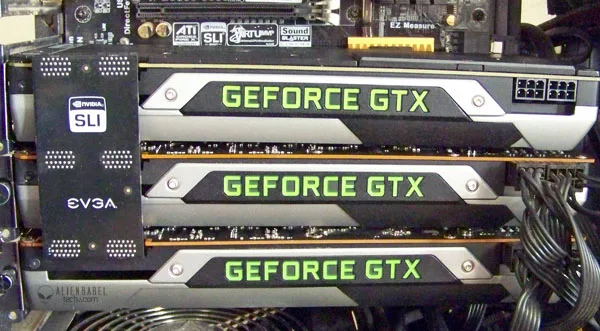 Admittedly, a regular 3-Way SLI bridge doesn't look bad until you realize that there were only these choices available for 2-Way SLI until now, below: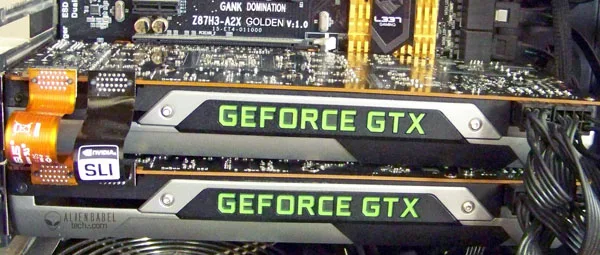 Fortunately, you only needed one ugly ribbon SLI bridge for 2-Way SLI. Now we have the new LED lighted bridges available in three configurations – 2-Way, 2-Way Spaced, and 3-Way Spaced. These bridges will initially be sold only in US/Canada through the Nvidia store. The GeForce GTX 2-Way and 2-Way Spaced Bridges are priced at $29.99 while the GeForce GTX 3-Way is priced at $39.99. These are the same LED bridges that we saw showcased at Nvidia's recent events, including Game24 and at the Press Day event in October.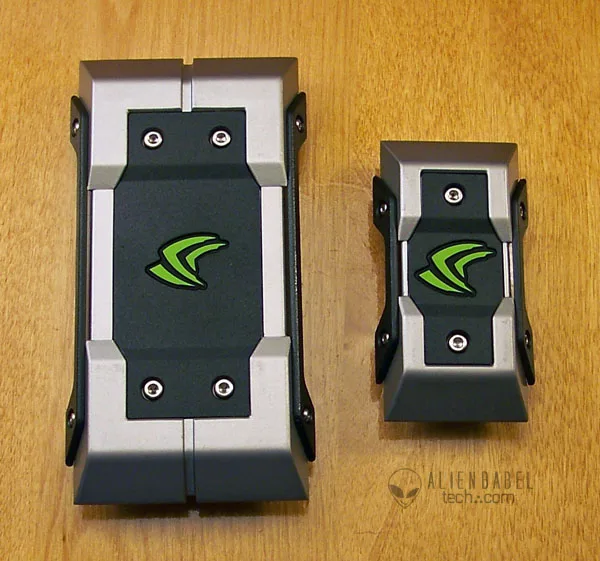 When news of Nvidia's new lighted bridges came out earlier, we got comments on ABT forum, of "bling", and, "you have more money than brains and a burning hole in your pocket if this is the sort of nonsense you buy". However, we absolutely had to have these, even though we didn't have GTX 780/Ti SLI nor GTX 980 SLI at the time, yet Nvidia shipped them out to us immediately for evaluation. This particular mini-evaluation is all about "looks" and industrial art, and much less about function although Part II will cover SLI thermals for sandwiched GTX 980 SLI with and without the backplate.
To be absolutely fair, no one really needs lighted SLI bridges. A 2-way SLI ribbon connector is included with all 2-way SLI approved motherboards, and a 3-way connector is included with 3-way motherboards. The generic connectors are pictured alongside the new lighted SLI bridges below.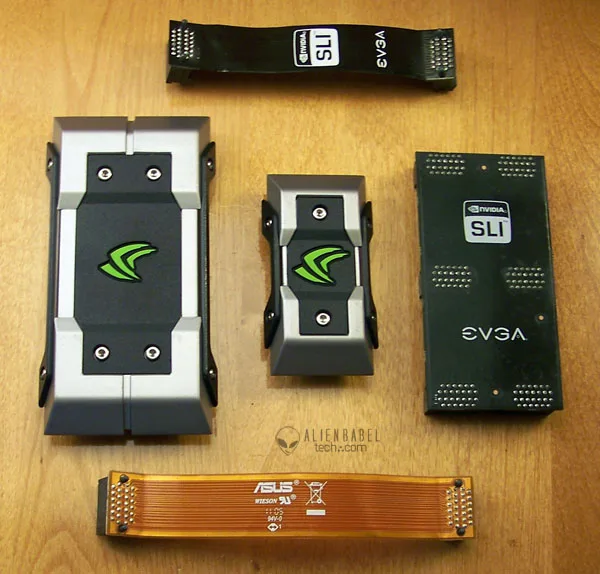 We see the old 2-Way SLI ribbon on top and the extra long version on the bottom, the top one is compared to the 2-Way (non-spaced) new bridge connector in the center; on the right is an EVGA 3-Way SLI connector which is compared to the new 3-Way lighted SLI bridge on the left.
It is all all about looks. When someone spends perhaps $1500 on three handsome video cards, it is not unusual to want to make the case look like an industrial work of art – something that Nvidia achieves with their GeForce design for their top cards beginning since the GTX 690. And thirty to forty dollars for many gamers and enthusiasts is not an expensive price to pay to achieve this look. From Nvidia's professional photo, below.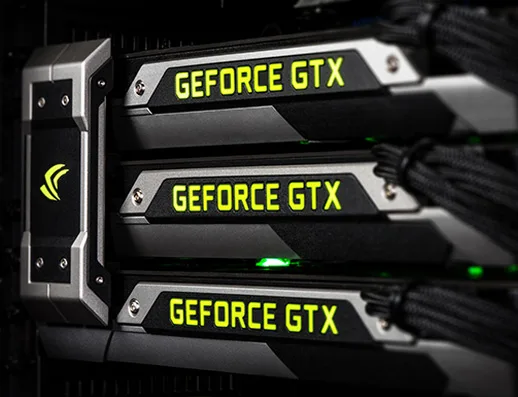 These new bridges look so much better than the old ones, and the LED lights are easily programmable through the GeForce Experience for a variable light show to match your mood – or the GPU temperatures. The SLI Bridge LED is supported on Nvidia reference designs. The LED Visualizer requires GeForce Experience version 1.7 or higher. But beware, they don't work in SLI with older video cards like GTX 580 SLI pictured below.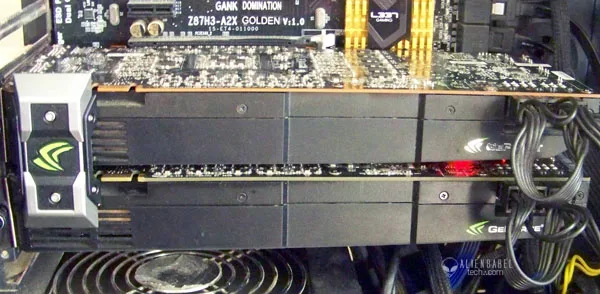 These advanced bridges are designed for GeForce GTX cards with SLI support – i.e. the GeForce GTX 770, GTX 780, GTX 780 Ti, GTX TITAN, GTX TITAN Black, GTX 970 and GTX 980. Please refer to SLI minimum system requirements and graphics card product page for power requirements per GPU starting here.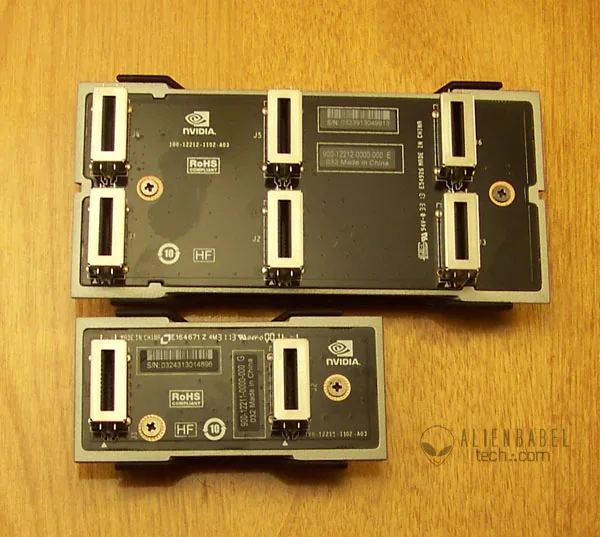 We realized that we had received the 3-way SLI bridge by mistake from Nvidia; we had ordered the 2-way spaced and the regular 2-way SLI bridges. The way our EVGA Golden Z77 motherboard is set up, there are a choice of three x16 PCIe 3.0 slots. However, when any two PCIe x16 slots are used, the bandwidth is cut to each card in SLI to x8/x8 PCIe 3.0; 3-way SLI is not possible.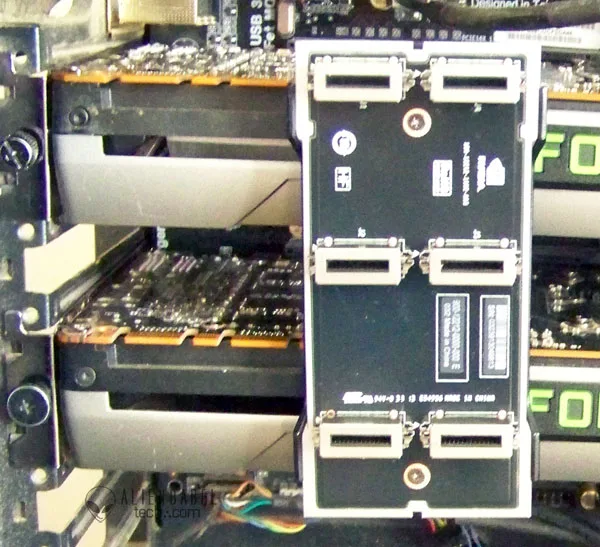 Our ECS Z77 motherboard is set up only for spaced 2-way SLI when the top two PCIe slots are used for SLI. If there was a third x16 PCIe 3.0 slot, a third card could go in the middle for Tri-SLI as illustrated in Nvidia's diagram:

Our ECS Z77 motherboard has a third SLI arrangement which can use the regular 2-way SLI bridge, the bottom two PCIe x16 slots. Unfortunately, when used this way, the bottom slot is X4 and cannot be used in SLI, and there is no bridge needed for a PhysX card.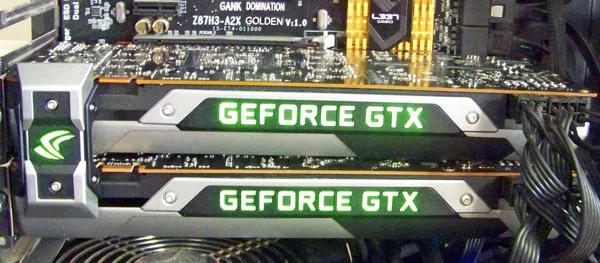 We like the lighted bridges which match the lighted GEFORCE logo. And it is easy to set them up as a variable light show from the GeForce Experience. These bridges are not mandatory in any way, but offer a great choice to the enthusiast who wants to show off his PC hardware. Life may be more than just a closed PC and a utilitarian setup. For the enthusiasts, the lighted SLI bridges are a welcomed choice! We think Nvidia will be quite successful with them.
Part II – Thermal Testing of Single-Space GTX 980 SLI with and without the removable backplate
Since this article was originally published and then lost in AlienBabeltech's database crash, we have acquired a second GTX 980 from Nvidia for SLI testing. We have a series of brand new evaluations coming up shortly which focus on comparing Ivy Bridge and Haswell, including using Devil's Canyon's overclocked Core i7-4790 along with i7-3770K and 4770K with three Z77/Z87/Z97 motherboards to test CPU scaling with GTX 980 SLI. However, our first test with our GTX 980 SLI setup was to test the thermal characteristics of the removable backplate which was designed for single-space SLI, where two reference cards are sandwiched right next to each other.
In our original review of the GeForce GTX TITAN, we had this to say:
Titan also looks awesome inside just about any case. We just wished that Nvidia had made a removable aluminum backplate for it since a raw PCB is out of place on such an outstanding looking card. We realize that a backplate would not work for Tri-SLI on all three cards due to ventilation issues, but it only needs to be on the top card in a multi-GPU system since the other cards' PCBs are mostly hidden by the other cards.
No matter how good-looking a card is, when it is placed in a case, there is an ugly raw PC showing – until now. Here is the GTX 780 Ti to the right of two GTX 980s; the first one has the backplate removed. I know which video card I would prefer in my case, performance not being considered.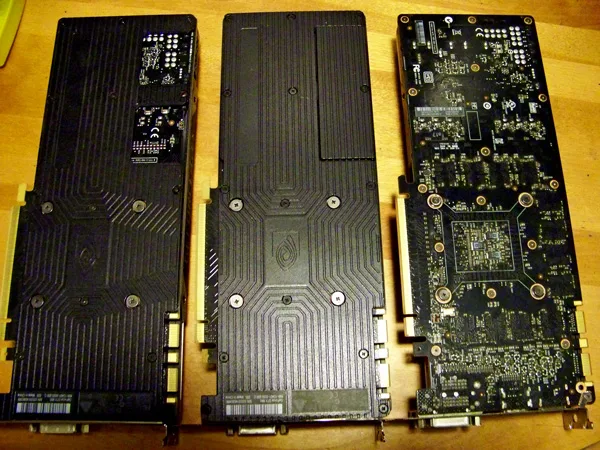 When we asked Nvidia's representatives why they did not make a backplate for the TITAN, we were told that their engineers had determined that even a very thin backplate interfered with the cooling of the cards in sandwich SLI. We then suggested that Nvidia design a removable backplate. We were really pleased to see that Nvidia not only made a removable backplate, but they went one better and made the part easily removable, and it is only a very small portion of the backplate that needs to be removed.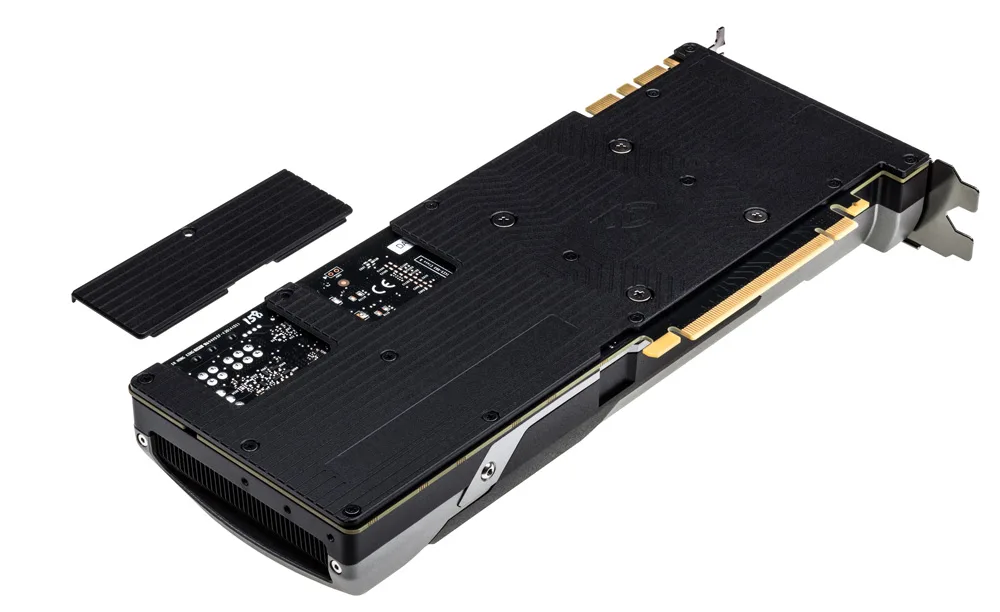 The only further suggestion that we have for Nvidia is to put a lock washer on the screw that holds the removable portion to the backplate. It is very easy to misplace or lose it unless you leave it in the card for safekeeping when you take off the plate. However, the purpose of this mini-evaluation is to see what effect removing the backplate has on GTX 980 thermals in SLI when the cards do not have a slot between them.
Our ECS Z87 Golden motherboard and our new ASUS Z97-E motherboard do not allow cards to work in SLI while being sandwiched next to each other in SLI. The motherboards are both designed so that there is a space between the cards, and that is considered ideal for keeping both cards cool.
However, our older Ivy Bridge EVGA Z77 FTW motherboards is designed for 3-way SLI with a PLEX chip, and two-way SLI cards are sandwiched right next to each other with very little space for the top card to "breathe".. Since we are using it to compare with our Z97 and Z87 motherboards in the next upcoming evaluation, it was easy to test reference GTX 980 SLI thermals with and without the backplate. As you can see in the image below, there is very little space between the cards in sandwich SLI, and removing the GTX 980 backplate gives a little more airflow to the cards.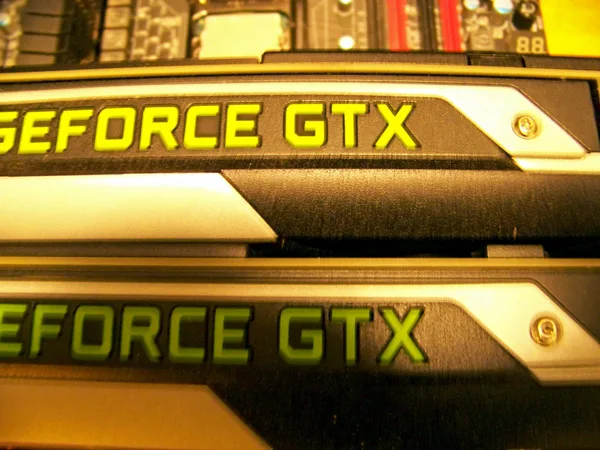 First we wanted to see if there was any difference between running a single GTX 980 with the backplate on versus with it off. For all of our tests we used maxed out a windowed Heaven 4.0 benchmark running at 1920×1080 for measuring a single GTX 980, and at 2560×1440 for SLI'd 980s. Running the benchmark endlessly guaranteed that we would reach maximum GPU temperatures as measured by the very latest version of EVGA's PrecisionX.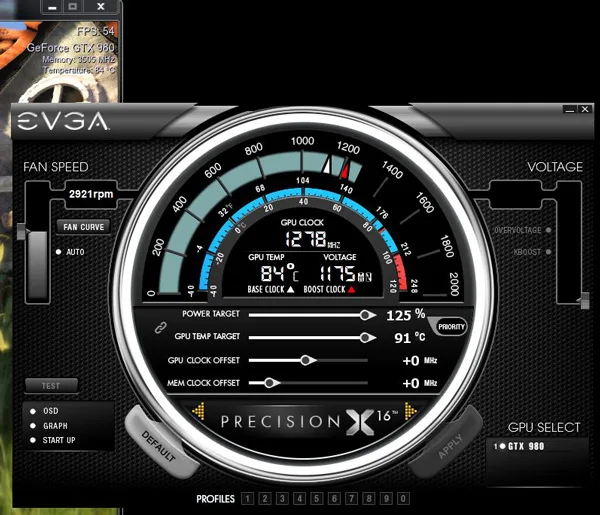 Running either GTX 980 with or without the backplate made no difference to the temperature of the cards as far as we could tell. We made sure that we were testing in a warm room at 77F to simulate Summerlike conditions even though we performed these tests in the dead of (a California) Winter. Our GPUs got warm, they generally each maxed out at 84C but would occasionally blip up to 85C. We were able to keep the fan noise low without needing to ramp up the rpm as the temperatures were well below the 91C GPU temperature target.
Next, we sandwiched a second GTX 980 right next to our first one using our new lighted SLI bridge, and ran Heaven again at the higher resolution with the backplate left on the lower card. This time our card reached 90C and mostly stayed there. However, the temperatures would climb up to 91C and the fans would ramp up and cool the cards back down to about 89C.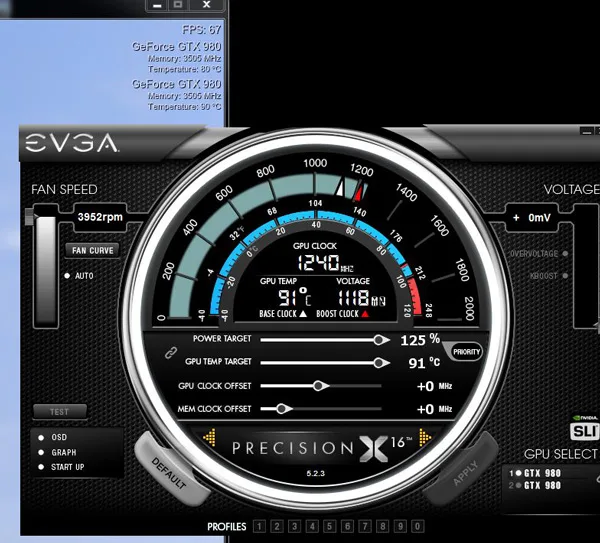 Next, we removed the backplate and ran Heaven again until the temperatures stabilized – at 89C – with 90C recorded as the highest blip as shown below: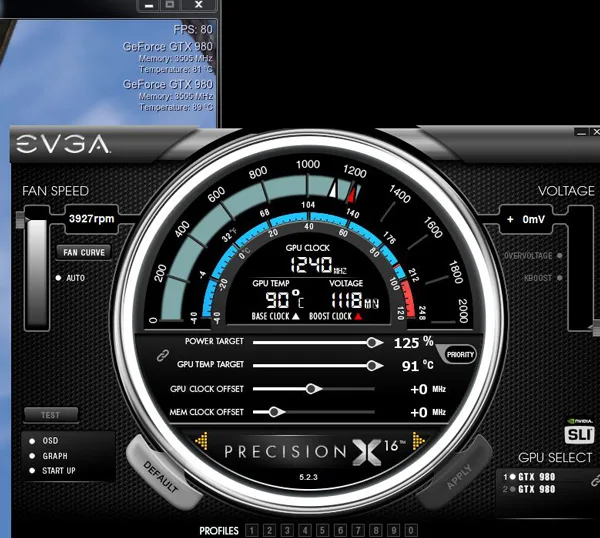 What? There are only two degrees Centigrade difference by removing the backplate over leaving it on? Well, the difference is day and night as far as fan noise goes. With the bottom card's backplate removed, it is able to allow sufficient air to keep the top card breathing and below the critical 91C for most of the time. In contrast, with the backplate left in place, the fans ramp up and down as the top card struggles to keep its temperatures below 91C where the GPU begins to throttle. Ideally, one would leave a space between the cards, but some motherboards do not offer this option and removing a GTX 980 backplate is a decent option to providing sufficient airflow.
We give props to Nvidia engineers for creating a very simple and yet practical solution for cooling the cards in sandwiched SLI by making a small portion of the GTX 980 backplate easily removable. The cards look much better with a PCB and all of their multi-GPU and single GPU customers benefit alike.
We are still restoring our articles' individual images that were lost in AlienBabeltech's drive and database crash that were published here when the site went live on Sunday. They should all be republished eventually, and new articles and reworked and updated evaluations will be published regularly. Check back here often as a new GTX 980 SLI mega review using 33 games,3 different Intel motherboard platforms and 3 overclocked CPUs including i7-4790K is finished and in the writing phase.
Happy Gaming!