HyperX has been shipping the HyperX Cloud II headset while we are just now reviewing the original HyperX Cloud which we received from Kingston last year. Fortunately, this review is relevant as the only significant upgrade to Cloud II that is missing from the original Cloud, features a newly designed USB sound card audio control box featuring 7.1 virtual surround sound and upgraded microphone audio. Fortunately, we have a 7.1 USB sound card by Diamond which provides upgraded audio and we are going to compare the Cloud to our old Grado SR60s.
Since the HyperX Cloud II supersedes the original Cloud that we are reviewing, some great deals on the older model can be had. For example, the original Cloud is $69.95 at Newegg.com with free shipping, while the Cloud II costs $99.95, which will give you a $30 savings!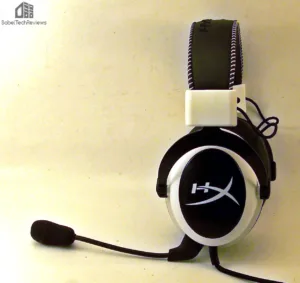 For an extra $30, the HyperX Cloud II features hardware-based 7.1 virtual surround sound. Also, the microphone is digitally enhanced with noise cancellation, auto gain control and echo cancellation via the USB sound card. HyperX Cloud II provides clearer voice quality, game sounds and reduced background noise.
The main difference between our Diamond USB sound card, is that with the Cloud II, gamers can toggle on 7.1 virtual Surround Sound to emulate having seven positional speakers for enhanced gaming – this is something that we cannot do, although the sound quality should be similar and an upgrade over notebook audio or even the basic integrated audio found on many motherboards. When listening to music, the 7.1 virtual Surround Sound should be Off, so the Cloud and the Cloud II will sound identical. Both HyperX Cloud and Cloud II are USB-powered for PC and Mac to amplify audio and voice, as well as 3.5mm stereo compatible for PS4 and Xbox One.
For the Cloud and Cloud II, the ear cups and headband are 100-percent memory foam to provide maximum comfort when gaming for hours. The fit, the drivers, the way they sound, and the physical characteristics of the headset are otherwise unchanged between the original Cloud and Cloud II, and this is what we will focus on.
The HyperX Cloud and Cloud II are available in several colors, including white and pink, and they are backed by a two-year warranty and HyperX/Kingston reliability. Here are the HyperX Cloud and Cloud II Features and Specifications.
HyperX Cloud/Cloud II Features and Specifications:
Headset:
Transducer Type: dynamic Ø 53mm
Frequency Response: 15Hz–25,000 Hz
Nominal SPL: 98±3dB
Operating principle: closed
Nominal impedance: 60 O per system
T.H.D.: < 2%
Power handling capacity: 150mW
Sound coupling to the ear: circumaural
Ambient noise attenuation: approx. 20 dBa
Headband pressure: 5N
Weight with microphone and cable: 320g
Cable length and type: 1m + 2m extension
Connection: single mini stereo jack plug (3.5 mm)
Microphone:
Transducer Type: condenser (back electret)
Polar Pattern: cardioid
Frequency Response: 50-18,000 Hz
Operating principle: pressure gradient
Power supply: AB powering
Supply voltage: 2V
Current consumption: max 0.5 mA
Nominal impedance: =2.2 kO
Open circuit voltage: at f = 1 kHz: 20 mV / Pa
THD: 2% at f = 1 kHz
Max. SPL: 105dB SPL (THD=1.0% at 1 KHz)
Microphone output: -39±3dB
Length mic boom: 150mm (include gooseneck)
Capsule diameter: Ø6*5 mm
Connection: single mini stereo jack plug (3.5mm)
Kingston's HyperX gaming division has been designing innovative and well-priced PC peripherals for gamers including their Cloud and Cloud II Headsets. The Cloud is actually a reworked and rebranded QPad QH-90, which has a great reputation and an already great design that Kingston's HyperX audio engineers tweaked for a more bass-heavy sound. If you are an online gamer they will probably sit right next to your PC and you may even have a stand or hook for them for instant access – if you ever take them off – they are that comfortable!
We have used this headset as headphones – thanks to its easily detachable mic boom – for many months. This included traveling with them, and especially for long waits at the dentist and doctors offices. And we have to say that the Cloud headset has saved our sanity when benching 290X CrossFire with the reference fans running at 100% for many hours.
One thing that is important to realize is that the HyperX Cloud is a gaming headset and not an audiophile headphone. They serve a different more all-around purpose than headphones as they are designed for online gaming with a detachable microphone boom so you can coordinate with your team or just chat. The Cloud is designed to be extraordinarily comfortable for long hours of LAN or online gaming. They are designed for primarily for gaming and secondarily for music.
The HyperX Cloud looks great and the choice of colors sets them far above most generic plastic-looking headsets in their price-range. However, it is important that a headset sound decent – one does not expect audiophile quality for $70, nor should one expect thundering bass and shimmering transient highs. We have used this headset for about a year and listened to music and played games on our PC, as well as listened to music from our notebook and from our SHIELD portable. During this evaluation period, we have also watched movies.
We used the HyperX Cloud together with our notebook's integrated sound, and on our desktop PC with the ASUS Z97 motherboard's integrated sound, as well as with a Diamond Xtreme Sound 7.1 USB Sound card on both of our PCs. We also traveled with our Cloud, mostly using it with our SHIELD portable which has very good audio.
Although the next standard for BluRay is 11.1 audio, the very best audio systems in the world – genuine audiophile systems – are stereo. This editor was privileged to evaluate and to own many high-end audiophile systems in the 1970s. A favorite personal stereo system included two pairs of stacked, mirrored and imaged Dahlquist DQ-10 speakers, a Mark Levinson modified Harmon-Kardon Citation tube pre-amp, Great American Sound amplifiers bridged to 1000W per channel, a Thorens turntable and a Grado Signature cartridge. Many years ago, this kind of system was far more affordable. Today a similar system might cost $100,000 or more.
Working as a consultant in high-end audio, this editor soon found that most specifications for audio are ridiculous over-exaggerations as most speakers and other audio components never come close to their advertised specifications.
A genuine audiophile system has no tone controls – the preamp is a straight wire with gain and neither are there balance controls which would add distortion to the pure sound. CD audio is still quite deficient sonically when compared to analog vinyl records according to audiophiles. Only DVD audio has finally caught up with the analog recordings of decades past.
Headsets are a great way to experience quality music and gaming. Well-built headsets tend to last a long time and one should buy one that is not only pleasing to the ears, but to the eyes. Comfort is also critical for anyone who listens to music or who plays games for more than a few minutes. The closed design Cloud excels in comfort as its headband and earcups are well-padded and do not pressure the head or ears. My old pair of open design Grado SR-60s were also very comfortable and they lasted me for well over a decade – until one of the drivers finally stopped working during this comparison.
And getting the look right is something HyperX has excelled at with the Cloud headset. They are quite conservative-looking – unless you pick pink – compared with some gaming headsets, and they look like a regular pair of closed audio cans with the mic boom removed. What about their sound? Head to the next page as we unbox them and check their specifications before we audition them.
Specifications, Features & Important Information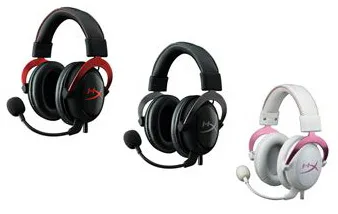 The HyperX Cloud/II is available in a red, gun metal, and limited edition pink, and has a modern design which delivers a clear and balanced sound for gaming or music.
The small high-performance speaker driver units cover the full-spectrum of sound down to mid-Bass at about 50Hz and these speakers can reproduce relatively clean midrange and treble frequencies to about 18KHz when measured according to industry standards. This solid headset of plastic and aluminum weighs 305 grams, which makes it a little heavy but not uncomfortable. Let's unbox them and then audition the HyperX Cloud, the Setup, and the Sounds
Here is the HyperX Cloud box.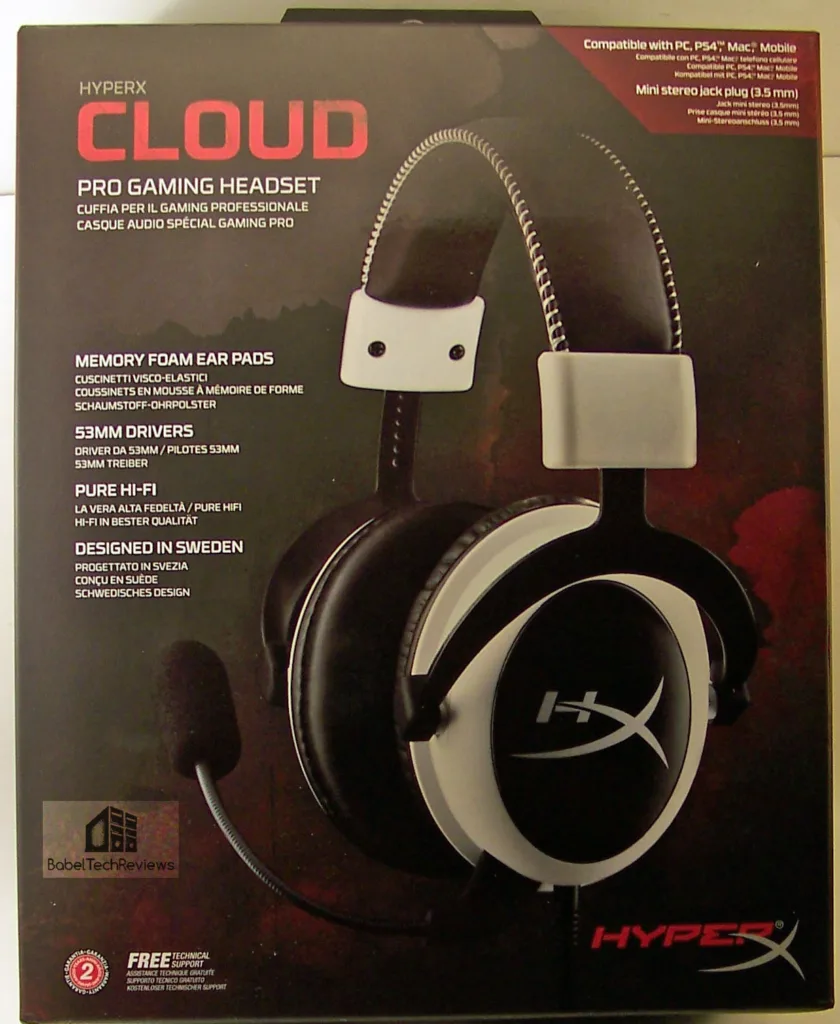 On the box, 'Professional' and 'Designed in Sweden' are emphasized.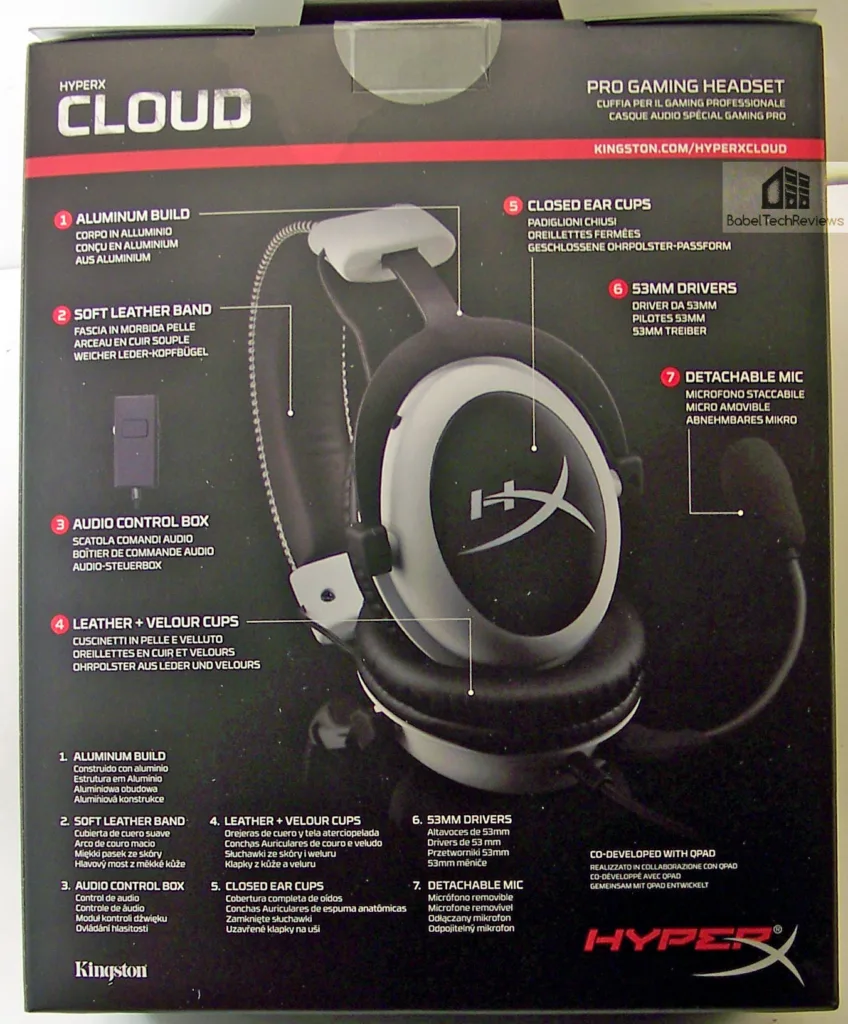 Also pictured is the other side of the box which has the the speakers' features in English and several other languages. Leather plus velour cups, and 53mm drives are stressed along with durability from its aluminum build and detachable mic boom.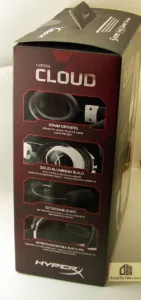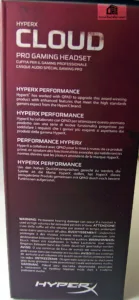 The end flaps give you a further illustration of use and performance. The contents are well-packed for shipping and our Cloud Headset arrived in perfect shape and ready to plug in and listen to music. There is a quick installation guide which shows the end user how to set up.
The Cloud headset draws its power from your device as it contains no amplifier to power both speakers. .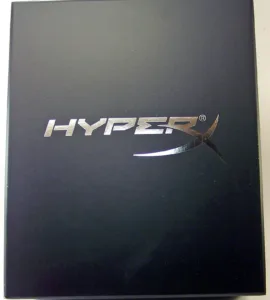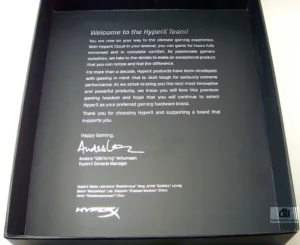 The inside of the box states the HyperX commitment to gamers.
Inside the box is a nylon carry bag to hold the headset and all accessories along with a separate compartment for the boom mic. It also includes a second pair of velour-like earpads which do not seal out sound as well as the leather pads, but may be best for hot, sticky days. The Cloud also includes a two-plug airplane adapter.
Here are the contents out of the box.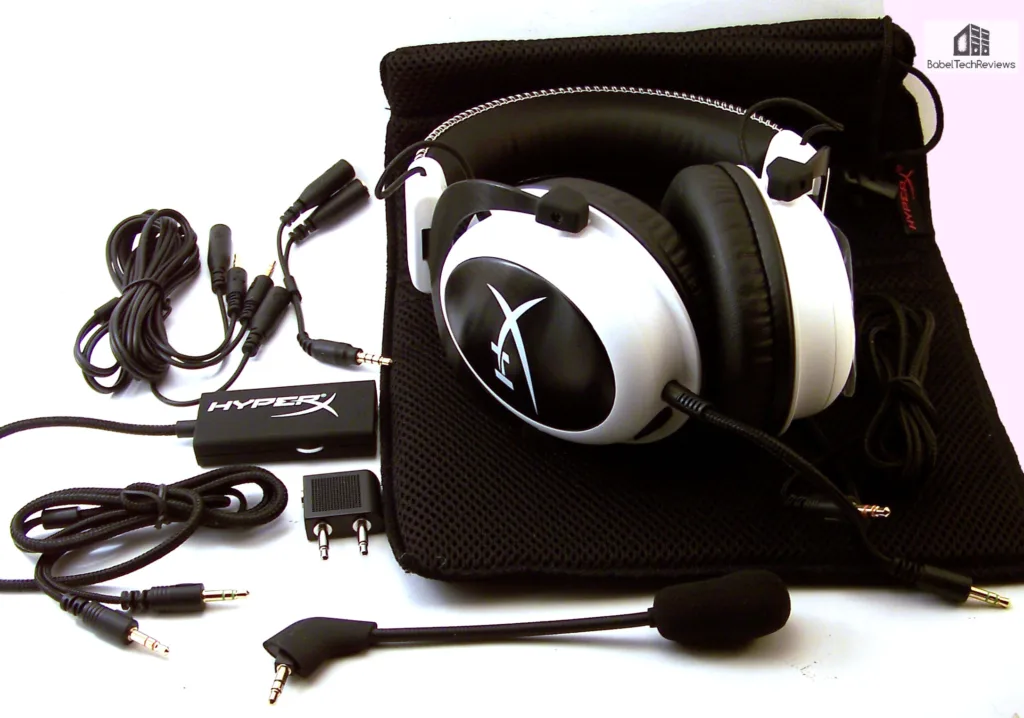 The microphone detaches from the headset which is a great feature, and a rubber plug is supplied to cover the hole when it is removed. The USB sound card module uses a 3.5mm port for the headphones and individual volume controls for the phones and mic. You can use the headset as a stand-alone pair of headphones by using any device with a 3.5mm audio plug.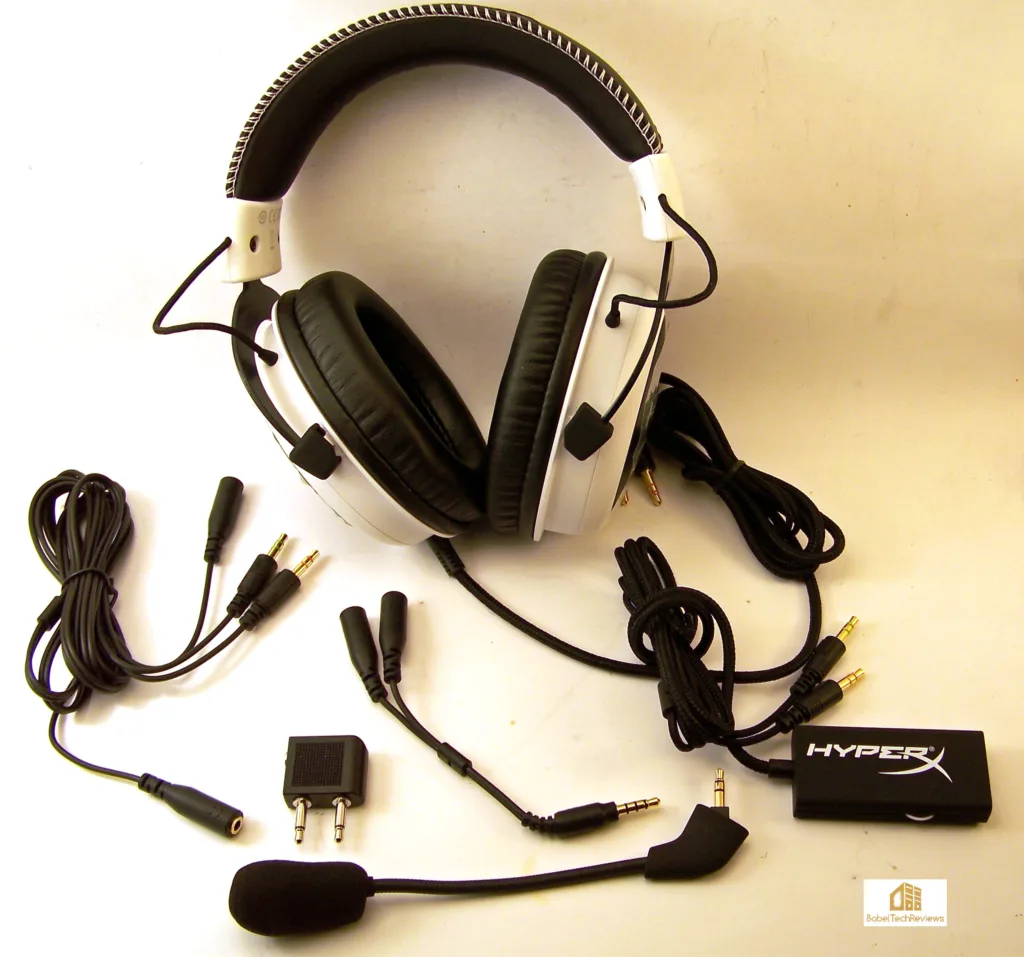 Installing the HyperX Cloud is simple. Plug in the jacks, adjust the volume knob and play music, a movie, or a game. The Cloud is well-padded and the leather earpieces are incredibly comfortable. "Cloud" is a great choice of name.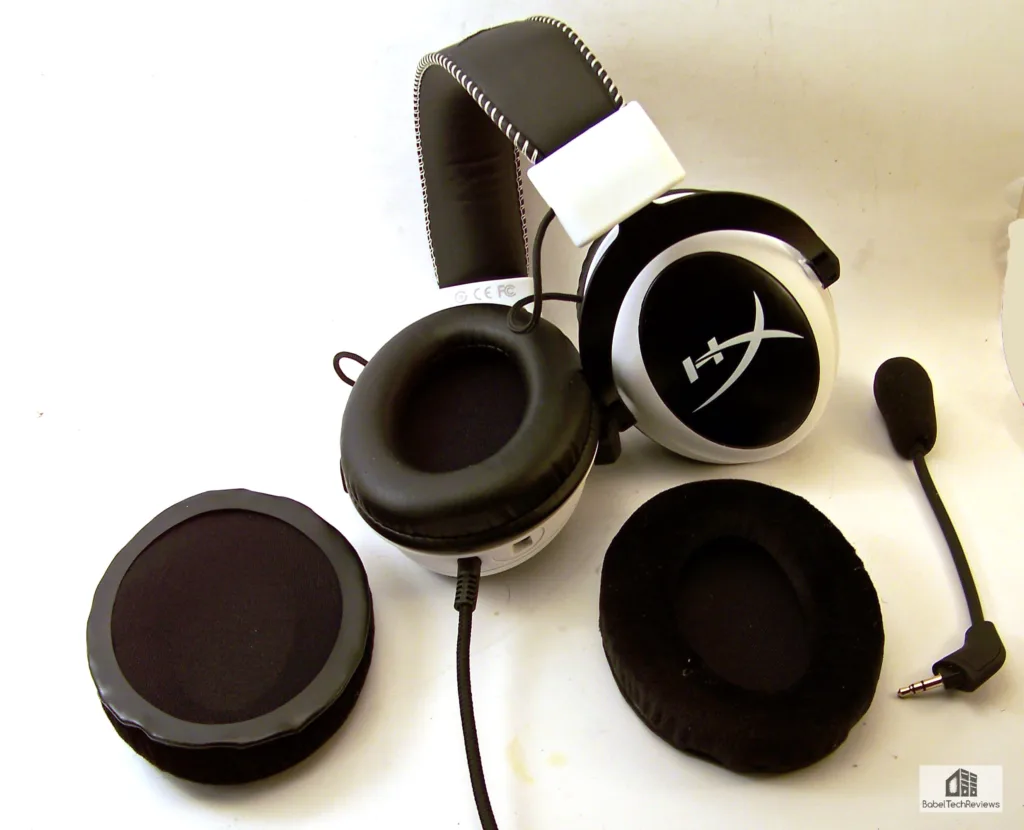 Check your setup and make sure that you have the highest quality sound available under Windows.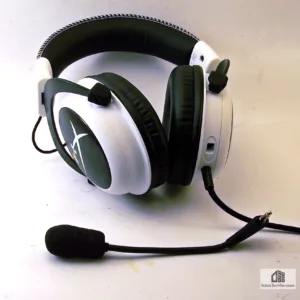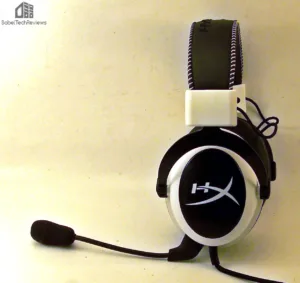 The Cloud is well equipped for gaming and music, so let's audition them critically.
Listening Tests
For our listening tests, we used the HyperX Cloud almost daily since we got them for everything audio-related including hours of gaming. Playing certain video games which used audio clues for positionality, requires the gamer to constantly listen for audio clues. Sensing accurate sound directionality is crucial to surviving in games like Thief and to Splinter Cell series. Multiplayer in CoD and in BF4 also require being able to tell direction.
The Cloud and the Grado both are stereo phones using two drivers, one for each ear, and the positionality is decent but not the same as with 7.1 headphones using a 7.1 source. And for music, 7.1 needs to be switched off as a stereo source sounds muddy when it is used. Professional gamers usually choose a 7.1 capable headset while music lovers and casual gamers usually pick stereo.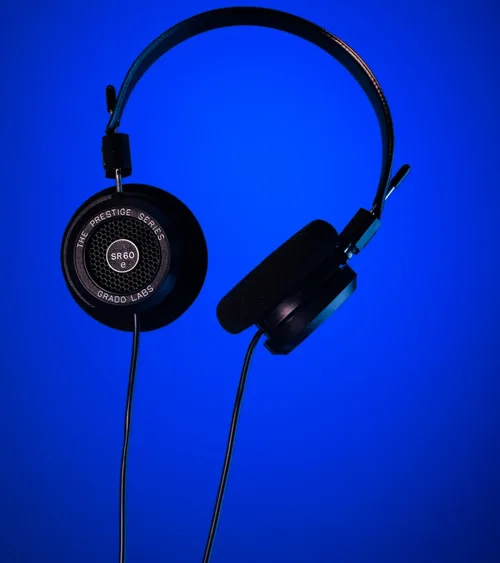 For music, we used the well-recorded DVDs of Steely Dan and Carlos Santana that this editor is very familiar with. We did not run synthetic audio tests as they absolutely cannot tell you how either of the headphones actually sound when listening to music. That is what trained ears are for!
First up, we compared our Grado cans, the SR60. Sadly this is our last run for these headphones as the right speaker shorted out for the last time during our testing, and the driver itself has failed after nearly 15 years. First of all, these two headsets are quite different in design. Grado SR60 are "open" design, which means you can clearly hear what is going on around you, while the HyperX Cloud is "closed" which means your ears are sealed by the ear cups against even loud background noises. Both sets are remarkably comfortable, and both may be worn for many hours on end.
As headphones for music, the Grado are more accurate and sound better overall, depending on what kind of music that you play. If it requires heavy bass, then you would probably prefer the Cloud. For Jazz and for general listening, the open air Grados speakers were clear and not tiring, even over extended sessions. You can hear the transients and the shimmering detail of the high end of the Grados that are somewhat muted in the Cloud. The Cloud tends to emphasize the treble and the bass, while not deemphasizing the midrange too badly.
Both headphones gave a good stereo stage with fair imaging, and the Cloud gave more bass than the Grados, although Grado was more accurate as far down as it went. The SR60s were never strident nor shrill, and listening to music never got tiring. Likewise, the Cloud exhibited good audio characteristics, and listening to music never got tiring.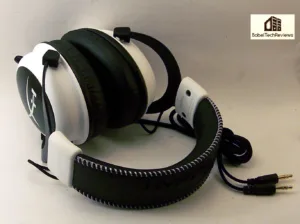 Although the HyperX Cloud headset is not primarily designed for music, they have a very decent and relatively accurate mid-bass response and fair imaging. The issue would be the 53mm drivers are all-purpose and a little too small for a truly full-range speaker, yet the bass is tweaked a bit to give the impression that it has a lower response for bass-heavy music, and the treble is slightly emphasized.
In contrast, the Grado SR 60s only use a 40mm driver and they have cut off the low bass, and as a trade-off, give a near-perfect mid-bass and midrange, and shimmering highs when the right album is played. The Grados were released in the mid-90s for $70, and they soon gained a reputation for being powered well by portable devices, as well as accurate, musical, and warm compared to most of the sonic junk that passed for headphones at the time.
The Grados have better imaging, yet the Cloud works overall better for gaming. It's a matter of what a gamer wants. If you want "audiophile" and accurate music reproduction, you do not want a gaming headset at all. If you want a great sounding set of cans that include a decent mic and are wonderfully comfortable for a reasonable price, the HyperX Cloud/II should be at the top of your list. The Grado SR60 is still available for music lovers who want music delivered without the colorations and extra resonances that the Cloud adds, and Grado Labs have a new series of headphones, run by the same family.
Of course, neither of these headphones are "audiophile" although the Grados are much closer to high-end, yet both sets of these cans can reproduce music very decently – each over their range with no bad surprises. A gamer has no trouble distinguishing positional audio reasonably, and for music, imaging is good. For seventy dollars, the HyperX Cloud is a great-looking and super-comfortable headset, which also sounds very good.
However, what makes the Cloud stand out is their comfort over extended wearing sessions even for hours. It is absolutely amazing for a closed pair of phones. The Grados are very comfortable, but they are open design, which means you hear what is going on around you. With the Cloud, you are sealed off in your own world.
The ability of the Cloud to block out the world is amazing. When we benchmark 290X CrossFire, we need to run the reference design fans at 100% to eliminate throttling. The noise level is actually painful – it's like sitting next to two hair dryers on high – and both of this reviewer's dogs will go outside when 290X CrossFire fires up. Using the HyperX Cloud with no music being played blocks most of the irritating sound, and even on low volume it is possible to concentrate on the music or the game without being distracted or annoyed – by anything.
Of course, it might be necessary to hear what is going on around you, In this case, HyperX has included as less blocking but just as comfortable, an extra pair of pads which are slightly more breathable. As far as build quality goes, the edge definitely goes to the HyperX Cloud with its aluminum and plastic construction plus braided cables, yet the Grados survived for us well over a decade. Choose your headphones or headset carefully since a quality pair are usually expected to last a long time.
Conclusion
Pros
The looks are extraordinary for a headset. The HyperX look and the contrasting colors give these headset an ultra-modern look without looking aggressive.
Good sound for their size and price.
Confort. The HyperX Cloud is extraordinarily comfortable for a closed pair of phones
Quiet. You can block out everything wearing your Cloud headset!
Cons
The headset does not travel well as it doesn't fold flat – they are not comfortable to walk around with hanging on your neck.
Ultimately, a better driver needs to be used for improved audio. Positioning is weak with the original Cloud that may be helped by the Cloud II USB 7.1 box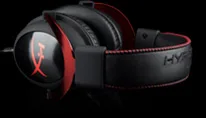 If you want to listen to music using a very good-looking and well-built headset, either of the HyperX Cloud gaming headsets are a good choice. The Cloud originally retailed for $150 and are now priced at $70 since the HyperX Cloud II arrived. The Cloud sounds as good as – and are likely better than – any other similarly-priced gaming headset with the additional value of looking and feeling great! They are recommended as a very good-sounding value on and are ideal for gamers looking for a comfortable headset that seals out the world. They are our go-to headset of choice for gaming and for music.
Recommended!
Stay tuned for a driver test featuring the Witcher 3 which has been updated with patch 1.05
Happy Gaming!