The PowerColor Red Devil Vega 56 review vs. the GTX 1070 Ti
The Red Devil RX Vega 56 arrived last week at BTR for evaluation from PowerColor and we have been benching it versus the Gigabyte RX Vega Liquid Cooled edition and versus the stock GTX 1070 Ti video card using 35 games. Although the Red Devil RX Vega 56 is an aftermarket RX Vega 56 with the same speeds as the reference card, the card has drastically altered its form into a large open-design triple-fan, 3-slot card.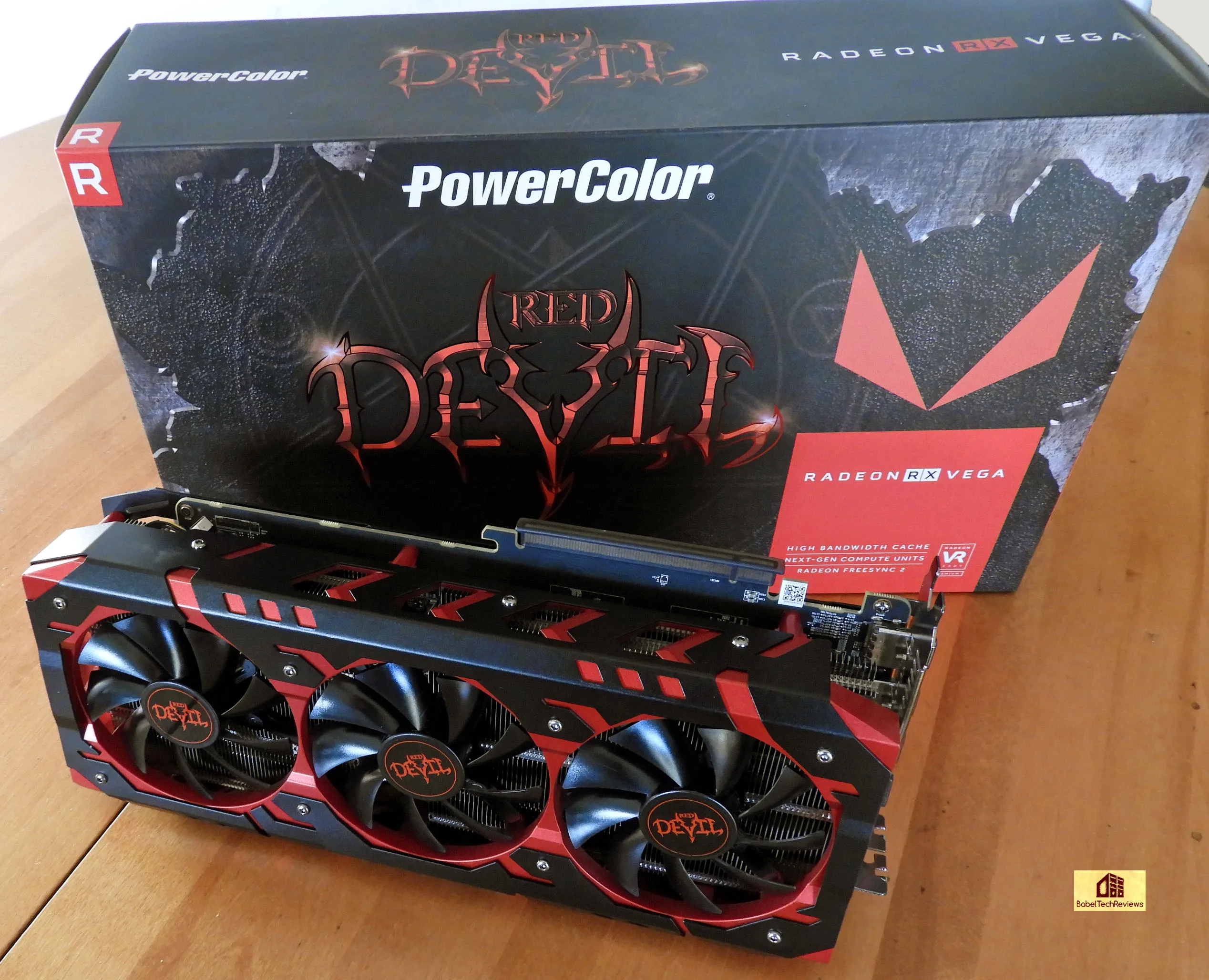 AMD released its Vega architecture in August, 2017 as the blower-style reference versions of the RX Vega 56 and Vega 64. We saw that even though they launched on immature drivers and with power issues, Vega was able to compete in performance with the GTX 1070 and the GTX 1080. In early November, NVIDIA released the GTX 1070 Ti to compete with the RX Vega 56 aftermarket versions and we are now going to compare their performance as well as compare the Red Devil Vega 56 with the Liquid Edition of the RX Vega 64.
The Red Devil RX Vega 56 vs. the reference RX Vega 56 and vs. Vega 64 LC
If you need a refresher on Vega 64 and 56 architecture, check out our first showdown between the GTX 1080 and the RX Vega 64 Liquid Cooled Edition or our introduction to Vega. The PowerColor Vega 56 is cut down having 56 compute units compared with the Vega 64's 64 compute units. The memory clocks of the reference RX Vega 56 and the PowerColor Red Devil Vega 56 are both set at 800 MHz, while all of the Vega 64 editions' memory are clocked to 945 MHz which brings a significant boost to performance.
The Liquid edition of the RX Vega 64 is significantly faster than the reference version, not only because it does not throttle, but because the liquid edition boosts to 1677 MHz while the reference edition is clocked to 1546 MHz. The PowerColor RX Vega 56 is clocked to the same boost as the reference Vega 56 at 1471 MHz. The big advantage of the PowerColor RX Vega 56 over the reference version is that the superior cooling of the Red Devil should maintain a steady clock without throttling.
The PowerColor Red Devil RX Vega 56 uses the same two 8-pin PCIe power connectors as the reference RX Vega 56. However, we saw the original reference RX Vega 56 get into trouble with its power delivery as being insufficient for overclocking vs. the GTX 1070 Ti. We also needed to increase the reference RX Vega's fan speed to 100% to maintain its overclock. The Red Devil Vega 56 features a 12 phase power delivery and a huge heatsink and 3 fans with 3 BIOSes for the ultimate in stable power delivery and air cooling for enthusiasts.
The primary competitor of the RX Vega 56 is the GTX 1070 Ti and we are going to use the Founders Edition at stock clocks to compare its performance with the PowerColor Red Devil RX Vega 56. The GTX 1070 Ti has been released at $449.99. Although the PowerColor Red Devil RX Vega 56 is listed on PowerColor's website, there is still no official mention of clock speeds nor is there a price yet set.
UPDATE: We have received word from PowerColor that the Red Devil RX Vega 56 has been priced at $599 and the 64 edition at $699.
Let's take a closer look and unbox the PowerColor Red Devil RX Vega 56.
A Closer at the PowerColor Red Devil RX Vega 56
The Red Devil RX Vega 56 is the largest video card that we have ever evaluated. We have been looking forward to aftermarket versions of the RX Vega 56 ever since we reviewed the reference version versus the GTX 1070 in August.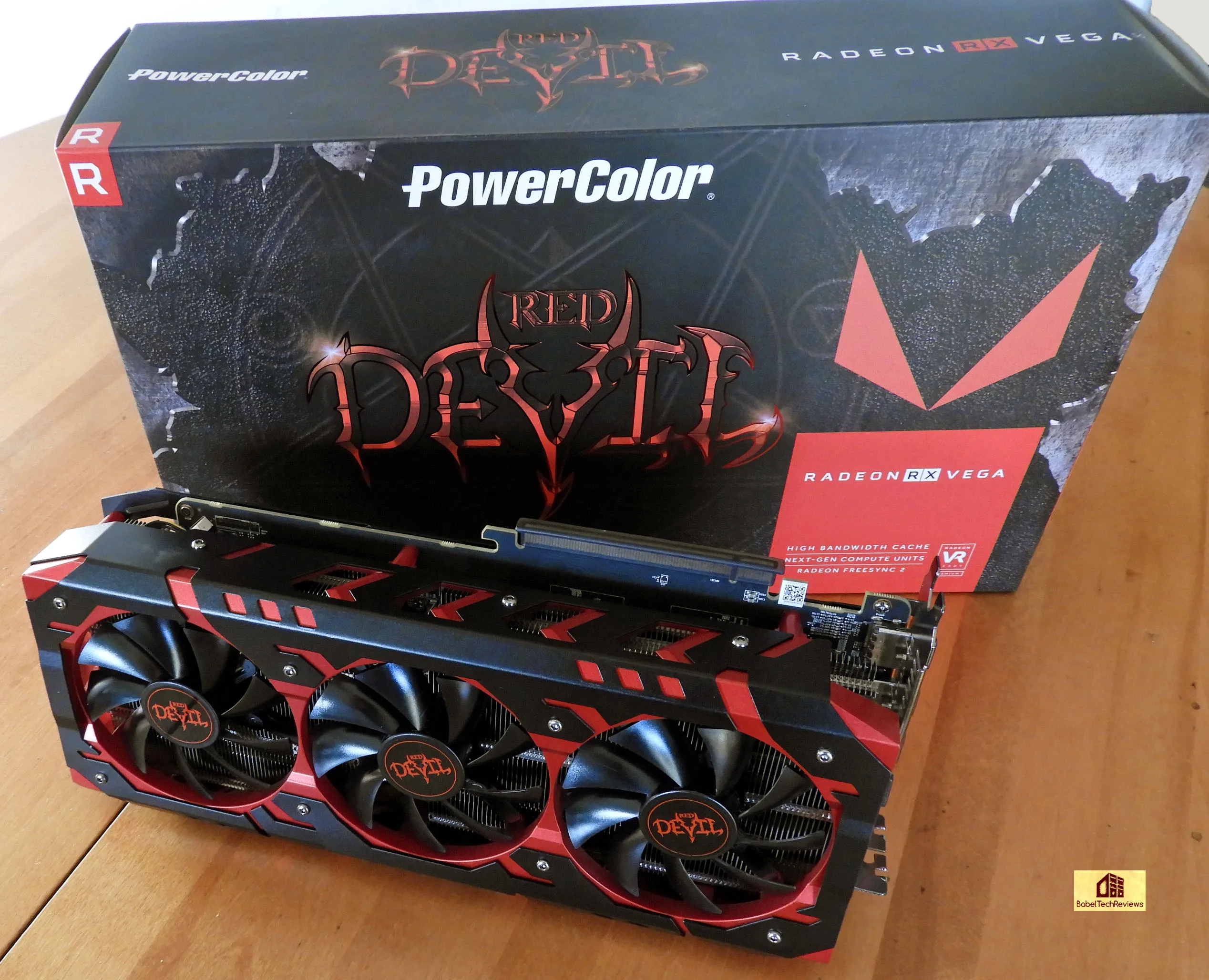 The Red Devil RX Vega 56 comes in a large box with its features advertised on the outside.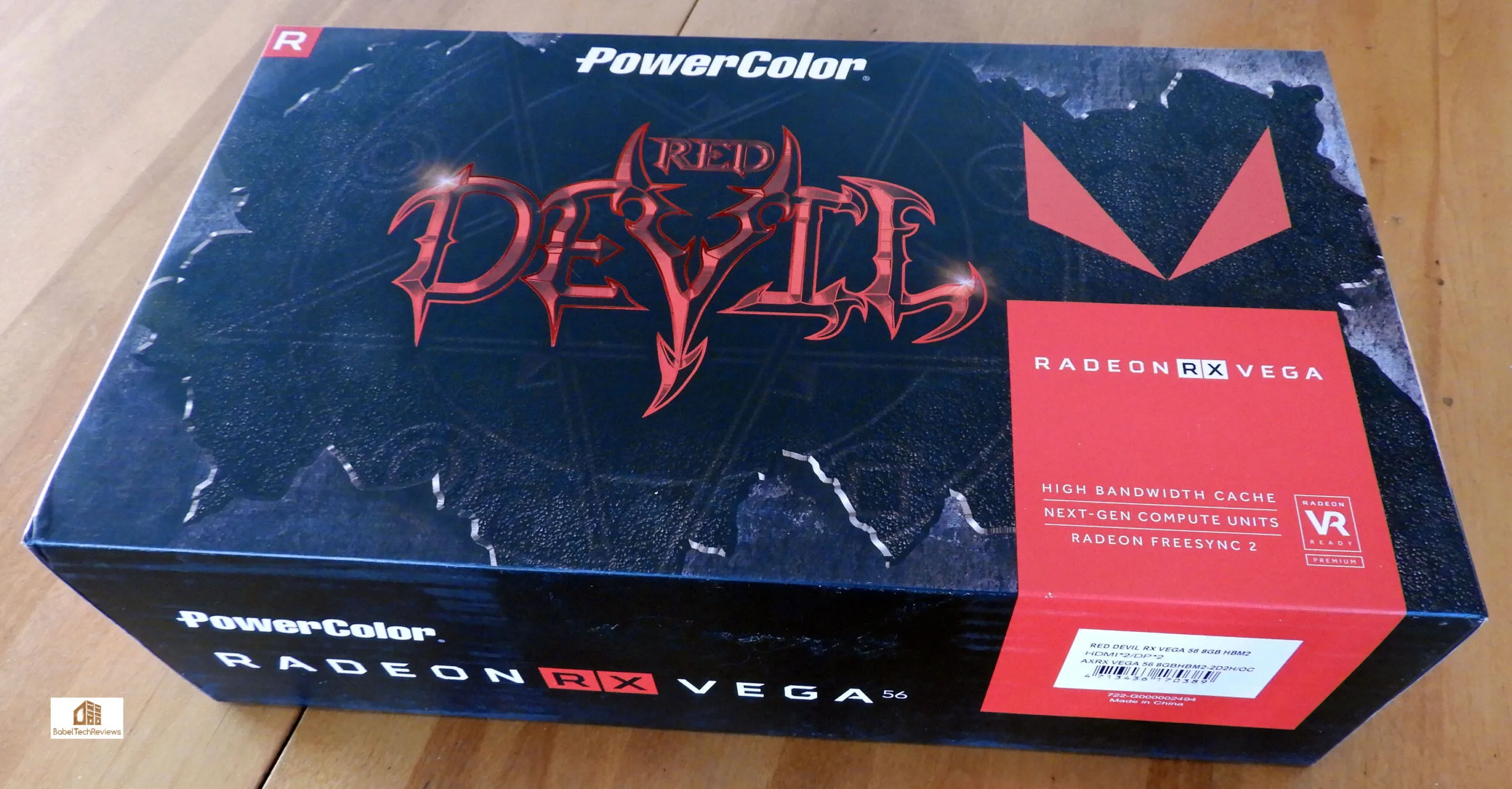 The back of the box also advertises its key features including extraordinary cooling and power delivery. BIOSes with 3 modes are introduced for Silent, Standard, and Boost clocks. Of course, it emphasizes 8 GB of advanced HBM2, that it is VR Ready Premium, and it works exceedingly well with FreeSync and FreeSync 2 displays.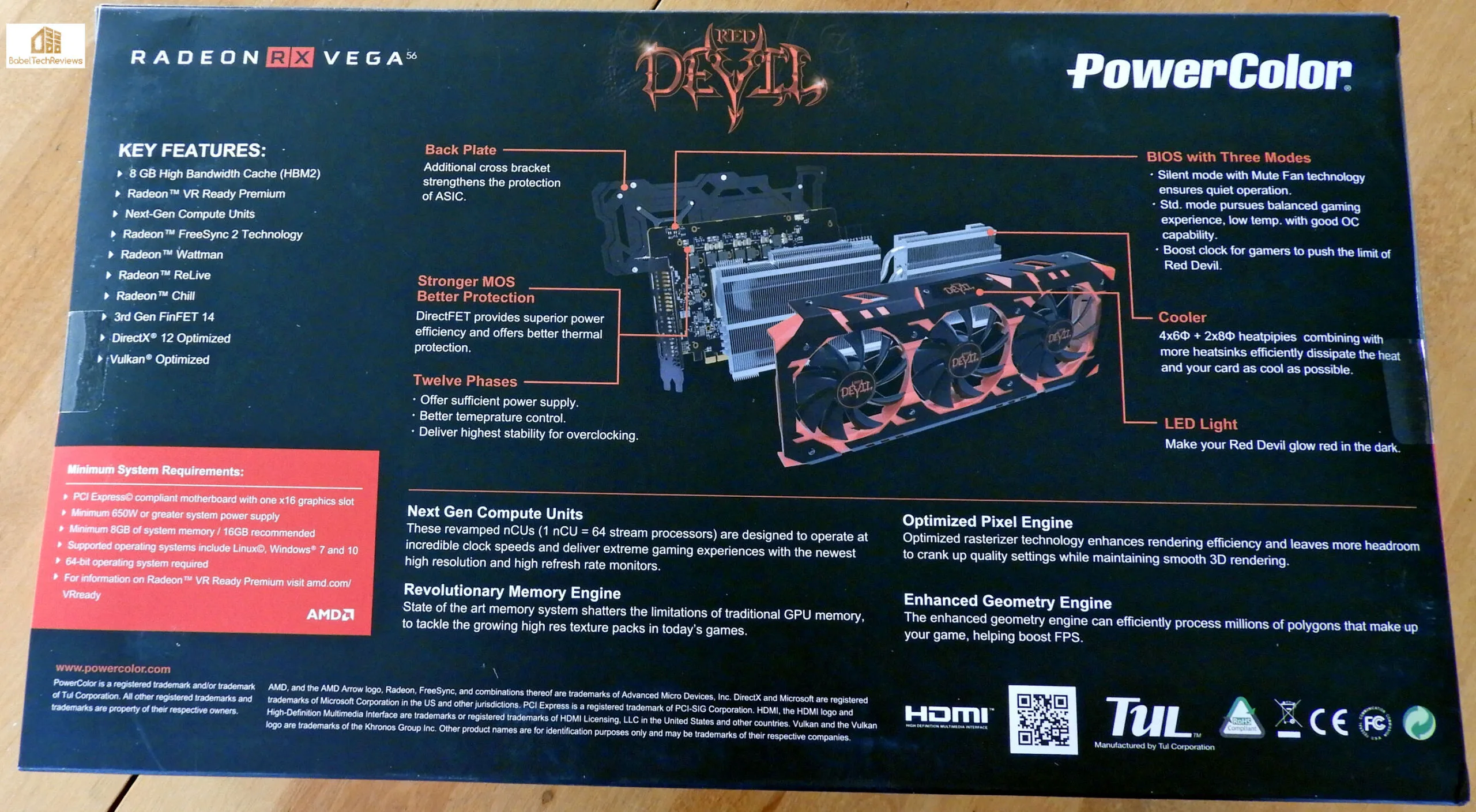 The bundle is very sparse consisting of a driver CD, a welcome and quick installation guide, plus an invitation to join the PowerColor Devil's Club.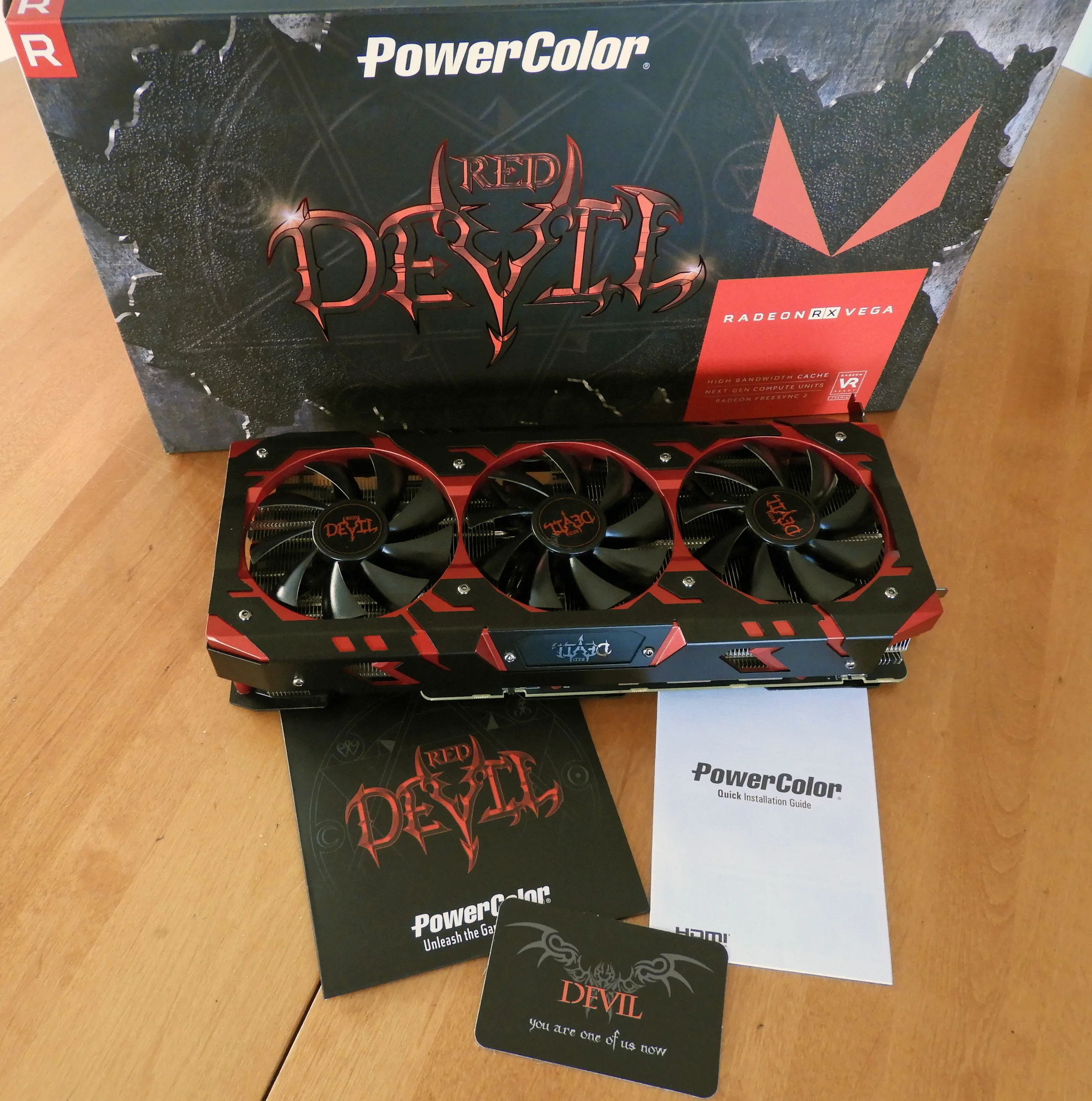 The Red Devil design is handsome in black and red and there is no way photos can convey the heft, weight, and size of this card.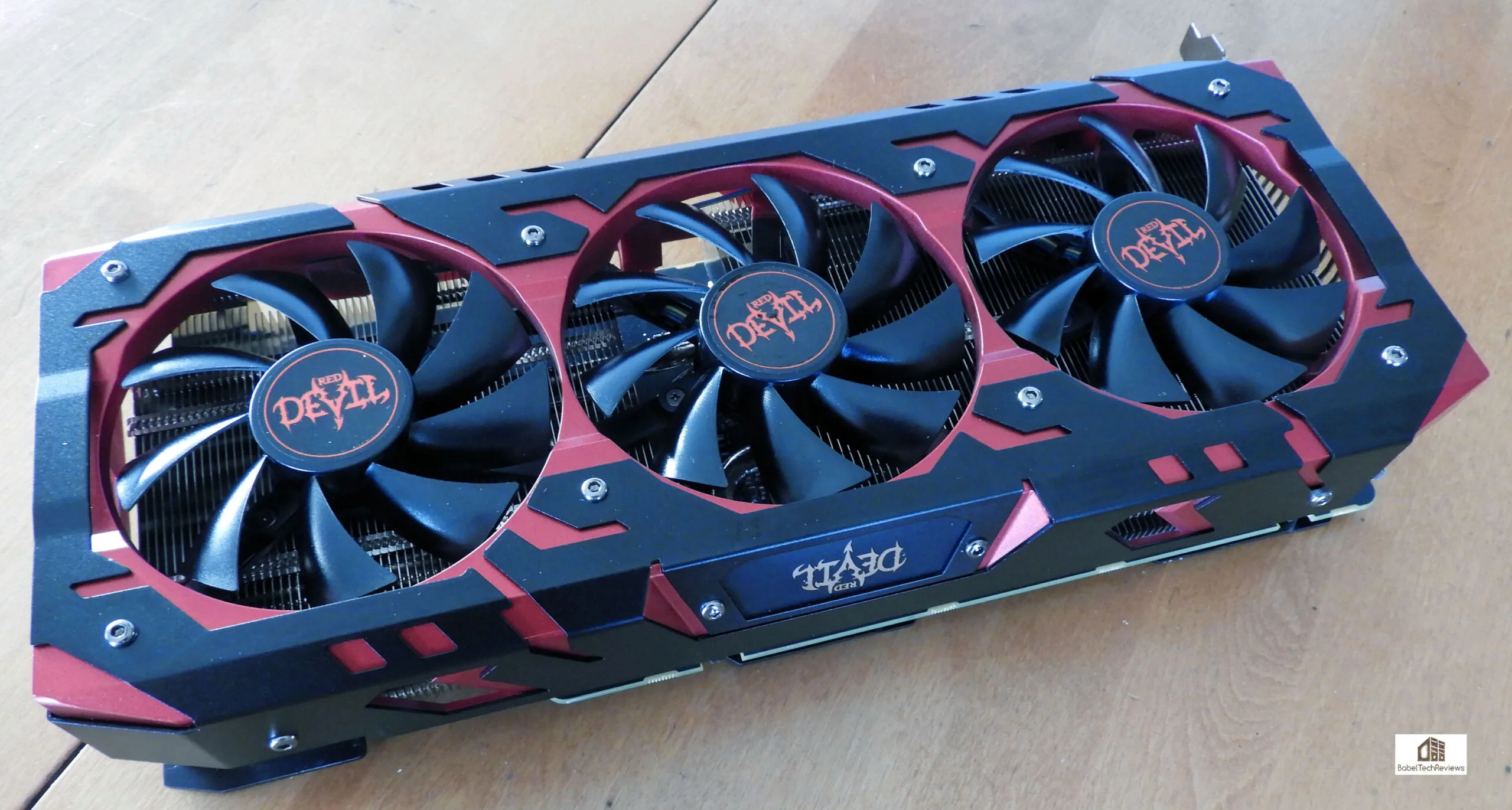 The PowerColor RX Vega 56 is a massive three-slot design, and here it is compared with a Red Devil RX 570 and with a GeForce GTX 1070 Ti .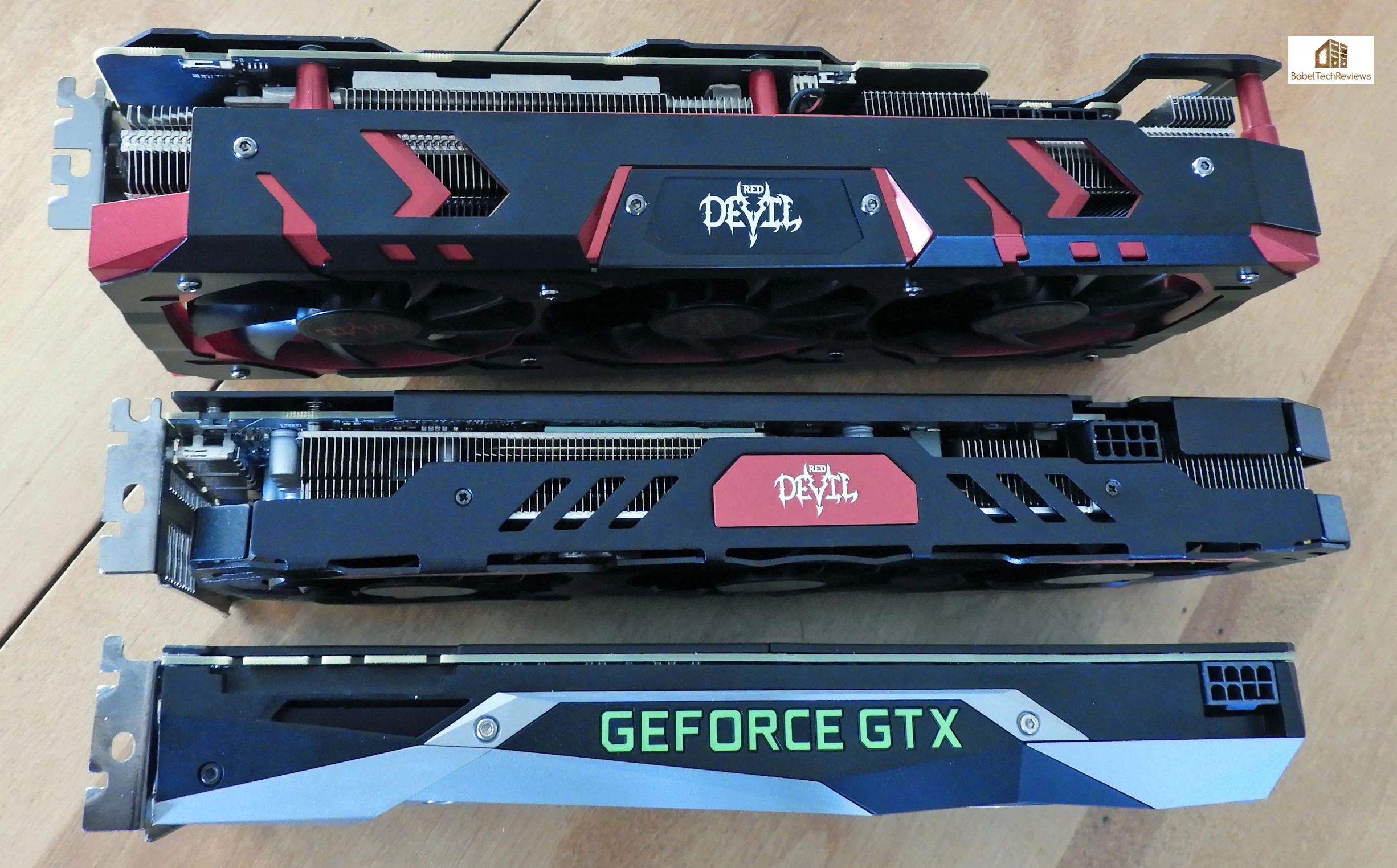 The Red Devil name is reserved for PowerColor's top cards. And from looking at the card, it appears to be one huge heatsink with 3 large cooling fans attached to it.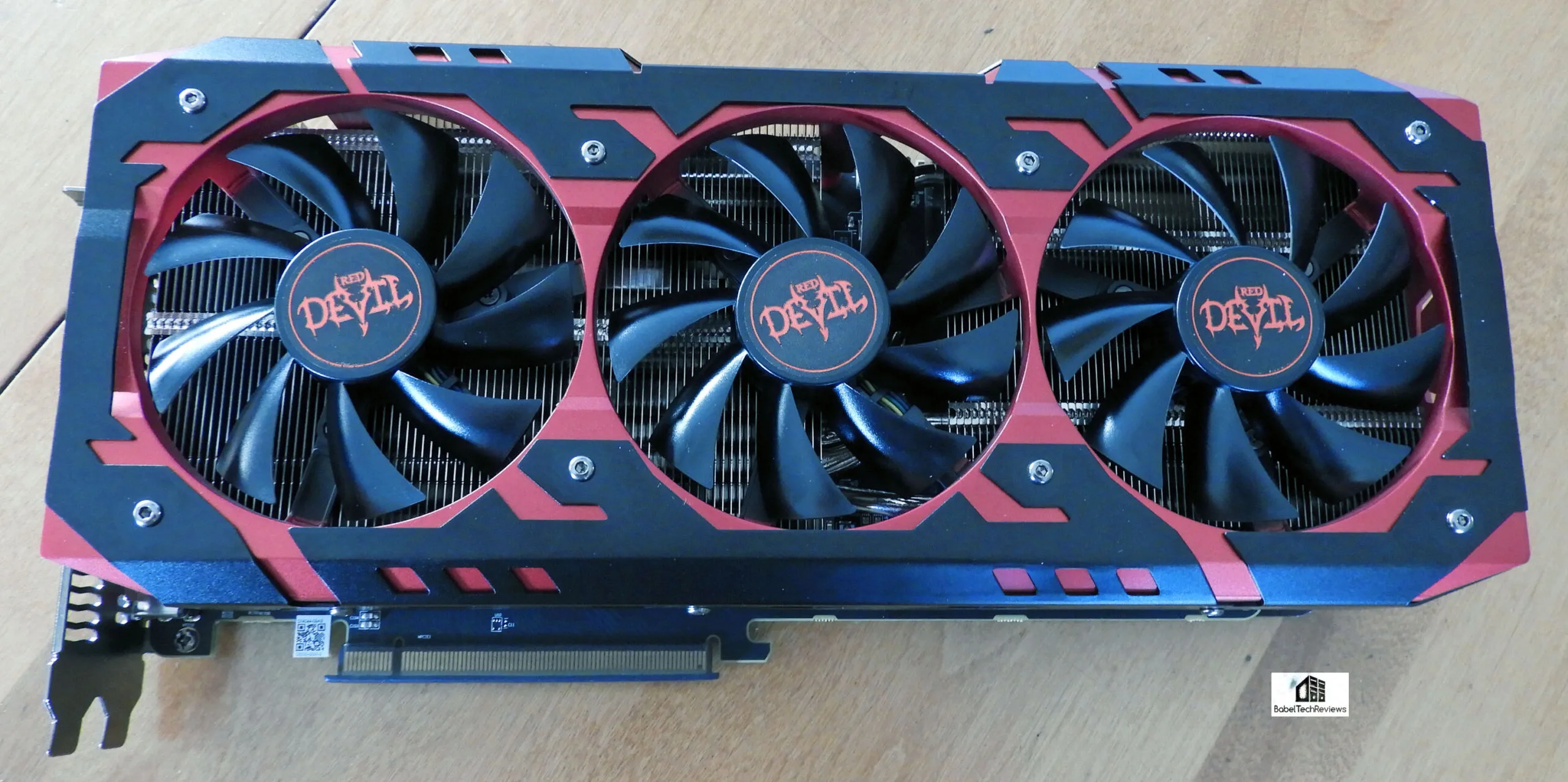 Turning it over, we see the Red Devil logo also on a very solid backplate.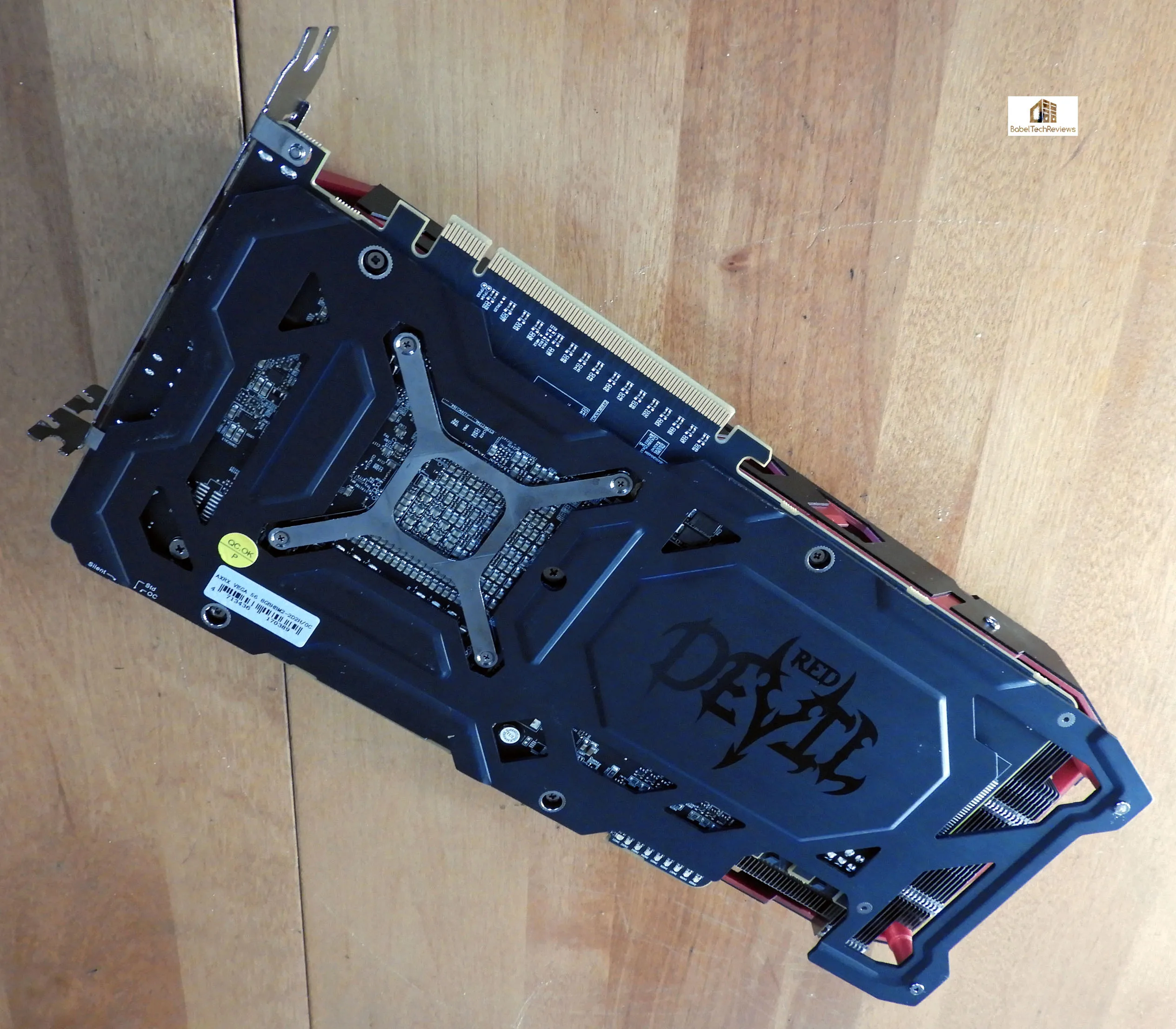 Here is another view of the Red Devil Vega 56 from the edge. The heatsink is a 3-slot design and it probably precludes using Red Devil RX Vega 56 CrossFire.

The Red Devil features two DisplayPorts and 2 HDMI connectors which are perfect for connecting a VR HMD and also a HDMI PC or TV display.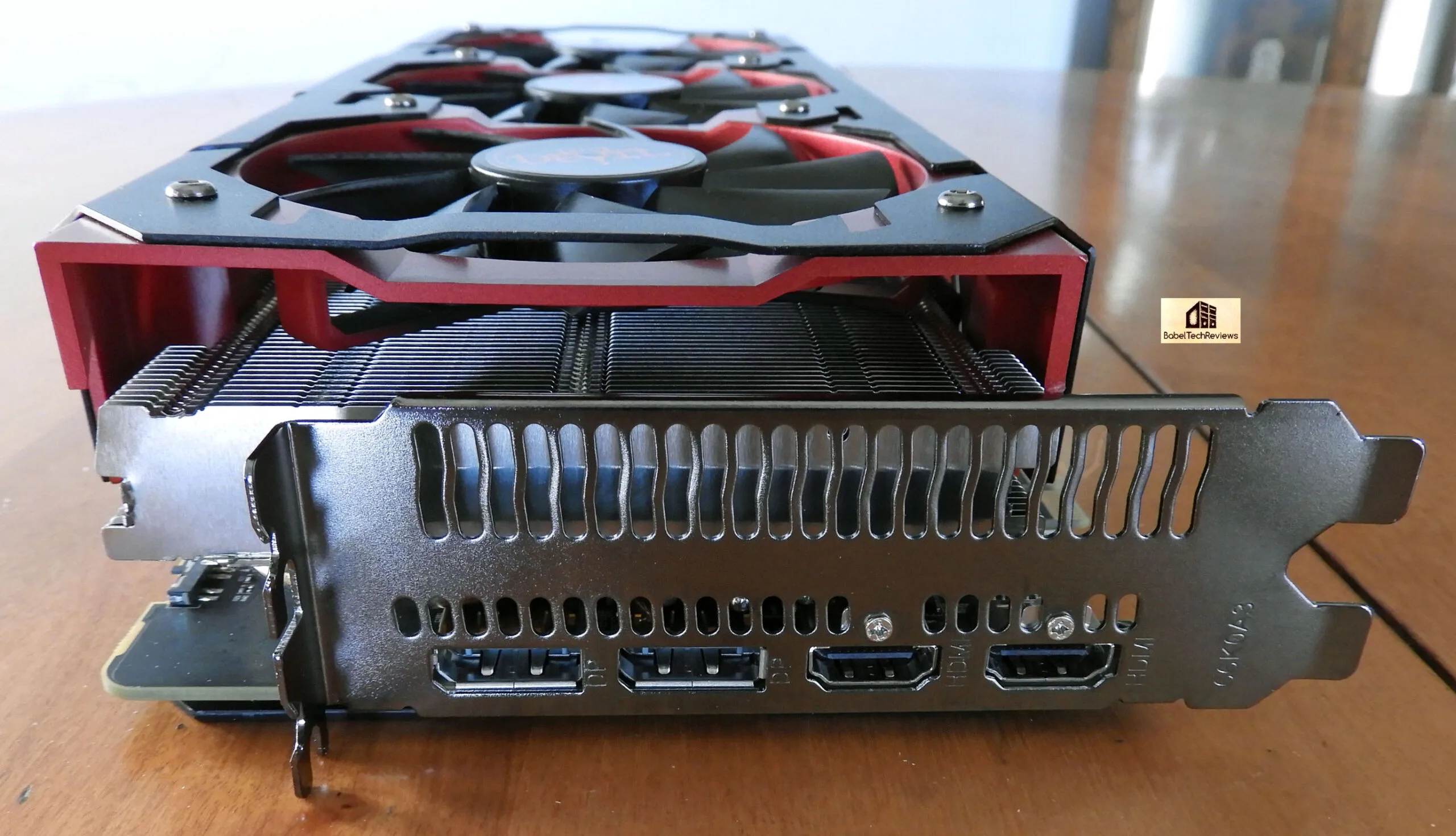 Here is the card from the other end.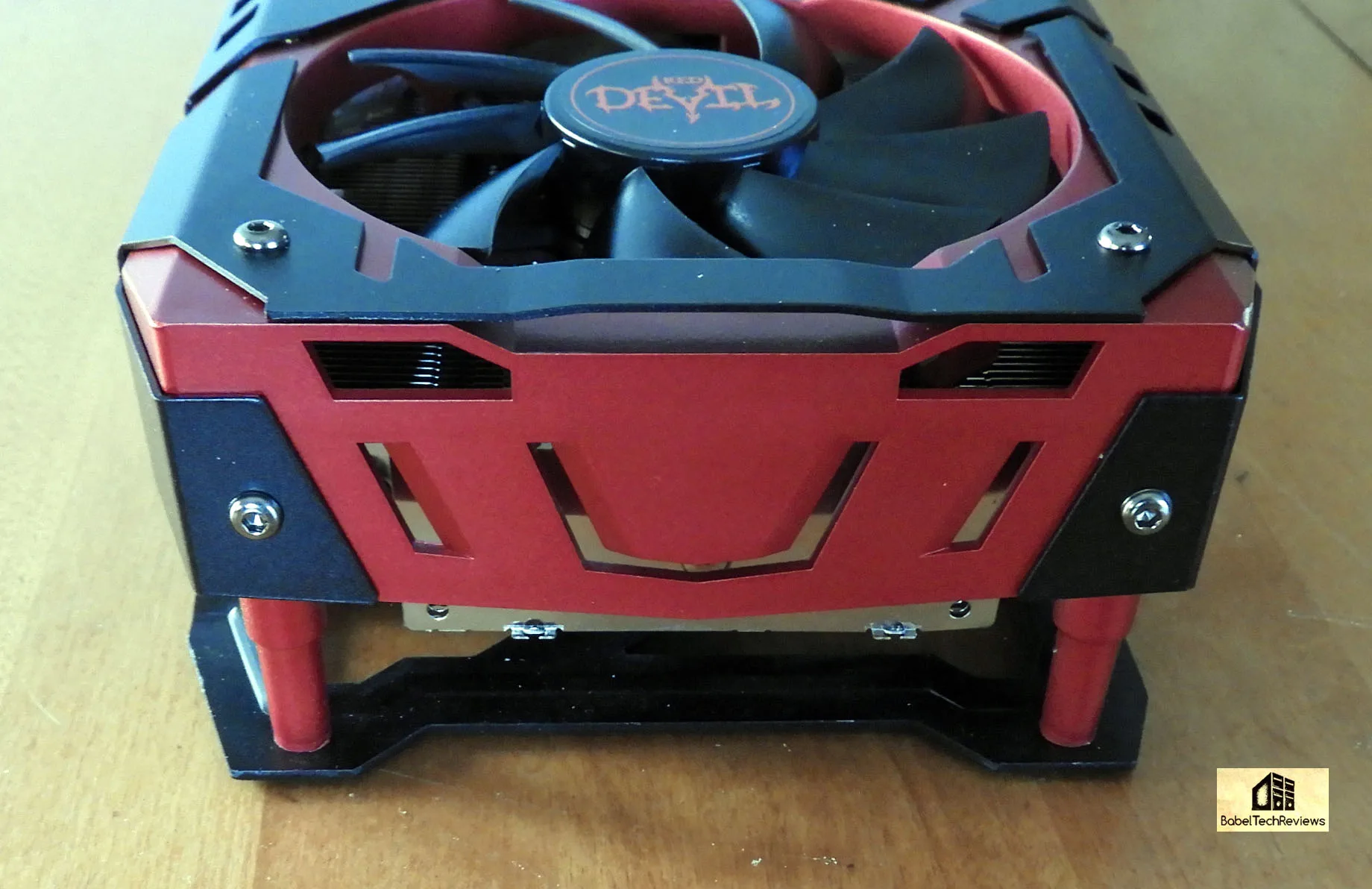 We installed it in the normal manner into our PC and it is just over 1 foot long. But since we have a vertical mounting bracket, why not? The Red Devil logo lights up.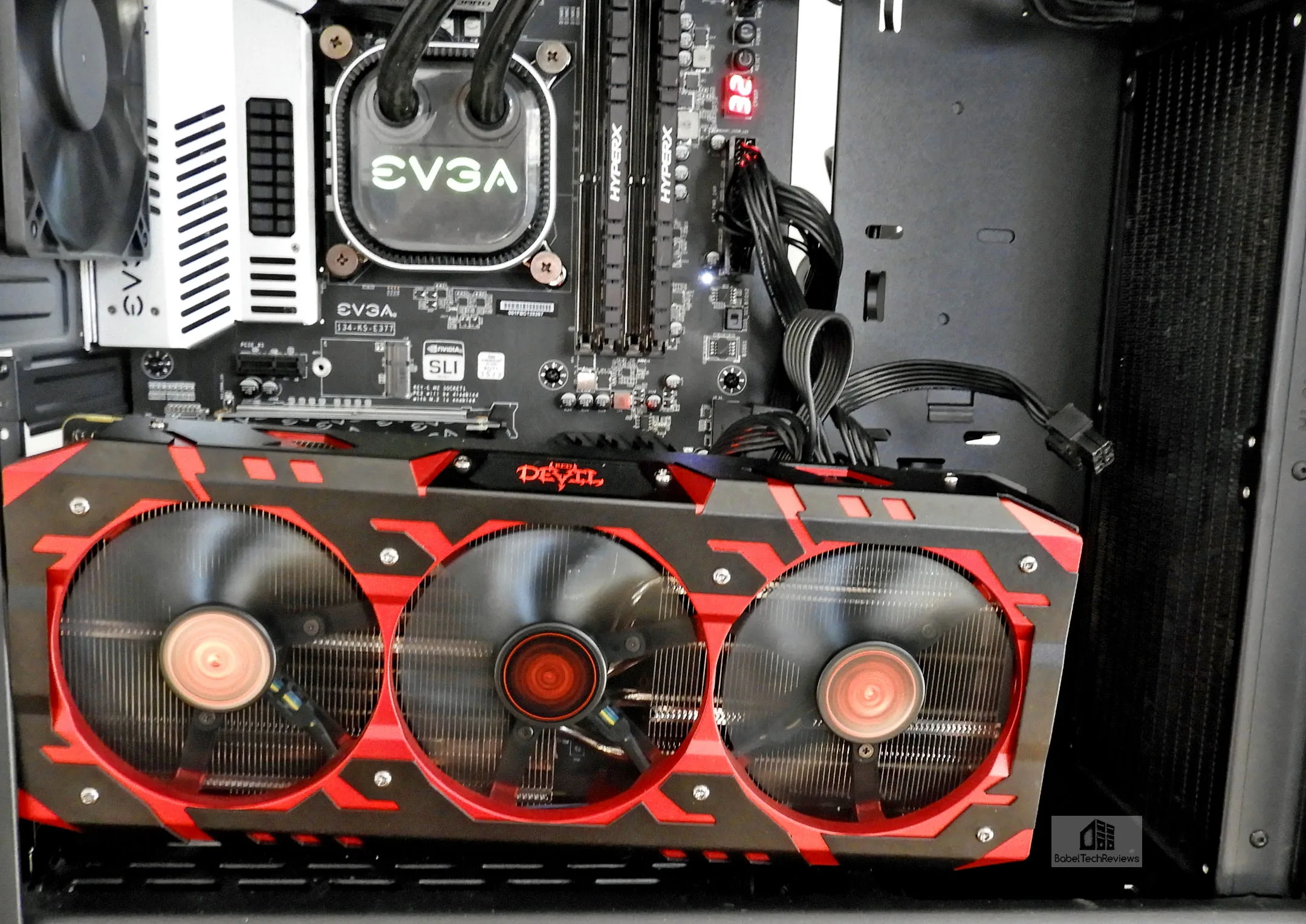 The Red Devil's large heatsink is clearly visible behind the 3 spinning fans. Unfortunately, the card is so wide there isn't enough room to close the side panel of our EVGA DG-77 case so as to give the card enough airflow, so we returned it to its normal position for benchmarking, taking care to lock it down so it doesn't put undue strain on our PCIe slot. It is a very heavy card and one must take care at all times to support it while installing it.
There is no doubt that the Red Devil RX Vega 56 is a very good-looking card with an incredible cooling system. It also boasts a 12 phase power delivery system which means it should also be able to overclock beyond its core clock of 945 MHz and memory clock of 800 MHz. Of course, the most important metric of any card is its performance so we will check it out after we look at our test configuration and preliminary overclocking.
Test Configuration
Test Configuration – Hardware
Intel Core i7-8700K (HyperThreading and Turbo boost is on to 4.6 GHz for all six cores. Coffee Lake DX11 CPU graphics.
EVGA Z370 FTW motherboard (Intel Z370 chipset, latest BIOS, PCIe 3.0/3.1 specification, CrossFire/SLI 8x+8x), supplied by EVGA
HyperX 16GB DDR4 (2x8GB, dual channel at 3333MHz), supplied by HyperX/Kingston
GTX 1070 Ti 8GB, Founders Edition, stock clocks, supplied by NVIDIA
PowerColor Red Devil RX Vega 8GB, PowerColor clocks, supplied by PowerColor
RX Vega 8GB, Gigabyte Liquid-cooled Edition, at stock clocks
2 x 240GB HyperX SSD, supplied by Kingston, for the OS – 1 for AMD and 1 for NVIDIA.
2 x 2TB Seagate FireCuda 7200 rpm SSHD for storage
1.92TB Micron Enterprise SSD for storage
EVGA 1000G 1000W power supply unit
EVGA CLC 280mm CPU water cooler, supplied by EVGA
Onboard Realtek Audio
Genius SP-D150 speakers, supplied by Genius
EVGA DG-77 mid-tower case, supplied by EVGA
ASUS 12X Blu-ray writer
Monoprice Crystal Pro 4K
LG Electronics 43UJ6300 43-inch 4K UHD HDR 3840 x 2160 TV
Test Configuration – Software
NVIDIA's GeForce 388.59 WHQL drivers. High Quality, prefer maximum performance, single display. See Control panel image for settings.
AMD's Adrenalin 17.12.1 drivers used for AMD cards. Four games were benched using 17.11.1 because of instability with RX Vega 64. See Control panel image for settings.
VSync is off in the control panel.
AA enabled as noted in games; all in-game settings are specified with 16xAF always applied
All results show average frame rates including minimum frame rates shown in italics on the chart next to the averages in smaller font.
Highest quality sound (stereo) used in all games.
Windows 10 64-bit Home edition. All DX11 titles were run under DX11 render paths, DX12 titles are run under the DX12 render path, and two Games use the Vulkan API (and 1 game also uses the OpenGL path)
Latest DirectX
All games are patched to their latest versions at time of publication.
WattMan for overclocking and AMD settings.
OCAT, latest version
Core Temp, latest version 1.11
CPUz, latest version 1.81.1 x64
Fraps, latest version
35 PC Game benchmark suite & 4 synthetic tests
Synthetic
Firestrike – Basic & Extreme
Time Spy DX12
VRMark Orange Room
VRMark Cyan Room
VRMark Blue Room
DX11 Games
Crysis 3
Metro: Last Light Redux (2014)
Grand Theft Auto V
The Witcher 3
Fallout 4
Assassin's Creed Syndicate
Just Cause 3
Rainbow Six Siege
DiRT Rally
Far Cry Primal
Call of Duty Infinite Warfare
Battlefield 1
Watch Dogs 2
Resident Evil 7
For Honor
Ghost Recon Wildlands
Mass Effect: Andromeda
Prey
DiRT 4
Project CARS 2
Middle Earth: Shadow of War
Assassin's Creed Origins
Destiny 2
Star Wars: Battlefront II
DX12 Games
Tom Clancy's The Division
Ashes of the Singularity
Ashes of the Singularity: Escalation
Hitman
Rise of the Tomb Raider
Deus Ex Mankind Divided
Civilization VI
Sniper Elite 4
Total War: Warhammer II
Forza 7
Vulkan Games
DOOM
Wolfenstein: The New Order
AMD Radeon Global Settings:
AMD's brand new Adrenalin drivers bring some welcome features but we don't see a lot of performance improvement over recent older drivers. The Link and Overlay monitoring tools are a very nice feature as are many other new additions. We especially like the ability to now save Profiles.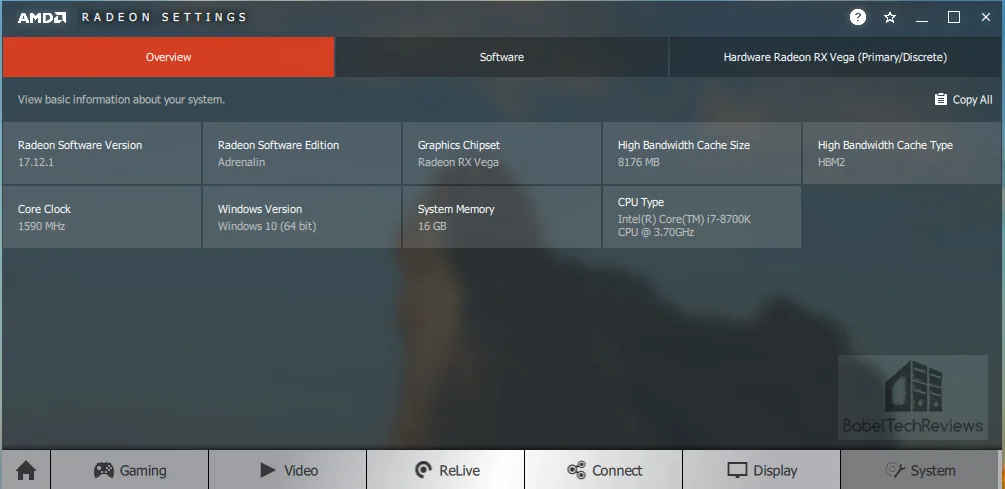 Here are the global graphics settings that we use in AMD's control panel. We use WattMan to set the power, fan, and temperature limits to their maximums.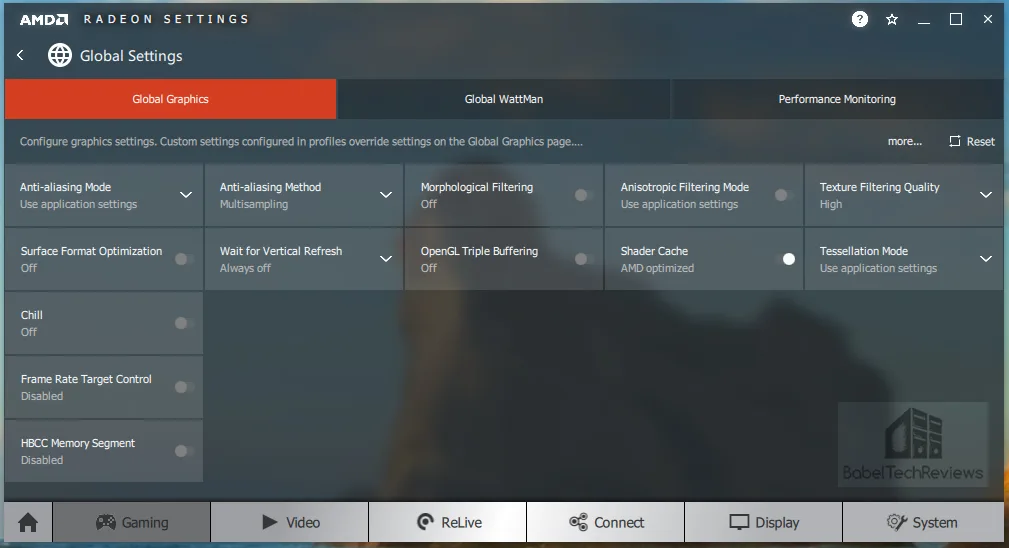 Using WattMan for our regular non-overclocked settings for both of our RX Vega cards, the Power Limit is set to +50%, the temperature is allowed to reach the maximum, and the fan is also allowed to spin up to its maximum, but the core and memory clocks are unchanged. These settings allow each card to reach their potential without throttling, and the clocks are very steady.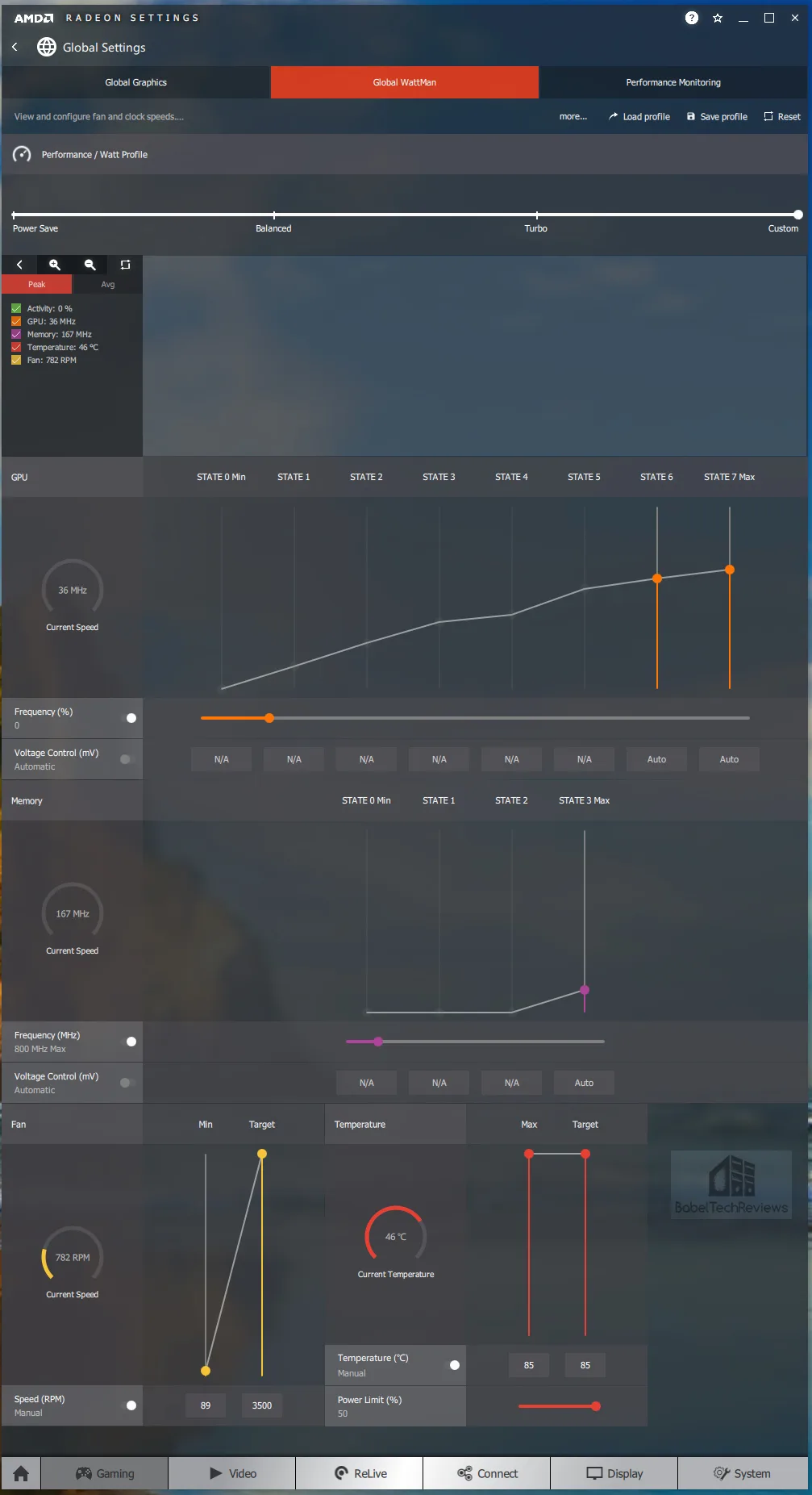 Even with the latest Adrenalin 17.12.1 drivers, WattMan occasionally does not always hold its settings between reboots, so it's important to check and reset each overclock as needed. However, we have noted that the latest drivers brings some very welcomed features including the ability to save and load custom presets. We also noted few performance increases over 17.11.1 and we had to benchmark 4 games using older drivers for our RX Vega 64 because of instability with the latest drivers.
Nvidia Control Panel settings:
We used MSI's Afterburner to set the power and temp limits to their maximums.

Single Display Performance mode is no longer available as an option.
Let's check out Red Devil RX Vega 56 overclocking next.
Overclocking the Red Devil RX Vega 56
We didn't spend a lot of time overclocking the Red Devil RX Vega 56. There are three BIOSes on the card and we picked the performance BIOS which had the highest fan rpm and loudest noise for our benchmarking. The standard BIOS is significantly quieter, and the performance BIOS is only about 1-2% performance lower than with the Boost BIOS. The silent BIOS is very quiet and it further drops performance by as much as 1-2%.
First we ran Heaven 4.0 at our regular benching settings with the Power and Temperature limits set to their maximum. We see 1558 MHz average core clock.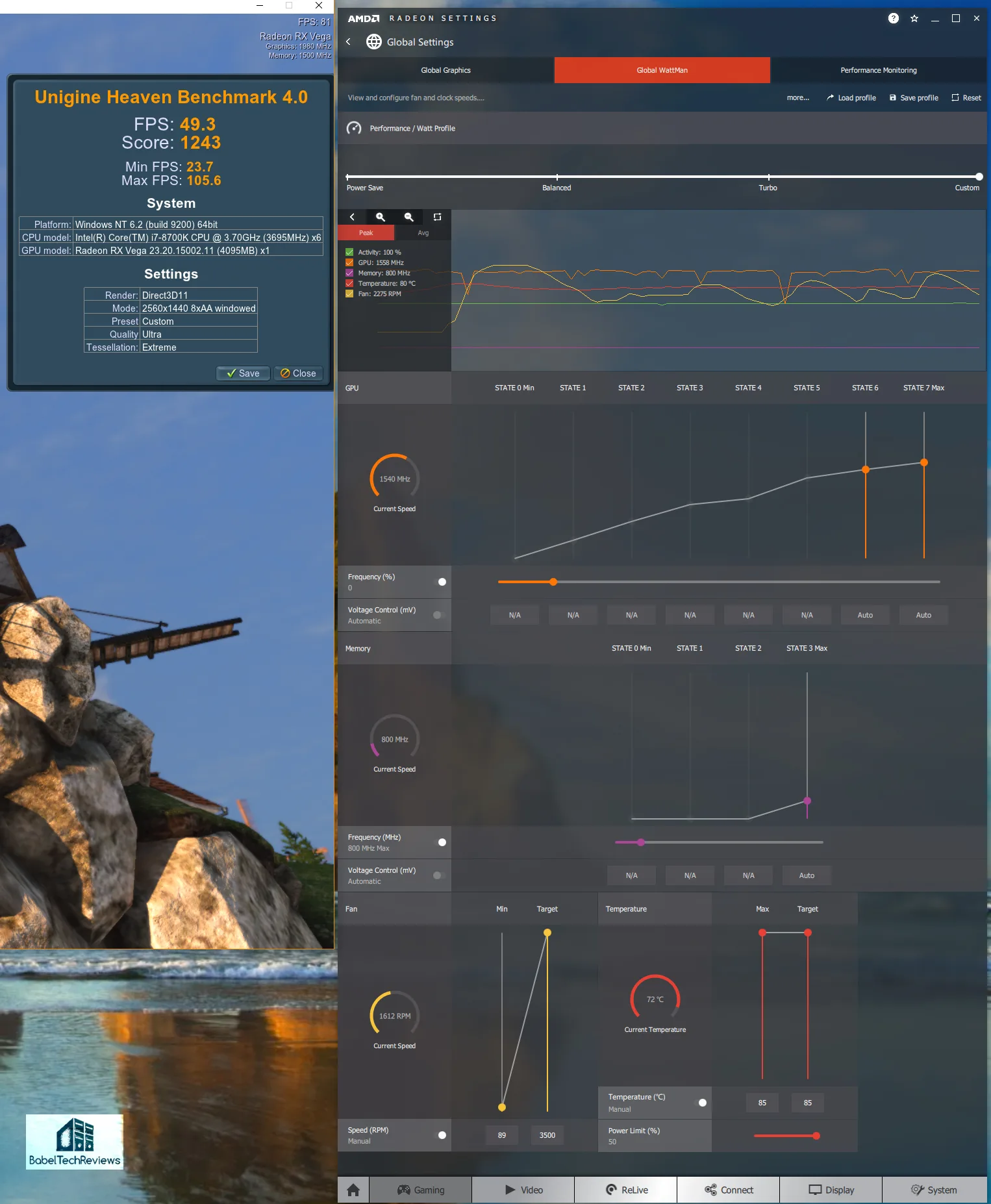 Here is the screenshot of the results of looping Heaven 4.0 continuously but with the HBM2 overclocked from 800 MHz to 920 MHz at the edge of instability.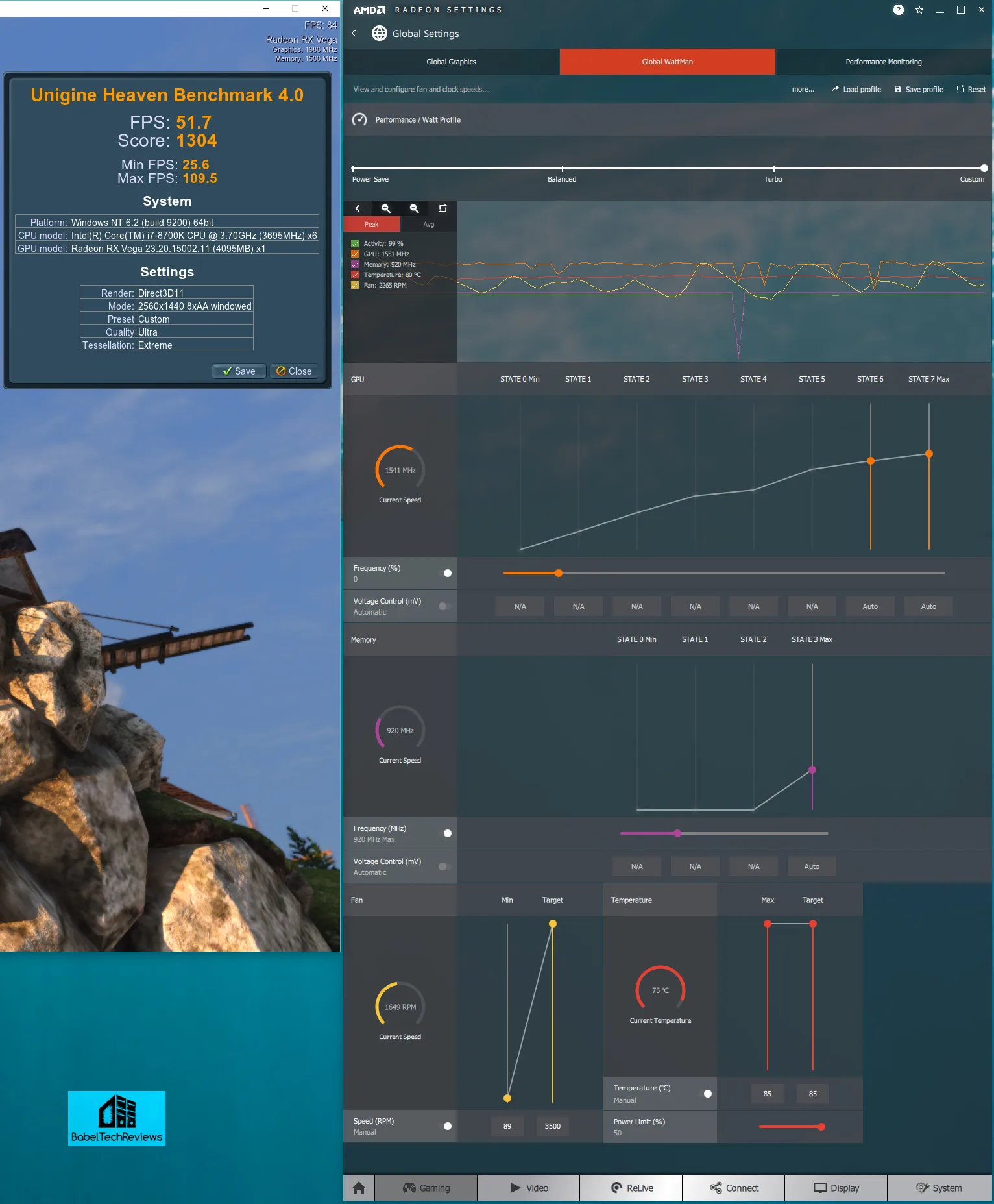 Strangely, WattMan shows that the overclock has been applied, but the performance increase is rather small.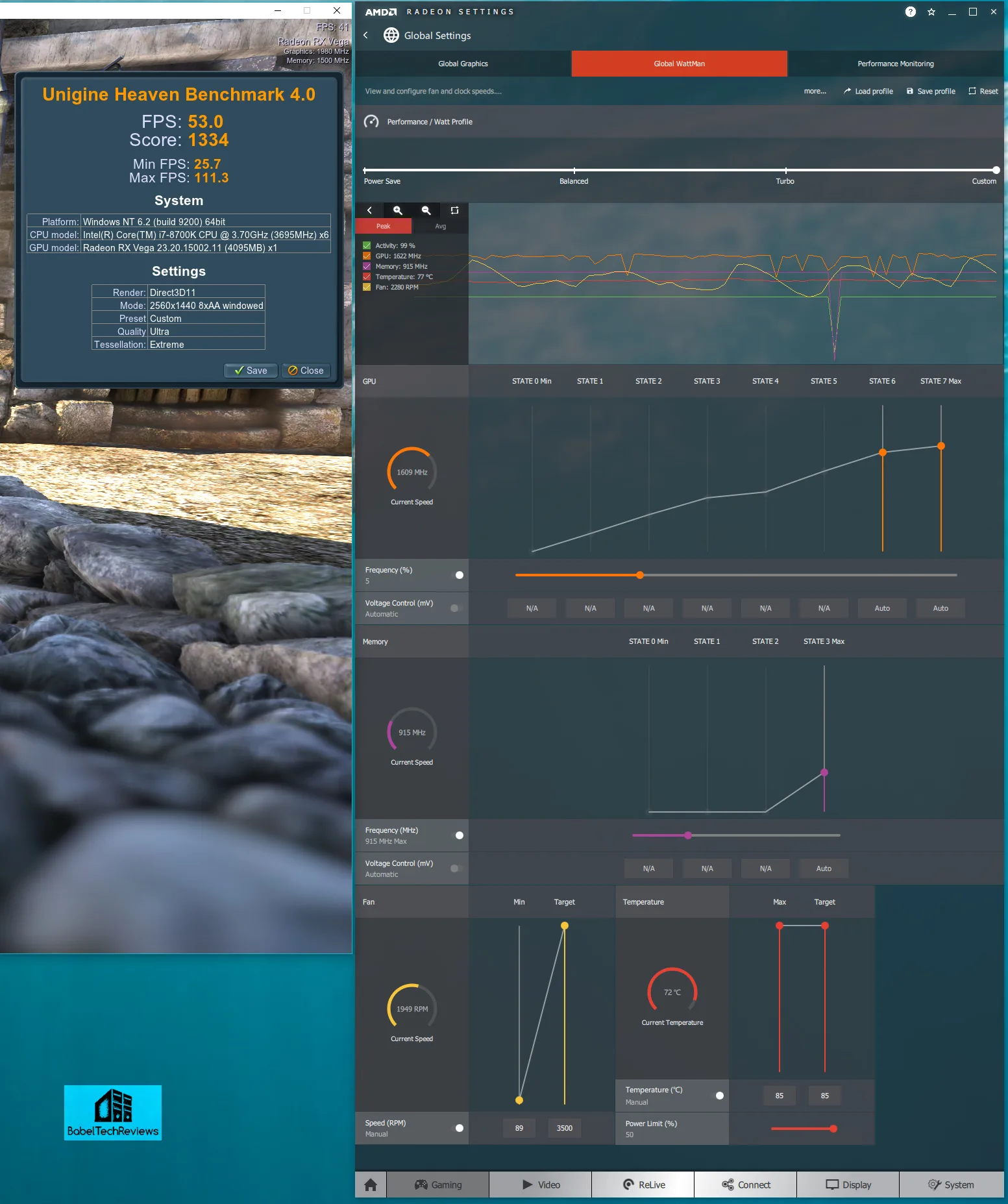 So now we try a 5% core overclock in addition to our now 115 MHz offset to the memory. Again we see a small performance increase. And this result with Heaven 4.0 was our largest performance increase which lead us to wonder if the overclocks are being applied properly by WattMan.
Since our preliminary overclocking results did not produce the usual higher performance increases as with other Vega cards, we did not attempt to undervolt the core to attempt to raise the memory overclock higher as we did with our reference Vega 56. We are going to save further Red Devil RX Vega 56 overclocking for a future overclocking showdown with the GTX 1070 Ti.
Let's head to the performance charts to see how the PowerColor RX Vega 56 compares with the RX Vega 64 Liquid Cooled edition and with the GTX 1070 Ti Founders Edition.
Performance summary charts & graphs
Here are our performance results of 35 games and 4 synthetic tests comparing the Red Devil RX Vega 56 with the Gigabyte RX Vega 64 Liquid Cooled Edition and versus the Founders Edition of the GTX 1070 Ti.
All results except for synthetic bencharks are expressed in average FPS (in Bold) and also generally in minimum FPS (in smaller italics next to the averages). Each card is compared against the other in the adjoining results column at 1920×1080, 2560×1440, and at 3840×2160. The first column represents the PowerColor Red Devil RX Vega 56, the second column shows the GTX 1070 Ti results, and the third column represents the RX Vega 64 Liquid Cooled edition performance.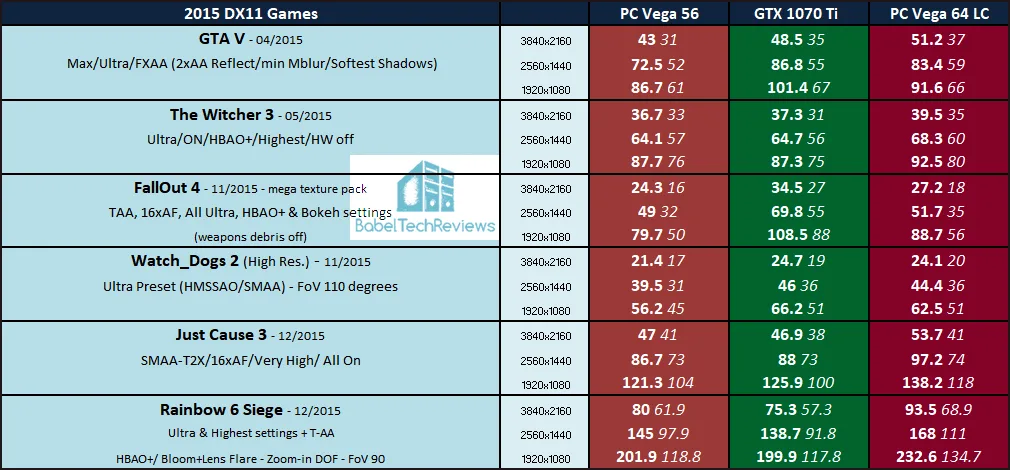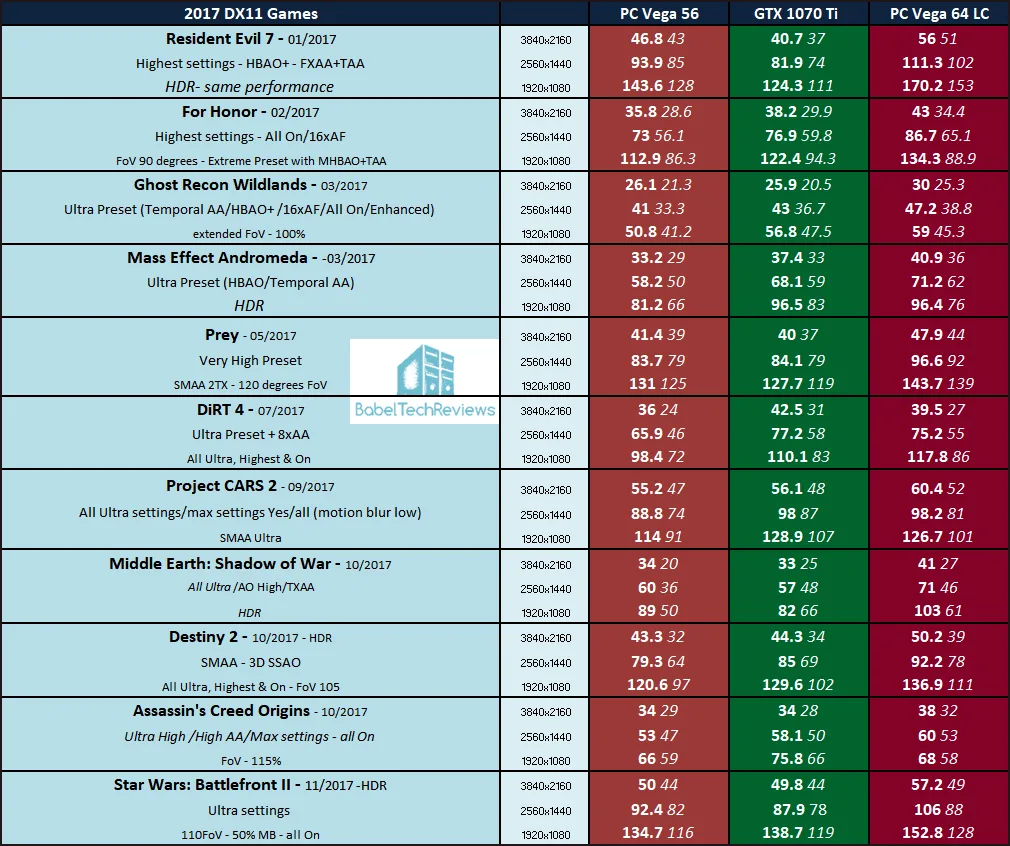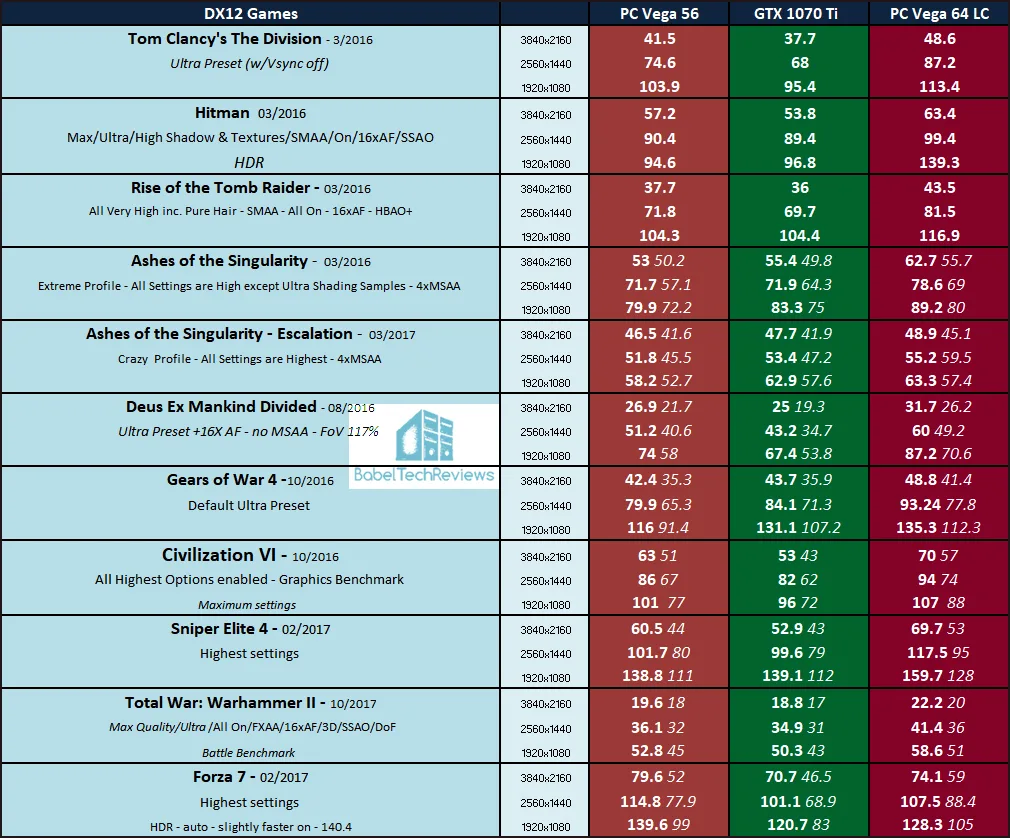 The Red Devil RX Vega 56 comes very close in performance to the GTX 1070 Ti Founders Edition, winning 47 individual game benchmarks to the NVIDIA card's 58 wins. This means that the Red Devil RX Vega 56 should also come very close in performance to a reference RX Vega 64, although it is outclassed by the premium higher-clocked RX Vega 64 Liquid cooled edition which also does not throttle.
It will be interesting to see if anything changes when we overclock our Red Devil RX Vega 56 to its maximum and then pit it against the overclocked GTX 1070 Ti for our next overclocking showdown.
Let's head for our conclusion.
The Conclusion
The Red Devil RX Vega 56 improves significantly over the reference version in every way. Originally, our reference RX Vega 56 throttled badly until we set its fan to an irritating 100% which this PowerColor version will probably match in performance with its Silent BIOS. We also got into a lot of trouble with the memory overclock of our reference RX Vega 56, and after one hard crash, it would never overclock again although it ran OK at stock settings.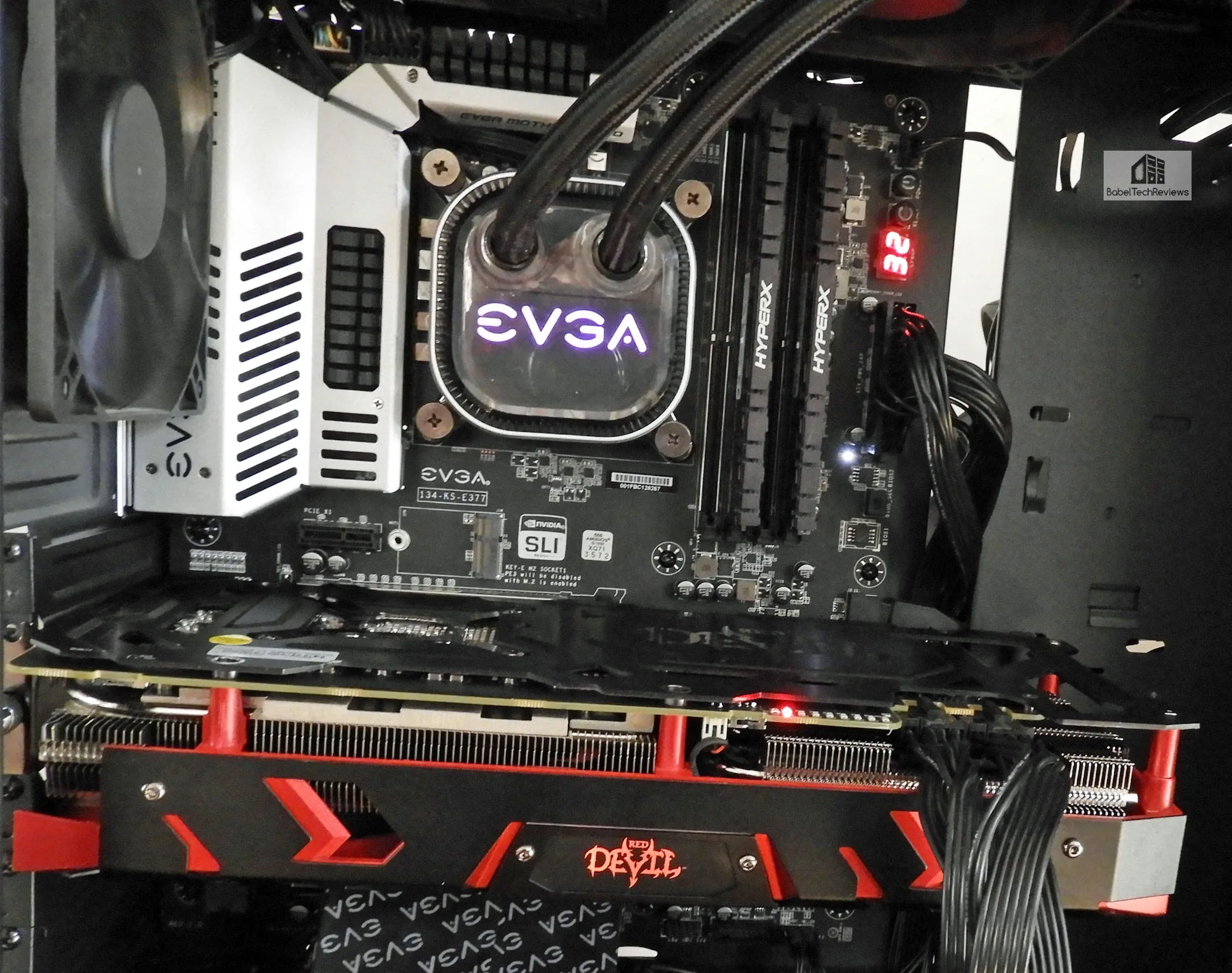 We are confident that PowerColor has fixed the issues of the reference RX Vega 56 with the Red Devil version, and if overclocking is allowed, it should overclock reasonably well as it has a much better 12 phase power delivery system and awesome tri-fan cooling. But one potential issue we see is one of pricing. RX Vega video cards have been continuously in very short supply apparently partly due to mining demands, and they have rarely been available for their suggested pricing of $399, instead often being offered for well over $650. In contrast, you can easily get a faster GTX 1070 Ti starting at $450.
It going to depend on reasonable pricing and on reasonable availability before we can give a recommendation to the RX Vega over a GTX 1070 Ti unless a gamer prefers AMD or is locked into the AMD ecosystem with a FreeSync/2 display. However, we can give our highest recommendation to a PowerColor RX Vega 56 over a reference Vega 56 without any hesitation as PowerColor has done an admirable job of addressing the reference version's faults with an beautiful card that is well-designed and solidly-built.
It will be interesting to see if anything changes when we max out our overclocks and compare the GTX 1070 Ti with the PowerColor RX Vega 56 in a future evaluation. At that point, we shall see if there is good availability and we will revisit and make our final recommendations then.
Let's sum it up:
PowerColor Red Devil RX Vega 56 Pros
The PowerColor Red Devil RX Vega 56 is faster than the reference RX Vega 56 by virtue of a superb 3-fan triple-slot cooling system that keeps the GPU cool and does not throttle. By extension, the Red Devil RX Vega 56 should be only slightly slower than the RX Vega 64 reference version and much quieter under load.
The power delivery is a beefy 12 phase design which should allow for stable overclocks.
The Red Devil RX Vega 56 has a very nice 3-fan custom cooling design that is very quiet on Silent BIOS and reasonable on Standard.
Three BIOS give the enthusiast a choice of quiet and slightly lower clocks, or louder with higher clocks. And if one BIOS is corrupted by overclocking, it is easy to recover the BIOS.
FreeSync eliminates tearing and stuttering and FreeSync 2 has even better results.
The Red Devil RX Vegas use HBM2 which are not found on any other consumer-level video card, and they are good for compute and for crypto-currency mining.
PowerColor Red Devil RX Vega 56 Cons
The Red Devil is a very large and heavy video card that may not fit in all cases. PowerColor recommends a 650 W PSU as a minimum with 2×8-pin PCIe connectors.
Power draw is very high and it produces a lot of heat compared with competing NVIDIA cards.
Pricing and availability. We just don't know at this time how much the Red Devil RX Vega 56 will cost or when it will be generally available or if mining demands will push the price up as it has done with the reference versions.
We cannot comment on the Red Devil's ultimate overclock as we did not test it yet. And we have a difficult time recommending the PowerColor Red Devil RX Vega 56 over a readily available $450 GTX 1070 Ti when we have no idea what its pricing or availability will be. However, we can easily recommend the Red Devil RX Vega 56 highly over a reference RX Vega 56 or even over a RX Vega 64 if the pricing is close. The PowerColor card is a much better-built video card that is designed to run cool and quiet unlike the reference version which throttles when it gets hot.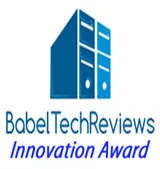 PowerColor has taken the Vega 56 design as far as it can go with air cooling, and they have given their best for enthusiasts using the Red Devil design. It is a premium video card in every metric; solidly built, and with 3 years of PowerColor's support and service. We would like to award the Red Devil RX Vega 56 the BabelTechReviews Innovation Award.
The Red Devil RX Vega 56 may be a good deal for those who game at 2560×1440 with a FreeSync/2 display, and it may be a good alternative to the GTX 1070 Ti for those who prefer AMD cards if the pricing and availability are reasonably good. It may also be a good investment for gamers who also mine crypto-currency. Unfortunately, we cannot give our usual verdict now without knowing the pricing of the Red Devil RX Vega 56. Pricing is a very important variable that is missing at this time of posting.
UPDATE: PowerColor contacted us with suggested pricing for the Red Devil RX Vega 56 at $599 and for the Red Devil RX Vega 64 at $699.
Stay tuned, there is a lot coming from us at BTR. Next up, we will continue with our Red Devil RX Vega 56, RX Vega 64, and competing NVIDIA cards, benchmarking Premium VR featuring Fallout 4 VR and ten other VR games this week.
Happy Gaming!