Last Monday, AMD released its new Vega 64 processor in a vain attempt to beat the GTX 1080 and to take the performance crown from NVIDIA's GTX 1080 Ti. Since the reference version throttles performance due to inadequate cooling, BTR purchased a Gigabyte RX Vega 64 Liquid Cooled Edition which is AMD's flagship card. We have put our new Vega 64 and the Founders Editions of the GTX 1080 and the GTX 1080 Ti through their paces with 27 modern PC games. Since the GTX 1080 Ti FE and the RX Vega 64 both retail for $699, they make for a natural comparison and we will use 4 resolutions up to 4K to determine the overall winner in 27 games.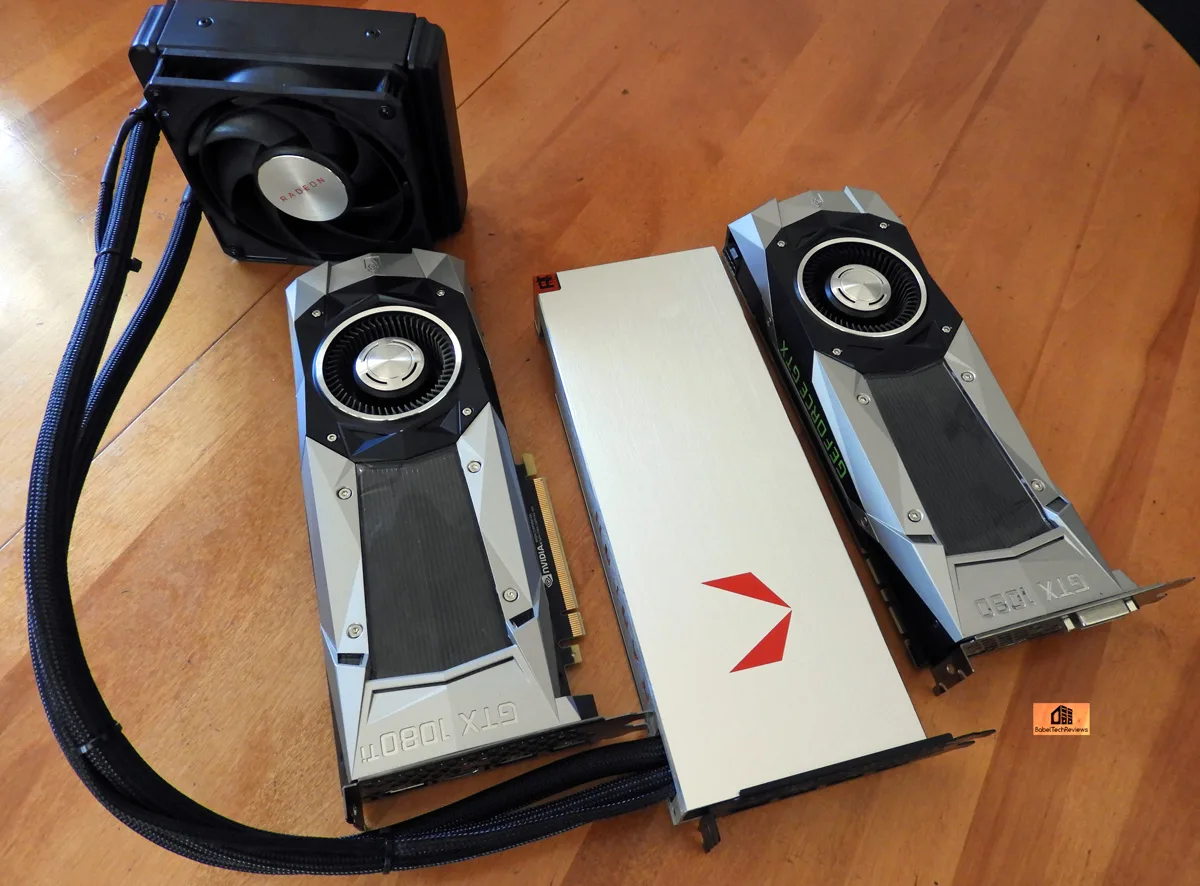 We have already posted benchmarks of the reference RX Vega 64 and found it to be just a bit slower than the GTX 1080 as its blower cooling solution is somewhat thermally challenged even at stock settings. We concluded:
The air-cooled RX Vega 64 falls short of the $499 GTX 1080 and it would be very difficult to recommend it at its launch pricing of $599 from what we have seen so far.
It appears that AMD's launch price is really at set $599 for the reference RX 64 once the initial batch sold out. However, the Liquid Cooled Edition of the RX Vega 64 may still be MSRP priced at $699, although to actually get one from retail you may need to purchase a Ryzen 7 1800X bundle as we did from Newegg although the price is now listed at $799. However, we are very interested to see how AMD's flagship RX Vega 64 performs at its stock settings with a very good cooling system that will be at least comparable to the AIB partner designs that will be introduced later this year.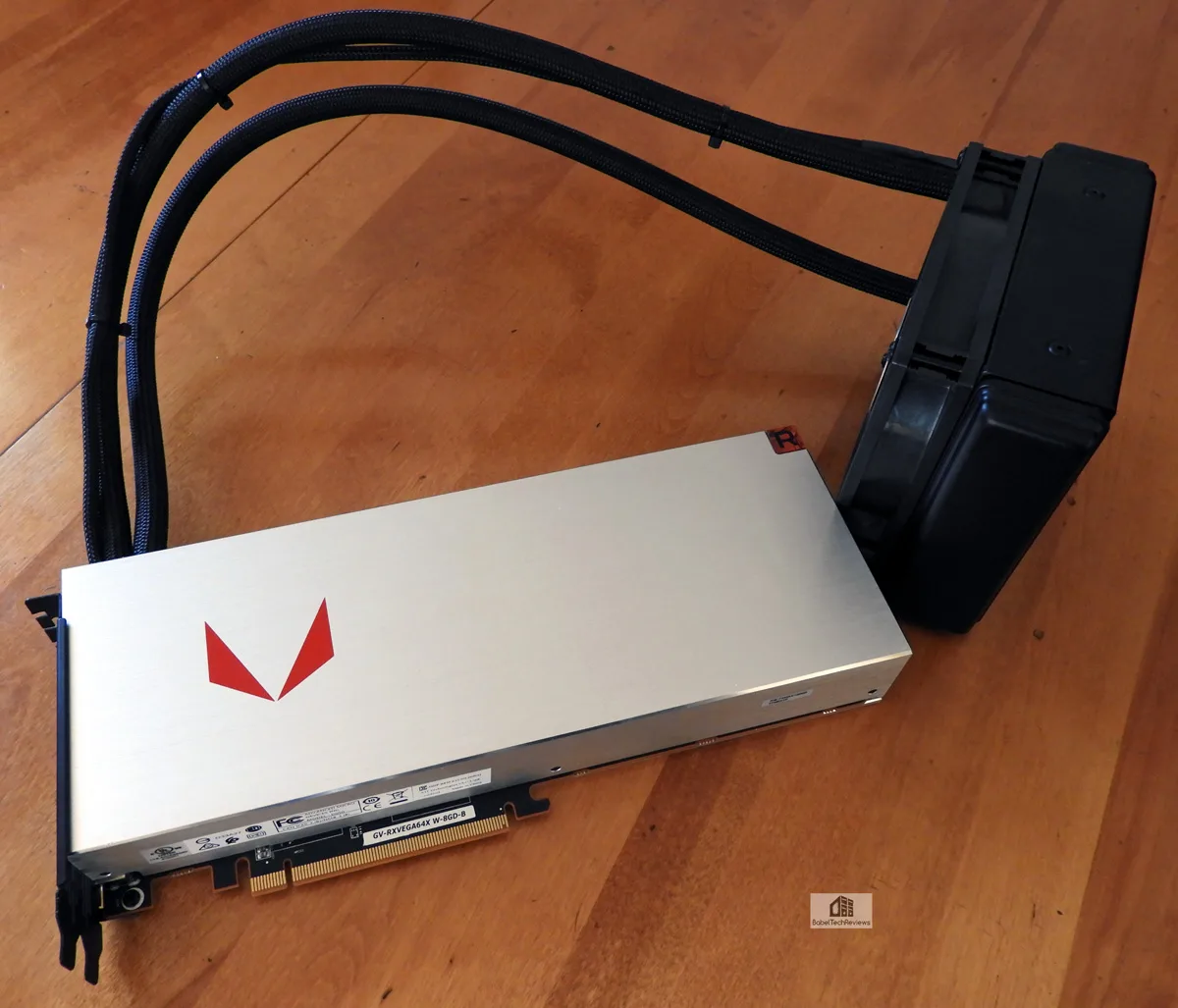 Until Vega was released, the Fury X was AMD's top card that was originally released to compete with the TITAN X and versus the GTX 980 Ti. However, both the GTX 1080 and the GTX 1070 are faster than the Fury X and you can see a performance comparison here. In addition, the GTX 1080 Ti is NVIDIA's fastest gaming card and we reviewed it here versus the GTX 1080 where it is significantly faster. So AMD has a lot of ground to make up with Vega 64 if they are going to beat the GTX 1080, never mind the GTX 1080 Ti.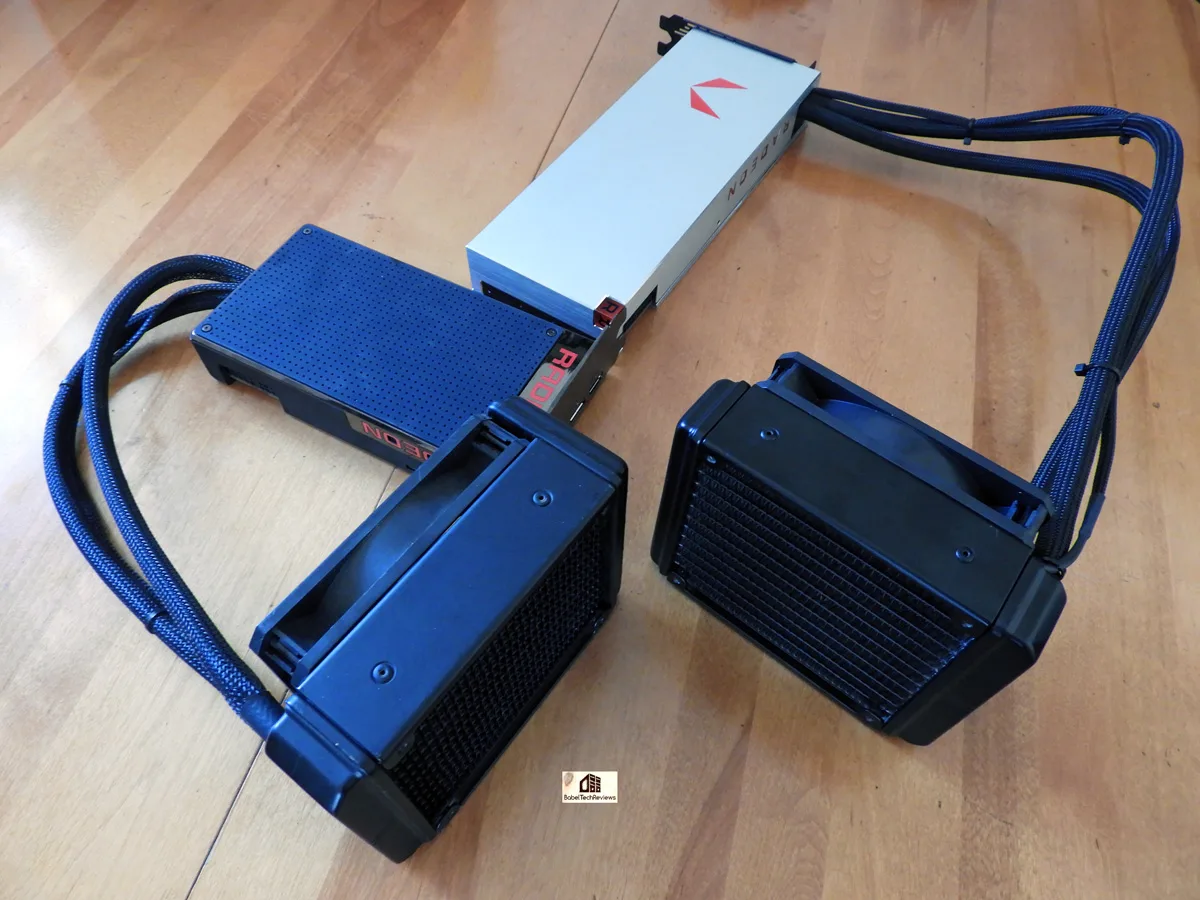 Our testing platform is Windows 10 Home 64-bit, using an Intel Core i7-6700K at 4.00GHz which turbos all cores to 4.6GHz as set in the ASRock Z170 motherboard's BIOS, and 16GB of HyperX DDR4 at 3333MHz. The settings and hardware are identical except for the three cards being tested. We will compare the performance of 27 modern games at 1920×1080, 2560×1440, 3440×1440 and 3840×2160 resolutions with maximum settings.
Let's see how well a non-throttling RX Vega 64 Liquid Edition matches up with a Founders Editions of the GTX 1080 and versus the GTX 1080 Ti after we take a look at the new Gigabyte card.
Unboxing the Gigabyte RX Vega 64 Liquid Cooled Edition
The Gigabyte RX Vega 64 Liquid edition box is huge. It advertises watercooling, 8GB HBM and high bandwidth cache, next generation compute, premium VR, and FreeSync 2.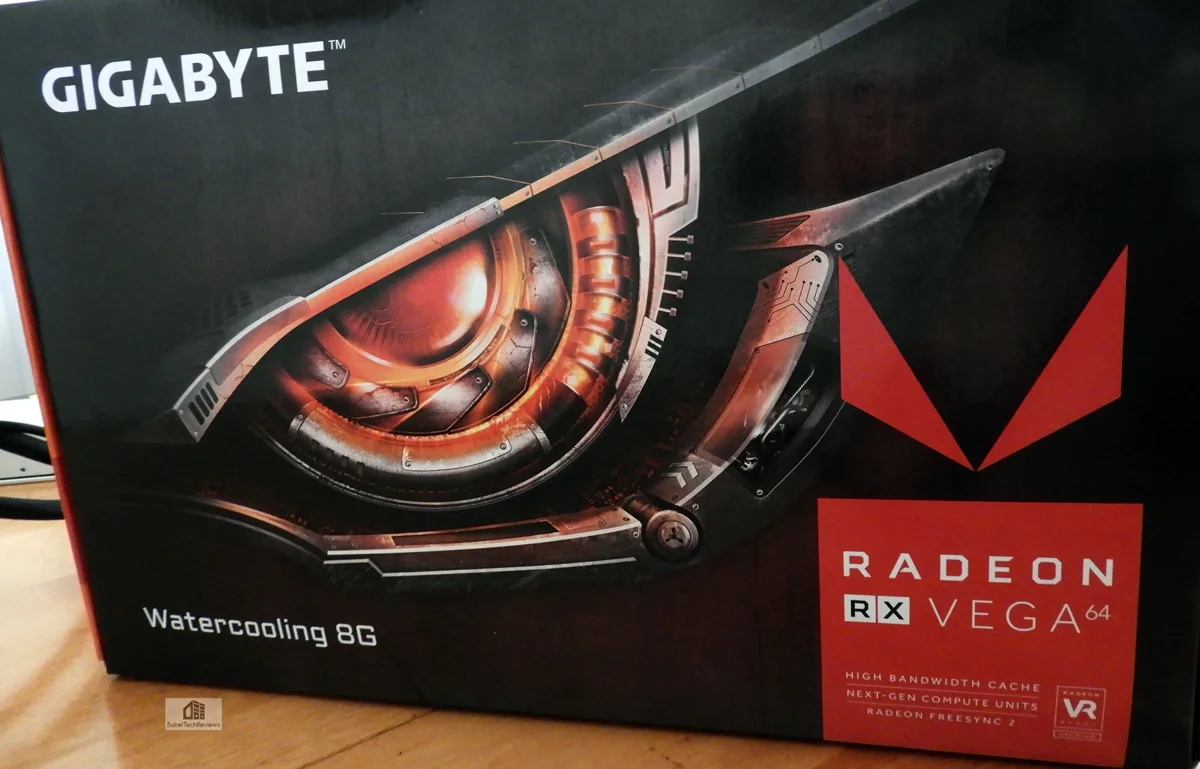 The packing is superb and it designed to stand up to your delivery person on a bad transport day. Inside the box is a quick installation guide and an 8-pin PCIe adapter and screws for installing the radiator into the PC chassis. The back of the box details Vega's features and also recommends a 1000W power supply as a minimum(!)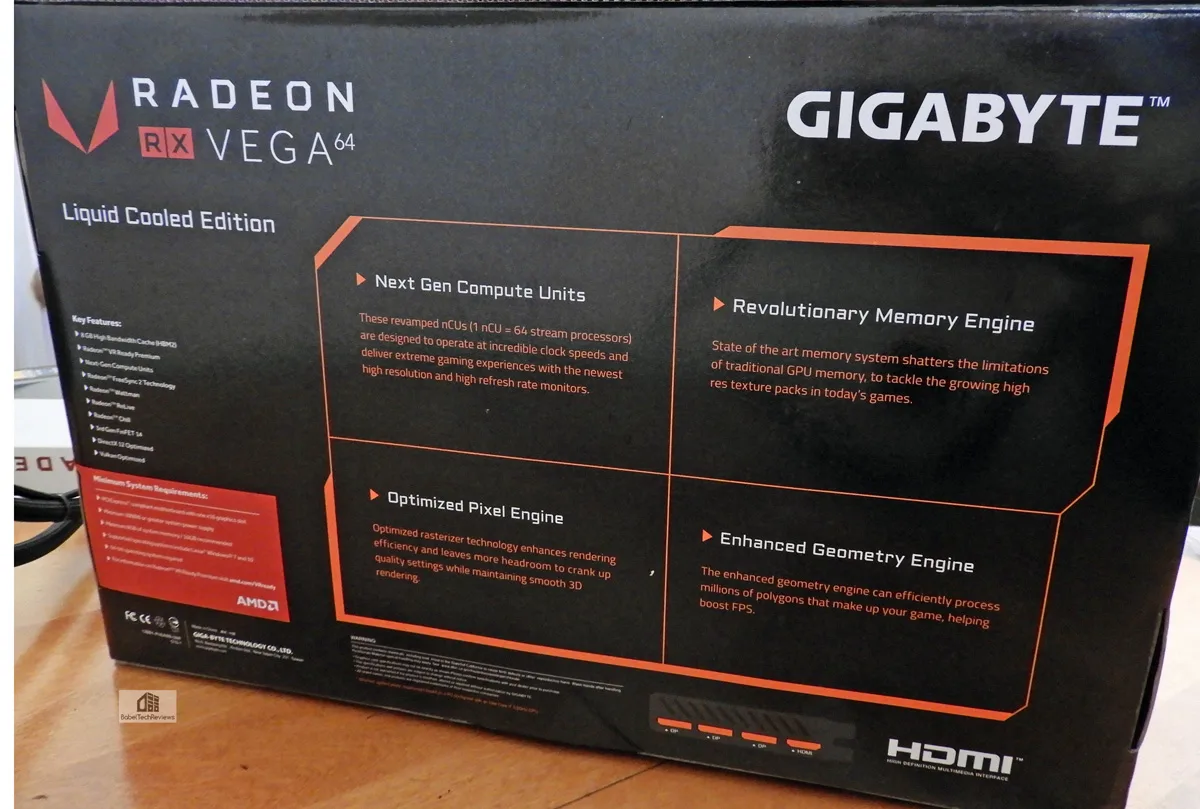 The Radeon RX Vega 64 Liquid Edition is styled very well with an aluminum case. The radiator is 120mm and it is connected to the pump inside the card by braided cables.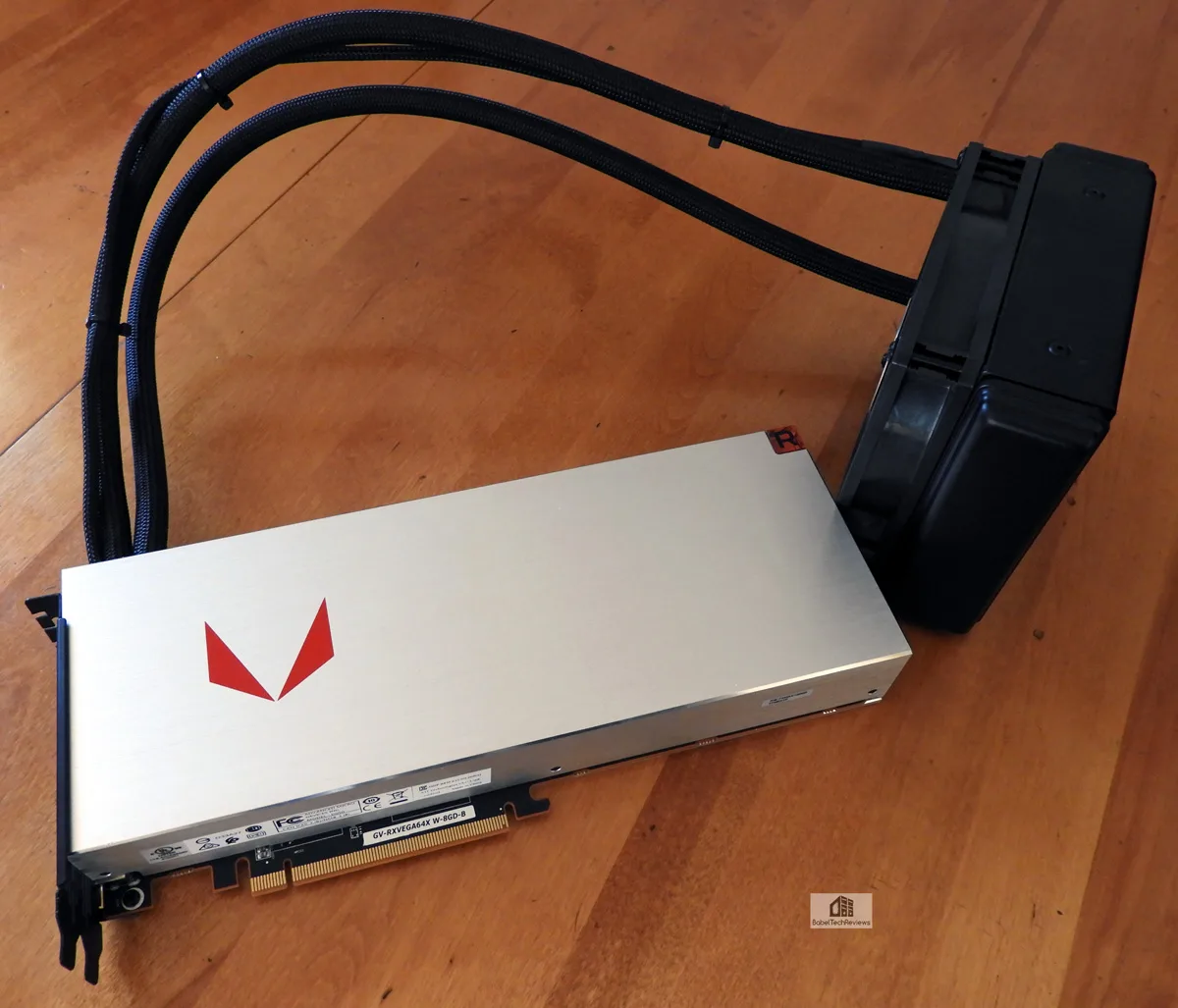 There is an 8-pin adapter included with the card in case your PSU only supports one 8-pin and one 6-pin PCIe cable.

Here is the other side.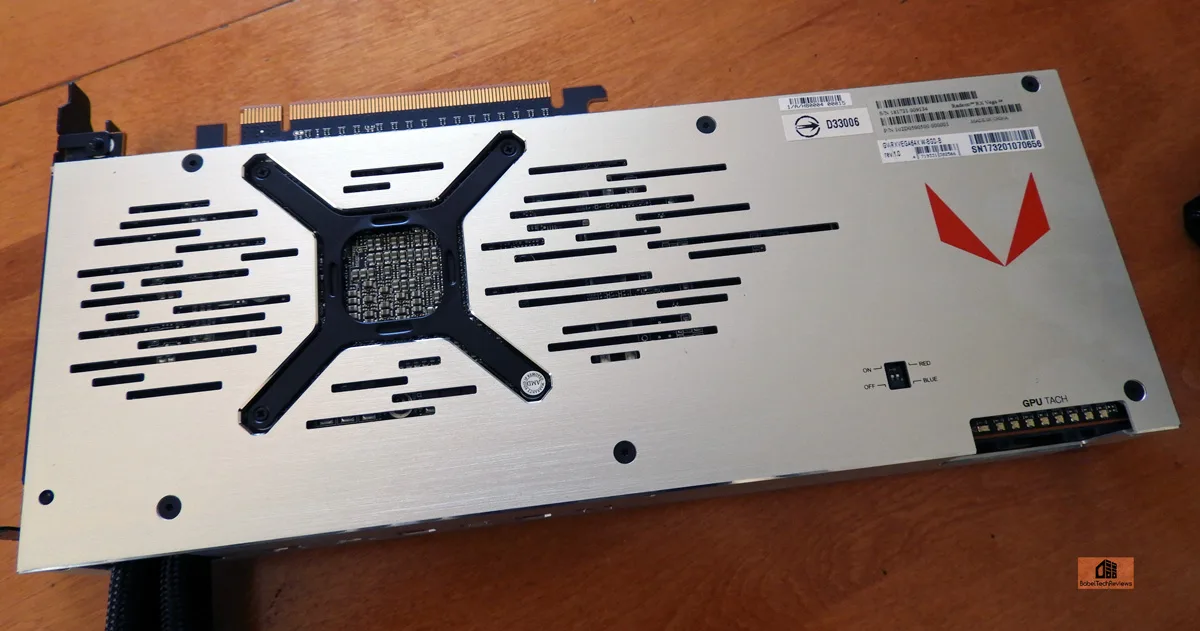 This is the 120mm radiator.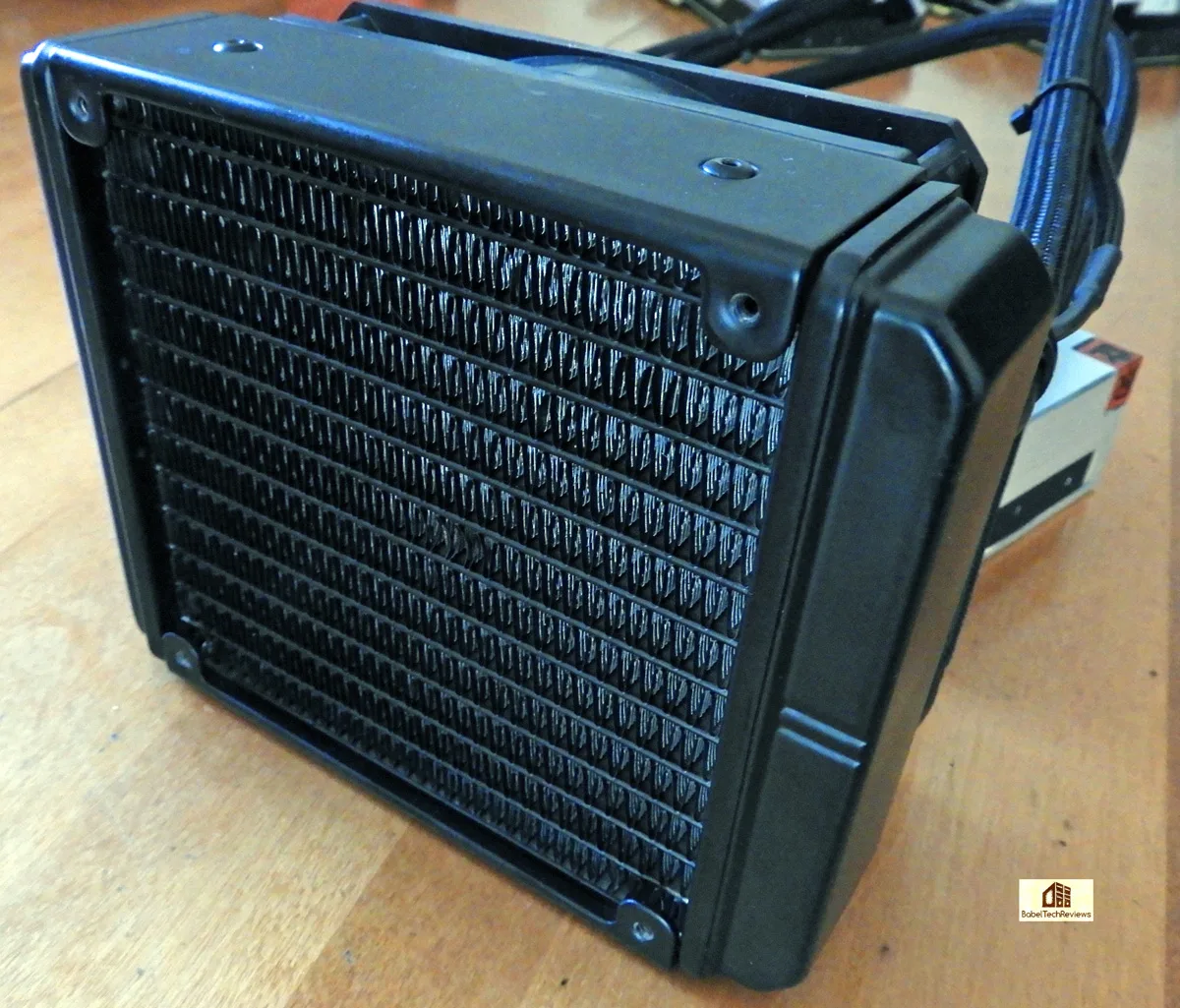 Here is the Fury X pictured with its radiator side by side with the Vega's cooler. They are the same size.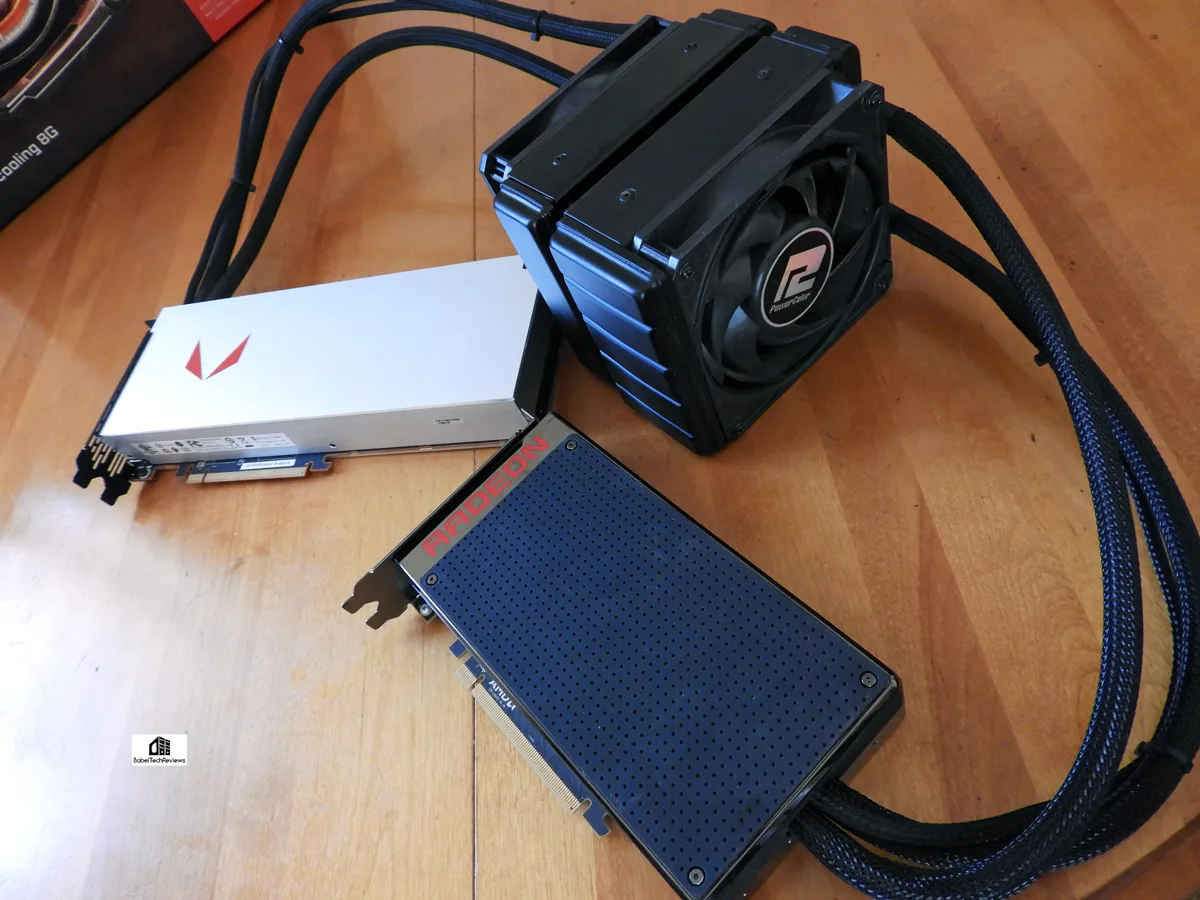 Here is the connector panel featuring 1 HDMI and 3 DisplayPorts.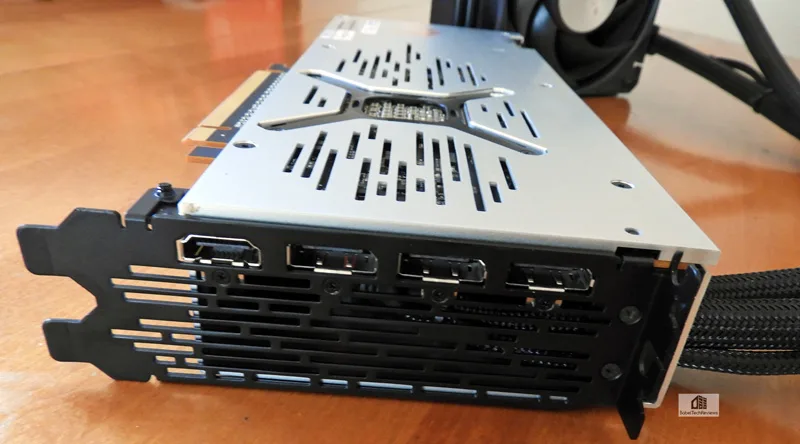 The Radeon RX Vega 64 Liquid cooled edition is a handsome card. AMD has got their second industrial design right.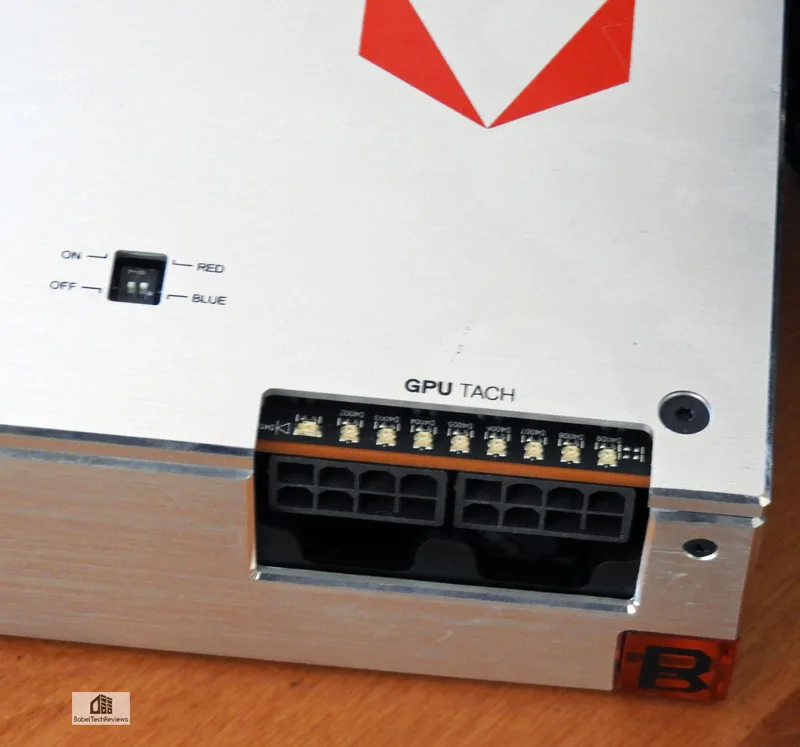 You can change the colors of your lighting and there are two 8-pin PCIe connectors required.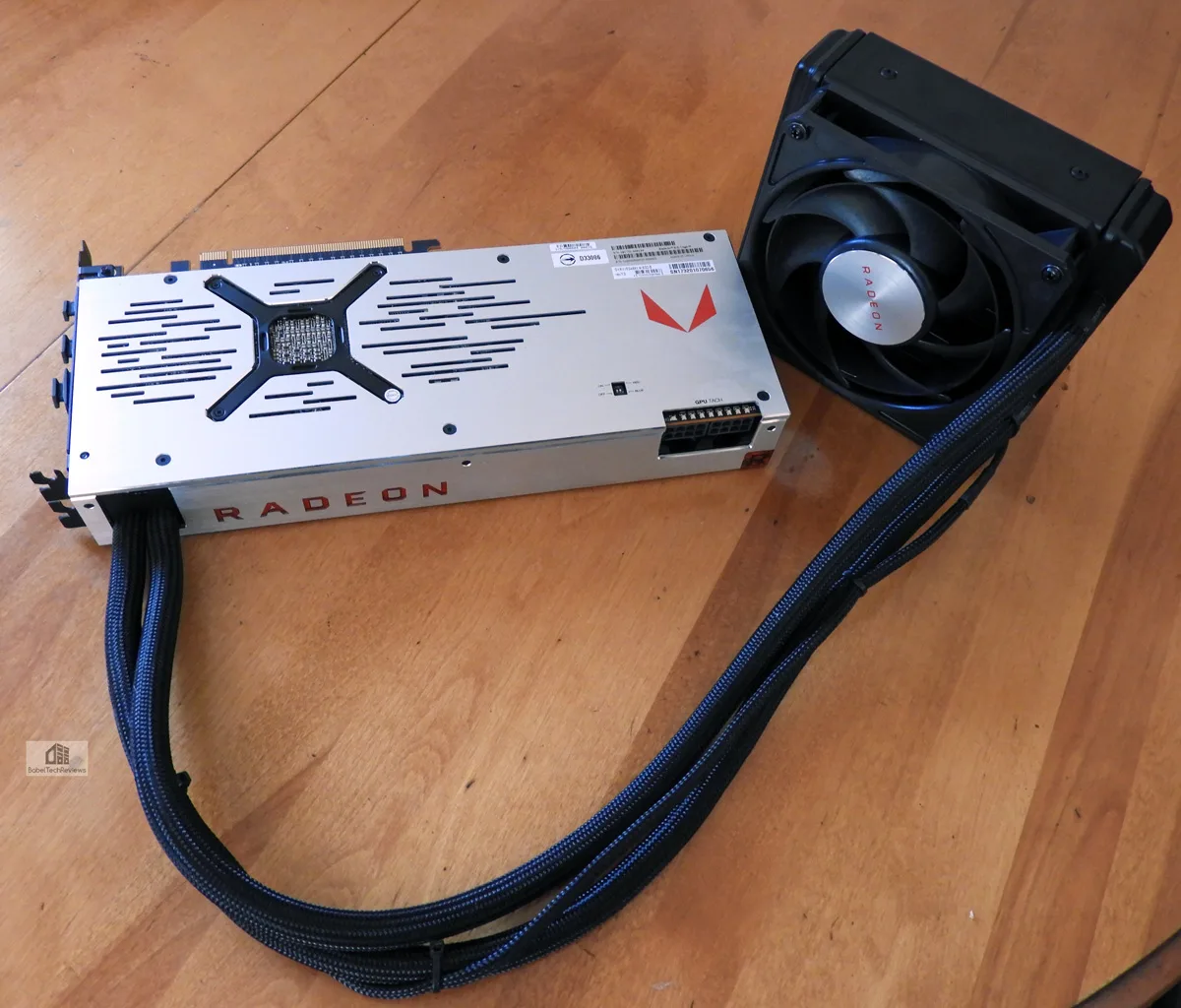 The Radeon Logo lights up and is a perfect counter to NVIDIA's lighted GeForce. AMD certainly has got a premium looking card with the Liquid cooled RX Vega 64. Let's check out its performance after we look over our test configuration on the next page.
Test Configuration – Hardware
Intel Core i7-6700K (reference 4.0GHz, HyperThreading and Turbo boost is on to 4.6GHz; DX11 CPU graphics).
ASRock Z170M OC Formula motherboard (Intel Z170 chipset, latest BIOS, PCIe 3.0/3.1 specification, CrossFire/SLI 8x+8x)
HyperX 16GB DDR4 (2x8GB, dual channel at 3333MHz), supplied by HyperX/Kingston
Gigabyte RX Vega 64 Liquid Cooled Edition, stock clocks (1750Mhz/945MHz)
GTX 1080 8GB, Founders Edition, reference clocks, supplied by NVIDIA
GTX 1080 Ti 11GB, Founders Edition, reference clocks, supplied by NVIDIA
Two 2TB Seagate 7200 rpm SSHDs for each platform
EVGA 1000G 1000W power supply unit (for both platforms)
EVGA CLC280, 280mm CPU watercooler, supplied by EVGA
Onboard Realtek Audio
Genius SP-D150 speakers, supplied by Genius
Thermaltake Overseer RX-I full tower case, supplied by Thermaltake
ASUS 12X Blu-ray writer
Monoprice Crystal Pro 4K
ACER Predator X34 GSYNC display, supplied by ACER/NVIDIA
Test Configuration – Software
GeForce WHQL 384.94 was used for the GTX 1080 and WHQL 385.28 for the GTX 1080 Ti. High Quality, prefer maximum performance, single display. See control panel images below.
AMD ReLive Software RX Vega public launch drivers (17.30.1051-b6) were used for the benching the Vega 64. See control panel image below.
VSync is off in the control panel.
AA enabled as noted in games; all in-game settings are specified with 16xAF always applied
All results show average frame rates including minimum frame rates shown in italics on the chart next to the averages in smaller font. Percentage differences are calculated between the average frame rates of the RX Vega 64 and of the GTX 1080 and GTX 1080 Ti.
Highest quality sound (stereo) used in all games.
Windows 10 64-bit Home edition, all DX11 titles were run under DX11 render paths. Our four DX12 titles are run under the DX12 render path. Latest DirectX
All games are patched to their latest versions at time of publication.
WattMan
MSI Afterburner.
OCAT
Fraps
The 26 PC Game benchmark suite & 4 synthetic tests
Synthetic
Firestrike – Basic & Extreme
Time Spy DX12
VRMark Orange Room
VRMark Blue Room
DX11 Games
Crysis 3
Metro: Last Light Redux (2014)
Grand Theft Auto V
The Witcher 3
Fallout 4
Assassin's Creed Syndicate
Just Cause 3
Rainbow Si Siege
DiRT Rally
Far Cry Primal
Call of Duty Infinite Warfare
Battlefield 1
Watch Dogs 2
Resident Evil 7
For Honor
Ghost Recon Wildlands
Mass Effect: Andromeda
DiRT 4
DX12 Games
Tom Clancy's The Division
Ashes of the Singularity
Hitman
Rise of the Tomb Raider
Total War: Warhammer
Deus Ex Mankind Divided
Gears of War 4
Sniper Elite 4
Vulkan Game
Nvidia Control Panel settings:
These are the setting we use when testing NVIDIA cards.

AMD Radeon Global Settings:
Here are the global game settings in AMD's ReLive control panel that we use: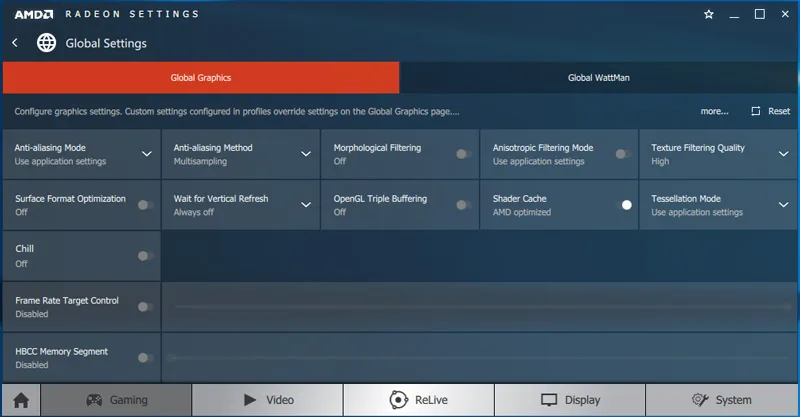 These are the custom gaming global settings that we used for our RX Vega 64 that gave us slightly better performance than using the "Turbo" Preset. The Power Limit is set to +50%, the temperature is allowed to reach the maximum 70C, and the fan is also allowed to spin up to its maximum.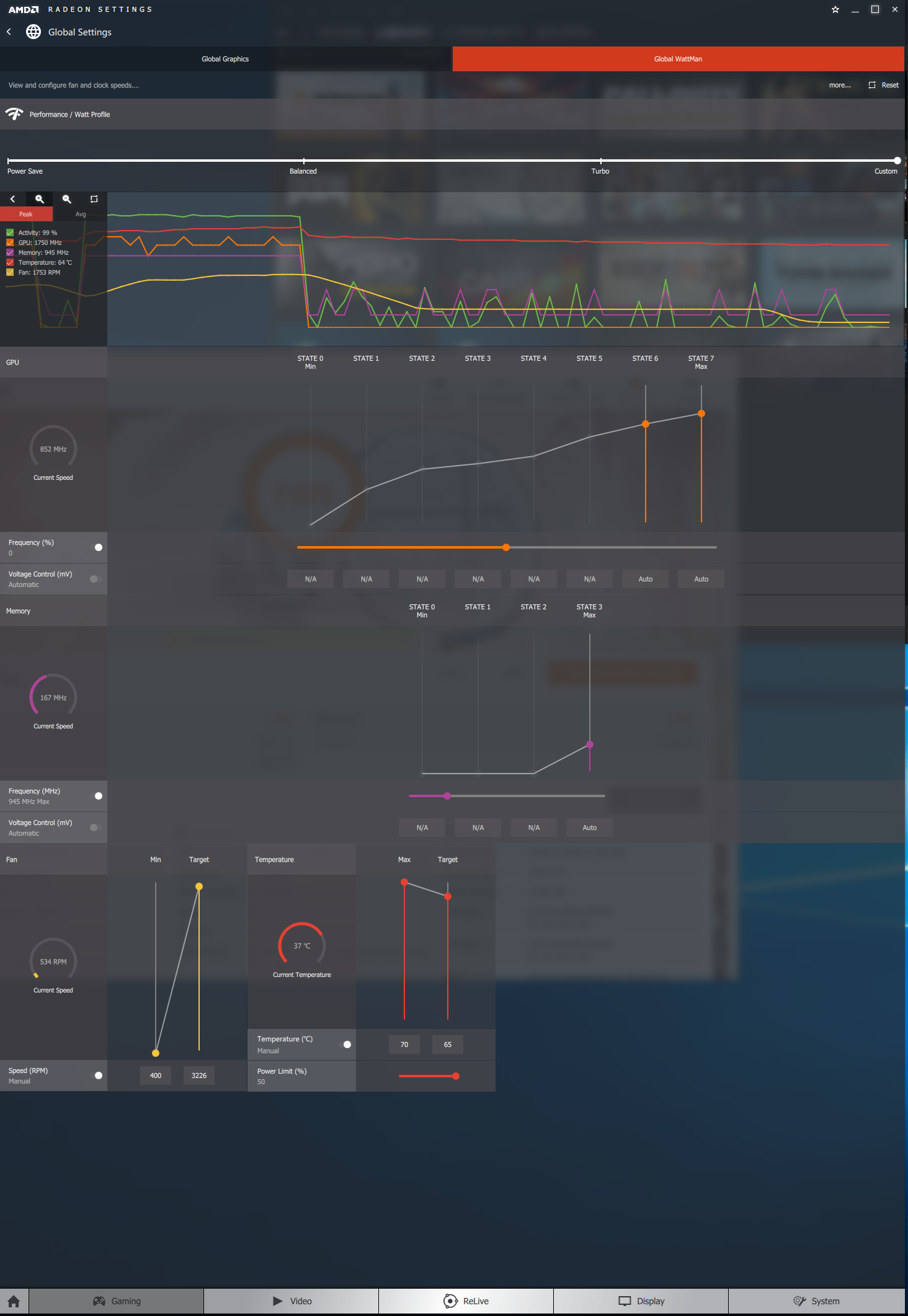 Here are the results of using the regular BIOS when running Heaven 3.0: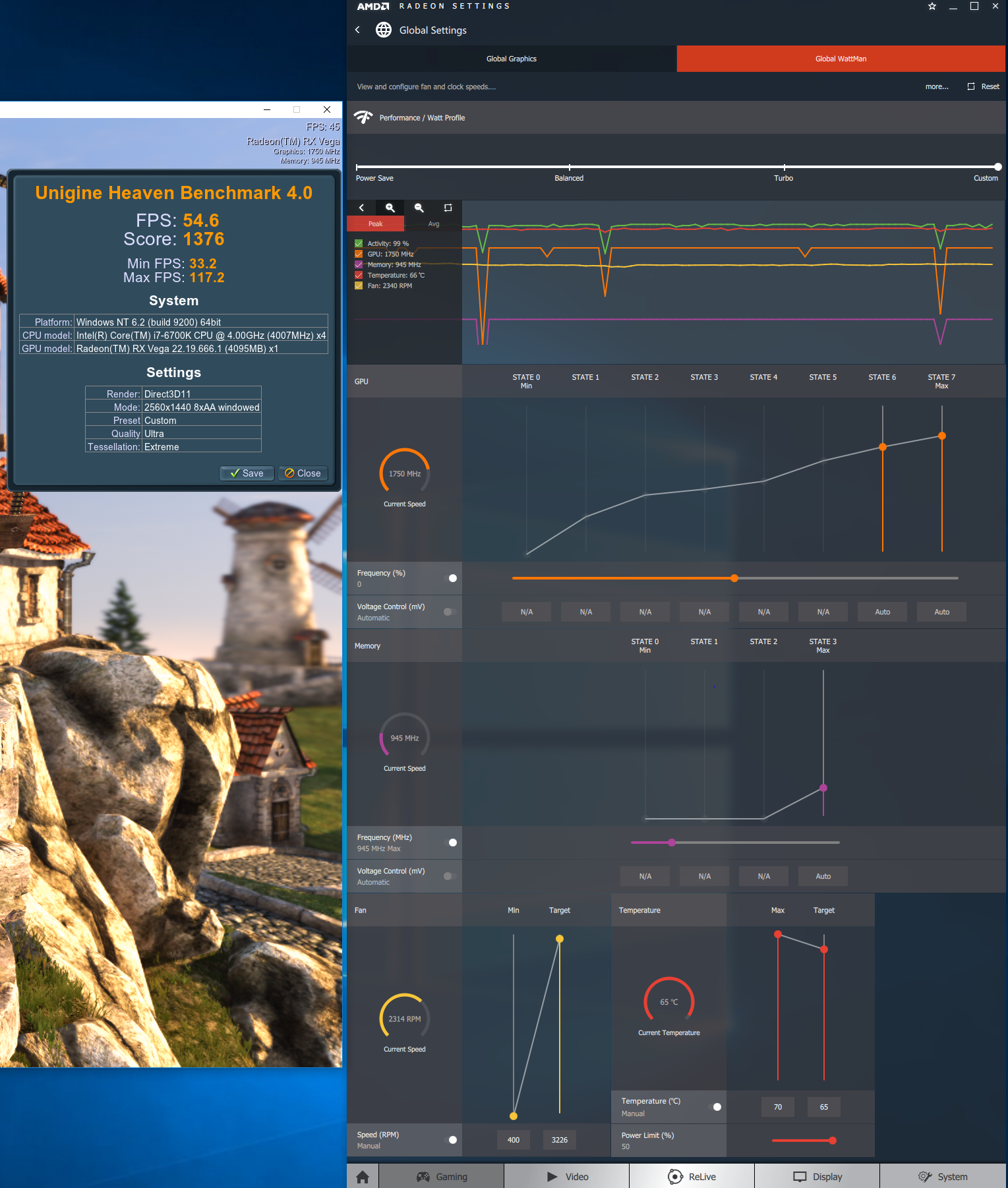 Here are the performance BIOS results of running Heaven 3.0: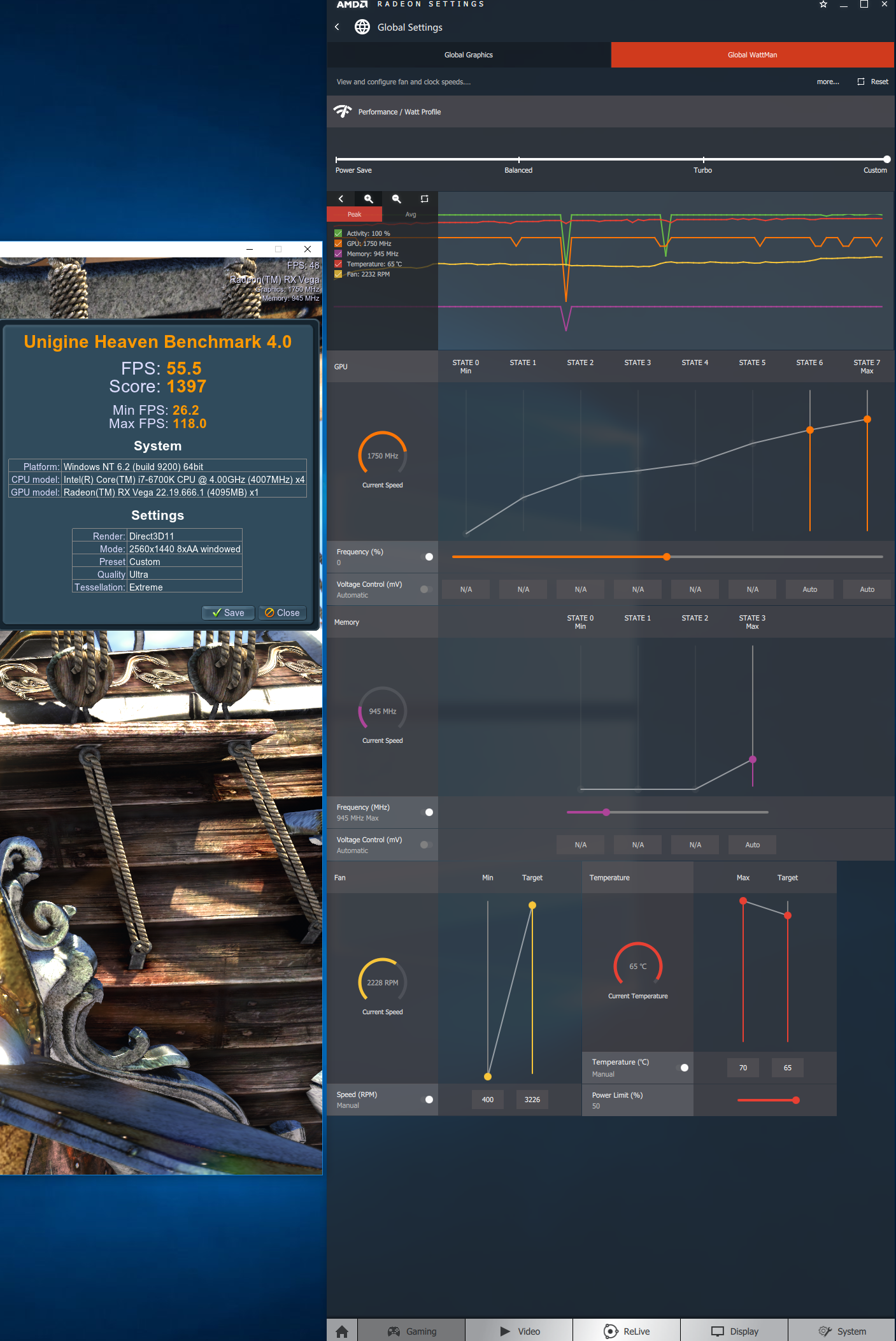 There is only about 1%-2% performance difference that we measured between the regular BIOS and the performance BIOS depending on the game or benchmark we used. And we use the performance BIOS setting for all of our RX Vega 64 benchmarking.
The above is our test bench and the settings that we used. Now let's see how we calculate percentage differences between the RX Vega 64 and the GTX 1080 and GTX 1080 Ti.
Calculating Percentages
There are two methods of calculating percentages. This one we are now using is the "Percentage Difference" that we are using to compare the GTX 1080 and the GTX 1080 Ti versus the RX Vega 64 LC, and the other is "Percentage Change" which are usually used to show improvements. Percentage difference is generally used when you want to know the difference in percentage between two values, in this case the difference in average frame rates (FPS) between RX Vega 64 and the GTXes 1080/Ti.
For the percentage difference we are simply dividing the difference between two numbers by the average of the two numbers. This is usually expressed algebraically where "V" equals value: ( | V1 – V2 | / ((V1 + V2)/2) ) * 100
Let's check out our Performance Summary chart followed by our conclusion.
Performance summary chart
Here is the summary chart of 27 games and 4 synthetic tests. The highest settings are always chosen and DX12 is usually picked above DX11 where available, and the settings are ultra or maxed. Specific settings are listed on the performance charts. The benches were run at 1920×1080, 2560×1440, 3840×1440, and at 3840×2160.
All game results show average framerates and higher is always better. Minimum frame rates are shown next to the averages when they are available, but they are in italics and in a slightly smaller font. In-game settings are ultra or fully maxed out, and they are identical across all platforms.
The GTX 1080's results are in the first performance results column (in white) and the RX Vega 64 LC results are shown in the second performance results column (in black). The 3rd performance results column represents the GTX 1080 Ti results in white. The first and the last performance differences columns in yellow show the percentage differences between the RX Vega 64 Liquid edition and the other two video cards.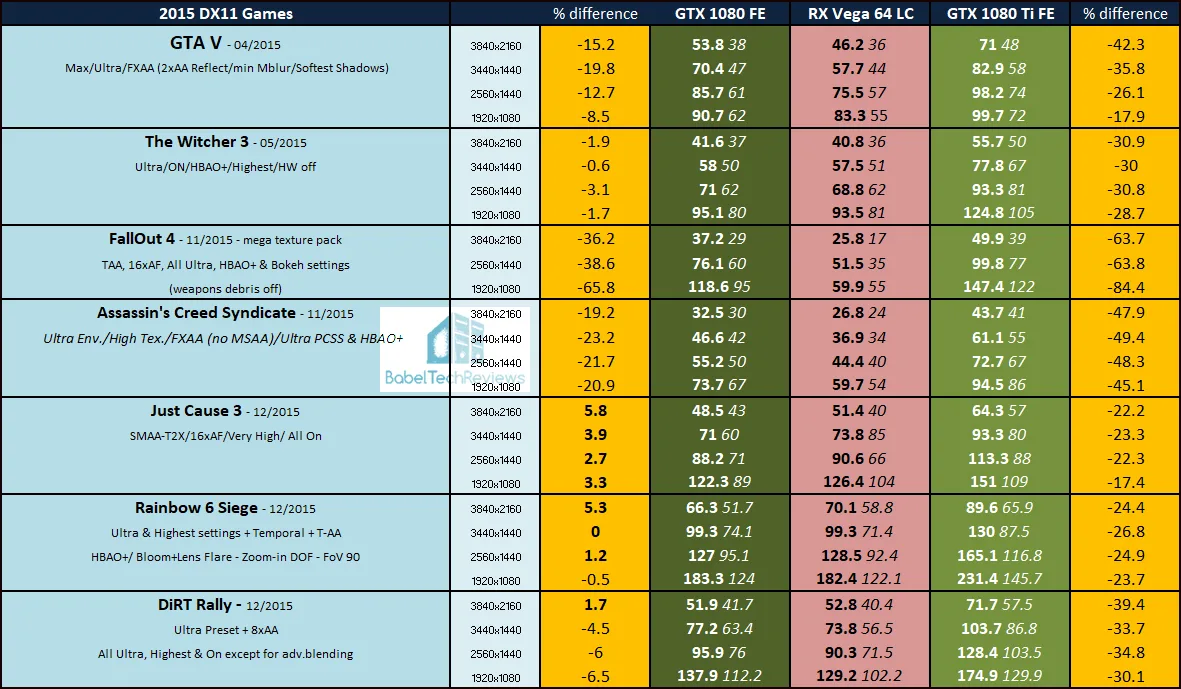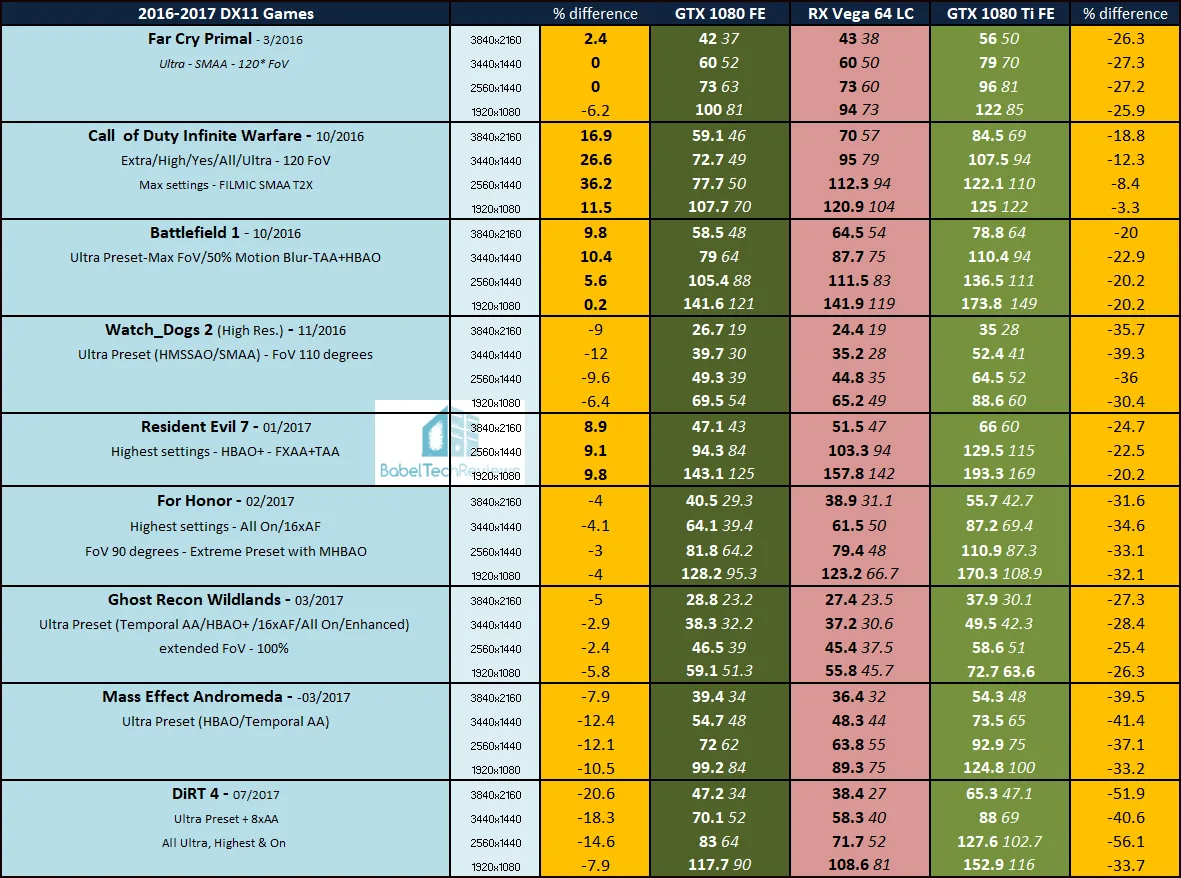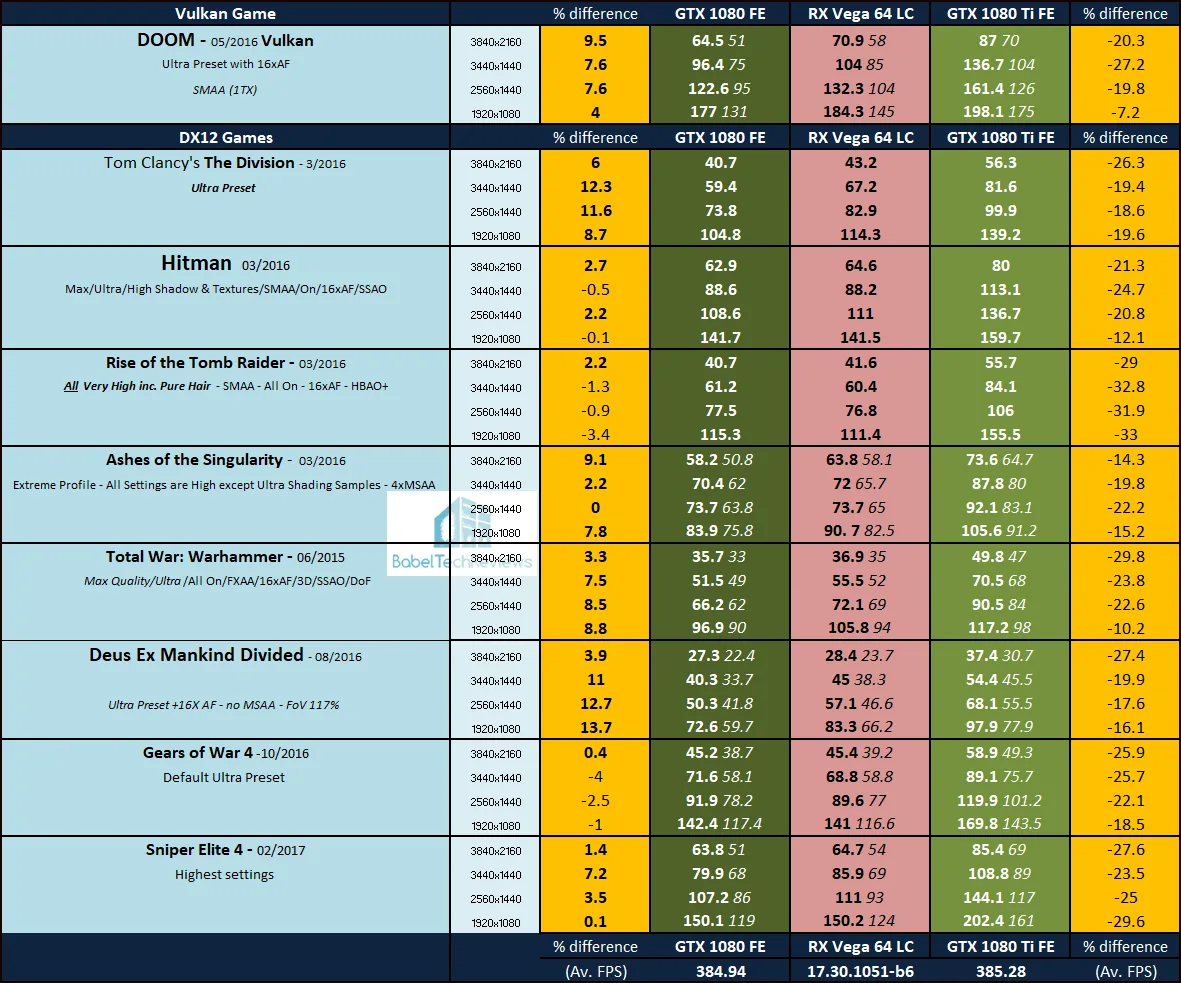 It appears that the RX Vega 64 Liquid edition basically trades blows with the GTX 1080 Founders Edition, but it falls way short of the GTX 1080 Ti in every single game that we benchmarked. Neither the RX Vega 64 nor the GTX 1080 are particularly well-suited for maxed out 4K gaming. And something else that we noted is that games that use MSAA – like Crysis 3 and DiRT 4 – really tank the Vega's performance.
Let's head for our conclusion.
The Conclusion
AMD has missed their target if it is the GTX 1080 Ti, and RX Vega 64 Liquid Cooled edition fell quite short of its performance. Using performance as our primary metric, at $699, the Founders Edition of the GTX 1080 Ti is a bargain performance-wise compared with the $699 liquid cooled Gigabyte RX Vega 64.
The GTX 1080 Ti has a larger 11GB framebuffer, much higher performance, and it uses less power than the 8GB RX Vega 64. However, if AMD is aiming for GTX 1080 performance, then they made their target as the RX Vega 64 Liquid edition is in the same class. However, pricing is way too high at $599 for the reference RX Vega 64 since a GTX 1080 can be purchased for around $500 now.
We haven't tested overclocking headroom with RX Vega 64 which is clocked up over the reference version to its enhanced 1750MHz core clock. Although the liquid cooled version generally doesn't throttle, it still runs rather hot for a liquid cooled core around 65C, and it appears that its 120mm radiator may be too small for overclocking the hot-running Vega 64 core with an automatic fan profile. After we test VR performance this week, we will compare overclocking results of the GTX 1080 versus the RX Vega 64 Liquid cooled edition next week.
Unfortunately, the RX Vega 64 Liquid edition's performance is simply not even close to GTX 1080 Ti performance which is in a higher class. This RX Vega launch was somewhat disappointing, although the card is quite an engineering marvel that looks great. At a lower price, it might be quite attractive. On looks alone, it is a handsome card that will look great in any PC.
Let's sum it up:
Gigabyte RX Vega 64 Liquid Edition – Pros
The RX Vega 64 Liquid editon is very impressive as an "Exotic Industrial Design". It is heavy, solid, and looks great. The AIO cooling may appeal to some.
The liquid cooled Vega 64 trades blows with the reference GTX 1080 FE.
Vega 64 Liquid edition is a fast card that does not throttle at stock settings and is a good replacement for the Fury X as AMD's flagship.
Cooling is quiet at stock settings
HBM is an interesting choice that may make use of HBCC in future
FreeSync eliminates tearing and stuttering.
Gigabyte RX Vega 64 Liquid Edition – Cons
The price. At $699, Vega 64 LC performance is way slower than the $699 reference GTX 1080 Ti and it really just trades blows with the $499 GTX 1080 Founders Edition.
Even with watercooling, there is a lot of heat coming from the radiator as the GPU temperatures approach 70C.
Installing a 120mm radiator may be difficult for some smaller cases; CrossFire may compound the issue with multiple radiator placement.
Drivers evidently still need work as MSAA takes an unusually large performance hit.
Power usage is much higher than the GTX 1080 and higher than the GTX 1080 Ti.
The Verdict:
If you prefer an AMD card and already have a FreeSync display, the RX Vega 64 Liquid may be a good replacement for a Fury X or a 390X. If you can find a reference version for $499 and waterblock it, it might be a very nice upgrade. However, the $699 RX Vega 64 Liquid Edition only trades blows with a $499 GTX 1080 (Updated note: the Founders Edition is $549). Just considering stock settings, it is simply impossible for us to recommend a liquid cooled Vega 64 over a comparably-priced GTX 1080 Ti until we spend more time with it and consider overclocking and VR performance.
We plan to post Part 2 of Vega 64 Unleashed later this week and we will compare performance of these same three cards using ten VR (Virtual Reality) games, and next week we will bring you an overclocking showdown as Part 3. When AMD releases a CrossFire driver for Vega, we will feature it in Part 4 versus GTX 1080 SLI.
Stay tuned, there is a lot coming from us at BTR. Watch for our Vega 64 VR performance evaluation later this week!
Happy Gaming!
Mark Poppin
BTR Editor-in-Chief