This RX Vega 56 showdown is a follow-up in our Vega "unleashed" series. We benchmark 28 games at 4 resolutions to determine the overall winner between the GTX 1070 Founders Edition and the reference RX Vega 56 at the $399 price-point.
Last month, AMD released its new Vega 64 processor in a vain attempt to beat the GTX 1080 and to take the performance crown from NVIDIA's GTX 1080 Ti. We have put our liquid-cooled flagship Vega 64 and the Founders Editions of the GTX 1080 and the GTX 1080 Ti through their paces with ten VR games and also each overclocked to the max with 28 modern PC games, and in most cases, the $549 GTX 1080 FE is faster while the GTX 1080 Ti is in a class by itself as the world's fastest gaming video card. And now we are going to compare the GTX 1070 FE with the reference RX Vega 56 which are both priced at $399 although the Vega 56 is still mostly out of stock.
Since we are using the reference version of both cards, we have set each card to its maximum power and temperature limits – and in the case of the RX Vega 56 – we have increased its minimum fan speed and allowed it to spin up to maximum so that it does not throttle, and we saw our overall stock-clocked Boost average around 1646MHz. We had originally planned to post overclocking results between the RX Vega 56 and the GTX 1070 FE, but AMD's latest 17.9.1 drivers do not allow the core nor memory overclocks to be set under WattMan.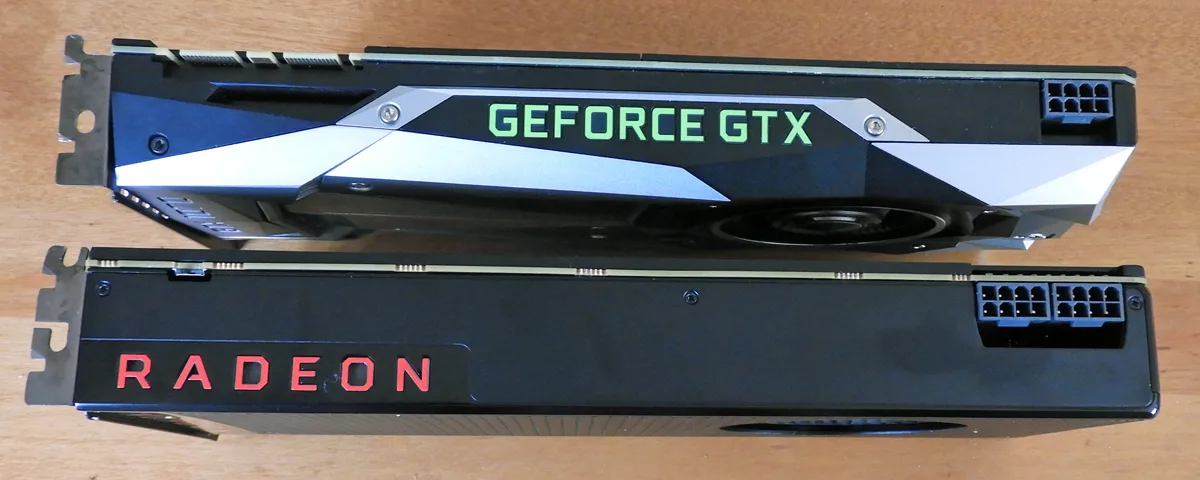 Our testing platform is Windows 10 Home 64-bit, using an Intel Core i7-6700K at 4.00GHz which turbos all cores to 4.6GHz as set in the ASRock Z170 motherboard's BIOS, and 16GB of HyperX DDR4 at 3333MHz. The settings and hardware are identical except for the two cards being tested. We will compare the performance of 28 modern games at 1920×1080, 2560×1440, 3440×1440 and 3840×2160 resolutions with maximum settings.
Let's see how well a non-throttling RX Vega 56 matches up with a Founders Editions of the GTX 1070.
Test Configuration – Hardware
Intel Core i7-6700K (reference 4.0GHz, HyperThreading and Turbo boost is on to 4.6GHz; DX11 CPU graphics).
ASRock Z170M OC Formula motherboard (Intel Z170 chipset, latest BIOS, PCIe 3.0/3.1 specification, CrossFire/SLI 8x+8x)
HyperX 16GB DDR4 (2x8GB, dual channel at 3333MHz), supplied by HyperX/Kingston
AMD Radeon RX Vega 56, 8GB, stock clocks, on loan from Tech of Tomorrow
NVIDIA GTX 1070 Founders Edition, 8GB, stock clocks, supplied by NVIDIA.
GTX 1080 8GB, Founders Edition, reference clocks, supplied by NVIDIA
GTX 1080 Ti 11GB, Founders Edition, reference clocks, supplied by NVIDIA
Two 2TB Seagate 7200 rpm SSHDs for each platform
EVGA 1000G 1000W power supply unit (for both platforms)
EVGA CLC280, 280mm CPU watercooler, supplied by EVGA
Onboard Realtek Audio
Genius SP-D150 speakers, supplied by Genius
Thermaltake Overseer RX-I full tower case, supplied by Thermaltake
ASUS 12X Blu-ray writer
Monoprice Crystal Pro 4K
ACER Predator X34 GSYNC display, supplied by ACER/NVIDIA
Test Configuration – Software
GeForce WHQL 385.41 used for the GTX 1070 FE, WHQL 384.94 was used for the GTX 1080 and WHQL 385.28 for the GTX 1080 Ti. High Quality, prefer maximum performance, single display. See control panel images below.
AMD ReLive Software 17.9.2 used for the RX Vega 56; RX Vega public launch drivers (17.30.1051-b6) were used for the benching the Vega 64. See control panel image below.
VSync is off in the control panel.
AA enabled as noted in games; all in-game settings are specified with 16xAF always applied
All results show average frame rates including minimum frame rates shown in italics on the chart next to the averages in smaller font. Percentage differences are calculated between the average frame rates of the RX Vega 56 and of the GTX 1070 FE.
Highest quality sound (stereo) used in all games.
Windows 10 64-bit Home edition, all DX11 titles were run under DX11 render paths. Our DX12 titles are run under the DX12 render path; DOOM was run under the Vulkan API. Latest DirectX
All games are patched to their latest versions at time of publication.
WattMan
MSI Afterburner.
OCAT
Fraps
The 28 PC Game benchmark suite & 4 synthetic tests
Synthetic
Firestrike – Basic & Extreme
Time Spy DX12
VRMark Orange Room
VRMark Blue Room
DX11 Games
Crysis 3
Metro: Last Light Redux (2014)
Grand Theft Auto V
The Witcher 3
Fallout 4
Assassin's Creed Syndicate
Just Cause 3
Rainbow Six Siege
DiRT Rally
Far Cry Primal
Call of Duty Infinite Warfare
Battlefield 1
Watch Dogs 2
Resident Evil 7
For Honor
Ghost Recon Wildlands
Mass Effect: Andromeda
Prey
DiRT 4
DX12 Games
Tom Clancy's The Division
Ashes of the Singularity
Hitman
Rise of the Tomb Raider
Total War: Warhammer
Deus Ex Mankind Divided
Gears of War 4
Sniper Elite 4
Vulkan Game
Nvidia Control Panel settings:
These are the setting we use when testing NVIDIA cards. Power and Temperature Limits are set to their maximum under Afterburner; the GTX 1070 FE does not throttle due to thermal constraints and the fan speed was left on automatic.

AMD Radeon Global Settings:
Here are the global game settings in AMD's ReLive control panel that we use: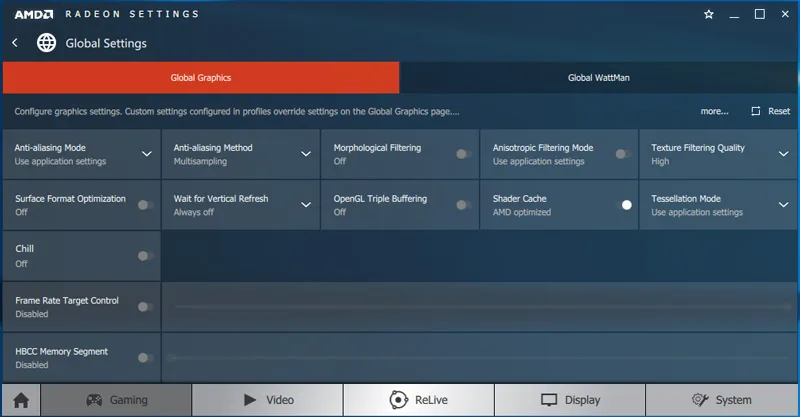 These are the custom gaming global settings that we used for the RX Vega 56 that gave us slightly better performance than using the "Turbo" Preset. The Power Limit is set to +50%, the temperature is allowed to reach the maximum, and the fan is also allowed to spin up to its maximum, while a minimum of 4,000 rpm are set to prevent thermal throttling.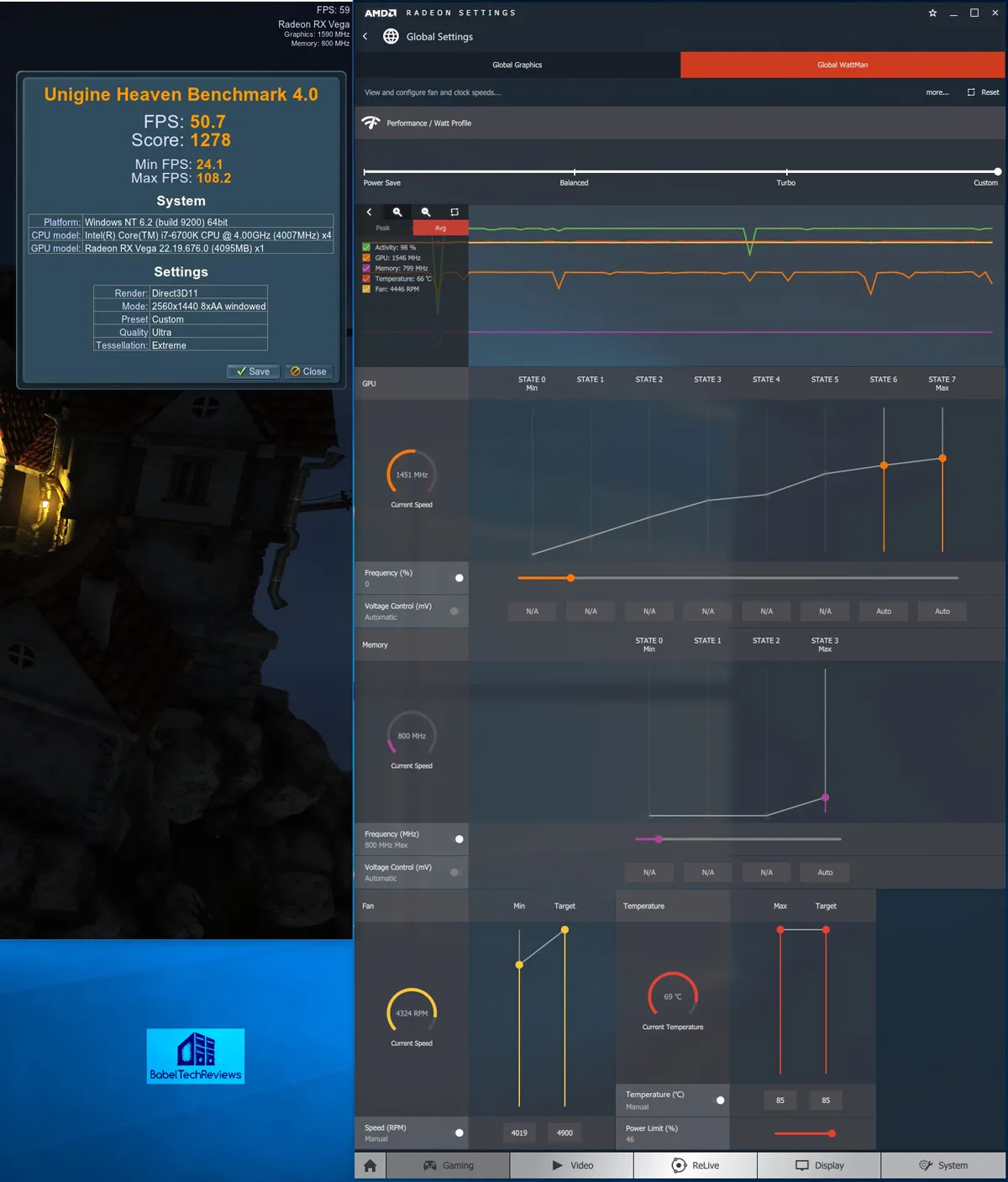 The above is our test bench and the settings that we used. Now let's see how we calculate percentage differences between the RX Vega 56 and the GTX 1070 FE.
Calculating Percentages
There are two methods of calculating percentages. This one we are now using is the "Percentage Difference" that we are using to compare the GTX 1070 FE versus the RX Vega 56, and the other is "Percentage Change" which are usually used to show improvements. Percentage difference is generally used when you want to know the difference in percentage between two values, in this case the difference in average frame rates (FPS) between RX Vega 56 and the GTX 1070.
For the percentage difference we are simply dividing the difference between two numbers by the average of the two numbers. This is usually expressed algebraically where "V" equals value: ( | V1 – V2 | / ((V1 + V2)/2) ) * 100
.
Let's check out our Performance Summary chart followed by our conclusion.
Performance summary chart
Below are the summary charts of 28 games and 4 synthetic tests. The highest settings are always chosen and DX12 is usually picked above DX11 where available, and the settings are ultra or maxed. Specific settings are listed on the performance charts. The benches were run at 1920×1080, 2560×1440, 3840×1440, and at 3840×2160.
All game results show average framerates and higher is always better. Minimum frame rates are shown next to the averages when they are available, but they are in italics and in a slightly smaller font. In-game settings are ultra or fully maxed out, and they are identical across all platforms.
The GTX 1070 FE results are in the first performance results column and the RX Vega 56 results are shown in the second performance results column. "Wins" are shown in yellow font. The first (yellow) performance results column shows the percentage differences between the RX Vega 56 and the GTX 1070 FE. The third performance column represents the stock GTX 1080 FE results, the fourth performance column represents the RX Vega 64 Liquid Cooled edition results, and the final performance column shows GTX 1080 Ti FE results.
Open each of the 4 charts in separate windows or tabs for better viewing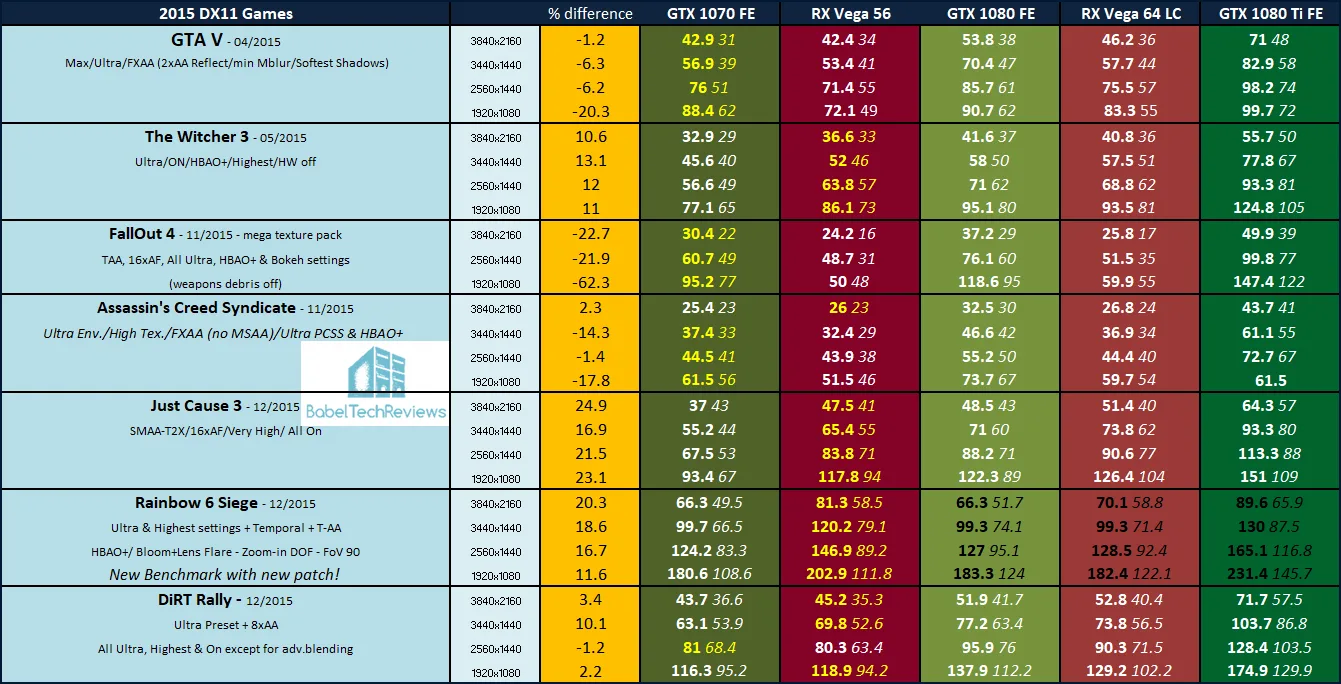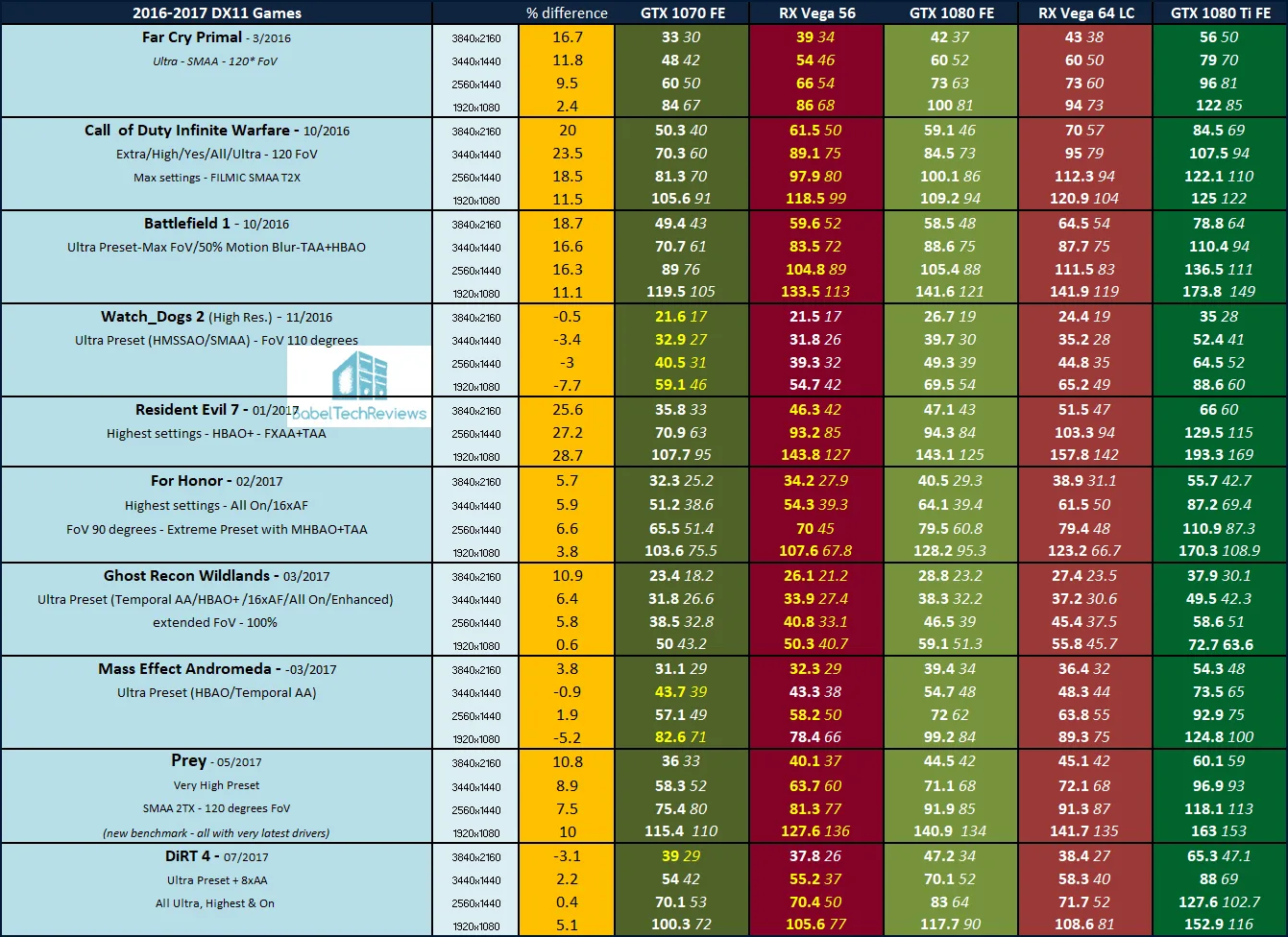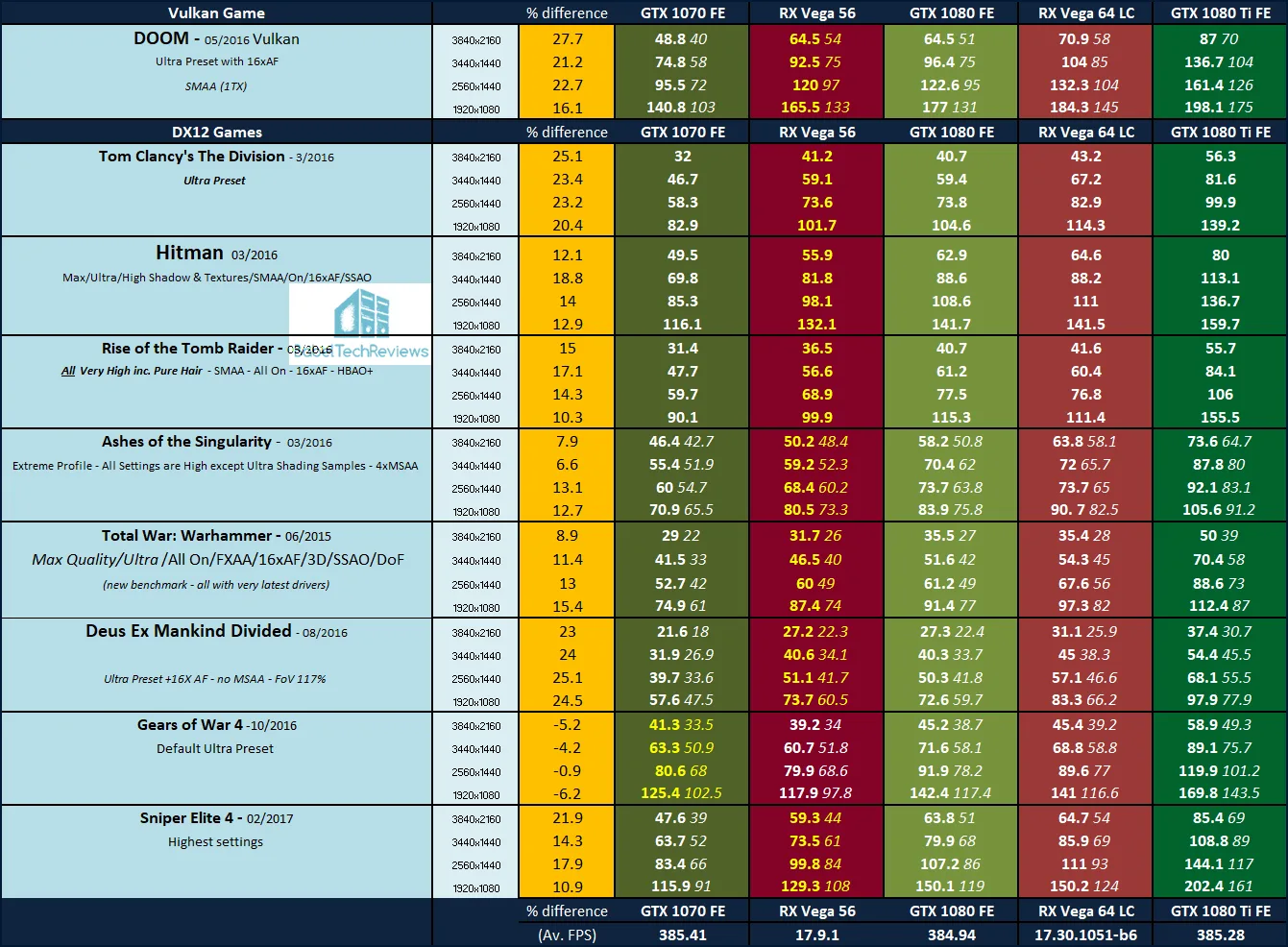 Rainbox Six: Siege got a new major update and performance has increased with the new patch, especially for the RX Vega 56. The GTX 1080/Ti and Vega 64 were benchmarked before the update and should not be compared with GTX 1070/RX Vega 56 results.
It appears from our 28-game testing that the $399 RX Vega is faster than the $399 GTX 1070 Founders Edition, but it falls well short of the $550 GTX 1080 FE performance which is just ahead of the $699 RX Vega Liquid Cooled edition. And the $699 GTX 1080 Ti FE is simply in a performance class by itself.
Let's head for our conclusion.
The Conclusion
Unlike the RX Vega 64 Liquid Cooled edition which fell quite short of its performance target of the GTX 1080 Ti and barely matched the GTX 1080, the RX Vega 56 is faster than the GTX 1070 FE. Using performance as our primary metric, at $399, the RX Vega 56 is a pretty good deal from our testing so far. However, it is impossible to find a $399 RX Vega 56 in stock at time of writing, and also the GTX 1070s are commanding a price-premium over their base MSRP of $379 because of crypto-currency mining demands on the GPU supply.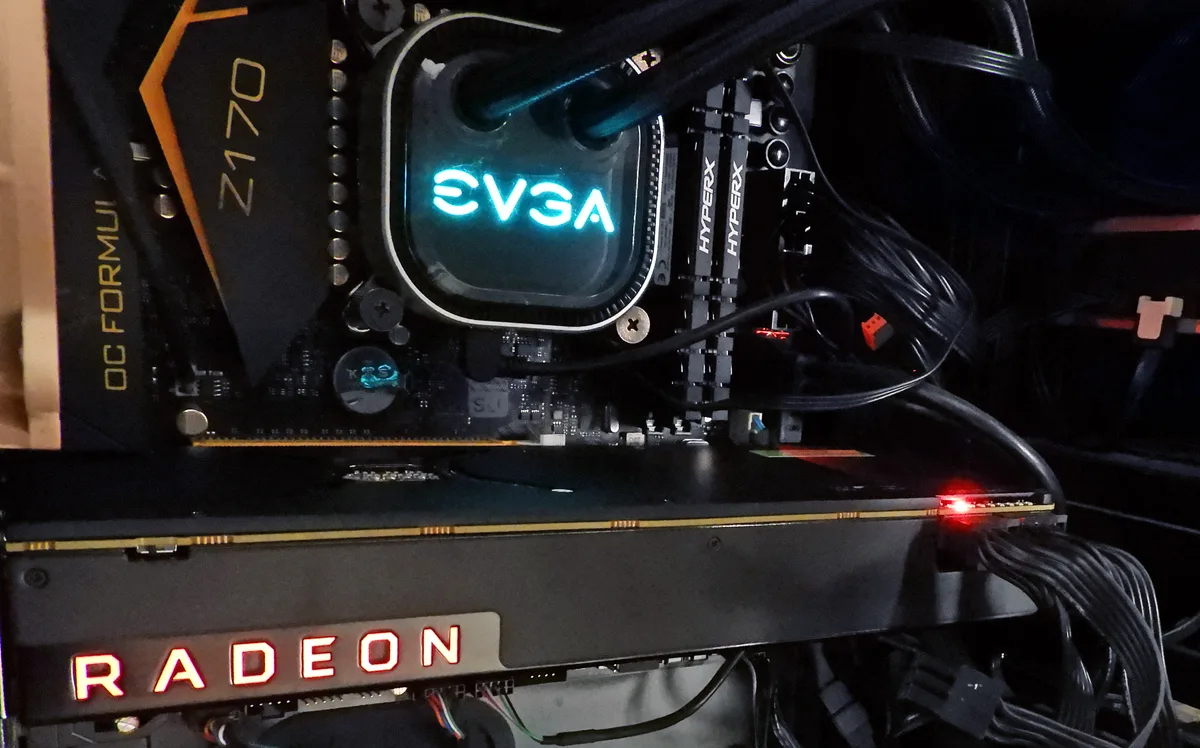 Although we haven't yet tested overclocking headroom with RX Vega 56 since overclocking is broken with AMD's latest 17.9.1 drivers under WattMan, it appears that Vega 56 is the star of AMD's Vega lineup. We are next going to work on Vega 56 overclocking with Afterburner or we will revert to AMD's last driver, and we will test VR performance in a few weeks after AMD has a chance to work on improving Vega VR drivers. We are especially looking forward to AMD's partner versions of Vega 56 which may be released in the next few weeks, and we are hopeful that upper-midrange video card pricing may return to normal soon.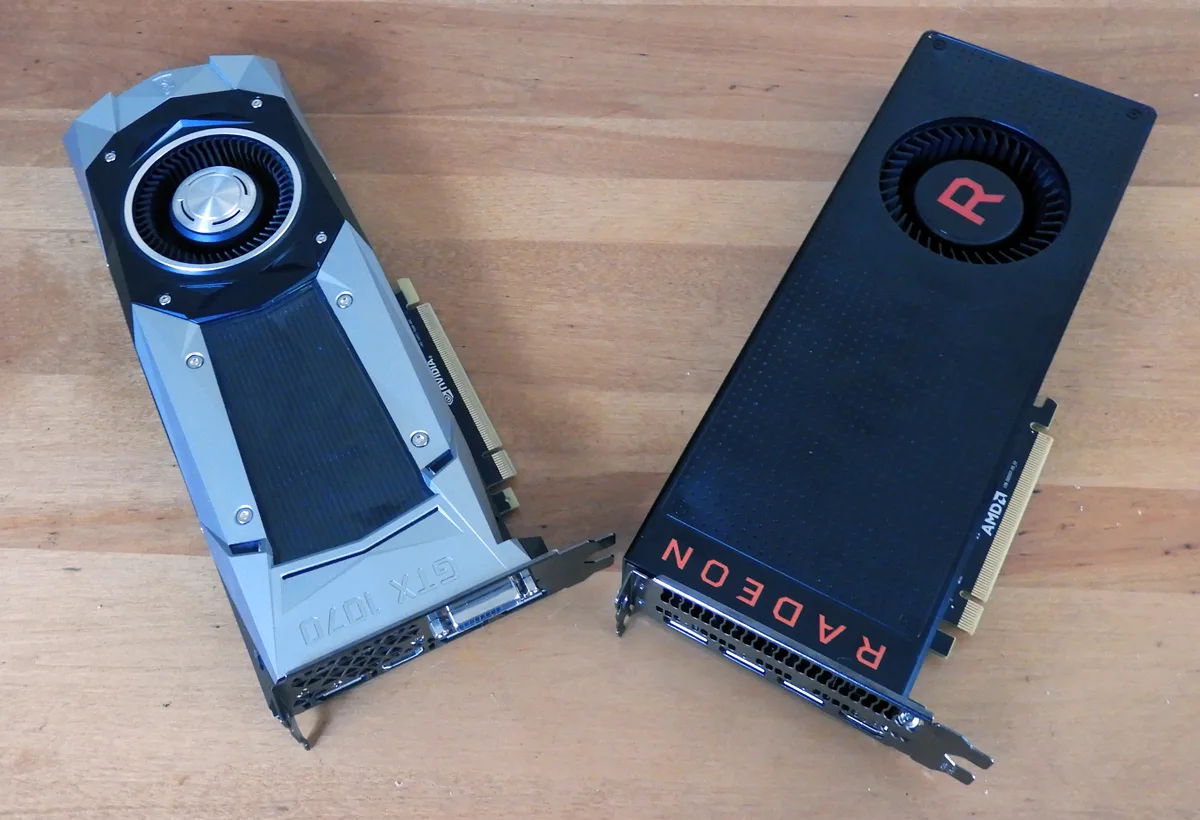 Stay tuned, there is a lot coming from us at BTR. Watch for our Vega 56 overclocking showdown versus the GTX 1070 FE this weekend! And we have a new Standing Desk, the VertDest v3, that we are setting up now for review as we build our Ryzen 7 platform.
Happy Gaming!
Mark Poppin
BTR Editor-in-Chief