Intro
The EVGA GTX 1660 Ti XC Black Overclock Showdown vs. the RX Vega 56 & RX 590 Red Devils and vs. the GTX 1070 FE using 40 games
This overclocking showdown is the follow-up to BTR's launch review of the EVGA GTX 1660 Ti XC Black versus the PowerColor Red Devils RX 590 and RX Vega 56, and versus the GTX 1070.  Today we have optimized and maxed-out all individual overclocks with all performance options set to their highest limits to get the most performance from each card.
At stock, the GTX 1660 Ti won nearly all of the 40 games we tested over the Red Devil RX 590, and it also beat the GTX 1070, but it fell short of the premium Red Devil RX Vega 56's performance.  This time, we will overclock all four cards manually each as far as they will go to see where they stand in relation to each other and to see if anything changes.
The GTX 1660 Ti OC
We found our own final stable manual overclock was much higher than Precision X1's +114MHz scan recommendation.  We added 175MHz to the core to boost the clocks close to 2050MHz.  We also added 800MHz to the GDDR6 memory overclock, and although it could probably go higher, we found that our core overclock began to destabilize possibly due to the comparatively limited power delivery capabilities of an EVGA entry-level Black GTX 1660 Ti.
Our core overclock of the GTX 1660 Ti seems to be in line with what is expected from Turing GPUs.
The Red Devil RX Vega 56 OC
The premium PowerColor Red Devil RX Vega 56 uses the same two 8-pin PCIe power connectors as the reference RX Vega 56.  However, we saw the original reference RX Vega 56 throttle its clocks regularly under load as its power delivery was apparently insufficient for overclocking vs. the GTX 1070 Ti.  In contrast, the Red Devil RX Vega 56 features a 12-phase power delivery system plus a huge heatsink and three fans.  The Red Devil's clocks flatline at maximum boost unlike the reference RX Vega 56 which tends to throttle under load.
For our own gaming, we undervolt our RX Vega 56 and take a slight performance hit for big power savings, but for overclocking maximum-performance-damn-the-power-consumption, it requires brute force.  We set the power limit and voltages up as high as they can go and set the clocks right to the edge of instability while using a somewhat loud and aggressive fan profile.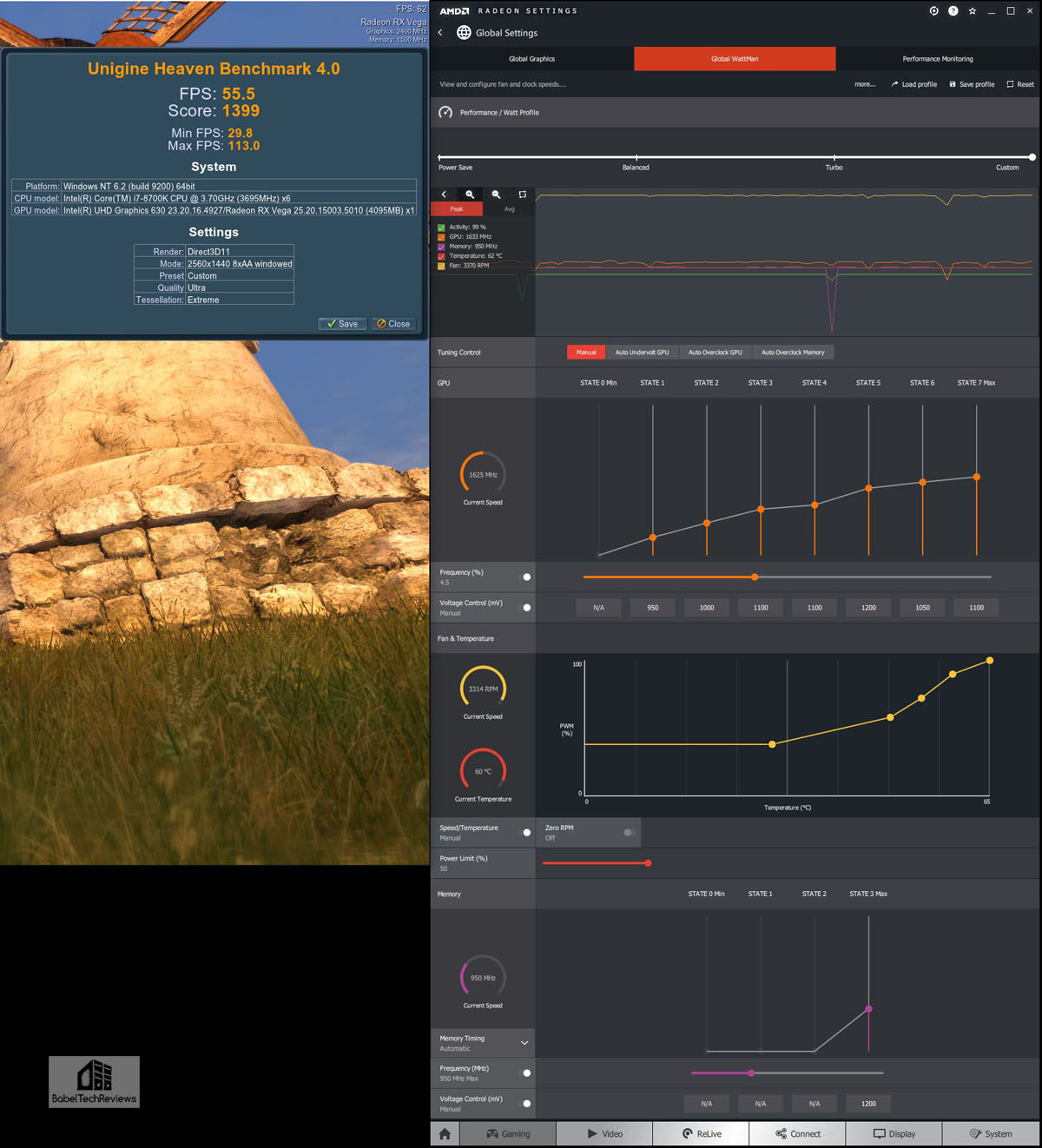 Our PowerColor Red Devil RX Vega 56 uses Hynix memory which doesn't overclock particularly well in this case so we found an offset of +150MHz is its ceiling for stable performance paired with a stock-clocked core.  However, for overall rock solid stability and overall maximum performance, we settled on a 4.0% overclock for an average boost above 1625MHz with its memory clocks overclocked +135MHz to 935MHz.
The GTX 1070 OC
Overclocking the Founders Edition of the GTX 1070
We devoted a separate evaluation to overclocking the GTX 1080 Founders Edition which also applies to the GTX 1070.  Our Founders Edition's final stable offset was +140 MHz to the core which settled in around 2012MHz with GPU Boost, and we added 520MHz to achieve a 4519MHz final stable memory clock. 
We did not need to adjust the fan profile, but left it on automatic. The fan never becomes obtrusive as we left its profile at stock, and the GPU remained relatively cool and did not throttle under overclocking.
The Red Devil RX 590 OC
The $279 Red Devil of the RX 590 8GB is clocked up from the reference 1545MHz to its maximum boost speeds of 1576MHz.  The details of our original overclocking may be found here.  We found that as long as the  the Power and Temperature limits are maximized, it will not throttle even with the Silent BIOS profile.
We settled on a 2.5% overclock or +40MHz to the core for a 1615MHz boost, with memory clocks overclocked +175MHz to 2175MHz.  We found that higher memory clocks gained significant performance over a slightly higher core overclock.  Adjusting the voltage – undervolting or undervolting – made no practical difference, and we achieved stability in all of our 40 tested games again using overclocking brute force.
Testing Platform
We test 40 games and 3 synthetic benchmarks at 1920×1080 and at 2560×1440.  Our platform is a recent installation of Windows 10 64-bit Home Edition, and we are using an i7-8700K which turbos all 6 cores to 4.7GHz, an EVGA Z370 FTW motherboard, and 16GB of HyperX DDR4 3333MHz. The games, settings, and hardware are identical except for the cards being compared.
Before we run our overclocked benchmarks, let's check out the test configuration.