The EVGA GTX 1660 Ti XC Black arrives to take on the Red Devil RX 590 & the GTX 1070 in a Mega-review with 40 games
The GeForce GTX 1660 Ti is the fifth GPU based on NVIDIA's Turing architecture. There is no Founders Edition (FE) so it is represented by BTR's review of the EVGA GTX 1660 Ti XC Black. It is the true successor to the GTX 1060 and it does not come with RT or Tensor cores which allows it to launch at $279, and its performance is supposed to approximate a $329 GTX 1070. It is $20 more expensive than the $259 Red Devil RX 590 which comes with a 3-game bundle from AMD, and so it is expected to outperform it.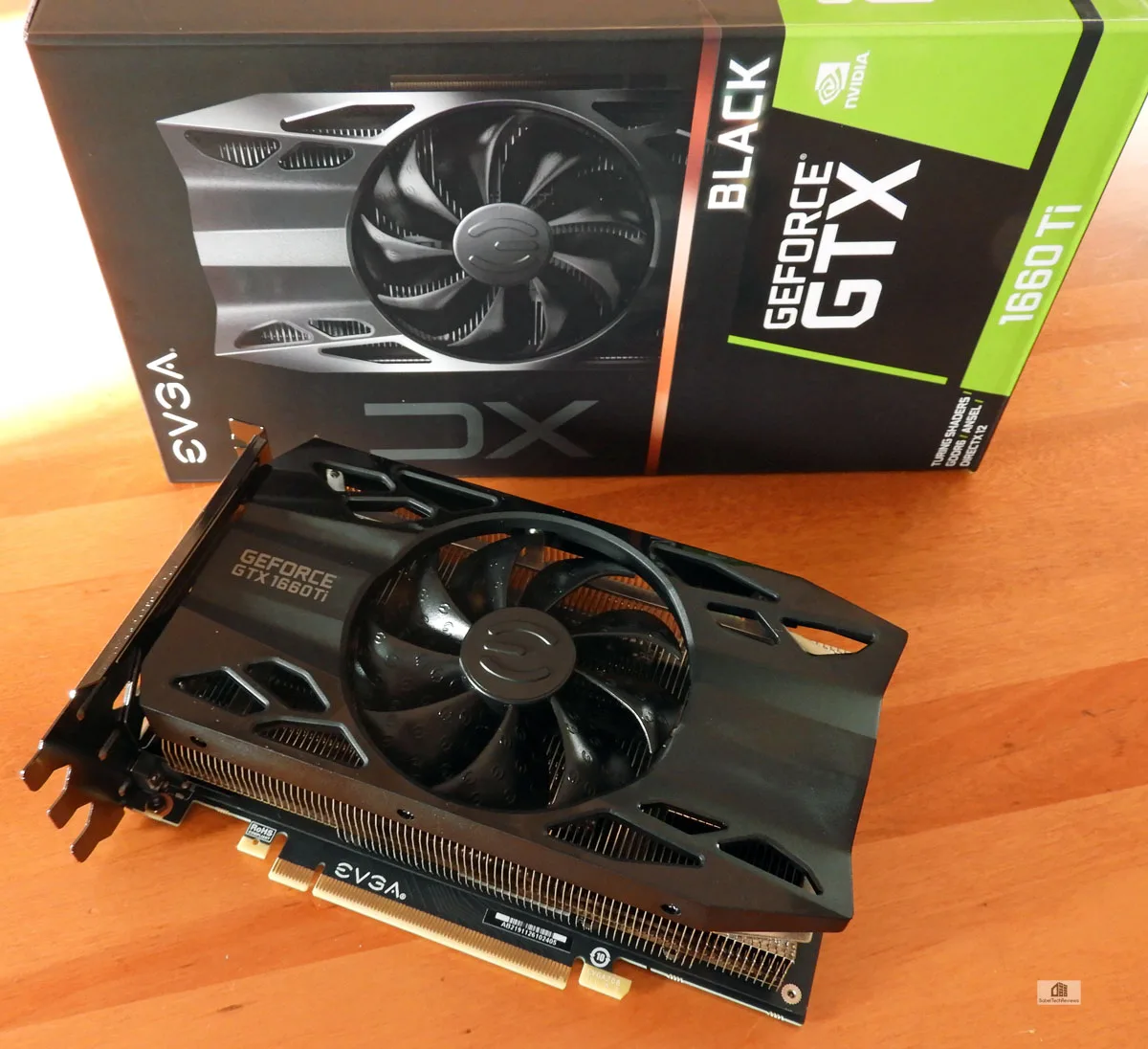 The GTX 1660 Ti is NVIDIA's new mainstream non-RTX Turing card and it will be available globally today starting at its $279 pricing and up for factory-overclocked cards. Like the GTX 1060 it replaces, the GTX 1660 Ti has 6GB of vRAM, but it is now equipped with GDDR6.
We will highlight the differences between the GTX 1060, the RTX 2060, and the GTX 1660 Ti, and then we will focus on its performance by benchmarking it versus the Red Devil RX 590 and the GTX 1070 with an expanded 40-game benching suite including with Resident Evil 2 and Metro Exodus to see how capable it is.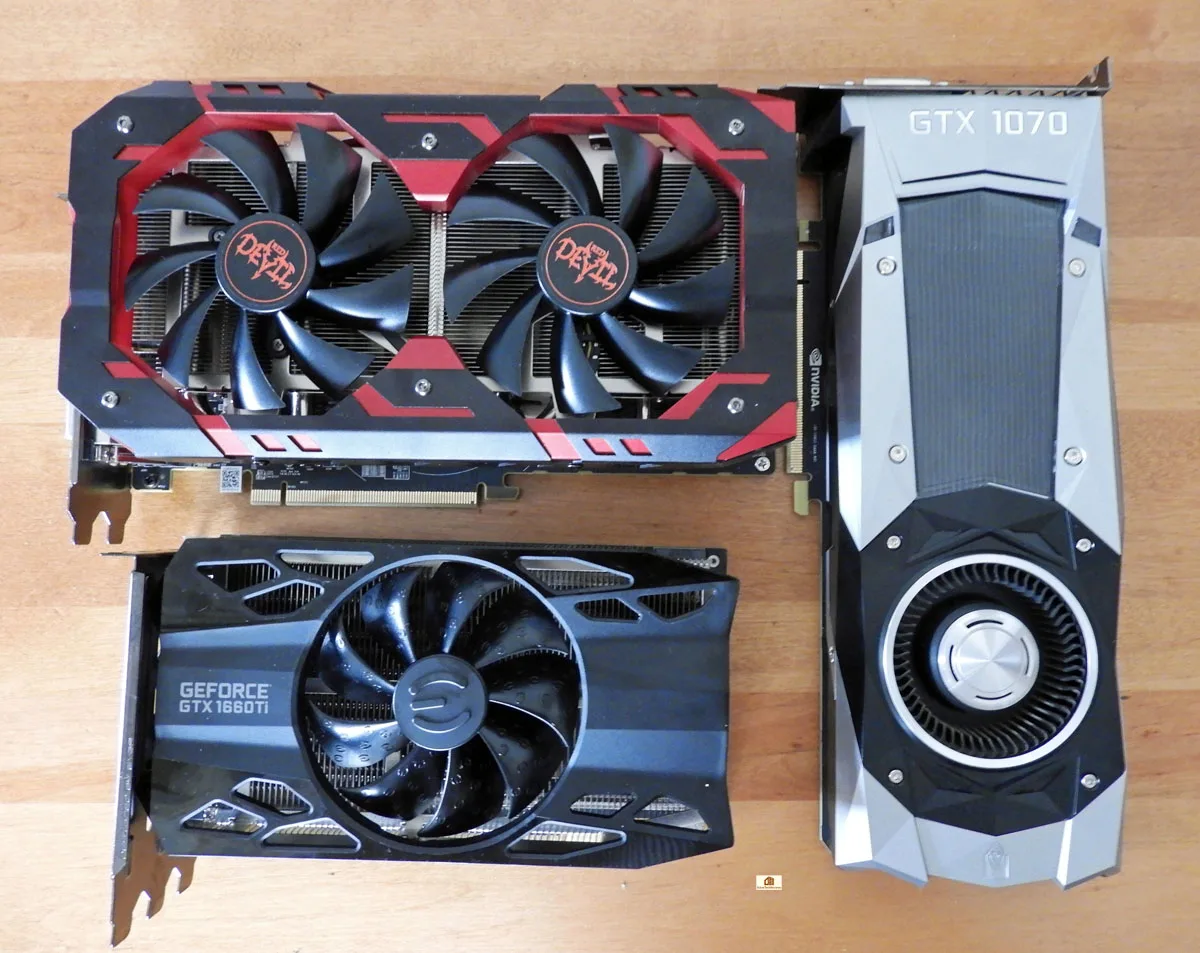 We will pay particular attention to the GTX 1660 Ti's performance versus its main and lower-priced competitor, the factory overclocked PowerColor Red Devil RX 590 at $259, and also versus the GTX 1070 at $329. We will also compare performance by using a total of eight video cards in BTR's Big Picture, and will compare how far the GTX 1660 Ti has progressed versus the GTX 1060 SC at 1920×1080 and at 2560×1440.
The GTX 1660 Ti is based on its own Turing TU106 GPU but it has been modified to not have tensor nor RT cores so it is less complex and less expensive than the RTX 2060.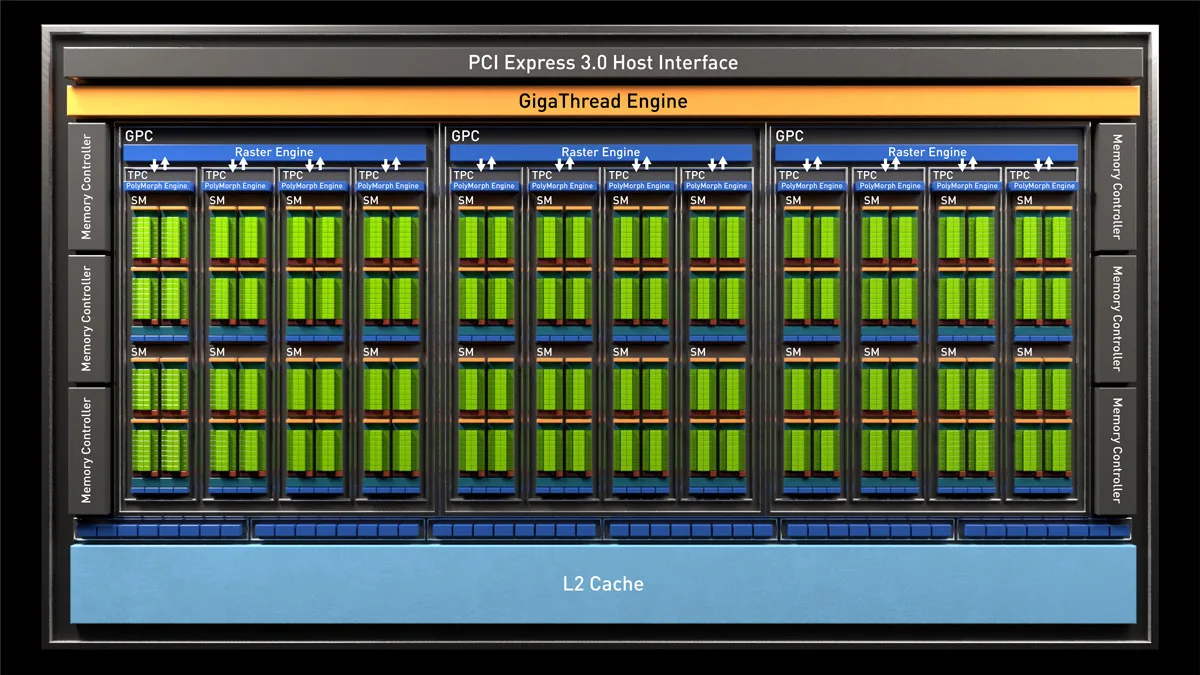 The GeForce GTX 1660 Ti sports the Turing shader core which allows it to excel over Pascal in newer games with more complex shaders.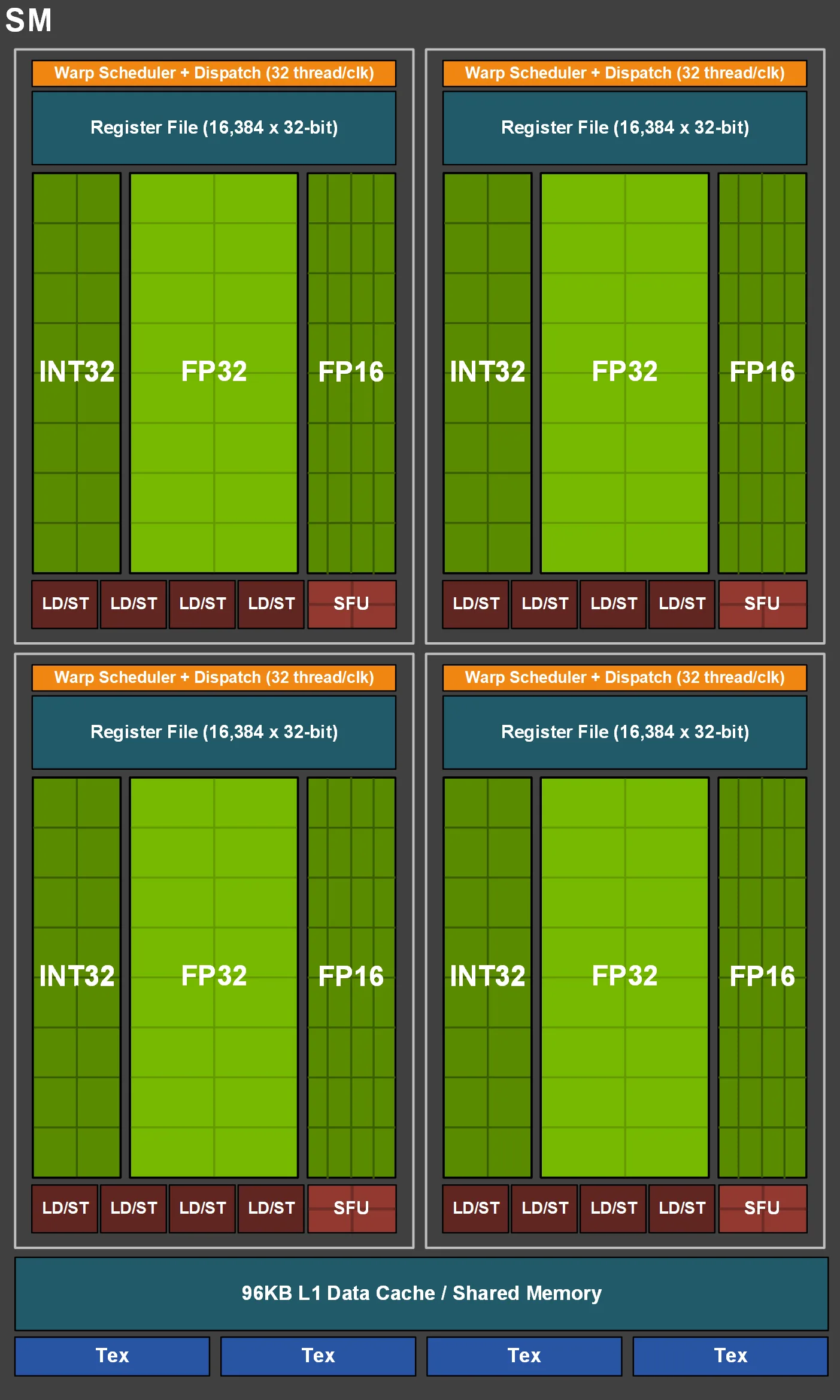 NVIDIA claims the GTX 1660 Ti is 1.5 times faster than the GTX 1060 and 3 times faster than the GTX 960. Here is a comparison of the GTX 1060 vs. the GTX 1660 Ti.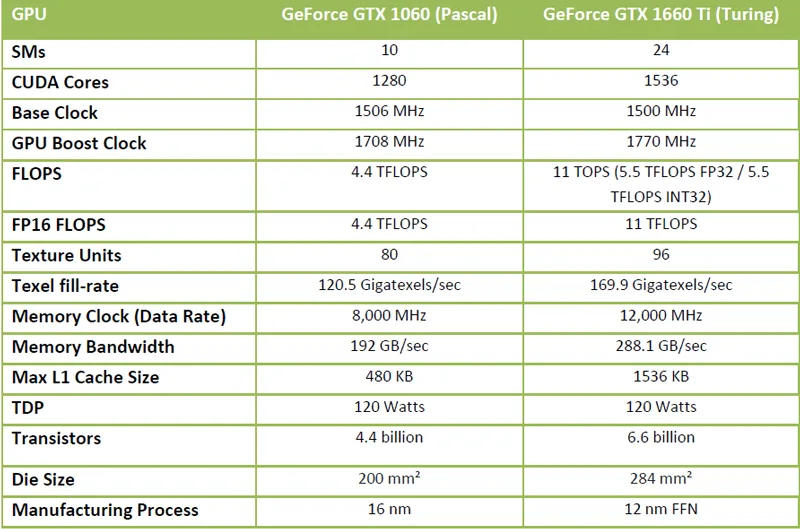 The GTX 1660 Ti features 1536 CUDA Cores and a minimum GPU Boost clock of 1770 MHz while the TDP is a modest 120 Watts and external power is provided by a single 8-pin power connector. Here are the GTX 1660 Ti specifications from NVIDIA's chart.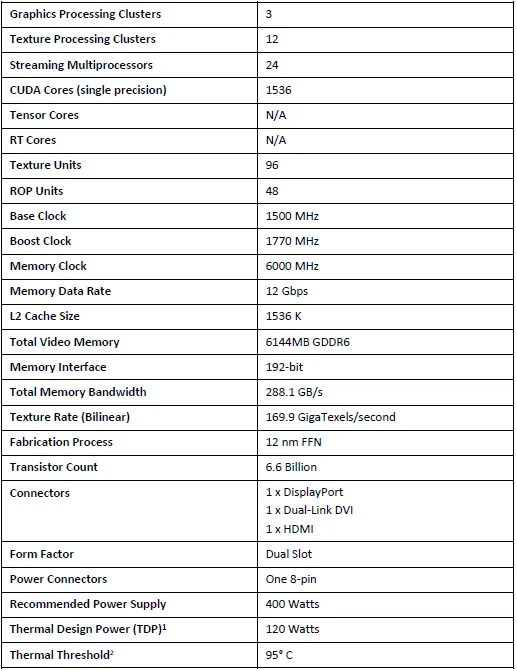 The Black line-up is EVGA's entry-level, non RGB video cards and they are stock-clocked with their specifications as below. EVGA offers some of the best warranty and RMA support anywhere. A three year warranty is offered with a further extension possible upon registration.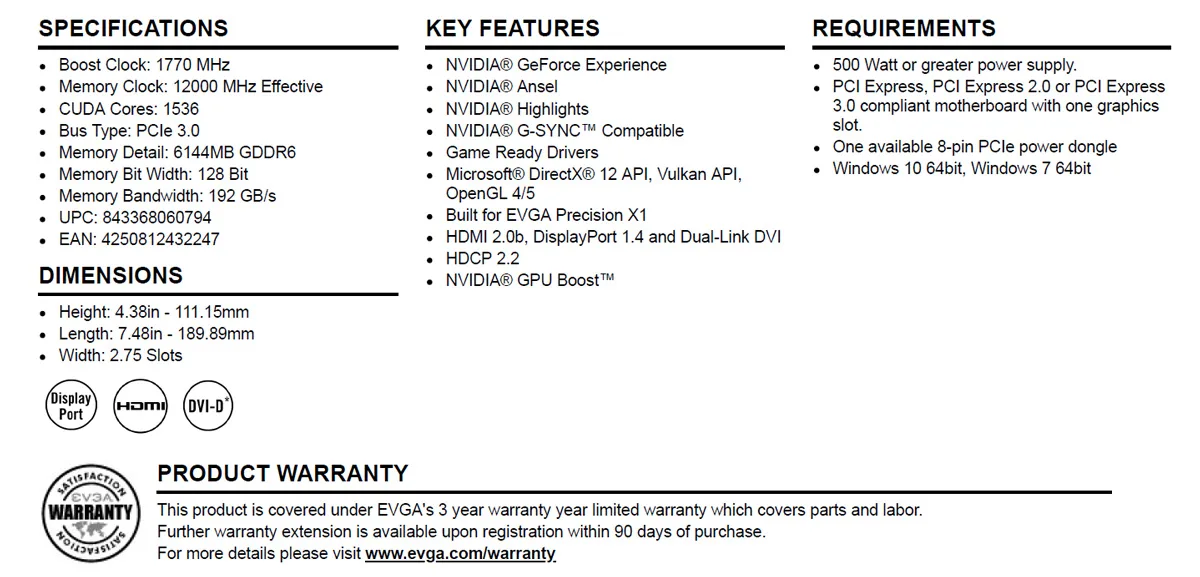 BTR received a GTX 1660 Ti review sample on an extended loan from EVGA last week, and we have put it through its paces. We test all of our eight cards with recent drivers on a clean installation of Windows 10 64-bit Home edition, using a Core i7-8700K with all six cores overclocked to 4.7 GHz by the BIOS, and 16GB of Kingston's 3333MHz DDR4.
First, let's unbox the EVGA GTX 1660 Ti XC Black.
UNBOXING
The EVGA GTX 1660 Ti XC Black
The EVGA GTX 1660 Ti XC Black comes in an average sized box that advertises its features.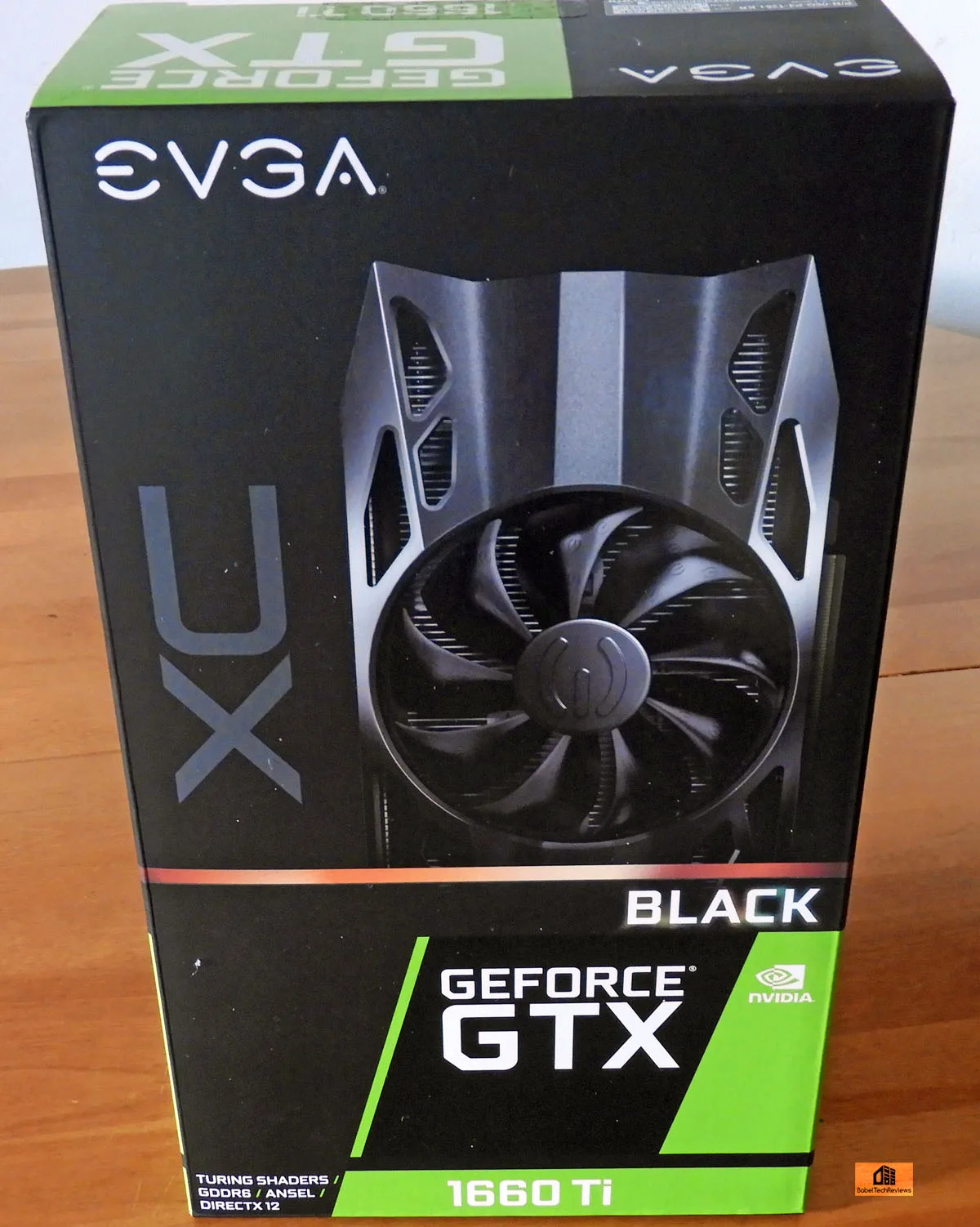 The features are detailed on the back of the box in multiple languages.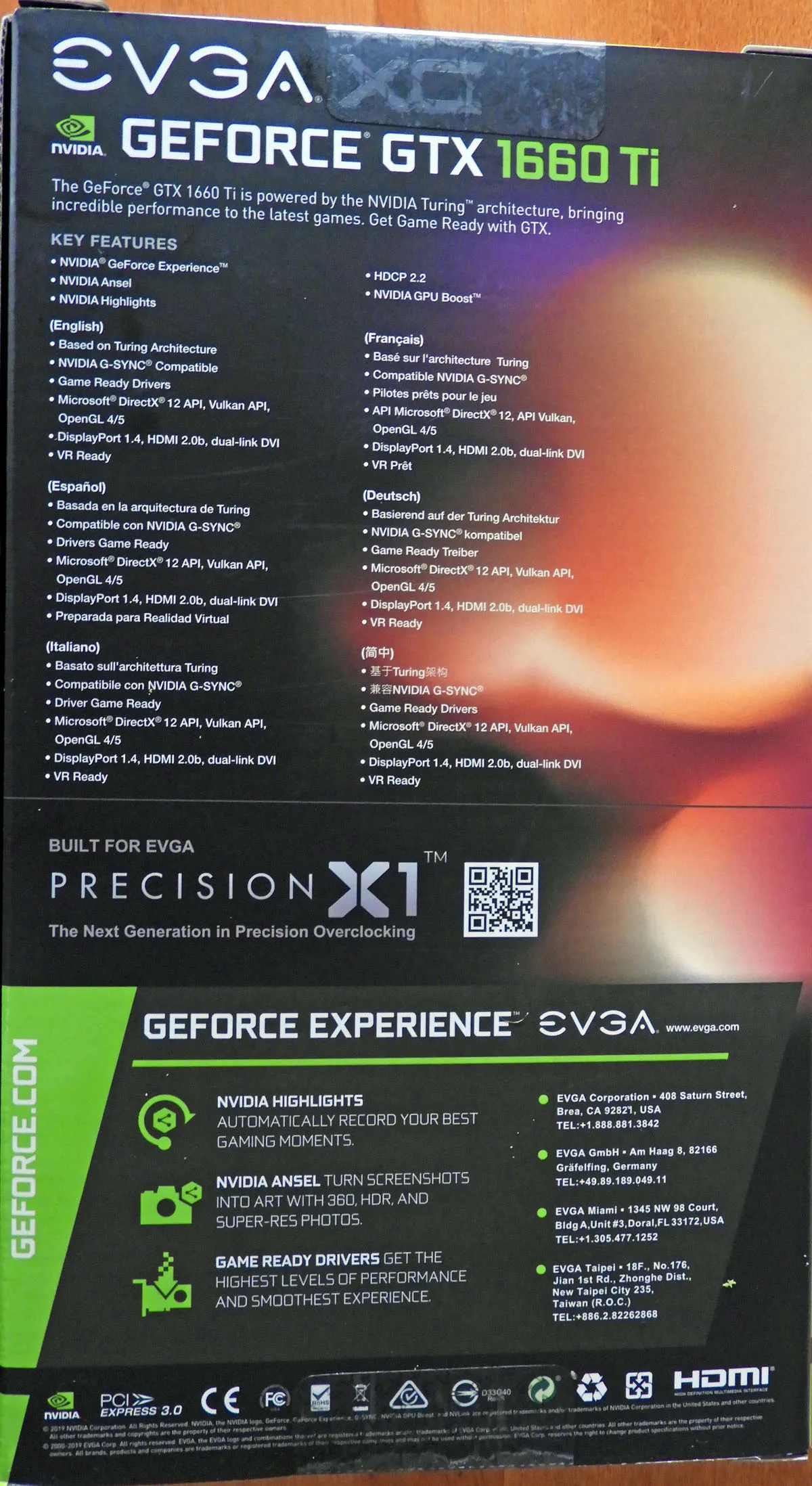 Here are the GTX 1660 Ti minimum system requirements.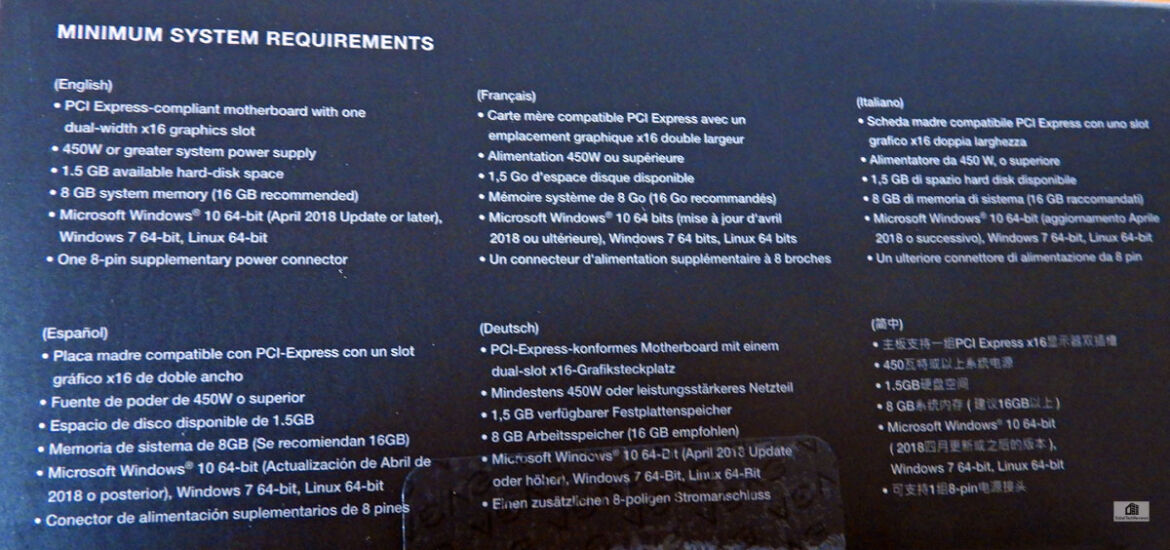 The EVGA GTX 1660 Ti is a compact card similar in outline to the EVGA GTX 1060 SC.
However, it is much thicker.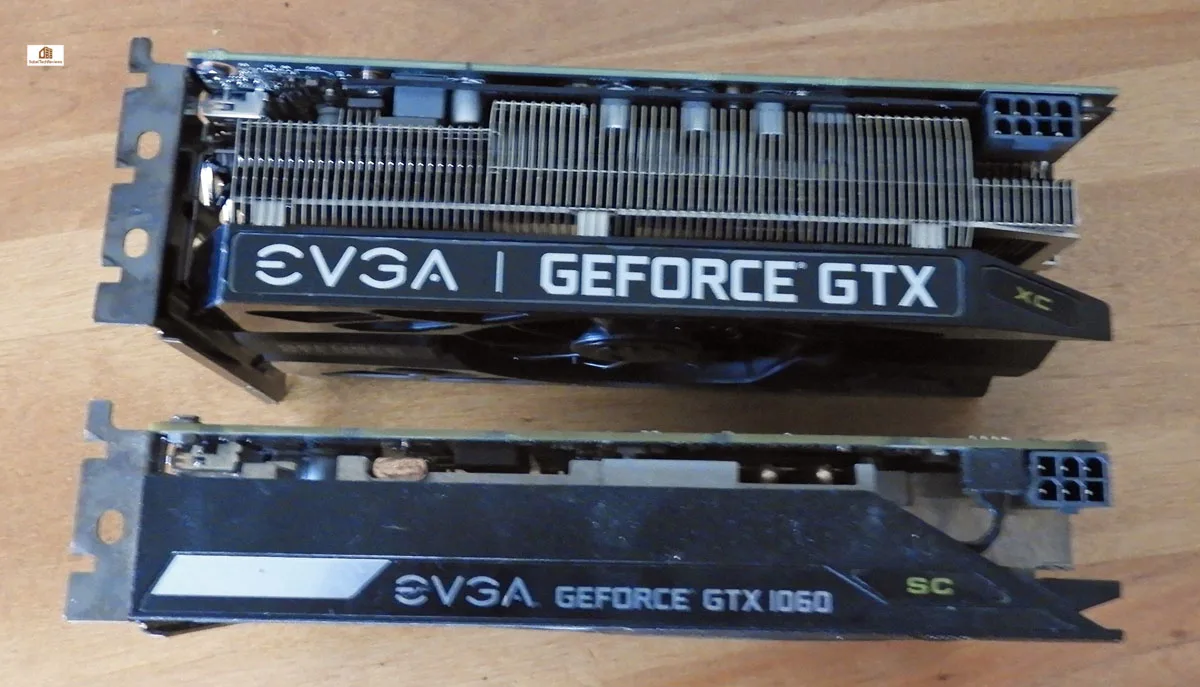 Turning it around, we see the heatsink extends to the other edge.

The other side.


Here is the end.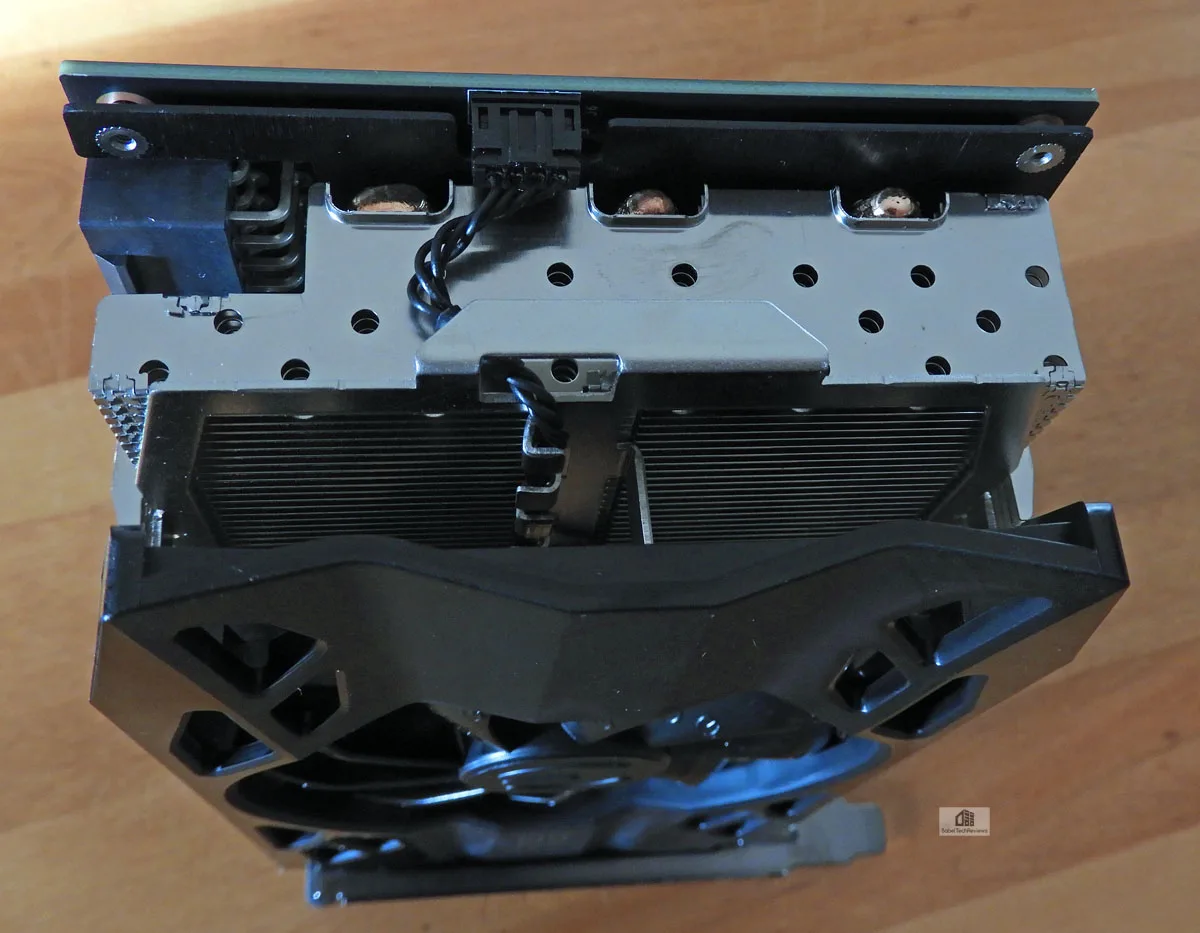 The connectors consist of one DisplayPort, a HDMI connector, and a DVI connector. The new NVIDIA Type-C/VirtualLink connector is an option that EVGA decided to do without although some partner versions may offer it.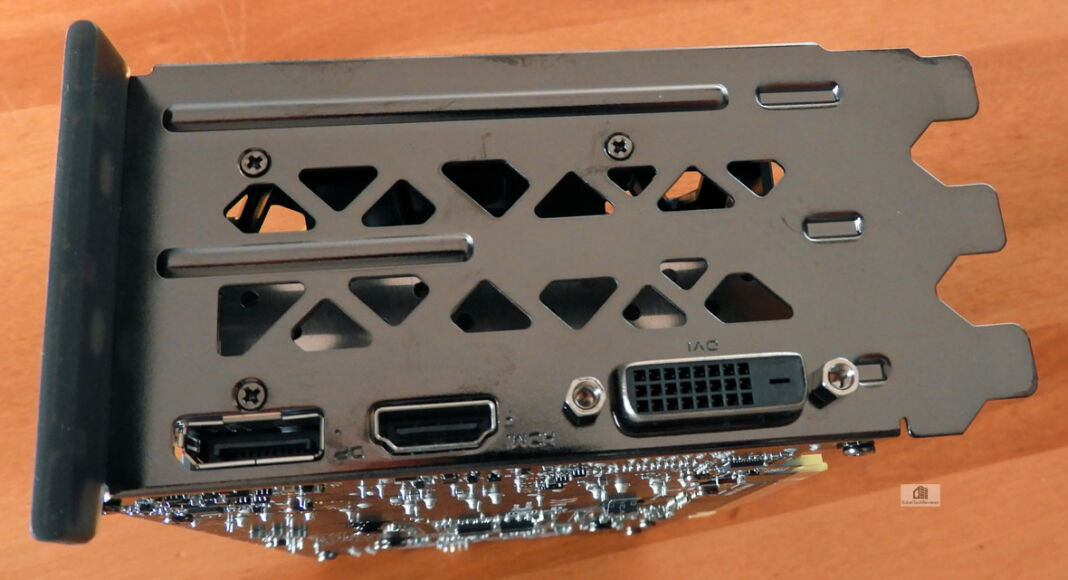 The PCB is raw and there is no backplate as befits an entry-level card.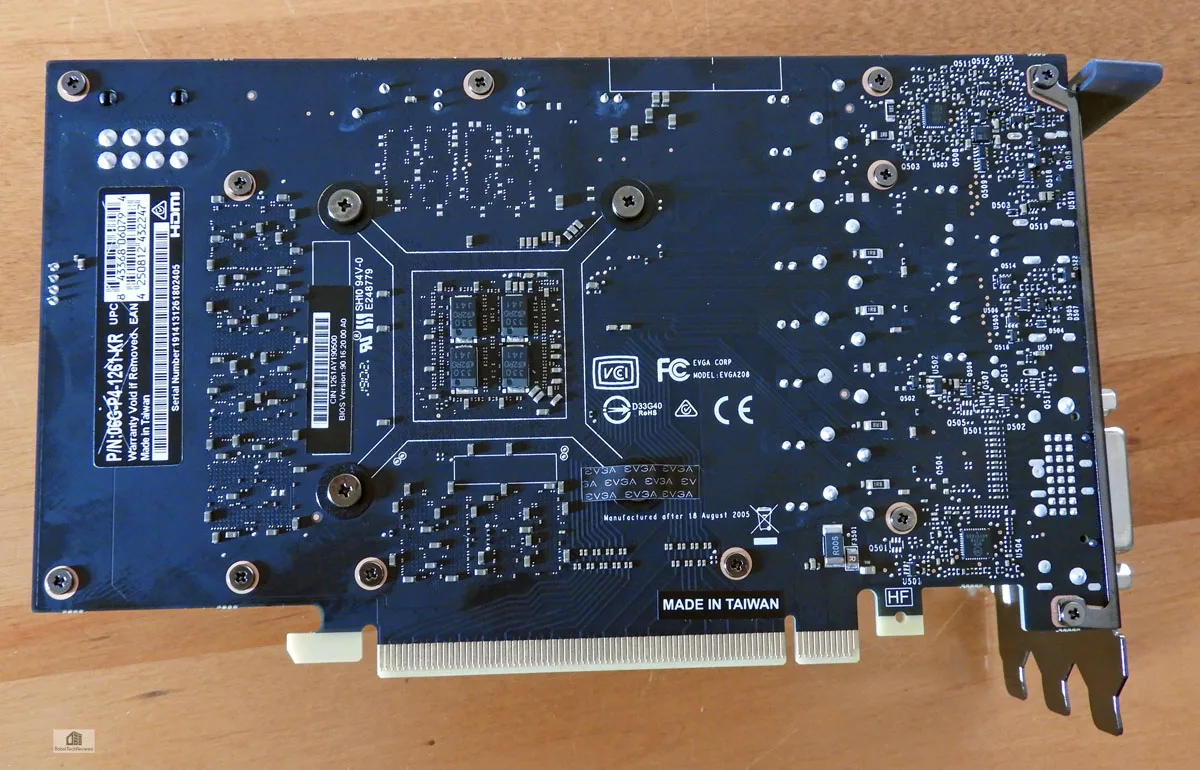 Before we explore overclocking and then performance testing, let's take a closer look at our test configuration.
Test Configuration – Hardware
Intel Core i7-8700K (HyperThreading and Turbo boost is on to 4.7GHz for all cores; Coffee Lake DX11 CPU graphics).
EVGA Z370 FTW motherboard (Intel Z370 chipset, latest BIOS, PCIe 3.0/3.1 specification, CrossFire/SLI 8x+8x), supplied by EVGA
HyperX 16GB DDR4 (2x8GB, dual channel at 3333 MHz), supplied by HyperX
EVGA GTX 1660 Ti XC Black 6GB, stock GTX 1660 Ti clocks, on loan from EVGA
RTX 2060 6GB Founders Edition, stock RTX 2060 clocks, on loan from NVIDIA
RTX 2070 Founders Edition 8GB, stock RTX 2070 FE clocks, on loan from NVIDIA
GTX 1070 Ti 8GB Founders Edition, stock FE clocks, on loan from NVIDIA
GTX 1070 8GB Founders Edition, stock FE clocks, on loan from NVIDIA
EVGA GTX 1060 SC 6GB, factory SC clocks, on loan from EVGA
Red Devil RX Vega 56 8GB, at factory overclocked settings, on loan from PowerColor
Red Devil RX 590 8GB, at factory overclocked settings, on loan from PowerColor
2 x 480GB Team Group SSDs – one for AMD, and one for NVIDIA
1.92TB San Disk enterprise class SSD
2TB Micron 1100 enterprise class SSD
Seasonic 850W Gold Focus power supply unit
EVGA CLC 280mm CPU water cooler, supplied by EVGA
EVGA Nu Audio PCIe soundcard, supplied by EVGA
Edifier R1320T Active speakers
EVGA DG-77, mid-tower case supplied by EVGA
LG 43″ HDR 4K TV
Monoprice Crystal Pro 4K
Test Configuration – Software
Nvidia's GeForce 418.91 drivers are used for the GTX 1660 Ti, the GTX 1070, and for the GTX 1060. 418.81 is used for the RTX 2060 FE, 417.71 WHQL drivers are used for the GTX 207 FE, and 417.54 is used for the GTX 1070 Ti. See NVIDIA Control Panel image below.
AMD Adrenalin Software 19.2.2 drivers were used for the RX 590, and 18.12.3 for the RX Vega 56. See the AMD Control Panel image below.
VSync is forced off.
AA enabled as noted in games; all in-game settings are specified with 16xAF always applied
Gaming results show average frame rates in bold including minimum frame rates shown on the chart next to the averages in a smaller italics font.
Highest quality sound (stereo) used in all games.
Windows 10 64-bit Home edition. All DX11 titles were run under DX11 render paths. DX12 titles are generally run under the DX12 render path unless performance is lower than with DX11. Three games use the Vulkan API.
Latest DirectX
All 39 games are patched to their latest versions at time of publication.
WattMan used to set Radeon cooling and power options.
Precision X1 used for all GeForce settings and for overclocking the GTX 1660 Ti.
OCAT, latest version
Fraps, latest version
Unigine Heaven 4.0 benchmark
40 PC Game benchmark suite & 4 synthetic tests
Synthetic
Firestrike – Basic & Extreme
Time Spy DX12
Superposition
DX11 Games
Grand Theft Auto V
The Witcher 3
Fallout 4
Rainbow Six Siege
Battlefield 1
For Honor
Ghost Recon Wildlands
Mass Effect: Andromeda
Prey
Hellblade: Senua's Sacrifice
Project CARS 2
Total Wars: Warhammer II
Middle Earth: Shadow of War
Destiny 2
Star Wars: Battlefront II
Monster Hunter: World
Kingdom Come: Deliverance
Final Fantasy XV
Far Cry 5
The Crew 2
Assassin's Creed: Odyssey
Call of Duty: Black Ops 4
Hitman 2
Just Cause 4
Resident Evil 2
DX12 Games
Tom Clancy's The Division
Ashes of the Singularity: Escalation
Hitman
Rise of the Tomb Raider
Deus Ex Mankind Divided
Gears of War 4
Civilization VI
Sniper Elite 4
Forza 7
Shadow of the Tomb Raider
Battlefield V
Metro Exodus
Vulkan Games
DOOM
Wolfenstein: The New Colossus
Strange Brigade
AMD Adrenalin Control Center Settings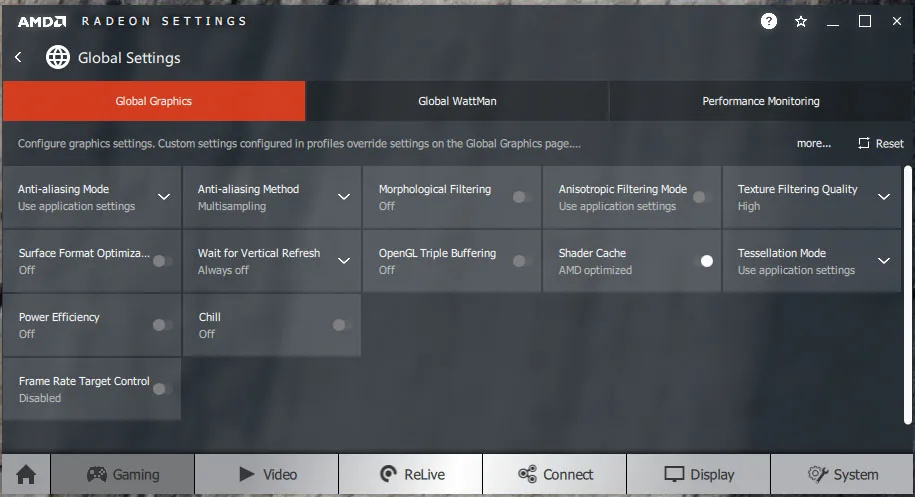 All AMD settings are set so as to be apples-to-apples when compared to NVIDIA's control panel settings – all optimizations are off, Vsync is forced off, Texture filtering is set to High, and Tessellation uses application settings.
We use Wattman to set the Radeons' power, temperature and fan settings to their maximums.
NVIDIA Control Panel settings
Here are the NVIDIA Control Panel settings that match AMD's settings.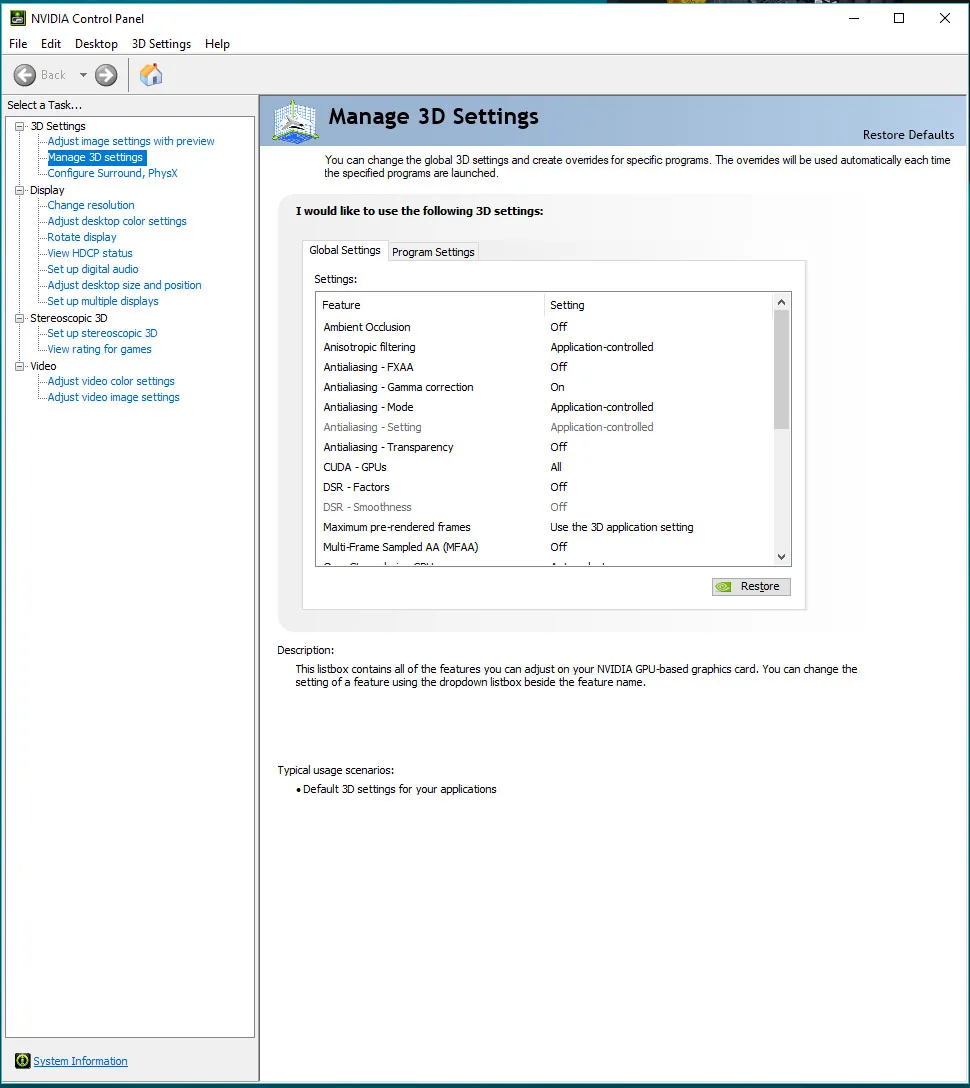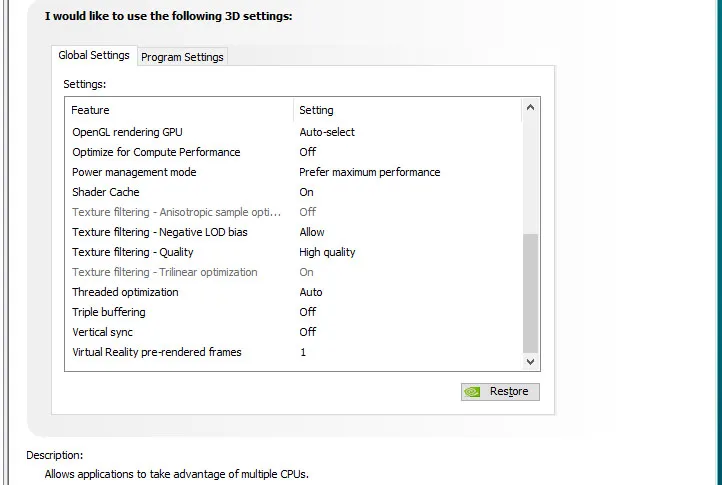 We used the latest beta of Precision X1 to set all GeForces' highest Power and Temperature targets and for our overclock of the GTX 1660 Ti.
By setting the Power Limits and Temperature limits to maximum for each card, they do not throttle, but they can each reach and maintain their individual maximum clocks. This is particularly beneficial for high power cards.
Let's check out overclocking, temperatures and noise next.
Overclocking, temperatures & noise
The Black Edition of the EVGA GTX 1660 Ti is a quiet card even when overclocked. We could not hear the card over the many fans of our PC even when it ramps up, unlike with the Red Devil RX 590. We will spend more time manually overclocking in our follow-up overclocking showdown versus the overclocked RX 590 and versus the overclocked GTX 1070.
Here is Heaven 4.0 running at stock clocks which allowed the Boost to average around 1875MHz.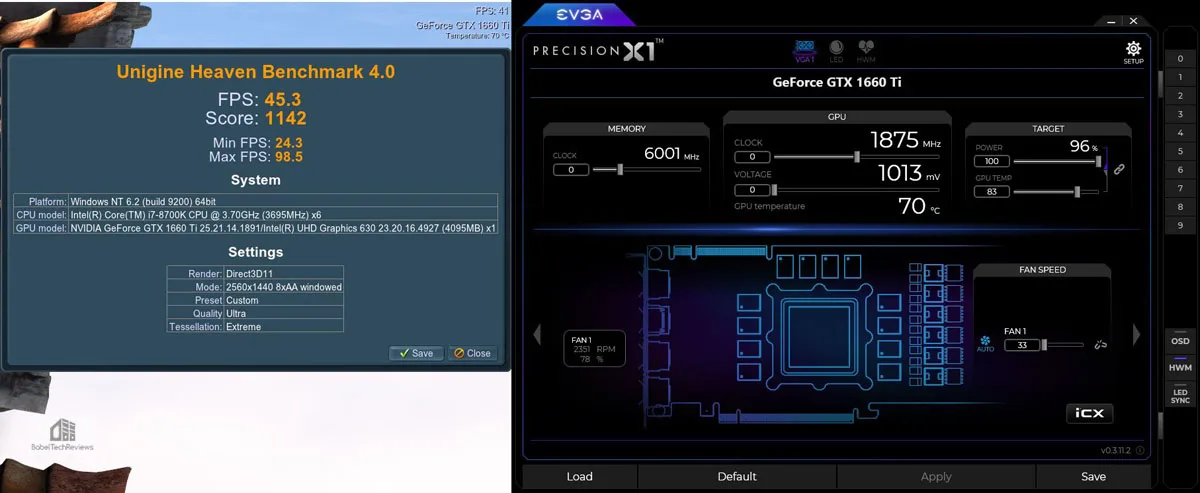 We ran Precision X1's scan which told us that +114MHz could be added to the core clocks.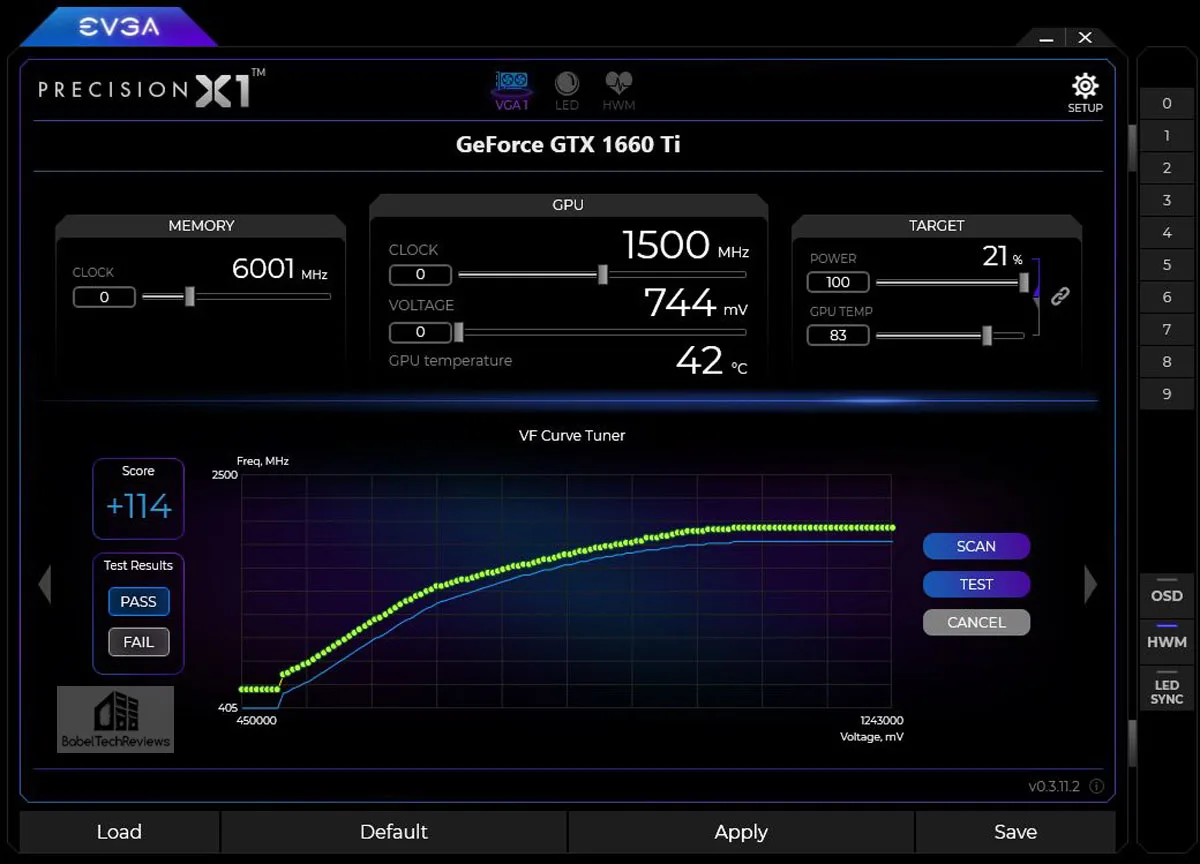 We set our own manual overclock according to Precision X1's recommendation adding 114MHz to the core to boost the clocks mostly above 1980MHz with peak Boost around 1995MHz. We did not try a GDDR6 memory overclock but will save it for the upcoming overclocking showdown.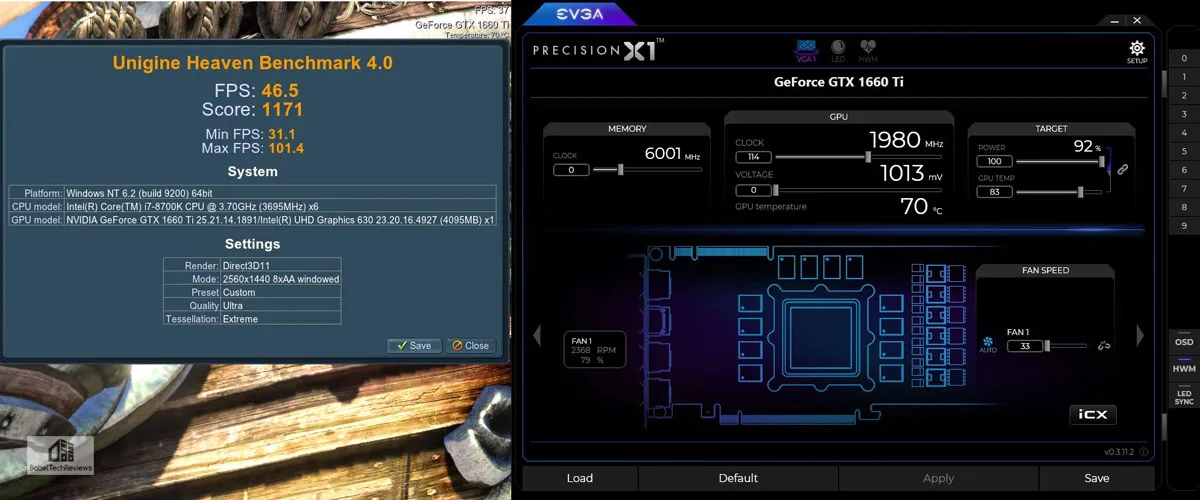 This is only a preliminary overclock picked by the Precision X1 automatic scan and it seems a bit low. Our GTX 1060 Ti's manual maxed-out overclocked performance will be explored later this weekend when we pit it against the Red Devil RX 590 and against the GTX 1070 FE in an overclocking showdown.
Let's check the GTX 1660 Ti's performance compared with seven other cards using 40 games and then head for our conclusion.
Performance Summary Charts
Here are the summary charts of 40 games and 4 synthetic tests. The highest settings are always chosen and the settings are listed on the chart. The benches were run at 1920×1080 and at 2560×1440. Eight cards are benchmarked for this review's big picture and they are listed on the charts.
Most results show average framerates and higher is better. Minimum framerates are next to the averages in italics and in a slightly smaller font. A few games benched with OCAT show average framerates but the minimums are expressed by the 99th percentile frametime in ms where lower numbers are better.
The Main Charts
This set of charts show the three main competing cards' performance – the RX 590 in the first column, the GTX 1660 Ti in the second, the GTX 1070 in the third column, and the GTX 1060 SC is represented in the fourth column.
All three competing tested cards are in a similar class, but the GTX 1660 Ti wins most of the games against the less expensive RX 590 while it trades blows with the GTX 1070 which is currently priced considerably higher than it is. We also see that the GTX 1660 Ti is about a third faster than the GTX 1060.
The Big Picture
The following chart is what BTR calls its "Big Picture". The following chart uses the same performance numbers but places them into a much larger benching suite with a total of 8 cards on recent drivers. As always, open the individual images into separate tabs or windows for easier viewing.
As expected, the RTX 2060 FE wins almost every game benchmark over the GTX 1660 Ti and it is also priced in a significantly higher price range and feature class. However, the GTX 1660 Ti ($279) is significantly faster than the lower-priced RX 590 ($259) but it trades blows with and is even a bit faster overall than the GTX 1070 ($329). These cards are well-suited for 1920×1080 and even for 2560×1440 with some detail compromises.
We did not have time to test a GTX 970 but expect it would be about half as fast as a GTX 1660 Ti, and a GTX 960 would probably be about one-third as fast as NVIDIA claims. A GTX 1660 Ti would be a good upgrade from an older generation card including even from a GTX 1060.
This has been a hectic yet enjoyable exploration evaluating the new Turing GTX 1660 Ti. It performed very well compared with either the much higher-priced GTX 1070 or the $20 less expensive premium Red Devil RX 590.
Although NVIDIA is betting their gaming future on introducing RTX features including DLSS and ray tracing, their strategy is to use these features for the more powerful cards beginning with the RTX 2060. The GTX 1660 Ti is reasonably priced at $279 which is $30 more than the launch price of the GTX 1060 at $249. The GTX 1660 Ti is a reasonable performance upgrade from the GTX 1060.
Conclusion
We are impressed with this 120W single 8-pin PCIe cabled mainstream Turing GTX 1660 Ti that has solid performance at ultra 1920×1080. The EVGA GTX 1660 Ti XC Black Edition is priced at a reasonable $279 with no price premium over other partner GTX 1660 Tis, and it is significantly faster than the $259 RX 590 or even a bit overall faster than the higher-priced $329 GTX 1070.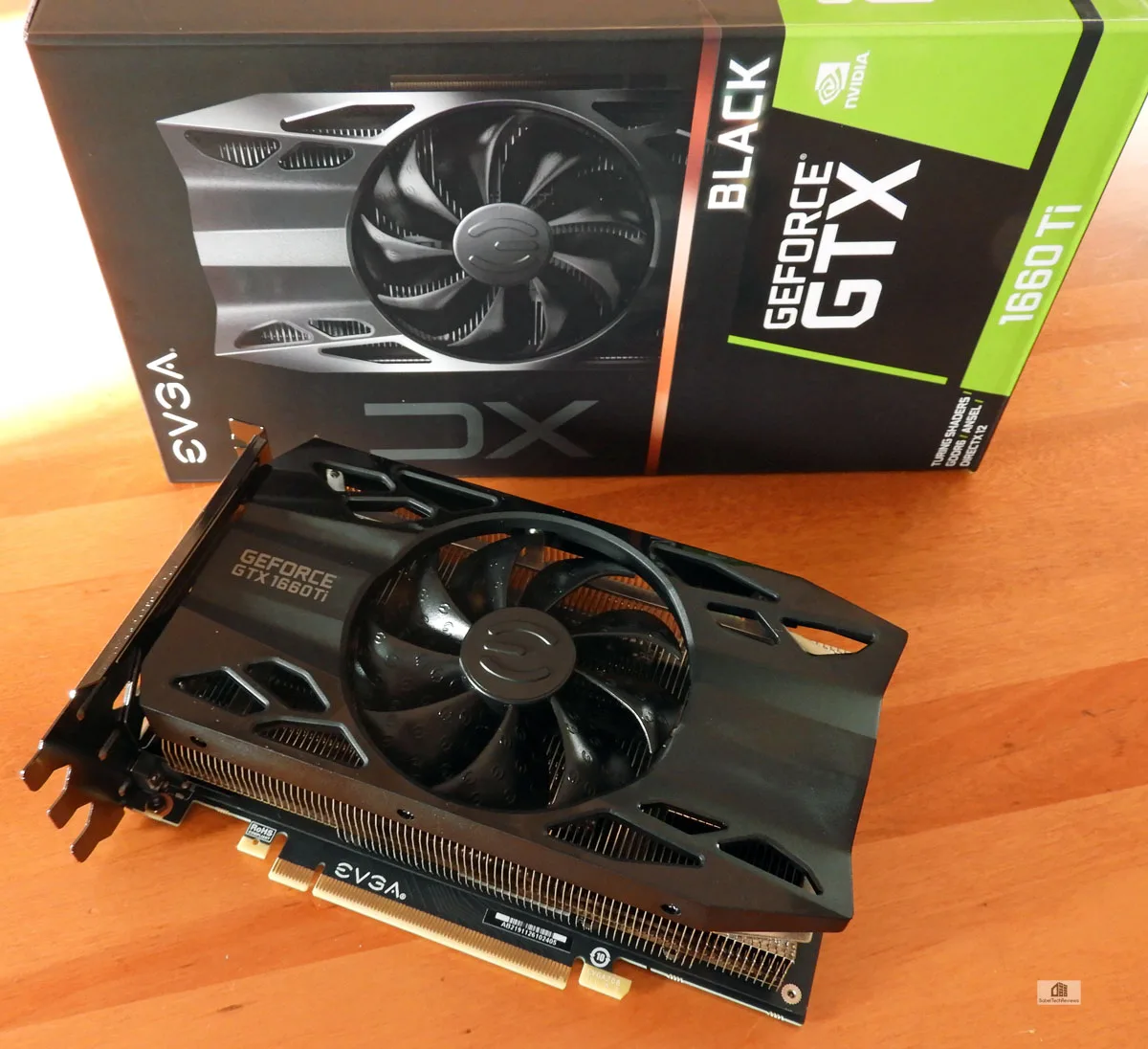 The EVGA GTX 1660 Ti Founders Edition is well-built, solid, and handsome, and it is appears to overclock well. In our case, we overclocked our review sample a preliminary 114MHz over stock clocks. Our follow-up GTX 1660 Ti overclocking showdown between the GTX 1070 Founders Edition and versus the Red Devil RX 590 will explore manual overclocking before the end of this weekend.
Pros
The EVGA GTX 1660 Ti XC Black is a very fast mainstream card that performs better than a higher-priced GTX 1070 or a premium RX 590.
Overclocking headroom appears decent on the core.
The EVGA GTX 1660 Ti XC Black is a handsome card that is quiet and efficient. The card and well-ventilated case stay cool and quiet even when overclocked to the max.
EVGA offers a 3 year warranty with an extension and backs it with some of the best customer and warranty service in the world.
Cons
The Verdict:
If you are buying a fast mainstream video card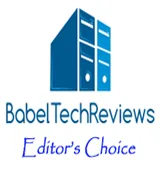 right now and looking for excellent ultra 1920×1080 performance, the EVGA GTX 1660 Ti is a great choice at $279. The GTX 1660 Ti is faster than either the GTX 1070 or any premium RX 590, and it has newer features.
We would like to award the EVGA 1660 Ti XC Black BabelTechReviews' Editor's Choice Award . Turing brings important new features to PC gaming even without RT and Tensor cores.
The EVGA GTX 1660 Ti XC Black brings a high-performing and reasonably-priced mainstream addition to the GeForce Turing GTX family. With great forward-looking features, you can be assured of immersive gaming by picking this card for 1080P or for VR. If you currently game on a older generation video card, you will do yourself a favor by upgrading to a GTX 1660 Ti.
Stay tuned, there is a lot coming from us at BTR. We will shortly pit the GTX 1660 Ti, the GTX 1070, and the Red Devil RX 590 in an overclocking showdown this weekend.
Happy Gaming!