Intro
The Team Group PD1000 Portable USB 3.2 Gen 2 512GB SSD Review – External USB 3.2 Type-C vs. Internal SATA III SSDs vs. SSHD vs. PCIe NVMe for Gaming
The Team Group PD1000 is an external portable USB 3.2 Gen 2 drive that may be suitable for gamers who may wish to install Win 10 and launch games from it instead of from an internal hard drive (HDD) or SSD.  We are going to test the PD1000 review unit that we received from Team Group and compare its performance versus eight other drives to see if an external drive is an option for gaming.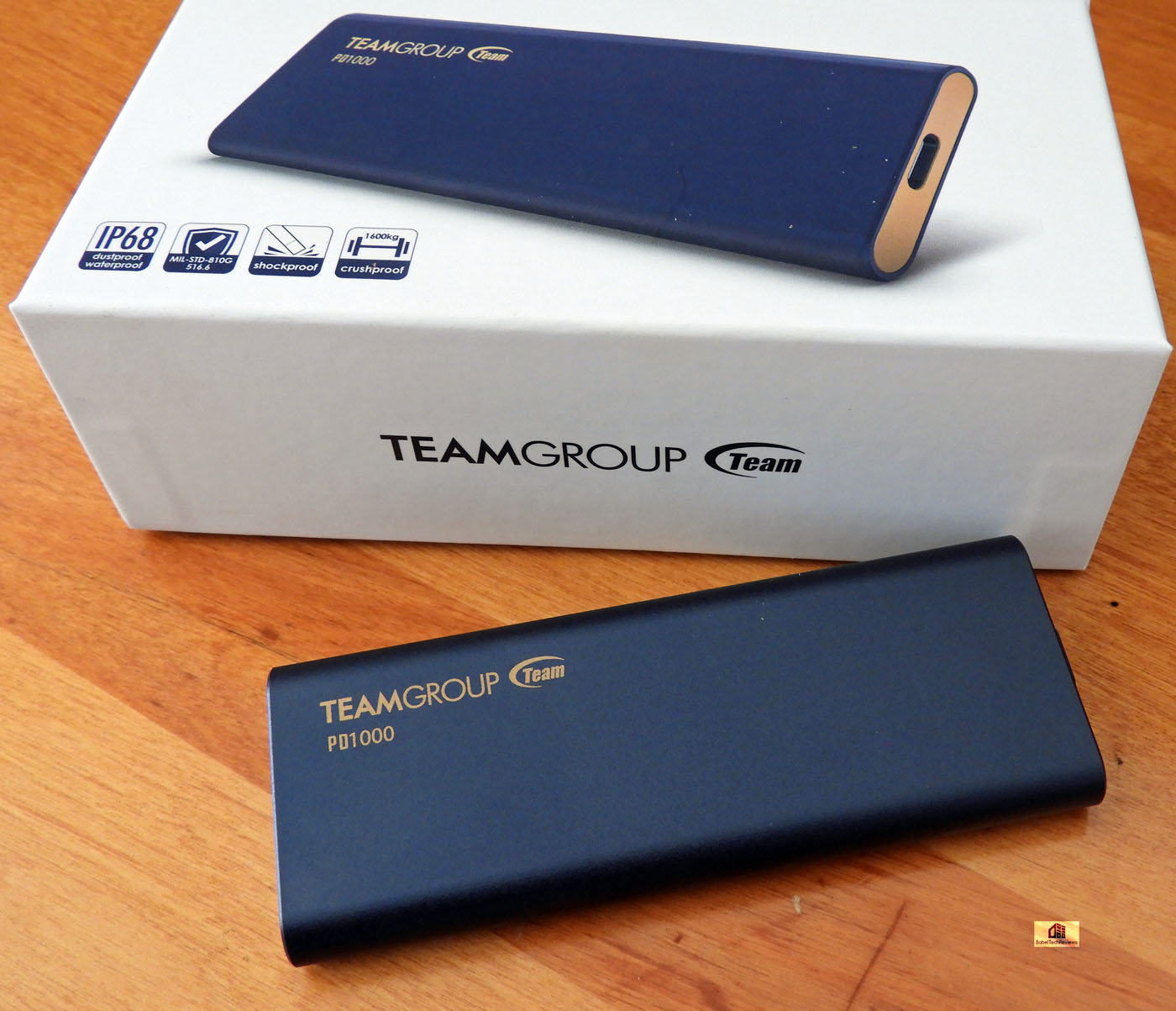 We have six SSDs (Solid State Drives) in BTR's flagship PC with more than 3TB of total storage for games, and yet we always need more capacity.  Using a HDD or a Solid State Hard Drive (SSHD) is out of the question because of how slowly they load games and levels compared to SSDs.  Since USB 3.2 Gen 2 "super speed" is an upgrade over USB 3.0 with speeds to 10Gbps, it may be suitable to use the PD1000 as a primary operating system (OS) drive or for launching and playing games.  It may be more convenient to simply plug the PD1000 into a USB port rather than to open up the PC, and this can be ideal for notebook gaming.
BTR previously used two identical 480GB Team Group L5 LTE SSDs as boot drives – one for AMD and one for NVIDIA – which have been recently upgraded to two 1TB Team Group MP33 NVMe2 PCIe 3.0 SSDs.  Primary storage for our 50 PC games and 25 VR games are provided by enterprise SATA III SSDs: a 1.92TB SanDisk SSD and a 2TB Micron 1100 SSD.  In addition, we also use a T-FORCE Vulcan SATA 500GB SSD and a 512GB DELTA MAX for additional storage, plus two 2TB Seagate FireCuda SSHDs which are relegated to backup duty.
For this review, we are going to compare the performance of eight drives to the portable Team Group 512GB PD1000 SSD which is $79.99 at Newegg; the MSRP is around $99. As a price comparison, the entry-level Team Group PD400 480GB USB 3.2 portable SSD has been on sale recently for $59.99 at Amazon but the suggested price is $77.03.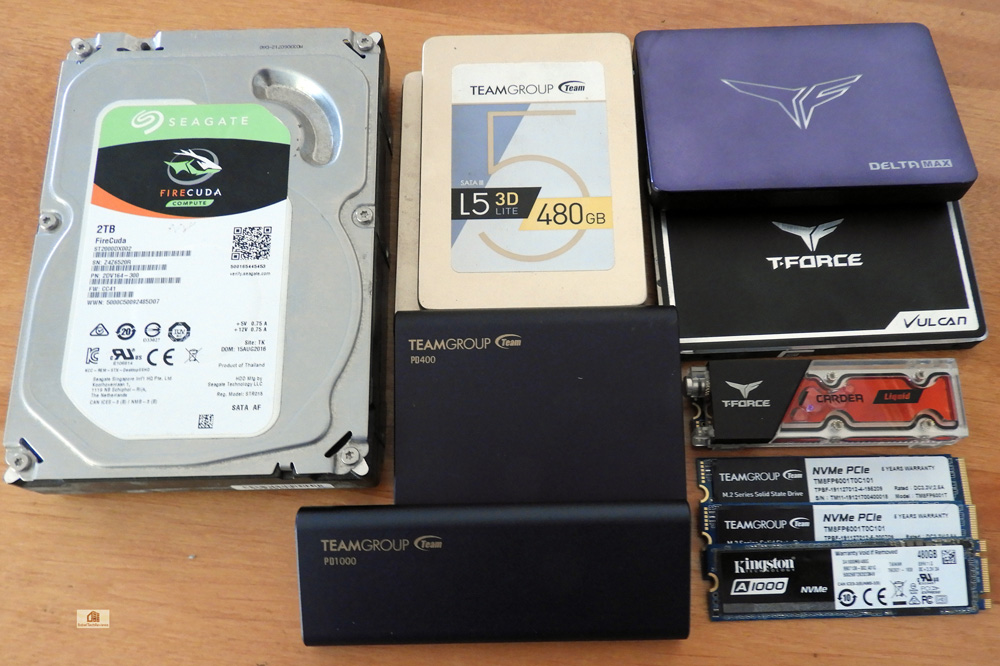 The T-FORCE Vulcan 500GB SATA III SSD can be found for $65.99; the DELTA MAX 500GB SATA III SSD is $89.99; the Kingston A1000 480GB NVMe SSD is overpriced at $106 but it has been replaced by the A2000; the Liquid CARDEA NVMe2 512GB drive is $110; the 480GB Team Group L5 SSD is $59.98; and a 2 TB FireCuda SSHD sells for $129 which is a 7200 rpm Seagate HDD coupled with 8 GB of flash drive. SSD pricing appears to be going up.
First, a warning.  Be cautious about upgrading to the Windows 10 May Update 2004. It diminished performance in some benchmarks over version 1909.  PCMark 10's score dropped by 10% compared to version 1909, so we reverted to an earlier disk image.  Since we have changed our motherboard from Z370 to Z390, we repeated many benchmarks so our readers have the very latest information, although it was not necessary.
BTR's test setup uses Windows 10 64-bit featuring an Intel Core i7-8700K overclocked to 4.8GHz for all cores as set in the ASRock Z390 Extreme 4 motherboard's BIOS, and 16 GB of T-FORCE XTREEM DDR4 at 3866MHz. The settings and hardware are identical except for the nine drives being tested, and the graphics are powered by a RTX 2060 SUPER Founders Edition (FE).
We benchmark with all of our drives at less than 80% capacity, and in addition, all of the drives have been in use for months except for the portable Team Group PD1000 SSD which has been "dirtied" using IOmeter, so our benchmarking tends to give more real world performance results over using brand new drives.
Here are the features and specifications of the Team Group PD1000 portable SSD taken directly from Team Group's website.
FEATURES
Great business appearance and excellent heat dissipating performance
USB 3.2 Gen 2 super speed+ file transfer
Certified military grade drop resistance
IP68 waterproof, dustproof and pressure proof certification
Supports multiple platform devices
Specifications
All of the details can be found on the Team Group website. The IP68 rating is not explained there, but it means that the PD1000 is "Protected from total dust ingress" as well as "The equipment is suitable for continuous immersion in water under conditions which shall be specified by the manufacturer".  Team Group specifies:
"Different from the dust plug design on the market, PD1000 comes with a complete covering. It can withstand 1 meter underwater for 60 minutes, completely isolate dust from entering, and withstand the weight of 1,600KG to protect your precious data."
So as long as its included dust plug is inserted properly, you can probably take it with you while swimming although a large shark could damage it, and diving below 1 meter is not recommended.  Interestingly, Team Group also told us that "It can have IP68 proof effect even if without the dust plug."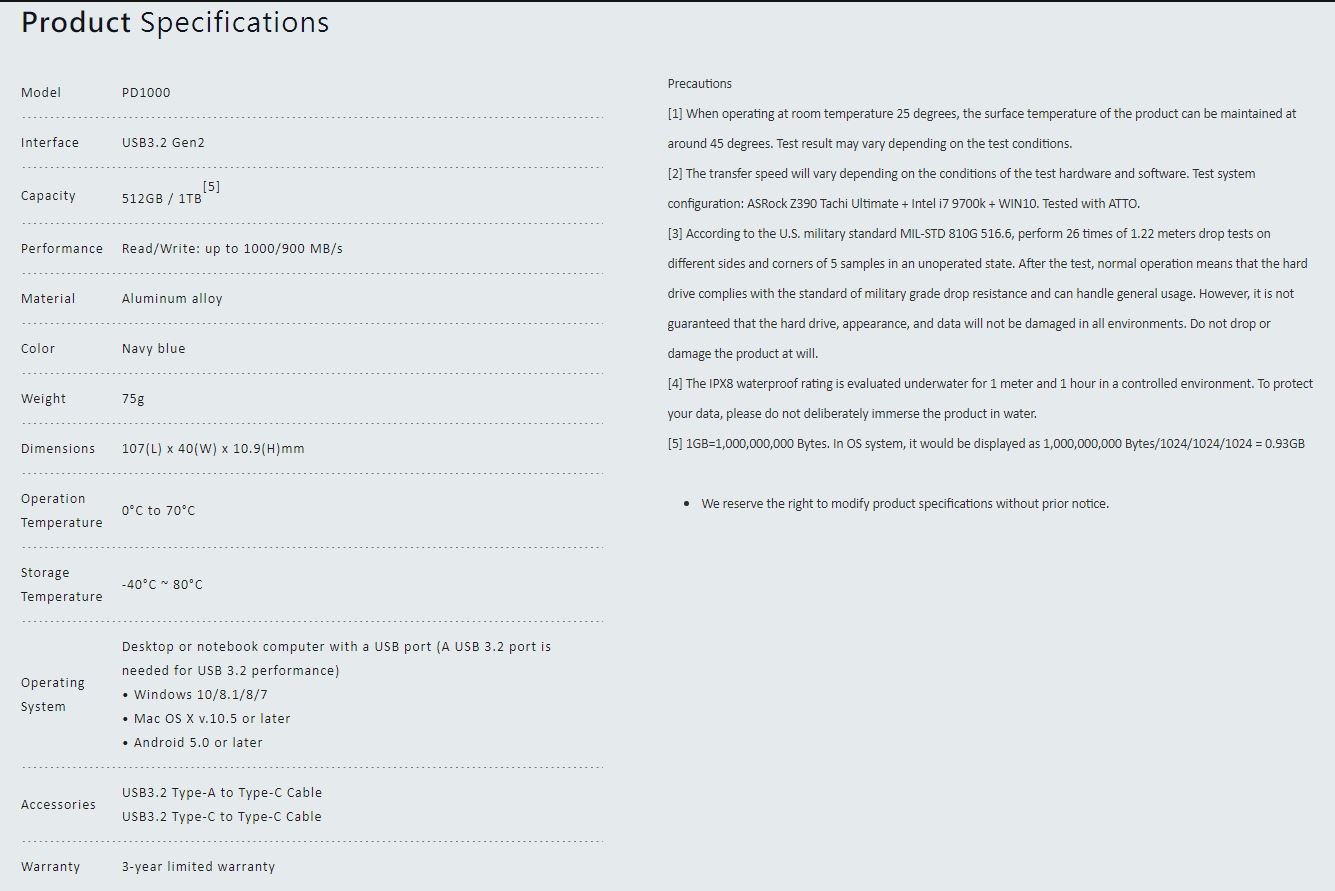 Important key highlights are that the PD1000 external SSD is fast, durable, lightweight, shock resistant, uses very little power, and it is backed by Team Group's 3-year warranty. Since USB 3.2 Generation 2 can reach speeds of up to 10Gbps, data transfers are usually faster than SATA III SSD speeds.
The PD1000 is compatible with Android, Mac OS, and Windows, and it supports hot swap so it can be connected to PCs, tablets, and notebooks without installing additional drivers.  In addition, any heat generated by the internal SSD is transferred to the entire aluminum case which means that while in use it gets warm, but never hot.
The specifications look great for a portable external SSD. Let's take a closer look by unboxing the Team Group PD1000 next.