Intro
T-FORCE CARDEA ZERO Z440 2TB SSD NVMe M.2 PCIe 4.0 Gen4 x4 Gaming Review
BTR recently received a 2TB T-FORCE CARDEA ZERO Z440 SSD from TeamGroup which is an older PCIe 4.0 Gen 4 x4 drive that appears to be particularly useful for motherboards with integrated NVMe heatsinks because of its thin graphene foil cooling solution.  SSD (Solid State Drive) technology is continually improving and its pricing remains reasonable as speed and capacities increase for gamers who need more storage as games grow larger.  

CARDEA ZERO Z440 is a fast 5,000MBps/4,400 MBps SSD that we put it through its paces against seven other SSDs.  We especially want to see how it compares especially in PC gaming with our other three NVMe Gen 4 x4 SSDs – a 2TB 7,400MBps/7000MBps SSD, a 1TB 7,000MBps/6,000MBps SSD, and another 2TB 5,000 MBps/4,400 MBps SSD.
We will also focus on its performance besides comparing it with five NVMe/PCIe SSDs, a portable USB 3.2 SSD, and a fast SATA III SSD: (1) a 2TB CARDEA A440 Pro Special Series (7,400/7,000MBps Gen 4 x4), (2) a 1TB CARDEA A440 (7,000/6000MBps Gen 4 x4), (3) a 2TB CARDEA Ceramic C440 (5,000/4400MBps Gen 4 x4), (4) the 1TB CARDEA IOPS SSD (3,400/3000MBps, Gen 4 x3), (5) a now midrange TeamGroup 1TB MP33 (1,800/1,500MBps, Gen 3 x4 SSD), (6) a 4TB M200 portable USB 3.2 Type C SSD (2,000/2,000MBps), and (7) a fast 1TB Delta MAX White RGB (560MBps/510MBps) SATA III SSD.
The T-FORCE CARDEA ZERO Z440 SSD is available in 1TB and 2TB capacities, priced at Amazon at $227.99 for the 2TB version (and at $119.99 for the 1TB version).  The T-FORCE CARDEA A440 Pro Special Series SSD is priced at Newegg at $287.99 for the 2TB version.  The T-FORCE CARDEA A440 (vanilla) SSD is at Amazon for $299.99 for 2TB, but it comes with two heatsinks, and the 2TB CARDEA Ceramic C440 is priced at $229.99.  They are all in similar price ranges to other comparable fast PCIe 4.0 Gen 4 x4 SSDs currently available.  
For additional price comparisons, the TeamGroup 2TB MP33 NVMe SSD is $145.99, the T-FORCE NVMe CARDEA IOPS is $117.82 and only offered in a 1TB capacity as is the SATA III Delta MAX at Amazon for $109.99 but it offers RGB lighting.  The 4TB M200 Portable USB 3.2 Gen2 x2 Type C SSD is $659.99 while the 2TB version is $267.99.
Features & Specifications
Here are the features and specifications of the T-FORCE CARDEA ZERO Z440 SSD which are taken directly from TeamGroup's website.
Features
M.2 NVMe PCIe Gen4 x4 solid state drive. Supports the latest platform AMD X570
Excellent performance – Read speed is up to 5,000 MB/s[1]. Enhances the speed and performance of the overall system
Three heat dissipation elements – the combination of graphene and copper can provide excellent heat dissipation. 0.2mm ultra-thin and patented cooling module can avoid interference during installation
Multiple protection, smart management technology – effectively monitors the status of solid state drive and maximizes its performance
Product warranty – five-year product warranty with free technical support service
Taiwan Invention Patent (number: I703921)
China Utility Patent (number: CN 211019739 U)
Specifications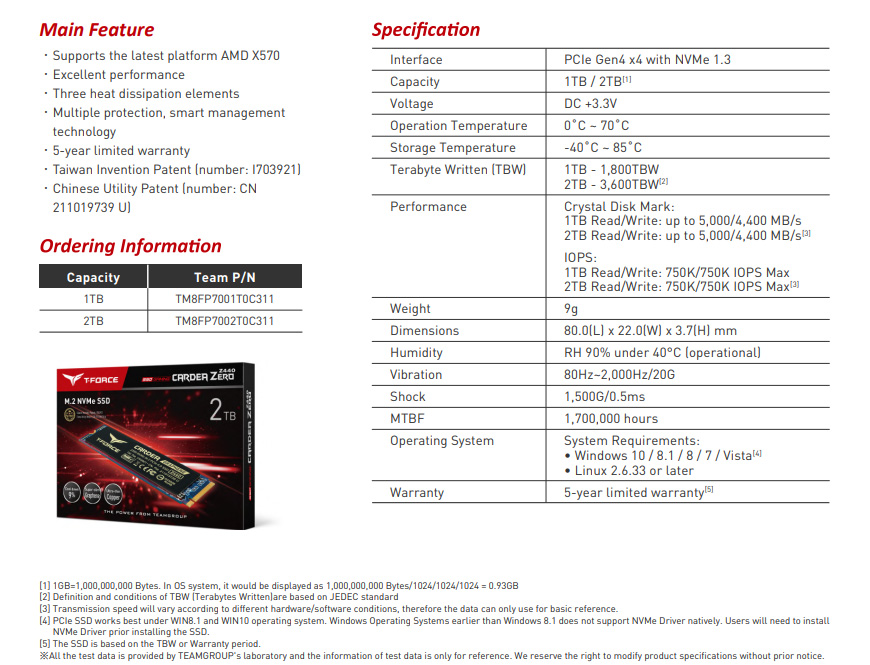 The specifications, based on CrystalDiskMark, boast up to 5,000 Read MB/s / 4,400 MB/s Write for the 2TB version and the same speeds for the 1TB version which are very good for an older Gen 4 x4 PCIe 4.0 NVMe SSD.  Although it features a SLC cache that will degrade beyond its capacity threshold and isn't capable of sustaining its write performance until full, it is exceptional for gaming and most applications.  The 2TB model is rated for a solid lifespan of 3,600 terabytes written backed by a five year guarantee, and it features S.M.A.R.T and Trim support.
We were curious as to why TeamGroup picked the name, "Cardea".  In Greek and Roman mythology, Cardea was the 'Goddess of the Hinge', a family protector who kept evil spirits from entering their homes.  Cardea comes from the Latin word 'cardo', which means hinge, pole, axis, or juncture with the same root as "cardiology", which means connected to the heart/center.  Cardo was also fundamental to Roman city planning.  It appears that a SSD/storage is at the heart of a PC and essential to it.  
Next we unbox the T-FORCE CARDEA ZERO Z440 SSD and take a closer look at it.