Intro
T-FORCE CARDEA A440 PRO Special Series M.2 PCIe 4.0 Gen4 x4 2TB SSD – Developed for the PS5 but good for PC gamers?
SSD (Solid State Drive) technology is always improving and its pricing remains reasonable as speed and capacities increase.  SSD technology has become accessible to PC gamers who need more and more storage as games grow larger.  We received a 2TB T-FORCE CARDEA A440 Pro Special Series SSD from TeamGroup that appears to have been especially developed for the PlayStation 5 as its lettering indicates Pro Special 5eries.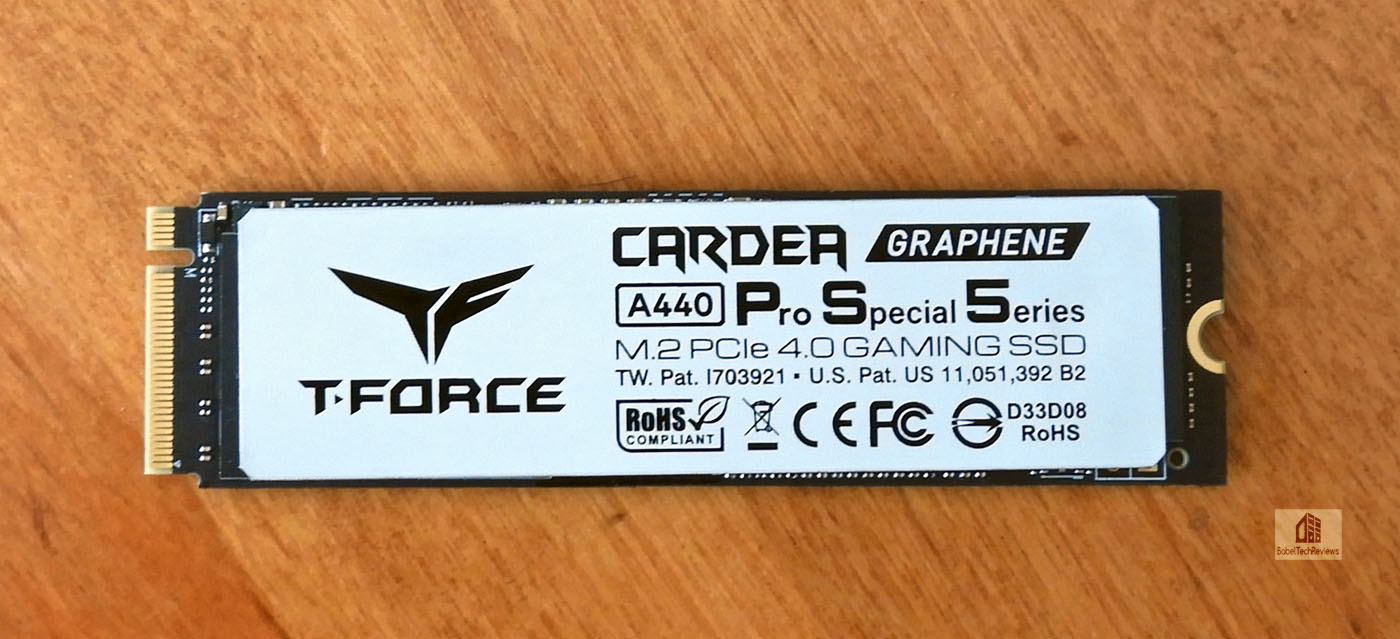 The A440 Pro Special Series is a very fast Gen 4 x4 PCIe 4.0 7,400MBps/7,000 MBps PCIe 4.0 NVMe SSD.  We put it through its paces against six other SSDs.  We especially want to see if it is practically faster for PC gaming than our other two NVMe Gen 4 x4 SSDs – a 1TB 7,000MBps/6,000MBps SSD or our 2TB 5,000 MBps/4,400 MBps SSD. 
We will also focus on its performance by comparing it with three other NVMe/PCIe SSDs, a portable USB 3.2 SSD, and a fast SATA III SSD: (1) a 1TB CARDEA A440 (7,000/6000MBps Gen 4 x4), (2) a 2TB CARDEA Ceramic C440 (5,000/4400MBps Gen 4 x4), (3) the 1TB CARDEA IOPS SSD (3,400/3000MBps, Gen 4 x3), (4) a now midrange TeamGroup 1TB MP33 (1,800/1,500MBps, Gen 3 x4 SSD), (5) a 4TB M200 portable USB 3.2 Type C SSD, and (6) a fast 1TB Delta MAX White RGB (560MBps/510MBps) SATA III SSD. 
The T-FORCE CARDEA A440 Pro Special Series SSD is available in 1TB, 2TB and 4TB capacities, priced at Amazon at $287.99 for the 2TB version.  The T-FORCE CARDEA A440 (vanilla) SSD that we reviewed in January is at Amazon for $299.99 for 2TB, but it comes with two heatsinks.  They are both in a similar price range to other fast PCIe 4.0 Gen4 x4 SSDs currently available.  For additional price comparisons, the 1TB SATA III Delta MAX is $124.99 at Amazon and it offers RGB lighting.  The TeamGroup 2TB MP33 SSD is $179.99, the T-FORCE CARDEA IOPS is $119.99 only offered in a 1TB capacity, and the 2TB CARDEA Ceramic C440 version is priced at $259.
Here are the features and specifications of the T-FORCE CARDEA A440 Pro Special Series SSD which are taken directly from TeamGroup's website.
FEATURES
PCIe Gen4x4 Interface & Crazy Fast Read/ Write Speeds of >7000
Special Edition White Ultra-thin Patented Graphene Cooling Fins with Zero Interference
Ultra-large 4TB Gaming Storage Space
Five-year Warranty for Maximum Protection
Taiwan Invention Patent (number : I703921)
United States Patent (number : US11051392B2)
China Utlity Patent (number : CN 211019739 U)
Specifications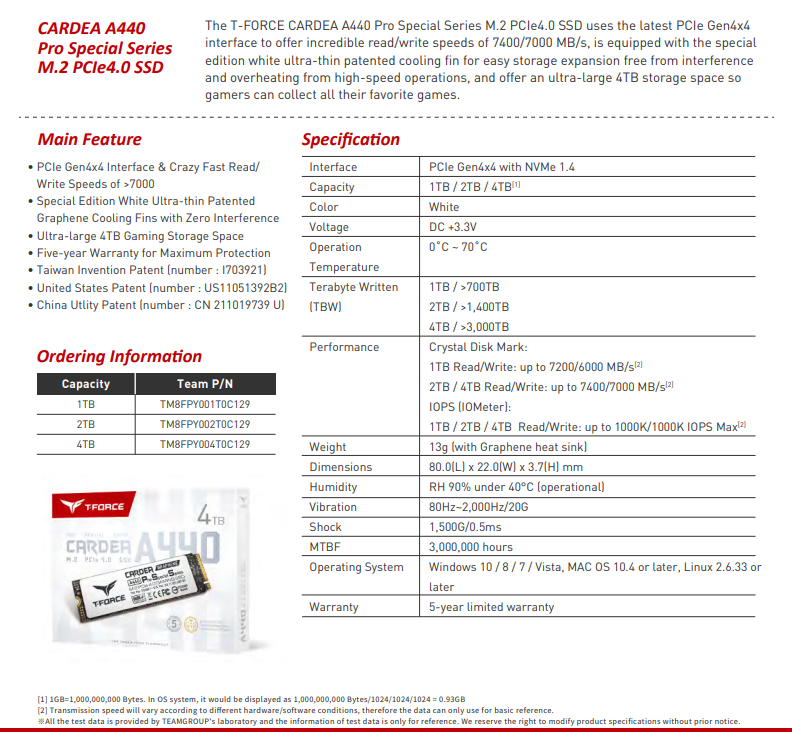 The specifications, based on CrystalDiskMark, boast up to 7,400 Read MB/s / 7,000 MB/s Write for the 2TB version and  slightly lower Read/Write speeds for the 1TB version which are excellent for a Gen 4 x4 PCIe 4.0 NVMe SSD.  Although it features a SLC cache that will degrade beyond its capacity threshold and isn't capable of sustaining its write performance until full, it is exceptional for gaming and most applications.  The 2TB model is rated for up to 1,400TB of Write backed by a five year guarantee and it features S.M.A.R.T and Trim support.
Next we unbox the T-FORCE CARDEA A440 Pro Special Series SSD and take a closer look at it.