Test Configuration
Test Configuration – Hardware
PC Gamerz Hawaii Blue Elixir
Intel Core i7-12700KF (HyperThreading/Turbo boost On) (All listed Blue Elixir hardware except the portable SSD supplied by PC GamerZ Hawaii)
ASUS TUF Gaming H670-PRO WIFI D4 (Intel H670 chipset, latest BIOS, PCIe 5.0/5.0/3.0/3.1/3.2 specification, CrossFire/SLI 8x+8x)
G.SKILL Trident Z 16GB DDR4 (2x16GB, dual channel at 3600MHz)
Crucial P2 1TB NVMe SSD PCIe 3.0 (2400MBps/1900MBps Read/Write) for C: drive
The T-FORCE M200 4TB USB 3.2 Gen2x2 Type-C Portable SSD (supplied by Team Group for game storage)
EVGA 850B5, 850W Bronze PSU
ACER (LC27G75TQSNXZA) 27″ 1920×1080/165Hz monitor
Lian-Li Galahad 360 AIO Cooler
CoolerMaster TD500 Mesh White
BTR's Flagship PC
Intel Core i9-12900KF (HyperThreading and Turbo boost at stock settings).
ASUS ROG Maximus Z690 Apex LGA 1700 motherboard (Intel Z690 chipset, latest BIOS, PCIe 5.0, DDR5)
T-FORCE DELTA RGB PC5-51200 6400MHz DDR5 CL40 2x16GB kit, supplied by TeamGroup
GeForce RTX 3080 Founders Edition 10GB (overclocked +35MHz), supplied by NVIDIA
T-FORCE CARDEA A440 Pro Special Series 2TB M.2 NVMe PCIe 4.0 SSD, supplied by TeamGroup
T-FORCE M200 4TB Portable Gen 2 x2 USB 3.2 Type C SSD, supplied by TeamGroup
Super Flower LedEx, 1200W Platinum 80+ power supply unit
MSI MEG CoreLiquid S360 – AIO CPU Liquid Cooler – 2.4″ IPS Display – 360mm Radiator – Triple 120mm Silent Gale P12 Fans
Corsair 5000D ATX mid-tower (plus 1 x 140mm Noctua fan; 2 x 120mm Noctua fans)
ASUS ROG Swift 360Hz PG259QNR 24.5" HDR Gaming Monitor, 1080P Full HD, Fast IPS, 1ms, G-SYNC, supplied by ASUS
Test Configuration – Software
GeForce 512.77
High Quality, prefer maximum performance, single display, set in the NVIDIA control panel; Vsync off.
Optimizations are off, Vsync is forced off, Texture filtering is set to High Quality, and Power management prefer maximum performance
AA enabled as noted in games; all in-game settings are specified with 16xAF always applied
Highest quality sound (stereo) used in all games
All games have been patched to their latest versions
Gaming results show average frame rates in bold including minimum frame rates (1% lows/99 percentiles) shown on the chart next to the averages in a smaller italics font where higher is better.
Windows 11 Pro edition for BTR's PC and Windows 10 64-bit Pro edition for the Blue Elixir; latest updates. DX11 titles are run under the DX11 render path.  DX12 titles are generally run under DX12, and multiple games use the Vulkan API.
Latest DirectX
Games
Vulkan
DOOM Eternal
Wolfenstein Youngblood
Red Dead Redemption 2
Ghost Recon: Breakpoint
World War Z
Rainbow 6 Siege
DX12
God of War
Ghostwire: Tokyo
Elden Ring
Dying Light 2
Call of Duty: Vanguard
Guardians of the Galaxy
Far Cry 6
Chernobylite
Resident Evil Village
Metro Exodus Enhanced Edition
Godfall
DiRT 5
Assassin's Creed: Valhalla
Cyberpunk 2077
Watch Dogs: Legion
Horizon Zero Dawn
Death Stranding
F1 2021
Borderlands 3
Tom Clancy's The Division 2
Civilization VI – Gathering Storm Expansion
Battlefield V
Shadow of the Tomb Raider
DX11
Total War: Warhammer III
Days Gone
Crysis Remastered
Destiny 2 Shadowkeep
Total War: Three Kingdoms
Overwatch
Assetto Corsa: Competizione
Synthetic 
TimeSpy (DX12)
3DMark FireStrike & Extreme
Superposition
VRMark Blue Room
Cinebench
GeekBench
OctaneBench
AIDA64 CPU, cache & memory, and GPGPU benchmarks
Blender 3.01 benchmark
Sandra 2021 CPU Benchmarks
SPECviewperf 2020
SPEC Workstation
NVIDIA Control Panel settings
Here are the NVIDIA Control Panel settings.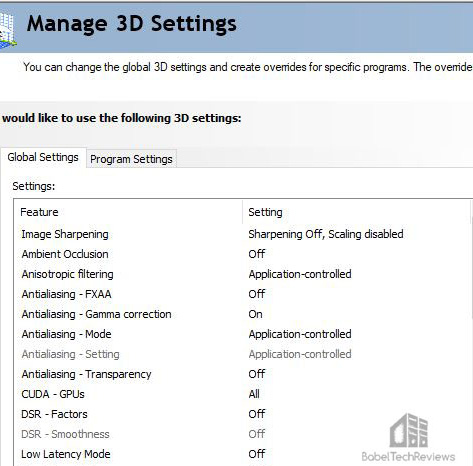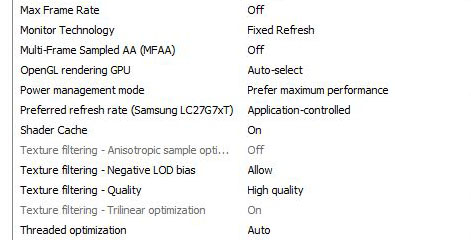 Next we look at overclocked performance.
Overclocking, temperatures and noise
Since the PC GamerZ PC ran rather warm, we did not attempt to overclock any hardware (memory or video card), not to mention that the H670 motherboard does not allow CPU overclocking.  We think it is a mistake to pair a K or KF CPU with a H670 motherboard.  A more logical pairing with be a H670 motherboard and a i7-12700 or i9-12900 (non-K) CPU which would also save money all round.
The other logical choice is to offer a slightly more expensive Z690 motherboard with 12x00K or KF CPUs for overclocking.  BTR's flagship i9-12900KF is able to overclock to 5.3GHz on Cores 0 and 1 and 5.1GHz on the rest of the P-cores but we left it stock for our comparison with the Blue Elixir.  However, the RTX 3080 FE is only able to overclock +35MHz on its core while the EVGA RTX 3080 FTW is factory overclocked +80MHz (45MHz higher than the overclocked FE).  So the FTW will definitely perform better than the FE by virtue of its higher clocks and 12GB DDR6 compared with the FE's 10GB.
Let's head to the performance charts