Growth, Current, and Future of Hawaiian PC Gaming
Hawaii is the world's longest island chain located more than 2,500 miles from the US Mainland. Formed by a series of active volcanoes, the Hawaiian Islands are unique in their geology and unmatched beauty as well as rich history, ethnically diverse people, and culture. Much has been written about Hawaii's online gaming – that it is impossible to maintain a professional eSports team because of its isolation and high latency, gaming factions, and physical distances which require air travel.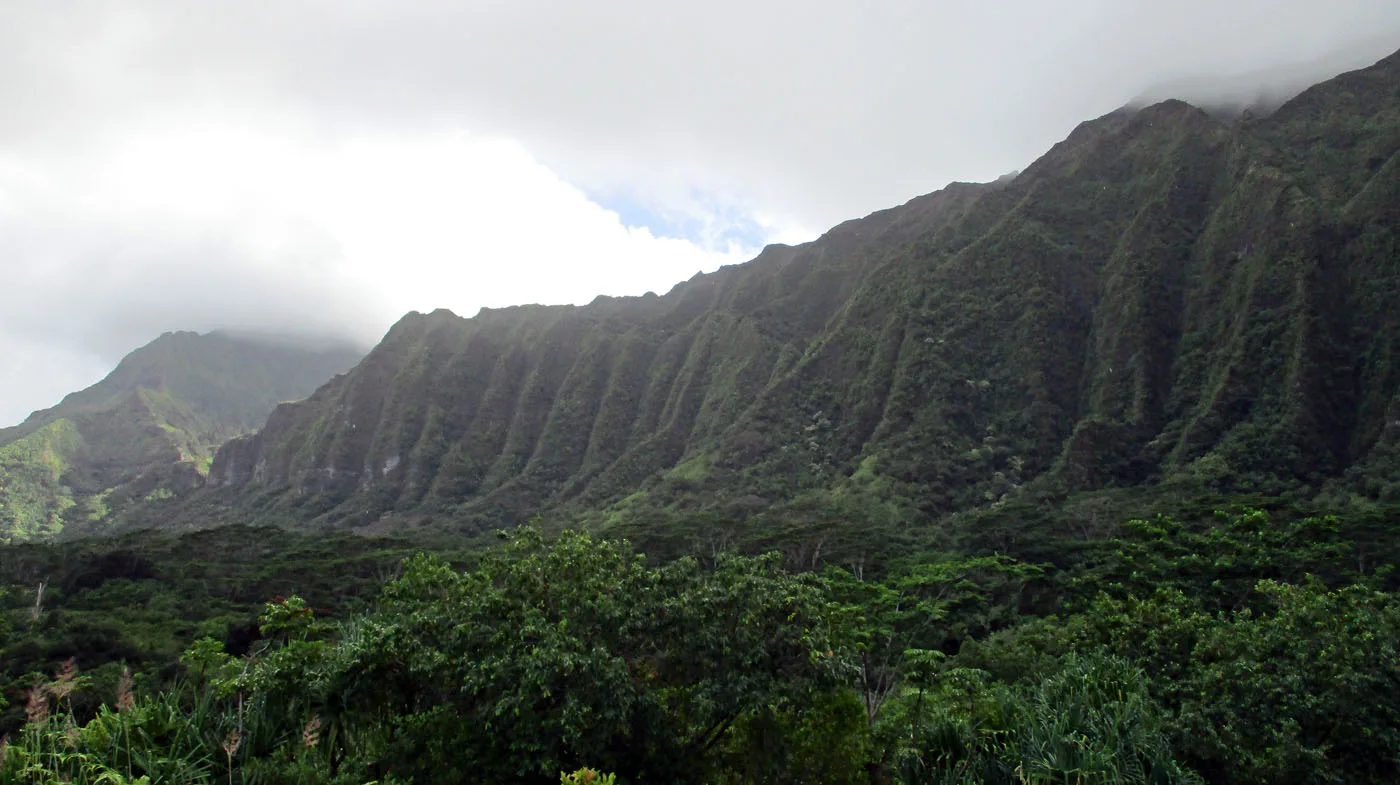 As a former 8-year resident, on-air DJ, surf reporter, local business owner, and big wave surfer on Oahu's North Shore from 1992-2000, we still have many friends who live there. Last month, on a medical leave of absence for necessary allergy treatments, we visited our friends and had a great month-long vacation in Honolulu, a crowded city of more than one million residents. However, since writers never really take vacations, and as a PC gamer and Editor-in-Chief of BabeltechReviews, we checked on the local gaming scene.
We were able to investigate Hawaii current gaming scene by interviewing three key people: Mekel Kasonava, a journalist who hosts the number one Hawaiian podcast; Devin Wolery, owner of PC GamerZ Hawaii, the state's largest local retail/etail outlet; and Jordan Oliver, eSports Manager at Hawaii Pacific University (HPU).
Mekel Kasanova

We interviewed Hawaii's number one podcaster, Mekel Kasanova, regarding video gaming in Hawaii. The Kasanova Podcast is a talkshow featuring technology, video games, and interviews. His YouTube channel features the slogan, "Island Pride/Global Ambition".
How and when did you get started as a podcaster and what do you believe has made you successful in Hawaii?
I started my podcast back in September 2017 after doing a podcast for a few months with one of my friends. We had started a show called Tech Etc Podcast where we talked about tech and gaming news as former Microsoft employees, and to give insight from what we know both as consumers and former insiders.
When I went into my podcast, I initially wanted to just casually talk about gaming and tech like I would on the Tech Etc Podcast but also reached out to other content creators to get their perspective. Not long after I started my podcast, Tech Etc Podcast ended after my friend moved away from Hawaii. Thus all my free time and equipment went into making The Kasanova Podcast more than just about gaming and tech, but about organic conversations on any topic.
I started reaching out to various voice actors, Hollywood celebs, the game and tech industry, and more to have conversations with my guests about their fields and how they got started and what insight they could give to the listening audience. As far as what's allowed me to be successful with podcasting in Hawaii, I really have to say it's been my desire to not focus on Hawaii and the local scenes here, but to strive for a global outreach and audience.
I've seen so many creators in various fields from podcasting, streaming, and YouTube here try to focus on the local scene and locals, but the reality is that content creating in general is not fondly looked upon and is seen as "playing around on the internet" and not a serious endeavor. Many creators never grow very far if at all here. Seeing the few successful creators here focus on a global outreach and audience is what inspired me to do the same, and it has helped my podcast successfully to be the #1 podcast in Hawaii for the last 4 years in a row, and it doesn't seem to be slowing down.
What advice would you give young Hawaiian gamers who want to get gaming-related jobs while also continuing their education?
My advice would be to utilize social media as a means to connect with the industry because that is the direction the industry is in. Nearly all my ability to work with the gaming industry in either QA testing, consultation, development, and more has come from connecting with the companies and the people in various companies, and building lasting relationships with them that will be mutually beneficial.
As far as continuing education and wanting to get into the industry, I would say look for opportunities to get your foot in the door such as QA testing or Marketing/Media, or any entry level position. Then let it be known what you would like to do in the company, from game design to PR and more. Having a solid foundation in writing/mock-up writing, social media (absolutely essential), and planning/organization goes a long way in this field.
What is the current local gaming scene like, and has Hawaii produced many pro gamers?
The local gaming scene is scattered, and there are various groups doing various things, and honestly aren't really pushing to do more outside of the locals they cater to. There are groups from Twitch streamers, a group and company for PC Gaming, and even various groups for fighting games. The problem is that none of these groups are able to cohesively work together, and it ends up with one or the other falling out.
An example would be when I was contacted by Hawaii Con to host a Dragon Ball FighterZ tournament with some of the voice actors of the show. Hawaii Con had reached out to several of these groups and were met with various demands for compensation, and when they chose to work with me, I ended up catching the bulk of the backlash from these groups. Therefore I don't work with any of them. As far as pro gamers are concerned, Hawaii hasn't really generated any.
Do you foresee an improving local gaming scene that develops pro gaming teams that stay in Hawaii after near-earth satellite (Starlink, etc.) drops your ping significantly?
I think for the local gaming scenes to improve, we need to have new people taking over that genuinely want the scene in Hawaii as a whole to grow and just not be for local groups and factions. Hopefully the new generation would like to build something new. When I was a guest speaker at the University of Hawaii at Maui, a lot of the upcoming generation wanted to make a more inclusive community for gaming and tech, and to build beyond just the local scene to also have a global presence.
PC GamerZ Hawaii
We needed to upgrade BTR's flagship PC but were unable to source Intel's top 12th Generation CPU from the usual etailers for a reasonable price so we searched for a local source. We found PC Gamerz Hawaii which is the largest local reseller and builder of custom PCs and PC hardware in the Islands. We purchased a i9-12900KF for $686 (now $649).
Since we didn't have a local mailing address, we purchased it online on Friday and wanted to pick up the CPU at their retail store but found out that they were in the process of moving to a new location at the Navy Exchange Mall at Pearl Harbor. Normally, they have pickups only from their warehouse in Aiea, but we wanted to check out the new retail outlet, and PC Gamerz kindly made an exception so we could arrive on Monday for the grand opening.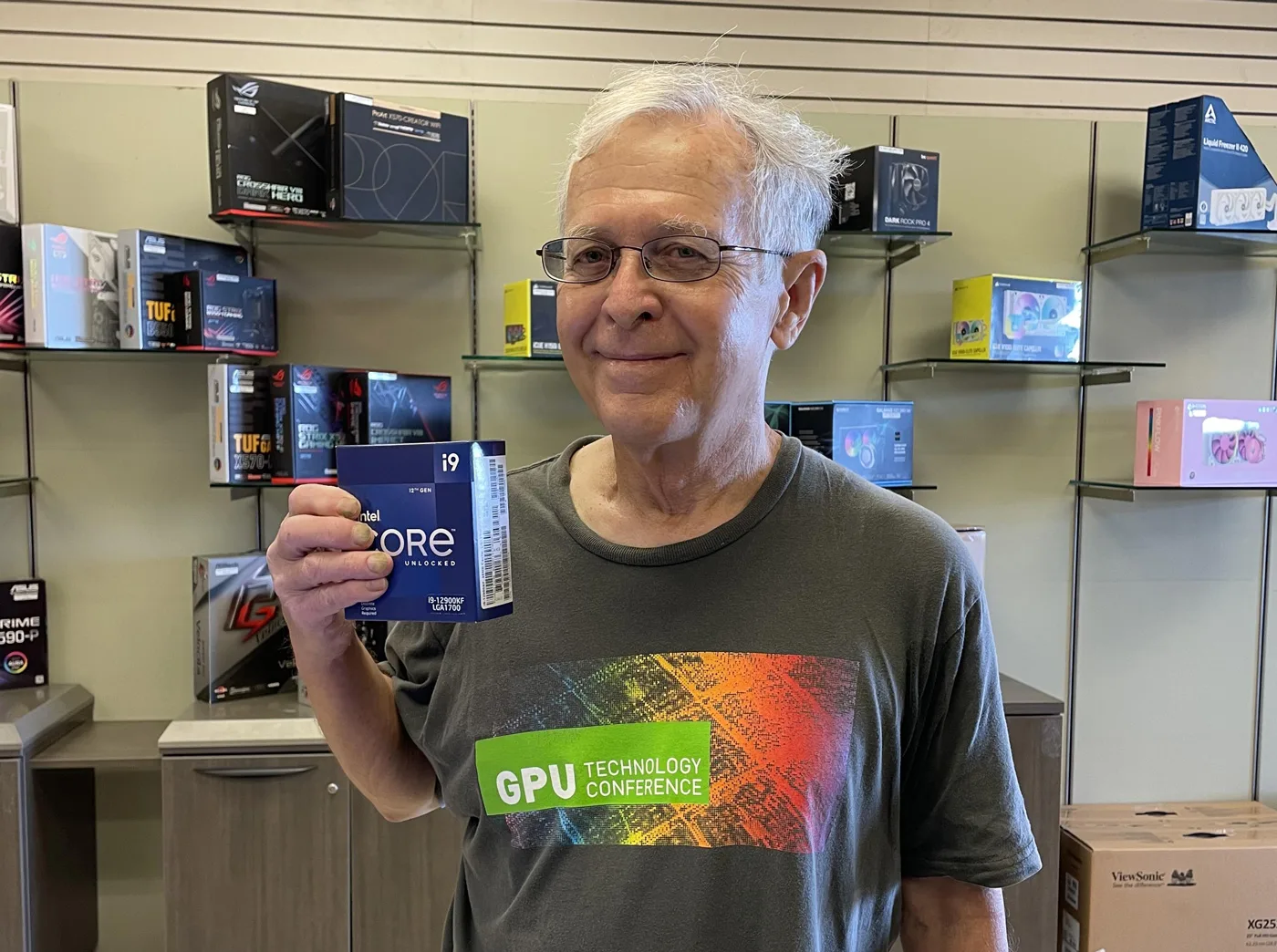 As a partner with NVIDIA, one of the PC Gamerz owners noticed my old GTC shirt and it brought up a long conversation which lead to an invitation to meet with the owner at their warehouse the following week.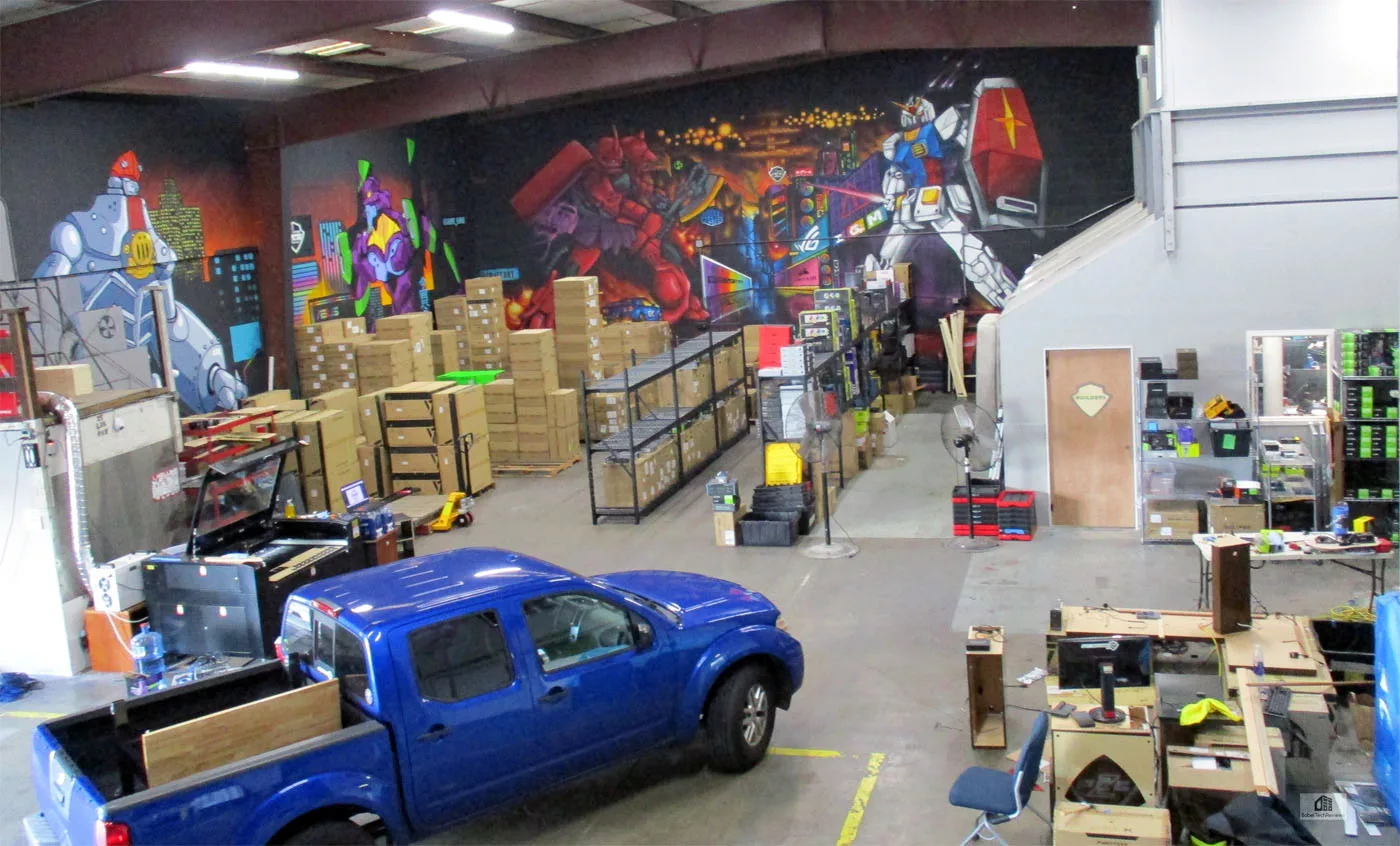 We met Devin Wolery, owner and Chief Operations Officer at PC Gamerz Hawaii. He sees a bright future for PC gaming in Hawaii and they have even recently expanded their business to ship outside of Hawaii.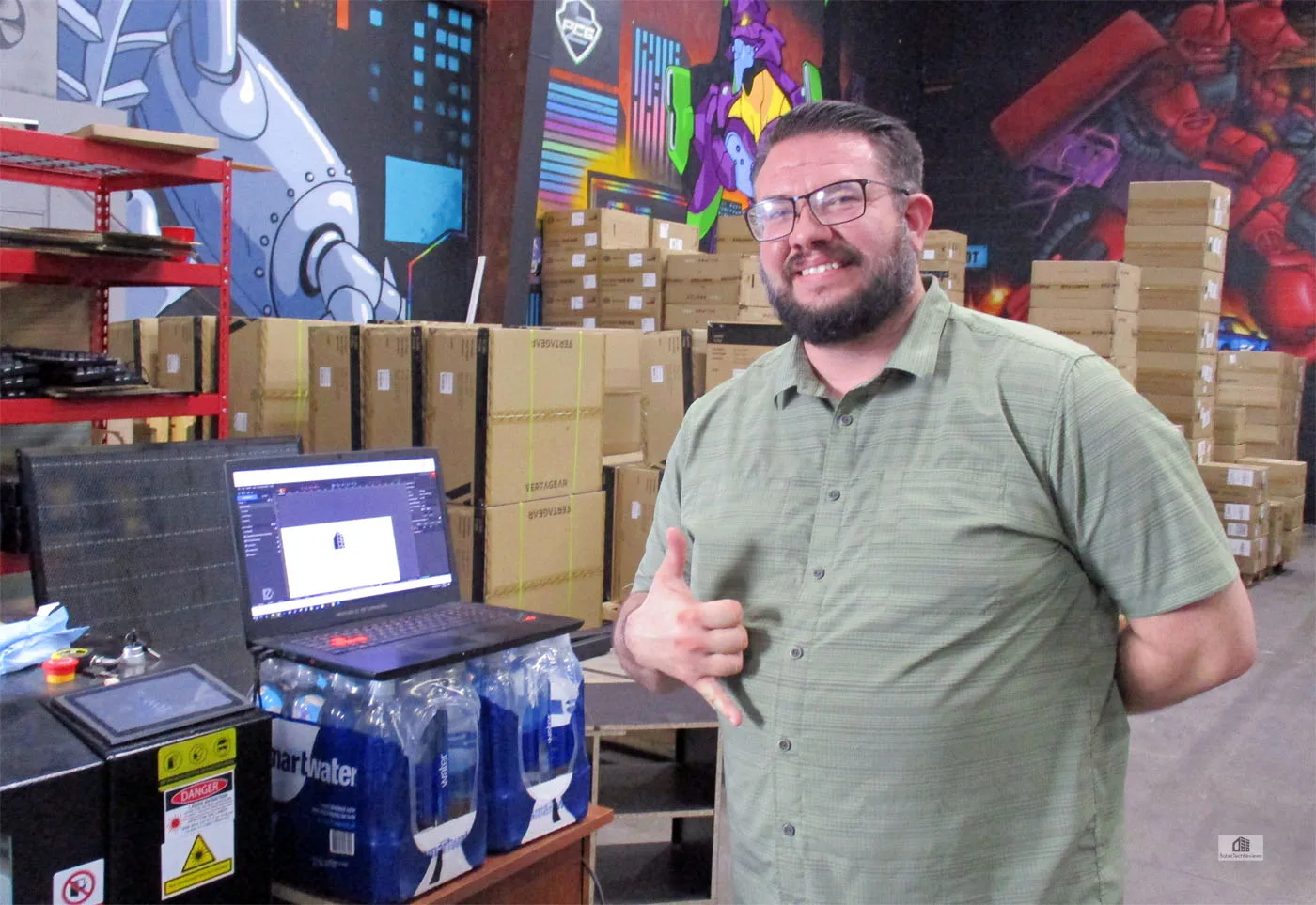 PC Gamerz Hawaii was established in 2008 when Devin purchased the name from another company. It was originally a small local PC game-oriented business, and they spent a lot of time organizing tournaments and events. However, COVID-19 changed everything and organizing indoor events became impossible until recently.
Since the pandemic has increased business, PC Gamerz decided to concentrate on retail/etail sales. From humble beginnings, they have recently increased sales by more than tenfold by concentrating on building custom PCs with a very strong emphasis on customer satisfaction and service.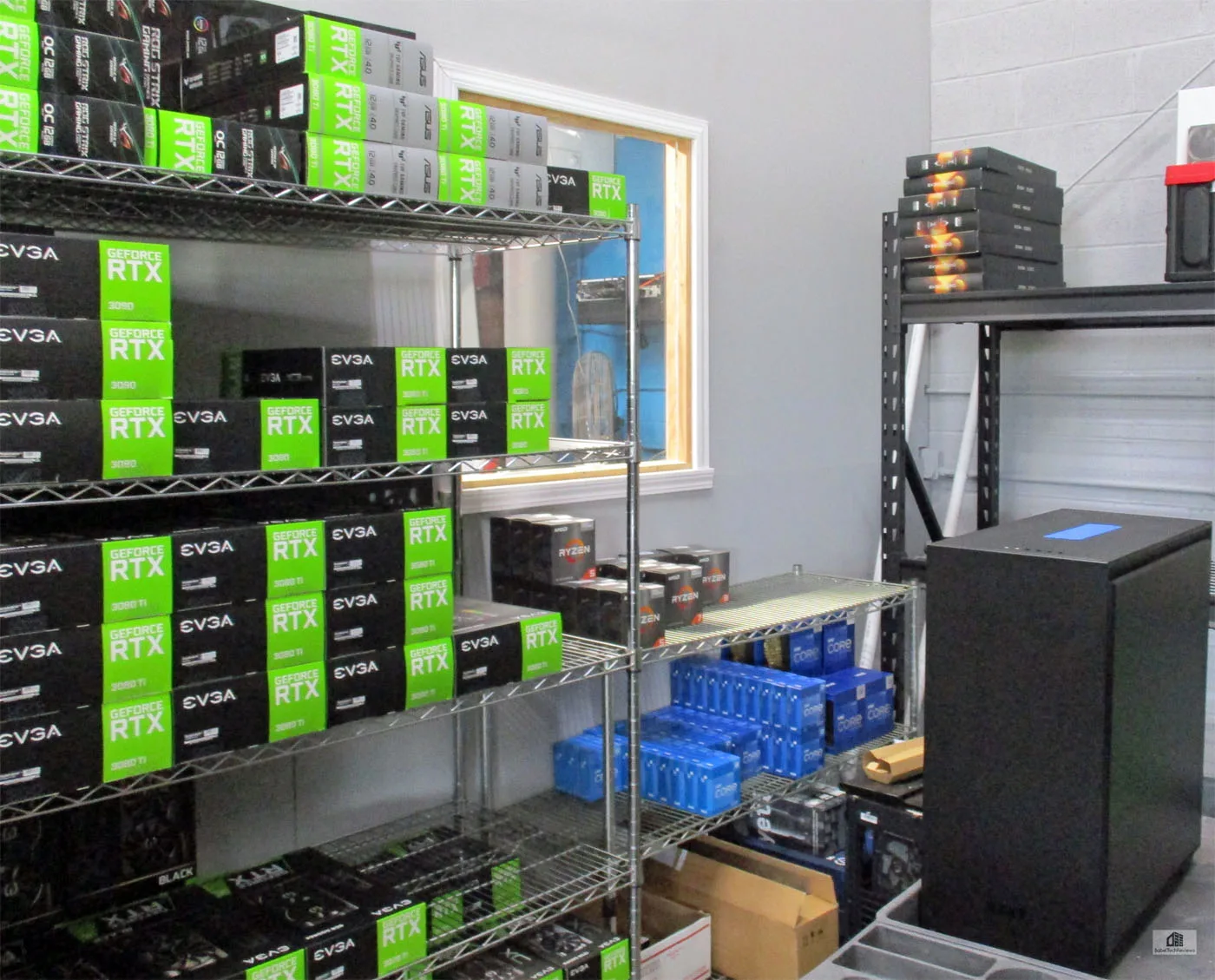 PC Gamerz Hawaii is a Tier 2 partner with NVIDIA, and although they get good prices on their graphics cards and have a large supply, they sell individual cards at competitive prices since they don't want scalpers to take advantage of them, and they pass the discounts on to their custom build purchasers.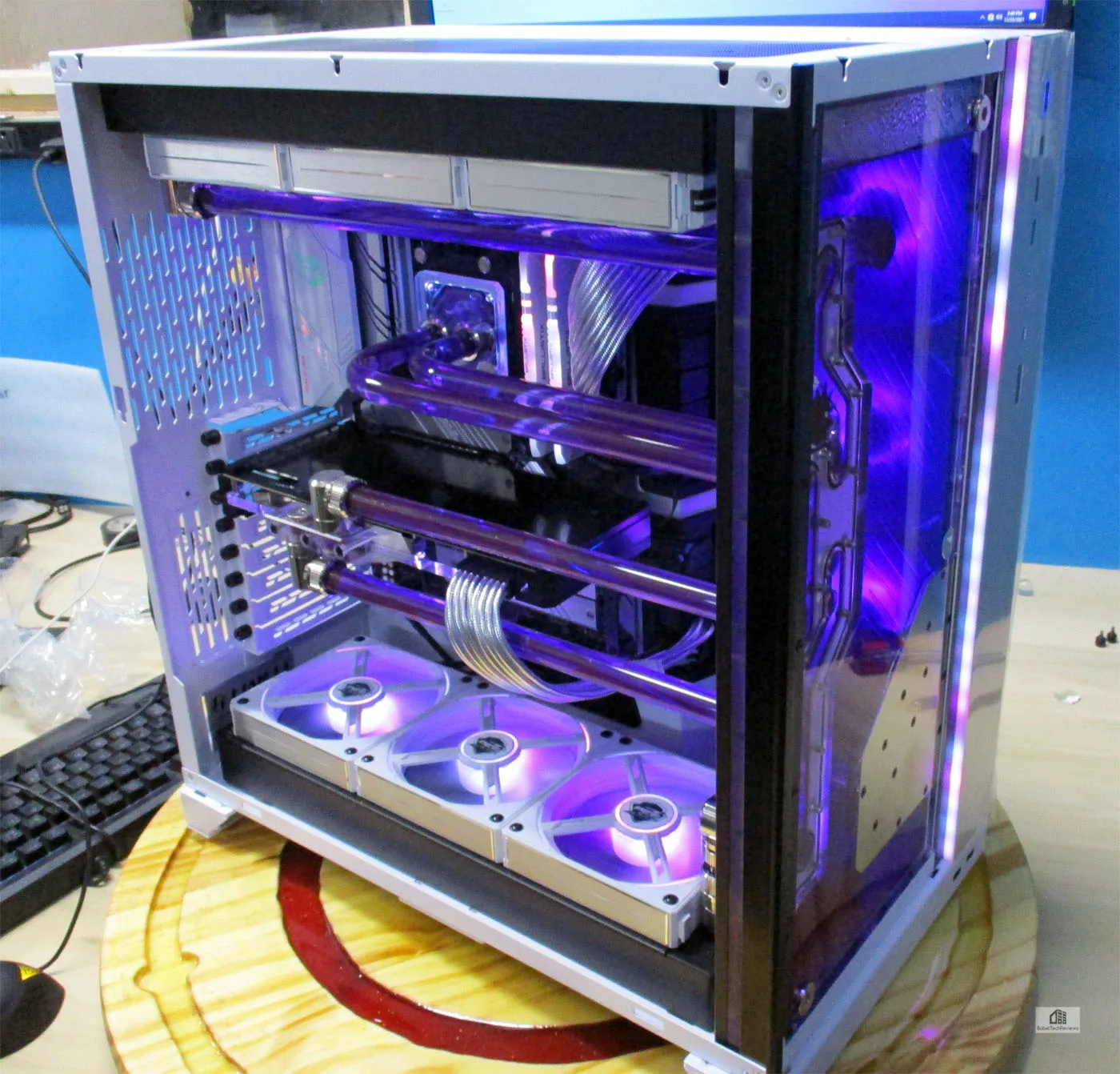 PC Gamerz specialize in water-cooled custom builds and use a laser etching machine to create unique panels. The first picture below is of a side panel for a custom case, and the second is of their laser etching machine.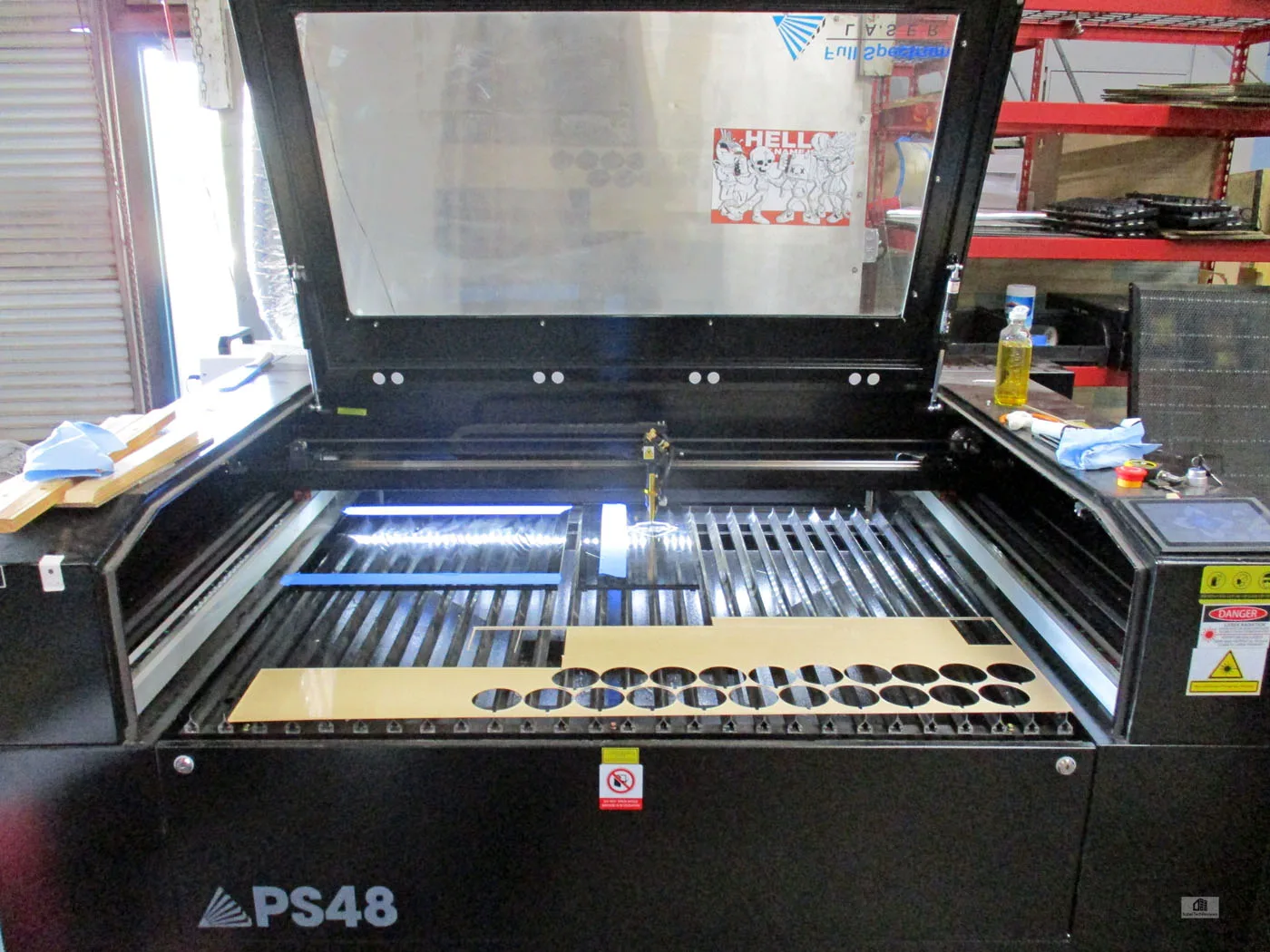 PC parts are first tested individually, and unlike big box sellers, PC Gamerz tests and stress tests the entire system as a whole before shipping out the PC.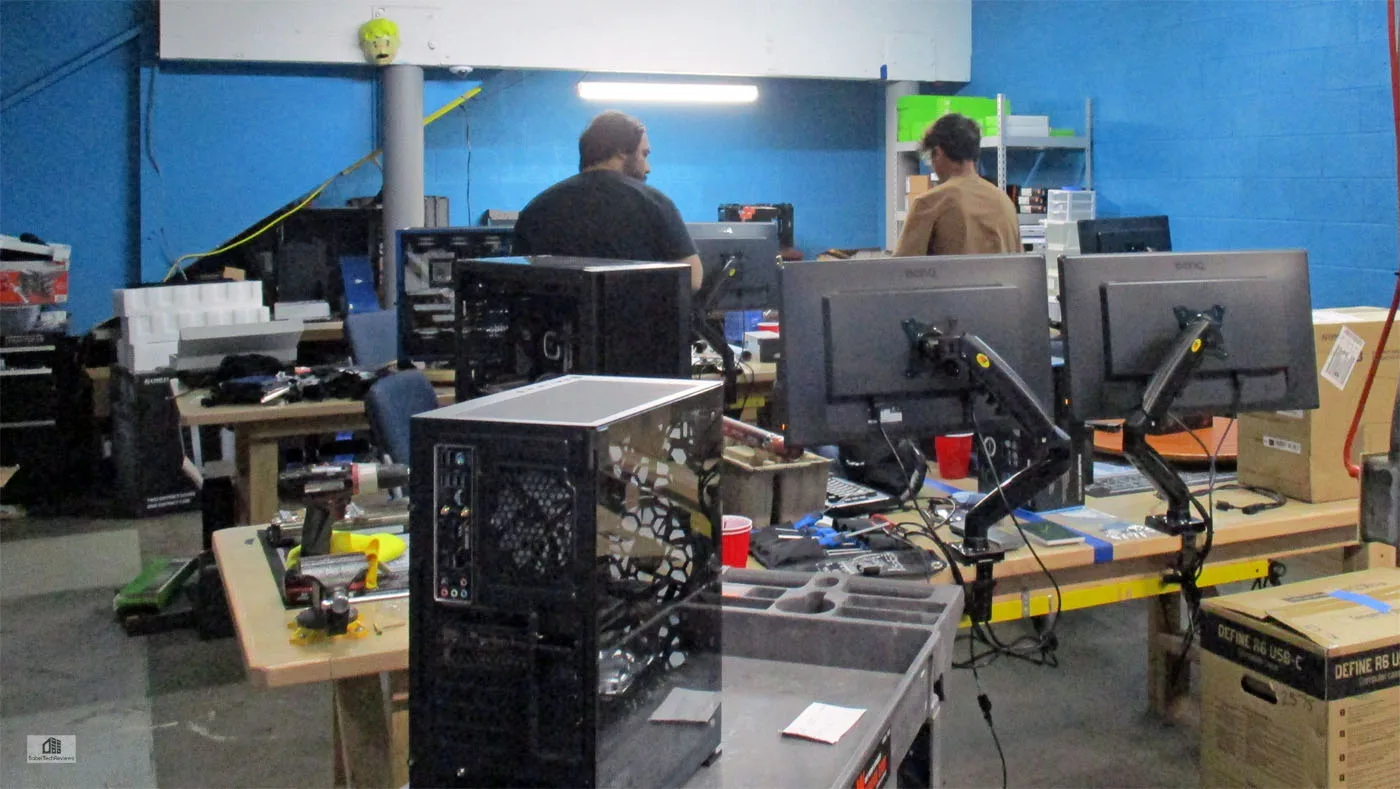 Technicians update Windows 10 and also install and update any games the purchaser requests. No junk programs are installed and the PC is sent out as fully game-ready.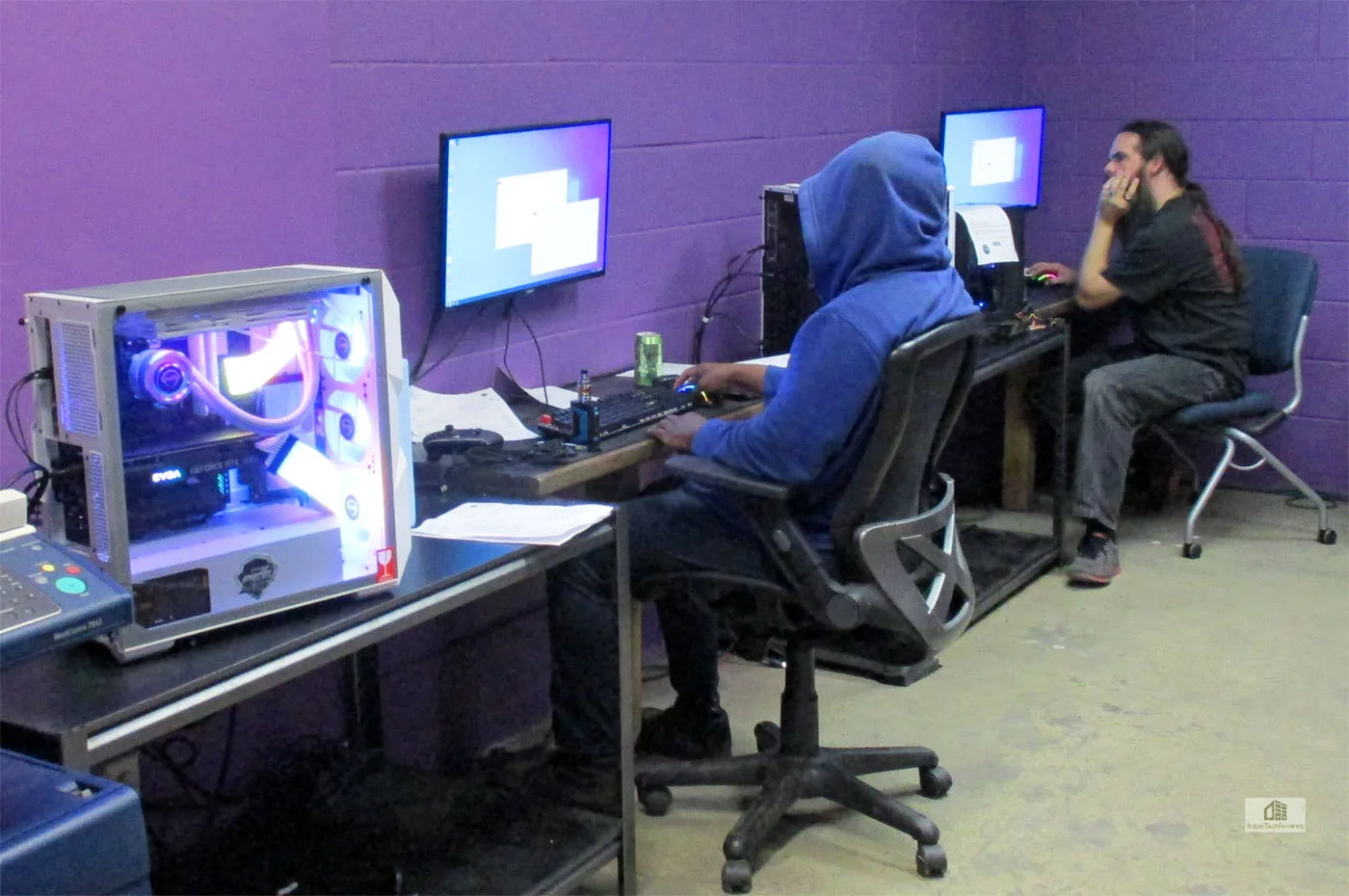 Information Technology is handled by Devin's brother, and PC Gamerz operates like a family owned business with several junior partners.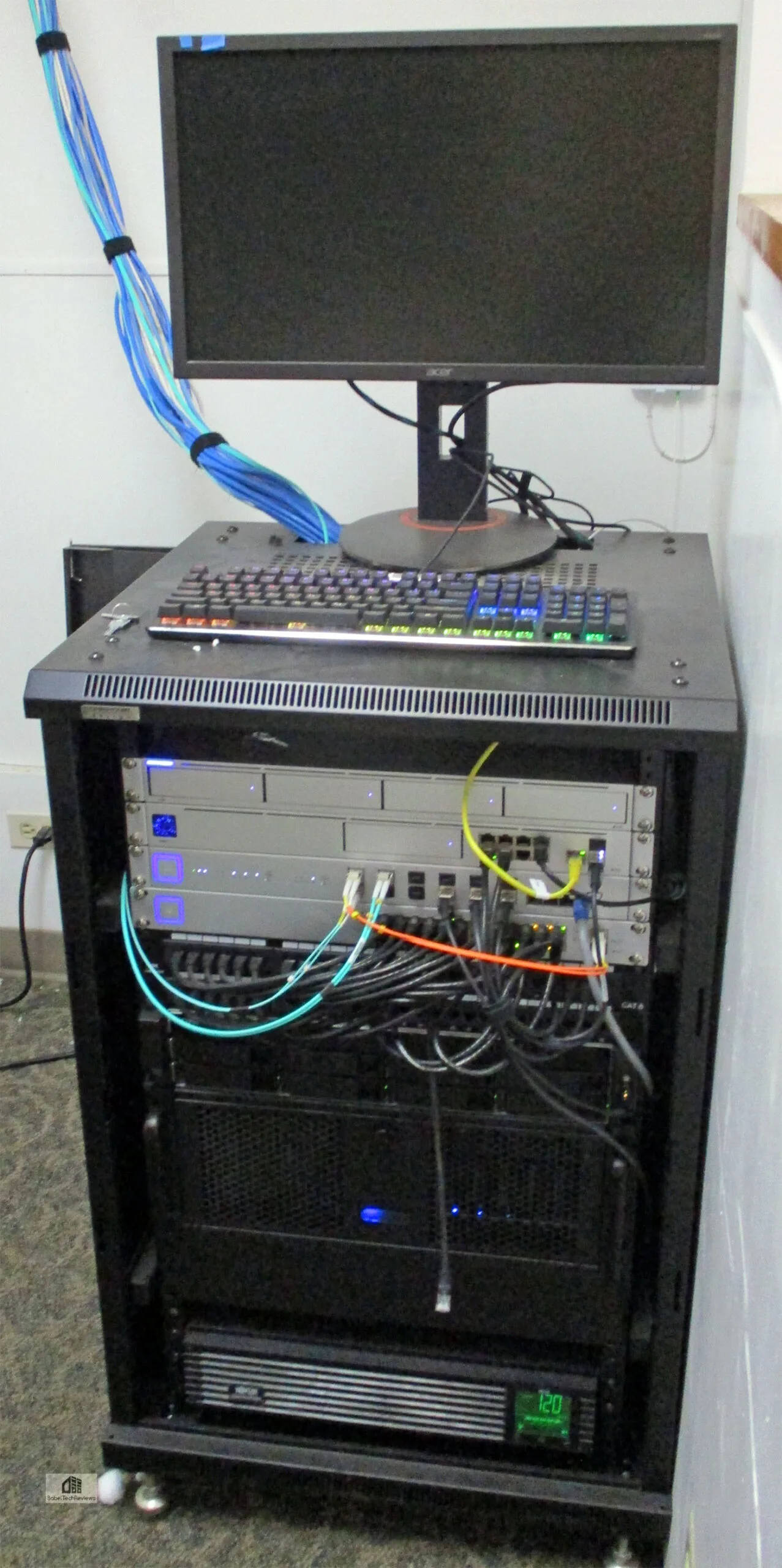 Although, PC Gamerz closed eSports when Hawaii's strict pandemic restrictions began, they still use their fat internet connection and have leased their tournament room to a former employee, Kyler Tandall of EMP Live Designs, who is again starting to produce events as restrictions ease.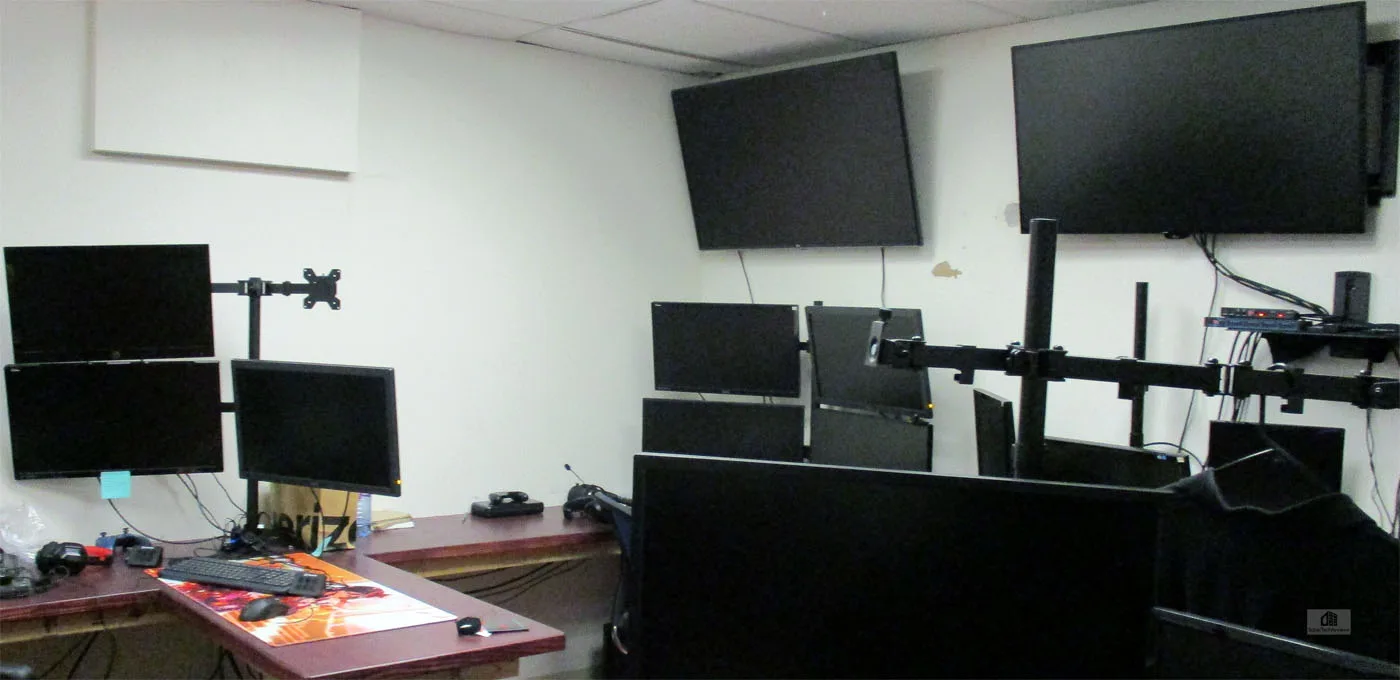 PC gaming is alive and growing in Hawaii as evidenced by the success of PC Gamerz and they have expanded their business to ship to the Mainland. We hope to test out one of their custom PCs for BTR's readers the next time we visit.
Next we traveled to Honolulu's iconic Aloha Tower Marketplace to visit the Hawaii Pacific University (HPU) eSports Arena.
Jordan Oliver, Manager (HPU) eSports Arena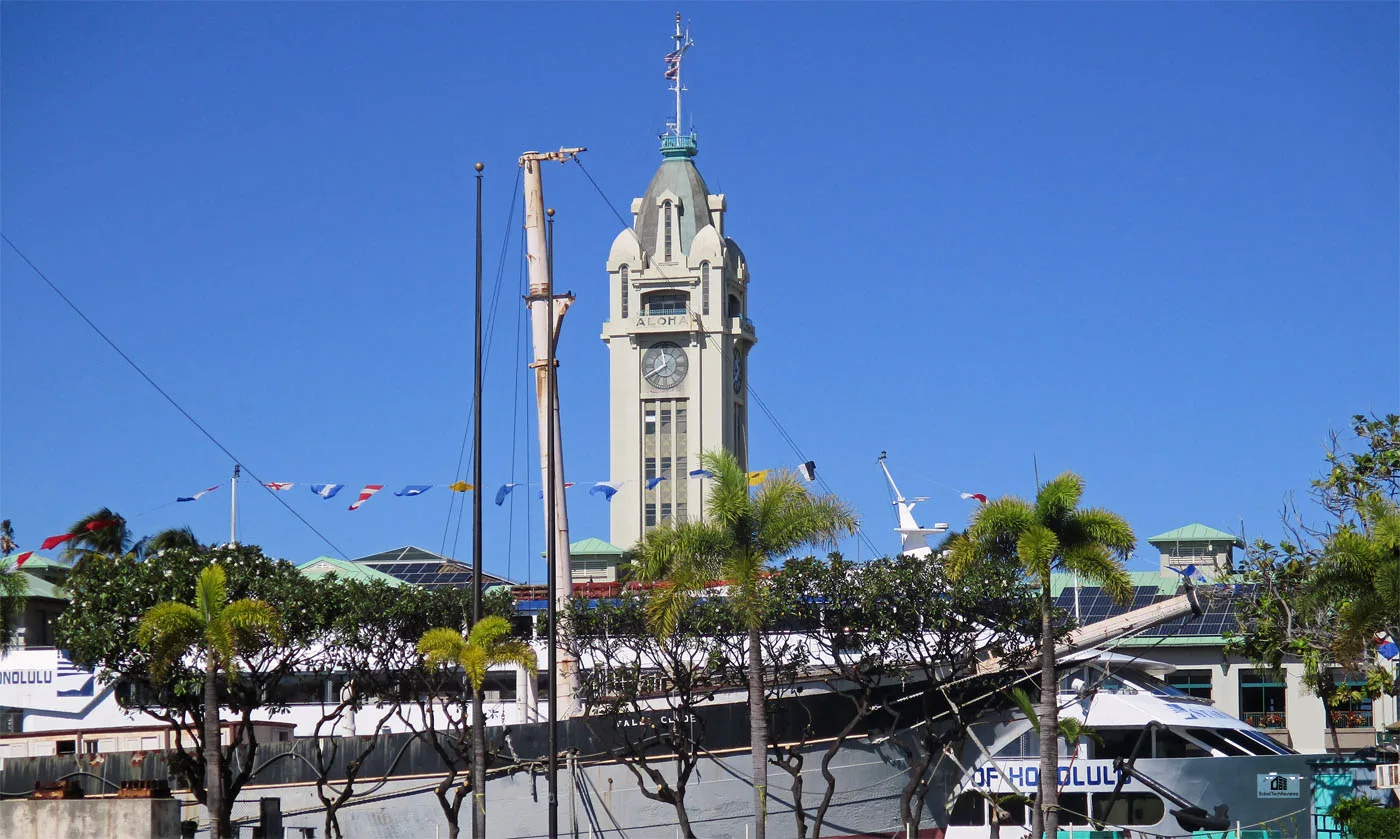 We visited HPU's eSports Arena and spoke to their manager, Jordan Oliver, about PC gaming's relation to education.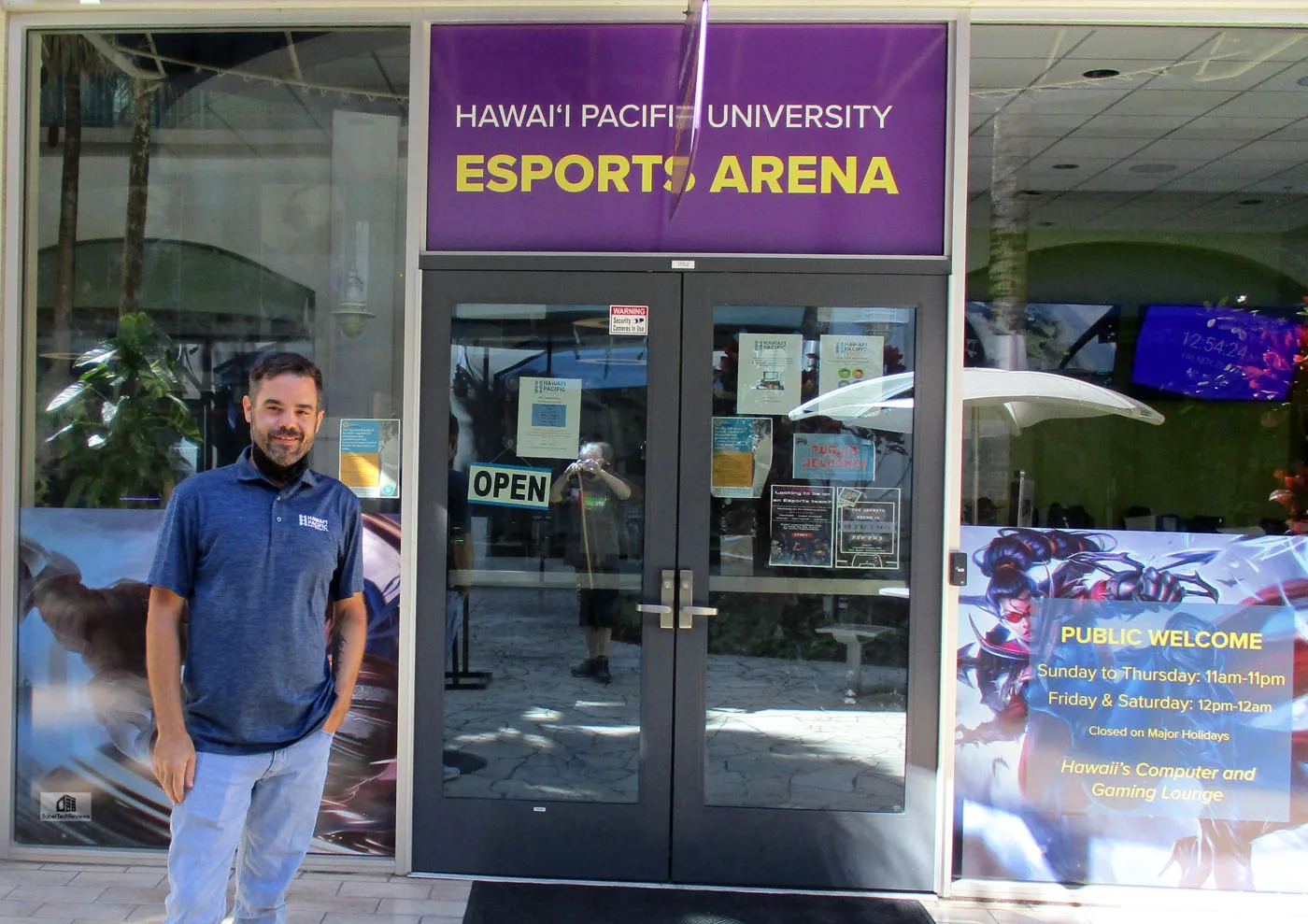 According to Jordan, Hawaii has an active and vibrant video gaming scene because entertainment has changed and is still evolving. In fact, eSports has more viewers than traditional sports.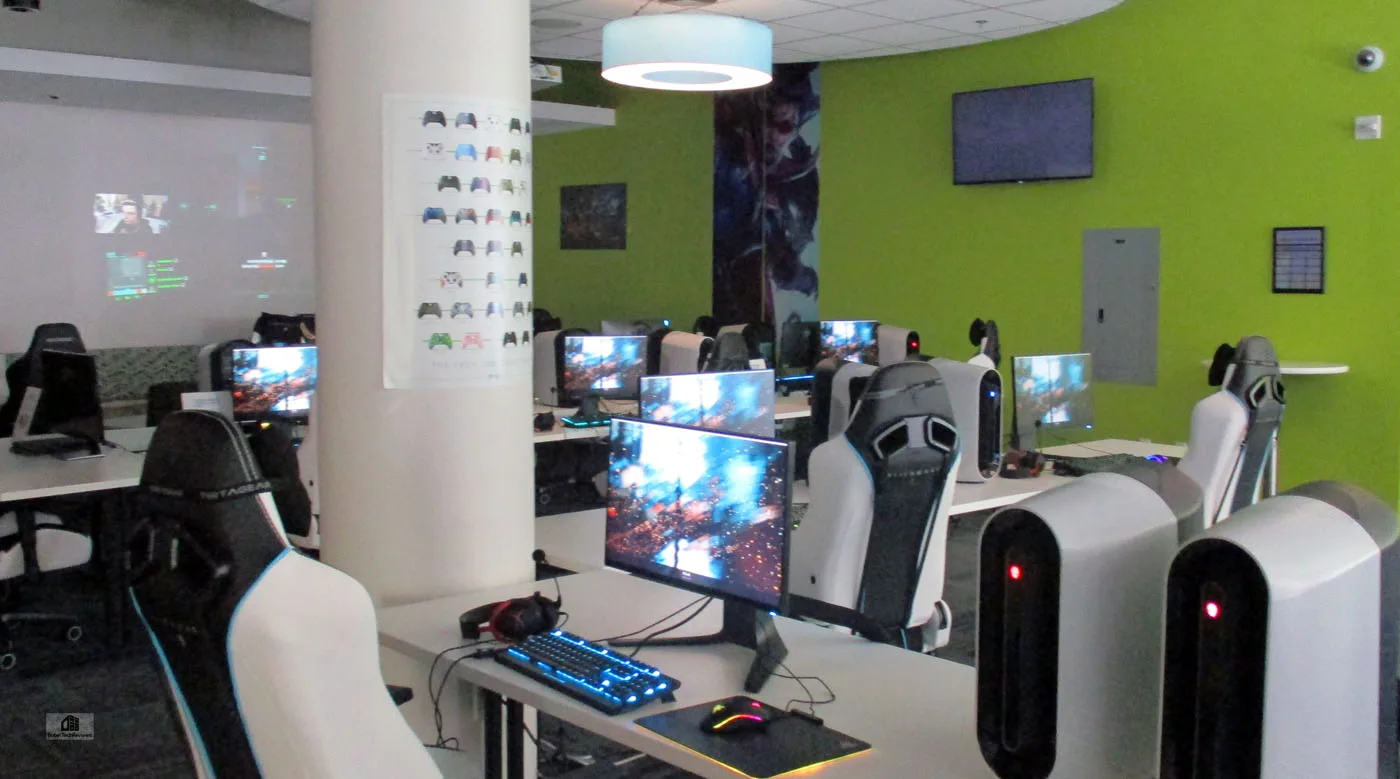 From meeting Jordan, it is obvious he is passionate about eSports and PC gaming. He is not just an eSports advocate but an evangelist. He joined HPU after establishing and managing the eSports Program at Randolph College in Lynchburg, Virginia. In addition, he is a member at the eSports faculty at Vancouver Animation School and has worked with the University of California, Irvine, where he helped develop their eSports curriculum.
Jordan believes that the future of eSports is too big to fail, and he wants to help young Hawaiian gamers – especially those in middle and high school – to look to gaming as a career and not just as a pastime. We agreed that gaming has been ridiculed as a "waste of time" and deemed "futureless" by the ignorant.
Indeed, just as school sports build teamwork and discipline, eSports does also but with even more advantages. Because of what is related to it – computers, IT, programming, art, storytelling and game development in addition to developing hand-eye coordination skills – PC gaming can offer meaningful lifetime employment for a gamer. Gaming is a huge industry now and it is still growing. Jordan believes that there is a future in becoming a game master as long as one learns to monetize themselves and will do more than just "play". He councils young players to spend their time in gaming but also to journal what they do so they can see their weaknesses and plot a path forward.
Just as with physical sports, time spent gaming is not wasted as one gets better and better until mastery is achieved. A gamer can build an audience and a following – or can work in related fields – for a lifetime, unlike with traditional sports that generally offer only short pro careers. Jordan believes that PC gaming offers a real future for young gamers as a career path. He tries to show middle and high schools what is possible when they create teams, and someday he looks forward to someone getting a doctorate in gaming, perhaps as a educator.
Jordan starts at the grassroots level to encourage youth that gaming is isn't a waste of time. His goal is to educate the community in general, and especially the parents of gamers. He works with HPU to build teams, and they even offer annual eSports scholarships of $1K to $6K to encourage gamers in addition to any other available scholarships and grants.
I asked about women in gaming and Jordan pointed out that they have gotten very good and make up about 40% of the total gamers yet there is still a toxic environment. Many male gamers are still rude, and he says they work to shame them. He encourages the community to all work together.
Of course we talked about VR. Jordan believes it is the future but there is currently less emphasis at HPU because they only have Rift S and Quest 2 headsets. HPU plans to expand with a dedicated VR room.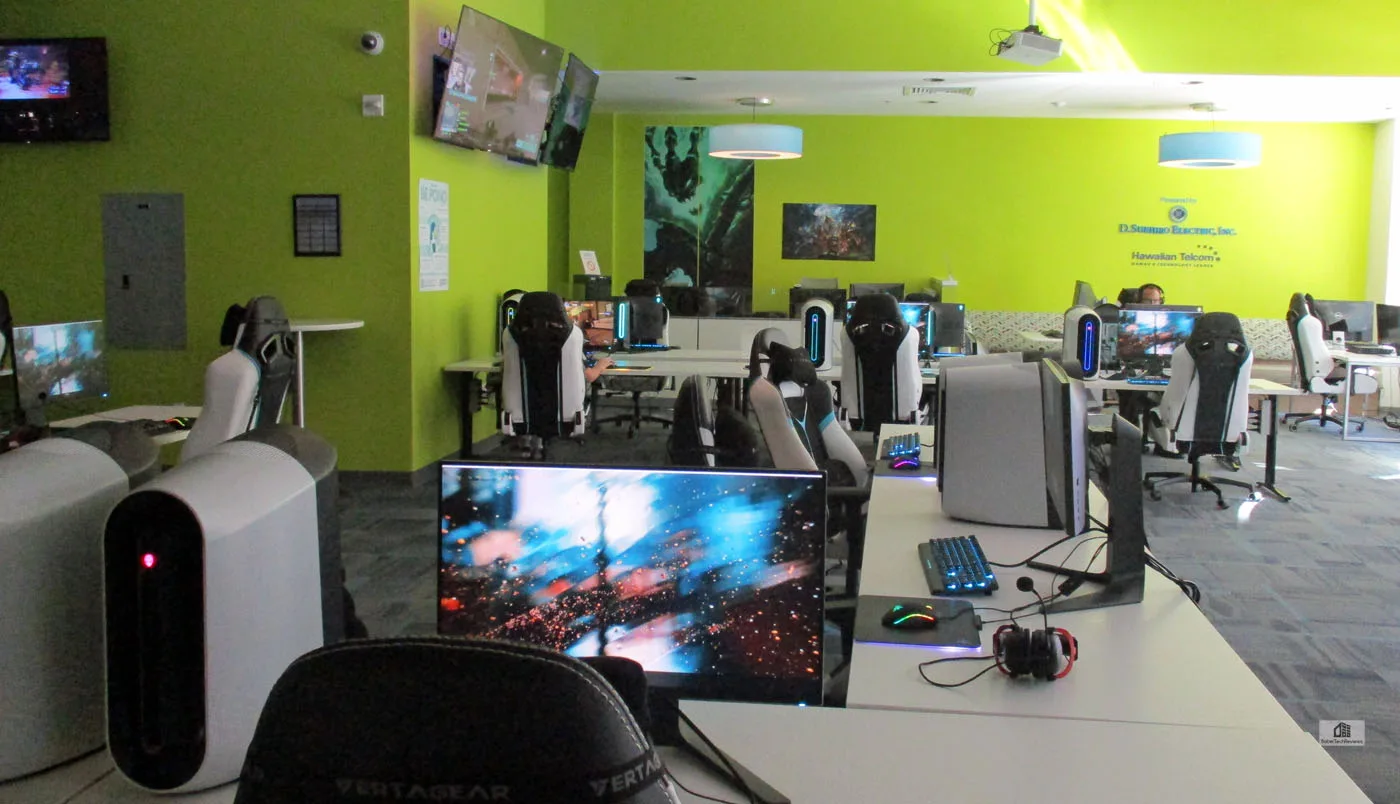 Jordan says there are the equivalent of pro gamers in Hawaii but – just as with other talent in Hawaii – there is a 'brain drain' syphoned off to the Mainland. For example, the police get trained very well by the Honolulu Police Department, but then Seattle or Austin will recruit officers by offering them higher salaries and lower costs of living.
The real issue is that pro gamers cannot really live and compete in Hawaii because of the extreme physical distance and the high latency of an extra 60-100ms ping that makes local pros less competitive. Online gamers must respond to what they see on the screen but because Hawaii gamers see it slightly later, they cannot compete on equal terms with Mainland gamers.
Jordan looks forward to the day when near-earth satellite like Starlink will finally level the playing field for all gamers worldwide when latency becomes a non-issue. Then Hawaii can keep and field pro gaming teams.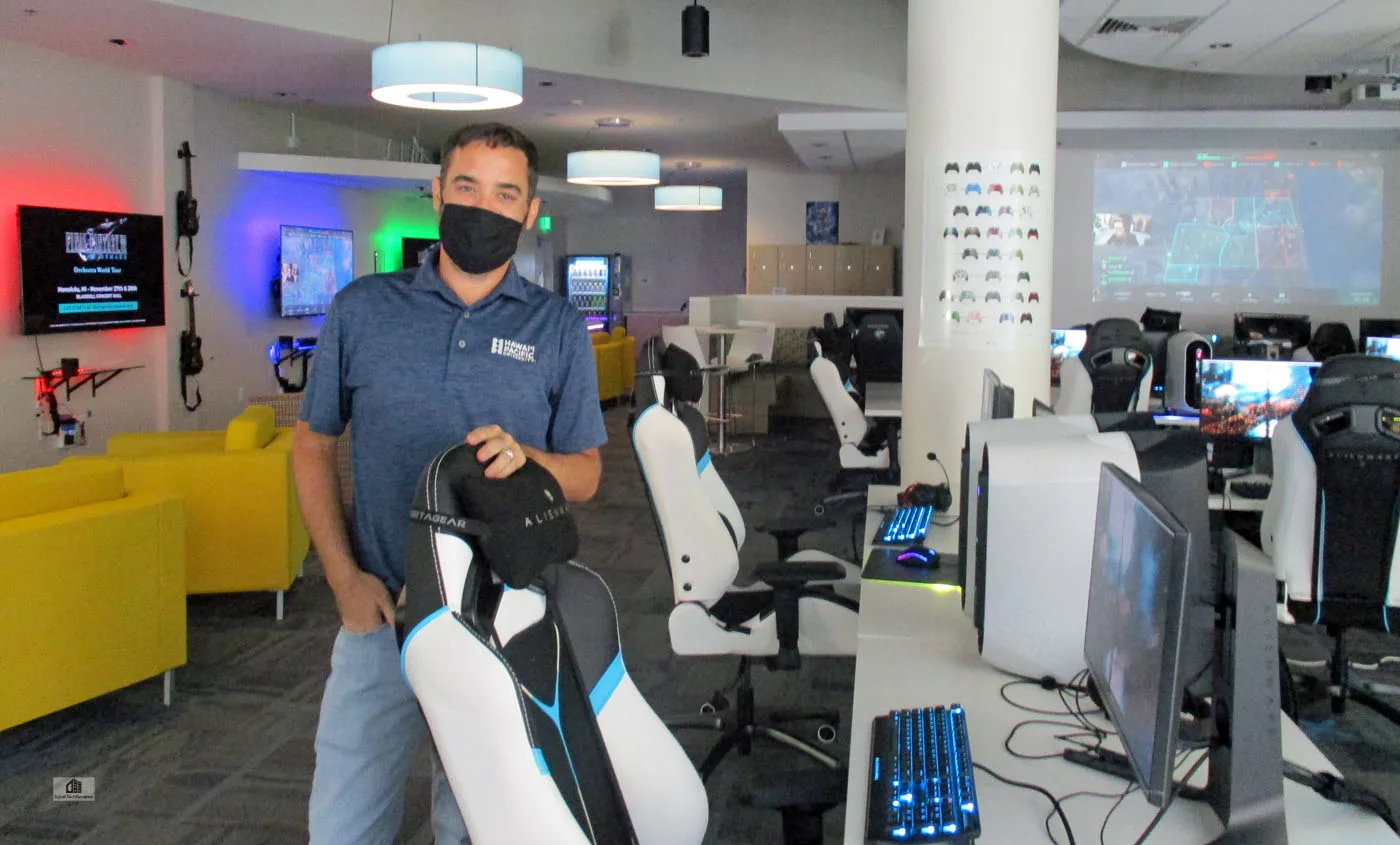 In the meantime, HPU will continue to work the local talent field, talk with parents and educators to legitimize gaming, and help make it even more popular. Local parents may realize that HPU is a lot less expensive than many other Hawaiian universities, and may allow their kids to attend with a view to getting a well-rounded education related to gaming. China has lost an entire generation of competitive gamers because of their ridiculous restrictions on young online gamers, and the rest of the world including Hawaii may benefit.
We want to thank, Mekel, Devin, and Jordan for their interviews. Although challenges remain, there is a bright future for Hawaiian gamers and especially for the youth who may wish to work in game-related industries.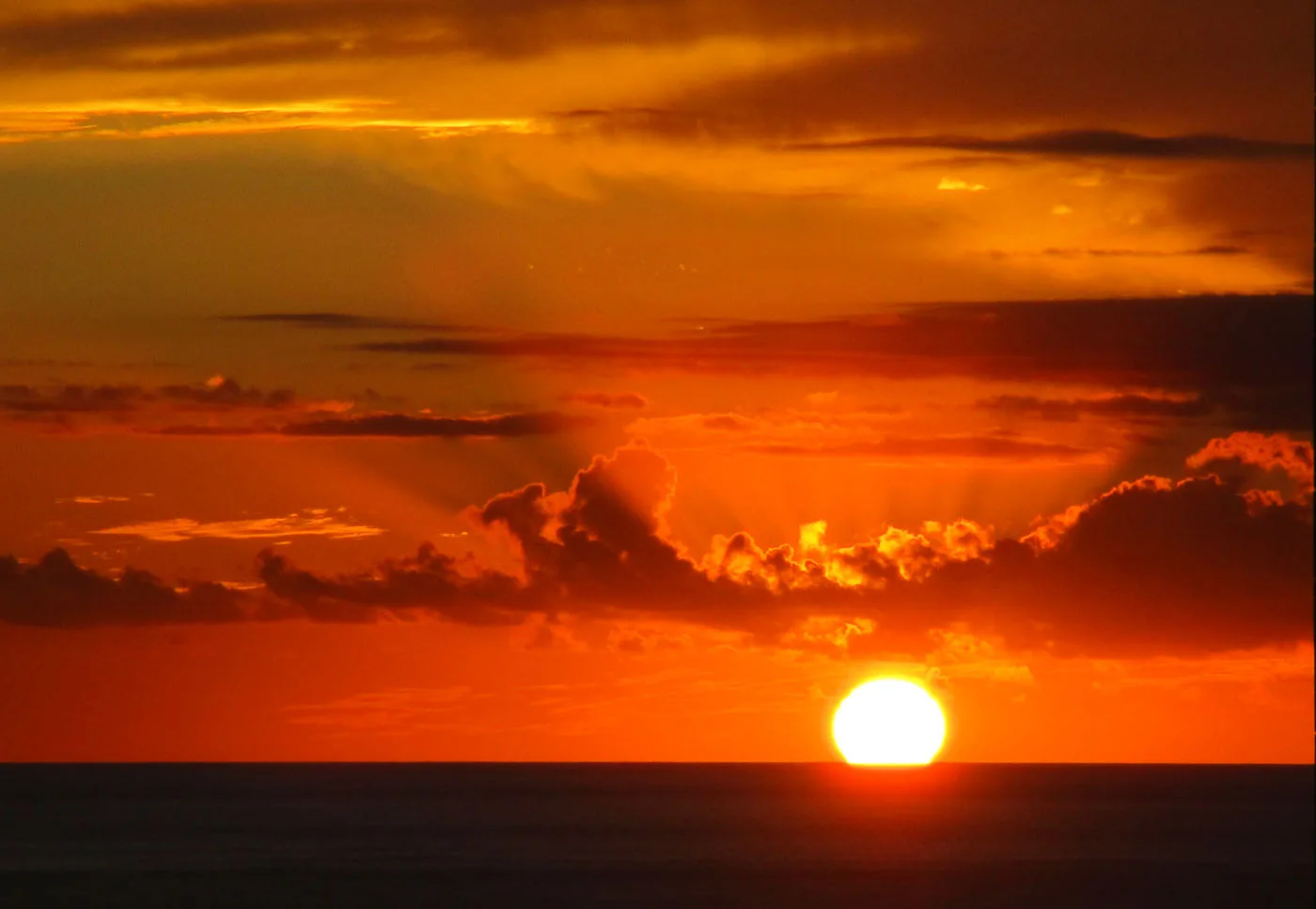 We hope to follow up this Summer but until then we will say aloha and a hui ho (until we meet again).
Happy Gaming!