The PowerColor Hellhound RX 6650 XT takes on the RTX 3060 & RTX 3060 Ti in 38 Games – Latest Preview Driver, OC'ing, Workstation, GPGPU +
A new Hellhound RX 6650 XT arrived at BTR for evaluation from PowerColor as a premium and overclocked 8GB vRAM-equipped 128-bit card at $409 although the base models start at a rather high $399 considering it is targeting 1080P and with only a mild speed bump over the $379 RX 6600 XT. Using a borrowed PC GamerZ Hawaii 'Blue Elixir' 12700KF PC, we have been exhaustively comparing it versus the $399 RTX 3060 EVGA Black XC 12GB and versus the unavailable-at-any-resonable price, RTX 3060 Ti 8GB Founders Edition. Using AMD's latest Preview public driver for Win 11, we test 38 games, GPGPU, workstation, SPEC, and synthetic benchmarks.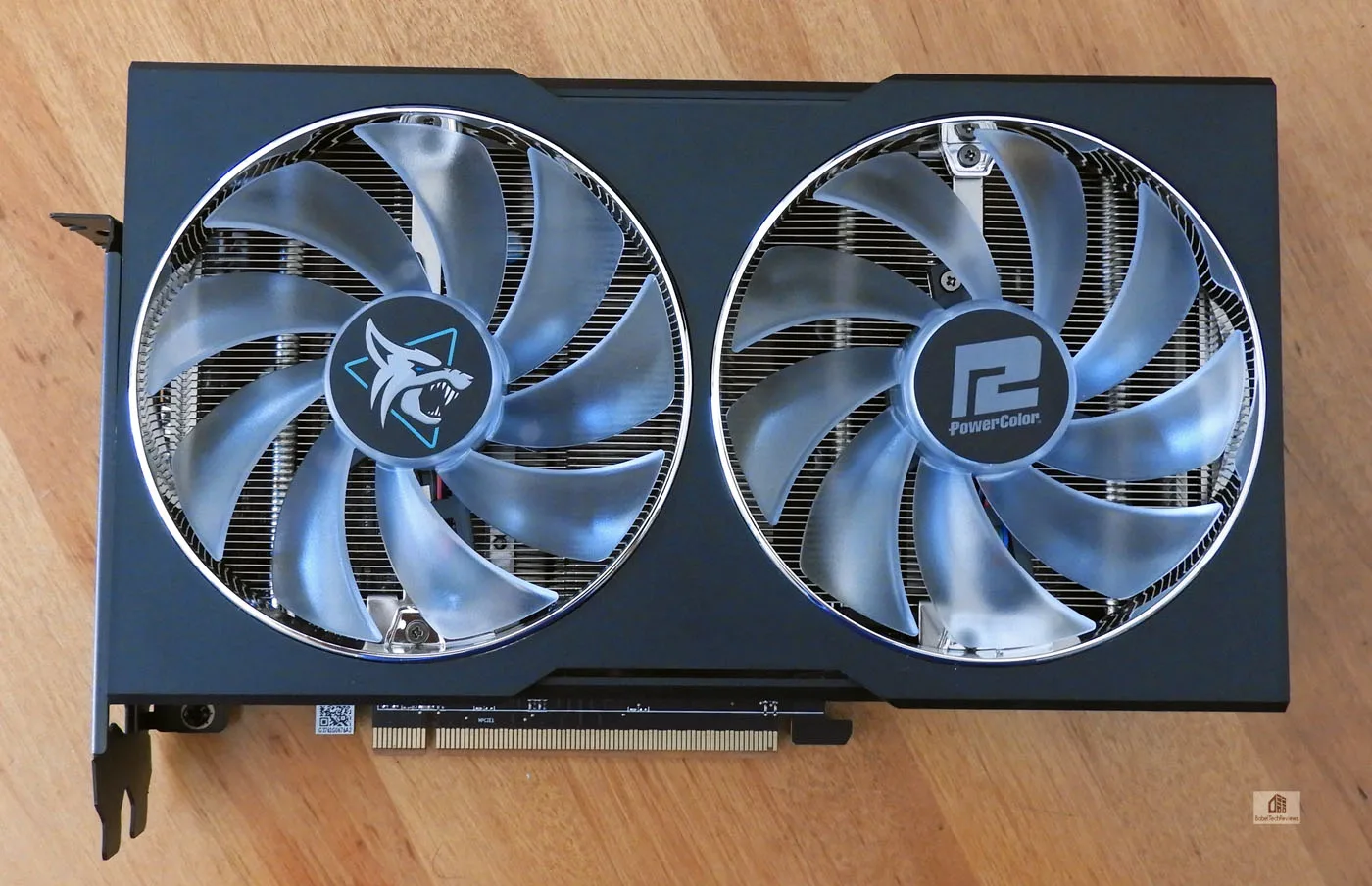 This editor is in Honolulu for the month of May on a working vacation, so we asked PC GamerZ for a 12700KF/DDR4 PC that we will compare with BTR's flagship 12900K/DDR5 PC for an upcoming review next month. The owner kindly allowed us to switch out video cards and we brought along a EVGA RTX 3060 XC Black and a RTX 3060 Ti Founders Edition (FE) for comparison with the Hellhound.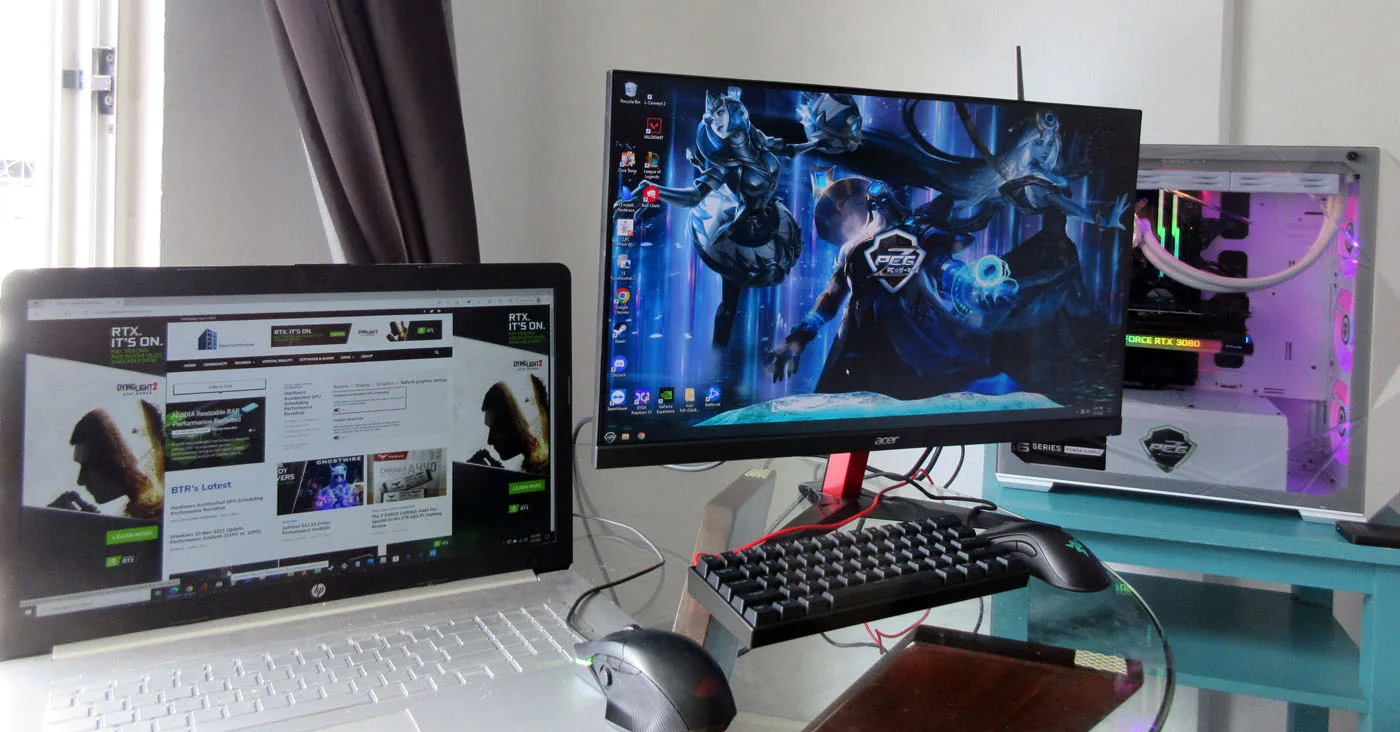 The Hellhound RX 6650 XT is factory clocked higher than the reference version using its OC BIOS. While the reference Radeon RX 6600 XT offers a Game clock up to 2359MHz and a Boost clock of 2589MHz, its replacement reference RX 6650 XT has a Game clock up to 2410MHz and a Boost clock up to 2635MHz – a 2% improvement. The GDDR6 memory clocks of the RX 6650 XT (17.5Gbps) is clocked about 9% higher than that of the RX 6600 XT. The Hellhound RX 6650 XT game clocks up to 2486MHz and further boosts to 2689MHz. The RX 6650 XT board power is increased by around 13% over the RX 6600 XT so the Hellhound RX 6650 XT tames its thermals by using a dual fan design whose LED lights up in blue.
The Reference and Hellhound RX 6650 XT Features & Specifications
First let's look at the Hellhound RX 6650 XT specifications: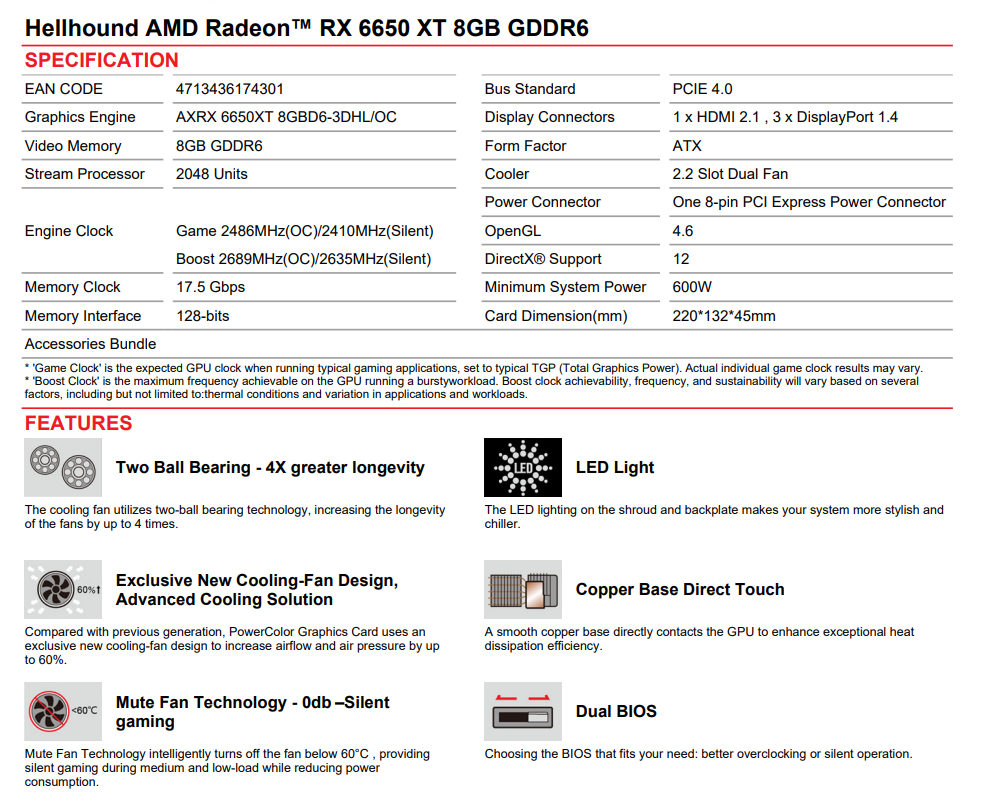 Additional Information from PowerColor
PowerColor newest RX 6650 XT Hellhound, is positioned to compete with custom 3060 premium models.
PowerColor Hellhound RX 6650 XT is equipped with a dual fan design (2x 100mm), a cooler with 3X6Φ nickel-plated heatpipes, and a smooth nickel-plated copper base that enhances heat dissipation.
The card has 2 modes, OC and Silent. There's a BIOS switch on the side of the card. We designed this card to be very quiet, even on performance mode it's considerably quieter than most silent cards. We advise trying the silent mode as it's truly whisper quiet.
The board has 10 Phase VS the 6+2 Phase VRM design on the standard designs meaning is over spec'd in order to deliver the best
stability and overclock headroom, and by having such VRM it will run cooler and last longer.
DrMOS provides superior power efficiency and offers better thermal protection, and the 6+2 phases VRM guarantees better overclocking and stability, no compromises.
Dual 100mm fans optimized static pressure fan design provides more air flow and longer circulation; at this TDP there is no need of oversized 3 fan coolers, better sized and yet efficient cooling!
Hellhound features the blue LED lighting on the shroud and backplate that provides a cold color to light up in your case.
Hellhound has Mute fan technology, fans stop under 60c!
The metal backplate strengthens the card and improves the airflow through the cuts. It does not use thermal pads but instead the cuts allow the PCB to breath, which under high heat scenarios is more beneficial than having thermal pads as otherwise a back plate can become a heat trap.
RX 6000 features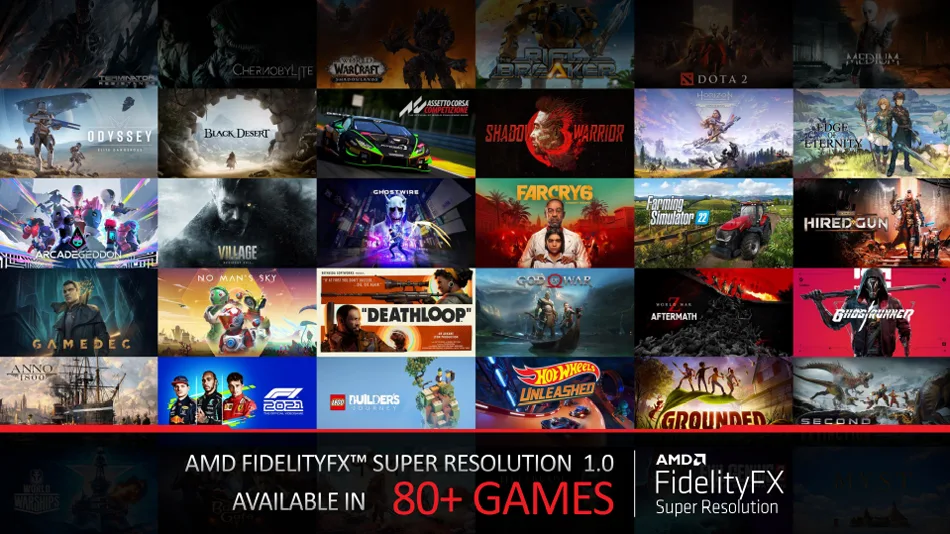 AMD has their own ecosystem for gamers and many unique new features for the Radeon 6000 series including the FidelityFX 1.0 Super Resolution upscaler and the brand new 2.0 version that looks about as good as native resolution in Deathloop.
Infinity Cache and Smart Access Memory are two other important components of many included in Adrenalin software.
Infinity Cache & Smart Access Memory
AMD's RDNA 2 architecture includes the Infinity Cache which alters the way data is delivered to GPUs. This global cache allows fast data
access and increases bandwidth. This optimized on-die cache uses 96MB of AMD Infinity Cache delivering up to 2.5x the effective bandwidth compared to 256-bit 12Gbps GDDR6.
BTR is using an Intel 12th generation CPU, the i9-12700KF, which does not have this cache available so our results will probably be lower than what a gamer using a full Ryzen 5000 platform will achieve. In addition, we don't have Smart Access Memory.
AMD's Smart Access Memory is a new feature for the Radeon RX 6000 Series graphics cards that enables additional memory space to be mapped to the base address register resulting in performance gains for select games when paired with an AMD Ryzen 5000 Series processor or with some Ryzen 3000 series CPUs. Using PCIe, the Base Address Register (BAR) defines how much GPU memory space can be mapped. Without using Smart Access Memory, CPUs can generally access up to 256MB of GPU memory restricting performance somewhat.
NVIDIA has worked with its partners and with Intel to enable Resizable BAR which currently is enabled for the ASUS H670-DDR4 motherboard. We also enabled it for the RX 6650 XT and tested all of our video cards and games with Resizable BAR.
The Test Bed
BTR's test bed consists of 38 games and 5 synthetic game benchmarks at 1920×1080 as well as SPEC, workstation, and GPGPU benchmarks. Our latest games include Total War: Warhammer III, God of War, Ghostwire: Tokyo, Elden Ring, Dying Light 2 and CoD: Vanguard. The testing platform uses a recent installation of Windows 11 Pro Edition, and our CPU is an i9-12700KF, an ASUS TUF Gaming H670-PRO WIFI D4 motherboard, and 16GB of G.SKILL Trident DDR4 at 3600MHz. The games, settings, and hardware are identical except for the cards being compared.
First, let's take a closer look at the new PowerColor Hellhound RX 6650 XT.
A Closer Look at the Hellhound RX 6650 XT
Although the Hellhound RX 6650 XT advertises itself as a 7nm 8GB vRAM-equipped card on AMD's RDNA 2 architecture which features 1080P and PCIe 4.0, the cover of the box favors stylized imagery over text.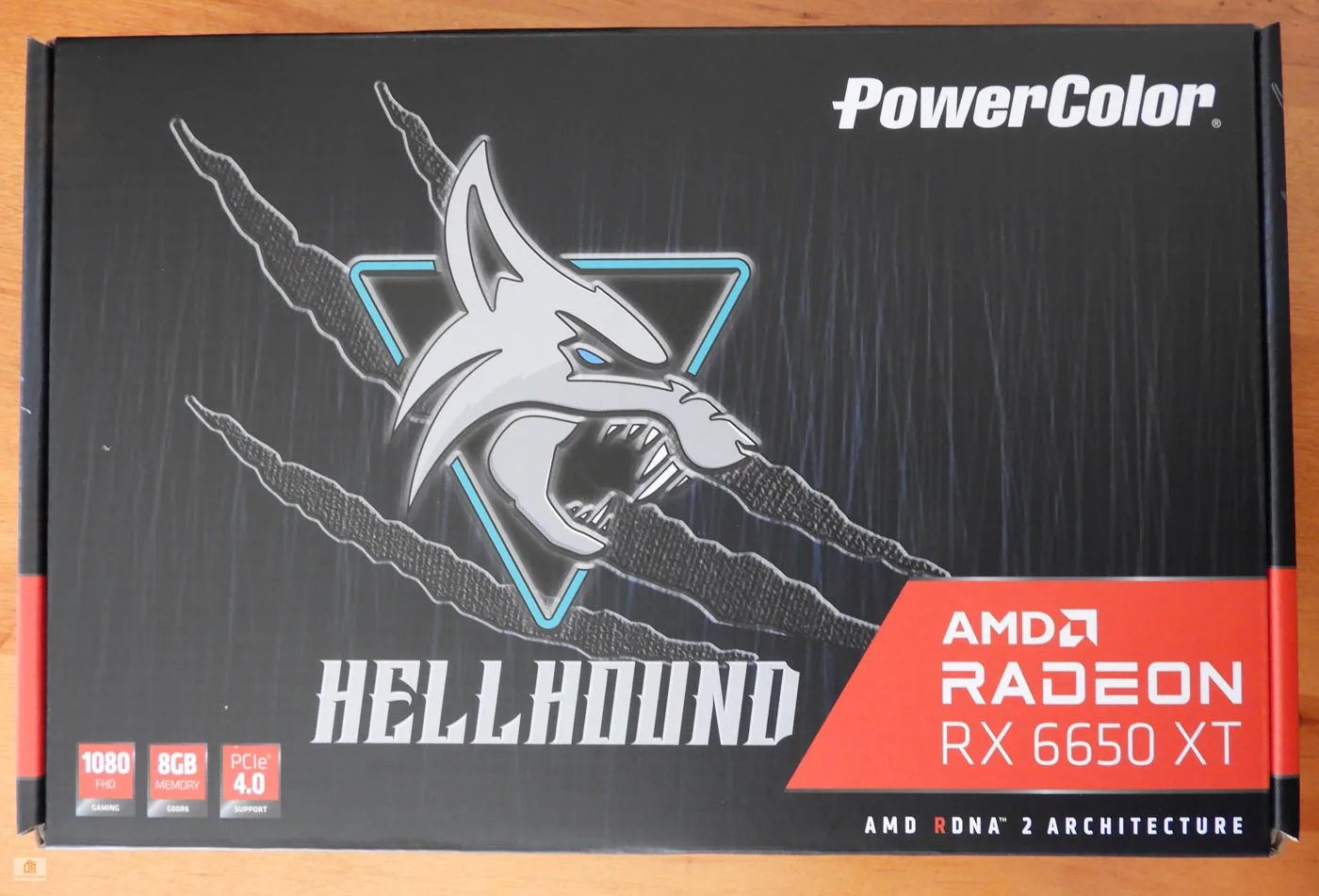 The back of the box touts key features which now include HDMI 2.1 VRR, ray tracing technology, FidelityFX, and VR Ready Premium as well as states its 600W power and system requirements. AMD's technology features are highlighted and the box features PowerColor's custom cooling solution, Dual-BIOSes, blue output LED, and a solid backplate with the Hellhound logo.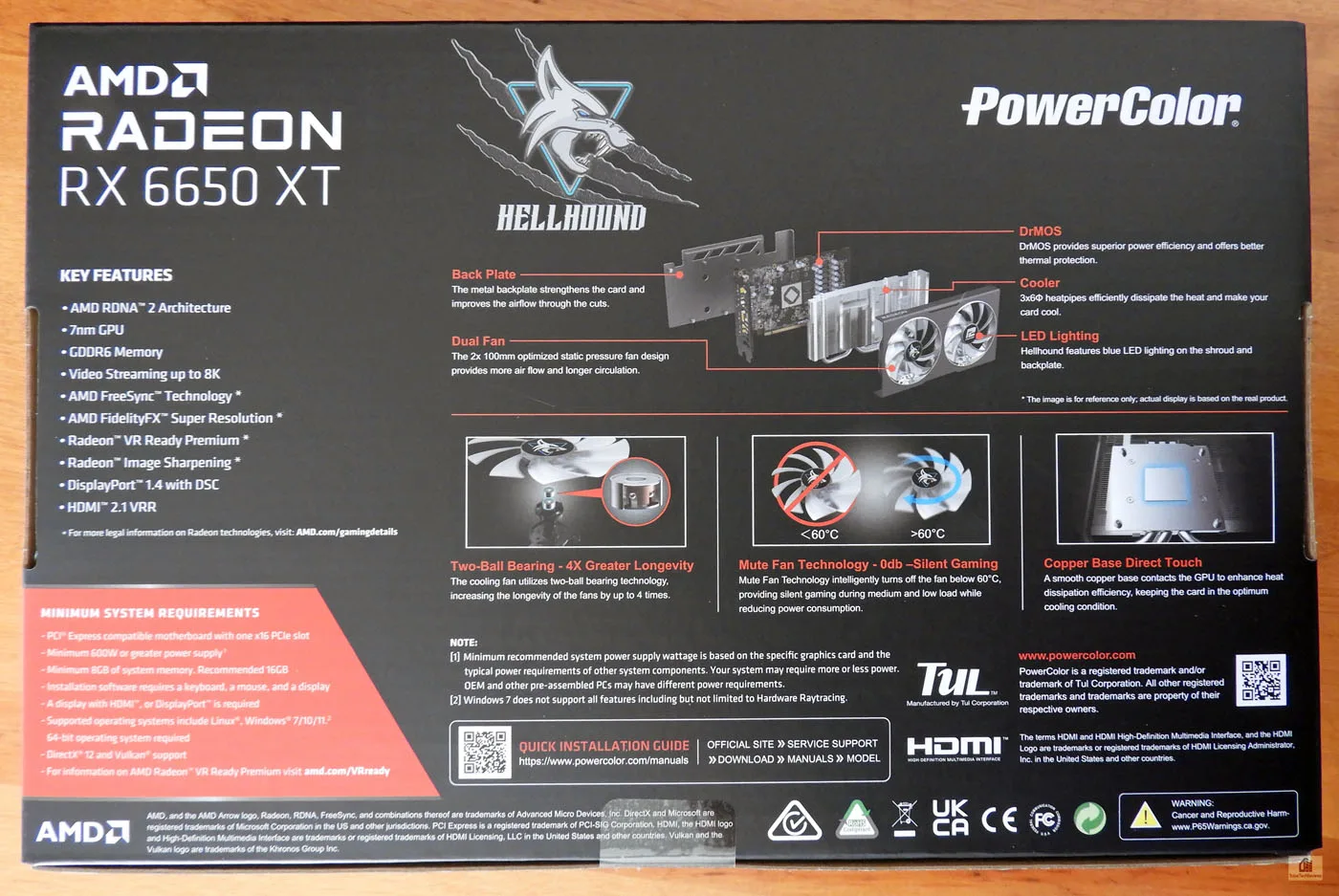 Opening the box, we see a video card inside a anti-static bag. It's barebones.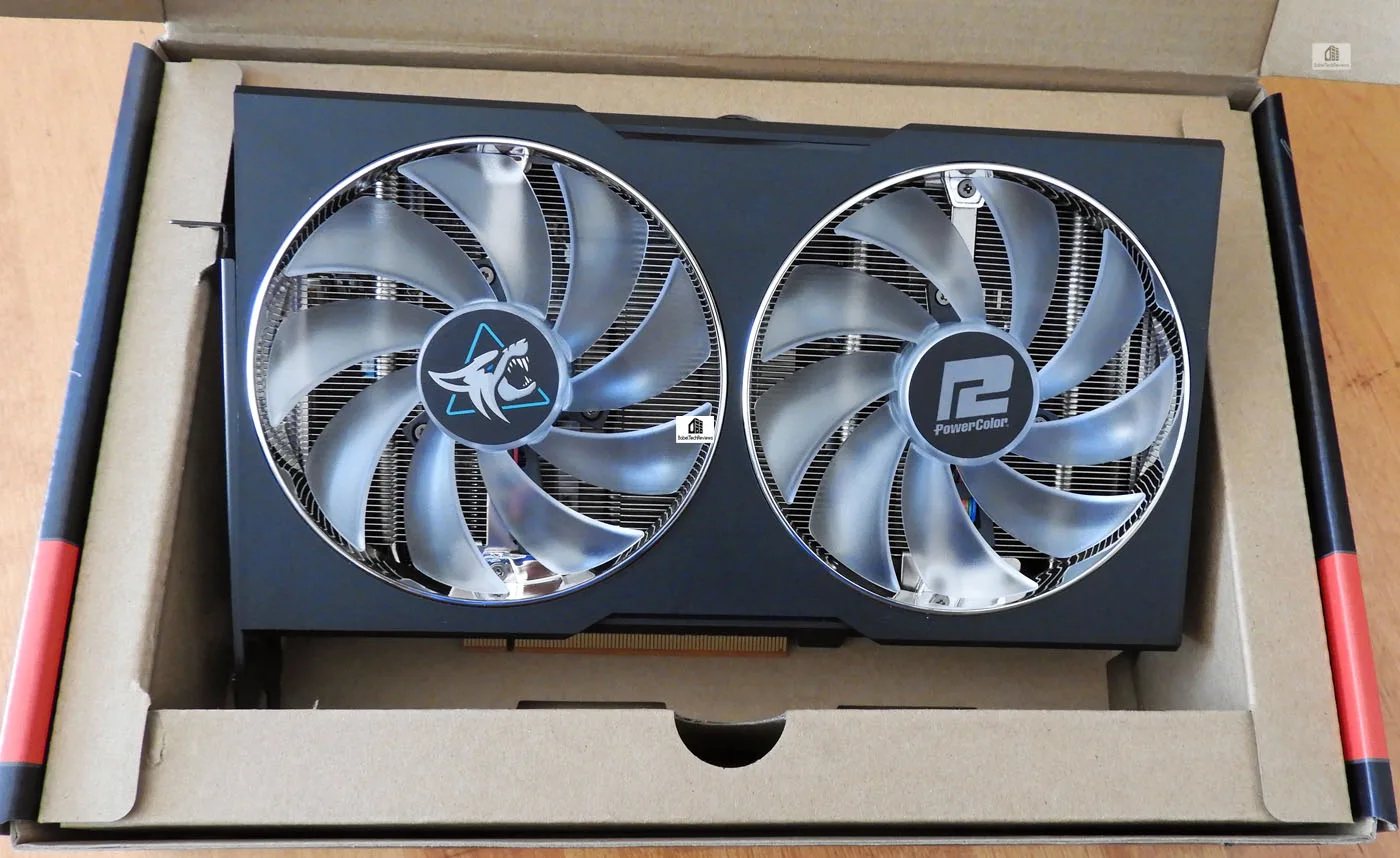 The Hellhound RX 6650 XT is a dual-fan card. Turning it over (below) we see a solid backplate that features the Hellhound logo.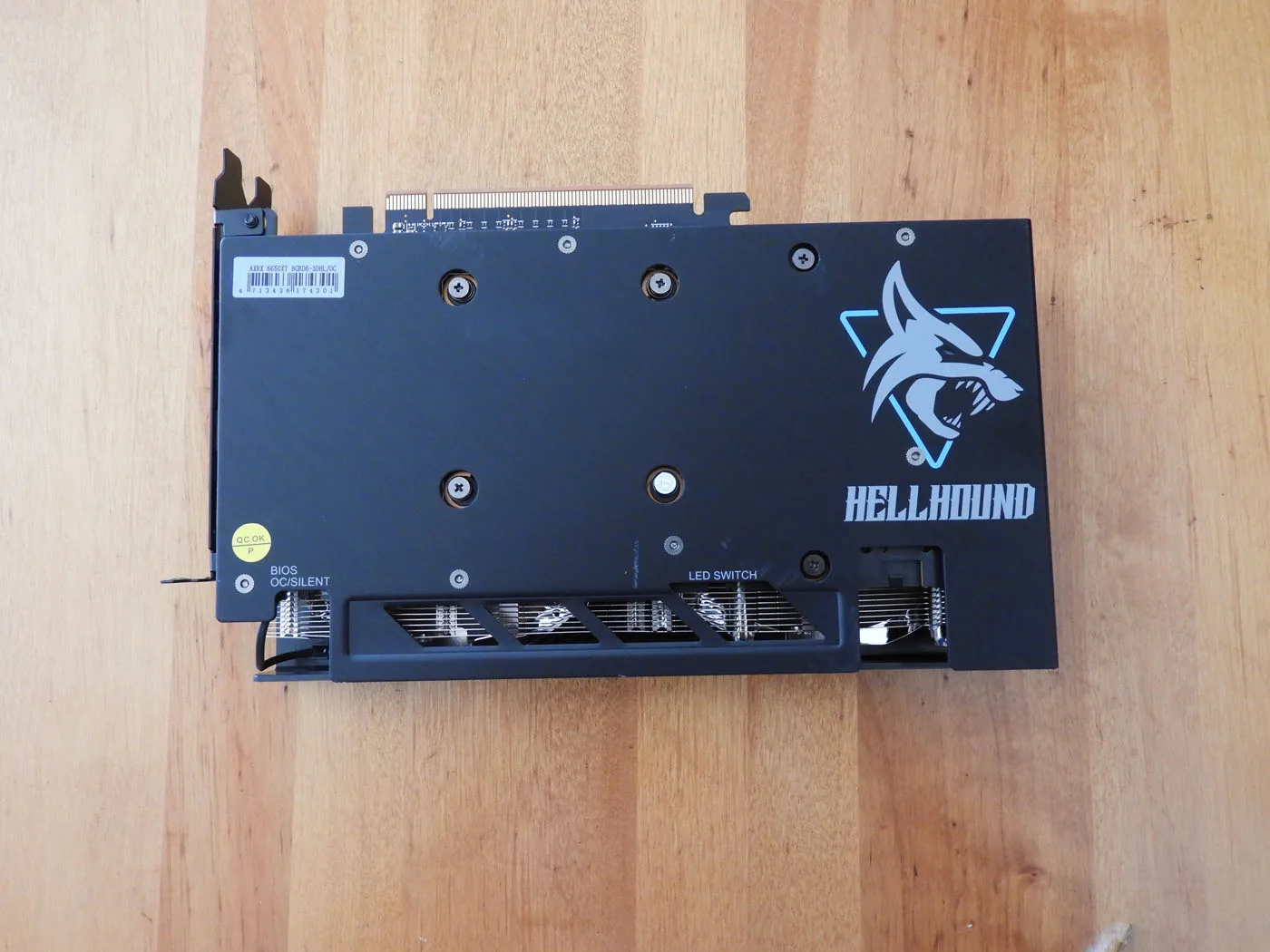 The Hellhound RX 6650 XT is a medium-sized dual-fan card (220mm long x 132mm tall x 45mm thick) in a 2 slot design which is quite handsome with PowerColor's colors and even more striking with the blue LED on.

The Hellhound uses one 1×8-pin PCIe connector. There is also a switch to choose between the default overclock (OC) BIOS and the Silent BIOS (below, left). We didn't bother with the Silent BIOS as the card is very quiet using the OC BIOS, but a dual BIOS is good to have in case a flash goes bad.

We would suggest that with the current voltage limitations and low power draw, any extra connector besides what PowerColor included is completely unnecessary even for overclocking.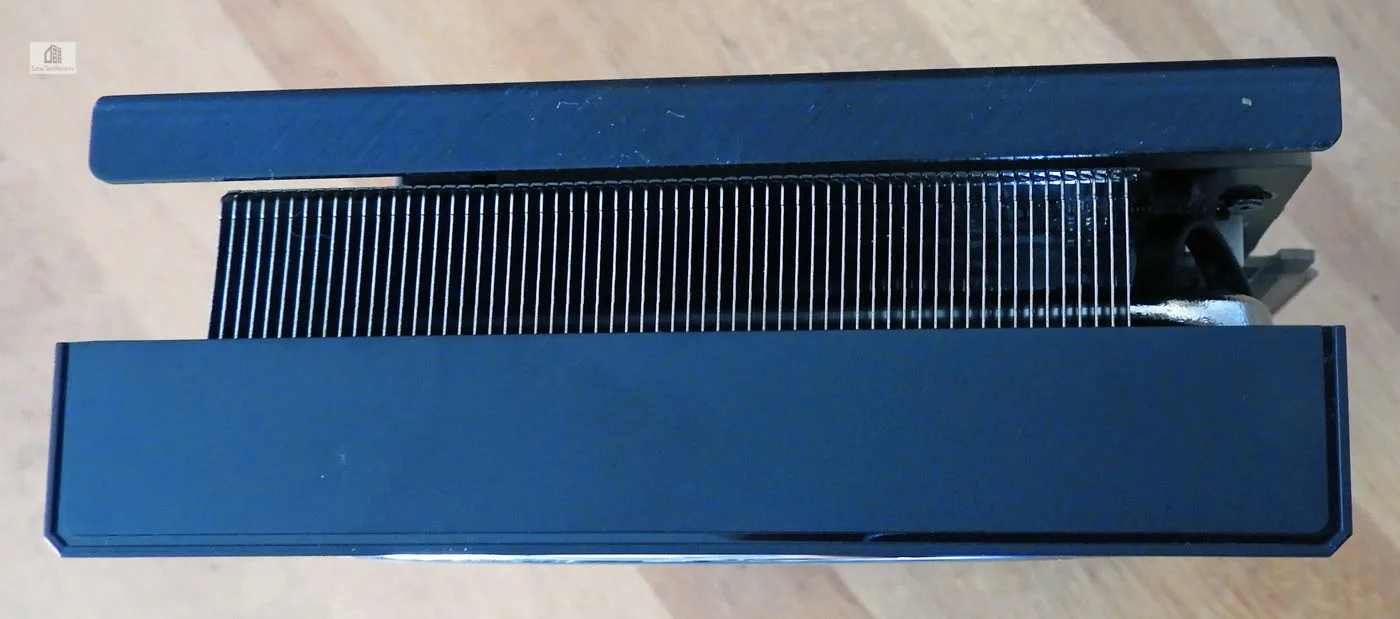 Looking at the edges, we can see it is all heatsink fins for cooling as is typical of Hellhound cards, and we expect it to run cool.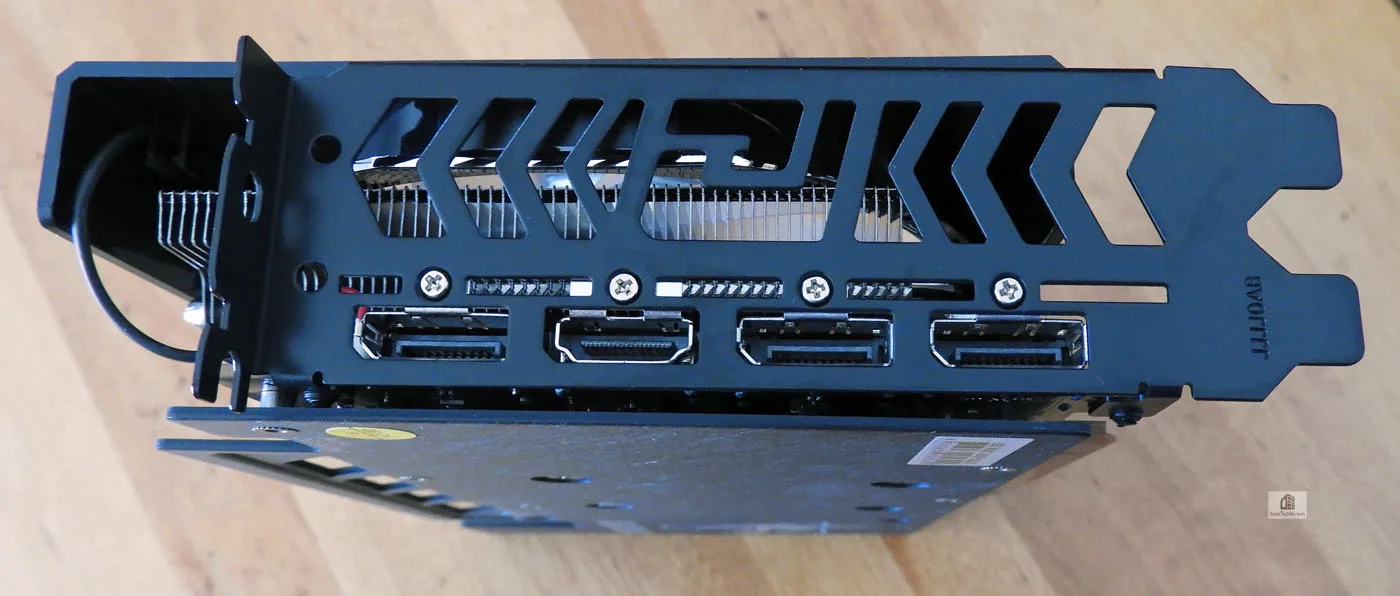 The Hellhound's RX 6650 XT's connectors include 3 DisplayPorts and 1 HDMI connector. The specifications look good and the Hellhound itself looks great with its default bright blue contrasting with the black backplate.
Let's check out its performance after we look over our test configuration and more on the next page.
Test Configuration – Hardware
Intel Core i9-12700KF (HyperThreading/Turbo boost On) supplied by PC GamerZ Hawaii
ASUS TUF Gaming H670-PRO WIFI D4 (Intel Z690 chipset, latest BIOS, PCIe 5.0/5.0/3.0/3.1/3.2 specification, CrossFire/SLI 8x+8x), supplied by PC GamerZ Hawaii
G.SKILL Trident Z 16GB DDR4 (2x16GB, dual channel at 3600MHz), supplied by PC GamerZ Hawaii
Hellhound RX 6650 XT 8GB, factory settings and overclocked, on loan from PowerColor
EVGA RTX 3060 XC Black 12GB, stock clocks, on loan from EVGA
RTX 3060 Ti Founders Edition 8GB, stock clocks, on loan from NVIDIA
T-FORCE CARDEA A440 Pro Special Series 2TB SSD for C: drive, supplied by Team Group
The T-FORCE M200 4TB USB 3.2 Gen2x2 Type-C Portable SSD for game storage, supplied by Team Group
EVGA 850B5, 850W Bronze PSU, supplied by PC GamerZ Hawaii
ACER (LC27G75TQSNXZA) 27″ 1920×1080/165Hz monitor, supplied by PC GamerZ Hawaii
Lian-Li Galahad 360 AIO Cooler, supplied by PC GamerZ Hawaii
CoolerMaster TD500 Mesh White, supplied by PC GamerZ Hawaii
Test Configuration – Software
AMD Software Preview Driver May 2022 Driver Version 22.10.01.03 used for the RX 6650 XT
GeForce 512.59 for the RTX 3060 and the RTX 3060 Ti.
High Quality, prefer maximum performance, single display, set in the NVIDIA control panel; Vsync off.
All optimizations are off, Vsync is forced off, Texture filtering is set to High, and Tessellation uses application settings in the AMD control panel.
AA enabled as noted in games; all in-game settings are specified with 16xAF always applied
Highest quality sound (stereo) used in all games
All games have been patched to their latest versions
Gaming results show average frame rates in bold including minimum frame rates shown on the chart next to the averages in a smaller italics font where higher is better.
Windows 11 64-bit Pro edition; latest updates. DX11 titles are run under the DX11 render path. DX12 titles are generally run under DX12, and multiple games use the Vulkan API.
Latest DirectX
Games
Vulkan
DOOM Eternal
Wolfenstein Youngblood
Red Dead Redemption 2
Ghost Recon: Breakpoint
World War Z
Strange Brigade
Rainbow 6 Siege
DX12
God of War
Ghostwire: Tokyo
Elden Ring
Dying Light 2
Call of Duty: Vanguard
Guardians of the Galaxy
Far Cry 6
Chernobylite
Resident Evil Village
Metro Exodus Enhanced Edition
Hitman 3
Godfall
DiRT 5
Assassin's Creed: Valhalla
Cyberpunk 2077
Watch Dogs: Legion
Horizon Zero Dawn
Death Stranding
F1 2021
Borderlands 3
Tom Clancy's The Division 2
Civilization VI – Gathering Storm Expansion
Battlefield V
Shadow of the Tomb Raider
DX11
Total War: Warhammer III
Days Gone
Crysis Remastered
Destiny 2 Shadowkeep
Total War: Three Kingdoms
Overwatch
Grand Theft Auto V
Synthetic
TimeSpy (DX12)
3DMark FireStrike & Extreme
Superposition
Heaven 4.0 benchmark
AIDA64 GPGPU benchmarks
Blender 3.01 benchmark
Sandra 2021 GPGPU Benchmarks
SPECviewperf 2020
NVIDIA Control Panel settings
Here are the NVIDIA Control Panel settings.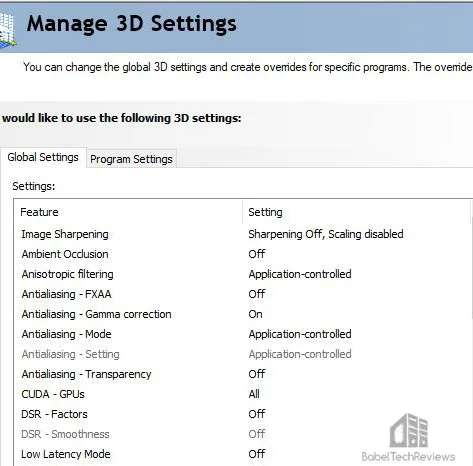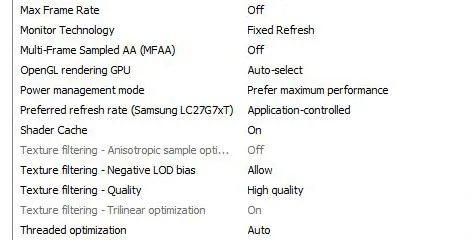 Next the AMD settings.
AMD Adrenalin Control Center Settings
All AMD settings are set so that all optimizations are off, Vsync is forced off, Texture filtering is set to High, and Tessellation uses application settings. All Navi cards are capable of high Tessellation unlike earlier generations of Radeons.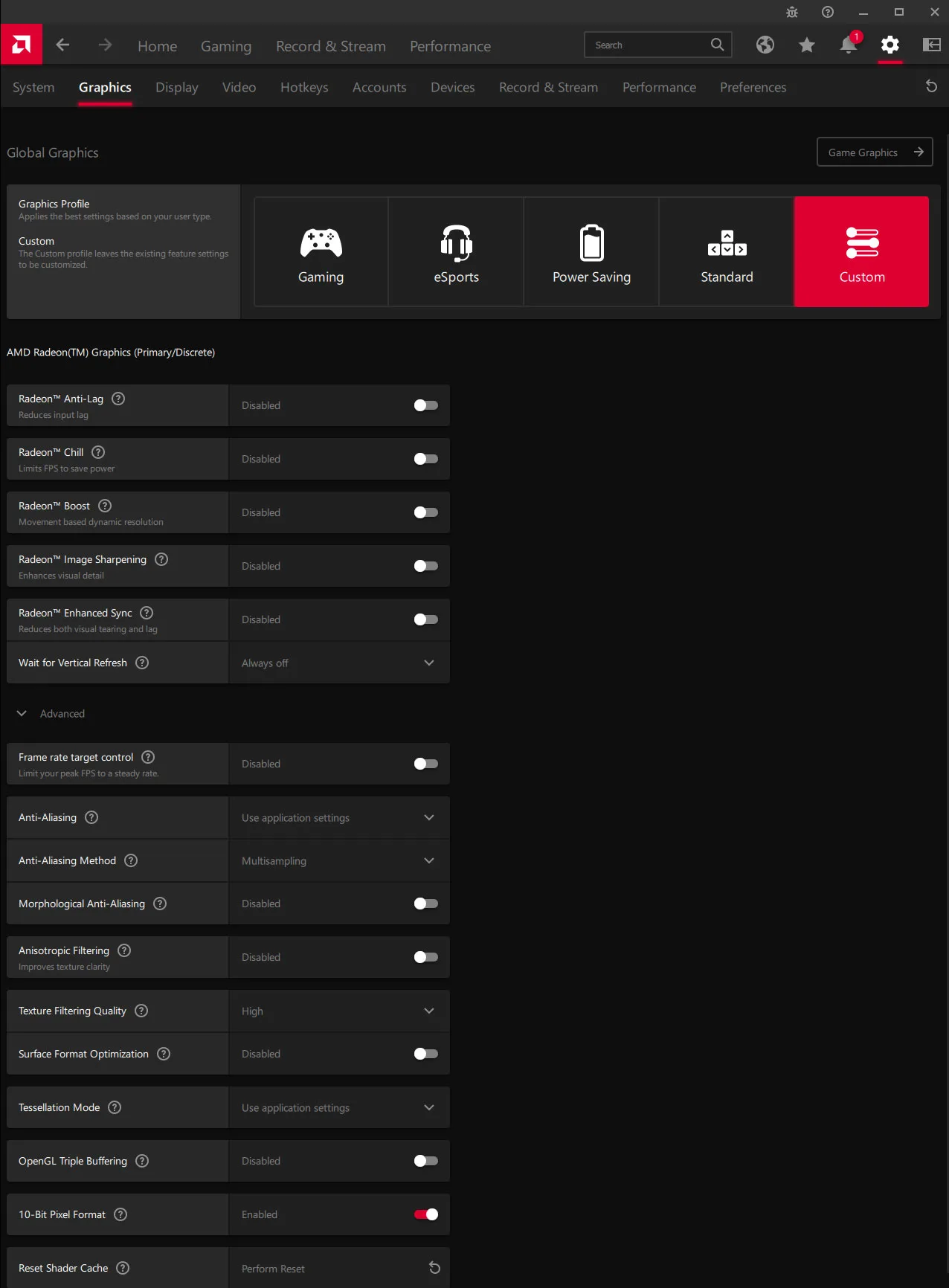 Anisotropic Filtering is disabled by default but we always use 16X for all game benchmarks.
Let's check out overclocking, temperatures and noise next.
Overclocking, temperatures and noise
We spent a lot of time overclocking the Hellhound RX 6650 XT for this review. It is factory clocked higher than the reference specifications using its OC BIOS. While the reference RX 6650 XT has a Game clock up to 2410MHz and a Boost clock up to 2635MHz, the Hellhound RX 6650 XT game clocks up to 2486MHz and further boosts to 2689MHz.
We used Wattman for overclocking. The performance didn't matter whether the power limit was set to default or higher even when overclocked. At default, we typically saw clocks vary between 2626MHz and 2642MHz and the GPU stayed cool, up to 73C. The fan speeds are tracked by Wattman and they remained low (around 1000 rpm) and we could not hear them over our other case fans using the OC BIOS.
The Wattman auto overclock feature is still mostly useless as it advised a very conservative low overclock so we used trial and error to find the Hellhounds's maximum performance at the edge of stability. We settled on increasing the memory to the maximum allowed by the slider, 110% (from 2180MHz to 2400MHz; typically 2386MHz) and increasing the core clock by 9% as below.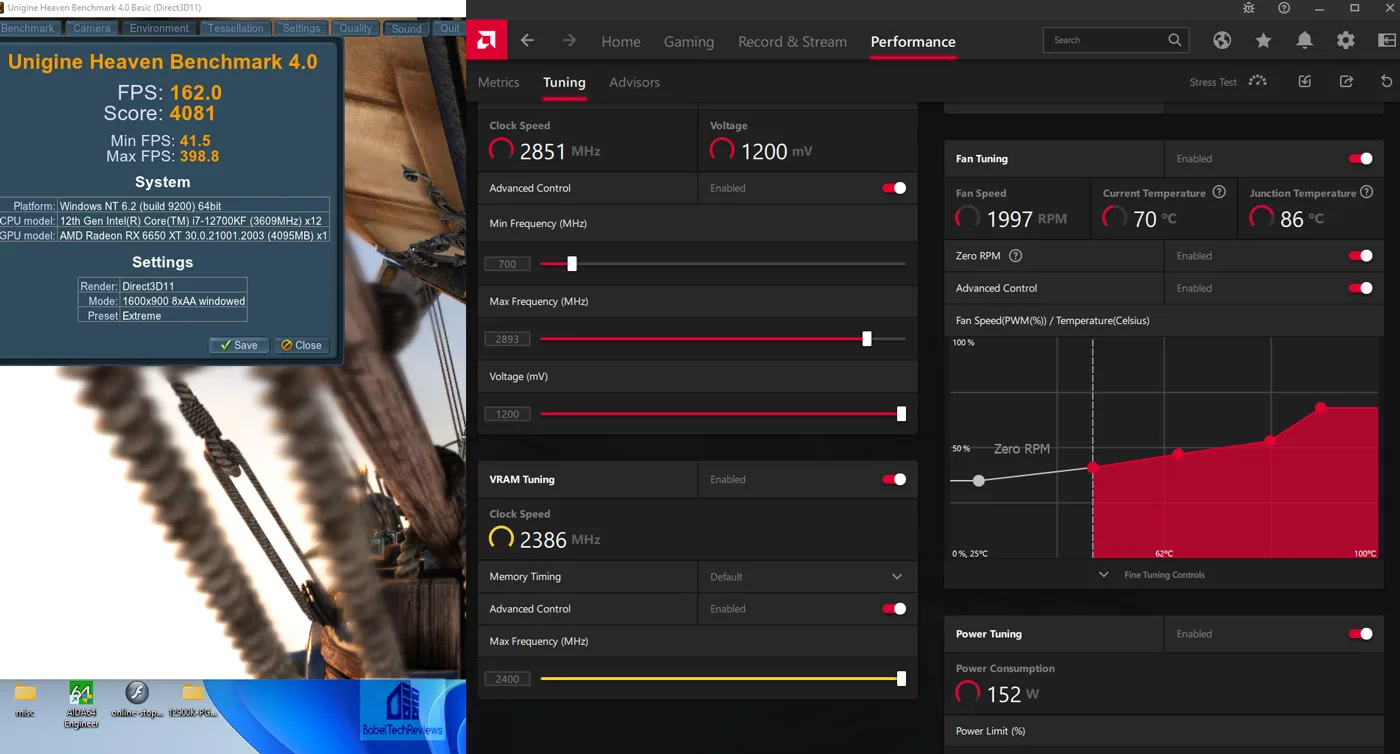 At maximum overclock, the clocks run from 2850MHz to a peak of 2859MHz, but this time the temperatures drop below 70C as the fan speeds increase. Even while overclocked to the max, the Hellhound remains very quiet and cool with power consumption just approaching 152W (from 140W default) and fan speeds increasing from the default 1000 rpm to just over 2000 rpm.
There is a small performance increase from overclocking the Hellhound's core by 9% and increasing the memory by 10%. Unfortunately, AMD has again locked all RX 6650 XT cards overclocking down in an attempt to maximize overall performance by limiting the voltage We would also suggest that the RX 6650 XT is rather voltage constrained and the Hellhound could benefit by more voltage. No doubt some enthusiast gamers will use MPT (More Power Tool) and risk their warranty to gain a potentially higher overclock although we cannot recommend it.
We believe that the Hellhound's overclock will not degrade over time as its PCB components are fit to run all the time at the highest overclock settings – perhaps unlike entry level versions which are not engineered for ultimate maximum reliability.
Of course, many gamers will want to fine-tune their own overclock and undervolting is a possibility although the Hellhound RX 6650 XT is no power hog. Check the overclocking chart in the next section for performance increases using ten key games.
Let's head to the performance charts to see how the performance of the Hellhound RX 6650 XT compares with the RTX 3060 and RTX 3060 Ti.
Performance summary charts
Here are the performance results of 38 games and 5 synthetic tests comparing the factory-clocked 8GB Hellhound RX 6650 XT with the EVGA RTX 3060 XC Black 12GB (reference) and versus the RTX 3060 Ti FE 8GB at their factory set clocks. The benches were run at 1920×1080. Click on each chart to open in a pop-up for best viewing.
All gaming results show average framerates in bold text, and higher is better. Minimum framerates (1% lows/99-percentiles) are next to the averages in italics and in a slightly smaller font. We did not use any upscaling for any game – no DLSS and no FidelityFX.
The Red Devil RX 6650 XT vs. the RTX 3060 & RTX 3060 Ti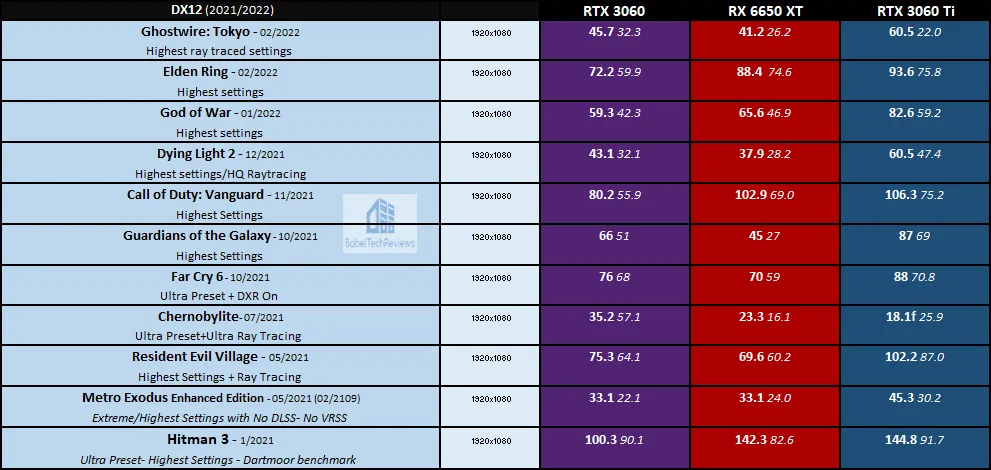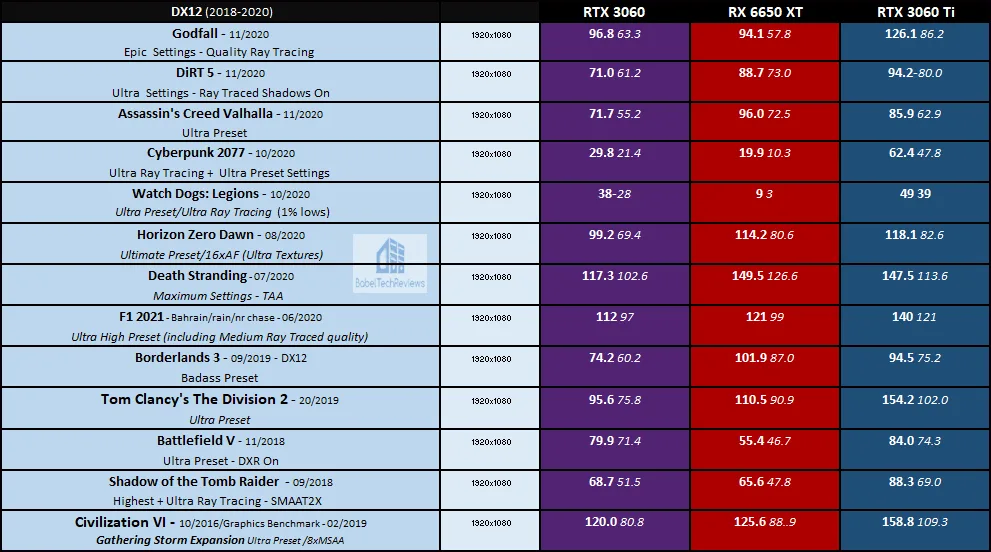 The Hellhound RX 6650 XT is faster overall than the RTX 3060 EVGA Black (reference) version but it is still in a similar class, trading blows depending on the games tested. Being able to handle ultra ray tracing is still a weakness of AMD's 6000 series compared with the GeForce 3000 series although rasterized games – the vast majority of current PC games – have no issues.
Since we do not have Smart Access Memory, we expect that some games would shift in favor of the Radeon using a Ryzen 5000 platform. However, it is outclassed by the much more expensive RTX 3060 Ti, winning only two games against it.
The RX 6650 XT gets outperformed overall when compared with the slightly less expensive RTX 3060 after ray tracing is enabled in many of our test games – even when NVIDIA's DLSS is not used. However, AMD has recently introduced FidelityFX Super Resolution (FSR) which is their answer to NVIDIA's DLSS.
FidelityFX Super Resolution (FSR)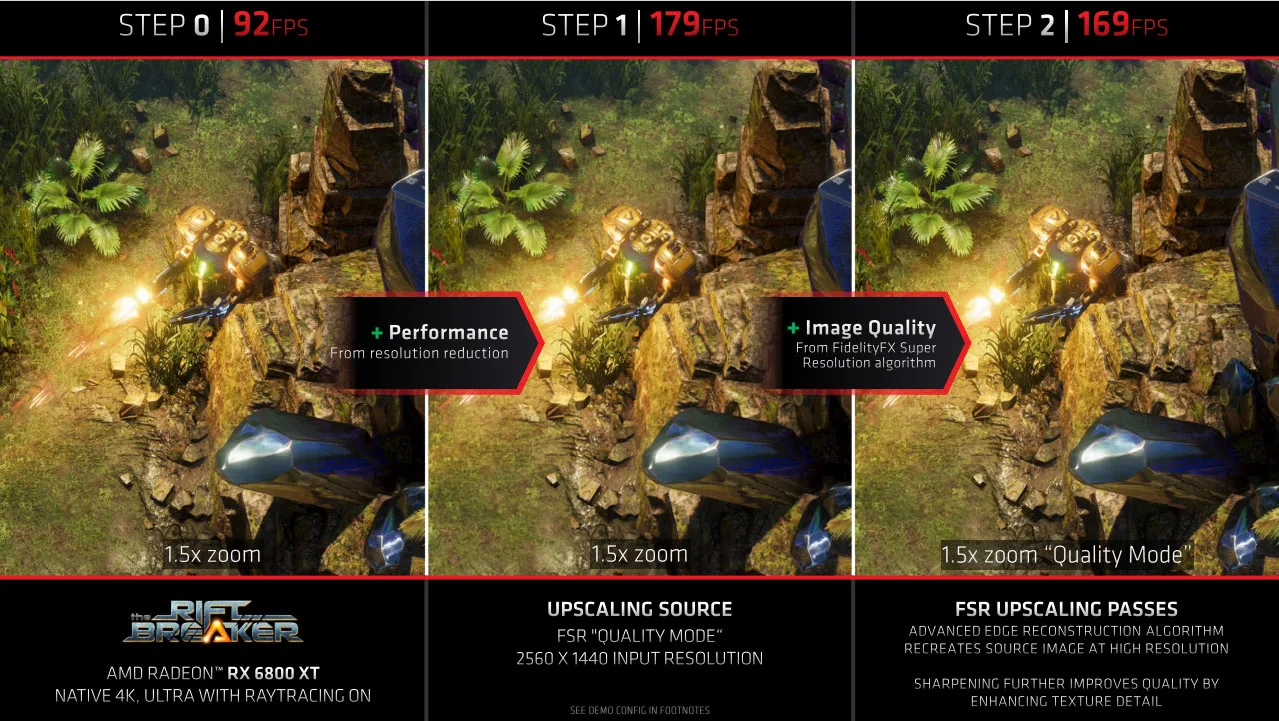 FSR improves performance by first rendering frames at a lower resolution and then by using an open-source spatial upscaling algorithm with a sharpening filter in an attempt to make the game look nearly as good as at native resolution. NVIDIA's DLSS is a more mature temporal upscaling solution that uses AI/Deep Learning. With DLSS, data is accumulated from multiple frames and combined into the final image with the AI reconstruction component running on GeForce RTX Tensor cores.
In contrast, FSR is basically a post-process shader which also makes it easy for game developers to implement across all graphics cards and not just for Radeons. So far, there are about a dozen games that use it and we have tested three games that use FSR. Although Ultra FSR is not the equal of DLSS – and especially not of DLSS 2.0 Quality which rivals and sometimes improves on the native image – it is still a very solid non-AI/temporal upscaler that provides good performance improvements.
Ultra FSR is far more than a standard Lanczos implementation plus sharpening and it brings good value to Radeons (and for all video cards!) for higher "free" performance with a minimal hit to visuals. We were especially impressed with the Ultra FSR implementation in Chernobylite. although the image quality still not up to Quality DLSS standards. However, AMD has just released FSR 2.0 which we briefly got to compare using Deathloop.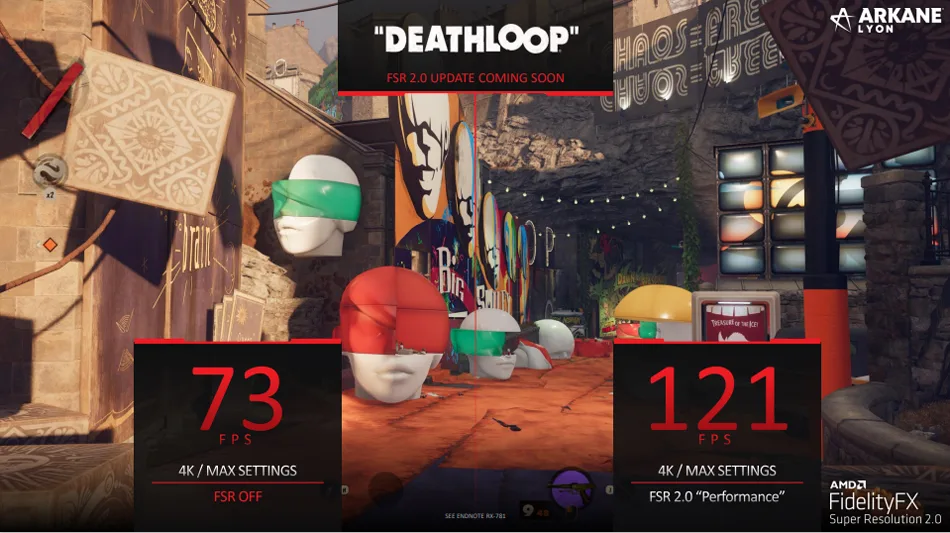 By comparing FSR 2.0 with DLSS, we were pleasantly surprised to see a massive IQ improvement of FSR 2.0 over 1.0. It's only one game, but there is a lot of promise for increased performance, especially with ray traced games.
Next we look at overclocked performance.
Overclocked benchmarks
These ten benchmarks were run with both Hellhound RX 6650 XT overclocked as far as it can go while remaining stable as described in the overclocking section. The factory-clocked results are in the first column and the overclocked results in the second column.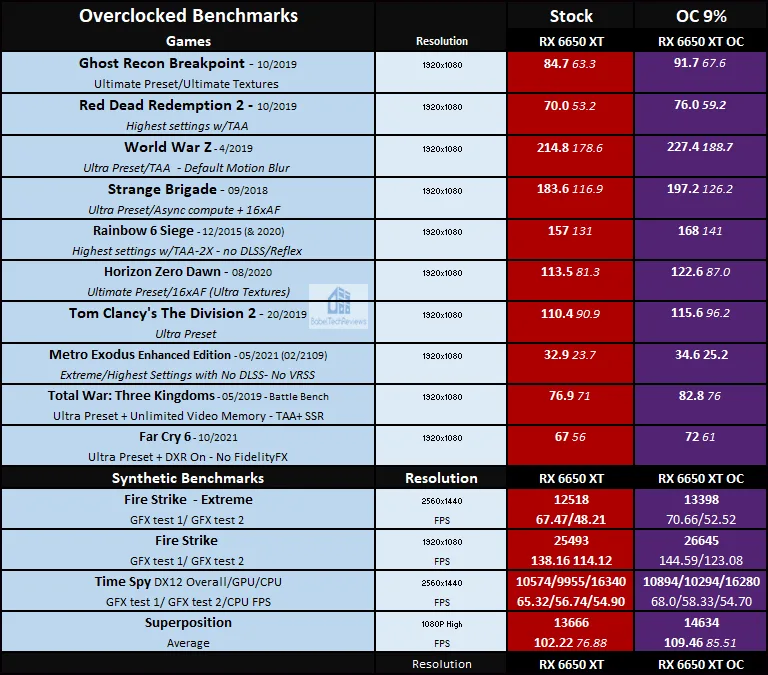 There is a reasonable performance increase from manually overclocking the Hellhound RX 6650 XT beyond its factory clocks up to around 10%.
Let's look at non-gaming applications next to see if the RX 6650 XT is a performer in creative/workstation tasks starting with Blender.
Blender 3.01 Benchmark
Blender is a very popular open source 3D content creation suite. It supports every aspect of 3D development with a complete range of tools for professional 3D creation.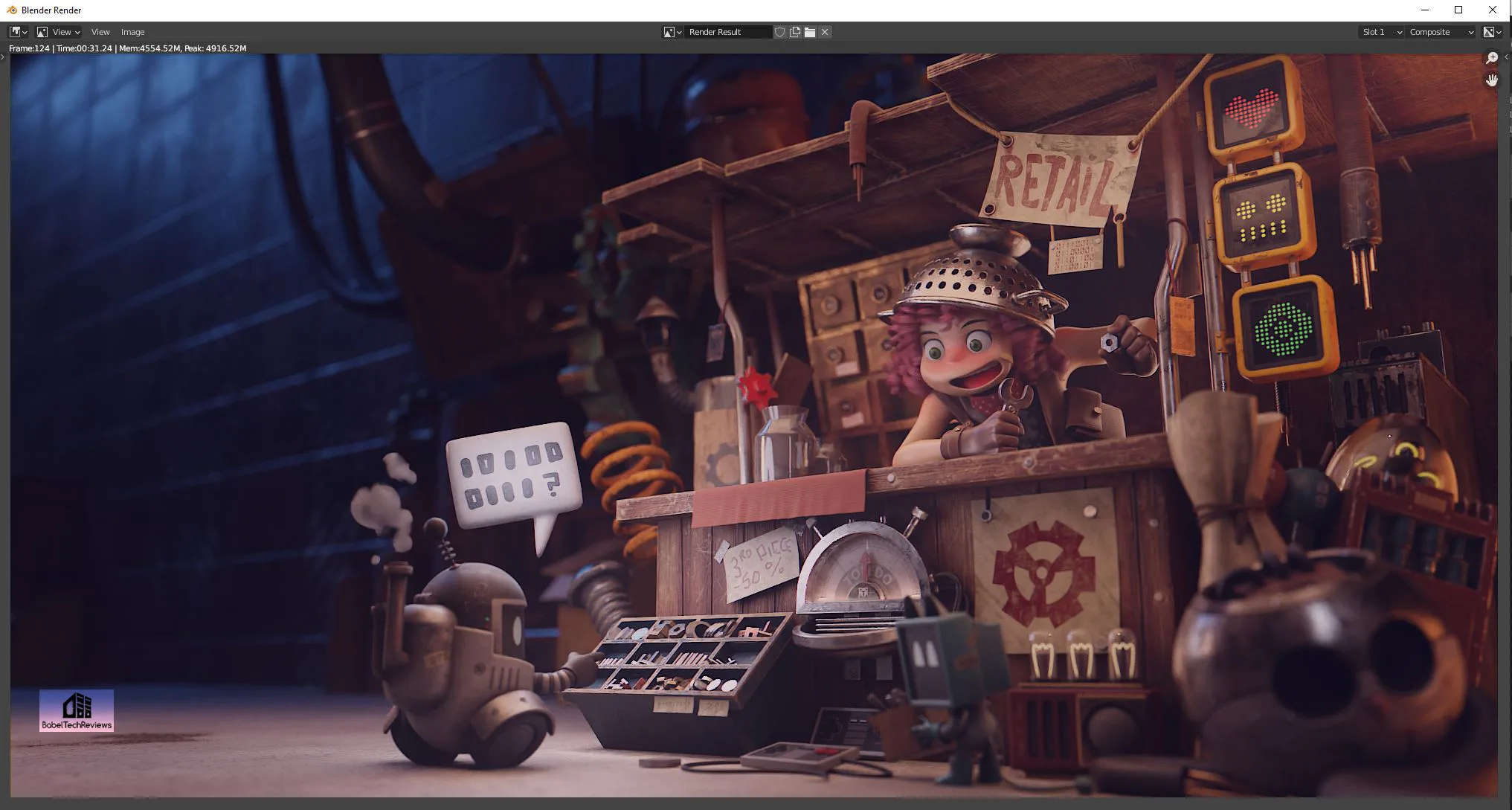 We benchmarked three Blender benchmarks which measure GPU performance by measuring samples per second by render production files. We tested our comparison cards using OpenCL for the Radeons and CUDA on GeForce running on the GPU and the comparing with a 12700KF CPU.
For the following chart, higher is better as the benchmark renders a scene multiple times and gives the results in samples per second.

OpenCL is not as well-optimized for Radeons compared with CUDA for GeForce but all three video cards are significantly faster than a 12700KF CPU.
Next, we move on to AIDA64 GPGPU benchmarks.
AIDA64 is an important industry tool for benchmarkers. Its GPGPU benchmarks measure performance and give scores to compare against other popular video cards.
AIDA64's benchmark code methods are written in Assembly language, and they are well-optimized for every popular AMD, Intel, NVIDIA and VIA processor by utilizing the appropriate instruction set extensions. We use the Engineer's full version of AIDA64 courtesy of FinalWire. AIDA64 is free to to try and use for 30 days. CPU results are also shown for comparison.
Here are the Hellhound RX 6650 XT AIDA64 GPGPU results compared with an overclocked i9-12700KF and the two competing GeForce cards.

The RX 6650 XT is a fast GPGPU card and it compares favorably with competing RTX 3060/Ti cards, being weaker in some areas and stronger in others. So let's look at Sandra 2021 next.
To see where the CPU, GPU, and motherboard performance results differ, there is no better tool than SiSoft's Sandra 2021. SiSoftware SANDRA (the System ANalyser, Diagnostic and Reporting Assistant) is a excellent information & diagnostic utility in a complete package. It is able to provide all the information about your hardware, software, and other devices for diagnosis and for benchmarking. Sandra is derived from a Greek name that implies "defender" or "helper".
There are several versions of Sandra, including a free version of Sandra Lite that anyone can download and use. Sandra 2021 is the latest version, and we are using the full engineer suite courtesy of SiSoft. Sandra 2021 features continuous multiple monthly incremental improvements over earlier versions of Sandra. It will benchmark and analyze all of the important PC subsystems and even rank your PC while giving recommendations for improvement.
We ran the latest version of Sandra's intensive GPGPU benchmarks and charted the results summarizing them.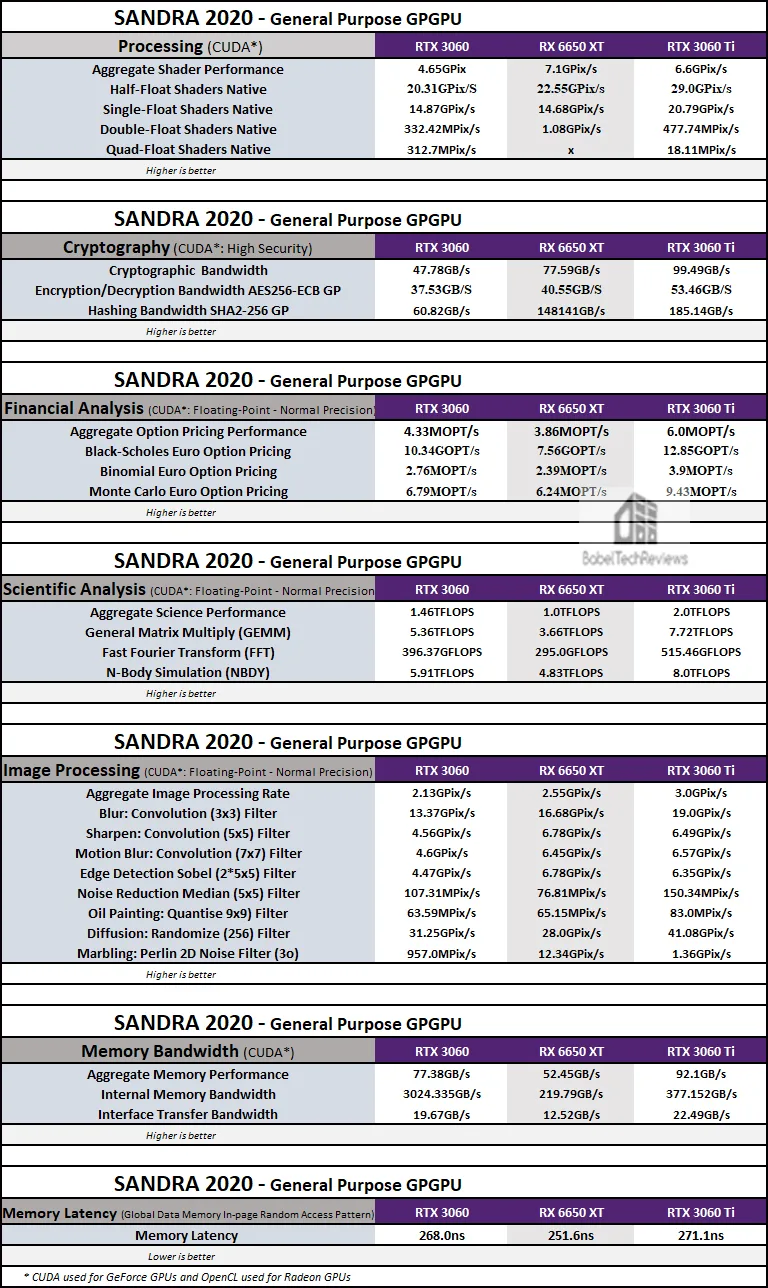 In Sandra GPGPU benchmarks, since the architectures are different, each card exhibits different characteristics with different strengths and weaknesses.
SPECviewperf 2020 GPU Benches
The SPEC Graphics Performance Characterization Group (SPECgpc) has released a 2020 version of its SPECviewperf benchmark that features updated viewsets, new models, support for up to 4K display resolutions, and improved set-up and results management. We use 1900×1060 display resolution for midrange cards like the RX 6650 XT.
Here are SPECviewperf 2020 GPU Hellhound RX 6650 XT benchmarks summarized in a chart together with our two competing cards.

Again we see different architectures with different strengths and weaknesses.
After seeing these benches, some creative users may upgrade their existing systems with a new card based on the performance increases and the associated increases in productivity that they require. The question to buy a new video card should be based on the workflow and requirements of each user as well as their budget. Time is money depending on how these apps are used. However, the target demographic for the Hellhound RX 6650 XT is primarily 1080P gaming for gamers.
Let's head to our conclusion.
Final Thoughts
The Hellhound RX 6650 XT boasts a mild speedup over the RX 6600 XT and it trades blows with and overall it beats the RTX 3060 in most of the rasterized games we tested. The RX 6650 XT like the RX 6600 XT beats the last generation cards including the RX 5600 XT although it struggles with ray traced games compared with competing GeForce cards. We somewhat handicapped the RX 6650 XT by not being able to use Infinity Cache & Smart Access Memory and we expect that performance would be higher if we used a Ryzen 5000 platform.
FSR brings a great value to the RX 6650 XT as an alternative to DLSS, although it cannot quite match it in visual quality. We look forward to critically comparing further side-by-side improvements in FSR 2.0 and hope many more games use it as it also works on GeForce cards.
For Radeon gamers, the $409 Hellhound RX 6650 XT is a great alternative to the $399 RTX 3060 for the vast majority of modern PC games that use rasterization. However, although the RX 6650 XT offers 8GB of GDDR6 to the 12GB of GDDR6 that the RTX 3060 is equipped with, 12GB appears to be wasted for that card.
At its suggested price of $409, and significantly less than the street price of the RTX 3060 Ti – beginning around $550 – the RX 6650 XT offers a good value. Now that the Russian scalpers have been cut out of the market, cryptocurrency is crashing and mining with new cards is dead, gamers are returning to work in the new COVID-19 normal, and the supply chain is starting to normalize, supply of AMD cards at near or even below MSRP/SEP has drastically improved over the past 18 months.
We think that AMD has set pricing too high on the RX 6650 XT. They appear to forget that the competing GeForce is much stronger in ray traced games – with over 150 games featuring DLSS – and that FSR 1.0 doesn't match it although FSR 2.0 is very promising with only a single game to show now. At $120 more than what the RX 5600 XT launched at, AMD has jacked-up the price of 1080P gaming and it is not a consumer friendly move. However, for practical terms – since the RX 6650 XT can be found at MSRP/SEP – it is a good value as most other competing GeForce cards are still selling for well above MSRP except for the 3060 which is a slower card at rasterized games.
We recommend the Hellhound RX 6650 XT as a great choice out of multiple good choices, especially if you are looking for good looks with blue lighting, an exceptional cooler, and great performance for 1920×1080, PowerColor's excellent support, and overall good value. We are convinced that PowerColor is an outstanding AMD AIB, and we never hesitate to recommend their cards to our friends. When we have a choice, we pick and have picked PowerColor video cards for our own purchases.
Let's sum it up:
The Hellhound RX 6650 XT Pros
The PowerColor Hellhound RX 6650 XT like the RTX 6600 is much faster than the last generation RX 5600 XT by virtue of new RDNA 2 architecture. It beats the RTX 3060 in most raster games and is a great ultra 1080P card.
FSR is an awesome added value that can greatly improves performance without impacting visuals significantly and FSR v2.0 looks to be a significant improvement.
The Hellhound RX 6650 XT has excellent cooling and it is a very quiet card even when overclocked to its maximum
The Hellhound has a very good power delivery system and dual-fan custom cooling design
Dual-BIOS give the user a choice of quiet with less overclocking, or a bit louder with more power-unlimited and higher overclocks. It's also a great safety feature if a BIOS flash goes bad
FreeSync2 HDR eliminates tearing and stuttering
Infinity Cache & Smart Access Memory give higher performance with Ryzen 5000 platform
A blue LED and a neutral color allow the Hellhound to fit into most color schemes.
Hellhound RX 6650 XT Cons
Pricing. $399 for a midrange 1080P card is $120 more than AMD's RX 5600 XT launch price.
Weaker ray tracing performance than the RTX 3060
The Hellhound RX 6650 XT is a good card choice for those who game at 1920×1080, and it represents a good alternative to the RTX 3060 albeit with weaker ray tracing performance. They are offered especially for those who prefer AMD cards and FreeSync2 enabled displays which are generally less expensive than Gsync displays; and Infinity Cache & Smart Access Memory are a real plus for gamers using the Ryzen 5000 platform.
If a gamer is looking for something beyond the reference version, the Hellhound RX 6650 XT is a very well made, solid and handsome card that will overclock decently and it should last a long time without performance degradation.
The Verdict:
PowerColor's Hellhound RX 6650 XT is a solidly-built good-looking RGB card with higher clocks out of the box than the reference version and it overclocks decently. It trades blows with and overall beats the RTX 3060 in most rasterized games. PowerColor has made a kick-ass RX 6650 XT.
The Hellhound RX 6650 XT offers a good alternative to the RTX 3060 for solid raster performance in gaming, and it also beats the performance of AMD's last generation by a good margin. A bonus is that availability is excellent and pricing is at MSRP.
Stay tuned, there is much more coming from BTR. Stay tuned for Rodrigo's upcoming GeForce 512.77 driver performance analysis! We will follow up with a T-FORCE SSD review and then a review of PC GamerZ Hawaii 12700KF/RTX 3080 'Blue Elixir' PC.
Happy Gaming!