Intro
PC Gamerz Hawaii Blue Elixir Prebuilt vs a top Intel PC
This editor returned from a month-long working vacation in Honolulu last week and was able to review a PC Gamerz (PCGz) Hawaii 'Blue Elixir' prebuild while there.  We met the owner, Devin Wolery, last November and were so impressed with his company, we featured it in our article about the state of PC Gaming in Hawaii.
This time, we wanted hands on experience to underdstand what makes PC Gamerz prebuilt PCs different from other boutique and big box builders so that in a few short years their business increased tenfold to become one of the largest independent PC outlets in Hawaii and has attracted a fanbase of loyal customers.  Since PC Gamerz is now expanding to the Mainland and internationally, it's a good time to see if they are competitive enough to compete outside of Hawaii.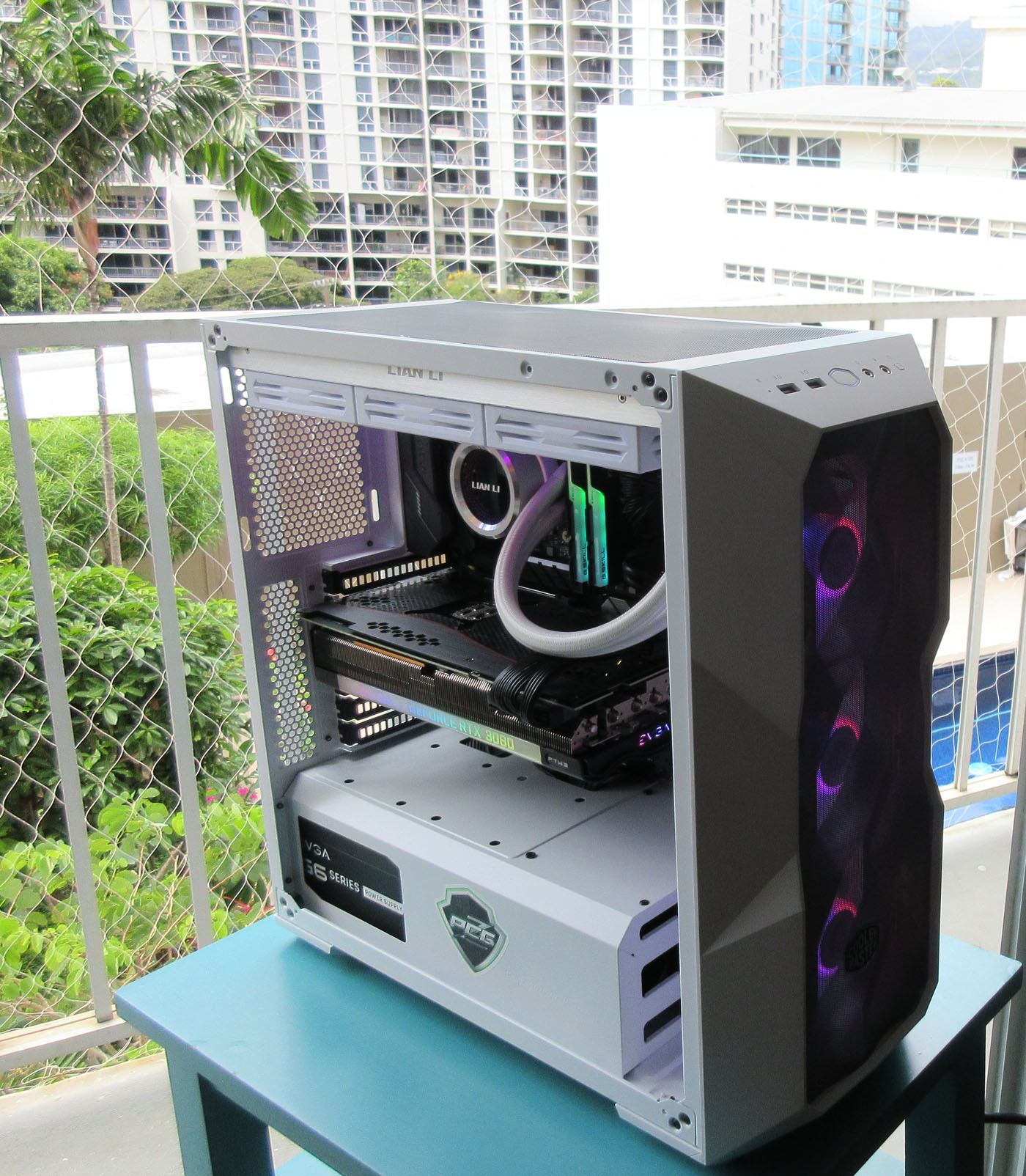 We arranged with Devin for a Blue Elixir Core i7-12700KF/DDR4/RTX 3080 FTW prebuilt and spent nearly a month playing games, benchmarking, and testing video cards with it including a review of the Hellhound RX 6650 XT against the RTX 3060 and RTX 3060 Ti.  Is it worth its $3549 asking price and how does its performance compare with a no-expenses-spared i9-12900KF/DDR5/RTX 3080 Founders Edition (FE) PC?
Why a Prebuilt PC?
This editor's first and last prebuilt desktop PC was in Hawaii in 1996.  We were disappointed with what we got for what we paid and within two months, we learned how to build our own.  It was a overclocked Celeron 300A PC with a ATi Rage Fury 32MB video card and it blew away the prebuild for less money. Learning PC building was a major time investment, and we realize that we are the exception, not the rule.
Last week, a friend of ours emailed us to ask us what RAM and NVMe SSD upgrade would breathe life into his aging i7-4790K PC until he could afford a new build.  We gave him suggestions and he ordered the parts.  Well, the upgrade turned out to be more complex than he liked as he had to update his motherboard's BIOS to recognize NVMe and he didn't know anything about SATA lanes and disk management.
My friend told me he "didn't have the patience for this kind of stuff" and offered to drive 50 miles one way, pay me for my time, and have me do it for him.  Gamers who lack patience, knowledgeable friends, or the time to research which parts work well together and how they interact with Windows will benefit by having a prebuilt PC where all the guesswork is taken out of their equation.
In the case of buying a PC from PCGz, expert patient support is offered by using email, the phone, Team Viewer, or Remote Assistance where the tech can even take over Windows to fix issues.  This is where Prebuilts PCs shine and have value.  PCGz PCs just work and no time is wasted getting right into gaming.
PC Gamerz also offers completely custom builds – made to your order – fully tested and benchmarked before shipping.
PC Gamerz 'Blue Elixir' Features & Specifications
12th Gen Intel Core i7-12700KF
ASUS TUF GAMING H670-PRO WIFI D4 motherboard
Trident Z 32GB 3600Mhz DDR4 with ARGB
Lian-Li Galahad 360 AIO Cooler
CoolerMaster TD500 Mesh White case
EVGA 850W PSU (Bronze)
Crucial P2 1TB NVMe SSD (2400MBps/1900MBps Read/Write)
EVGA RTX 3080 FTW3 12GB 1800 MHz Boost Clock/12GB 384 bit GDDR6X video card
Windows 10 Pro with optimizations
We asked why Windows 10 is being used instead of Windows 11.  PC Gamerz is currently evaluating Windows 11 and will offer it later on.  We are going to compare game and creative benchmarks of the Blue Elixir on Win 10 versus BTR's flagship on Win 11 for this review.  In part two, we will directly compare 40 games and creative benches using the Blue Elixir on Win 10 versus a clean installation we made of Win 11 to see if there are any performance disadvantages or advantages by upgrading.
Game Ready builds – Ready to Ship Prebuilt Gaming PCs by PCGz
Built with the latest high quality components from brands like ASUS, EVGA, Lian Li, Phanteks, Fractal Design and More!
We tune and optimize all aspects of your build including latest BIOS, Windows updates, registry and startup optimizations, RAM timing, game optimizations, RGB software and more!
Extensive stress testing and benchmarks, paired with high performance game testing allows us to prepare a PC "Ready to Game", right out of the box. We analyze the metrics of the processor, graphics cards, RAM, etc. to ensure no component goes without optimization. Once all testing is complete and each PC runs smoothly, without bottlenecks/stability issues, it is ready to be received by our customers.
Supported with a comprehensive 2 year parts and labor warranty.
Responsive support that makes customers feel prioritized and understood. Each PC comes with lifetime expert technical support from our tech team with over 30 years of combined experience. We offer remote and telephone support to resolve issues as quickly and efficiently as possible.
The Test Bed 
BTR's test bed consists of 35 games and 5 synthetic game benchmarks at 1920×1080 as well as SPEC, workstation, CPU, memory, and GPGPU benchmarks.  Our latest games include Total War: Warhammer III, God of War, Ghostwire: Tokyo, Elden Ring, Dying Light 2 and CoD: Vanguard.
The platform we compare the PCGz Blue Elixir with is BTR's flagship PC using Windows 11 Professional: Intel Core i9-12900KF, an ASUS ROG Maximus Apex Z690 motherboard with 32GB T-FORCE DELTA 6400MHz CL40 DDR5, an RTX 3080 Ti Founders Edition (FE) overclocked +35MHz, and a T-FORCE M200 4TB USB 3.2 Gen2x2 Type-C Portable SSD that we used as game storage for both PCs.   Please see the test bench configuration page for all of the details.
First, let's take a closer look at the PCGz Blue Elixir.