This evaluation is the follow-up to our PowerColor Red Devil RX 470 video card launch review. That review was not supposed to be of the reference 4GB RX 470 at stock clocks, but the BIOS that came with the PowerColor Red Devil had clocks that were completely locked down at the reference RX 470 speeds (1206MHz), nor would it overclock at all. What you will see now is a PowerColor Red Devil RX 470 running at PowerColor (1270MHz) RX 470 speeds, and we also manually overclocked it for even higher performance.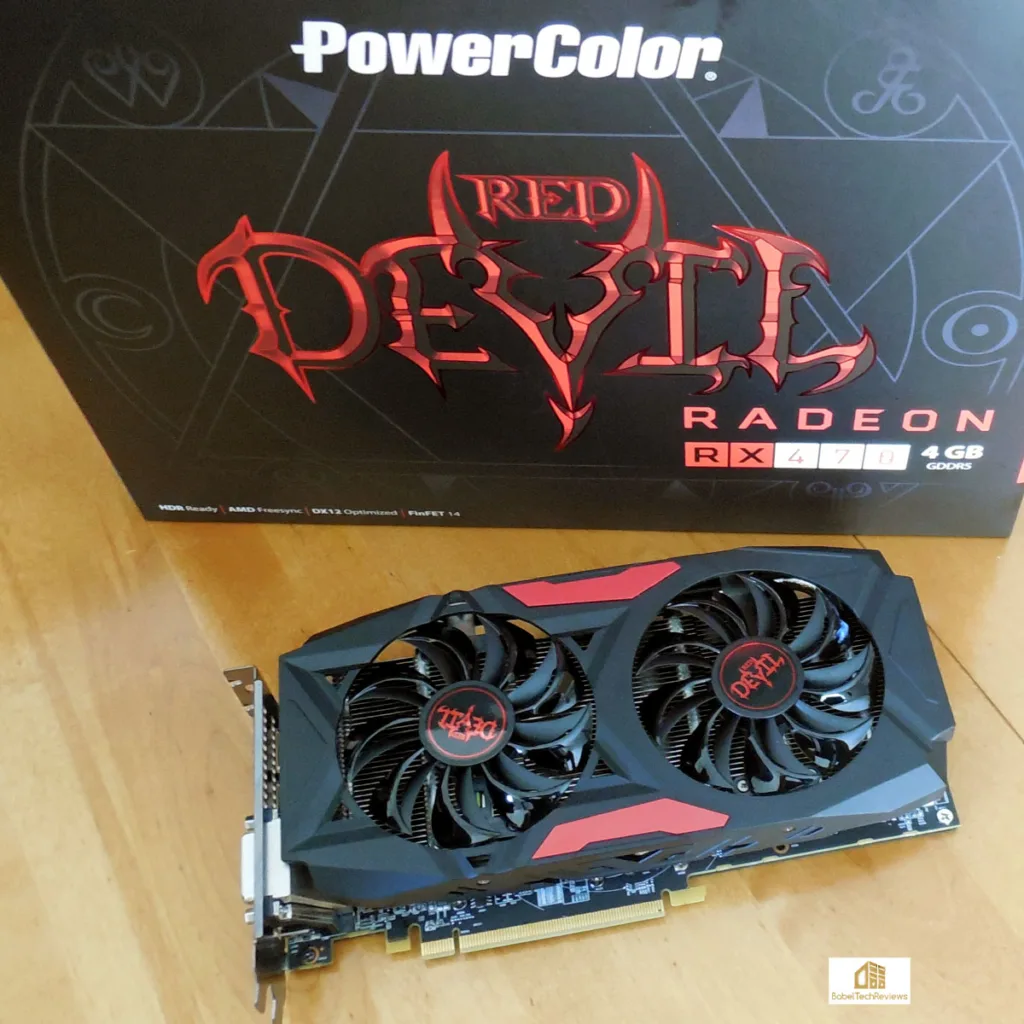 Make sure to check out the launch of the RX 480 on June 29 to see the details of the Polaris architecture, and you can follow its progress with improved drivers that somewhat addressed its power issues, and you can also see how the overclocked RX 480 fared versus the overclocked GTX 1060.
Instead of requiring two PCIe connectors as in the 28nm R9 200 and 300 series, the 14nm RX 480 and the RX 470 get by with only one, yet they are supposed to deliver near R9 390 performance. In the case of the PowerColor Red Devil RX 470, it uses a single 8-pin PCIe cable versus the 6-pin power connector in the reference RX 470 and RX 480. And we saw the RX 480 get into trouble with its 6-pin connector as being insufficient for overclocking. Having an 8-pin power connector plus superior 6+1 multi-phases where each phase supplies 25W instead of 22.5W found in the reference board, the Red Devil RX 470 is designed for superior performance and overclocking, plus more stable power delivery.
Specifications
Here are the specifications for the reference RX 470.

Now here are the specifications for the PowerColor Red Devil RX 470: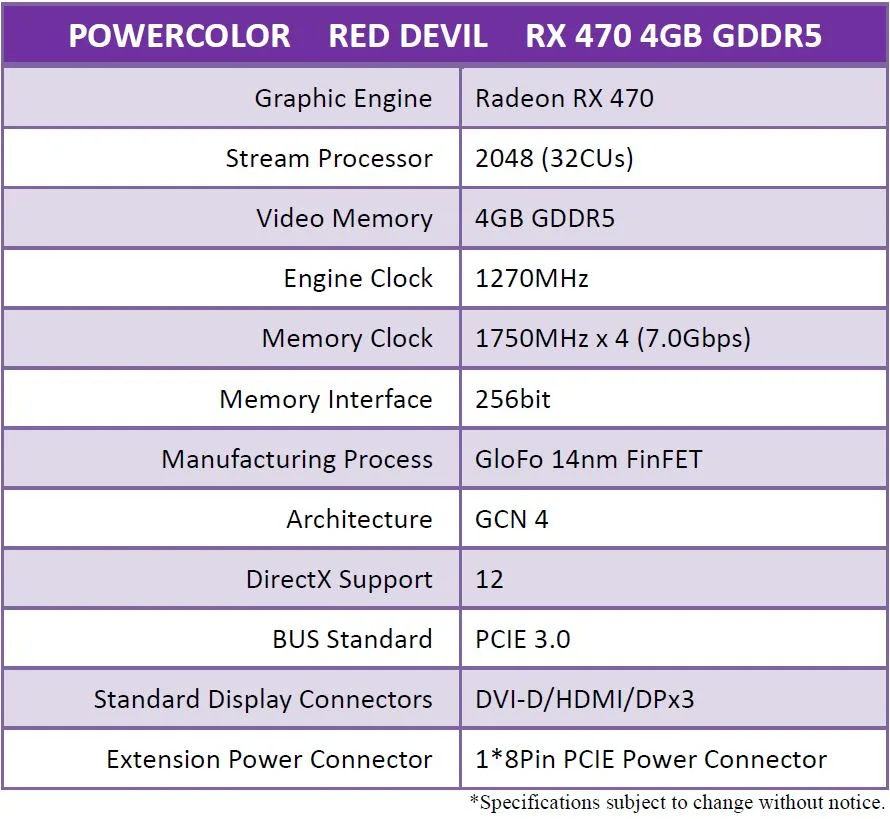 Here are the specifications for the RX 480.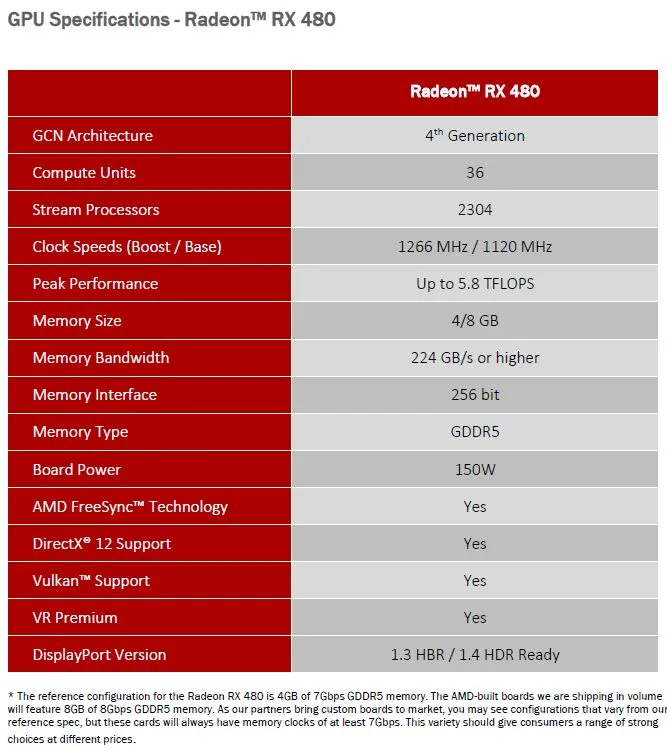 The Red Devil's boost clocks have been increased from 1206MHz to 1270MHz, giving it near-parity with the RX 480 clocks. The main difference is that the RX 480 has 36 Compute Units while the RX 470 has 32.
Our Testbed
Our main focus is to test the Red Devil RX 470 at PowerColor clocks and also further overclocked by us, against the reference RX 470 and the reference RX 480. We shall test 25 games and 2 synthetic benchmarks at 1920×1080 and at 2560×1440. Our testing platform is Windows 10 Home 64-bit, using an Intel Core i7-6700K at 4.00GHz which turbos to 4.4GHz for all cores as set in the ASRock Z7170 motherboard's BIOS, and 16GB of G.SKILL DDR4 at 3000MHz.
PowerColor RX 470 4GB – $199 – at RX 470 reference clocks, PowerColor clocks and further overclocked by us; reference card is $179
RX 480 8GB – reference version – $239 to $259
The PowerColor Design
The PowerColor Red Devil RX470 is a good looking and solidly built card with twin fan technology called Double Blade III which has more fan blades for increasing airflow, and their design helps to prevent dust deposits. The Double Blade III is made with dual 80mm 2-ball bearing fans to give what PowerColor claims is 4 times more longevity than regular fans, and they act to cool the card better than the reference blower.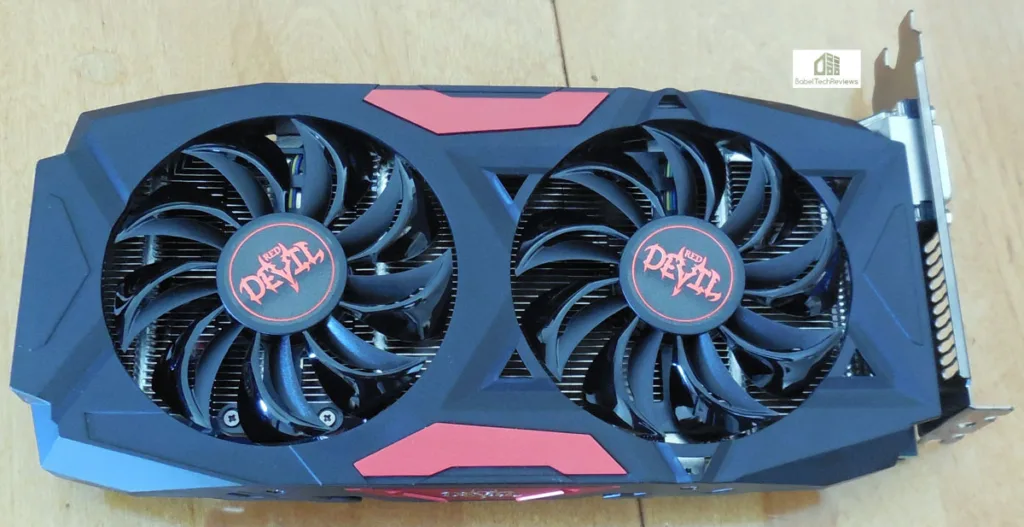 Turning it over, we see it is has a solid backplate.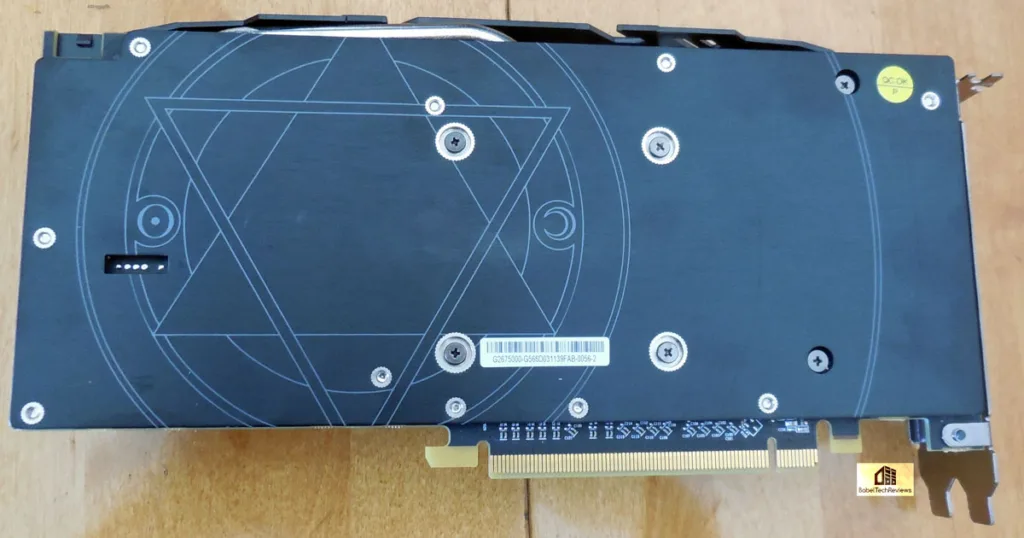 We originally pointed out that the PowerColor Red Devil card carries a hexagram inside a circle – a six-pointed star which is a symbol originating in Egypt and adopted as a symbol of the Jewish faith. Although PowerColor's hexagram in a circle has nothing to do with the associated modern occult Pentagram symbol which is always a similarly drawn 5-pointed star inside a circle, it may well refer to the Seal of Solomon which implies that a Devil is bound within the card.


Let's check out the PowerColor Red Devil RX 470's performance after we look over our test configuration on the next page.
Test Configuration – Hardware
Intel Core i7-6700K (reference 4.0GHz, HyperThreading and Turbo boost is on to 4.4GHz; DX11 CPU graphics).
ASRock Z7170M OC Formula motherboard (Intel Z7170 chipset, latest BIOS, PCIe 3.0/3.1 specification, CrossFire/SLI 8x+8x)
G.Skill Ripjaws V 16GB DDR4 (2x8GB, dual channel at 3000MHz)
PowerColor RX 470 4GB – $199 – at RX 470 reference clocks, at PowerColor factory clocks, and further overclocked.
RX 480 8GB – reference version
PowerColor RX 280 3GB, supplied by PowerColor
ASUS Strix GTX 960 OC 2GB, supplied by ASUS
GALAX GTX 970 EXOC, 4GB, supplied by GALAX
GTX 1060 6GB, reference clocks,supplied by Nvidia
Two 2TB Toshiba 7200 rpm HDDs for each platform
EVGA 1000G 1000W power supply unit
Thermaltake Water2.0, supplied by Thermaltake
Onboard Realtek Audio
Genius SP-D150 speakers, supplied by Genius
Thermaltake Overseer RX-I full tower case, supplied by Thermaltake
ASUS 12X Blu-ray writer
Monoprice Crystal Pro 4K
Test Configuration – Software
Nvidia's GeForce 368.64 (GTX 1060 launch) drivers were used for Nvidia cards. High Quality, prefer maximum performance, single display.
AMD Crimson Software 16.8.1 (RX 470 launch) drivers were used for benching AMD cards
VSync is off in the control panel.
AA enabled as noted in games; all in-game settings are specified with 16xAF always applied
All results show average frame rates including minimum frame rates shown in italics on the chart next to the averages in smaller font.
Highest quality sound (stereo) used in all games.
Windows 10 64-bit Home edition, all DX11 titles were run under DX11 render paths. Our four DX12 titles are run under the DX12 render path. Latest DirectX
All games are patched to their latest versions at time of publication.
Crimson Software's WattMan was used for the RX 480/470. Overdrive was used for the other AMD cards
EVGA's Precision XOC, reviewer's version 6 used for Nvidia cards.
Heaven 4.0 (Unigine)
The 25 PC Game benchmark suite & 2 synthetic tests
Synthetic
Firestrike – Basic & Extreme
Time Spy DX12
DX11* Games
Crysis 3
Metro: Last Light Redux (2014)
Middle Earth: Shadows of Mordor
Alien Isolation
Dragon's Age: Inquisition
Dying Light
Grand Theft Auto V
ProjectCARS
the Witcher 3
Batman: Arkham Origins
Mad Max
Fallout 4
Star Wars Battlefront
Assassin's Creed Syndicate
Just Cause 3
Rainbow Six Siege
DiRT Rally
Far Cry Primal
Tom Clancy's The Division
DOOM (*OpenGL)
Mirror's Edge Catalyst
DX12 Games
Ashes of the Singularity
Hitman
Rise of the Tomb Raider
Total War: Warhammer
AMD Settings
Here are the settings that we always use in AMD's Crimson Control Center for our default benching. The new Power Efficiency Toggle is left off in our benching.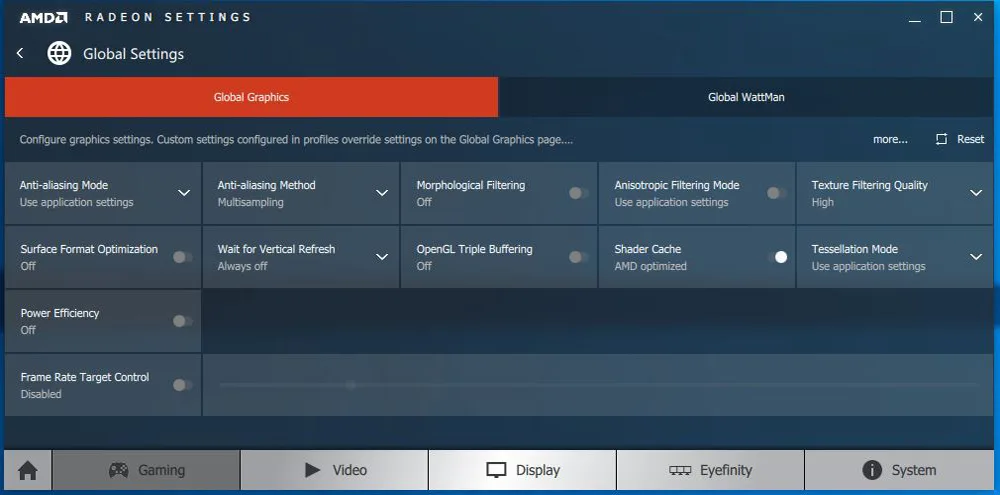 We will cover Global WattMan settings in the overclocking section.
Calculating Percentages
There are two methods of calculating percentages. One is the "Percentage Difference" that we used to compare the GTX 1080 versus the TITAN X, and the other is "Percentage Change" which we are using now to show the performance improvements of the factory-clocked and manually overclocked PowerColor Red Devil RX 470 over the stock clocks.
For the percentage change, we mean the increase in frame rates between the stock and the overclocked Red Devil RX 480, divided by the absolute value of the original stock frame rate in fps, multiplied by 100. We do this twice, to show first the PowerColor factory overclock over the stock RX 470 clocks, and then the manual overclock over the stock clocks.
The percentage change may be expressed by the algebraic formula where "V" is Value: ( ΔV / |V1| ) * 100 = ((V2 – V1) / |V1|) * 100
Let's check out overclocking using WattMan next.
Overclocking the Red Devil RX 470
Unfortunately, PowerColor originally shipped us a Red Devil RX 470 with its clocks locked down by its Performance BIOS to reference RX 470 boost speeds (1206MHz). The only clockspeed adjustment that we were originally able to make was to increase the memory clocks by 50MHz which did not have any positive impact on performance.
Here is the screenshot of the results of looping Heaven 3.0 continuously with the original BIOS at reference clocks.
Here is the new BIOS with the PowerColor Boost clocks now steady at 1270MHz and the temperature is up by 10 degrees at 79C. The Heaven score also increased with the higher clocks over reference.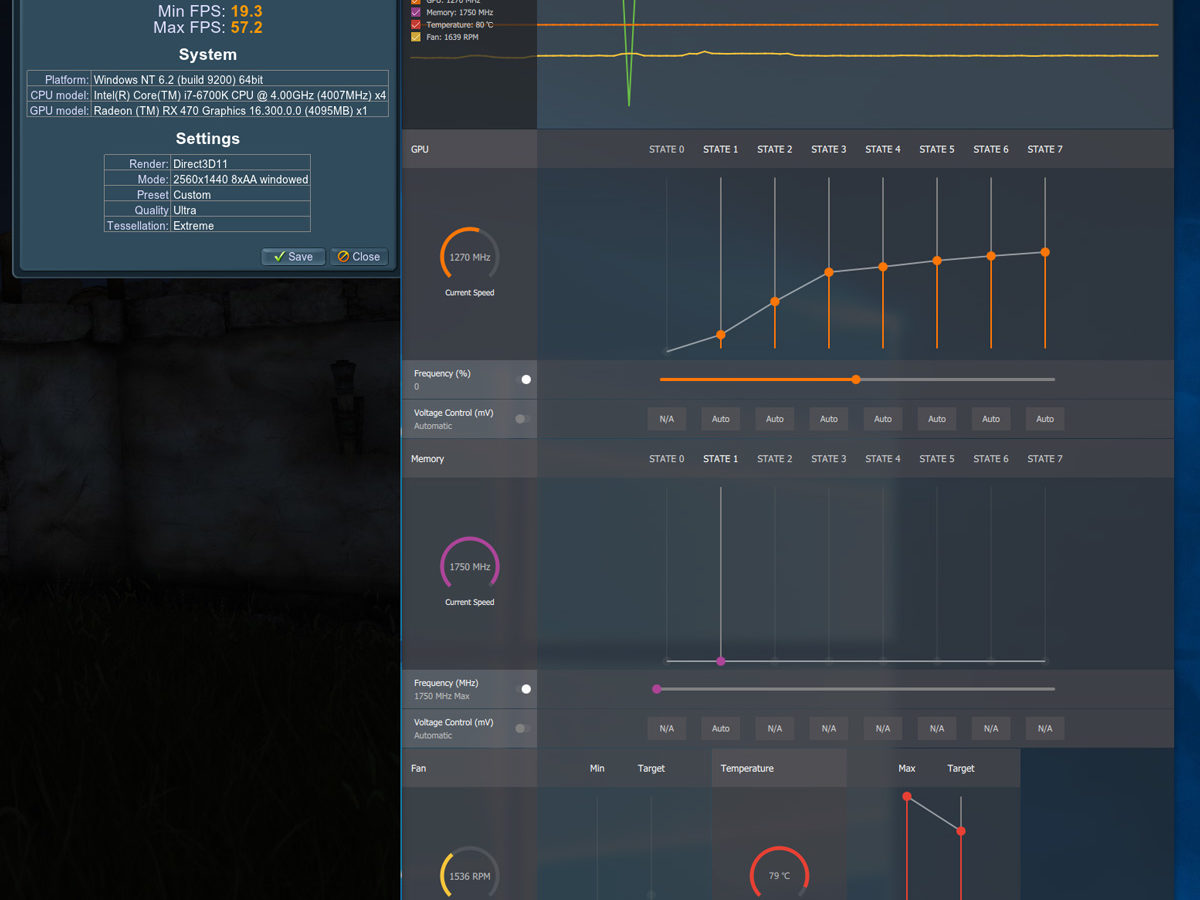 Next we tried a 2% overclock.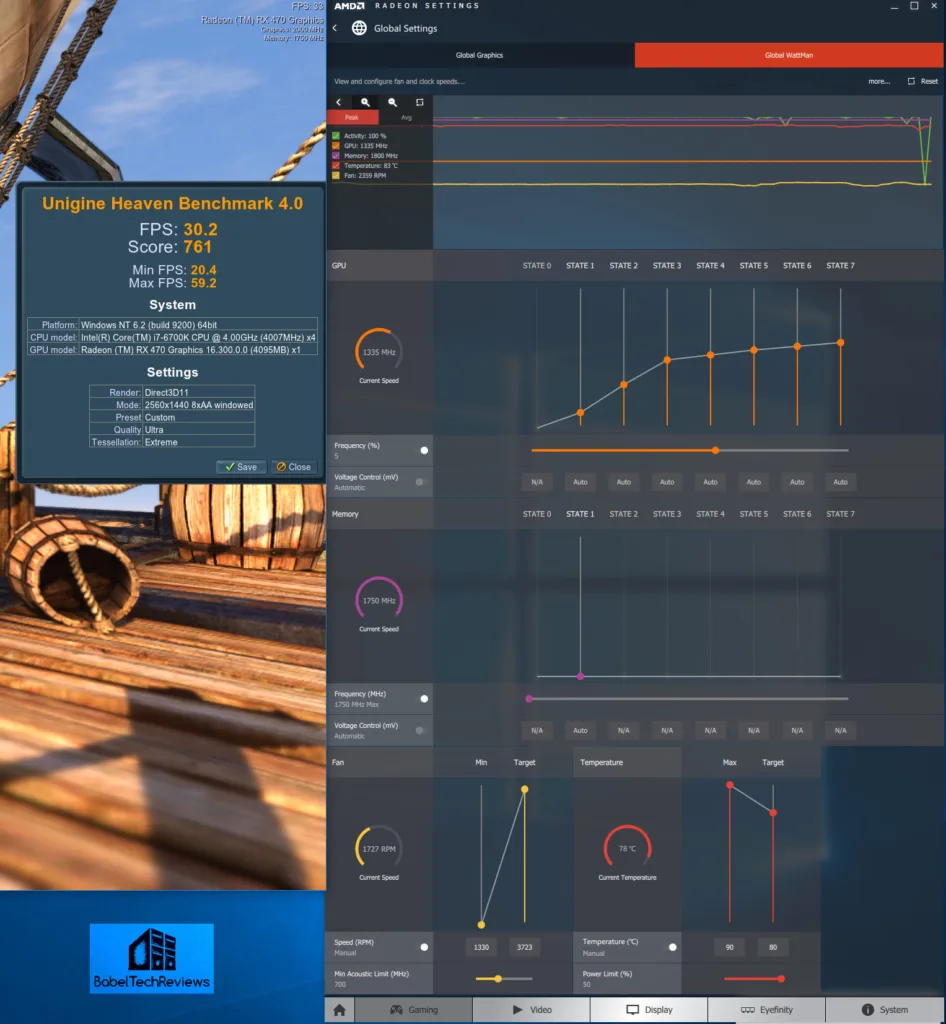 After that, we kept the 2% overclock the same but increased the memory clocks by 50MHz to 1800MHz.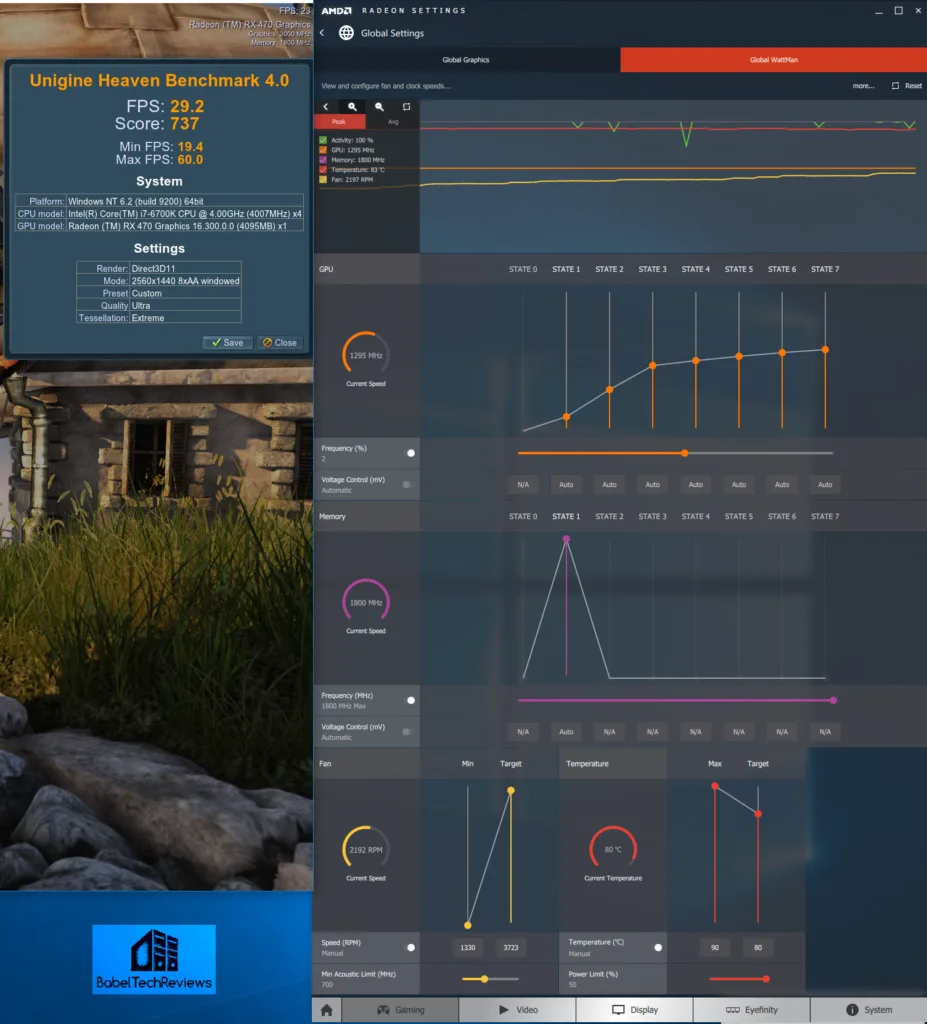 Any memory overclock impacted the performance negatively, even with a higher core overclock. So we returned our memory clocks to the stock 1750MHz and increased our core speeds to 3%.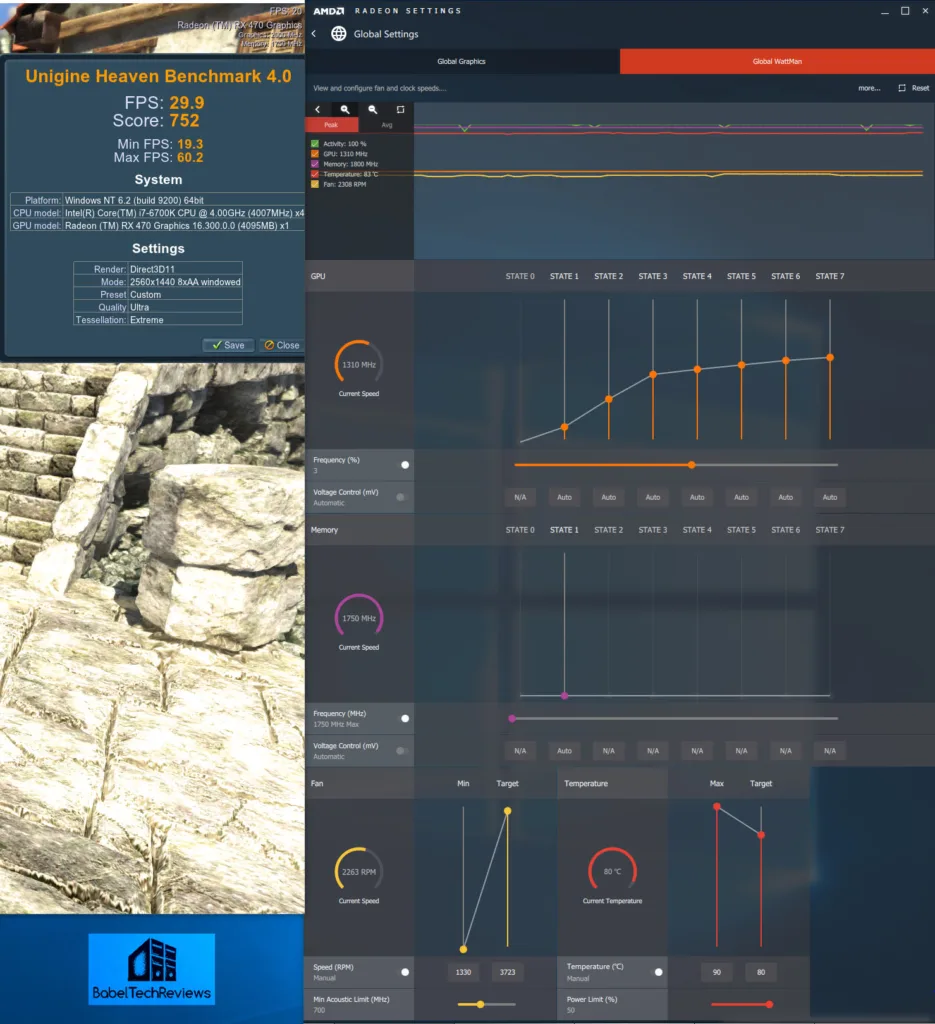 We noted that the temperatures still remained at around 80C but the fan speed automatically increased to compensate for the incremental increase in core temperatures to 1310MHz although fan speeds and temperatures varied according to ambient conditions. Next we tried 4%.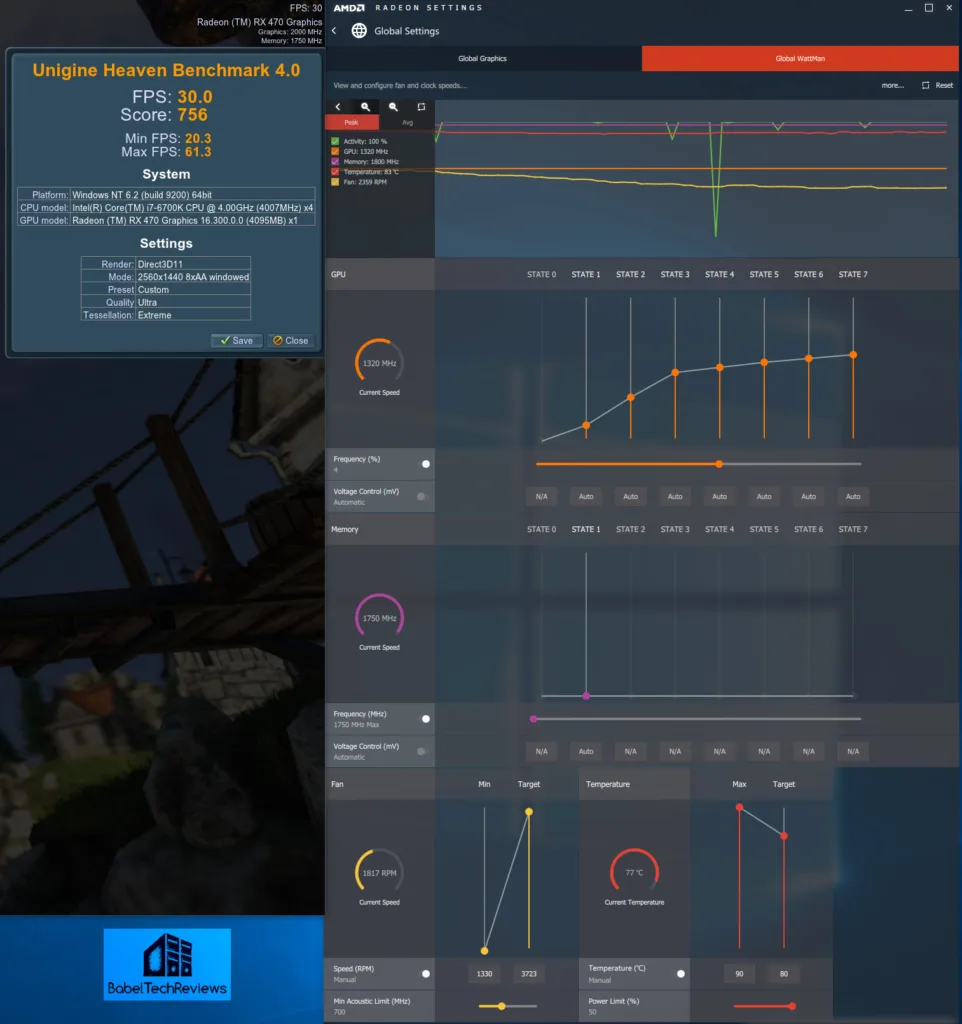 1320MHz was stable so we tried 5%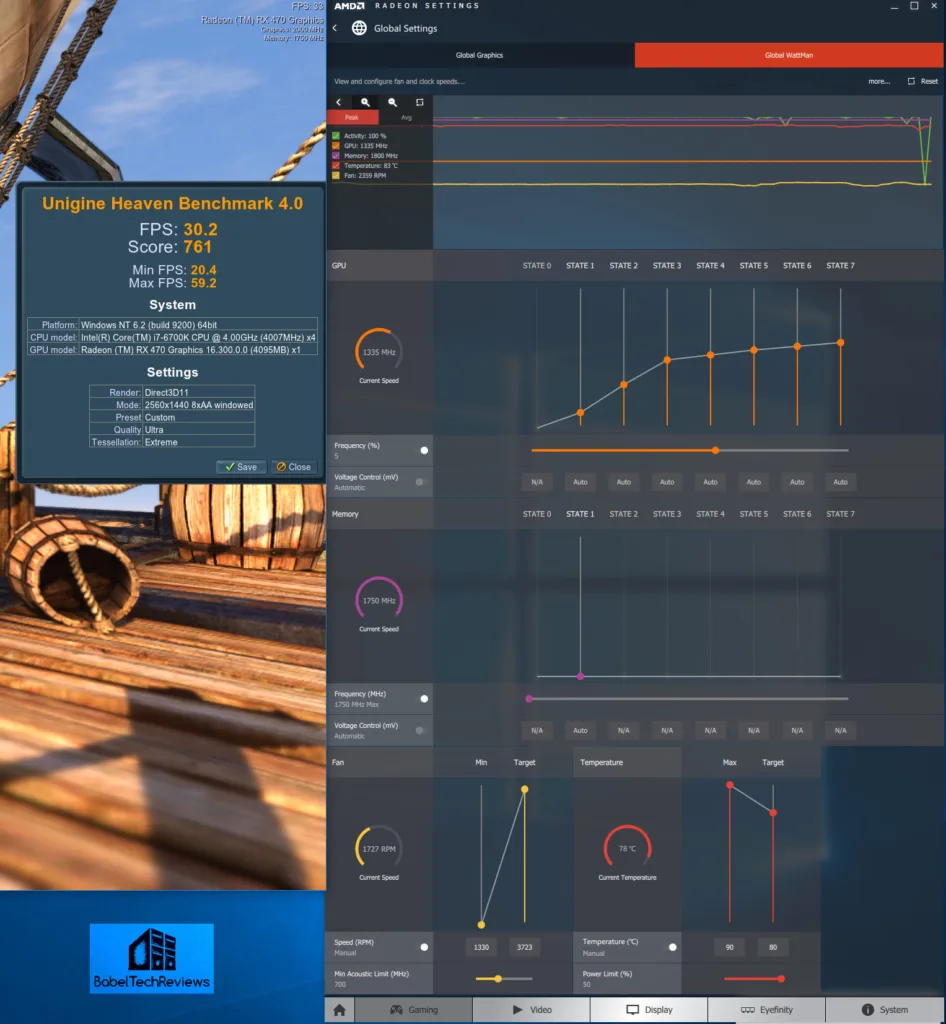 At 5%, the clock speed is 1335MHz or 65MHz over PowerColor's clocks and 134MHz over the reference 1206MHz, and the temperature is basically unchanged from the upper 70sC to 80C. There was no throttling and the core boost speed remained consistent.
We tried 6% but the overclock was unstable and we experienced crashes to desktop. Even 5.5% was unstable for many games, so we settled on 5%, or 1335MHz boost with stock memory clocks (1750MHz). Let's head to the performance charts to see how the PowerColor Red Devil at PowerColor Clocks (1270MHz) and further overclocked by us (1335MHz) compares with reference RX 470 speeds (1206MHz). We shall also compare it with the reference RX 480.
Performance summary charts & graphs
Here are the performance results of 25 games and 2 synthetic tests comparing the Red Devil RX 470 4GB at reference RX 470 clocks versus PowerColor clocks, versus manually overclocked and versus the reference RX 480, and then against 5 other competing cards.
All results except for Firestrike and Time Spy are expressed in average fps (in Bold) and also generally in minimum fps (where they make sense, in smaller italics next to the averages). Each card is compared against the other in the adjoining results column at 1920×1080 and at 2560×1440 (if it is playable). 'X' means the test was not run and 'NA' means the test would not run or could not complete.
The first column represents the reference RX 470 4GB, the second column has PowerColor RX 470 at factory clock results, the third column is the percentage of increase of the PowerColor RX 470 over reference speeds, the fourth column represents the Red Devil overclocked as far as it could stably go, the fifth column is the max overclocked percentage increase over stock clocks, and the last column represents RX 480 performance. Make sure to open this chart in a separate window or tab for better readability.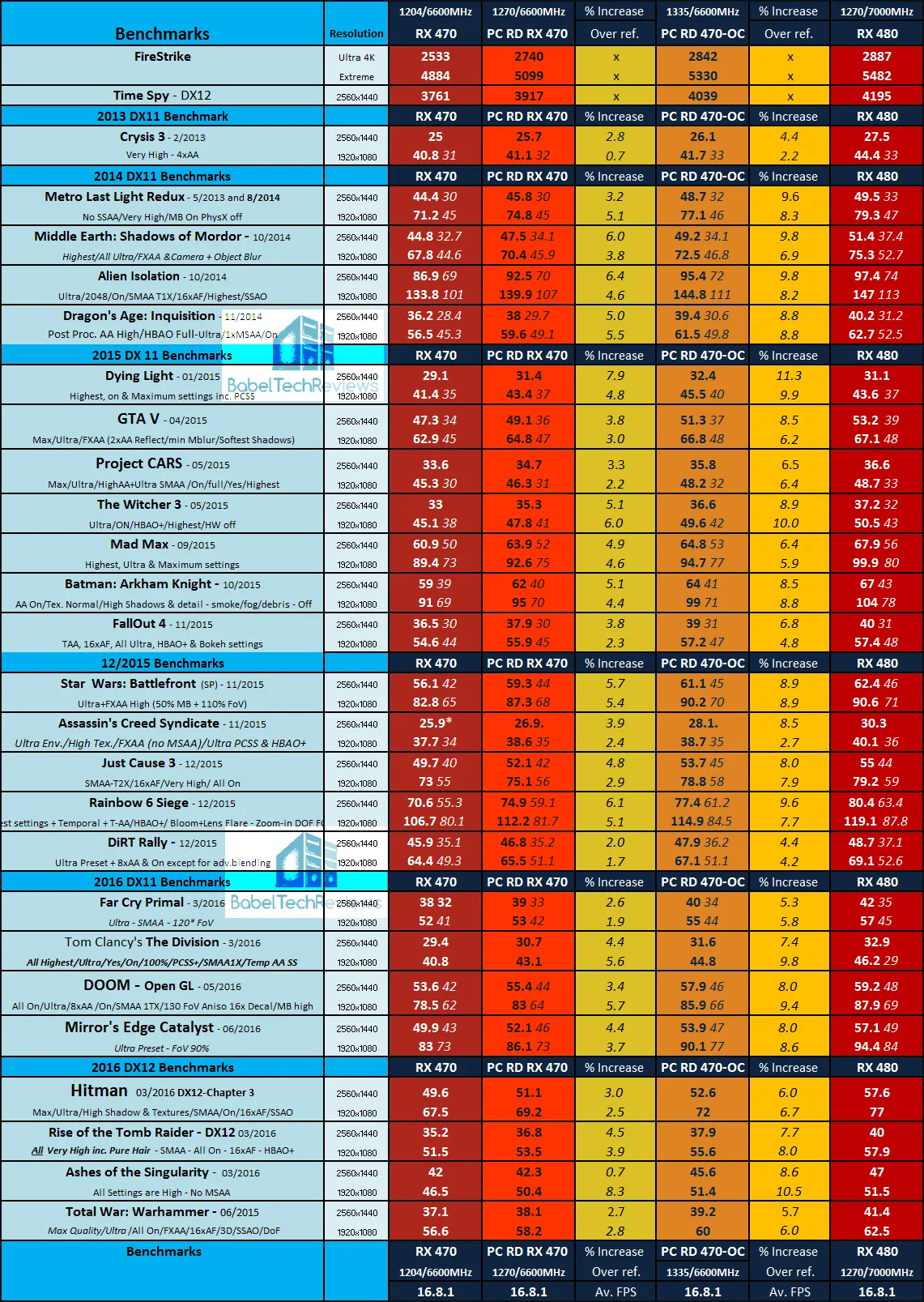 We see the $199 Red Devil RX 470 come surprisingly close to the reference $239 RX 480 performance even at stock. And when it is overclocked, Red Devil comes very close in performance to the more expensive card.
Finally, we are going to repeat our Big Picture to show where the stock RX 470 fits in with other competing cards.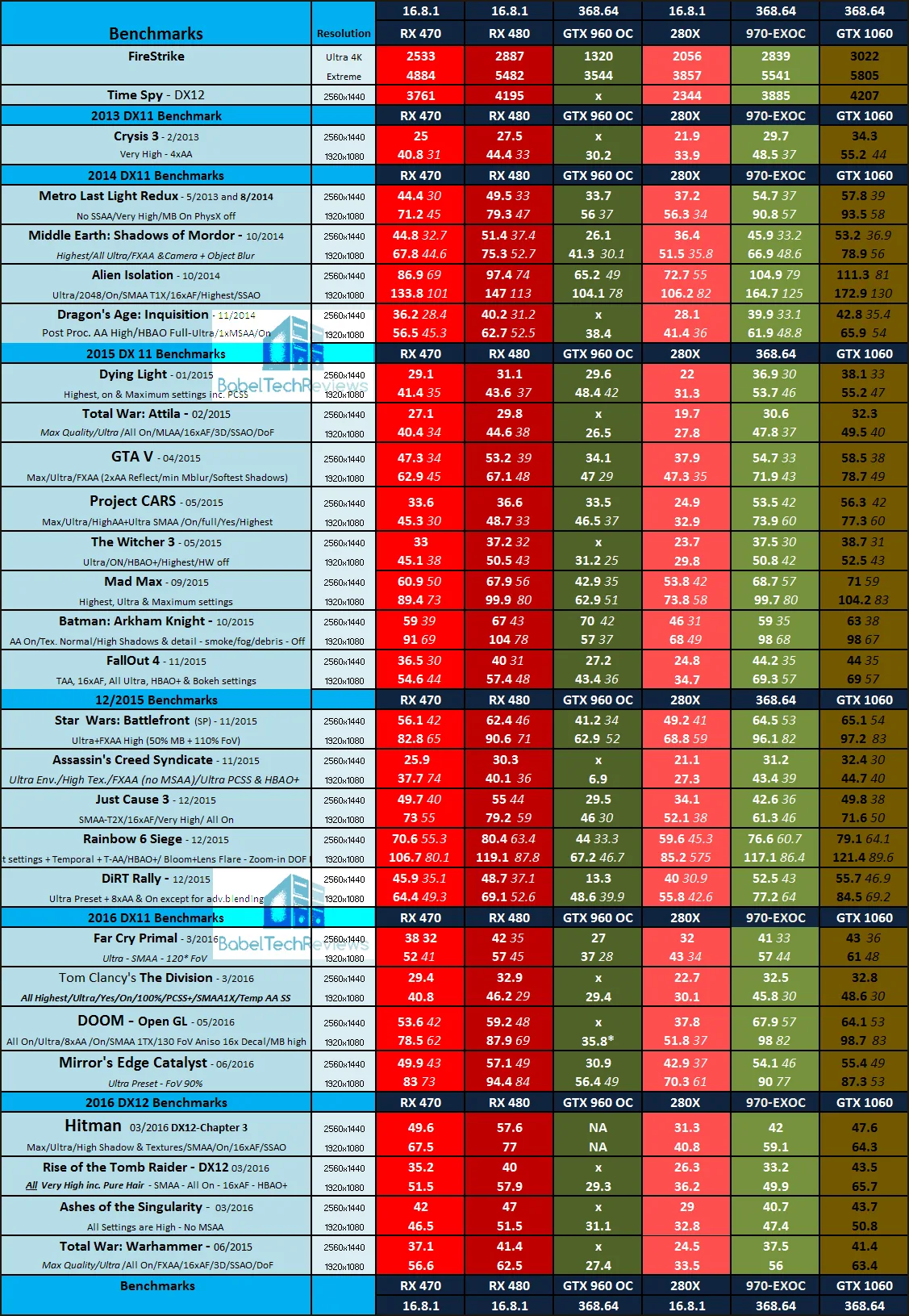 The GTX 960 OC is mostly outclassed by the RX 470, held back by its 2GB of vRAM. The 280X is easily beaten by the RX 470, and the GTX 970 OC and GTX 1060 although they are generally faster, are in a higher price range ($250 plus).
UPDATED 08/25/16. Check out Tech of Tomorrow's video using our benchmarks!
Let's head for our conclusion.
The Conclusion
The Red Devil RX 470 does very well coming fairly close to RX 480 performance, beating it in a couple of cases when overclocked as far as it can go. And WattMan brings some nice features that we used for fine tuning the PowerColor Red Devil RX 470 overclock.

The Red Devil may be a very good deal at $199 for those who game at 1080P, and it may be an excellent alternative to the reference RX 480 with its higher power requirements and limiting 6-pin PCIe connector. Although, the RX 470 and the RX 480 are already clocked near their limit, PowerColor does a very nice job of cooling the Polaris GPU and even allows for some further overclocking. Unfortunately, the memory already appears to be completely optimized and there is no headroom for further overclocking. We are going to repeat our verdict from our original evaluation.
The Verdict:
The PowerColor Red Devil RX 470 is new architecture on a new process that uses significantly less power and has more refinements than AMD's last generation. It is solidly built and it has higher clocks out of the box than the reference RX 470 which has only a 6-pin PCIe connector. It represents a solid value at $199 in our opinion and it deserves BTR's Good Value Award – even at reference RX 470 clocks!
We do not know what the future will bring, but right now, the PowerColor Red Devil RX 470 brings solid improvement over AMD's last generation and it also beats the competing GeForce cards in the same price range while coming very close to reference RX 480 performance for $40 less. It overclocks better and with less issues than the reference RX 480 and it may be a good and less expensive alternative for 1920×1080 gaming.
It will be interesting to see if Nvidia responds with their own "GTX 1050" card, or with price cuts on their current line up. It appears that prices are already softening on the GTX 960 and rebates are available now that were not available 2 weeks ago.
Stay tuned, there is a lot coming from us at BTR. Next up we will continue with our PowerColor Red Devil series with a brand new evaluation of the Red Devil RX 480 due on Wednesday. We will again use our entire 25 game benchmark suite to compare it against GTX 1060 performance.
Happy Gaming!
Mark Poppin
BTR Editor-in-Chief