The RX 480 has arrived for evaluation as an 8GB card. This is not the reference 4GB RX 480 with slightly slower vRAM that will sell for $199, but a more expensive $239 reference 8GB version. AMD has released its new Polaris architecture today and we are going to compare it to the GTX 980, to a mildly overclocked 970, and to the reference 290X and to the XFX 390 OC to see how this new card compares in performance and if it is well-suited for bringing less expensive VR to the masses as AMD claims.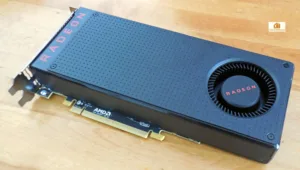 According to AMD, the RX 480 graphics cards with Polaris Architecture and AMD LiquidVR technology deliver immersive VR experiences with leading VR headsets. But RX 480 is not just for VR as asynchronous shaders and new geometry capabilities enable support for DirectX 12 and Vulkan with the latest version of Graphics Core Next (GCN) for PC gamers. And gamers will be able to stream and record their favorite games up to 4K at 60 FPS with virtually no performance impact.
Polaris architecture combines the latest FinFET 14 process technology and advanced power, gating, and clocking technologies to deliver a cool-and-quiet gaming experience compared with their last generation. Polaris boasts a brand new display engine and HDR-ready capabilities while the new Radeon WattMan (formerly AMD Overdrive) offers a new level of customization and control over clocks, voltages, and temperature. And as with previous generations, Radeon software tends to optimize the hardware as drivers mature, improving gaming performance over time.
Power tends to become the limiting factor for performance. High-end graphics products such as the Radeon R9 300 Series are limited by power delivery to 300W, while notebook graphics must use as little power as possible to deliver excellent battery life and low heat.
The GCN architecture is AMD's foundation for performance across their entire graphics ecosystem, from integrated notebook solutions to high-end discrete graphics cards for VR and PC gaming.
For the last five years, graphics processors have relied on the 28nm node. However, for Polaris, AMD has selected Samsung and Global Foundries' 14nm FinFET-based process technology which can reduce power consumption and enable operating voltages that are significantly lower than the previous generation, thereby cutting active power by nearly one-third. Instead of requiring 2 PCIe connectors, the RX 480 that we tested gets by with only 1, yet still it is supposed to deliver R9 390 performance.
New Features for Polaris
To accompany the new Polaris architecture, Radeon WattMan is AMD's new overclocking utility that controls GPU voltage, engine clocks, memory clocks, fan speed and temperature. WattMan is based on OverDrive features but offers new ways of more precise overclocking controls. With the new control over voltage and per state frequency curve for GPU clocks, more comprehensive tuning control is now available. GPU core and memory clocks can be adjusted per available DPM state for greater control. Along with voltage control per state. Voltages are not shared between GPU and memory clocks, but are set independently.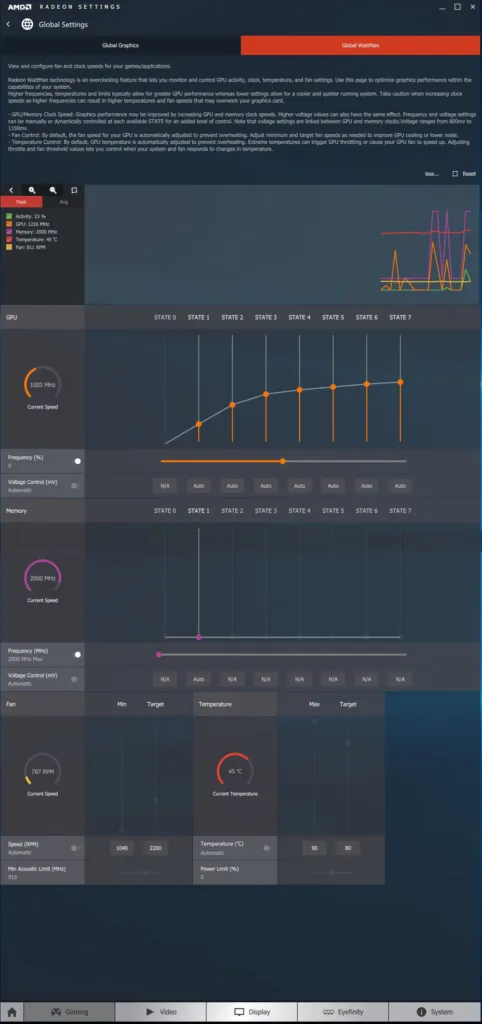 WattMan also features advanced fan and temperature control. Temperature maximum and target can now be set. Along with Power limit, the new control allows even further customization. Max temperature is the absolute high temperature before the system clocks are reduced to cool down the GPU. Target is the temperature before the fan speed is raised to cool down the GPU. Power limit boosts or reduces the power sent to the GPU. This can be increased or reduced by plus or minus 50% in Polaris 10 XT. WattMan even features data capture and a historical view of GPU activity, temperature, fan, and clock speeds.
With this new control, fan minimum speed, target speed, and minimum acoustic limit can now be set. Minimum, is the absolute minimum the fan can run at. Target, is target maximum fan speed, the fan will run at if temperature level is not above target. Minimum Acoustic Limit is the clock limit/threshold for acoustics.
Async Shaders is a feature that allows complex graphics tasks to use all available AMD Radeon graphics resources simultaneously. Breaking one big job into many small segments allows the work to be done more quickly, yielding greater performance. AMD's Graphics Core Next architecture has dedicated hardware, called Asynchronous Compute Engines (ACE), which are specifically designed to do this job at high speed.
The Polaris architecture enhances the command processor with a new quality-of-service technique known as Quick Response Queue. It enables developers to designate a compute task queue as high-priority through APIs. Both high-priority and regular priority tasks co-exist and share the GPU's execution resources, but the ACEs dispatch workgroups from the high-priority task ahead of normal tasks. This prioritization ensures that high-priority tasks will use more resources and complete first, without the command processor context switching out other lower-priority tasks. This technique is used extensively in AMD's LiquidVR SDK to prioritize 'time warping', which is a latency and jitter sensitive task, and to ensure that the time warping occurs immediately before the vertical sync.
There are a lot of new features and exciting potential coming with Polaris and we want to see how some of these are practically implemented into RX 480 for gamers as we attempt to overclock it.
Let's take a brief look at the specifications of the AMD Radeon RX 480 8GB.
The RX 480 4GB/8GB
With the RX 480, AMD wants to bring R9 390/GTX 970 performance into a much less expensive and less power-hungry card for gamers and for entry level VR. Much is made of Liquid VR for immersive Virtual Reality headsets which are already available this year. And FreeSync, DX12, Eyefinity, CrossFire and TrueAudio are featured for the Polaris RX 480 along with WattMan, AMD's new overclocking utility.
Here are the specifications for the RX 480: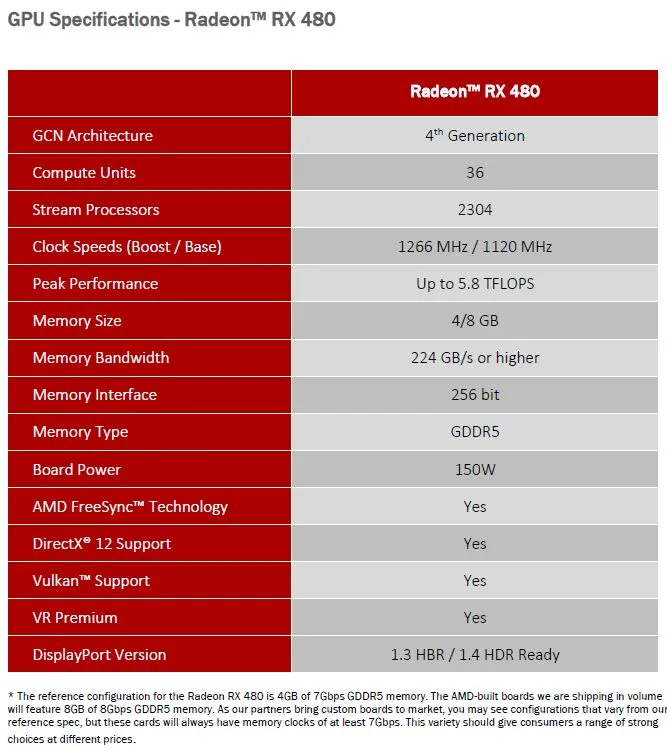 The above specifications are for the 8GB $239 version of RX 480 that we are reviewing here which uses 8GB of 8Gbps GDDR5 memory. The $199 version of RX 480 it uses 4GB of 7Gbps memory, and we have not tested it.
The specifications of the RX 480 are quite impressive for a $199 to $239 card, especially compared to the more expensive R9 290X/390 which use a lot more power to achieve similar performance.
Our Testbed of Competing Cards
Here is our testbed of 5 competing cards and we shall test 26 games and 1 synthetic benchmark using Core i7-4790K turbo locked to 4.4GHz by the BIOS, ASUS Z97+ motherboard and 16GB of Kingston "Beast" 2133MHz HyperX DDR3:
RX 480 8GB – $239 (AMD's new Polaris architecture card)
GTX 980 4GB
GTX 970 EXOC by GALAX, 4GB
R9 390 OC by XFX 8GB
R9 290X 4GB – reference non-throttling 1000MHz Uber mode
These are the 5 cards that we are testing to see where the RX 480 stands. We are using 26 modern games and 1 synthetic benchmark at 1920×1080, 2560×1440, and at 3480×2160 resolutions.
How does the RX 480 8GB compare with other VR-ready cards?
This is the big question: How does the RX 480 compare with other cards in a similar performance range?
First, let's take a closer look at the new Radeon RX 480.
A Closer Look at the Radeon RX 480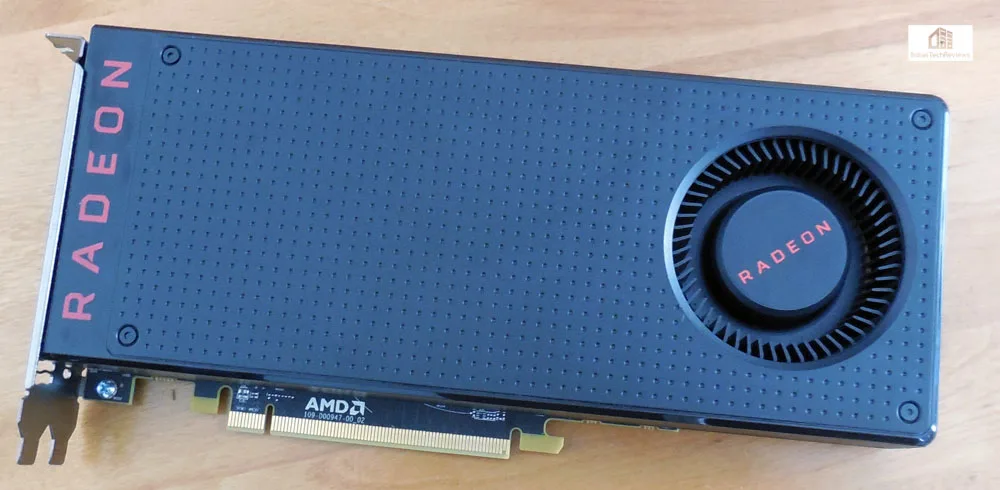 It advertises itself as a card ready for VR and gaming. Also, 4K, Liquid VR and FreeSync are advertised.. Eyefinity is also touted as RX 480 is designed for multi-panel gaming even though it has a board power of only 150W.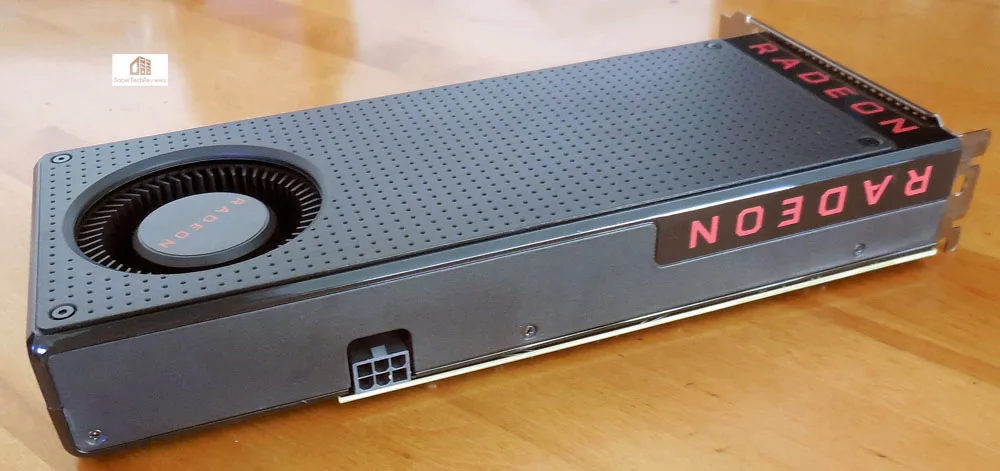 The RX480 is a good looking card which compliments the Fury lineup although it lacks the aluminum exoskeleton and soft touch sides.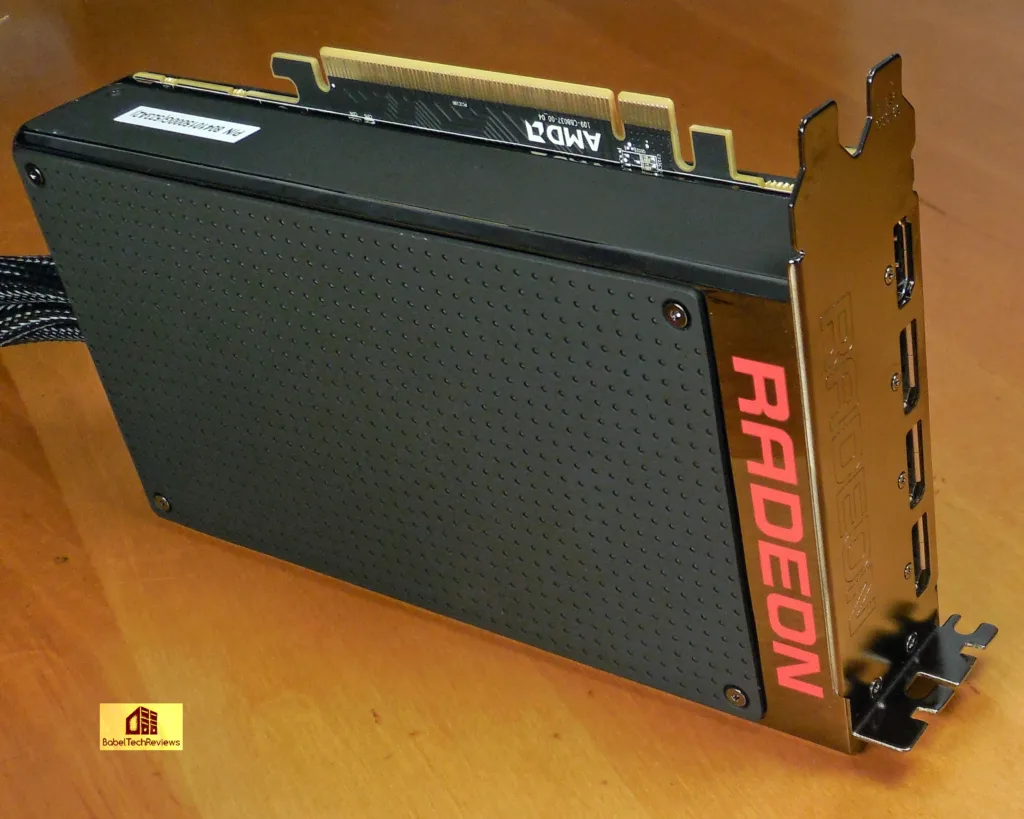 Turning it over, we see it is has a raw PCB and it uses a Blower-type fan.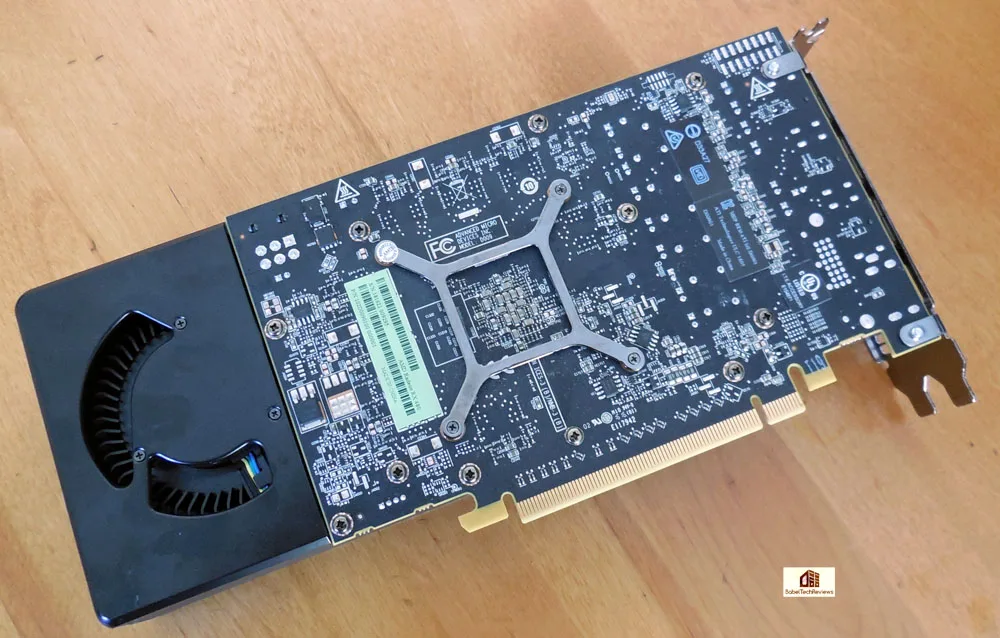 The RX 480 connectors include 3 DisplayPorts and 1 HDMI connection.

The RX 480 looks nice in any case and the reference version needs only one 6-pin PCIe connector.

The specifications and the card look good. Let's check out the RX 480's performance after we look over our test configuration on the next page.
Test Configuration – Hardware
Intel Core i7-4790K (reference 4.0GHz, HyperThreading and Turbo boost is on to 4.4GHz; DX11 CPU graphics), supplied by Intel.
ASUS Z97-E motherboard (Intel Z97 chipset, latest BIOS, PCIe 3.0 specification, CrossFire/SLI 8x+8x)
Kingston 16 GB HyperX Beast DDR3 RAM (2×8 GB, dual-channel at 2133MHz, supplied by Kingston)
AMD Radeon RX 480 8GB at stock settings (1266MHz/2000MHz).
XFX R9 390 8GB, Double Dissipation XXX OC Video Card, at XFX clocks (1015/1500MHz).
VisionTek R9 290X 4GB, reference clocks (1000MHz/1250MHz); fan set to 100% to prevent throttling.
GeForce GTX 980, 4GB, (1126MHz base/1216MHz boost) reference clocks, supplied by Nvidia
GALAX GTX 970 EXOC 4GB (1165MHz base/1317 Boost), GALAX factory overclock, supplied by GALAX
Two 2TB Toshiba 7200 rpm HDDs
EVGA 1000G 1000W power supply unit
Cooler Master 2.0 Seidon, supplied by Cooler Master
Onboard Realtek Audio
Thermaltake Overseer RX-I full tower case, supplied by Thermaltake
ASUS 12X Blu-ray writer
Monoprice Crystal Pro 4K
Test Configuration – Software
The AMD Crimson Software 16.6.2 beta hotfix drivers were used for benching the RX 480, the XFX 390 and the 290X.
Nvidia's GeForce 368.22 WHQL drivers were used for the GTX 980/970. High Quality, prefer maximum performance, single display.
VSync is off in the control panel.
AA enabled as noted in games; all in-game settings are specified with 16xAF always applied
All results show average frame rates including minimum frame rates shown in italics on the chart next to the averages in smaller font.
Highest quality sound (stereo) used in all games.
Windows 10 64-bit Home edition, all DX11 titles were run under DX11 render paths. Our only DX12 title is run under the DX12 render path. Latest DirectX
All games are patched to their latest versions at time of publication.
Global WattMan used for overclocking the RX 490.
EVGA's Precision XOC, reviewer's version 4 used for Nvidia cards.
The 26 PC Game benchmark suite & 1 synthetic test
Synthetic

Firestrike – Basic & Extreme

DX11* Games

Crysis 3
Metro: Last Light Redux (2014)
GRID: Autosport
Middle Earth: Shadows of Mordor
Alien Isolation
Dragon's Age: Inquisition
Dying Light
Total War: Attila
Grand Theft Auto V
ProjectCARS
the Witcher 3
Batman: Arkham Origins
Mad Max
Fallout 4
Star Wars Battlefront
Assassin's Creed Syndicate
Just Cause 3
Rainbow Six Siege
DiRT Rally
Far Cry Primal
Tom Clancy's The Division
DOOM (*OpenGL)
Mirror's Edge Catalyst

DX12 Games

Ashes of the Singularity
Hitman
Rise of the Tomb Raider
AMD Settings
Here are the settings that we always use in AMD's Crimson Control Center for our default benching. The new Power Efficiency Toggle which was recently made available for the Fury X and 300 series cards is left off in our benching. Please note that 100% fan speed is used for benching the 290X reference version, and it does not throttle at all.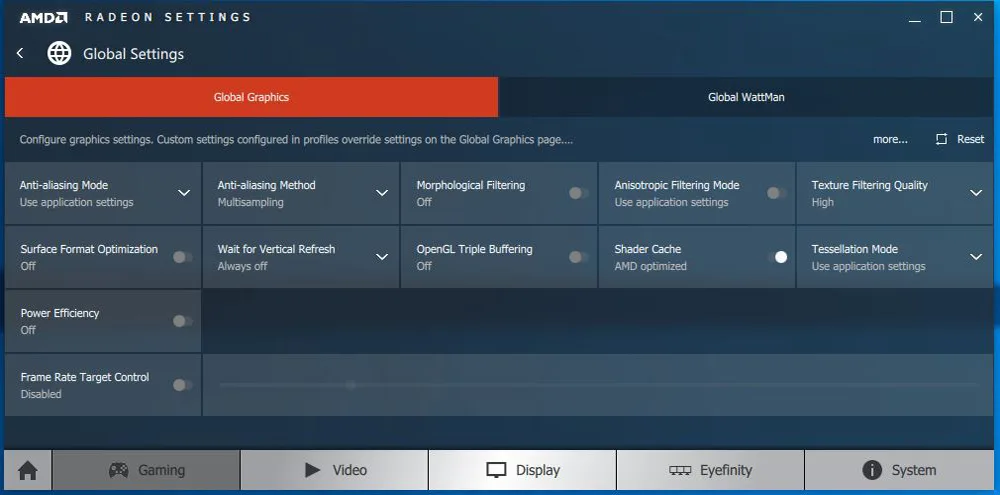 Here are our settings for all the AMD cards other than the RX 480; fan speed is left on automatic except for the 290X.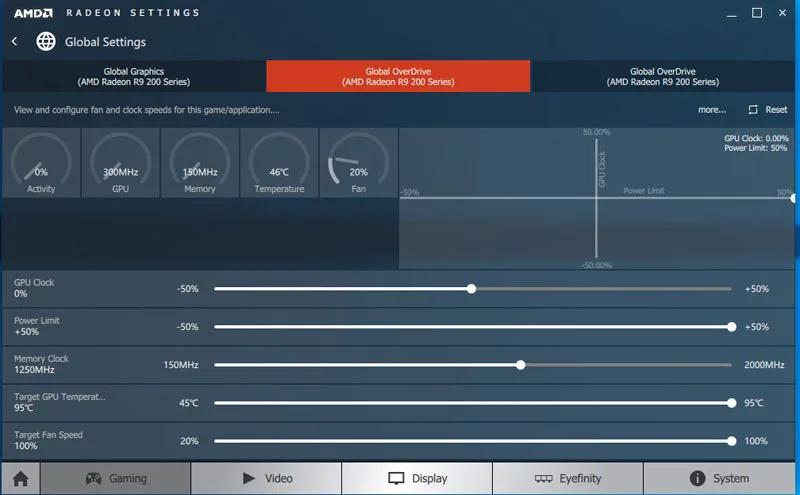 Here are our settings for the RX 480 using Global WattMan. Notice that all settings are left at stock for benchmarking.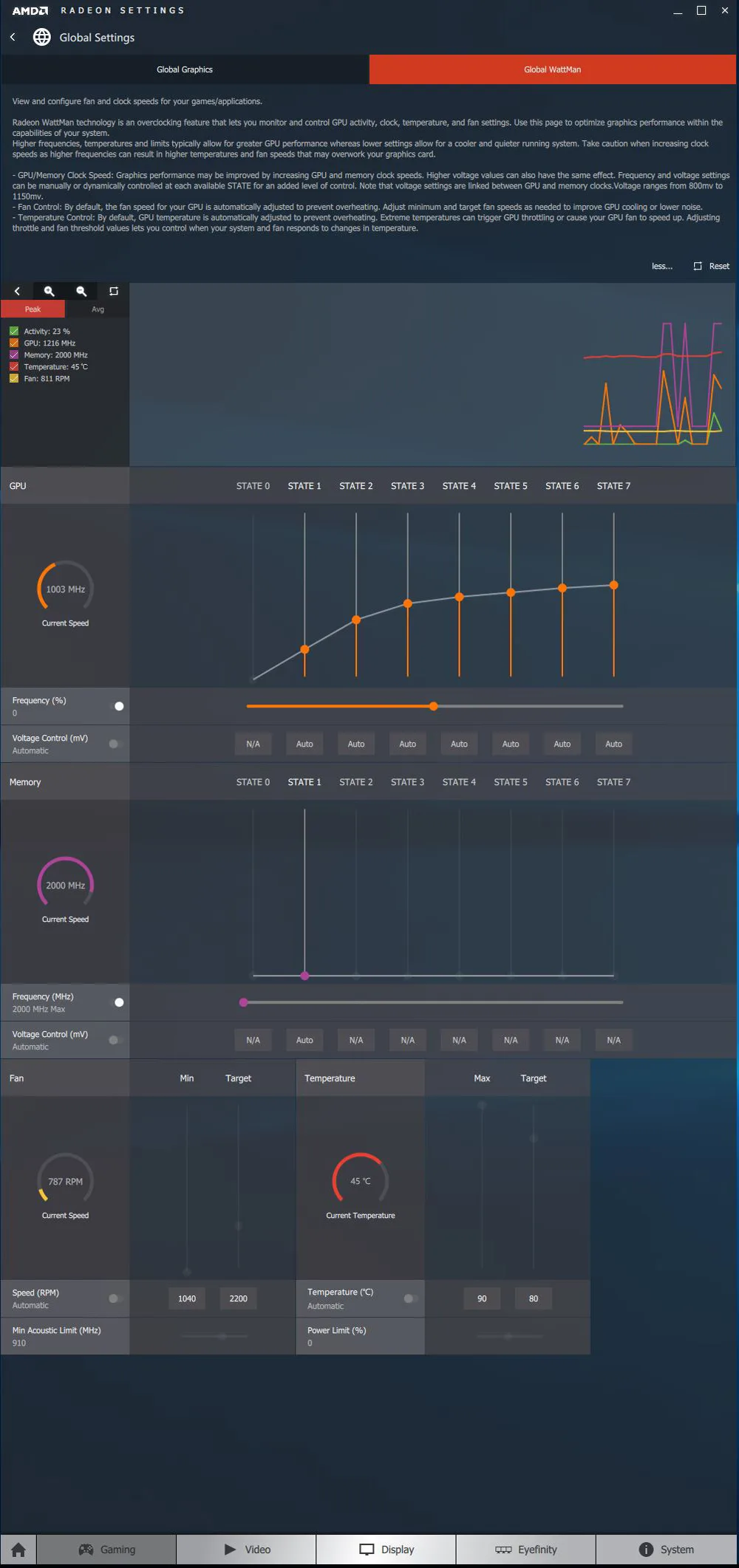 The above are our AMD settings. Let's check out overclocking next.
Overclocking the RX 480
We did not adjust any of our cards' fan profiles (except for the 290X whose fan was allowed to spin up to 100% to prevent throttling), nor voltage for our benchmark runs or for overclocking. We did however, push up the power target controls to maximum for the RX 480 when we attempted overclocking since we tested in Summer (warm, 77F-79F) conditions. We also made very sure to warm up all of our cards before benching. We used the latest version of WattMan which came with the Crimson 16.2.2 launch drivers for overclocking the RX 480.
Here is what we get while looping Heaven 3.0 at stock settings. The clock speed hovers around 1227MHz and notice that the temperature is 80C with a maximum of 83C, and the fan is barely noticeable.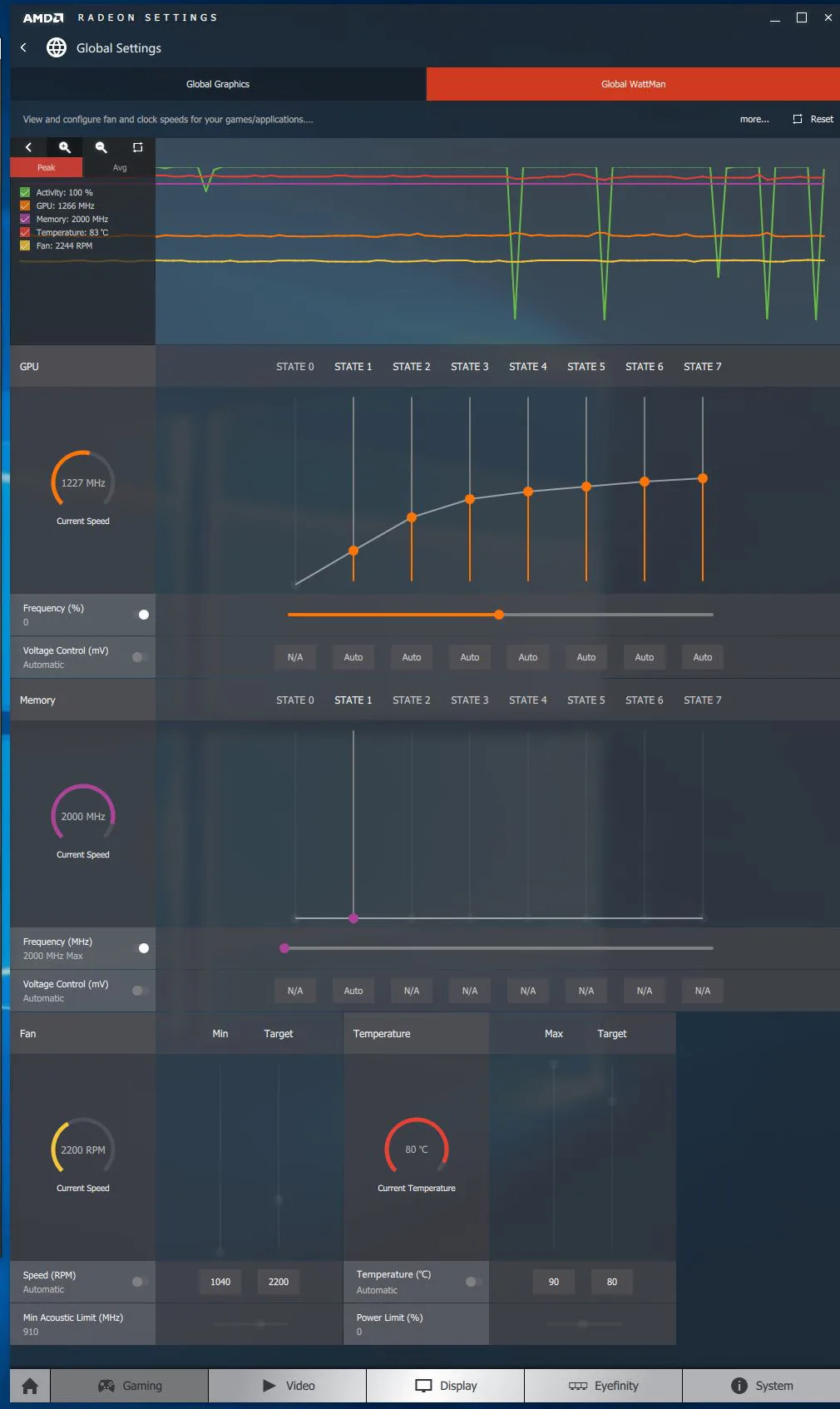 Overclocking the RX 480 was problematic for us, and there appears to be almost no headroom with the reference cooler since temperatures begin to rise steeply with just a 2% overclock. Notice it jumps to 89C with a maximum of 92C. However, there is no throttling yet and the automatic fan speed does not ramp up.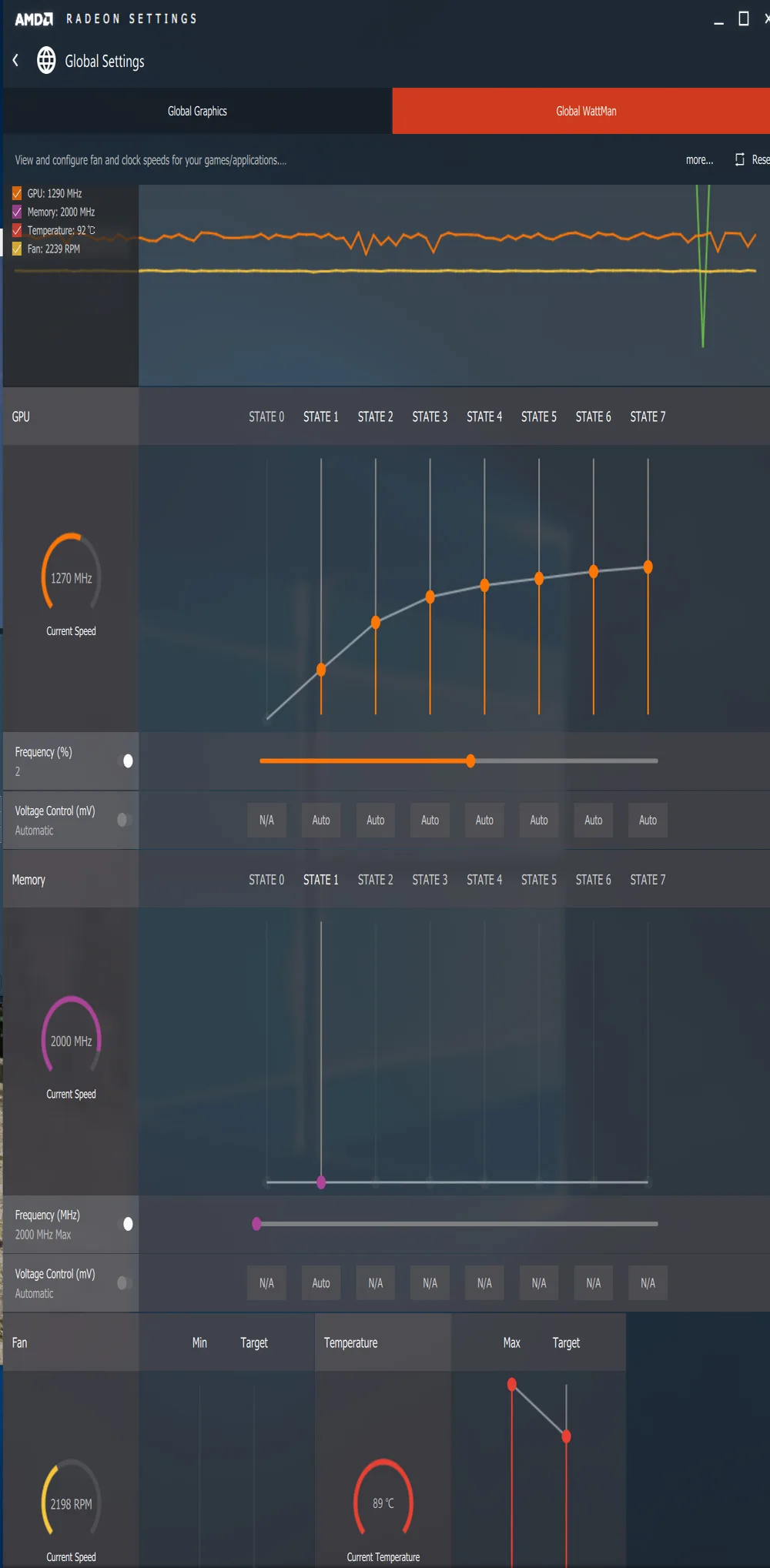 Now we try a 3% overclock and temperatures max out at 93C, yet it begins to throttle the clockspeeds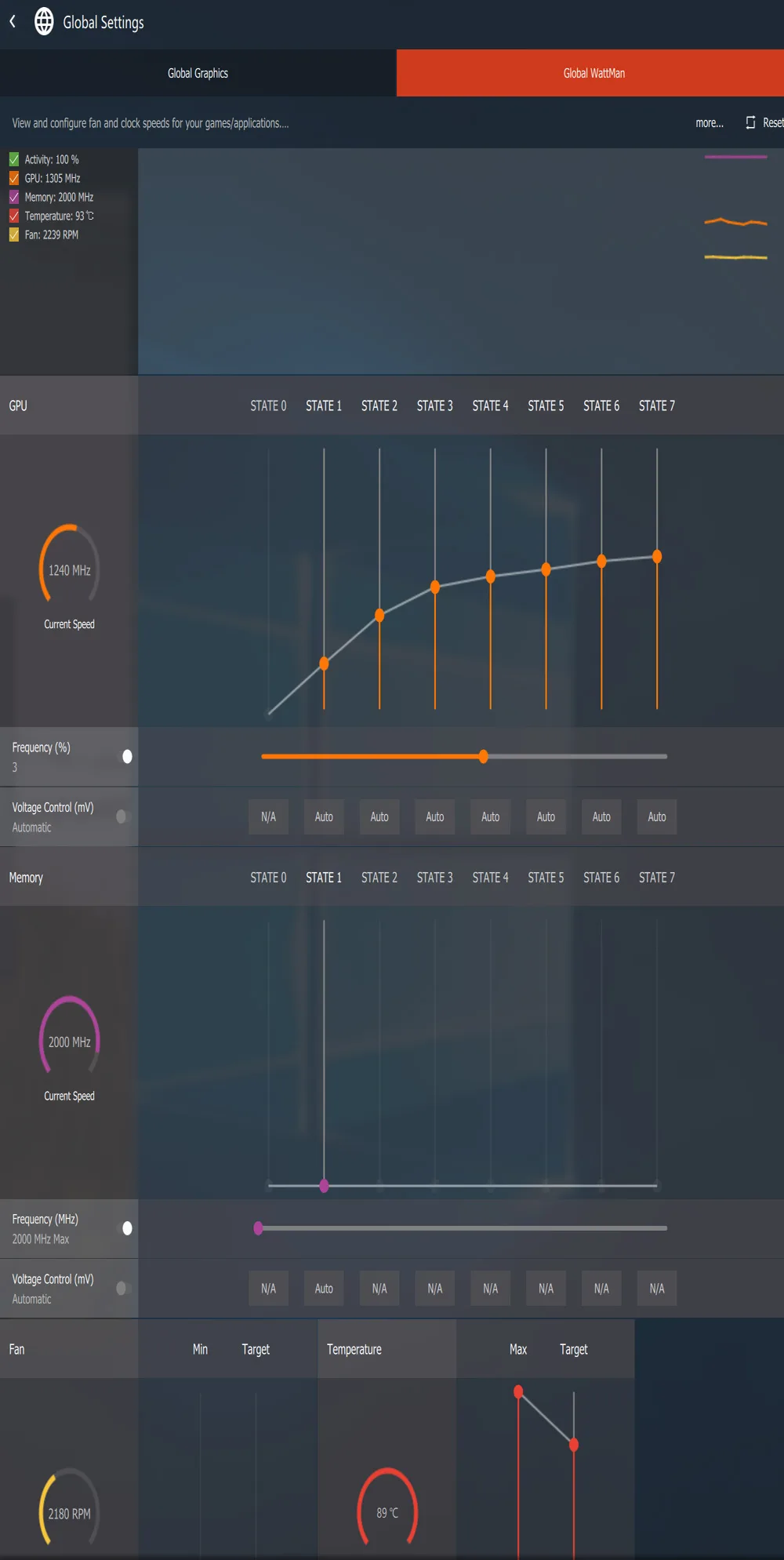 We were able to go all the way to 5% overclock with the voltage and fan profile on automatic, and the temperatures stayed at 93C, but performance suffered. Since overclocking is evidently so poor with the reference cooler of our sample at automatic fan speeds, we did not post any performance results. Yet we believe that a lot of performance from overclocking is left on the table.
We expect that AMD's partners will have much more robust cooling available, and we will revisit RX 480 overclocking then. The reference version cooler is OK for stock speeds, but you probably don't want to overclock without first cranking up the fan speed. For our sample, we found that the heat from the GPU increased significantly with even a mini-overclock – from 83C at stock speeds to 93C with a 2% increase in the core clocks using the automatic fan profile.
The RX 480 runs cool and quiet, but it requires stock speeds to do it. When we first began overclocking our RX 480, we foolishly first tried a 10% overclock, watched our temperatures spike, and then it crashed our system and we had to restore it from a disk image.
Let's head to the performance chart to see how the RX 480 compares with its competing cards of Summer, 2016.
Performance summary charts & graphs
Here are our performance results of 26 games and 1 synthetic test comparing the RX 480 8GB versus 4 other competing cards.
All results except for Firestrike are expressed in average fps (in Bold) and also generally in minimum fps (where they make sense, in smaller italics next to the averages). Each card is compared against the other in the adjoining results column at 1920×1080, 2560×1440, and at 3840×2160 (if it is playable). The first column represents the RX 480 8GB, the second is the GALAX GTX 970 EXOC 4GB, the third is the reference non-throttling 290X 4GB, the fourth is the GTX 980 4GB reference version, and the fifth is the XFX R9 390 OC.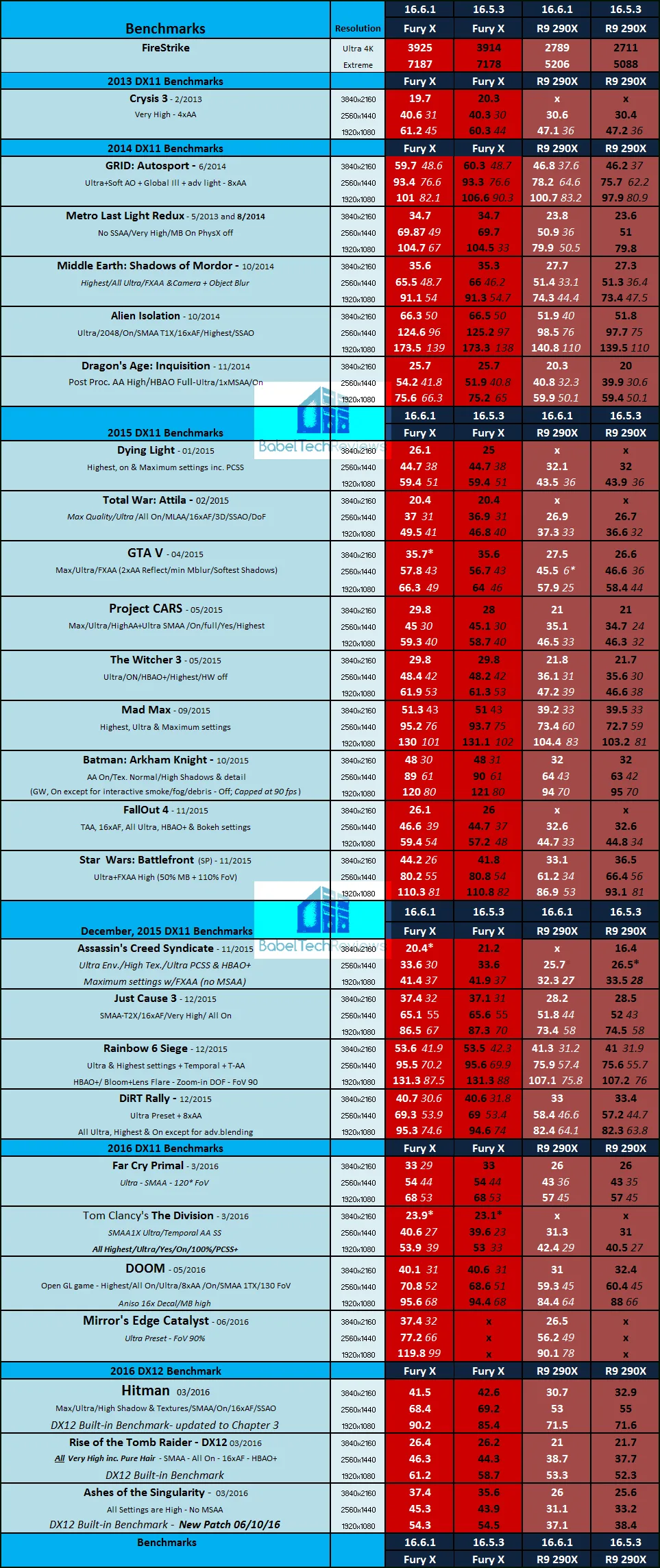 We see the $239 RX 480 trade blows with the more expensive GTX 970 while generally matching or beating the reference R9 290X, and falling slightly short of the mildly overclocked XFX 390 OC. The GTX 980 performance can probably be caught with an aftermarket overclocked RX 480, but unfortunately we were not able to overclock well with our sample because of the weak reference cooler that we left at automatic voltage and fan speeds as we do with all of our original video card reviews at BTR.
We note a few oddities where the RX 480 falls rather short of the 290X/390 OC performance, but they can possibly be attributed to new and immature drivers on a new architecture. AMD tends to bring more performance with each subsequent driver revision.
Let's head for our conclusion.
The Conclusion
The RX 480 brings the 390 level of performance to a $239 video card with much less power draw than Hawaii/Grenada. AMD has met their goal to bring less expensive VR to their target audience. However, in the case of our sample, overclocking with the reference cooler leaves a lot left to be desired and we feel there is a lot of potential left untapped in this Polaris chip that we expect AMD's partners will address with far more robust cooling.
WattMan brings some nice features that we would like to use for fine tuning the RX 480 overclock without cranking up the fan speed to 100% and we look forward to the aftermarket designs.
Let's sum it up:
RX 480 Pros
The reference RX 480 brings new features and GTX 970/R9 390 performance to a $239 card
WattMan brings new features to Radeon overclocking that was not present in OverDrive.
RX 480 is a fast midrange card and a good replacement for the power-hungry R9 390.
New features in Polaris architecture improves on Async compute with dedicated hardware and it is evidently well-suited for VR.
The RX 480 drops the cost of the video card for entry-level VR.
FreeSync eliminates tearing and stuttering.
RX 480 Cons
The reference cooler is fine for stock clocks but falls way short for overclocking unless the fan speed is cranked up.
Drivers are somewhat immature and they are expected to improve as is typical of new architecture.
We cannot comment on the $199 4GB version of the RX 480 since we have not tested it. It may be a very good deal for those who game at 1080P.
The Verdict:
If you want entry level VR, or R9 390 level of performance for gaming, the RX 480 is new architecture on a new process that uses significantly less power and has more refinements than AMD's last generation. Polaris brings new features that are not available in AMD's older cards. However, if you are an overclocker, you may want to wait for AMD's partners to address the cooling issues of the reference cooler with more robust solutions next month.
We do not know what the future will bring, but the RX 480 brings improvement over AMD's last generation, and there appears to be a lot of potential for more performance with the forthcoming AIB solutions. We look forward to reviewing the partner cards as they are released and become available next month.
It will be interesting to see if Nvidia responds with their own midrange card, or with price cuts on their current line up. We have already seen GTX 970s for around $240 after mail-in-rebate on Newegg this week.
Stay tuned, there is a lot coming from us at BTR. Next up we will compare Skylake's i7-6770K with our current Devil's Canyon i7-4790K. This is the last evaluation that will be on Devil's Canyon as we have upgraded our platform.
Happy Gaming!
Mark Poppin
BTR Editor-in-Chief