Intro
The RX 470 arrived last week at BTR for evaluation as a 4GB Red Devil video card from PowerColor.  This review is not supposed to be of the reference 4GB RX 470 at stock 1206MHz Boost clocks, but at PowerColor 1270MHz clocks.   Unfortunately, the BIOS that came with the PowerColor Red Devil had clocks that were completely locked down at the reference RX 470 speeds and it wouldn't overclock at all.  PowerColor finally came through with a new BIOS that was unfortunately too late for this review.  What you will see in this evaluation is a PowerColor RX 470 Red Devil running at reference RX 470 speeds, and we will have a follow up review later that will show the Red Devil's true performance, as well as manually overclocked performance.
AMD released its new Polaris architecture as the RX 480 on June 29, and we compared the reference 8GB version to the GTX 980, to a mildly overclocked 970, and to the reference 290X and to the XFX 390 OC.  We saw that even though it launched on immature drivers and with power issues, it is definitely well-suited for bringing less expensive VR to the masses as AMD claims.  We followed its progress with improved drivers that somewhat addressed the power issues, and we also saw that it was only a fair overclocker versus the GTX 1060.
Now we have a brand new card released today from AMD, the RX 470, in the form of the PowerColor Red Devil that we will benchmark at reference RX 470 speeds against the reference RX 480 to see how it compares in performance.  And we will also benchmark competing cards to see where the new card stands regarding price versus performance.
According to AMD, the RX 480 is differentiated from the RX 470 graphics card by the RX 480's superior ability to deliver immersive VR experiences with leading VR headsets whereas the RX 470 is aimed primarily at desktop PC gaming.  However, both the RX 480 and the RX 470 feature asynchronous shaders and new geometry capabilities that enable support for DirectX 12 and Vulkan with the latest version of Graphics Core Next (GCN) for PC gamers.  And gamers will be able to stream and record their favorite games up to 4K at 60 FPS with virtually no performance impact.
Polaris architecture combines the latest FinFET 14 process technology and advanced power, gating, and clocking technologies to deliver a cool-and-quiet gaming experience compared with their last generation.  Polaris boasts a brand new display engine and HDR-ready capabilities while the new Radeon WattMan (formerly AMD Overdrive) offers a new level of customization and control over clocks, voltages, and temperature.   And as with previous generations, Radeon software tends to optimize the hardware as drivers mature, improving gaming performance over time.
Instead of requiring 2 PCIe connectors as in the 28nm R9 200 and 300 series, the RX 480 and the Red Devil RX 470 get by with only 1, yet  they are supposed to deliver near R9 390 performance.  In the case of the PowerColor Red Devil RX 470, it uses a single 8-pin PCIe cable versus the 6-pin power connector in the reference RX 470 and RX 480.  And we saw the RX 480 get into trouble with its 6-pin connector as being insufficient for overclocking. Having an 8-pin power connector plus superior 6+1 multi-phases where each phase supplies 25W instead of 22.5W found in the reference board, the Red Devil RX 470 is designed for superior performance, overclocking, and more stable power.
New Features for Polaris
Make sure to check the RX 480 8GB launch article which gives even more details about Polaris' new features.  The following is a summary.
WattMan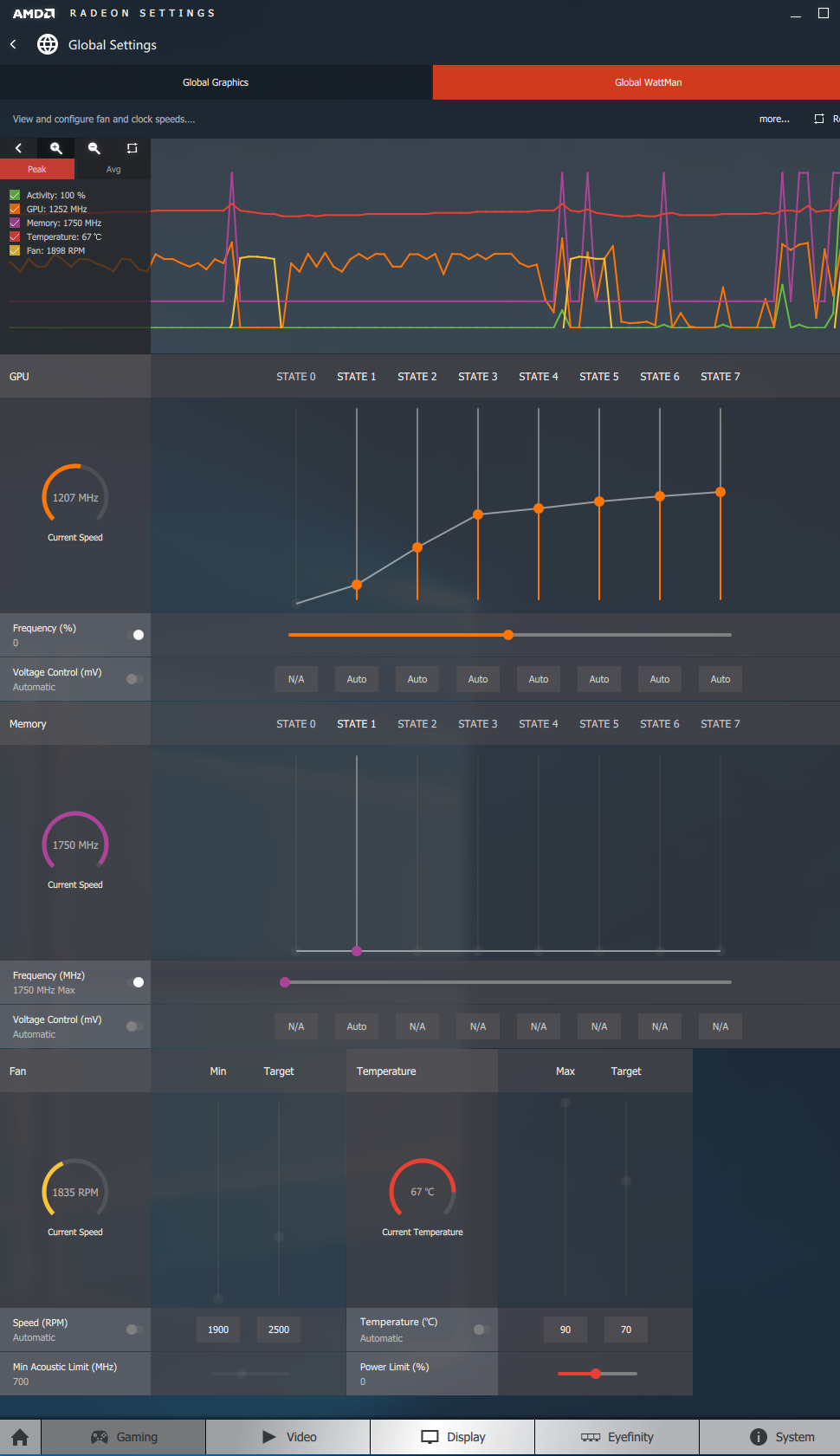 To accompany the new Polaris architecture, Radeon WattMan is AMD's new overclocking utility that controls GPU voltage, engine clocks, memory clocks, fan speed and temperature.   And WattMan even features data capture and a historical view of GPU activity, temperature, fan, and clock speeds.
Async Shaders is a feature that allows complex graphics tasks to use all available AMD Radeon graphics resources simultaneously. Breaking one big job into many small segments allows the work to be done more quickly, yielding greater performance. AMD's Graphics Core Next architecture has dedicated hardware, called Asynchronous Compute Engines (ACE), which are specifically designed to do this job at high speed.
Let's take a brief look at the specifications of the AMD Radeon RX 470 reference version versus the PowerColor Red Devil RX 470.
The reference RX 480 8GB vs. the Red Devil RX 470 4GB
With the RX 480, AMD wants to bring R9 390/GTX 970 performance into a much less expensive and less power-hungry card for gamers and for entry level VR.  Much is made of Liquid VR for immersive Virtual Reality headsets which are already available this year.  And FreeSync, DX12, Eyefinity, CrossFire and TrueAudio are featured for the Polaris RX 480 along with WattMan, AMD's new overclocking utility.
First, here are the specifications for the RX 480:
The above specifications are for the 8GB $239 version of RX 480 that we reviewed at launch which uses 8GB of 8Gbps GDDR5 memory.  The $199 version of RX 480 uses 4GB of 7Gbps memory, and we have not tested it.  This is the same memory that is used in the reference and Red Devil RX 470 4GB.  Here are the specifications for the reference $179 RX 470:
Now here are the specifications for the $199 PowerColor Red Devil RX 470:
The specifications of the RX 470 are quite impressive for a $179 to $199 card, even compared to the more expensive RX 480.  The Red Devil's boost clocks have been increased from 1206MHz to 1270MHz, giving it near-parity with the RX 480 clocks.  The main difference is that the RX 480 has 36 Compute Units while the RX 470 has 32.
Our Testbed of Competing Cards
Here is our testbed of 6 competing cards and we shall test 25 games and 2 synthetic benchmarks at 1920×1080 and at 2560×1440.  Our testing platform is Windows 10 Home 64-bit, using an Intel Core i7-6700K at 4.00GHz which turbos to 4.4GHz for all cores as set in the ASRock Z7170 motherboard's BIOS, and 16GB of G.SKILL DDR4 at 3000MHz.
How does the RX 470 4GB compare with other similarly priced cards?
This is the big question: How does the RX 470 compare with other cards in a similar price to a higher price range?
First, let's take a closer look at the new PowerColor Red Devil RX 480.