The GeForce GTX 1070 is the second GPU based on Nvidia's Pascal architecture. It is very similar to the GTX 1080 that we reviewed last week although it is less powerful. It is also considerably less expensive compared with the GTX 1080 which launched at $699 for the reference Founder's Edition, or at $599 for entry-level partner cards. The GTX 1070 is expected to be priced at $379, or at $459 for the built by Nvidia reference Founder's Edition that we are testing today, and it will be available for purchase on June 10.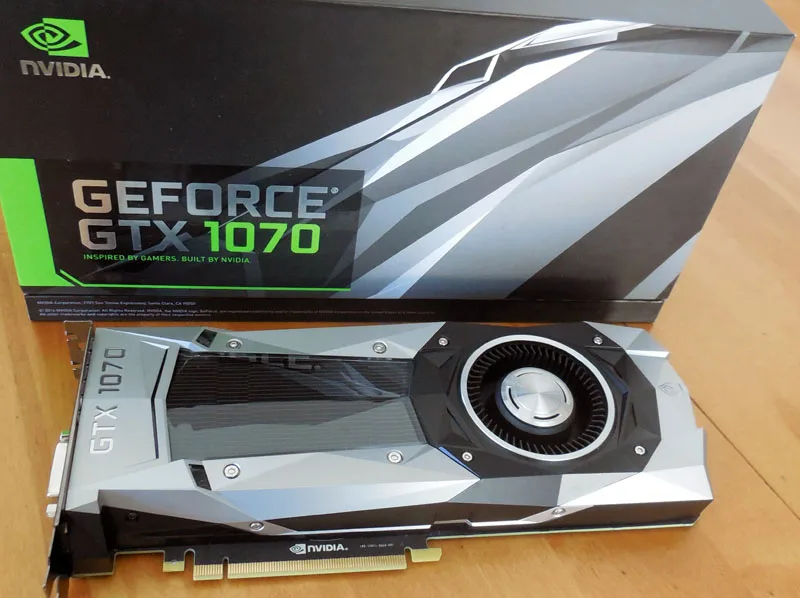 Instead of repeating all of the same information in our GTX 1080 launch review, we are going to highlight the differences between the GTX 1070 and the GTX 1080, and then we will benchmark it against a similar but updated benching suite to see just how capable it is.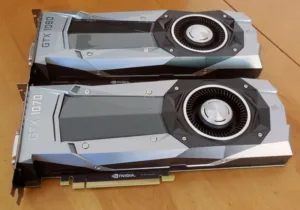 Since the GTX 1070 is based on the same GP104 GPU used in the GeForce GTX 1080, the GeForce GTX 1070 supports all of the same new features that NVIDIA's Pascal architecture brings. They both deliver high clock speeds while using relatively little power – the GeForce GTX 1070 runs over 1.6 GHz with a TDP of just 150 watts. Pascal's 16nm manufacturing process allows the GTX 1070 GPU to perform faster than prior generation GPUs giving GeForce GTX 1070 a Nvidia-claimed 70% performance lead over the Maxwell generation GeForce GTX 970 which we shall test today.
BabelTechReviews was at Nvidia's GTX 1080 Austin Launch event earlier this month, May 5-8. Nvidia's CEO Jensen had just fully unveiled the new DX12, fully VR-enabled, 7.1 billion transistor Pascal flagship GTX 1080 and he also mentioned the GTX 1070. Nvidia has claimed that the GTX 1080 would be significantly faster than any other single GPU video card while the GTX 1070 would be about as fast as the TITAN X. Today we will give our own testing results of the GTX 1070 and its comparison with the GTX 1080 and the other top cards.
BTR received a GTX 1070 from Nvidia only this past Friday, and for the past two days we have put it through its stock and even some preliminary overclocked paces with our updated 25-game PC benchmark suite against the GTX 1080, the GTX TITAN X and GTX 980 SLI, and also versus the Fury X, AMD's flagship. We have fully updated all AMD cards (Fury X/290X/280X) to their latest Crimson Software drivers, and we have added a GTX 970 EXOC and a GTX 980 for a further comparison, with all GeForce cards updated to their latest drivers released this last Monday, so our test bed is completely up to date and all of our games have been patched to their latest versions as of this morning.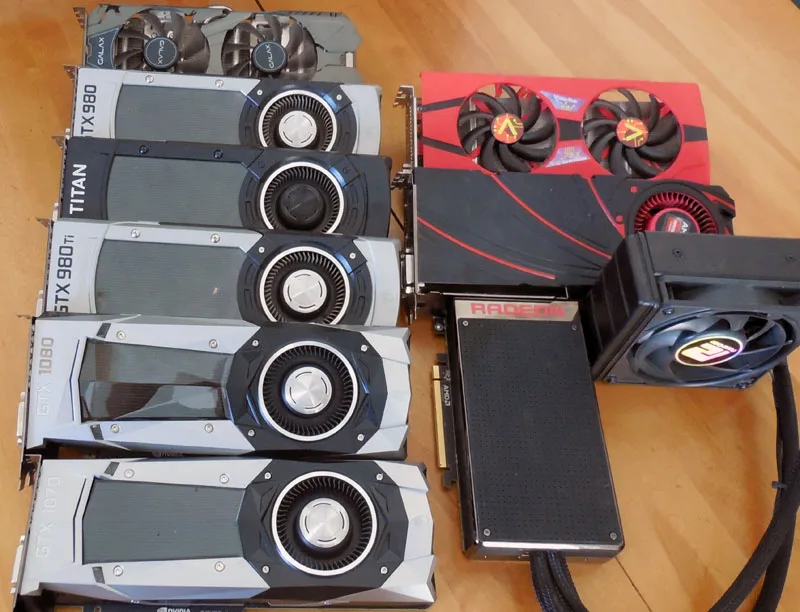 We are testing all of our competing cards on a clean installation of Windows 10 64-bit Home edition, using resolutions of 1920×1080, 2560×1440 and at 4K's 3840×2160. As befits testing top video cards, we use Intel's enthusiast Z97 platform with Core i7 4790K turboed to 4.4GHz by the BIOS, and 16GB of Kingston's 2133MHz Predator DDR3.
Before we give you the results of our performance testing, we want to briefly cover Pascal architecture, as well as detail the specifications and features of the new GTX 1070. Since we benchmark 25 games, we have a much larger benchmark suite than any other English-speaking tech site in the world, so we are going to concentrate on performance and we will only briefly summarize the new features of the GTX 1070 and will go into further detail in future articles. But first, let's bring our readers up to date.
The GTX 980 and the GTX 970 both launched in September 2014 as Maxwell GM204 architecture – a mid-sized chip – and both of them were faster than AMD's flagship at the time, the R9 290X. Afterward, Nvidia launched their $1000 TITAN X as GM110, a big chip Maxwell GPU with 12GB of vRAM followed quickly by their 6GB-equipped flagship gaming card, the GTX 980 Ti for $649 which is slightly faster than the TITAN X in most games. In the meantime, AMD rebadged their 200 series lineup into 300 series, renaming the 290X into the 390X and equipping it with 8GB of slightly faster vRAM. AMD also brought out their new Fiji Flagship, the Fury X at the same $650 price point as the GTX 980 Ti, but its performance generally fell short of the GeForce card.
Key Features of the Pascal GTX 1070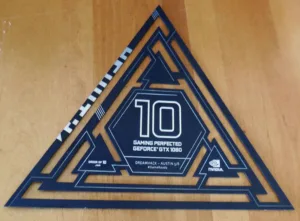 Pascal offers large increases in performance, memory bandwidth, and power efficiency over the current Maxwell architecture. It introduces new graphics features and technologies that confirm the PC as the ultimate platform for playing AAA games and for enjoying virtual reality. All of the features found in the GTX 1080 are also present in the GTX 1070 and we would highly recommend looking back at our GTX 1080 launch article. However, this is a very brief summary:
Nvidia sums up Pascal's features as being "the Perfect 10", this being the GeForce ten series beginning with the release of the GTX 1080, and now, the GTX 1070.
Nvidia has engineered the Pascal architecture to handle the demanding computing and gaming needs of technologies like VR. It incorporates five new technologies:
Next-Gen GPU Architecture. Pascal is optimized for performance per watt. The GTX 1080/1070 are about 3x more power efficient than the Maxwell Architecture.
16nm FinFET Process. The GTX 1080 and the GTX 1070 are the first gaming GPUs designed for the 16nm FinFET process, which uses smaller, faster transistors that can be packed together more densely. Their 7.2 billion transistors deliver a significant increase in performance and efficiency.
Advanced Memory. Pascal-based GTX 1080 GPUs are the first to use 8GB of Micron's GDDR5X memory while the GTX 1070 uses 8GB of the fastest available GDDR5 memory.
Superb Craftsmanship. Increases in bandwidth and power efficiency allow the GTX 1080 and the GTX 1070 to run at really high clock speeds while only using 180 watts and 150 watts of power respectively. New to Pascal is asynchronous compute. And new GPU Boost 3 technology supports advanced overclocking functions.
Groundbreaking Gaming Technology. New VRWorks software features let game developers bring more immersion to gaming environments. And Nvidia's Ansel technology lets gamers share their gaming experiences and explore gaming worlds in new ways.
The next generation of games will not only look better but run faster on the GeForce GTX 1080 and the GTX 1070. Nvidia has developed a number of advancements for virtual reality – reducing latency, improving image quality, and bringing a whole range of new content to VR.
The GTX 1080 Pascal GPU
First, take a look at the GTX 1080 block diagram which proved to be the world's fastest GPU as we have shown.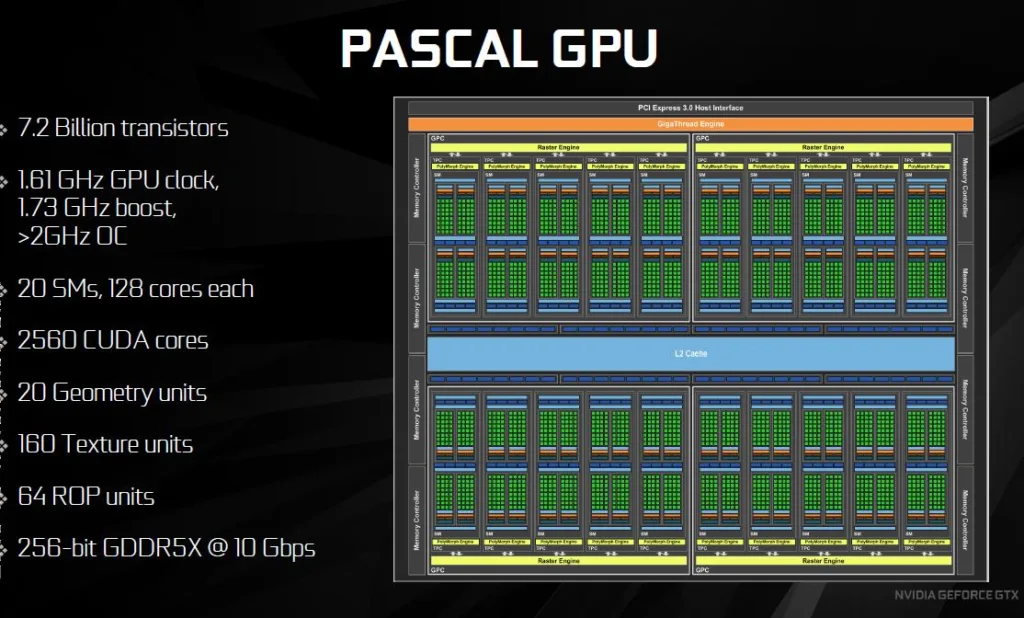 The GTX 1080 GPU has all 4 Graphics Processing clusters enabled with 64 Raster Operating Units, 20 SMs of 128 Cores each totaling 2560 CUDA cores, 20 Geometry units and 160 Texture units. It uses Micron's 256-bit GDDR5X at 10 Gbps which makes it significantly faster than GDDR5 and its 1.61GHz GPU clock has a boost of 1.73GHz or higher. We also easily managed better than a 1.9 GHz boost clock with complete stability and an offset of +400MHz to its GDDR5X memory (5400MHz).
The GTX 1070 has 3 Graphics processing clusters and it uses 15 Streaming Multiprocessors and 1920 CUDA Cores. The GeForce GTX 1070 runs at a Boost Clock Speed of 1683MHz. Its 120 Texture Units provide a peak texture fill rate of nearly 202 Gigatexels/sec. The memory subsystem of the GeForce GTX 1070 features a fully enabled 256bit memory interface, and ships with 8 Gbps of fast GDDR5 memory, providing up to 256 GB/sec of peak memory bandwidth, but not up to the speeds of the GTX 1080's GDDR5X. We also managed more than a 200MHz offset to our sample of the GTX 1070's core with the new Precision XOC and a surprising +500MHz offset to the GDDR5 memory to 4500MHz.
As befits a new architecture, Pascal uses a more advanced and efficient memory compression system. More effective memory compression means a significant savings in bandwidth which make for more efficiency and for faster video cards than Maxwell.
The Founder's Edition of the GTX 1070
The GeForce GTX 1070 Founders Edition, like the GTX 1080 Founder's Edition, are reference graphics card designed and built by Nvidia. The GTX 1070 Founder's Edition will sell for $459, $80 more than the base models of the GTX 1070 partner cards. It was crafted with premium materials and components, including a die cast aluminum body and a low profile backplate. It is ideal for situations where air needs to be exhausted out of a case, and perfect for SLI compared with open designs which do not do well in small form factor cases.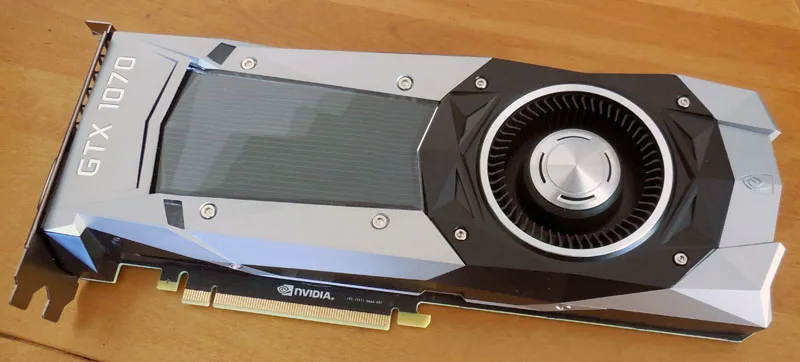 Underneath the GeForce GTX 1070's metal shroud lies an aluminum heatsink. Embedded in the base of the heatsink are three copper heatpipes which are responsible for drawing heat off the GPU. Heat from the heatpipes is then dissipated by the aluminum heatsink. Finally, a metal baseplate is placed on top of low profile components, providing clean air channels for the thermal efficiency and quiet cooling.

The GTX 1070 comes in a big and rather heavy box. If you remove the top of the box, it makes a nice display for the card.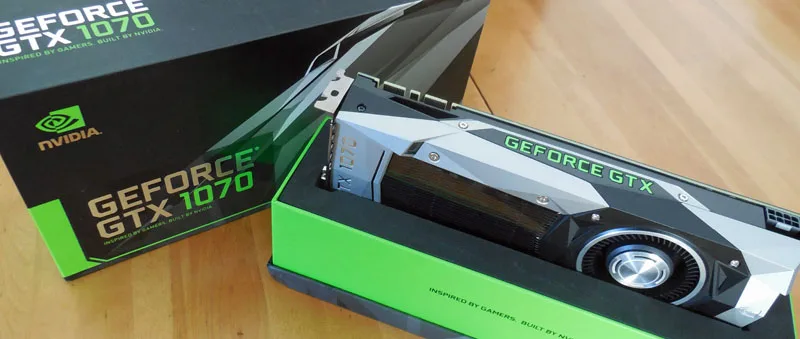 The Founders Edition of the GTX 1080 and the GTX 1070 are premium built by Nvidia reference versions that will be available for purchase for the entire life of the Pascal line instead of only at launch.
Specifications
Here are the specifications for the GTX 1080: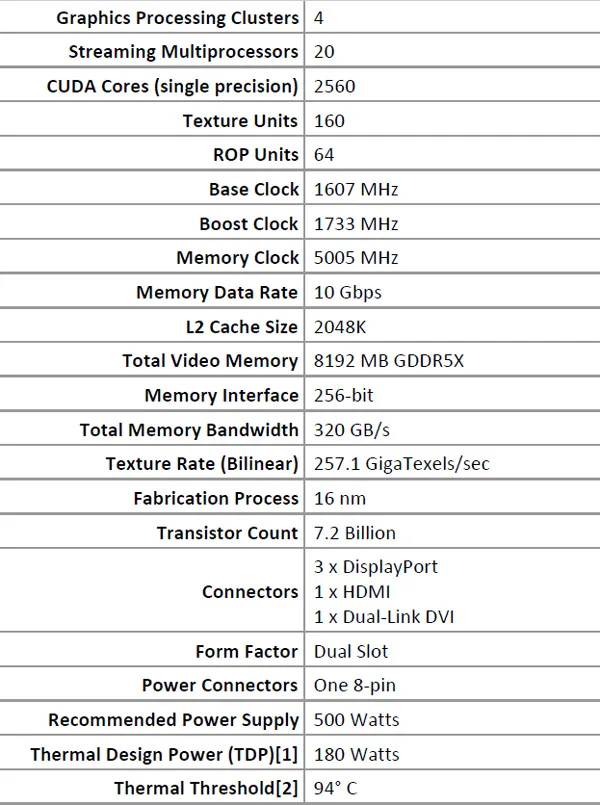 Now let's look at the specifications for the GTX 1070: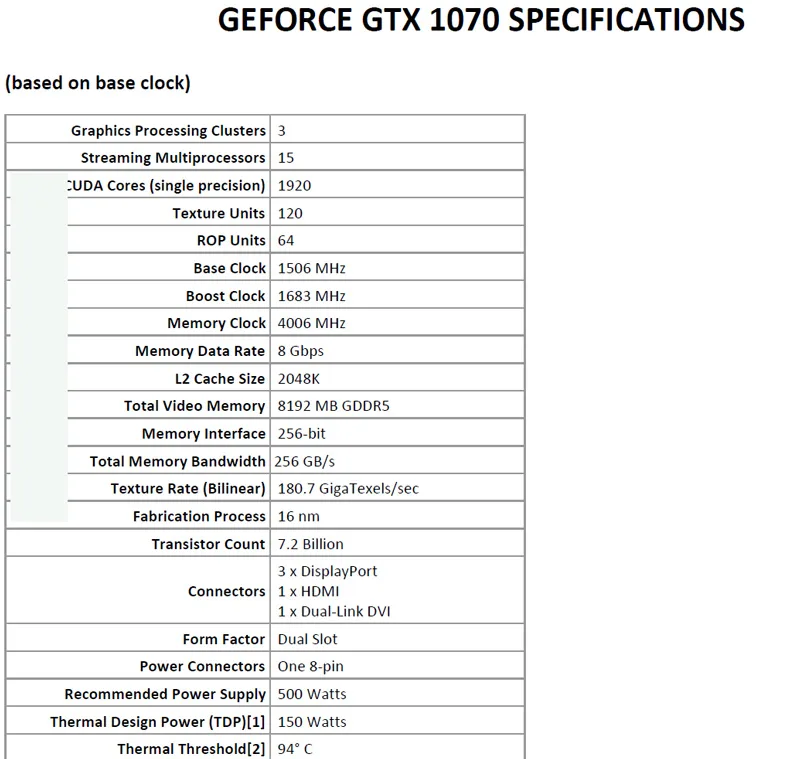 The connectors for the GTX 1070 are identical to the GTX 1080's: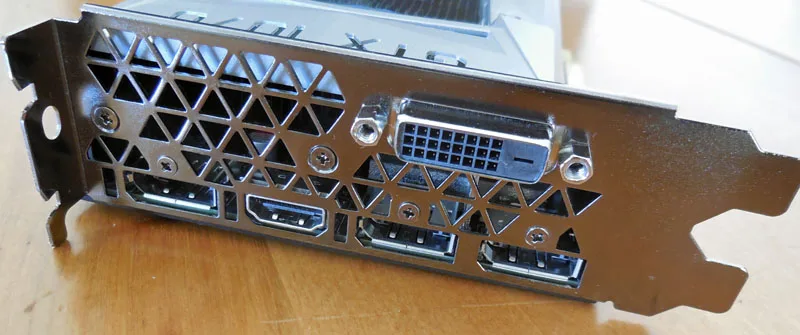 How does the GTX 1070 compare with the GTX 1080 and with their rival, AMD's Fury X?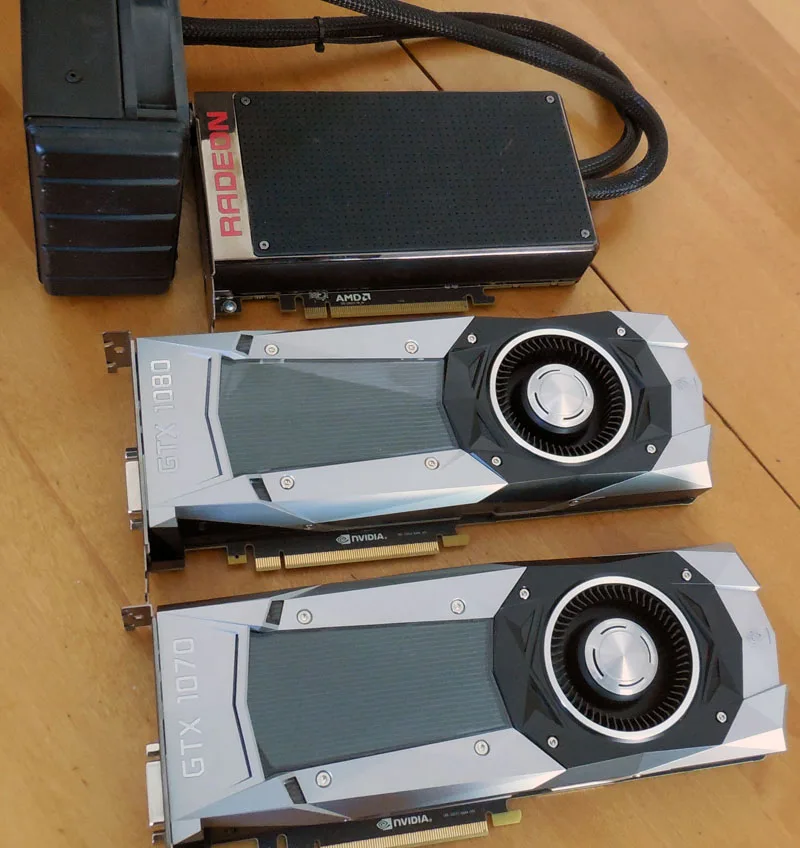 First of all, as we saw in our GTX 1080 launch article, the GTX 1080 is simply in a class above the Fury X and even well above GTX 980 SLI, GTX 980 Ti and above the TITAN X. However, the GTX 1070 is slower than the GTX 1080, and in a very few games it trades blows with the Fury X, in most others, it is much faster We are going to look at the performance of 25 games to compare the GTX 1070 with the GTX 1080, with the TITAN X, with the GTX 980 Ti and with the GTX 980 SLI, and versus the Fury X. And of course, we want to see how much the GTX 1070 has progressed over the Maxwell GTX 970 by comparing with the mildly factory overclocked GALAX GTX 970 EXOC.
However, before we do performance testing, let's take a closer look at the GTX 1080 and check out overclocking and noise.
Overclocking, throttling, and noise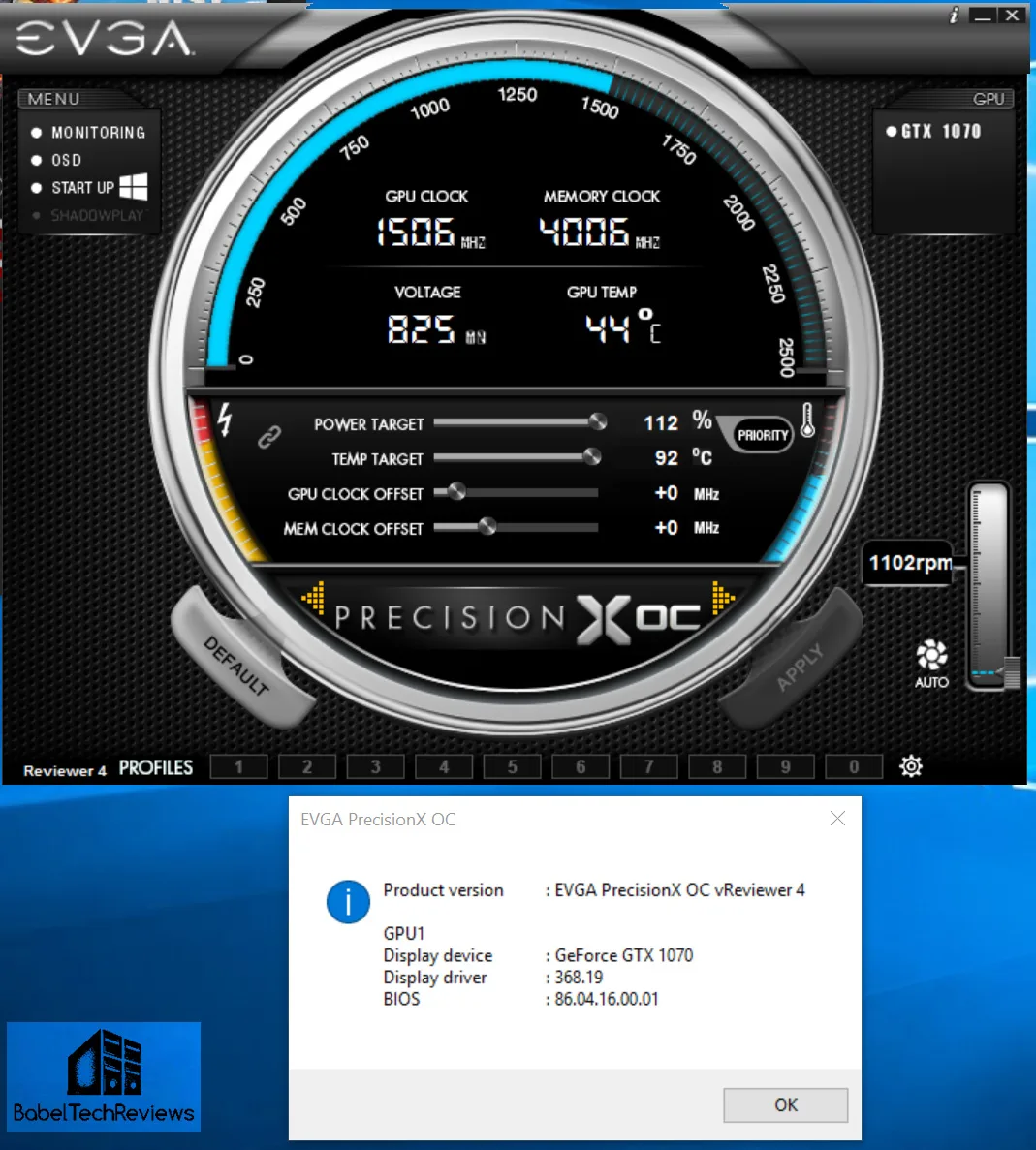 The GTX 1070, like the GTX 1070, are very quiet cards even when overclocked. However, the GTX 1070 is slightly more audible under load much like the reference versions of the GTX 970 is slightly louder than the GTX 980. We did not get to spend more than a few minutes with the new Precision X and we did not use its automatic overclocking scanner but instead settled on a core offset of +240MHz and +400MHz added to the memory clocks. This is a very preliminary overclock that is probably a little too aggressive.
Throttling and the GTX 1070 at stock in a warm room and closed case
Let's look at a series of screen shots using Precision XOC starting with completely stock values and moving up to our highest stable Heaven 3.0 overclock, and compare the GPU 3.0 Boost clocks, memory clocks, temperatures, throttling, and fan profile. As we loop Heaven continually at 2560×1440 in a window, we first start with everything completely at default stock settings.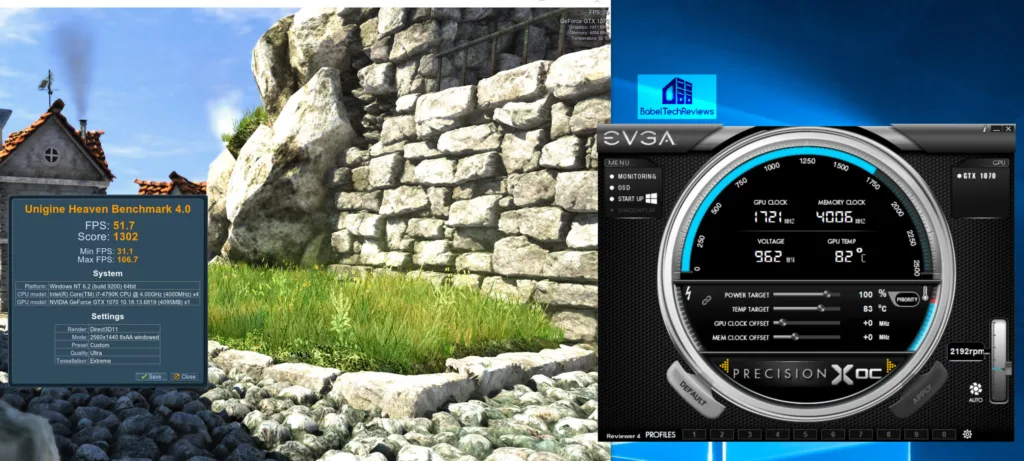 Maximum boost at absolute default (power target is 100% temp is set to 83C; everything else is automatic) is 1822MHz when it is cool and it drops to 1797MHz as it begins to warms up. Voltage varies from 900mV to about 993mV as it starts to heat up; at 82C, the boost clocks drop to an average core clock of 1721MHz. At stock values, it is pretty quiet with the fan speeds around 2180 rpm.
And now we want to look at our absolute worst case of thermal throttling in a closed tower case with Heaven looping for about an hour in a warm (75F) room: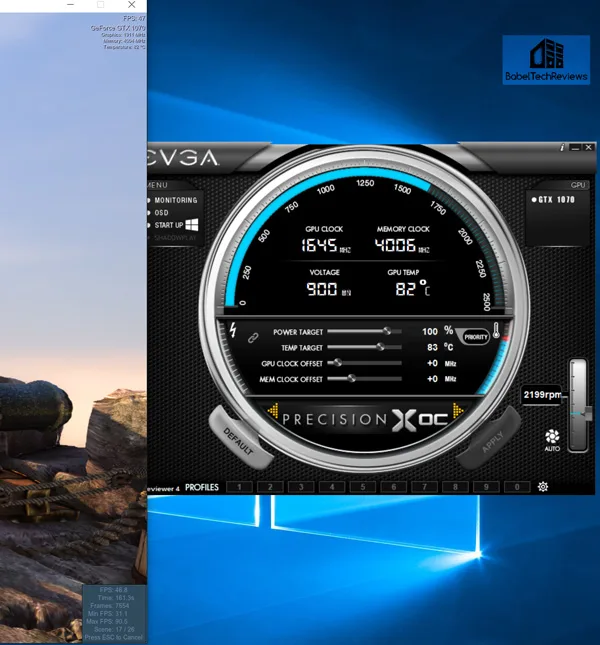 Ending the Throttle with the Temperature Target set to Maximum
The worst throttle that I saw was 1645MHz as above because the temperatures rose to 83C and the fan profile (and temp/power targets) were left at stock. I could turn up the fan speed, but instead, I now moved the temperature target up to its maximum, 94C, along with the power target to 112%. This is how we always benchmark video cards at BabelTechReviews – voltage and fan profile are left on automatic.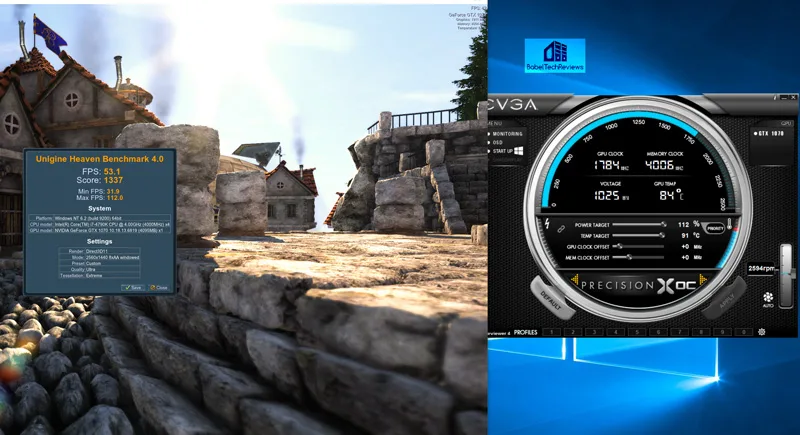 With Heaven continuing to loop, the GPU temperatures in a warm room reached 86C at absolute peak, but generally stablized at 84C and will no longer throttle the clockspeeds resulting in a corresponding increase in performance. Boost is mostly locked on now at 1784MHz with the voltage automatically set around 1025mV. Automatic fan speeds now run at 2600 rpm and it is still quiet.
Next, we overclock the GTX 1070 to our maximum tested preliminary stable overclock in Heaven, but leave everything else on automatic – except for the Power and Temperature targets which are always now left on Maximum.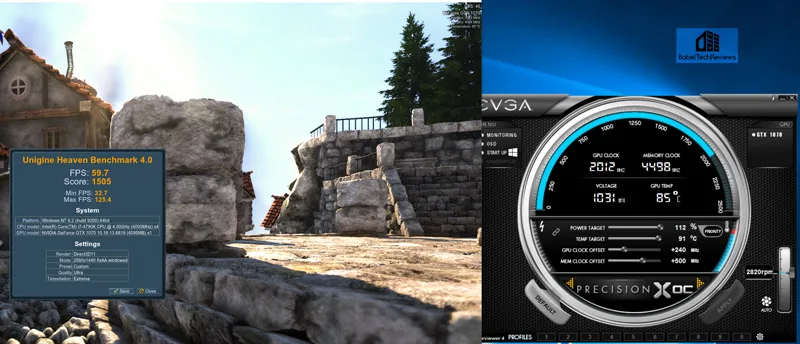 We saw our boost clocks now reach as high as 2012 MHz and our memory clocks hit 4497MHz. Temperatures did not exceed 86C at any point and the voltage automatically moves up to about 1031mV with temperatures holding steady at 85C. The fan is more noticeable at 2820 rpm, but still decently quiet at our maximum overclock. And of course, the performance in Heaven 3.0 increases significantly with this overclock. We added no extra voltage and the fan profile was left on automatic and we saw no more throttling!
Performance scaling with 2 DX12 Games
We only had time to test two DX12 games at our maximum overclock. Ashes of the Singularity gained 3.6 fps at 4K, from 33.5 fps at stock to 37.1 fps, while Hitman gained from 37.3 fps to 41.3 fps at 4K and from 64.4 fps at 2560×1440 to 71 fps. But it is very clear that even this aggressive overclock will not catch up to the GTX 1080's stock performance.
So we can conclude that the GTX 1070 scaling is decent with a solid preliminary overclock that is probably too aggressive for complete stability. We will test overclocking the GTX 1070 with the updated Precision XOC further in an evaluation devoted to overclocking the GTX 1070 next week.
Let's check out performance after we look at our test configuration on the next page.
Test Configuration
Test Configuration – Hardware
Intel Core i7-4790K (reference 4.0GHz, HyperThreading and Turbo boost is on to 4.4GHz as set by the AUS MB BIOS; DX11 CPU graphics), supplied by Intel.
ASUS Z97-E motherboard (Intel Z97 chipset, latest BIOS, PCIe 3.0 specification, CrossFire/SLI 8x+8x)
Kingston 16 GB HyperX Beast DDR3 RAM (2×8 GB, dual-channel at 2133MHz, supplied by Kingston)
GTX 1070, 8GB, Founder's Edition, reference and overclocked, supplied by Nvidia
GTX 1080, 8GB, Founder's Edition, reference clocks supplied by Nvidia
GeForce GTX 980 Ti, 6GB reference clocks, supplied by Nvidia
2 x GeForce GTX 980 in SLI (and also tested as a single card), 4GB, reference clocks, supplied by Nvidia
GALAX GTX 970, 4GB, GALAX factory overclock, supplied by GALAX
GTX 980, 4GB, reference clocks, supplied by Nvidia
GTX TITAN, 12GB, reference clocks, supplied by Nvidia
PowerColor R9 Fury X 4GB, stock clocks.
VisionTek R9 290X, 4GB, reference clocks with fan set to 100 percent to prevent throttling
PowerColor R9 280X, 3GB, reference clocks.
Two 2TB Toshiba 7200 rpm HDDs
EVGA 1000G 1000W power supply unit
Cooler Master 2.0 Seidon, supplied by Cooler Master
Onboard Realtek Audio
Genius SP-D150 speakers, supplied by Genius
Thermaltake Overseer RX-I full tower case, supplied by Thermaltake
ASUS 12X Blu-ray writer
Monoprice Crystal Pro 4K
Test Configuration – Software
Nvidia's GeForce GTX 1080 Launch Drivers 368.13 and 368.16 (they differ only that 368.16 was written to enable use of the new Precision X) were used for the GTX 1080, the GTX TITAN X and for GTX 980 SLI. Launch drivers 368.19 were used for the GTX 1070 and the latest public WHQL 368.22 drivers were used to benchmark the GTX 980 Ti, the GTX 980, and the GTX 970 EXOC. High Quality, prefer maximum performance, single display.
The AMD Crimson Software very latest 16.5.3 hotfix was used for benching the Fury X; 16.5.2.2 hotfix was used for the 290X and the 280X. Global settings are noted below after the benchmark suite.
VSync is forced off in the control panels.
AA enabled as noted in games; all in-game settings are specified with 16xAF always applied
All chart results show average frame rates in bold including minimum frame rates shown in italics on the chart next to the averages in smaller font.
Highest quality sound (stereo) used in all games.
Clean install of Windows 10 64-bit Home edition, all DX11 titles were run under DX11 render paths. Our DX12 titles are run under the DX12 render path. Latest DirectX
All games are patched to their latest versions at time of publication.
EVGA's Precision XOC, latest beta reviewer's version was used for all Nvidia cards.
The 25 PC Game benchmark suite & 1 synthetic test
Synthetic
Firestrike – Basic & Extreme

DX11* Games

Crysis 3
Metro: Last Light Redux (2014)
GRID: Autosport
Middle Earth: Shadows of Mordor
Alien Isolation
Dragon's Age: Inquisition
Dying Light
Total War: Attila
Grand Theft Auto V
ProjectCARS
the Witcher 3
Batman: Arkham Knight
Mad Max
Fallout 4
Star Wars Battlefront
Assassin's Creed Syndicate
Just Cause 3
Rainbow Six Siege
DiRT Rally
Far Cry Primal
Tom Clancy's The Division
DOOM (OpenGL game)
DX12 Games
Ashes of the Singularity
Rise of the Tomb Raider
Hitman
Here are the settings that we always use in AMD's Crimson Control Center for our default benching. They are identical settings to what we used in the older Catalyst Control Center. The new Power Efficiency Toggle which was made available for the Fury X and some 300 series cards, is left off in our benching.
Nvidia's Control Panel settings:
Let's head to our performance charts.
Performance summary charts & graphs
Here are the summary charts of 25 games and 1 synthetic test. The highest settings are always chosen and it is usually DX11; DX12 is picked above DX11 where available, and the settings are ultra or maxed. Specific settings are listed on the performance charts. The benches were run at 1920×1080, 2560×1440, and at 3840×2160. All results, except for FireStrike, show average framerates and higher is always better. Minimum frame rates are shown when they are available and they make sense, next to the averages but they are in italics and in a slightly smaller font. In-game settings are fully maxed out and they are identically high or ultra across all platforms.
The Big Picture
Here is our main chart which we call The Big Picture. Please note that the Fury X is run on this week's latest Crimson Software hotfix driver 16.5.3 while the 290X and the 280X are run on last week's 16.5.2.1 hotfix drivers. The GeForce 1070 and 1080 cards were tested on their respective launch drivers including the TITAN X and GTX 980 SLI which were tested on the GTX 1080's launch drivers, while the GTX 980 Ti, the GTX 980, and the GTX 970 EXOC were tested on the latest publicly available WHQL drivers released on Monday. Everything is up to date including all games which were patched to their latest versions as of last night.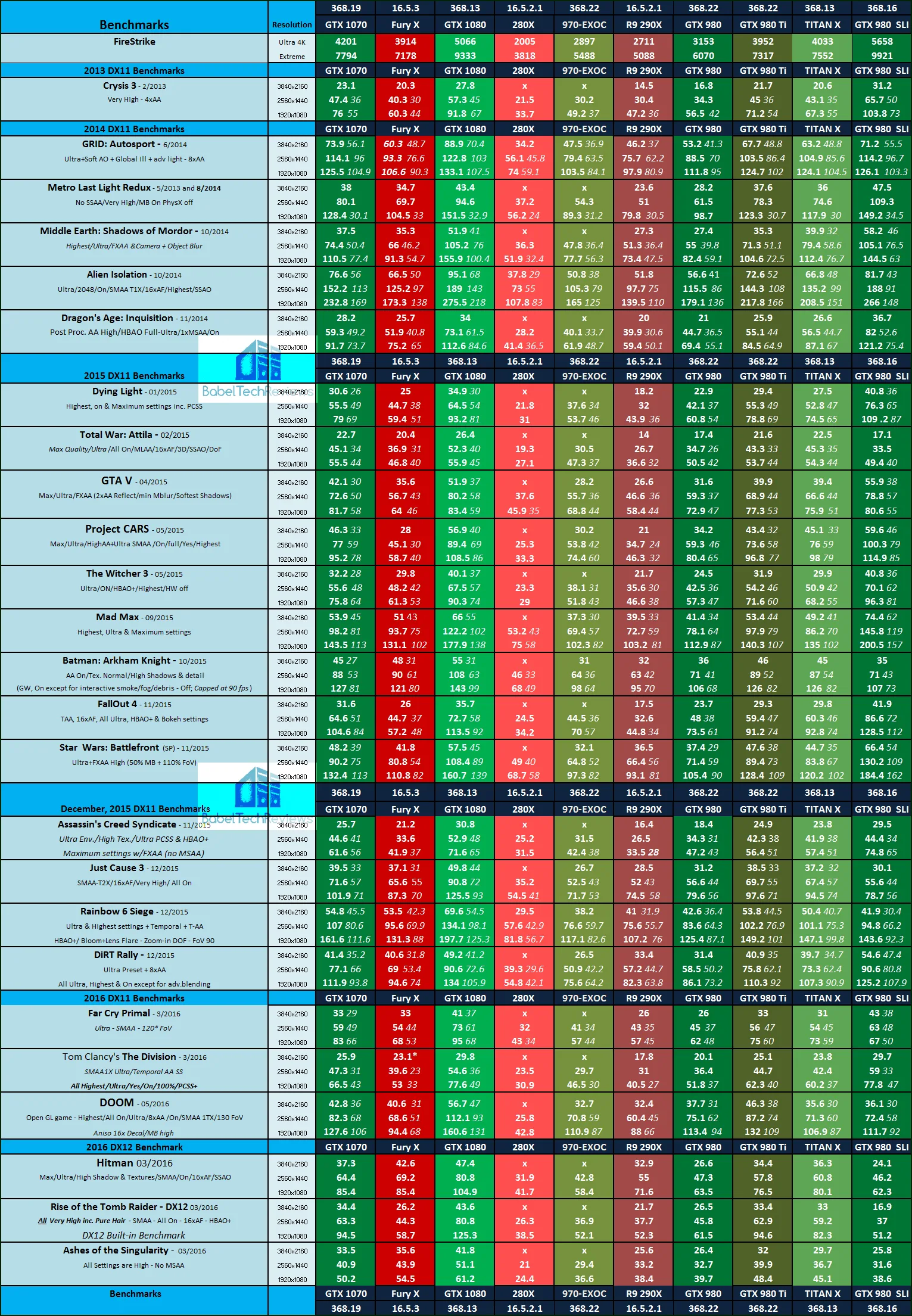 The GTX 1080 generally wins almost every game benchmark followed generally by the GTX 1070. GTX 980 SLI is quite variable. The GTX 1070 is a bit slower than GTX 980 SLI, but it certainly confirms Nvidia's claim that it is "as fast as the TITAN X" and it trades blows with the GTX 980 Ti also. The GTX 1070 is also faster than the Fury X, although the Fury X manages to win or tie a few game benchmarks. We can also see that GTX 1070 is more than 60 percent faster than the overclocked GTX 970 EXOC.
The 5 Fastest Single-GPU cards in the world compared
Since the Big Picture is total information overload, let's drop the 280X, the 290X, the GTX 970, the GTX 980 and GTX 980 SLI, and just concentrate on the highest performing five single GPU cards for an easier comparison. Here are the five fastest single-GPU cards in the world – the GTX 1070, the GTX 1080, the GTX 980 Ti, the Fury X and the TITAN X: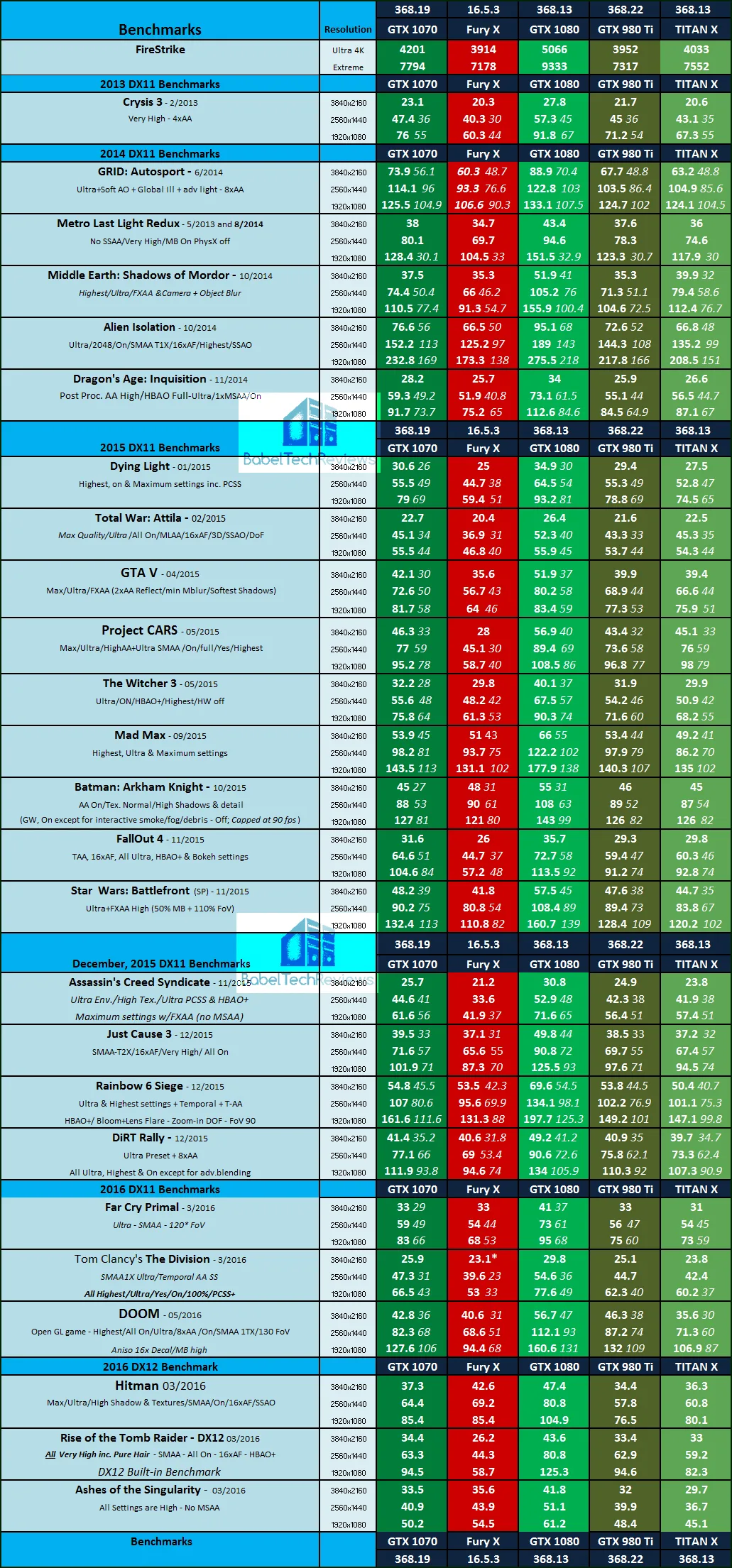 Since there is still a lot to look at, let's break the chart into smaller charts and first look at 2013/2014 games: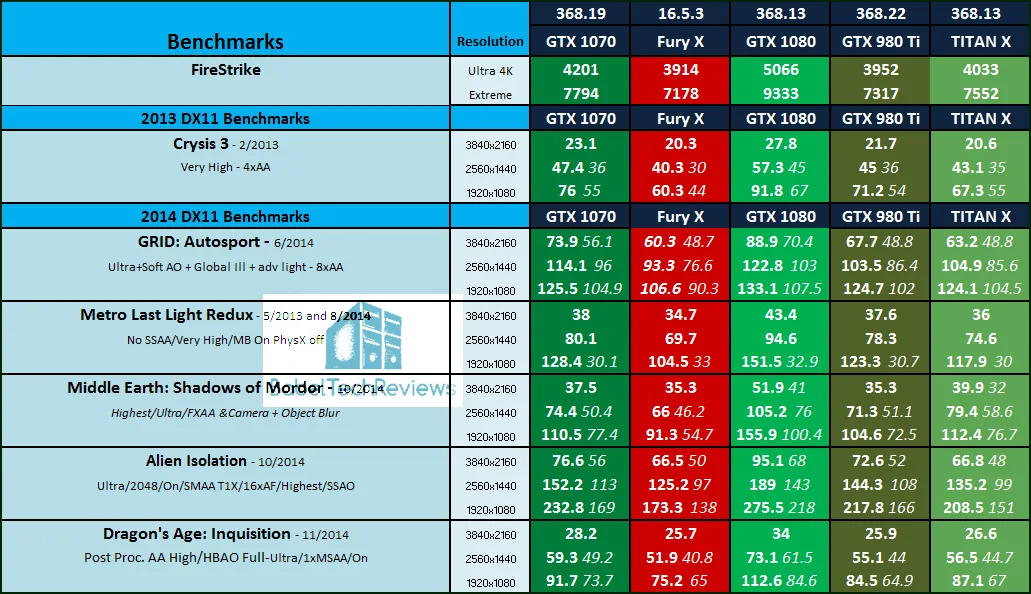 Now let's look at 2015 games: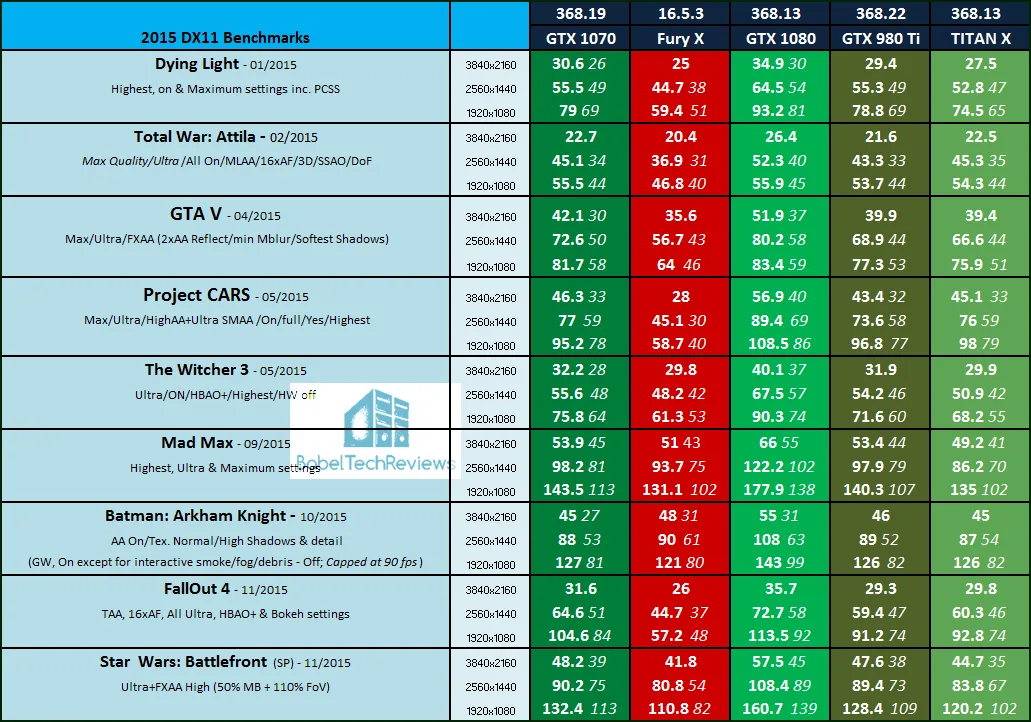 Now let's look at games released at the end of 2015 into 2016 and also see what happens with 2016 DX12 games.
The GTX 1080 is the fastest card with no equal, while the GTX 1070 generally comes in second place.
Please note that DOOM is still a brand new benchmark for us. We chose a preliminary benchmark run that is repeatable and consistent although there are more demanding areas of the game. We will update our DOOM benchmark later on as we progress through the game. However, in its current form, the DOOM benchmark will show relative performance between the video cards that we tested. It is an excellent game for benchmarking as it is demanding, but well-optimized. We have updated and maxed out the anisotropic filtering to 16x and have also increased the field of view to 130 percent from the 90 percent that was used in our GTX 1080 launch article to make it more demanding for all of the cards that are tested.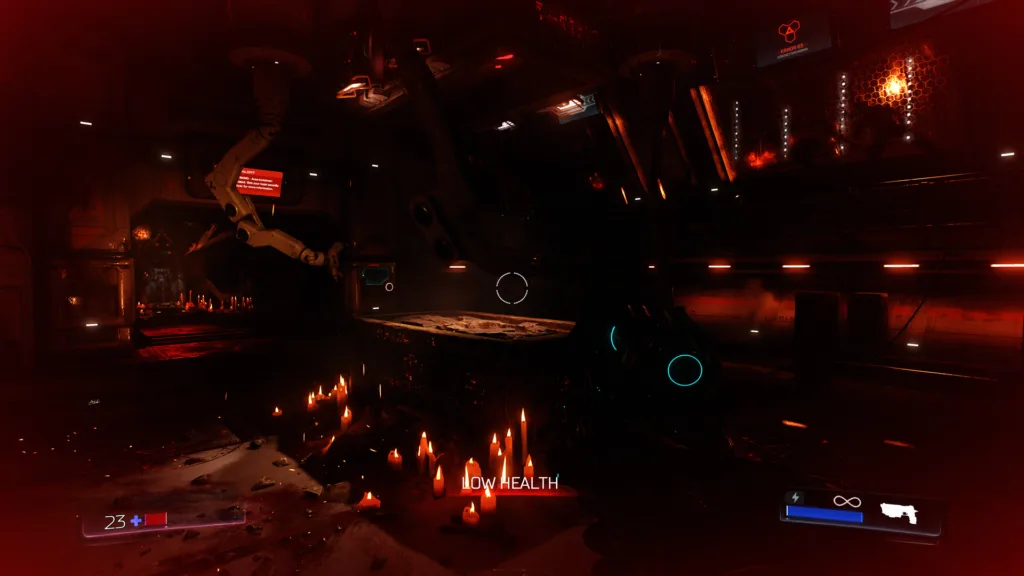 The GTX 1070 vs. the GTX 1080
Now we break up the charts differently so we can focus on just comparing the GTX 1070 with the GTX 1080:

It is pretty clear that the GTX 1080 is significantly faster than the GTX 1070 and that overclocking the GTX 1070 on air or water will probably not match a stock GTX 1080.
The GTX 1070 vs. the Fury X vs. the GTX 1080
Here is the GTX 1070 compared with AMD's fastest single card, the Fury X, with the GTX 1080 also added.

Let's count the Fury X wins out of 75 benchmarks. Fury X wins 2 benches in Batman: Arkham Knight, it ties at 4K in Far Cry Primal although the GTX 1070 has higher minimums, the Fury X wins 2 benches in Hitman with one tie, and Fury X wins all three benches in Ashes of the Singularity although asynchronous compute is not yet enabled for any Nvidia card yet, something that Pascal is supposed to excel at compared with Maxwell.
Out of 75 individual game benchmarks, Fury X wins 6 and ties in 2 others compared with the much less expensive GTX 1070. That means that the GTX 1080 wins 67 benchmarks and ties two against the Fury X – a blowout against the much more expensive and power-guzzling AMD flagship card. And of course, the GTX 1080 runs away from the Fury X as the Fury X doesn't win a single benchmark against the new GTX 1080, and it doesn't even come close.
Let's head for our conclusion.
Conclusion
This has been quite an enjoyable, if far too short, 2-day exploration for us in evaluating our new GTX 1070 since Friday night of this last week. It did incredibly well performance-wise comparing it to GTX 980 Ti and the TITAN X where it generally matches or beats the more expensive last generation cards. And it is a blowout in favor of the new GTX 1080 where other top single GPU cards are tested. The GTX 1070 beats its far more expensive flagship AMD competitor, the Fury X, by testing 75 individual game benchmarks, winning 67 and tying in 2 others!
We are totally impressed with this high-performance single 8-pin PCIe cabled Pascal chip that has such good overclockability and an excellent price considering its more expensive competition. Priced beginning at $379, and $449 as tested, it excels in price to performance compared with the $650 GTX 980 Ti and the $1,000 TITAN X, and it is also a better deal, performing well above the $650 Fury X while using far less power, and it offers more advantages and new features for its price. The reference/Founder's Edition GTX 1070 is not intended as a budget card but it brings good value in every sense of the word at $449.
Although the GTX 1070 is not a budget card, it has been priced between $379 to $449 to slot into the GTX 980's current price range even though it is far more powerful. We see good overclockability with quietness at stock voltage and fan profile from the reference/Founder's design GTX 1070.
Pros
TDP and power draw is almost unbelievable at 150W for such a high-performance GPU, using only one 8-pin PCIe cable; in contrast the Fury X requires two 8-pin cables!
Overclockability is very good so far – GPU Boost 3.0 works with the Precision X overclock utility.
The reference design cooling is quiet and efficient; the card and well-ventilated case stay cool even well-overclocked on a hot Summer-like day as long as the Power Target and Temperature Targets are moved above their defaults.
It is possible to use two or more of these cards for extreme SLI performance.
3D Vision 2 and PhysX enhance gaming immersion and Nvidia has made PhysX available free of charge to devs. And VR becomes very possible with the GTX 1070.
GameWorks brings new features to gaming and to VR.
New Fast Sync allows for high performance decoupling from the monitor, without tearing at very high frame rates.
The GTX 1070 is the second fastest single-GPU video card trading blows with the far more expensive GTX 980 Ti and TITAN X Pricing is good as it has launched near GTX 980 pricing and far below GTX 980 Ti and Fury X pricing.
The backplate is a nice touch and the updated industrial design is eyecatching.
Cons
The Verdict:
If you are buying a top performing video card right now and looking for the highest performance at a really good price, the GTX 1070 is the only choice since the GTX 1080 is much more expensive.
We would like to award the Founder's Edition of the GTX 1070 the BabelTechReviews Highly Recommended Award. And we mean *Highly* recommended!
We do not know what the future will bring, but the GTX 1070 brings a superb performer to the Pascal GeForce family. With great forward looking features, you can be assured of immersive gaming by picking this card for 2560×1440 or even 4K and especially for VR. It is overkill for 1080P unless you must have locked on 60fps at 144Hz.
If you currently game on an older video card, you will do yourself a favor by upgrading. The move to a GTX 1070 will give you better visuals on the DX11 and DX12 pathways and you are no doubt thinking of GTX 1070 SLI if you want to get nearly ultimate gaming performance as a solid value.
AMD offers their own set of features including Eyefinity and GCN 2.0. However, Fiji is less power-efficient architecture and AMD has no answer to the GTX 1070 with the Fury X.
We hope that AMD will be able to bring out a new and powerful flagship video card as they are losing market share and margins as they drop the pricing on their entire lineup just to compete on price versus performance against Nvidia. However, we just don't see this happening until next year as they are evidently concentrating on the Polaris mid-range first.
Stay tuned, there is a lot coming from us at BTR. Next, we will test GTX 1070 overclocking with the latest Precision XOC and revisit GTX 1080 overclocking.