Editor's note 07.27.2016.  This review has been updated to not recommend this display.  It has failed and the warranty is only one year.  After the Radeon RX 480 crashed on a mild overclock, a vertical purple line appeared on the left side of the display.
The 28″ Monoprice Crystal Pro 4K (MPCP28UHD) is a new breed of UHD super-thin, LED backlit quality TN displays with fast response time specifications, which operates at 3840×2160 resolution at 60Hz over DisplayPort 1.2.  The Monoprice Crystal Pro 4K is designed to appeal to gamers and especially to those who don't want to spend a lot of money for 4K.
Evidently all 28″ 4K panels are made by the same company, so the comparison pricing Monoprice uses is set at $800 to match the other more well-known display companies.  However, it is regularly available from Monoprice for under $500, and we got a particularly good deal of $429 (or just over $500 total, with Next Day Shipping, California sales taxes, and a 6′ Monoprice DisplayPort 1.2 cable that is not included with the display).  What we want to see is if the features and the electronics that Monoprice uses will match a premium 4K LCD.
We purchased the CrystalPro 4K 28″ display from Monoprice and have spent over two weeks evaluating it with an emphasis on using it for 4K native resolution gaming.  We have benchmarked and played many of the thirty games that we use for our benchmark suite using a Core i7 4790K that turbos all 4 cores to 4.4GHz, 16GB of Kingston Beast DDR3 at 2133MHz, and a single GTX 980 as well as GTX 980 SLI .  We will compare our new Monoprice Crystal Pro 4K display with our much more expensive 30″ HP LP3065 2560×1600 display, as well as with our 120Hz 3D Vision ready 27″ ASUS VG237 which has incredibly fast response times.  And we found it very helpful to upgrade from Windows 7 to Windows 8.1 for a better overall 4K gaming experience.
Monoprice makes several capable monitors that have been well-received.  They started out as an etailer value brand in 2002 that made their name by selling high-quality but low-priced cables.  Soon they expanded to carrying inexpensive toner, and this editor has been using their products since 2009. In 2013, Monoprice expanded yet once again to sell their own brand of quality PC displays.  The CrystalPro is their first 4K display.
We do not expect similar image quality from our new Monoprice 4K display as we do from our HP LP3065, a very high quality "professional" 30″ 2560×1600 display.  A more natural comparison can be more easily made with our 27″ 120Hz ASUS VG 278, since both displays use quality TN displays.  However, the differences between the Monoprice display and the ASUS display are more than a 1″ screen size difference.
The ASUS display is a 27″ HD 1920×1080 120Hz panel that is set up for 3D Vision to use an emitter and active shutter glasses to give a 3D effect.  Since the 3D image is relatively dark compared to viewing in 2D, the screen is very bright for 2D viewing in its default setting.  Although the ASUS screen is very glossy compared to the HP screen, the Monoprice display uses a fast 60Hz panel that is covered by a reflective clear covering that is like almost like a mirror.
Here are the Monoprice Crystal Pro 4K 's specifications and features from the Monoprice web site:
Official Specs: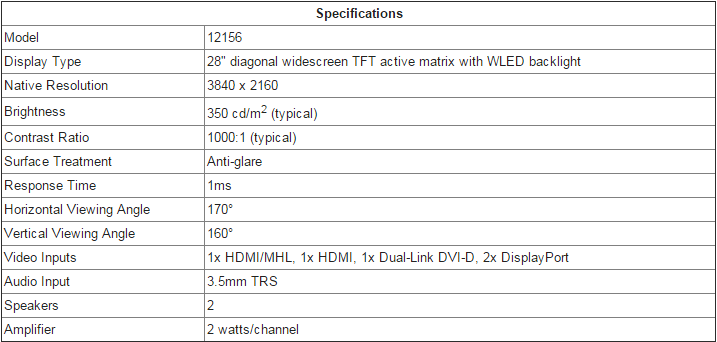 Features
Monoprice Crystal Pro 4K
Treat your eyes to the highest definition and resolution using this 28″ 4K 60Hz Monitor from Monoprice!

This monitor boasts a native resolution of 3840×2160 pixels with a 16:9 aspect ratio. It features five video inputs, including an HDMI®/MHL™ port, an HDMI port, a Dual-Link DVI-D port, and two DisplayPort connections.

The HDMI/MHL port allows you to use a passive MHL cable to connect your smartphone to the monitor. The monitor will provide all the power needed for the MHL connection and will charge your phone at the same time. It will also work as a normal HDMI input port, though it only supports features listed in the 1.4 specification. On the other hand, the dedicated HDMI port is designed to support all of the features in the recently released HDMI 2.0 specification, making this monitor well suited for future developments in video card technology.

Unlike most other 4K monitors, which only support the 4K resolution at a sluggish 30Hz, this monitor supports a full 60Hz refresh rate at the 4K resolution on both of the DisplayPort inputs, so you can take your gaming to the maximum level without compromise.

The monitor has a 3.5mm TRS audio input jack, so you can connect your computer's audio output to the monitor and use the built in 2-watts/channel speakers. When using HDMI or HDMI/MHL video, the audio is automatically output to the speakers.

Graphically, it features a 1ms response time and a 1000:1 contrast ratio (typical). It has a brightness of 350 cd/m2, a 170° horizontal viewing angle, and a 160° vertical viewing angle. The glass features an antiglare coating.

The included stand allows adjustment in four dimensions: height, tilt, swivel, and rotating, so you can easily switch from landscape to portrait orientation. It has a 100×100 VESA mounting pattern.

Note: This monitor supports the 60Hz refresh rate on the DisplayPort inputs only. For the optimum (60Hz) experience, you should use a DisplayPort 1.2 cable, such as PID 10582. Note that a DisplayPort cable is NOT included with the monitor.
The specs and the features look great, so let's unbox the Monoprice Crystal Pro 4K and set it up for evaluation.