Editor's note 07.27.2016. This review has been updated to not recommend this display. It has failed and the warranty is only one year. After the Radeon RX 480 crashed on a mild overclock, a vertical purple line appeared on the left side of the display.
The 28″ Monoprice Crystal Pro 4K (MPCP28UHD) is a new breed of UHD super-thin, LED backlit quality TN displays with fast response time specifications, which operates at 3840×2160 resolution at 60Hz over DisplayPort 1.2. The Monoprice Crystal Pro 4K is designed to appeal to gamers and especially to those who don't want to spend a lot of money for 4K.
Evidently all 28″ 4K panels are made by the same company, so the comparison pricing Monoprice uses is set at $800 to match the other more well-known display companies. However, it is regularly available from Monoprice for under $500, and we got a particularly good deal of $429 (or just over $500 total, with Next Day Shipping, California sales taxes, and a 6′ Monoprice DisplayPort 1.2 cable that is not included with the display). What we want to see is if the features and the electronics that Monoprice uses will match a premium 4K LCD.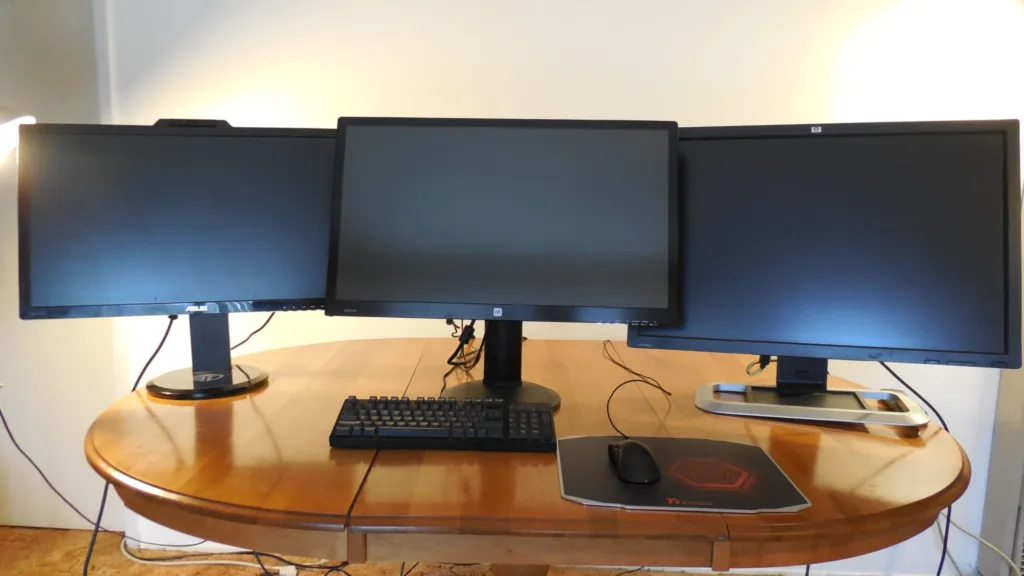 We purchased the CrystalPro 4K 28″ display from Monoprice and have spent over two weeks evaluating it with an emphasis on using it for 4K native resolution gaming. We have benchmarked and played many of the thirty games that we use for our benchmark suite using a Core i7 4790K that turbos all 4 cores to 4.4GHz, 16GB of Kingston Beast DDR3 at 2133MHz, and a single GTX 980 as well as GTX 980 SLI . We will compare our new Monoprice Crystal Pro 4K display with our much more expensive 30″ HP LP3065 2560×1600 display, as well as with our 120Hz 3D Vision ready 27″ ASUS VG237 which has incredibly fast response times. And we found it very helpful to upgrade from Windows 7 to Windows 8.1 for a better overall 4K gaming experience.
Monoprice makes several capable monitors that have been well-received. They started out as an etailer value brand in 2002 that made their name by selling high-quality but low-priced cables. Soon they expanded to carrying inexpensive toner, and this editor has been using their products since 2009. In 2013, Monoprice expanded yet once again to sell their own brand of quality PC displays. The CrystalPro is their first 4K display.
We do not expect similar image quality from our new Monoprice 4K display as we do from our HP LP3065, a very high quality "professional" 30″ 2560×1600 display. A more natural comparison can be more easily made with our 27″ 120Hz ASUS VG 278, since both displays use quality TN displays. However, the differences between the Monoprice display and the ASUS display are more than a 1″ screen size difference.
The ASUS display is a 27″ HD 1920×1080 120Hz panel that is set up for 3D Vision to use an emitter and active shutter glasses to give a 3D effect. Since the 3D image is relatively dark compared to viewing in 2D, the screen is very bright for 2D viewing in its default setting. Although the ASUS screen is very glossy compared to the HP screen, the Monoprice display uses a fast 60Hz panel that is covered by a reflective clear covering that is like almost like a mirror.
Here are the Monoprice Crystal Pro 4K 's specifications and features from the Monoprice web site:
Official Specs: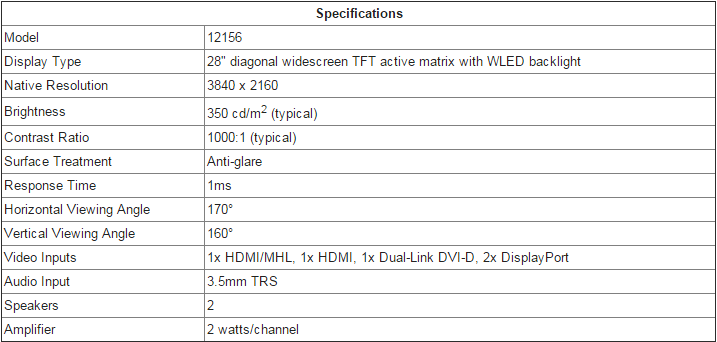 Features
Monoprice Crystal Pro 4K
Treat your eyes to the highest definition and resolution using this 28″ 4K 60Hz Monitor from Monoprice!

This monitor boasts a native resolution of 3840×2160 pixels with a 16:9 aspect ratio. It features five video inputs, including an HDMI®/MHL™ port, an HDMI port, a Dual-Link DVI-D port, and two DisplayPort connections.

The HDMI/MHL port allows you to use a passive MHL cable to connect your smartphone to the monitor. The monitor will provide all the power needed for the MHL connection and will charge your phone at the same time. It will also work as a normal HDMI input port, though it only supports features listed in the 1.4 specification. On the other hand, the dedicated HDMI port is designed to support all of the features in the recently released HDMI 2.0 specification, making this monitor well suited for future developments in video card technology.

Unlike most other 4K monitors, which only support the 4K resolution at a sluggish 30Hz, this monitor supports a full 60Hz refresh rate at the 4K resolution on both of the DisplayPort inputs, so you can take your gaming to the maximum level without compromise.

The monitor has a 3.5mm TRS audio input jack, so you can connect your computer's audio output to the monitor and use the built in 2-watts/channel speakers. When using HDMI or HDMI/MHL video, the audio is automatically output to the speakers.

Graphically, it features a 1ms response time and a 1000:1 contrast ratio (typical). It has a brightness of 350 cd/m2, a 170° horizontal viewing angle, and a 160° vertical viewing angle. The glass features an antiglare coating.

The included stand allows adjustment in four dimensions: height, tilt, swivel, and rotating, so you can easily switch from landscape to portrait orientation. It has a 100×100 VESA mounting pattern.

Note: This monitor supports the 60Hz refresh rate on the DisplayPort inputs only. For the optimum (60Hz) experience, you should use a DisplayPort 1.2 cable, such as PID 10582. Note that a DisplayPort cable is NOT included with the monitor.
The specs and the features look great, so let's unbox the Monoprice Crystal Pro 4K and set it up for evaluation.
Unboxing
The Crystal Pro 4K that we purchased from Monoprice comes packed tightly in a sturdy cardboard box which is used to advertise its features at retail as well as serve as a shipping box. Our box arrived rather beat up but the precious contents were undamaged.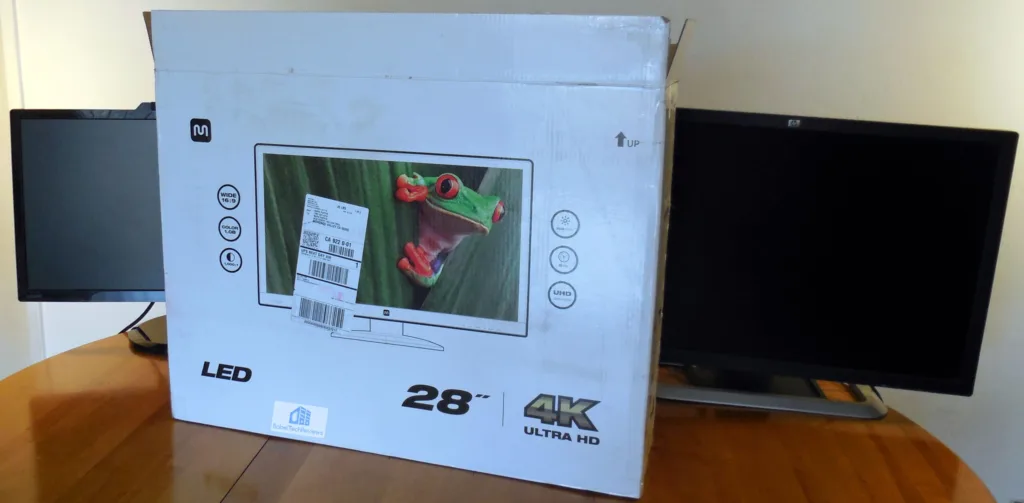 This is the other side of the box again emphasizing the Monoprice Crystal Pro 4K as a 28″ 4K ready LED backlit LCD.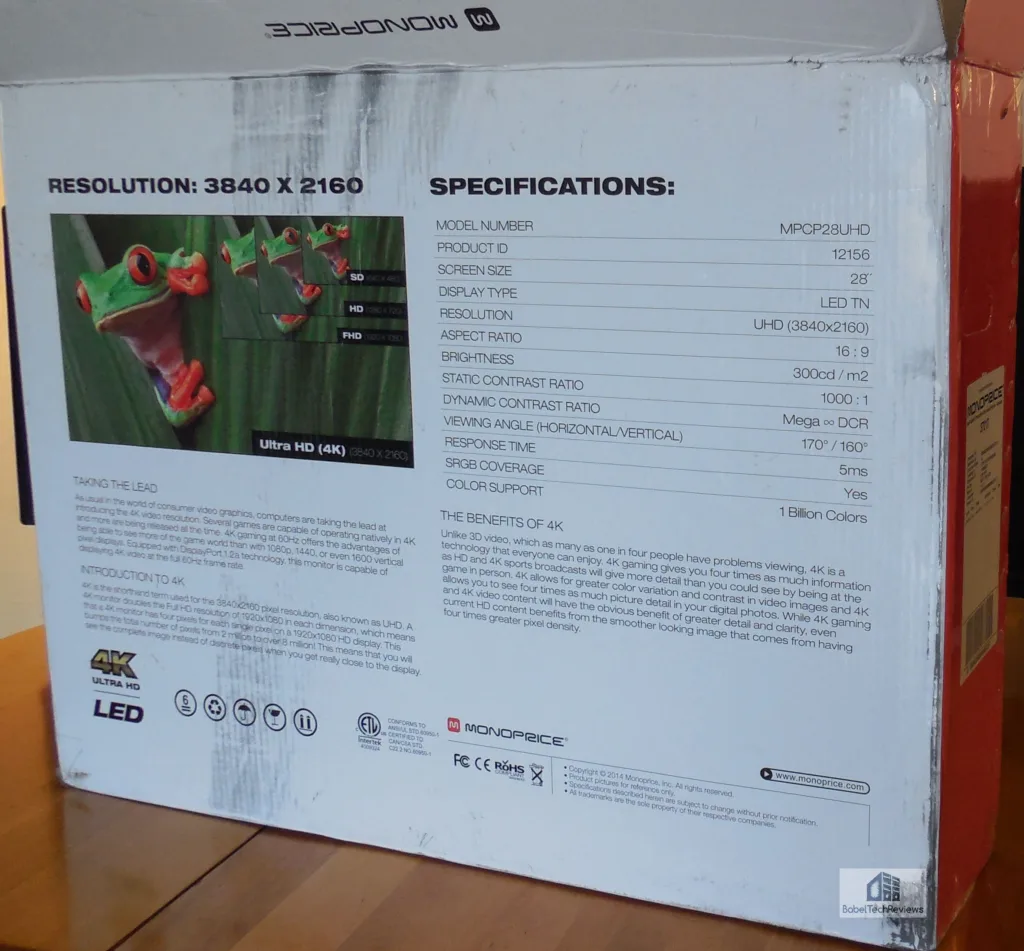 Even the shipping box is narrow.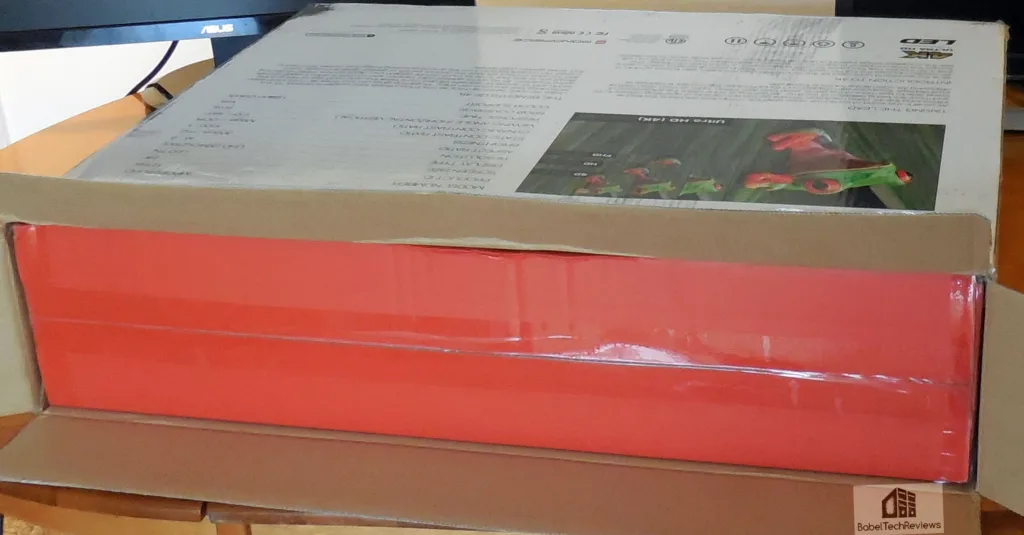 As you can see from the end panel, the box is very narrow since the display itself is quite thin at about 1.5″. All of this needs some great packing which Monoprice provides to get their product to you in good condition. The box itself was quite battered but the internals were perfectly protected as there is a box within box, the best way to pack for shipping.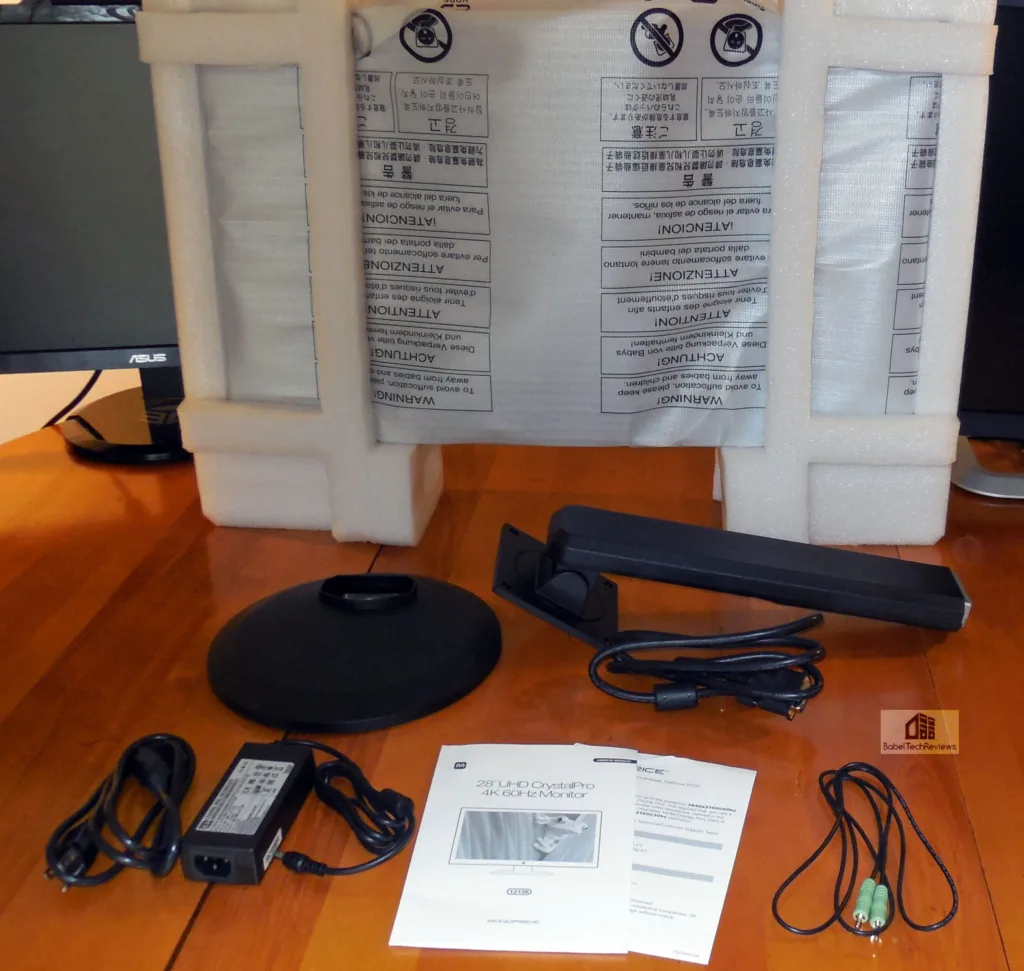 Here are the contents out of the box and still in the packing. The stand is a simple two-piece assembly using a thumbscrew to attach the arm to the base.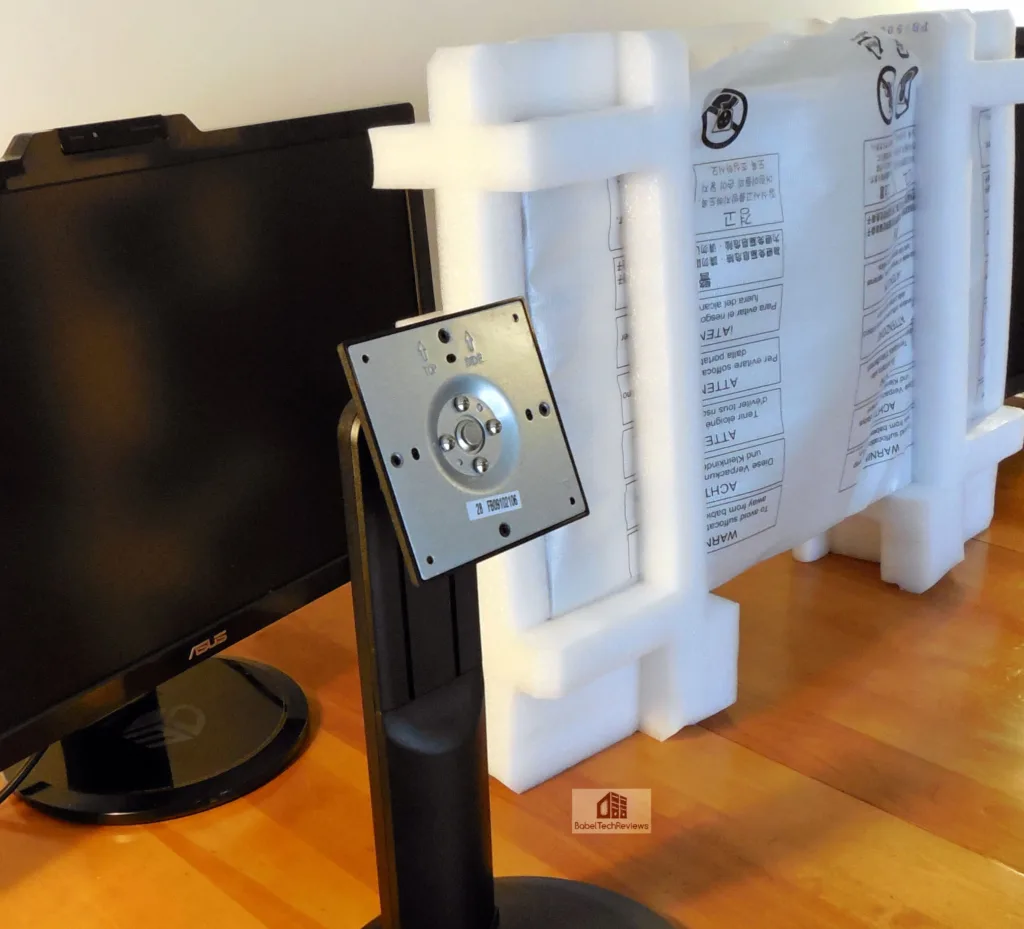 There is only one way to fit the arm into the base.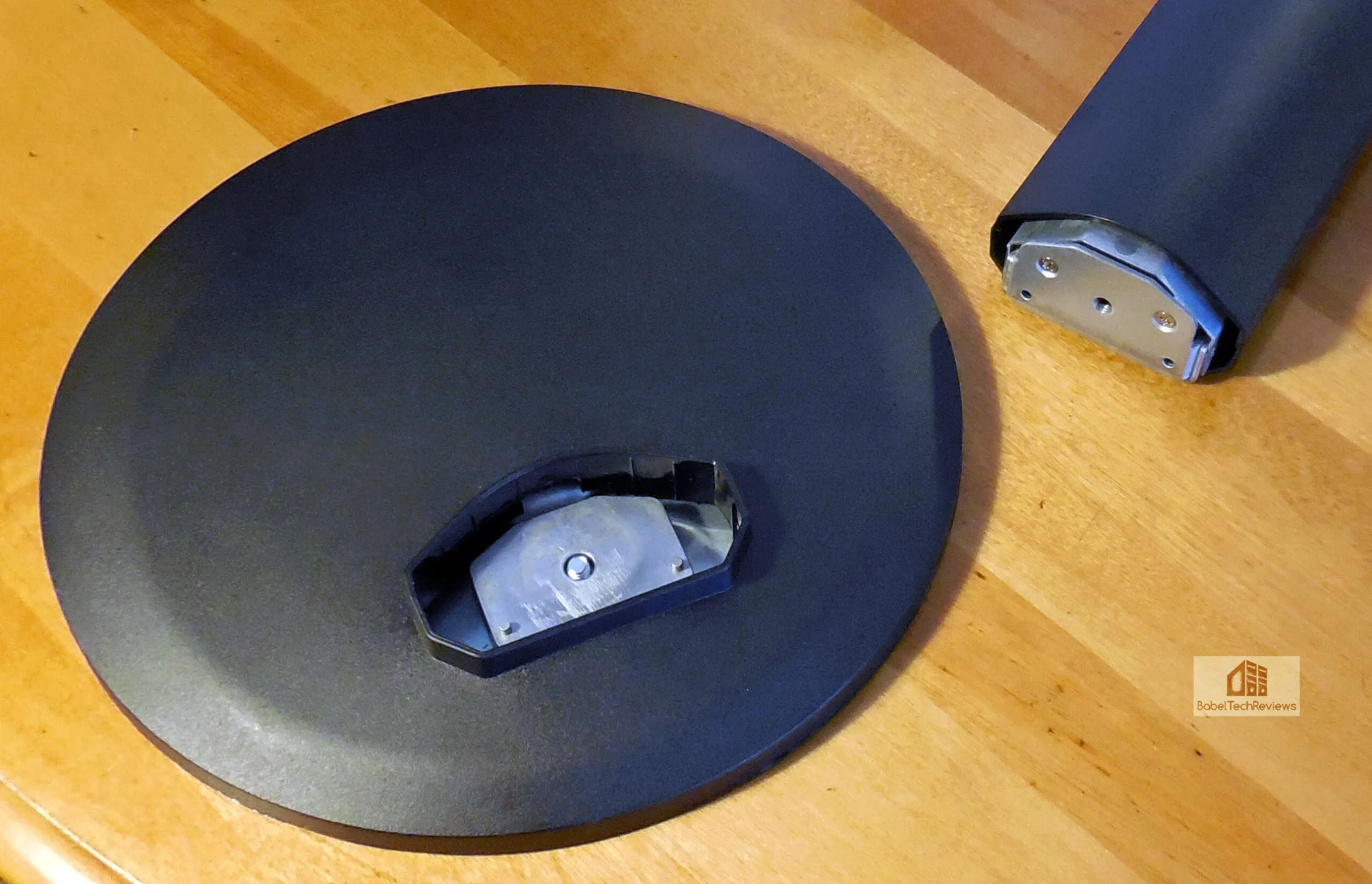 No screwdriver is needed – yet. There is a convenient thumbscrew on the bottom of the base.

There are two built-in speakers that are passable for the audio but lack bass response. If you use a single HDMI 1.4a cable, you do not have to use another speaker cable to connect the PC to the display. The display has a flexible pivot which moves in several directions as well as vertical height adjustment and the ability to rotate to portrait mode.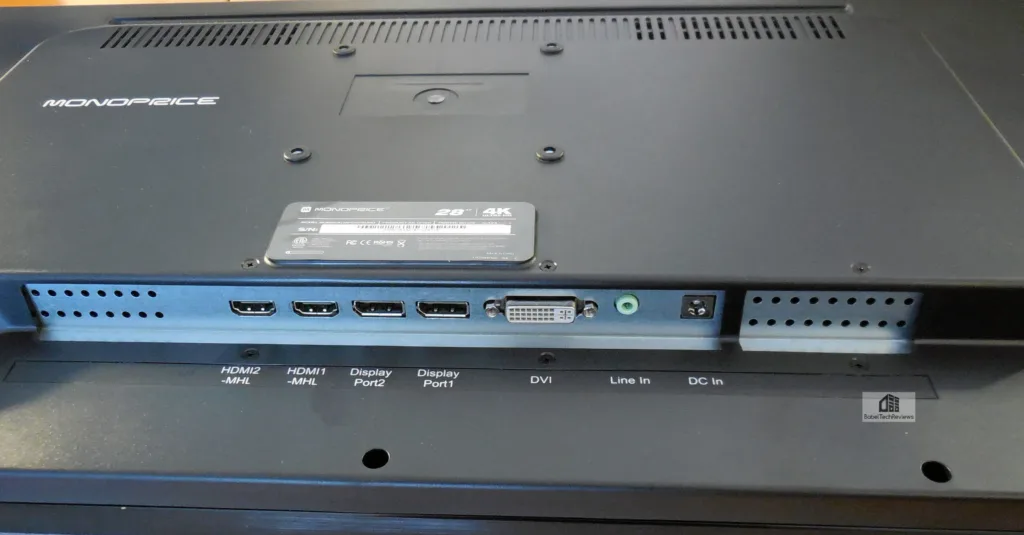 There are sufficient connectors to allow for 4 separate inputs to bring you picture in picture as well as four pictures set side beside each other, all at 1080P. There are two HDMI ports, a single dual-link DVI, and two DisplayPort 1.2 connections either of which must be used for 60Hz operation.
Unbelievably, although Monoprice includes a nice HDMI cable in the box, they don't include a DP 1.2 cable, suggesting you buy one for $6.00 when you purchase the CrystalPro 4K as we did. However, we soon upgraded to a 3M Accell high performance DP 1.2 cable as we had some issues with changing resolutions from 4K to 1080P in several games previously with the Monoprice cable.

One of the best things that we personally liked about this display is the ease of connecting to it. One does not have to bend down or reach under to connect – you just plug directly into the panel. Since you can easily rotate the display even to portrait mode, it is very easy to access the connection panel.
The display never got hot. Heat is carried away from the vents at the top back of the panel and it barely got warm, even after hours of gaming. In contrast, our CFL-backlit HP gets very warm, and it becomes noticeable on a warm day.

The menu is accessed by buttons that need to be pressed to access their functions. Besides the power button, there are 4 raised buttons hidden under the display where you can select the menu and change the functions by using them in conjunction with the others. And it is very intuitive and simple to switch from one menu to another to access their functions. You are given many choices as to the inputs and you may use up to four of them simultaneously for PiP (Picture-in-Picture, overlay) or PbP (Picture-by-Picture).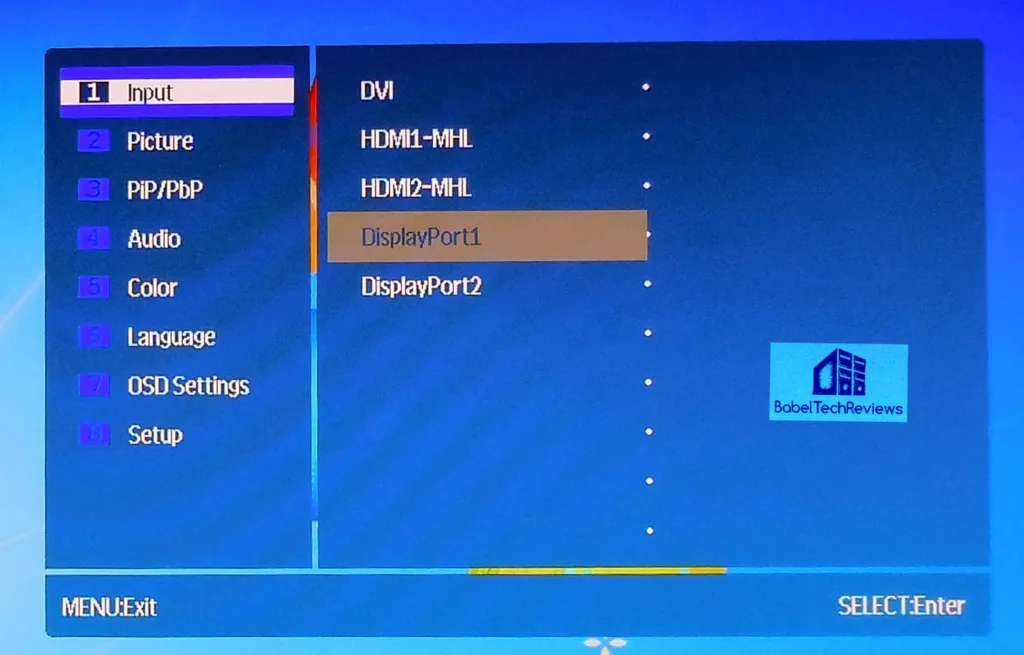 Audio is basic and one should not bother with the built-in speakers at all as their range is very limited. If they must be used, Maximum volume is recommended.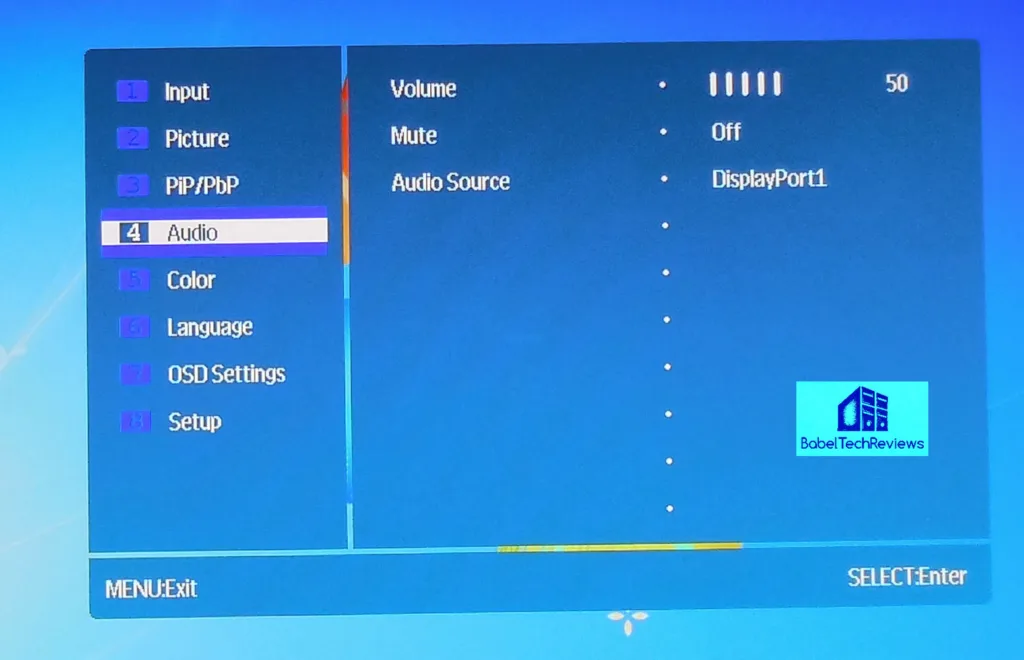 There are many choices for Picture in Picture (PiP) and for Picture by Picture mode. 4 inputs may be used simultaneously and their positions will be set here. It is very convenient to display information from multiple sources and 4K can handle 4 windows easily for improved multi-tasking and productivity.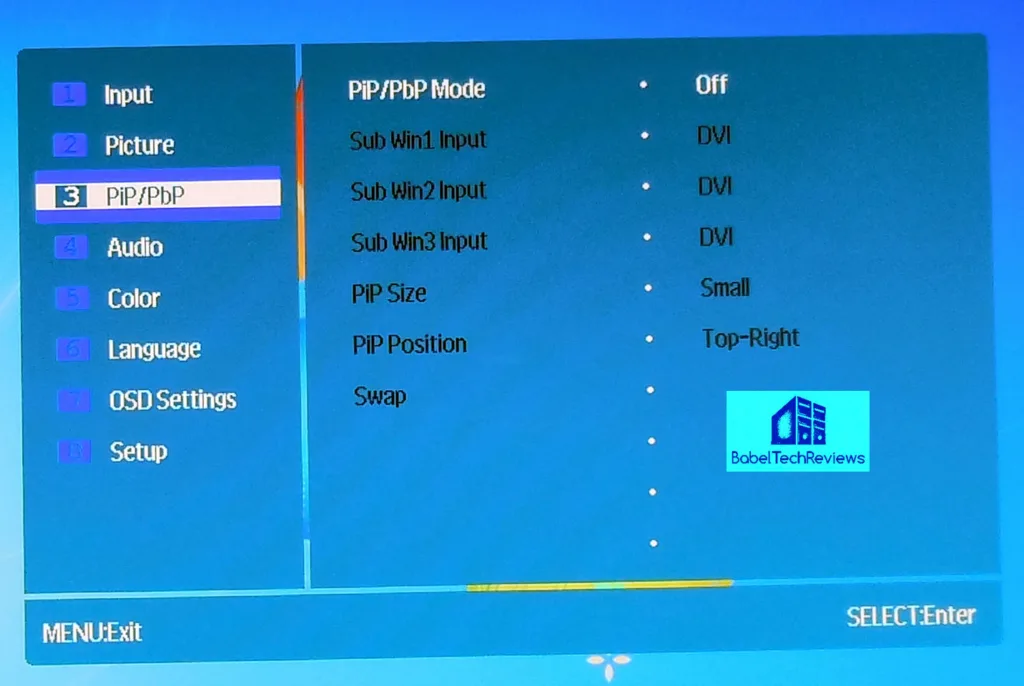 The usual adjustments are here, easily accessed and fine-tuned.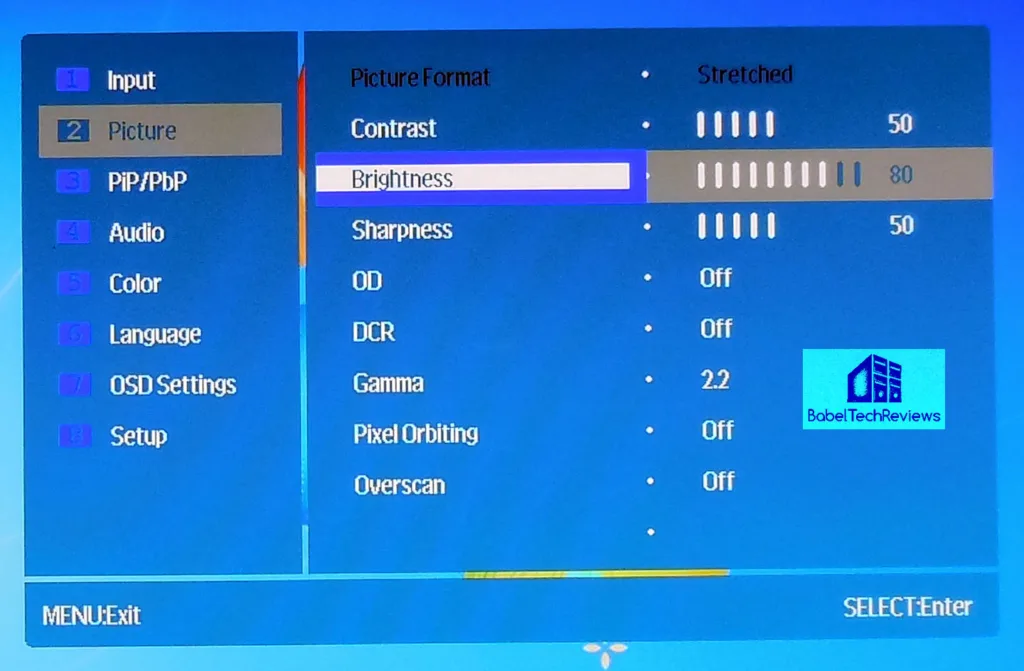 OSD settings are simple and basic.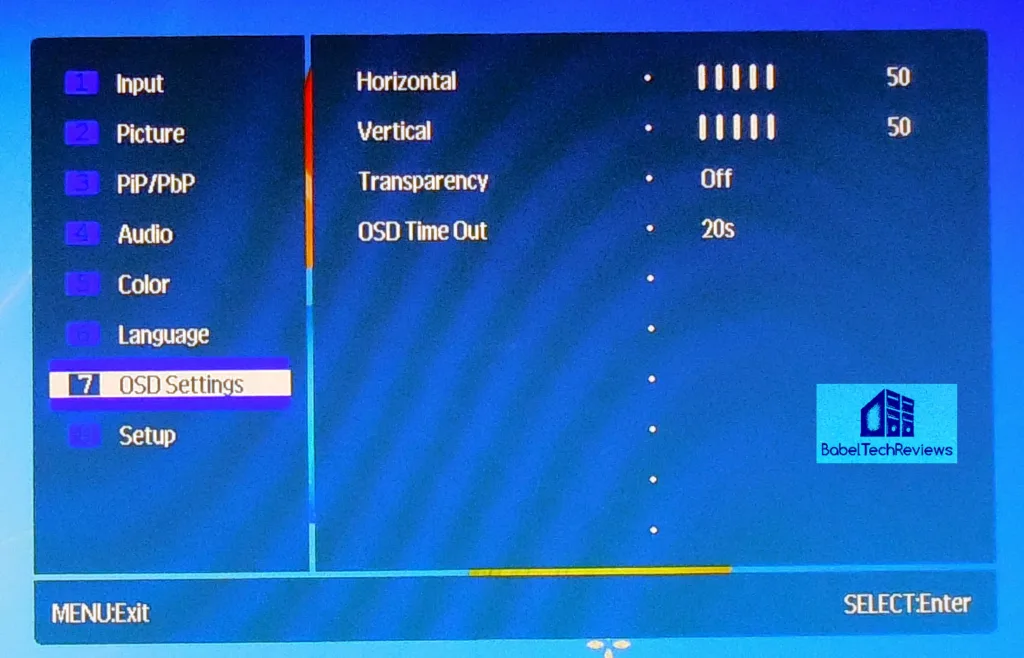 To run at 3840×2160 at 60Hz, one must use the proper DisplayPort 1.2 cable. Monoprice sells a two meter cable for $6, but we preferred a 3M Accel shielded cable which certainly looks more heavy duty.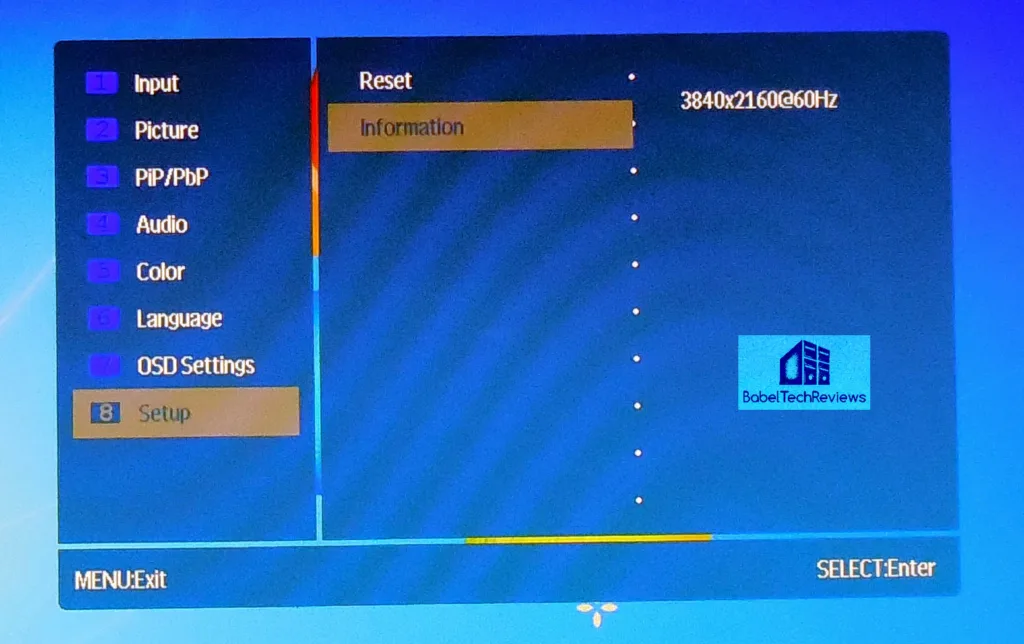 And if you mess up the settings, it is a simple button press to return everything to default.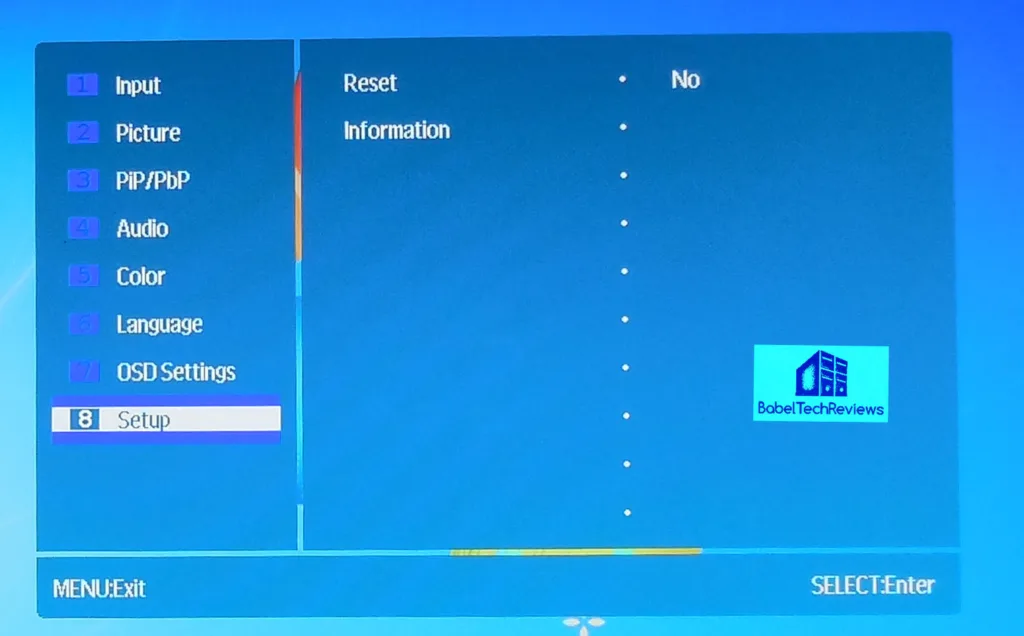 You can calibrate your display if you like or leave it at default – which is decent and in our opinion, needs minor adjustments. If you are in a dark room, the default brightness may be too high, and if you have a strong external source, you may not be able to achieve sufficient brightness.

The display is stylish and has a very narrow thin profile. The top and side bezels are made of high gloss plastic which tends highlight fingerprints but are easily cleaned, but the base and bottom bezel are matte which hides fingerprints and dirt very well.
The display can also be rotated 180 degrees for Portrait mode, but it is not a straightforward rotation as the stand is not quite tall enough. To rotate the LCD, it must be first pulled out from the base at an angle first which is generally not inconvenient for a single display. It is also very convenient to be able to rotate the display to access the connections easily.
This is a TN display which means that the vertical viewing angles are rather limited especially in Portrait mode. Colors tend to appear darker or washed out when the viewing angle becomes too extreme for the panel – usually at 160 degrees in Portrait mode, and at 170 for Landscape. Twenty-eight inches is probably the ideal size for a 4K TN panel as larger tends to give noticeable color shifts even to a single user. IPS is more suited for viewing in Portrait mode, although the response time generally is a bit slower for gaming.
We ran our basic Image quality and response time benchmarks and the Monoprice display did well. Unfortunately, most of these tests are 'in motion' and 4K cannot be captured by our HD 1080P digital camera. Basically, the display sits between the HP LP 3065 and the ASUS VG 278, and much closer to the faster ASUS display overall.
The 120Hz ASUS display is significantly faster than the Monoprice display, just as the Monoprice display is faster than the HP display. Just dragging a window will show the HP display is relatively slow, the 4K display is faster, and the 120Hz display responds without any noticeable delay. Color is perfect on the HP, and acceptable on the other two displays, especially for gaming. There are sufficient adjustments on all 3 LCDs to calibrate your display to match your tastes. And for the ASUS display, 120Hz allows for twitch games to be played more fluidly, while the 4K image is crisp and sharper than the other displays. The HP display has superb viewing angles and excellent color reproduction.

One thing that cannot be adjusted is the reflectivity of the Monoprice display. It is not an exaggeration to say it is "mirror-like" and that every strong light reflection in the room will probably show up on the display. It depends on what you are doing and if the ambient light source is bright or not. If the light is bright, it may be very distracting and sometimes the on screen objects will be difficult to see. The only solution is to brighten the display and to darken the environment. The HP display has no such issues, and although the ASUS 120Hz display is glossy and super-bright for 3D Vision, it is not as reflective as the Monoprice 4K display.
Since this editor is a gamer that mostly works with his PC at night, there are no issues with reflections at that time. During the day, it is somewhat irritating and we have even considered a $60 overlay from NuShield to remove the reflectivity. This is the only fault of this monitor that we have found in over three weeks of constant use.
Let's check out our test configuration and then look a little closer at this image quality and features of this display, play some games in 4K, upgrade to Windows 8.1 from Windows 7 to get a better experience, and generally give the reader our impressions of moving from 1920×1080 to 2560×1600 to 3840×2160, and if it was worth the expense.
Test Configuration
Test Configuration – Hardware
Intel Core i7-4790K (reference 4.0GHz, HyperThreading and Turbo boost is on to 4.4GHz; DX11 CPU graphics), supplied by Intel.
ASUS Z97-E motherboard (Intel Z97 chipset, latest BIOS, PCOe 3.0 specification, CrossFire/SLI 8x+8x)
Kingston 16 GB HyperX Beast DDR3 RAM (2×8 GB, dual-channel at 2133MHz, supplied by Kingston)
GeForce GTX 980, 4GB reference clocks, supplied by Nvidia – tested as a single GPU and in SLI
GeForce GTX 980, 4GB reference clocks, supplied by Nvidia – used in SLI
2TB Toshiba 7200 rpm HDD
Corsair CX 750, 750W power supply unit
Cooler Master Seidon watercooler, supplied by Cooler Master
Onboard Realtek Audio
Genius SP-D150 speakers, supplied by Genius
Thermaltake Overseer RX-I full tower case, supplied by Thermaltake
ASUS 12X Blu-ray writer
HP LP3065 2560×1600 30″ LCD display
ASUS VG 278, 27″ 120Hz 3D Vision ready display, supplied by ASUS.
Test Configuration – Software
Nvidia GeForce 347.52 WHQL drivers for the GTX 980 and GTX 980 SLI. High Quality, prefer maximum performance, single display.
Windows 7 64-bit; SP1 very latest updates, and Windows 8.1; very latest updates
Latest DirectX
All games are patched to their latest versions.
VSync is off in the control panel.
AA enabled as noted in games; all in-game settings are specified with 16xAF always applied; 16xAF forced in control panel for Crysis.
All results show average, minimum and maximum frame rates except as noted.
Highest quality sound (stereo) used in all games.
Windows 7 64, all DX10 titles were run under DX10 render paths; DX11 titles under DX11 render paths.
The 30 Game benchmarks & synthetic tests
Synthetic

Firestrike – Basic & Extreme
Heaven 4.0

DX9

The Witcher 2
Borderlands 2

DX10

DX11

STALKER, Call of Pripyat
Max Payne 3
the Secret World
Sleeping Dogs
Hitman: Absolution
Far Cry 3
Tomb Raider: 2013
Crysis 3
BioShock: Infinite
Metro: Last Light Redux (2014)
Battlefield 4
Splinter Cell: Blacklist
ArmA 3
Total War: Rome II
Batman: Arkham Origins
Thief
Sniper Elite 3
Watch_Dogs
GRID: Autosport
Middle Earth: Shadows of Mordor
Alien Isolation
Assassin's Creed Unity
Civilization Beyond Earth
Call of Duty: Advanced Warfare
Far Cry 4
Dragon's Age: Inquisition
Metal Gear Solid V: Ground Zeroes
The Crew
Evolve
Total War: Attila
All of the above games were tested at 1920×1080, 2160×1600, and at 3840×2160 with Windows 7 and with Windows 8.1 for comparison using a single GTX 980 and also GTX 980 SLI. However, not all of the results are given; they are summarized.
Now that we have our Monoprice Crystal Pro 4K display unboxed and set up let's check it out and play some games at 4K resolution!
Testing the Display
We set up theMonoprice Crystal Pro 4K directly next to our ASUS VG278 120Hz 3D Vision ready display that we got from Nvidia for our original 3D Vision review and also next to our 30″ HP LP3065. The ASUS display on the right is much brighter and is more accurately "white". The HP is also accurately white but it is much less bright and easier on the eyes for long time use.
The Monoprice Crystal Pro 4K is a monitor that is OK for print work as the grayscale quality is OK out of the box. Colors are very good also, although green and red appear a bit overemphasized at maximum brightness, and that is easily adjusted. In our unit, the Gamma is off a bit and needed adjustment to lessen the detail brightness.
Viewing angles are limited as with all TN panels and although the color balance of the Monoprice Crystal Pro 4K display can never be adjusted perfectly as with the HP display, it is still very decent as a gaming or general-purpose display just as the ASUS display is ideally suited for twitch gaming at 120Hz. That said, there is very little motion blur with the Monoprice display and it only appears to live up to its rated 1ms response time for a very best case scenario, at least compared to the faster ASUS display.
There is no perfect display and all of them have their strengths and weaknesses. The ASUS display excels at its response time, while the Monoprice Crystal Pro 4K sits between it and the HP display. After nearly 3 weeks with the Monoprice Crystal Pro 4K, we find 4K very enjoyable for gaming, and decent for everything else PC related. It is a surprise to us that we got such a decent display for $429 although this week we have seen a Samsung 4K and an ACER 4K display also drop to this price range.
Both the Monoprice 4K and the ASUS 120Hz displays are very good for gaming but we would have to give the overall edge to the 120Hz panel for its more trace free images using fast-paced shooters in 2D. The HP display is in a class by itself and it has superb color accuracy, great image quality, and doesn't shift colors with changing angles although it is a slower panel to respond in gaming.
Performance Issues with 4K
It is very demanding to drive 3840×2160 resolution with a single-GPU video card, but a GTX 980 is up to the task – and by extension, so are the GTX 970 and R9 290X cards – if some settings are lowered. FXAA or SMAA would be picked instead of MSAA and shadow settings can be set to medium, and other settings can be moved from Ultra or Extreme to High. We had a very good experience playing with a single GTX 980 at 4K and appreciated the crispness and the detail of the higher resolution. We were surprised at the excellent quality of the experience with only a few compromises. The GeForce Experience is also a great resource for 4K gaming.
If the player wishes not to compromise, then SLI or CrossFire for two top cards would be a perfect solution as in most cases, 4K settings may then only need minor adjustments, such as lowering 4xMSAA to 4xMFAA, and/or lowering Shadow settings which are rarely noticeable while playing.
4K and Windows 8.1
We found minor frustrations with 4K gaming in Windows 7, and setting or changing to or from 4K resolutions would cause some games to crash to desktop. A better DP cable helped, but the change to Windows 8.1 stabalized all of our issues. It may have to do with Windows 8.1 using a newer WDDM model.
Gaming performance did drop slightly overall, about 1-2% depending on game – and a few games perform better on Win 8.1 – but the abstraction layer uses some resources over Windows 7. The Windows 8.1 UI has been greatly improved over Windows 8, although it is still a bit frustrating to have to take an extra step or two with the Metro screen that Windows 7 desktop users don't have to deal with. Overall, the move to Windows 8.1 was OK for us and BTR will use it for future benching.
Fonts are not as much of an issue as we had expected. Windows 7 allows for 150% scaling which brings the tiny default fonts at 4K to a par with the default font size at 2560×1600. Windows 8.1 has more adjustments than Windows 7, and we now have no issues with font sizes as we are are nearsighted anyway.
It is time to head to our conclusion.
Conclusion
The Monoprice Crystal Pro 4K is a great way to inexpensively experience 4K gaming and the extra real estate used for productivity. The only issue is that the Monoprice Crystal Pro 4K is such a reflective display, and there may be issues for some users with color shifting in the corners when viewed from an angle, especially in portrait mode.
For the approximately $450-500 that you pay for the Monoprice Crystal Pro 4K , you get a very fast response high-quality 4K 60Hz LED that is excellent for 2D gaming and as a general purpose display. It might be considered "entry level" 4K and it may be satisfying for many as it is for us.
The 4K price premium has dropped significantly from last year. We paid $429 for the Monoprice Crystal Pro 4K where a similar quality 28″ HD 1080P display may cost around $250. The good news is that SLI or CrossFire using a top video card is unnecessary to enjoy 4K gaming now. A single GTX 980 is sufficient from our experience to enjoy 4K with minor setting compromises. And we shall continue benching at 4K in the same demanding manner that we bench at 1920×1080 and at 2560×1600 – even at 4K. We expect that it won't be very long before a single GPU video card can handle 4K with max details and with even some AA added as it does at 2560×1600 today.
Pros
The Monoprice Crystal Pro 4K display is reasonably fast with a (best scenario) 1ms rated response time; and it is ideal for inexpensive entry-level gaming, even with a single GPU and minor setting compromises
It is very thin and stylish
The connectors are very easy to get to as the panel rotates to Portrait mode.
The OSD menu has great options and is intuitive
The connection options are great and you can enjoy 4K at 60Hz over DP 1.2; it also accepts 4 inputs simultaneously for PiP or PbP.
It is a relatively inexpensive way to enjoy 4K gaming, and if a game is too demanding at 4K, it still looks great in 1080P!
Cons:
Warranty is awful at only 1 year. Not recommended even at its current price of $369. It failed after 18 months of service.
The panel has all the color shift issues associated with TN especially in Portrait mode; it is decent in Landscape as 28″ is a fine size for a TN.
The display is too reflective for a room with strong ambient light sources. If so, consider an overlay.
No DisplayPort cable is included although HDMI is included in the box. Fortunately there is a warning on Monoprice's website to pick up a DP cable if you want to enjoy 4K at 60Hz. You might consider a very high quality DP cable if you have issues.
With 4K's limitations in mind and the fact that the Monoprice Crystal Pro 4K is a TN panel, it is an inexpensive way to enjoy 4K gaming. [Edited 07.27.16 to remove Editor's Choice Award and to give information on the poor warranty even though it is currently $369 from Monoprice.]
In the meantime, check out BTR's Community or leave a comment below. We have put our 4K display to good use and are benching for an upcoming GTX 980 SLI versus 290X CrossFire evaluation that features 30 games from 1920×1080 to 4K. And we have VisionTek's Wallet Drive and DriveXpander reviews set up for publication next week.