This editor was privileged to be invited to Nvidia's GTX 1080 launch event in Austin, Texas. It was actually a jam-packed schedule of a 3-day event for the tech press that began last Thursday evening, May 5, with a welcome dinner, and ended on Sunday, May 8, as we headed home.
The event included a visit to a ranch, extensive hands on demos with Virtual Reality, and a private screening of Captain America: Civil War. This brief wrap-up is this editor's personal experience of the event with thanks to Nvidia for inviting us in behalf of BTR.
My day began early on Thursday with a red-eye flight from Palm Springs to Salt Lake City and then to Austin, Texas. I ran from one end of the airport to the other and barely made the connecting flight to arrive in Austin in the early afternoon. The weather was perfect for early May, generally in the upper 70s F to mid-80s F for daytime highs and dropping into the low 70s by the early evenings. I generally took a light jacket with me for nighttime events.
I arrived at the "W" as Nvidia's guest, one of Austin's finest downtown hotels which is quite trendy, and immediately took a shower and then a nap to prepare for a welcome dinner.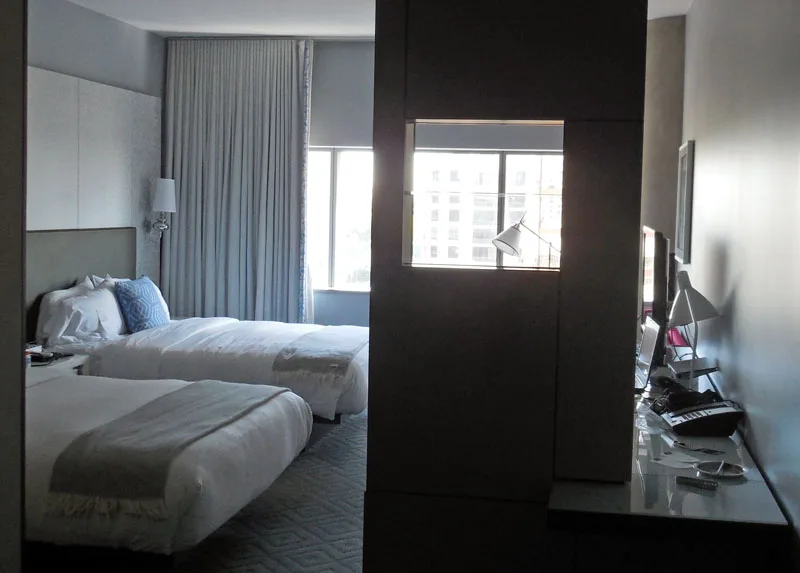 The dinner was held in the W's Grand Ballroom and was evidently a Texas version of Surf 'n Turf – grilled fillet steak (which I don't eat) and a grilled fish steak which I enjoyed. I am a health food enthusiast, and evidently Austin's idea of 'health food' is barbecued ribs which appears to be available on almost every block.
Friday
Breakfast was covered by Nvidia at the W's Trace restaurant and I had the Gulf Shrimp and Grits (without the ham, bacon and pork sausage, instead substituting chicken sausage). It was delicious and quite a change from my usual fare; the first time that I ate grits. Fortunately, they also offered freshly squeezed Rio Red Texas Grapefruit juice which was welcomed.
The midday activities included a visit to a ranch which included options to ride a horse or an ATV, and barbecue lunch. Unfortunately, I am older and was unable to participate, instead opting to write an article for BTR in my hotel room. The room was nice and the room service impeccable.
The view from even the ninth floor of downtown Austin was outstanding. It is a fast growing city that is proud of its past, but it is quickly outgrowing its infrastructure as the traffic congestion is quite bad on its freeways and city streets.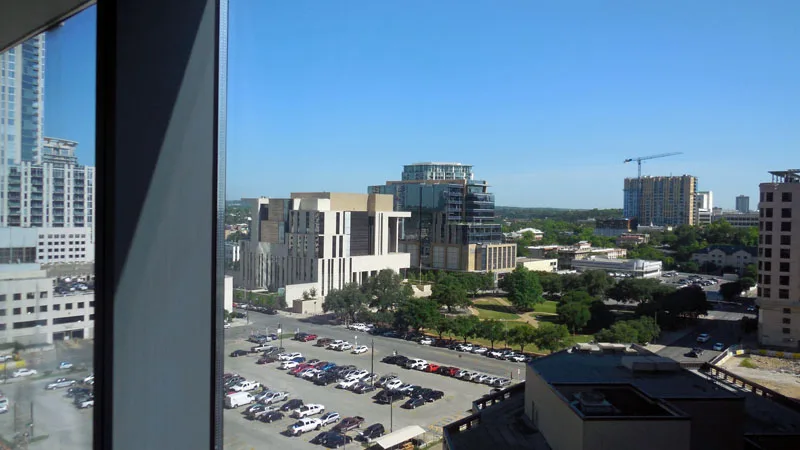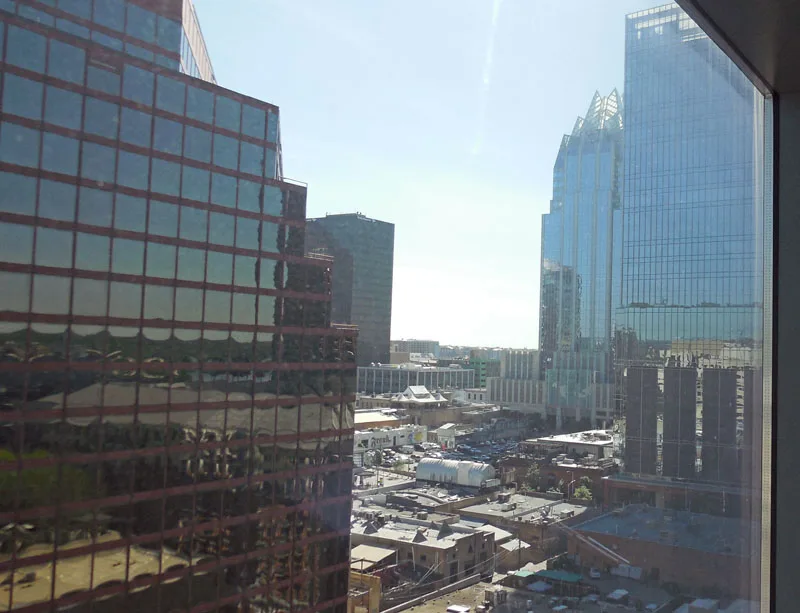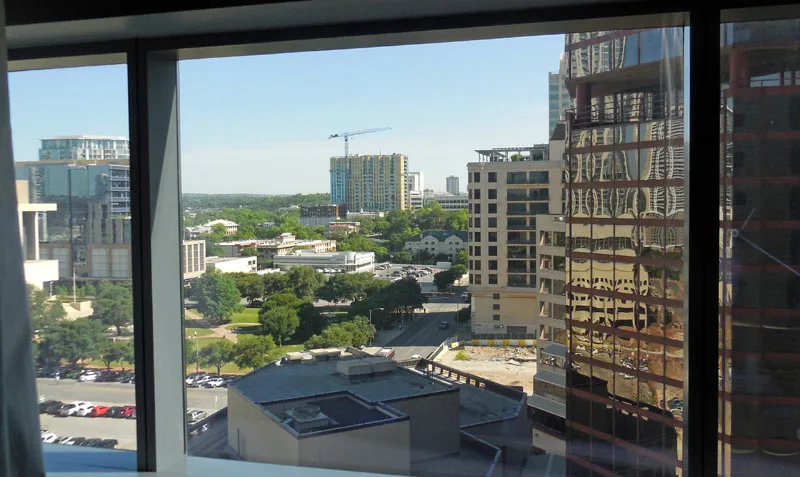 At 6 PM we were bused to Nvidia's launch event where we sat a few rows back from the presentation on the right. I met Doc Overclock, probably the earliest tech reviewer, and we hung out together for the rest of the event. He had some interesting observations and great stories to tell. We have a lot in common as we were both surfers, and Huntington Beach was a break we had both regularly surfed.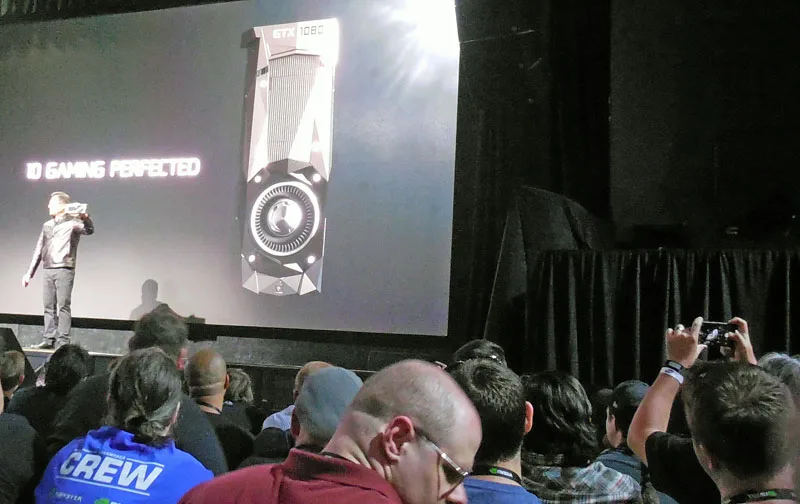 We enjoyed Jensen's presentation and we were particularly interested in the GTX 1080 and 1070 launch. It has been very well covered in the tech press and you can get details from Nvidia's own site regarding the GTX 1080.
Here's a summary of the launch:
Pascal offers large increases in performance, memory bandwidth and power efficiency over the current Maxwell architecture. It introduces new graphics features and technologies that confirm the PC as the ultimate platform for playing AAA games and for enjoying virtual reality.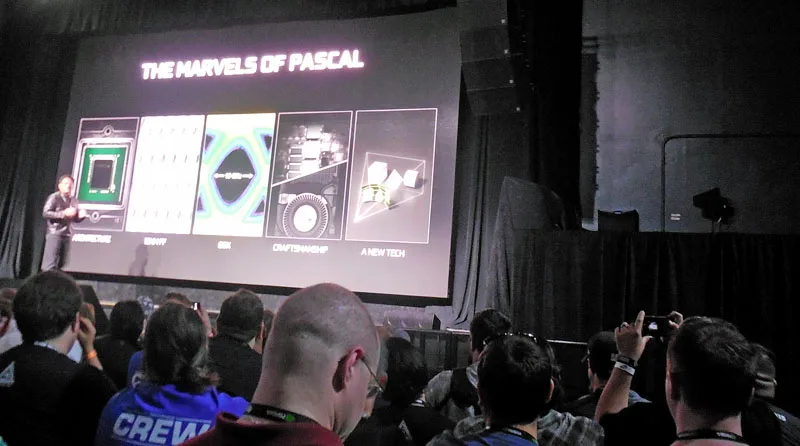 Nvidia engineered the Pascal architecture to handle the demanding computing needs of technologies like VR. It incorporates five new technologies:
Next-Gen GPU Architecture. Pascal is optimized for performance per watt. The GTX 1080 is 3x more power efficient than the Maxwell Architecture.
16nm FinFET Process. The GTX 1080 is the first gaming GPUs designed for the 16nm FinFET process, which uses smaller, faster transistors that can be packed together more densely. Its 7.2 billion transistors deliver a significant increase in performance and efficiency.
Advanced Memory. Pascal-based GPUs are the first to use 8GB of Micron's GDDR5X memory. The 256-bit memory interface runs at 10Gb/sec., helping to drive 1.7x higher effective memory bandwidth than that delivered by regular GDDR5.
Superb Craftsmanship. Increases in bandwidth and power efficiency allow the GTX 1080 to run at really high clock speeds over 1700 MHz while only using 180 watts of power. New to Pascal is asynchronous compute. And new GPU Boost 3 technology supports advanced overclocking functions.
Groundbreaking Gaming Technology. New VRWorks software features let game developers bring more immersiveness to gaming environments. And Nvidia's Ansel technology lets gamers share their gaming experiences and explore gaming worlds in new ways.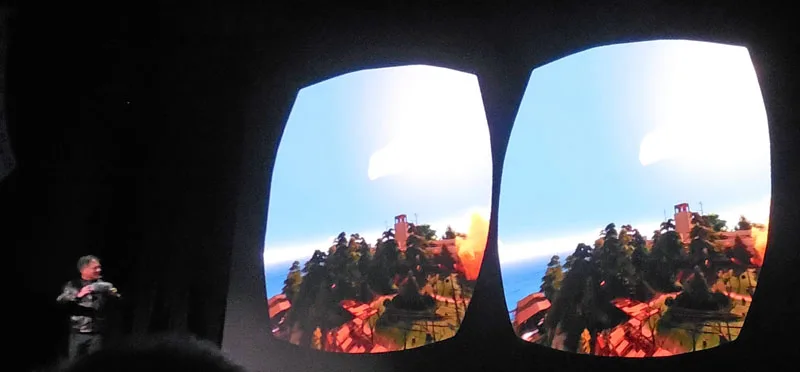 The enhanced Nvidia VRWorks software development kit offers a higher level of "VR presence" by combining what users see, hear, and even touch with the physical behavior of the environment.
2x VR Graphics Performance: VRWorks Graphics now includes a simultaneous multi-projection capability that renders natively to the unique dimensions of VR displays instead of just to traditional 2D monitors. It also renders geometry for the left and right eyes simultaneously in a single pass.
Enveloping Audio: VRWorks Audio uses the Nvidia OptiX ray-tracing engine to trace the path of sounds across an environment in real time which better reflects the size, shape, and material of VR than previous solutions.
Interactive Touch and Physics: Nvidia PhysX for VR detects when a hand controller interacts with a virtual object, and enables the game engine to provide a physically accurate visual and haptic response.
Nvidia has integrated these technologies into a new VR experience called the VR Funhouse. I got to spend a few minutes in the VR Funhouse using the Vive and have detailed my experiences a bit later on in this wrap-up.
Nvidia also announced Ansel, a powerful game capture tool that allows gamers to explore, capture, and share the artistry of gaming in radical new ways.
With Ansel, gamers can compose the gameplay shots by pointing the camera in any direction and from any vantage point within a gaming world allowed by the devs. They can capture screenshots at up to 32x screen resolution, and then zoom into a chosen location without losing fidelity. With photo-filters, they can add effects in real time before taking their shot. They can even capture 360-degree stereo photospheres for viewing with a VR headset or with Google Cardboard.
Ansel will be available in upcoming releases and patches of games such as Tom Clancy's The Division, The Witness, Lawbreakers, The Witcher 3, Paragon, No Man's Sky, Obduction, Fortnite and Unreal Tournament.
The GeForce GTX 1080 "Founders Edition" will be available on May 27 for $699. It will be available from ASUS, Colorful, EVGA, Gainward, GALAX, Gigabyte, Innovision 3D, MSI, NVIDIA. Palit, PNY and Zotac. Custom boards from partners will vary by region, and pricing is expected to start at $599.
The GeForce GTX 1070 "Founders Edition" will be available on June 10 for $449. Custom boards from partners are expected to start at $379. The Founders Edition of these cards are evidently built by Nvidia reference versions that will be available for purchase for the entire life of the line instead of only at launch.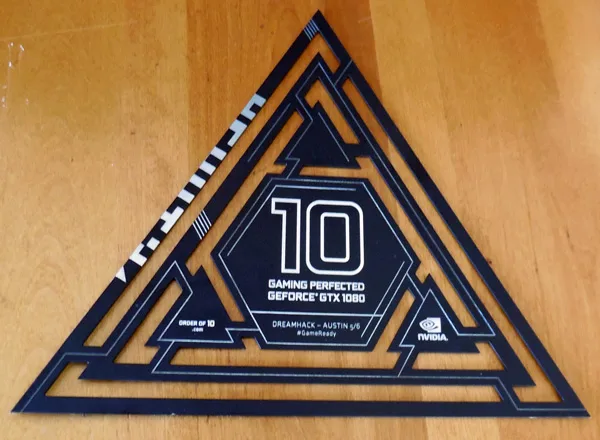 If you would like to win a GTX 1080, you can enter here. Nvidia is making good on their pre-launch promise for "10 Challenges. 100 Chances to Win. One of 1,000 Prizes."
Daily prizes include limited edition Order of 10 T-shirts (50 each day) and pins (50 each day). One (1) lucky winner each day will be awarded a GeForce GTX 1080 Founders Edition card.
Each day's puzzle solvers are also entered to win an "Elite Game Ready PC". Key components include: Intel Core i7-5820K processor, 2x GeForce GTX 1080 Founders Edition GPU with the new SLI bridge, 32GB HyperX Fury DDR4-2666 (Quad Channel) memory, a VR HMD and Windows 10 Home 64-bit operating system!
Saturday
Saturday was a very busy day so I got to the W's Trace restaurant for breakfast right as it opened at 7 AM, fearing instead to have a later Texas buffet breakfast at the VR demo site. We met in the lobby at 7:40 AM and I was privileged to experience both the Oculus Rift and the HTC Vive demos rather extensively. This was the first time that I got to spent more than a few minutes with the Rift, and the few minutes spent with EVE: Valkyrie at the GTC left me unimpressed and slightly disoriented. This time I wore my glasses instead of my contact lenses so as to give a report to compare what wearing glasses with the Rift and with the Vive are like.
Here is this editor experiencing the VR Funhouse using the Vive: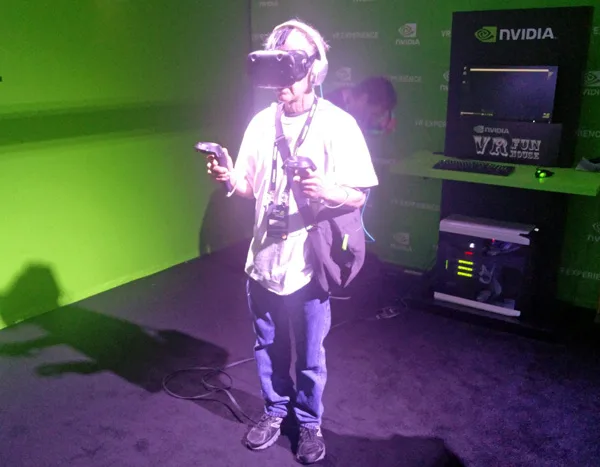 The Vive controllers are quite intuitive, and the headset – unlike with the Oculus Rift – is adjustable and much more comfortable to wear for users that wear eyeglasses. Notice the three graphics cards in the above picture. Two cards render the Funhouse graphics and one is used for PhysX. I was told at the demo that Nvidia is hard at work optimizing it for just one card. This open source demo will be available on Steam later in the year.
I got to also experience this game, The Unspoken, using the Oculus Rift.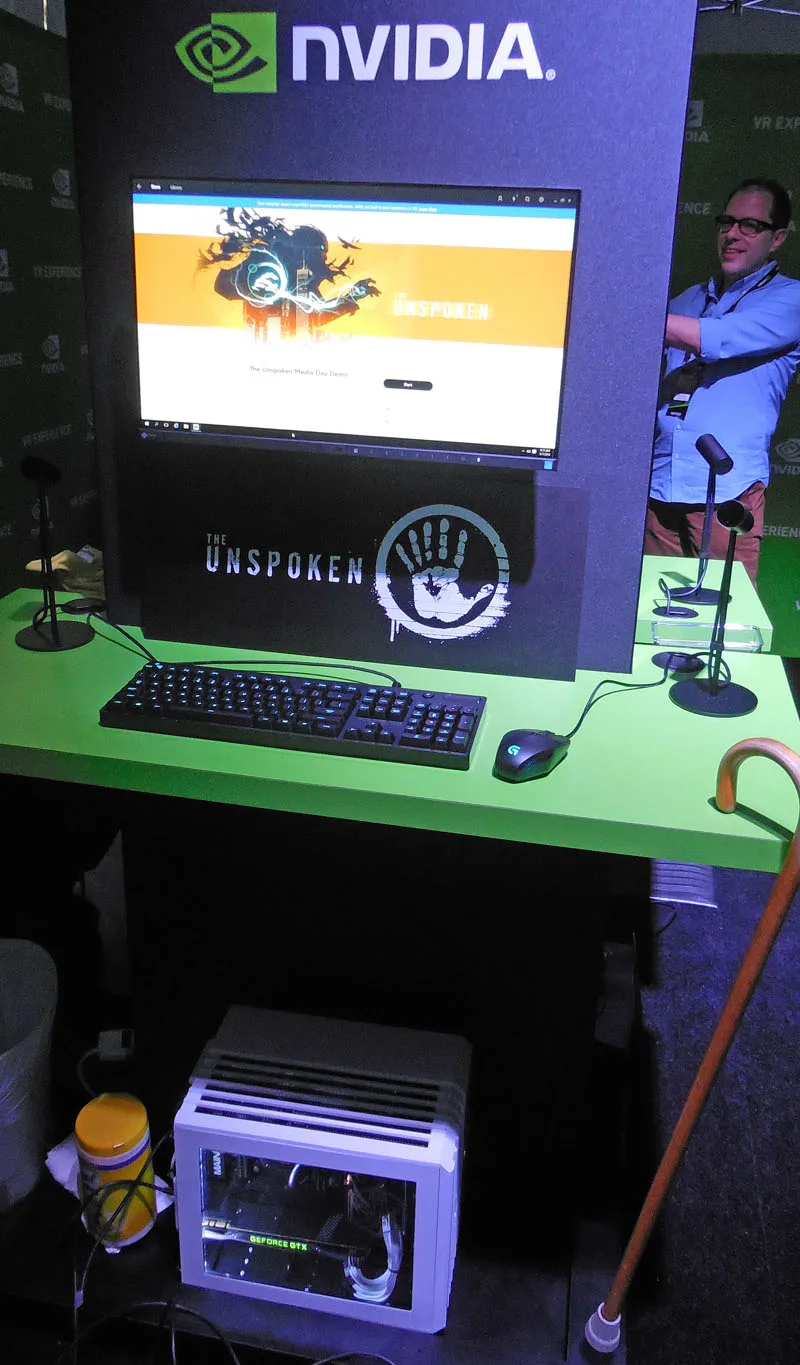 Look carefully at the PC used in the bottom picture. Notice that only one graphics card is needed for the full VR experience and there is only one PCIe connector! Here's a close-up.
The Unspoken is quite an impressive VR game that should be released by the holiday season. Even though it is still in Beta, and they are using our feedback for it now, it is very playable. Here is the launch trailer:
The controls were not immediately intuitive for this editor and I needed some explanation to be able to cast the spells in the tutorial. However, even though I have difficult walking about without my cane, it was quite easy for me to maneuver in this VR world, and the game is quite impressive and immersive. I used the as yet unreleased Oculus Rift controllers which were not quite as easy for me to use as the Vive controllers, but it could be easy to get used to. Here is The Unspoken's official website which lists Holiday Season 2016 as the launch date. This is a game for VR fans to look forward to.
VR with both the Vive and with the Oculus Rift were much more impressive to me after spending significant time with it instead of the couple of minutes at the GTC with EVE: Valkyrie. This time there was no disorientated feeling during the game nor afterward. Both the VR Funhouse and the Unspoken were quite fluid and "real".
Well, there is much more to be said about this event that I will save for later. This includes viewing a demo of the upcoming DOOM which will be released this Friday and will become a new benchmark for BTR. UPDATED: Please see the DOOM update at the end of the article for the exclusive DOOM video that is posted by Nvidia running on Vulkan.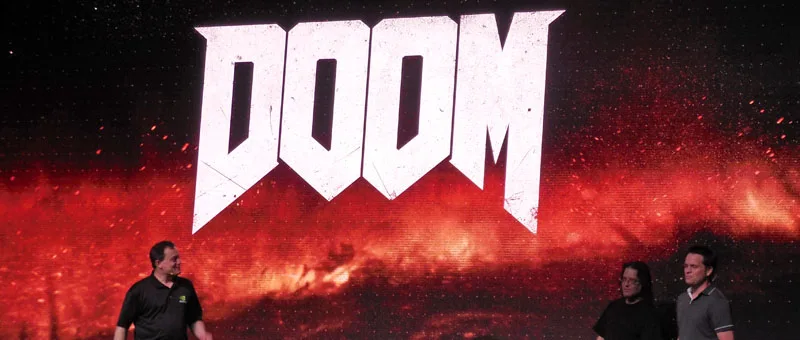 On Saturday night, we got to experience Captain America: Civil War in a private screening. Sunday required being up at 5 AM to catch a ride to the airport for the two flights home.
I did get some nice parting gifts from Nvidia including earbuds, a VR Google Cardboard viewer, and a future key for the as yet unreleased Mirror's Edge: Catalyst which I will benchmark for BTR. And of course, cake.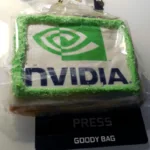 And there was one other thing that was packed very carefully.
Happy Gaming!
DOOM UPDATE!
Nvidia has just posted exclusive gameplay footage of DOOM running on the Vulkan API at 3PM PST today, Wednesday 5/11/16.
This is a continuation of the work they did in collaboration with id Software to show DOOM on Vulkan for the first time ever at the private editor's event in Austin, Texas this Saturday. Lots of editors at the event recorded the demo, but mine was particularly poor and I didn't post it. Fortunately, id wanted to make sure high res video of the gameplay is available to show DOOM in all its glory.
The video is a 6-minute direct feed, 1920×1080, 60 FPS, 2.1GB PC gameplay video that shows the full fidelity, speed, and quality of DOOM running on a GeForce GTX Titan X using the Vulkan API. This is the world's first uncompressed direct feed footage of the Vulkan-accelerated version of DOOM, running at full speed with a 120 degree field of view. It will show you how DOOM plays on PC with settings and options maxed out.
On a GeForce GTX 1080, Vulkan-accelerated DOOM is going to run even faster, and be capable of running smoothly at even higher resolutions, something we are looking forward to benching for you.
Nvidia has posted the video on Youtube in an uncompressed, full resolution format and Vulkan support in DOOM is expected shortly after launch. Here's the video.
Links:
GeForce.com article with full res video:
Link to youtube of the DOOM video:
DOOM Website:
GeForce.com story that covers DOOM at the launch event in Austin: