VR Funhouse has been very successful for NVIDIA, with over 165,000 downloads on Steam, and now it's also available on the Oculus Store. From playing the demo in Austin, we can see that VR Funhouse is a blast to play, and BTR is going to be buying a VR headset next month so that we can continue to experience it.
Gamers like to track their achievements through Steam and beginning now you can compete for highest score and your player achievements will be tracked while you play VR Funhouse. Just download the latest VR Funhouse update on Steam, and Steam Achievements will work for you.
VR house is open to the modding community, and NVIDIA has released their own latest mod which adds festive charm to VR Funhouse. Download it now on Steam's Workshop Page.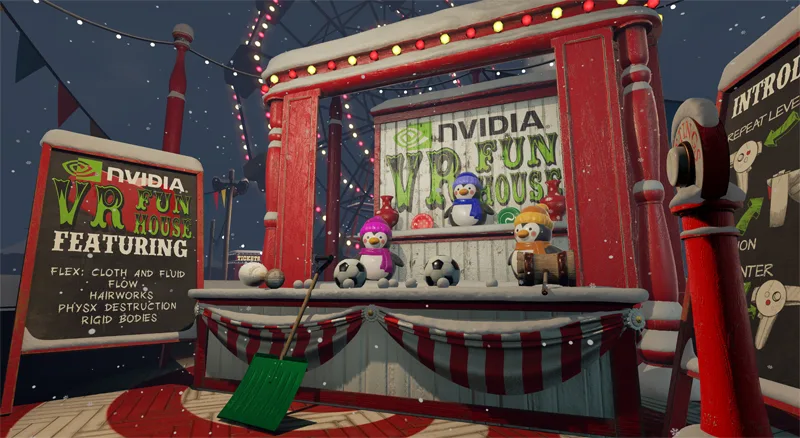 NVIDIA's VR Funhouse Mod Kit, allows modders to access the game's UE4 blueprints and assets, and create mods and new levels to share using the Steam Workshop. There are now several VR Funhouse mods to play on the Steam Workshop page including some impressive mods created at the VR Funhouse Game Jam that took place in September.
NVIDIA is hosting a developer how-to session on Twitch to help the VR community build great mods for the Funhouse. The first session is Friday, September 16th at 1:00 pm PST, via NVIDIA's channel.
Game Overview
VR Funhouse is available free for Oculus Touch and HTC Vive. It immerses VR gamers into a virtual carnival featuring 9 mini-games:
Clown Painter: Splatter clowns with goo-filled squirt guns.
Fire Archer: Use a bow with fire arrows to set your targets ablaze.
Whack-A-Mole: Use a virtual mallet as the moles pop up.
Balloon Knight: Fill the carnival with confetti as you pop colorful balloons with swords.
Mole Boxing: Like Whack-a-Mole, but with boxing gloves.
Shooting Gallery: Test your shooting skill with a pair of pistols.
Cannon Skeet: Shoot targets being blasted out of a moving cannon.
Wall Walker Toss: Perfect your aim by tossing Wall Walkers at a target.
Hot Shot Basketball: Shoot some hoops, make it rain baskets and get the high score!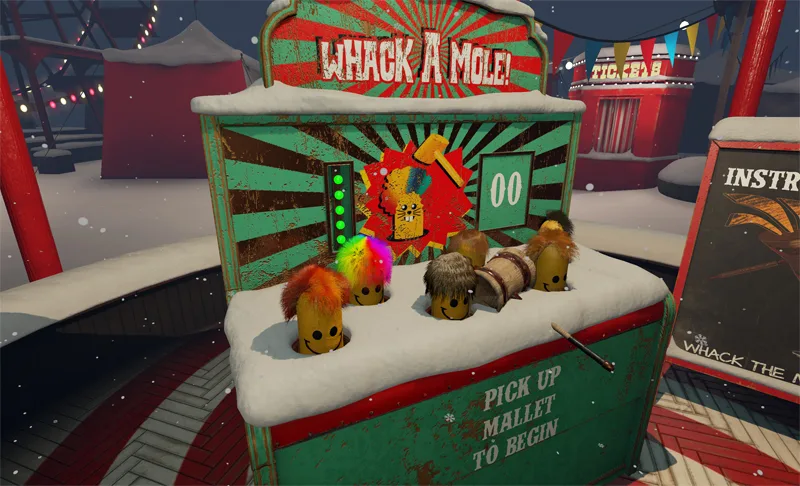 Related links:
Happy VR Gaming!