The Team Group T-FORCE T-1 Gaming DDR4 2666MHz 16 GB kit review
T-FORCE T-1 Gaming DDR4 2666MHz desktop overclocking memory is not flashy RGB like the 3200MHz Night Hawk memory, nor it is fast like their XTREEM 3600MHz memory. Rather it is mainstream memory that we shall test against T-FORCE's other two memory kits to see what performance it brings for gamers. We also will overclock it to see if we can get some free performance.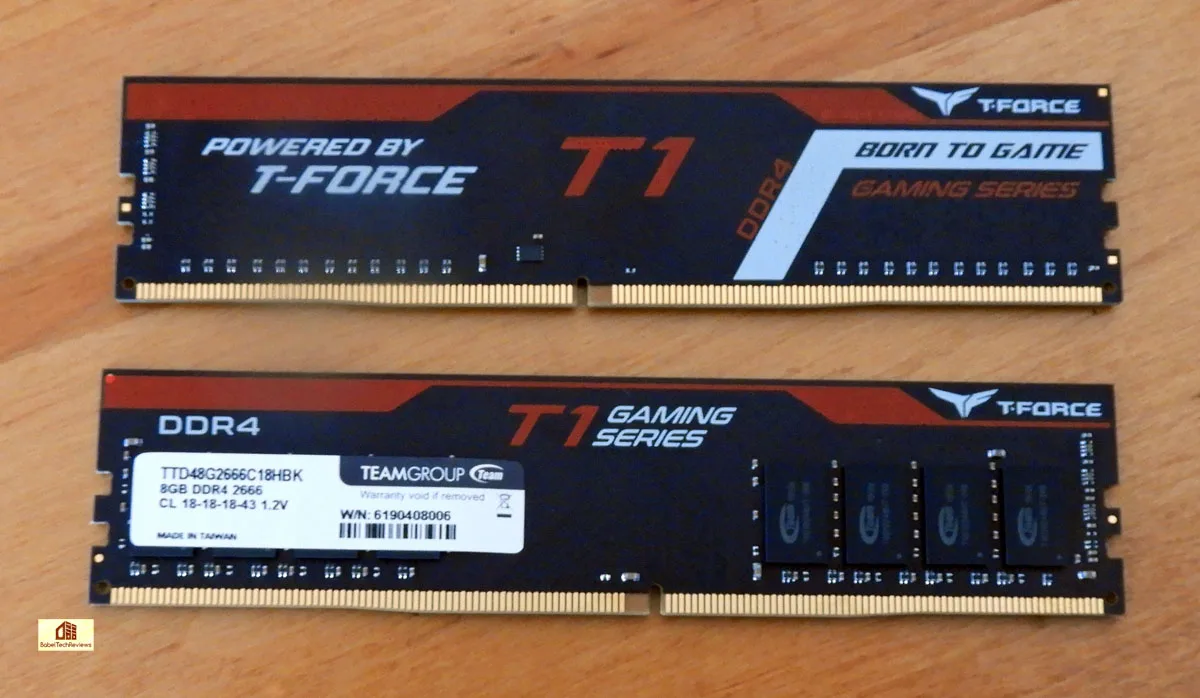 Team Group has been creating high-quality memory products for almost two decades, and their Team T-FORCE T-1 Gaming line-up is aimed at the value conscious gamer. We received a 16BG kit from Team Group, and we will test how well this T-FORCE T-1 Gaming DDR4 2666MHz 16GB CAS18 memory kit performs at stock and at overclocked speeds compared with the RGB 16GB Nighthawk DDR4 3200MHz CAS16 memory kit and with the enthusiast grade T-FORCE XTREEM DDR4 3600MHz CAS18 16GB memory kit.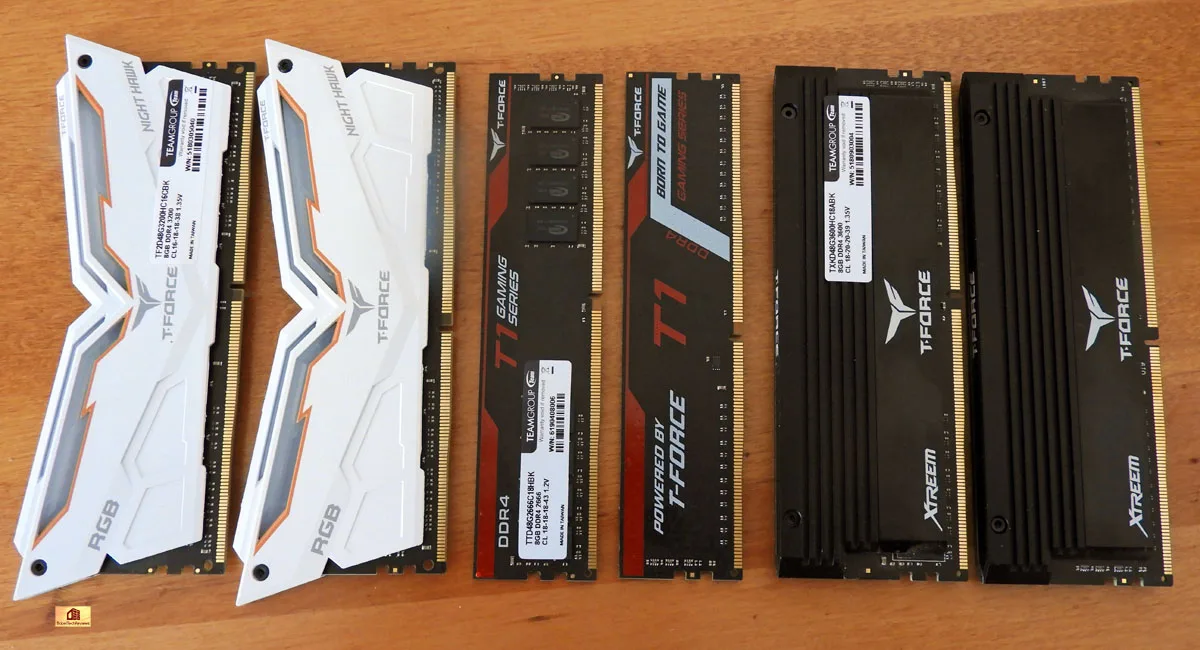 Memory pricing has softened since last year and there are some good deals to be found. The T-FORCE T-1 Gaming PC4 21300 DDR4 2666MHz CL18 2x8GB kit can be found at Newegg or on Amazon for $74.99; the T-FORCE Night Hawk RGB PC4 25600 DDR4 3200MHz CL16 2x8GB kit is available at Amazon for $139.98; and the T-FORCE XTREEM PC4 28880 3600MHz 2x8GB memory kit sells for $145.99 at Amazon. We want to determine if the $75 DDR4 2666MHz kit is worth buying compared to faster and more expensive RGB or high-performance DDR4.
From our testing with Ivy Bridge, Haswell, Skylake, and Coffee Lake platforms, using fast DDR over slower DDR memory brought limited gains to a few games. However, we found that using faster memory resulted in extra overall performance gains for many other tasks and applications.
Here are the three 16GB kits that we are comparing:
T-FORCE T-1 Gaming PC4 21300 DDR4 2666MHz CL18 (and overclocked) 2x8GB kit
T-FORCE Night Hawk PC4 25600 3200MHz DDR4 CL16 2x8GB kit
T-FORCE XTREEM PC4 28880 3600MHz DDR4 CL18 2x8GB Kit
Testing Platform
Our testing platform is a recent clean installation of Windows 10 Home 64-bit, using an Intel Core i7-8700K at 4.80GHz in an EVGA Z370 FTW motherboard, a HyperX 480GB A-1000 NVMe SSD, and with 16GB of T-FORCE DDR2666 (also overclocked), 16GB of Night Hawk 3200MHz, or T-FORCE XTREEM DDR4 at 3600MHz .
The Nighthawk memory kit uses CAS16 while the other two T-FORCE memory kits use CAS18, and their Command Rates are set at 2T by their respective default XMP 1.0 profiles in the BIOS. The default XMP 1.0 Profile 1 of the T-FORCE T-1 Gaming DDR4 2666MHz timings are 18-18-18-43 . The settings, benchmarks, testing conditions, and hardware are identical except for the three DDR4 kits being compared.
We used either the RTX 2060 SUPER Founders Edition at stock clocks or the Core i7-8700K's CPU graphics for our testing. We will compare the performance of all three grades of DDR4, and we will also overclock the 2666MHz T-1 Gaming's memory to chart the effects of multiple memory speeds on the performance of nine modern games at a maxed-out/ultra 1920×1080 resolution. We benchmark using many of the recognized memory-related benchmarking tools including AIDA64, SANDRA, RealBench, PCMark 8 and 10, 3DMark, Cinebench, Star Swarm demo, and Wprime.
Product Specifications & Features
Here are the T-FORCE T-1 Gaming memory specifications from Team Group's website:
Using the XMP profile, the default command rate is 2T and the timings are CL18-18-19-43. Voltage is set at 1.2V but may be manually adjusted from between 1.2V to 1.4V – or higher. Team Group informed us that although they use both Hynix and Samsung memory chips, our sample uses Hynix. These features are from Team Group's website.
Features
Eye-catching visual design
Exclusive color printing with utility model patent
Supports Intel & AMD motherboards
Selected high-quality IC
Supports XMP2.0
Energy saving with ultra-low working voltage
Utility model patent number M563643
Team Group offers a lifetime warranty for their T-FORCE desktop memory. Let's unbox the memory kit on the next page and take a closer look.
Unboxing
The T-FORCE T-1 Gaming DDR4 2666MHz 2x8GB memory kit comes in a anti-static blister pack with an insert that advertises its features.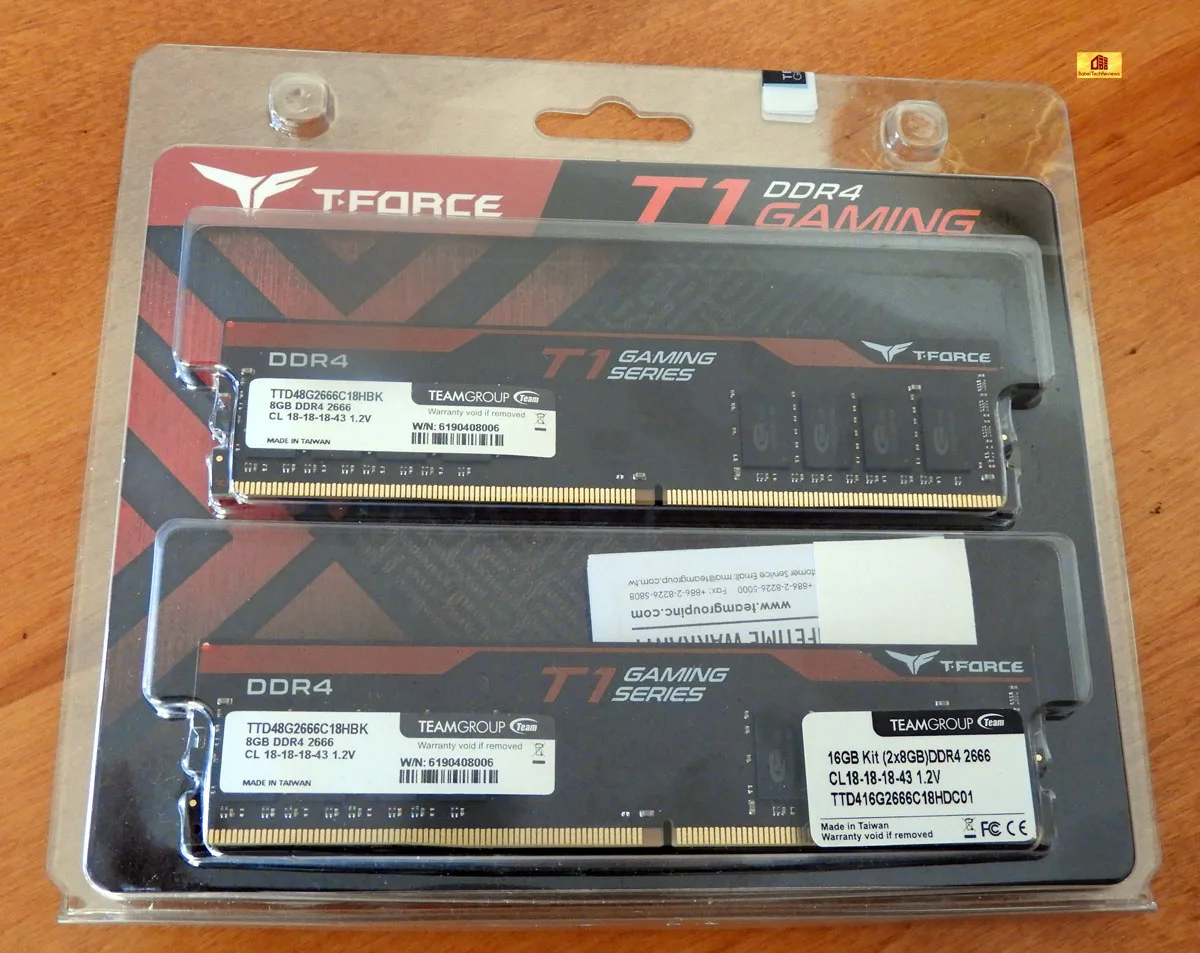 Team Group's T-FORCE logo is of a stylized hawk symbolizing a gamer's independent spirit of flying free. The insert explains the history of T-FORCE and lists its product features.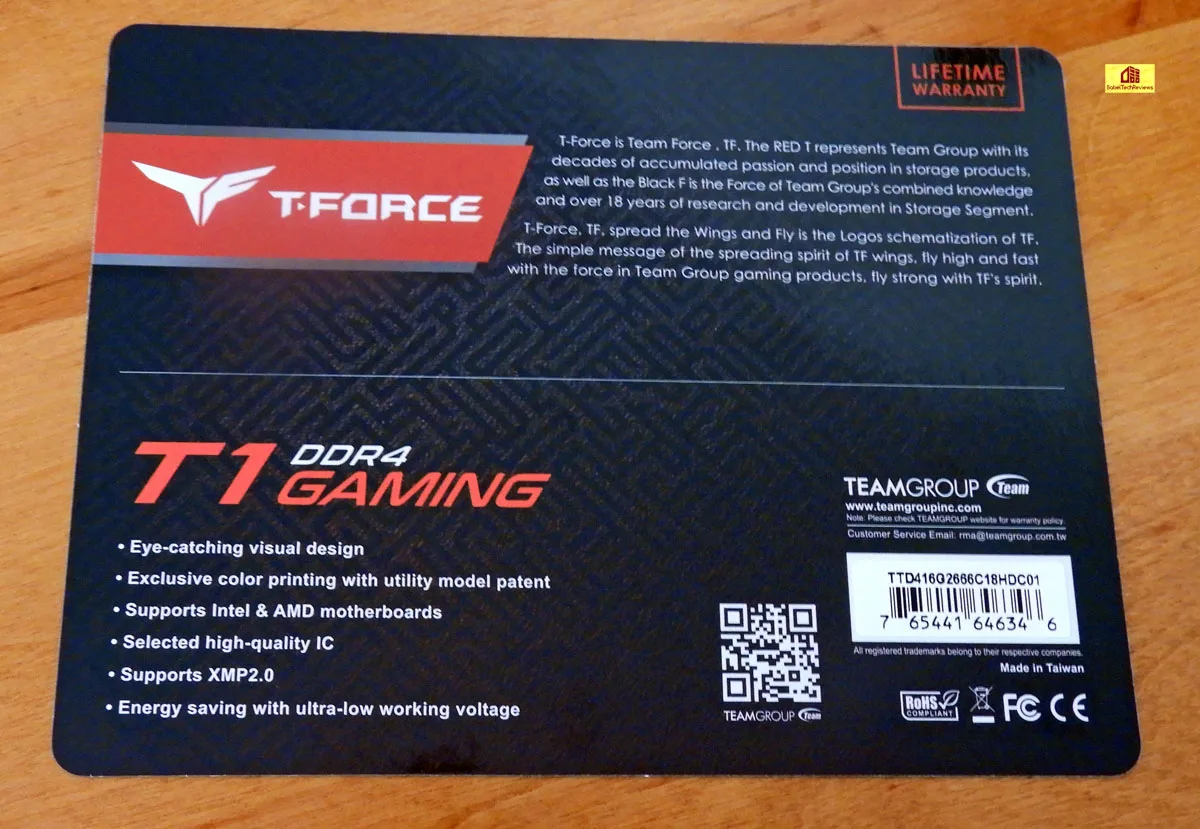 After we removed the memory out of its anti-static blister pack, we placed it next to the rest of the contents.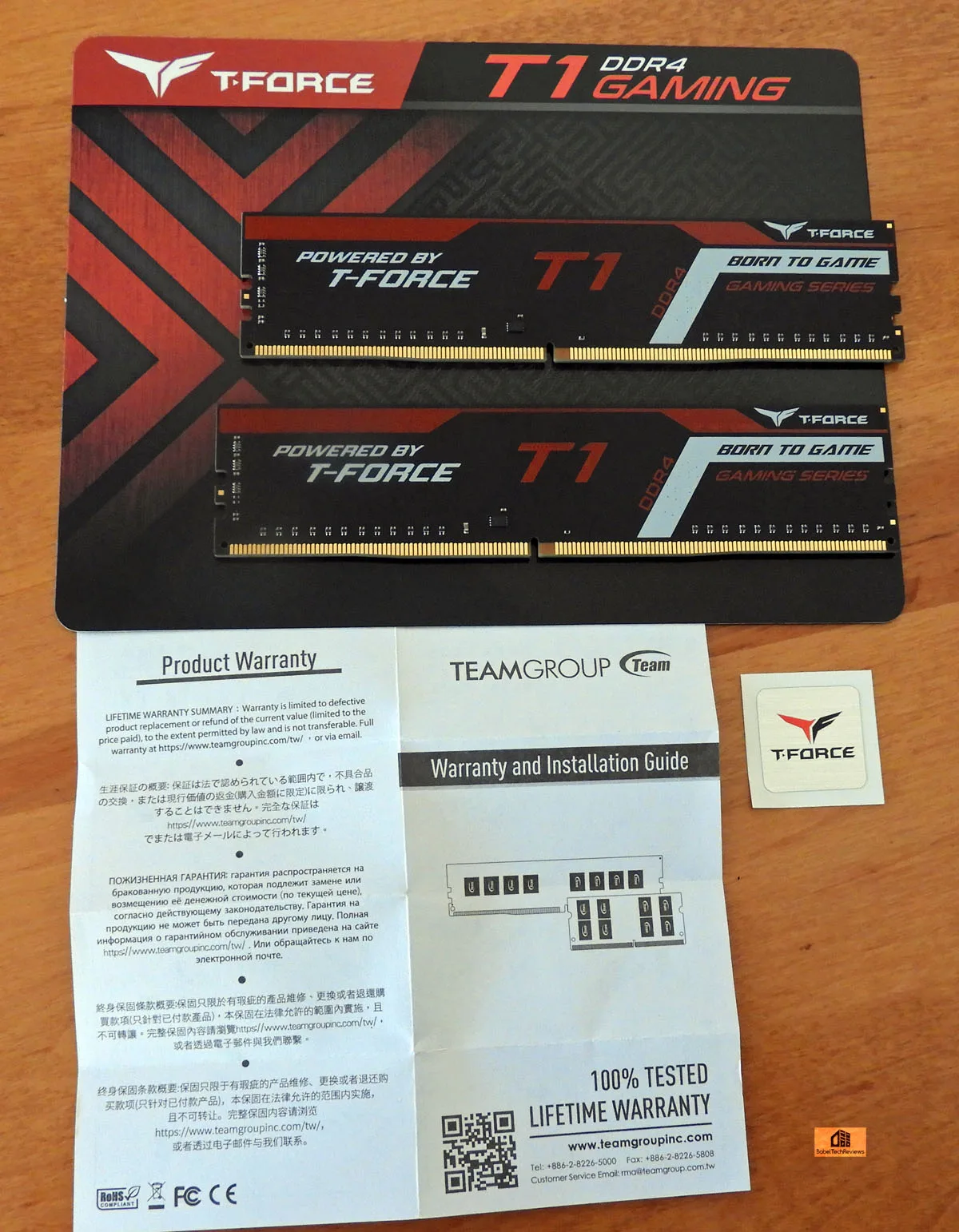 The installation guide is presented by illustrations and it is easy to follow.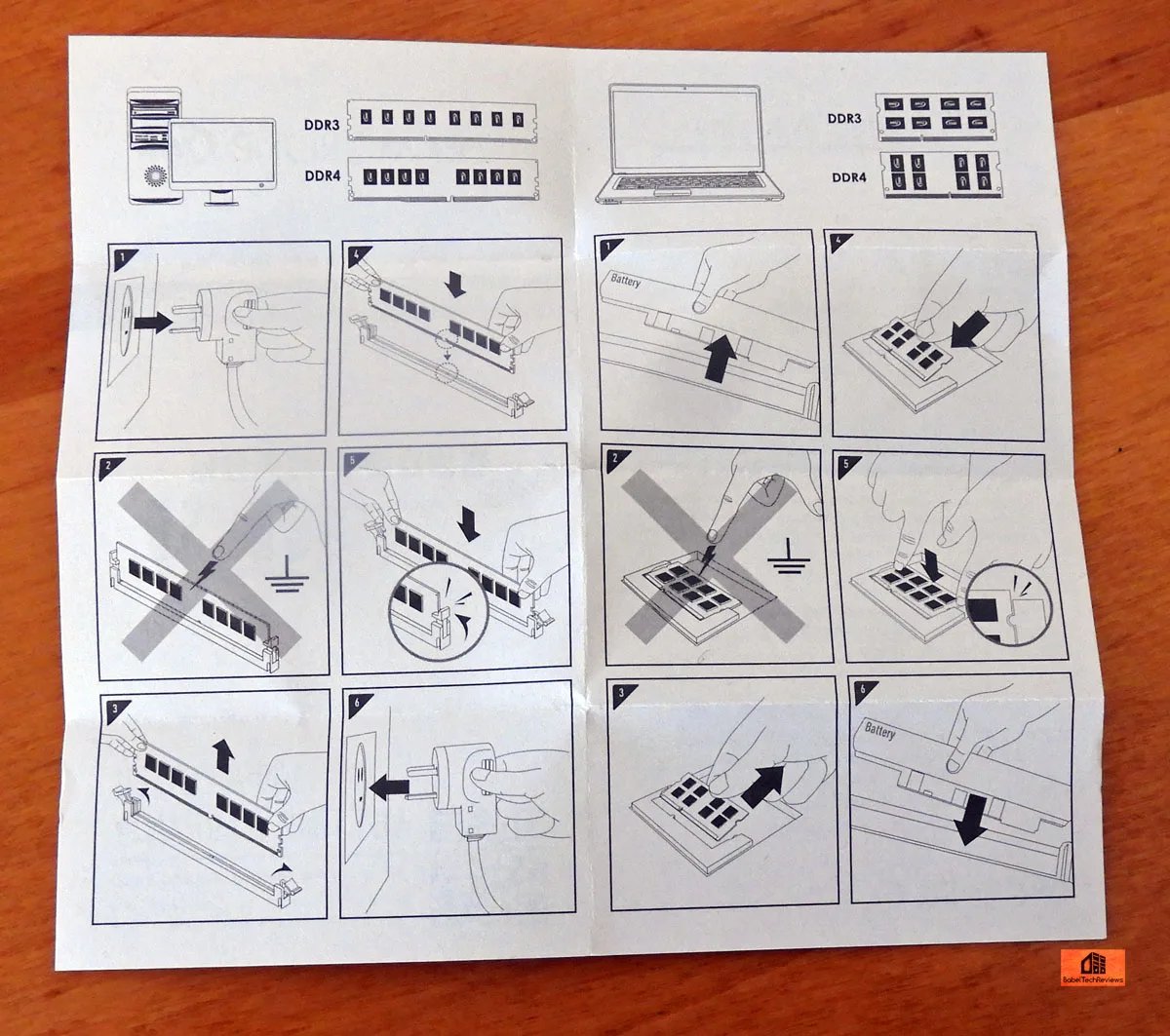 Here it is pictured on the front.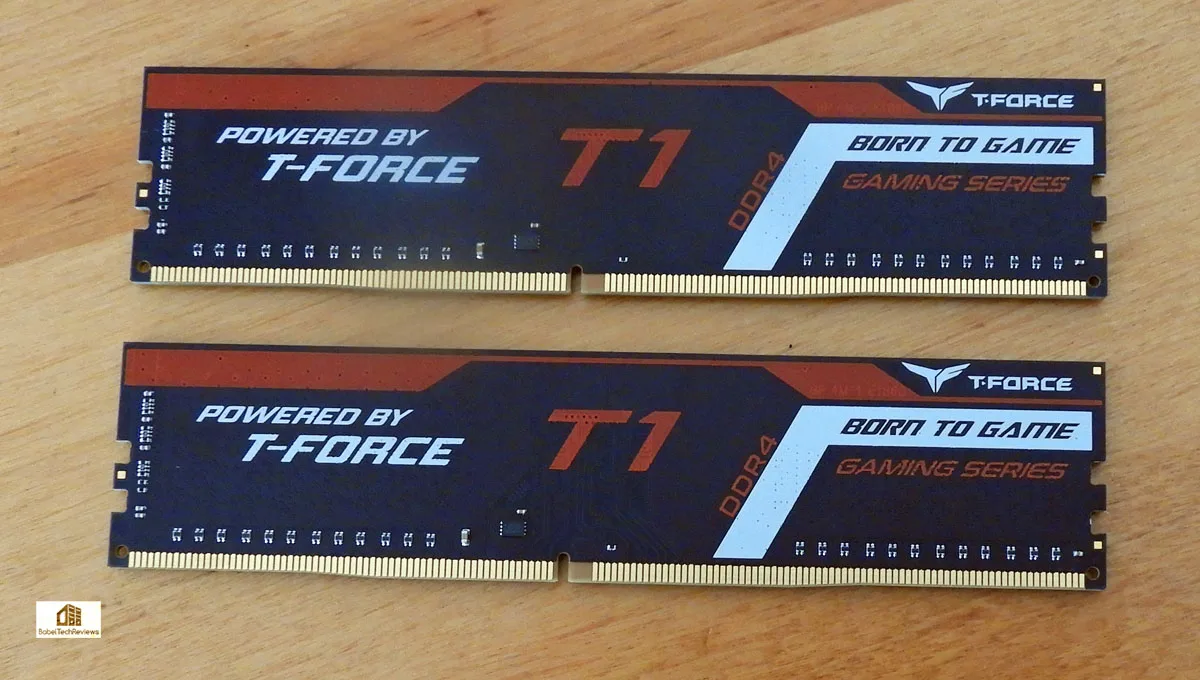 Here is the obverse with no heatsinks to cover the Hynix memory.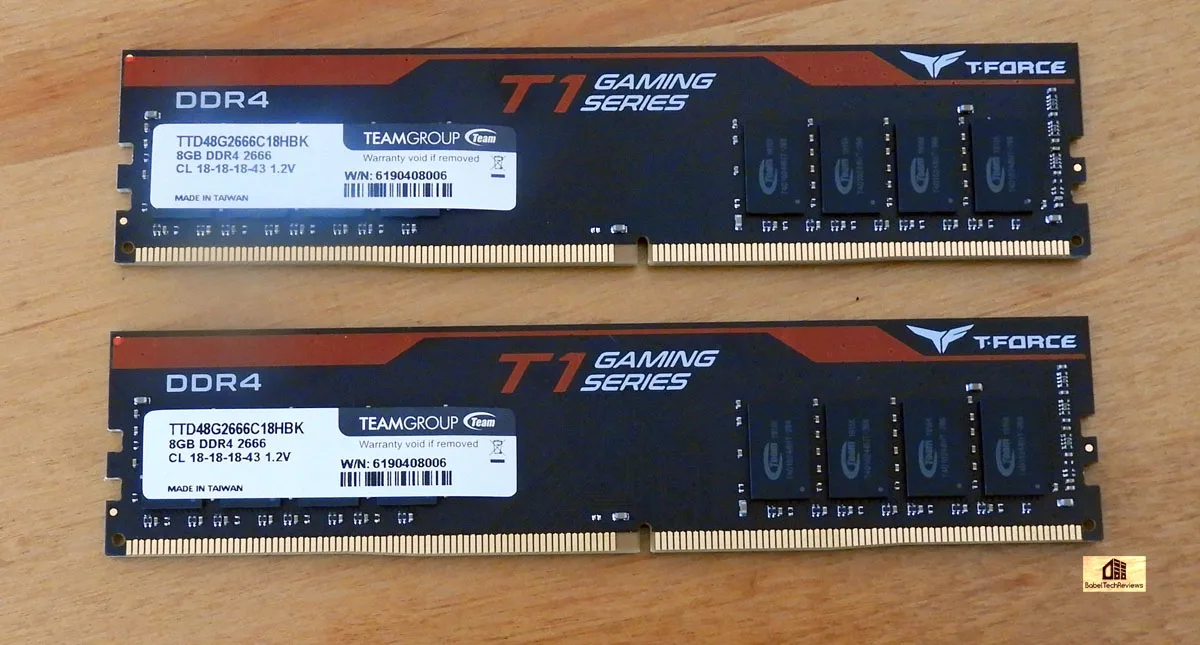 There is plenty of room in most cases and motherboards for this memory unlike with the much taller, bulkier, and heavier Nighthawk and XTREEM memory modules.
In the BIOS
The T-FORCE T-1 Gaming DDR4 2666MHz XMP profiles show up properly configured by the EVGA Z370 FTW motherboard's BIOS. We used the XMP 1 Profile associated with the kit, and it properly configured itself automatically until we manually overclocked it. There are a wide range of BIOS options presented to fine-tune and to overclock memory in most fully featured motherboard BIOSes.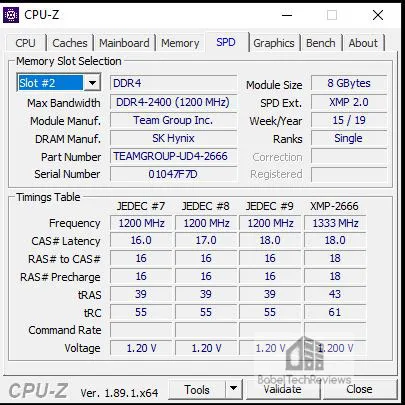 The T-1 Gaming DDR4 2666MHz memory timings are a rather loose 18-18-18-43. From our experience, it is generally preferable to choose faster memory clock speeds over tighter timings although some benchmarks appear to favor memory with tighter timings. As mainstream DDR4, it nominally uses 1.2V while the Nighthawk and XTREEM kits use 1.35V. However, the memory voltage can also be manually set from below 1.2V to 1.4V (or higher at your own risk) in the BIOS.
First, let's look at our test configuration.
Test Configuration – Hardware
Intel Core i7-8700K (HyperThreading and Turbo boost are on to 4.8GHz for all cores; Coffee Lake DX11 CPU graphics).
EVGA Z370 FTW motherboard (Intel Z370 chipset, latest BIOS, PCIe 3.0/3.1 specification, CrossFire/SLI 8x+8x), supplied by EVGA
T-FORCE T-1 Gaming PC4 21300 DDR4 2666MHz CL18 (and overclocked) 2x8GB kit, supplied by Team Group
T-FORCE Night Hawk PC4 25600 3200MHz DDR4 CL16 2x8GB kit, supplied by Team Group
T-FORCE XTREEM PC4 28880 3600MHz DDR4 CL18 2x8GB Kit, supplied by Team Group
RTX 2060 SUPER Founders Edition 8GB, at stock FE clocks, on loan from NVIDIA
480GB A-1000 HyperX NVMe SSD, supplied by HyperX
1.92 TB San Disk enterprise class SSD
2 TB Micron 1100 SSD
Seasonic 850W Gold Focus power supply unit
EVGA CLC 280mm CPU water cooler, supplied by EVGA
EVGA Nu Audio stereo PCIe sound card, supplied by EVGA
Edifier R1280T active desktop speakers
Grado SR60e headphones
EVGA DG-77, mid-tower case supplied by EVGA
Monoprice Crystal Pro 4K
Test Configuration – Software
Nvidia's GeForce 431.60 WHQL drivers. High Quality, prefer maximum performance, single display.
VSync is off in the control panel.
AA enabled as noted in games; all in-game settings are specified with 16xAF always applied.
Highest quality sound (stereo) used in all games.
Windows 10 64-bit Home edition.
Latest DirectX
All games are patched to their latest versions at time of publication.
MSI's Afterburner, latest version.
OCAT, latest version
CPU-Z
MemTest64
Windows Memory Diagnostics
3DMark Physics Test
SiSoft Sandra 2020
AIDA64
PCMark 8 (Creativity Suite)
PCMark 10 (Extended)
Real Bench
Cinebench R20
WPrime
Star Swarm Demo
PC Game suite
ARMA III
Grand Theft Auto V
Fallout 4
Tom Clancy's Rainbow 6 Siege
Project CARS 2
Total War: Warhammer II
Resident Evil 2
Civilization 6
Anno 1800
Nvidia Control Panel settings:
We used MSI's Afterburner to set the power and temp limits to their maximums.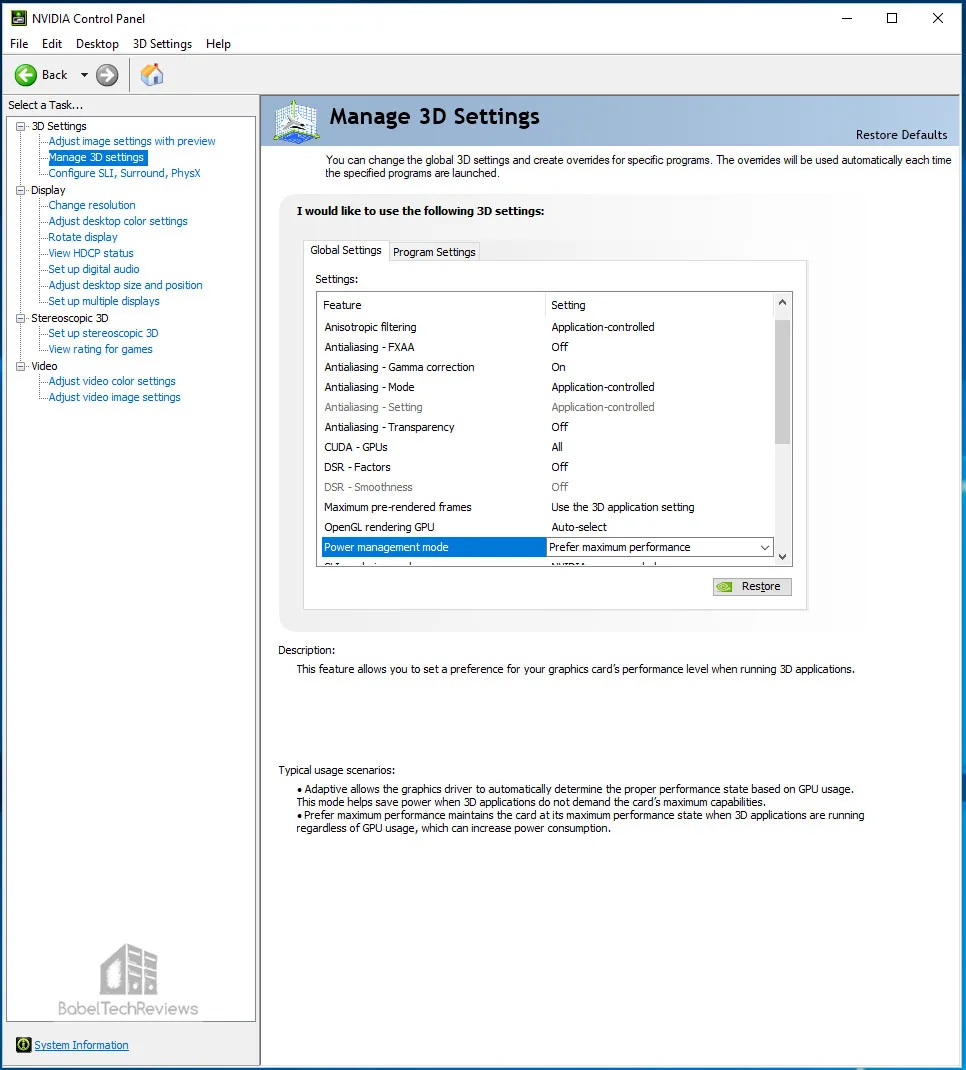 The Texture Filtering has been set to High and Vertical Sync has been disabled. Let's head to our benching results.
Overclocking
Before we look at our benches, let's explore overclocking our T-FORCE 2666MHz DDR4. We used the default timings of the T-FORCE T-1 Gaming DDR4 2666MHz memory to increase its clocks until we reached its maximum stable speed at 1.4V. Tightening DDR's timings tend to bring less performance gain than increasing clock speed and should probably be left until after the preliminary overclocking stability tests are complete.
Here is CPU-Z showing the T-FORCE 2666MHz DDR4 timings and speeds:
Here it is overclocked to 3100MHz with the same timings as at 2666MHz: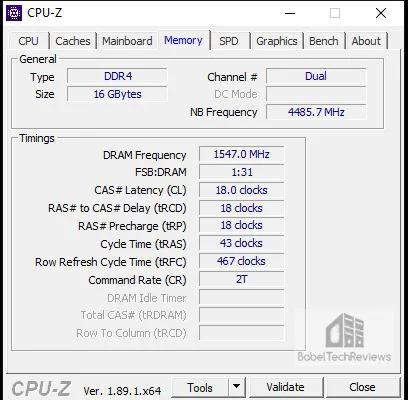 We used our own self-imposed hard cap of 1.4V which we used to stabilize the memory overclock. After much experimentation, we finally settled on an overclock of +434MHz to stably reach DDR4 3100MHz speeds which are many speed grades above 2666MHz. Trying 3200MHz speeds at 1.4V, it refused to post and it would probably have required more voltage than we are willing to use.
We tested our final overclock using AIDA64's System Test which also shows the voltage used at 3100MHz remained under our BIOS limit of 1.399V. This AIDA64 test really stresses the memory and also the CPU. We confirmed that our final overclock was stable by running MemTest64 and Windows Memory Diagnostics overnight, as well as by playing games and running BTR's other benching suites.
We believe that our overclock of +434MHz from 2666MHz to 3100MHz may be a great middle ground for many enthusiasts wanting great value, long memory life, complete stability and increased performance. It will also show that this memory scales by simply increasing memory clocks. Some hardcore enthusiast overclockers may want to aim for the highest overclock that their own memory will reach, and afterward they may fine-tune the timings for maximum memory performance.
It is important to look at synthetic benchmarks to highlight the differences between our three memory samples and also note what happens to application and game performance as we increase the T-FORCE T-1 Gaming memory's clock speeds from 2666MHz to 3100MHz as well as to compare with higher performance DDR4.
Benchmarking
Synthetic Benches
All of our synthetic benches were performed using our Core i7-8700K's integrated CPU graphics except as noted with Real Bench which used a RTX 2060 SUPER as well as in our gaming benchmarks.
Star Swarm Demo
Star Swarm demo is the original genesis for Ashes of the Singularity – and unlike the finished game – it is very demanding on the CPU and will usually demonstrate increased framerates by using faster CPU and/or memory clocks. We did not use a video card but instead used Intel's CPU graphics.
the T-FORCE T-1 Gaming 2666MHz DDR4 is first.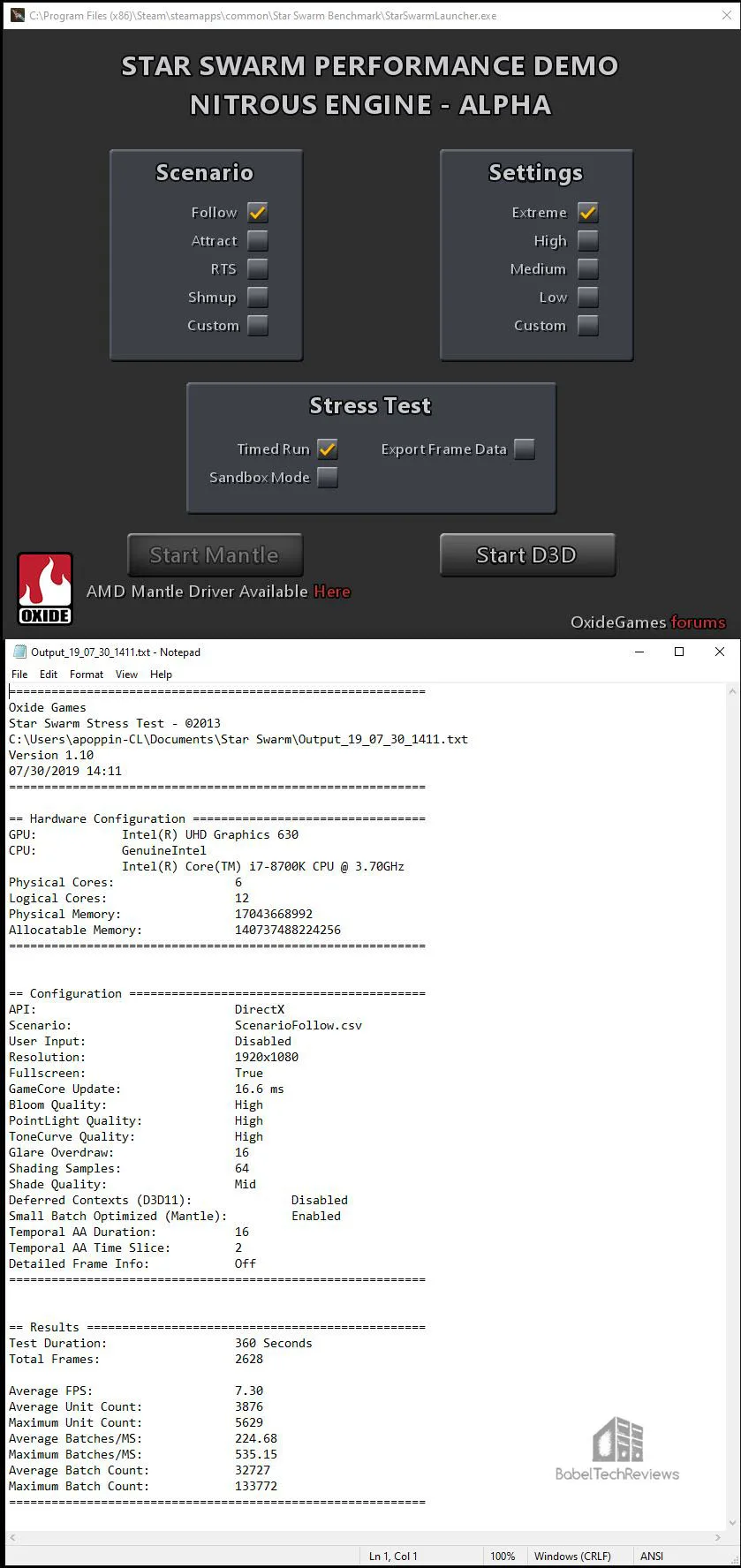 The T-FORCE T-1 Gaming 2666MHz DDR4 memory averages 7.30 FPS. Next, it is tested overclocked to 3100MHz.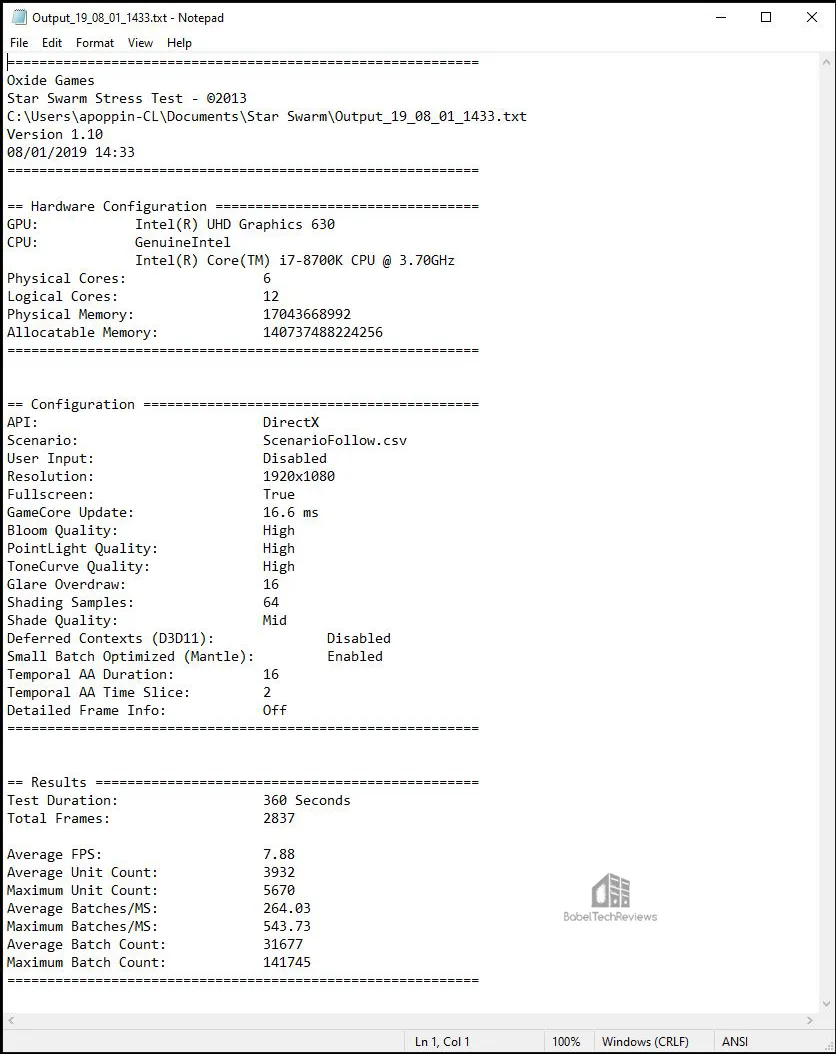 Game Performance Results & Summary Charts
Below is the summary chart of nine games which appear to be sensitive to scaling by increasing CPU speeds and possibly by increasing memory clocks using a stock RTX 2060 SUPER Founders Edition.
The highest settings are used, and the benches were run at 1920×1080. All results show average frame rates. Minimum frame rates are shown next to the averages but they are in italics and in a slightly smaller font, and higher is always better. However, Civilization VI is benched using OCAT and the averages and minimums are expressed by .1ms frametimes where lower is better. In addition, the AI benchmark of Civilization VI measures the turn time in seconds where lower is also better.

ARMA III and ANNO 1800 each show the largest performance increase of approximately 6 FPS by comparing the memory speeds from 2666MHz to 3600MHz. Most of the other games show varying degrees of smaller performance improvements although the results are quite regular. However, it is important to remember that although a benchmarking margin of error may cloud the results, there is a noticeable trend that faster memory may increase framerates for certain games.
Synthetic Summary Charts
Here are all of the Summary charts in one location. Unless noted on the charts, higher is better.

We generally see the performance increasing with faster memory speeds. Let's head to our conclusion.
Conclusion and Verdict
We have seen that that running DDR4 at a faster clock speed produces performance gains and saves time with some common tasks. In addition, some modern games can also benefit from faster system memory with a fast CPU and a fast video card.
Is DDR at 2666MHz good enough for a gamer? Probably, although it might be helpful for gamers to overclock it depending on the games they play. If a gamer is buying a new CPU and motherboard now, faster RAM can make a performance improvement in gaming. The gaming performance improvement with faster DDR4 isn't dramatic, from zero performance improvement to perhaps adding a few framerates in some memory-sensitive games like ARMA III and Anno 1800. Faster RAM benefits are mostly shown by memory intensive benchmarks.
T-FORCE T-1 Gaming DDR4 2666MHz
Pros
The Team Group T-FORCE T-1 Gaming DDR4 2666MHz RAM is mainstream DDR4 that is built for reliability and even for good overclocking.
Our sample is a value enthusiast's dream. Fast, stable, and dependable, it overclocks multiple speed grades beyond its rated 2666MHz grade to 3100MHz at under 1.4V.
Once overclocked, it is nearly as fast as the Night Hawk DDR4 3200MHz kit which is almost twice more expensive.
It is conservative-looking with no frills, no external heatsinks, and no RGB which allows it to easily fit in most motherboards.
Voltage tolerances from 1.2V to 1.4V and even higher allow for overclocking.
It comes with a lifetime Team Group warranty.
Cons
At 2666MHz with CAS18 latency it may not take full advantage of a very fast CPU.
The Verdict
If you are a value or a budget-minded gamer with good quality components who wants high performance from your PC, then the Team Group T-FORCE T-1 Gaming DDR4 2666MHz is an excellent choice as it is reasonably fast at stock speeds coupled with an overclocked CPU, plus it overclocks very well.
Although it is not on sale currently, the T-FORCE T-1 Gaming 2x8GB 2666MHz RAM Kit is priced similarly to other DDR4 in its speed class and it is backed by Team Group who gives a lifetime warranty. It is a decent performer at its default XMP profile and it overclocks extremely well. We feel that the T-FORCE DDR4 2866MHz deserves BTR's Good Value Award.
If you are on a tight budget, the T-1 Gaming 2666MHz RAM may be a good choice, and then try for an overclock. For gaming, 8GB is probably still barely acceptable although for other tasks, 16GB is almost mandatory.
Stay tuned. Our RX 5700 XT is scheduled to return from RMA next week as part of a VR performance evaluation using the Vive Pro and the Oculus Rift. In the meantime, we are working on a Team Group Vulcan 500GB SSD performance review next. In the meantime, if you have any questions or comments, please feel free to use Disqus below.
Happy Gaming!