Intro
The Team Group T-FORCE T-1 Gaming DDR4 2666MHz 16 GB kit review
T-FORCE T-1 Gaming DDR4 2666MHz desktop overclocking memory is not flashy RGB like the 3200MHz Night Hawk memory, nor it is fast like their XTREEM 3600MHz memory.  Rather it is mainstream memory that we shall test against T-FORCE's other two memory kits to see what performance it brings for gamers.  We also will overclock it to see if we can get some free performance.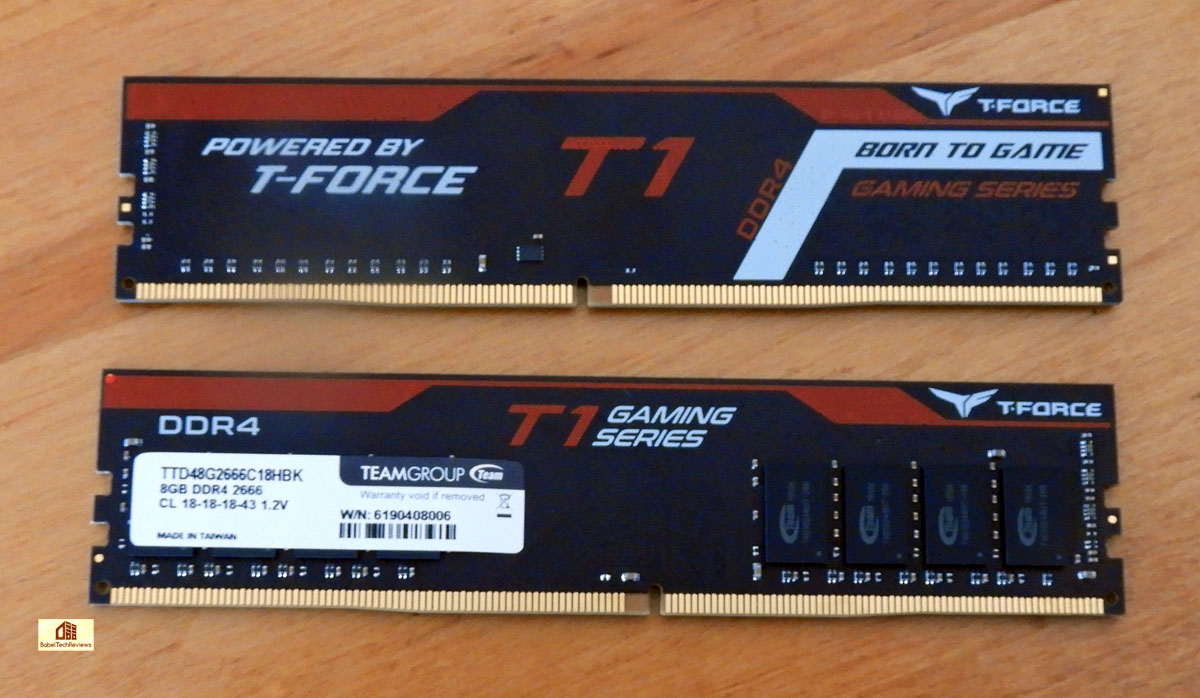 Team Group has been creating high-quality memory products for almost two decades, and their Team T-FORCE T-1 Gaming line-up is aimed at the value conscious gamer.  We received a 16BG kit from Team Group, and we will test how well this T-FORCE T-1 Gaming DDR4 2666MHz 16GB CAS18 memory kit performs at stock and at overclocked speeds compared with the RGB 16GB Nighthawk DDR4 3200MHz CAS16 memory kit and with the enthusiast grade T-FORCE XTREEM DDR4 3600MHz CAS18 16GB memory kit.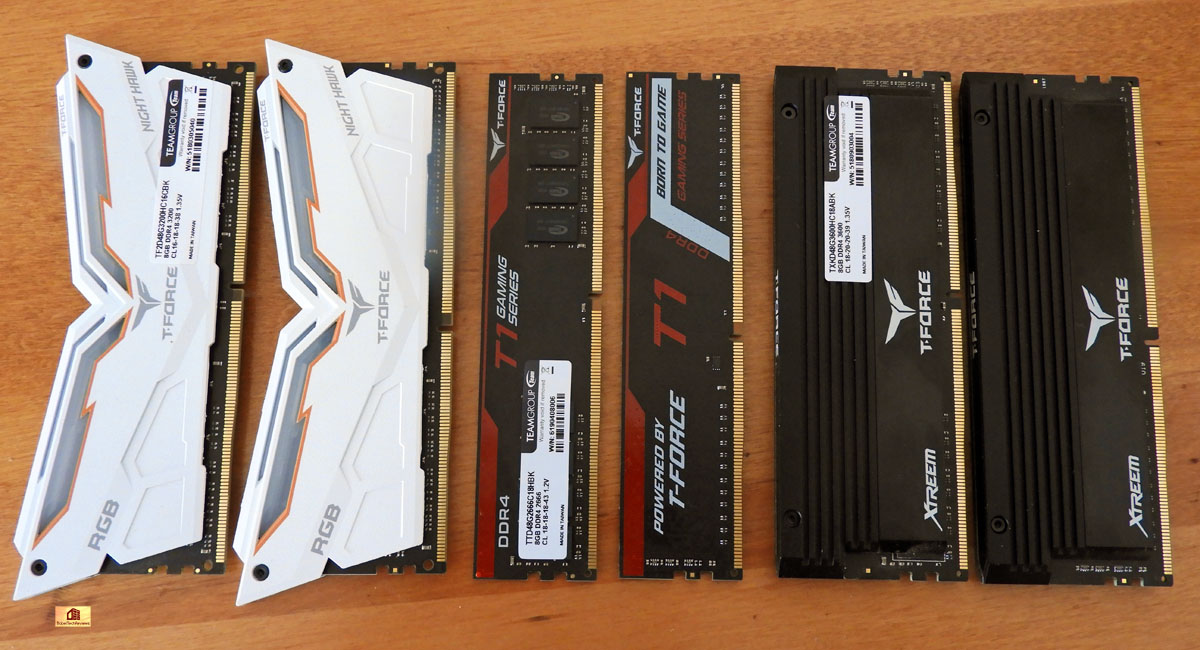 Memory pricing has softened since last year and there are some good deals to be found.  The T-FORCE T-1 Gaming PC4 21300 DDR4 2666MHz CL18 2x8GB kit can be found at Newegg or on Amazon for $74.99; the T-FORCE Night Hawk RGB PC4 25600 DDR4 3200MHz CL16 2x8GB kit is available at Amazon for $139.98; and the T-FORCE XTREEM PC4 28880 3600MHz 2x8GB memory kit sells for $145.99 at Amazon.  We want to determine if the $75 DDR4 2666MHz kit is worth buying compared to faster and more expensive RGB or high-performance DDR4.
From our testing with Ivy Bridge, Haswell, Skylake, and Coffee Lake platforms, using fast DDR over slower DDR memory brought limited gains to a few games.  However, we found that using faster memory resulted in extra overall performance gains for many other tasks and applications.
Here are the three 16GB kits that we are comparing:
T-FORCE T-1 Gaming PC4 21300 DDR4 2666MHz CL18 (and overclocked) 2x8GB kit
T-FORCE Night Hawk PC4 25600 3200MHz DDR4 CL16 2x8GB kit
T-FORCE XTREEM PC4 28880 3600MHz DDR4 CL18 2x8GB Kit 
Testing Platform
Our testing platform is a recent clean installation of Windows 10 Home 64-bit, using an Intel Core i7-8700K at 4.80GHz in an EVGA Z370 FTW motherboard, a HyperX 480GB A-1000 NVMe SSD, and with 16GB of T-FORCE DDR2666 (also overclocked), 16GB of Night Hawk 3200MHz, or T-FORCE XTREEM DDR4 at 3600MHz .
The Nighthawk memory kit uses CAS16 while the other two T-FORCE memory kits use CAS18, and their Command Rates are set at 2T by their respective default XMP 1.0 profiles in the BIOS.  The default XMP 1.0 Profile 1 of the T-FORCE T-1 Gaming DDR4 2666MHz timings are 18-18-18-43 . The settings, benchmarks, testing conditions, and hardware are identical except for the three DDR4 kits being compared.
We used either the RTX 2060 SUPER Founders Edition at stock clocks or the Core i7-8700K's CPU graphics for our testing.  We will compare the performance of all three grades of DDR4, and we will also overclock the 2666MHz T-1 Gaming's memory to chart the effects of multiple memory speeds on the performance of nine modern games at a maxed-out/ultra 1920×1080 resolution. We benchmark using many of the recognized memory-related benchmarking tools including AIDA64, SANDRA, RealBench, PCMark 8 and 10, 3DMark, Cinebench, Star Swarm demo, and Wprime.
Product Specifications & Features
Here are the T-FORCE T-1 Gaming memory specifications from Team Group's website:
Using the XMP profile, the default command rate is 2T and the timings are CL18-18-19-43.  Voltage is set at 1.2V but may be manually adjusted from between 1.2V to 1.4V – or higher.  Team Group informed us that although they use both Hynix and Samsung memory chips, our sample uses Hynix.  These features are from Team Group's website.
Features
Eye-catching visual design
Exclusive color printing with utility model patent
Supports Intel & AMD motherboards
Selected high-quality IC
Supports XMP2.0
Energy saving with ultra-low working voltage
Utility model patent number M563643
Team Group offers a lifetime warranty for their T-FORCE desktop memory.  Let's unbox the memory kit on the next page and take a closer look.