Intro
The Team Group T-FORCE XTREEM DDR4 3600MHz 16 GB kit review
T-FORCE XTREEM DDR4 3600MHz desktop "overclocking memory" is not RGB nor is it flashy in any way like their 3200MHz Night Hawk memory that we reviewed favorably last year.  Using a unique yet classic channel or "trench" design for looks as well as for radiating heat, it claims good stability, speed, and overclocking potential.  BTR gladly accepted Team Group's offer to review their T-FORCE XTREEM 2x8GB 3600MHz CAS18 2x8GB memory kit, and we have been benchmarking it since last week.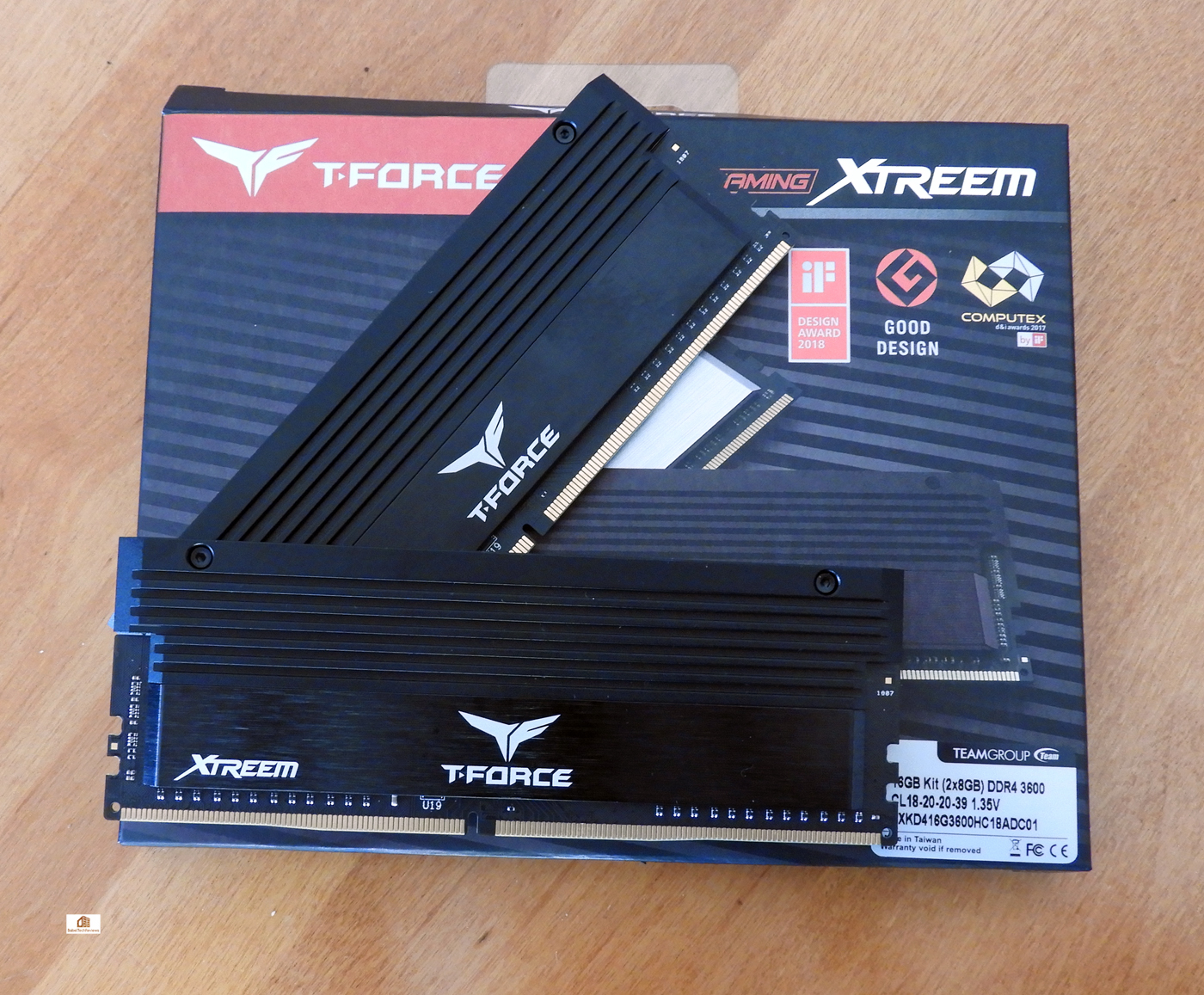 Team Group has been creating high-quality memory products for two decades, and their Team T-FORCE performance line-up is aimed at the enthusiast gamer.  We will test how well this XTREEM DDR4 3600MHz 16GB memory kit performs at stock and at overclocked speeds compared with the 16GB HyperX Predator DDR4 3333MHz CAS16 memory kit.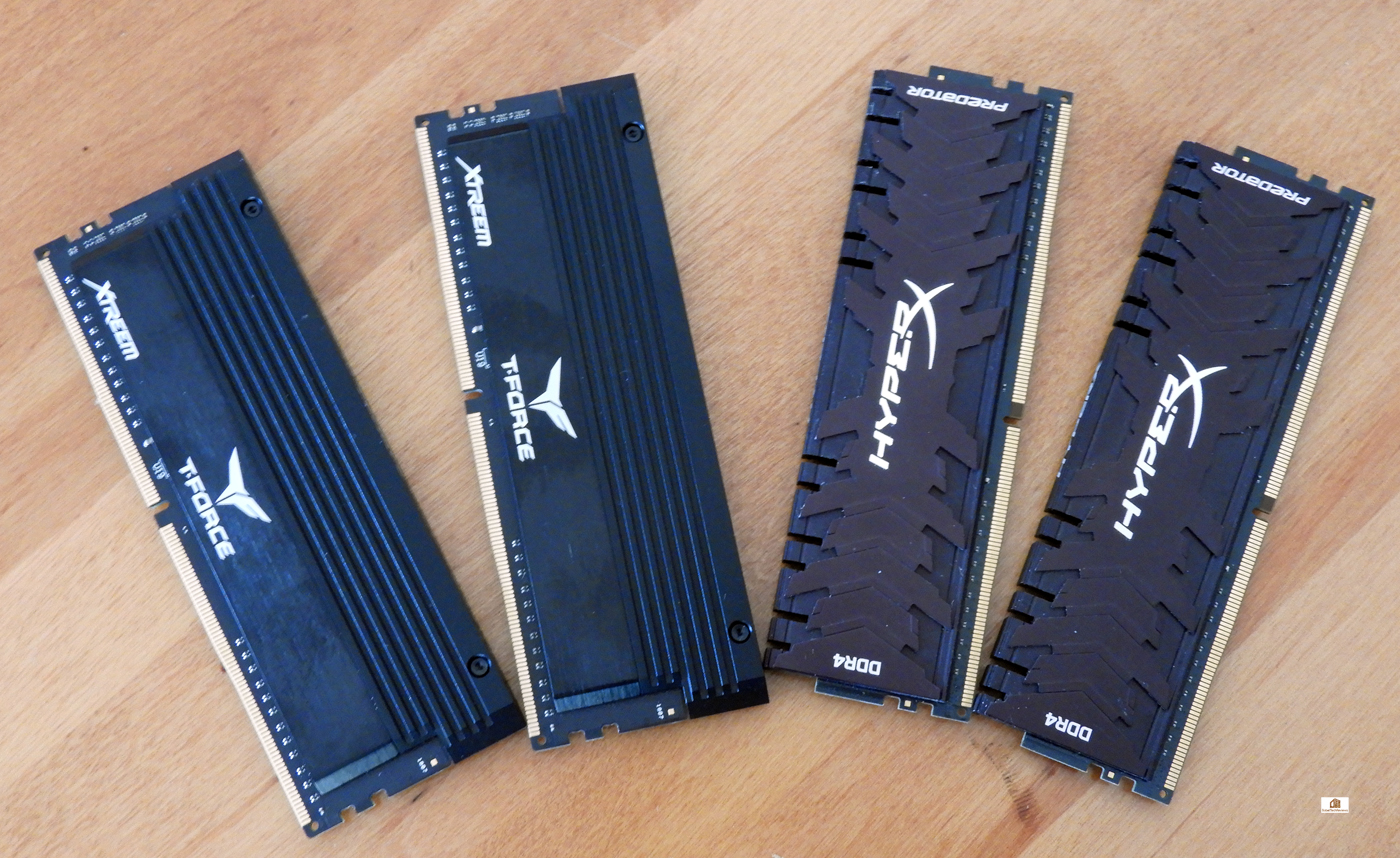 We favorably reviewed the HyperX memory two years ago and it has well-served BTR's primary PC since then. Memory pricing has softened compared with last year and there are some good deals to be found.
From our testing with Ivy Bridge, Haswell, Skylake, and Coffee Lake platforms, using fast DDR over slower DDR memory brought limited gains to a very few games.  However, we found that using faster memory resulted in extra overall performance gains to many other tasks and applications.
These are our two competing 16GB kits:
T-FORCE XTREEM RGB PC4 28880 DDR4 2x8GB Kit (3600MHz/3866MHz-OC)
HyperX Predator PC4 26600 DDR4 2x8GB Kit (3333MHz)
Testing Platform
Our testing platform is a very recent clean installation of Windows 10 Home 64-bit, using an Intel Core i7-8700K at 4.80GHz in an EVGA Z370 FTW motherboard, a HyperX 480GB A-1000 NVMe SSD, and with 16GB of T-FORCE XTREEM DDR4 at 3600MHz (also overclocked), or with 16GB of HyperX Predator DDR4 at 3333MHz.
The HyperX memory kit uses CAS16 while the T-FORCE memory uses CAS18, and the Command Rate is set at 2T by their respective default XMP 1.0 profiles in the BIOS.  The default XMP Profile 1 XTREEM timings are 18-20-20-39 while the HyperX Predator timings are tighter at 16-18-18-36. The settings, benchmarks, testing conditions, and hardware are identical except for the two DDR4 kits being compared.
We used either the RTX 2070 Founders Edition at stock clocks or the Core i7-8600K's CPU graphics for all of our testing.  We will compare the HyperX Predator DDR4 at 3333MHz versus the T-FORCE DDR4 at 3600MHz and also overclocked to chart the effects of multiple memory speeds on the performance of 11 modern games at a maxed-out/ultra 1920×1080 resolution. We also benchmark using many of the recognized memory-related benchmarking tools including AIDA64, SANDRA, RealBench, PCMark, 3DMark, Cinebench, Star Swarm demo, and Wprime.
Product Specifications & Features
Here are the T-FORCE XTREEM memory specifications from Team Group's website: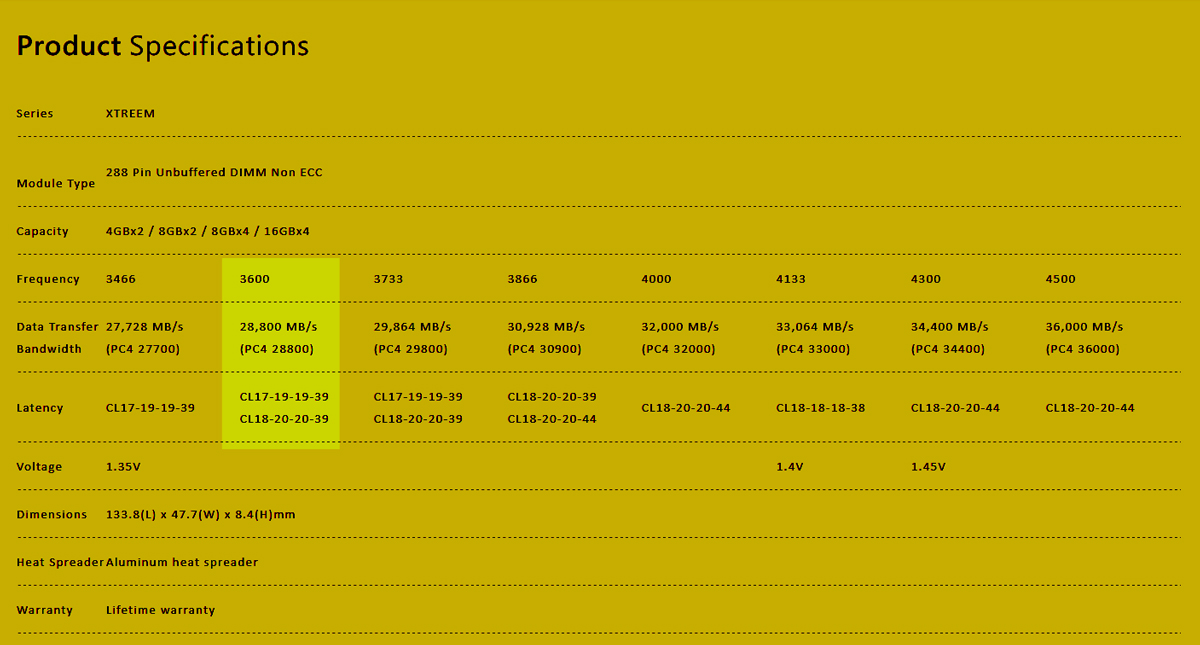 Using the XMP profile, the default command rate is 2T and the latency is CL18-20-20-39.  Voltage is set at 1.35V but may be manually adjusted from between 1.2V to 1.4V – or higher.  Team Group informed us that although they generally use both Hynix and Samsung memory chips, for this XTREEM lineup they only select Samsung chips which have passed through their own internal testing.  These features are from Team Group's website.
Features
The finest crafted heat spreader with unique trench design
High-efficiency aluminum heat spreader
Selected high quality original IC chips
1.2V~1.4V ultra low working voltage
Support Intel XMP 2.0 smart overclocking technology
QVL approved by motherboard manufactures in the market
Team Group offers a lifetime warranty for their XTREEM DDR desktop memory.  Let's unbox the memory kit on the next page and take a closer look.