The Team Group Night Hawk DDR 3200 MHz 16 GB kit review
Team Group has been creating high quality memory products for two decades and their Team T-Force performance line-up is aimed at the enthusiast gamer. We received a T-Force Night Hawk RGB DDR4 3200 MHz 2×8 GB CAS16 memory kit for review (TF2D416G3200HC16CDC01) from Team Group, and we will see how it compares at stock and at overclocked speeds to the more expensive HyperX Predator DDR4 3333 MHz CAS16 memory kit.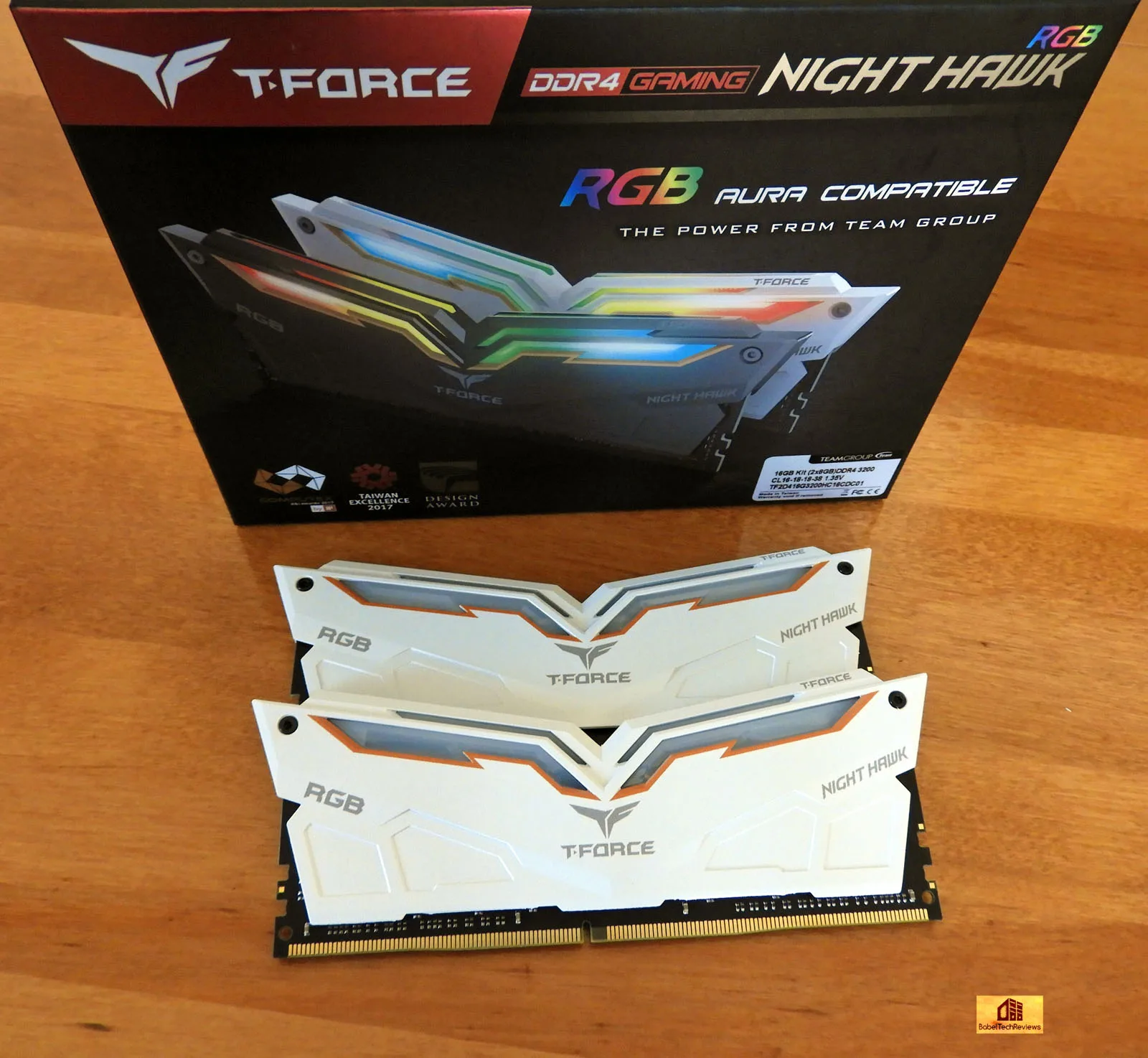 Team Group's Night Hawk RGB DDR4 line-up has been updated to provide RGB LED compatibility on a white (or black) 10-layer PCB that uses stylized hawk wings in the design of its heavy aluminum heatspreaders. The overall aesthetics of the Night Hawk memory in white with a soft and ever-changing RGB glow inside of a PC are amazing. The RGB lighting is completely customizable, and Night Hawk can sync with ASUS AURA, GIGABYTE RGB Fusion and MSI Mystic Light motherboards to produce millions of combinations. BLITZ software from the Team Group website (scroll to bottom, "software download") can be used to also customize the RGB lighting for other motherboards.

Here is a short video clip showing a small sample of the Night Hawk's RGB lighting cycles using a Light Side Star Wars Collectors Edition of the TITAN Xp. The possibilities are endless as the light can be set to cycle through 40 shades of green to match the rebels, or switch to red – or in any color or combination with a plethora of synchronization options available.
From our testing with Ivy Bridge and Haswell platforms, using fast DDR3 over slower DDR3 only brought limited gains to a very few games. In our last 16 GB DDR4 evaluation using a Skylake Core i7-6700 at 4.4 GHz, we compared HyperX Predator DDR4 3333 MHz against G.SKILL Ripjaws V Series DDR4 3000 MHz and found that faster memory brought a little extra overall performance.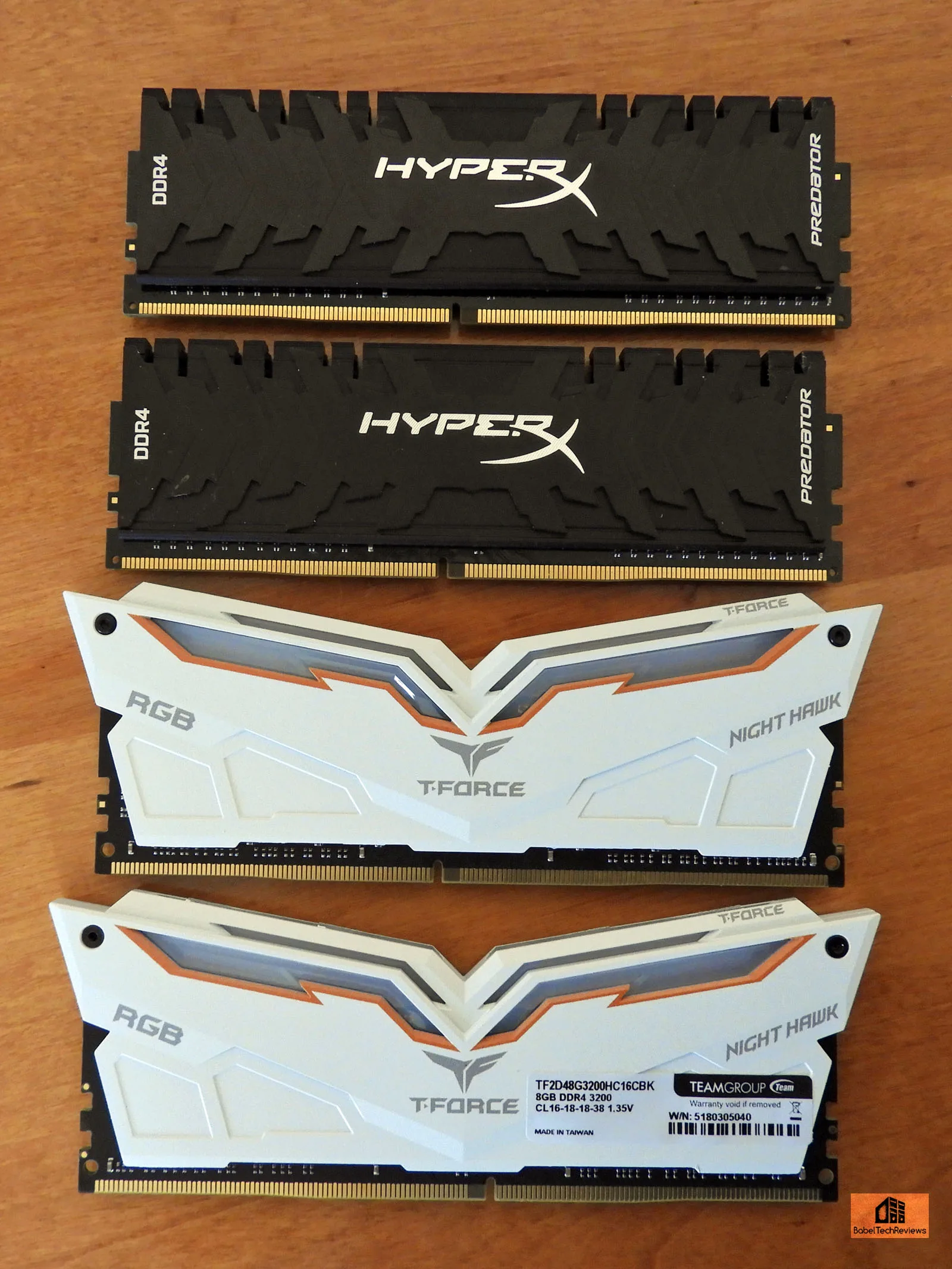 Memory pricing is still high compared with 2 years ago, but it appears to be softening. The Team Group Night Hawk 16 GB DDR4 3200 MHz kit can be purchased at Newegg for $189.99 while the HyperX Predator 16 GB DDR4 3333 MHz kit currently costs $244.40. If you prefer black, the Night Hawk 16 GB 3200 MHz kit is at time of posting on sale at Newegg for $175.99.
Here is our testbed of the two competing 16 GB (2 x 8 GB) memory kits.
Team Group Night Hawk RGB PC4 25600 2 x 8 GB DDR4 Kit (3200/3333/3400 MHz)
HyperX Predator PC 26600 DDR4 2 x 8 GB Kit (3333 MHz)
Testing Platform
Our testing platform is Windows 10 Home 64-bit, using an Intel Core i7-8700K at 4.60 GHz in an EVGA Z370 FTW motherboard, with 16 GB of Team Group Night Hawk RGB DDR4 at 3200/3333/3400 MHz or 16GB of HyperX Predator DDR4 at 3333 MHz. Both memory kits use CAS16 and the Command Rate is set at 2T by their respective default XMP 1.0 profiles in the BIOS. The default XMP Profile 1 Night Hawk timings are 16-18-18-38 while the HyperX Predator timings are at 16-18-18-36. The settings, benchmarks, testing conditions, and hardware are identical except for the two DDR4 kits being compared.
We used a GTX 1080 Ti Founders Edition at stock clocks for all of our testing, but used a TITAN Xp Star Wars Collectors Edition for the RGB lighting video. We will compare the HyperX Predator DDR4 at 3333 MHz versus the Night Hawk DDR4 at 3200/3333/3400 MHz to chart the effects of memory speeds on the performance of 9 modern games at a maxed-out 1920×1080 resolution together with all of the important memory-related benchmarking tools including AIDA64, SANDRA, RealBench 243, PC Mark, 3D Mark, Cinebench, Star Swarm demo, and Wprime.
Features and Product Specifications
Here are the features and specifications of Team Group Night Hawk memory from Team Group's website: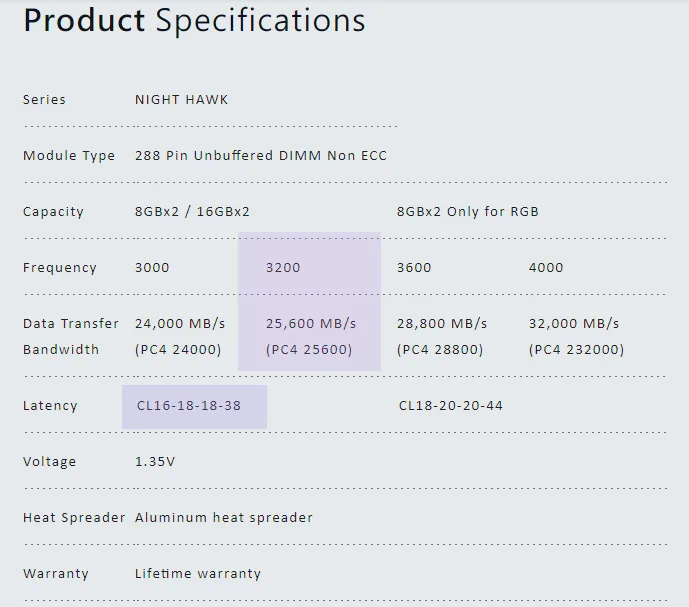 In addition, using the XMP 1.0 profile, the default command rate is 2T and the latency is CL16-18-18-38. Voltage may be safely adjusted from 1.2V to 1.4V. Team Group informed us that they use both Hynix and Samsung memory chips and it may change any time between them.
Features
NIGHT HAWK RGB:
DDR4 RGB full-color lighting effects
Using JEDEC Association latest RC 2.0 circuit configuration
Supports T-FORCE BLITZ control
Supports ASUS Aura Sync
Exclusive hawkeyes with battle totem design
1.2~1.4V ultra low working voltage with 40% energy saving
NIGHT HAWK LED:
Hawk wings symmetric type heat spreader
Unique hawkeyes light guide panel design
High-efficiency aluminum heat spreader
LED breathing light
10 layers of circuit board
The specifications look good, and it is important to note that Team Group gives a limited lifetime warranty for Night Hawk memory. Let's take a closer look by unboxing the Team Group Night Hawk RGB memory.
Unboxing
The Team Group Night Hawk RGB memory kit comes in a very basic anti-static blister pack which is inside of a box that advertises its features.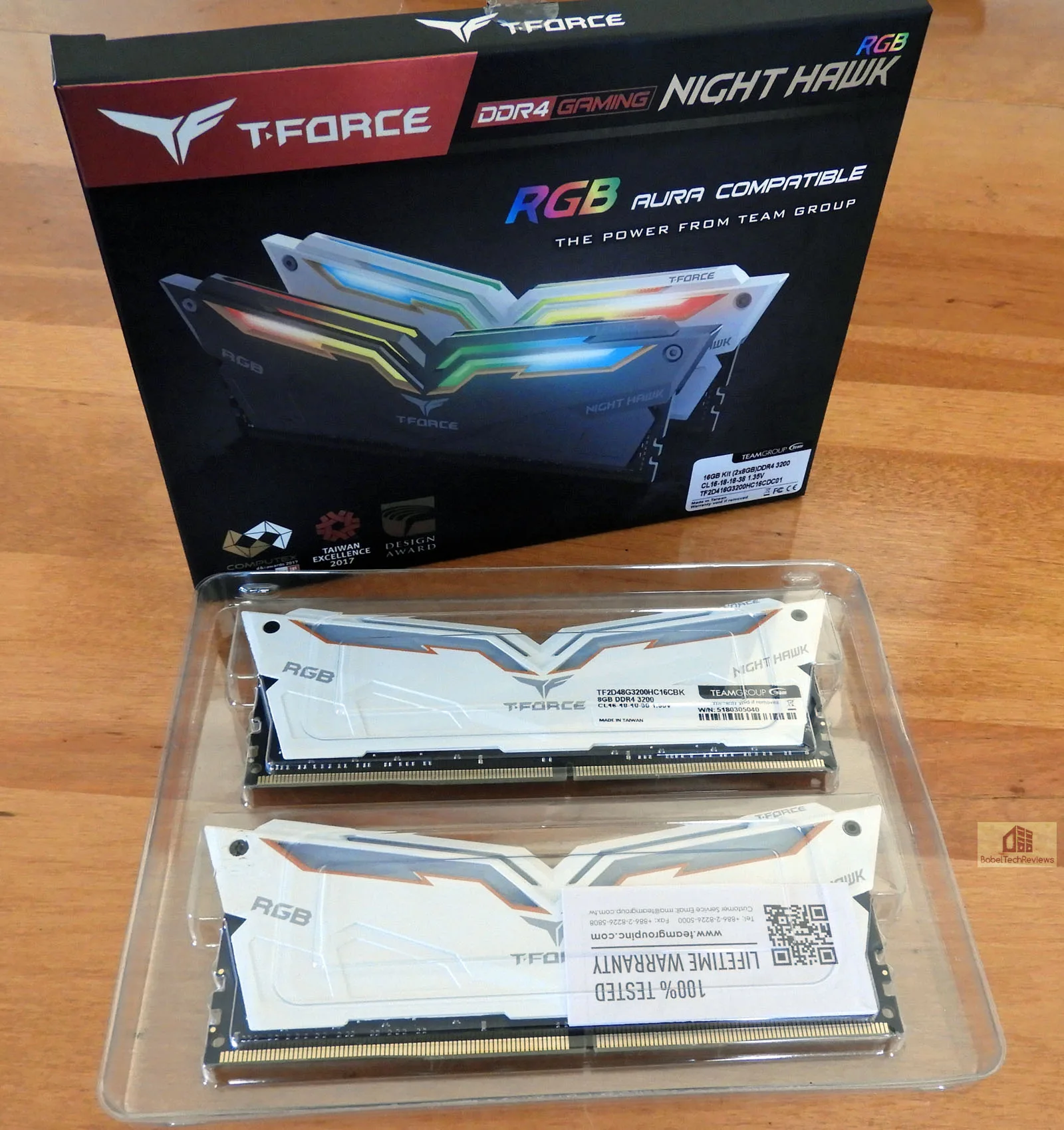 The Night Hawk heatsinks are rather tall at 1.73"/44mm and they may interfere with some large CPU air cooler's installation and operation. Since we are using watercooling for our CPU, we have plenty of room.
Here is the box. It is eye-catching as it shows the RGB-lit memory, and it may stand out from other memory on a retailer's shelf.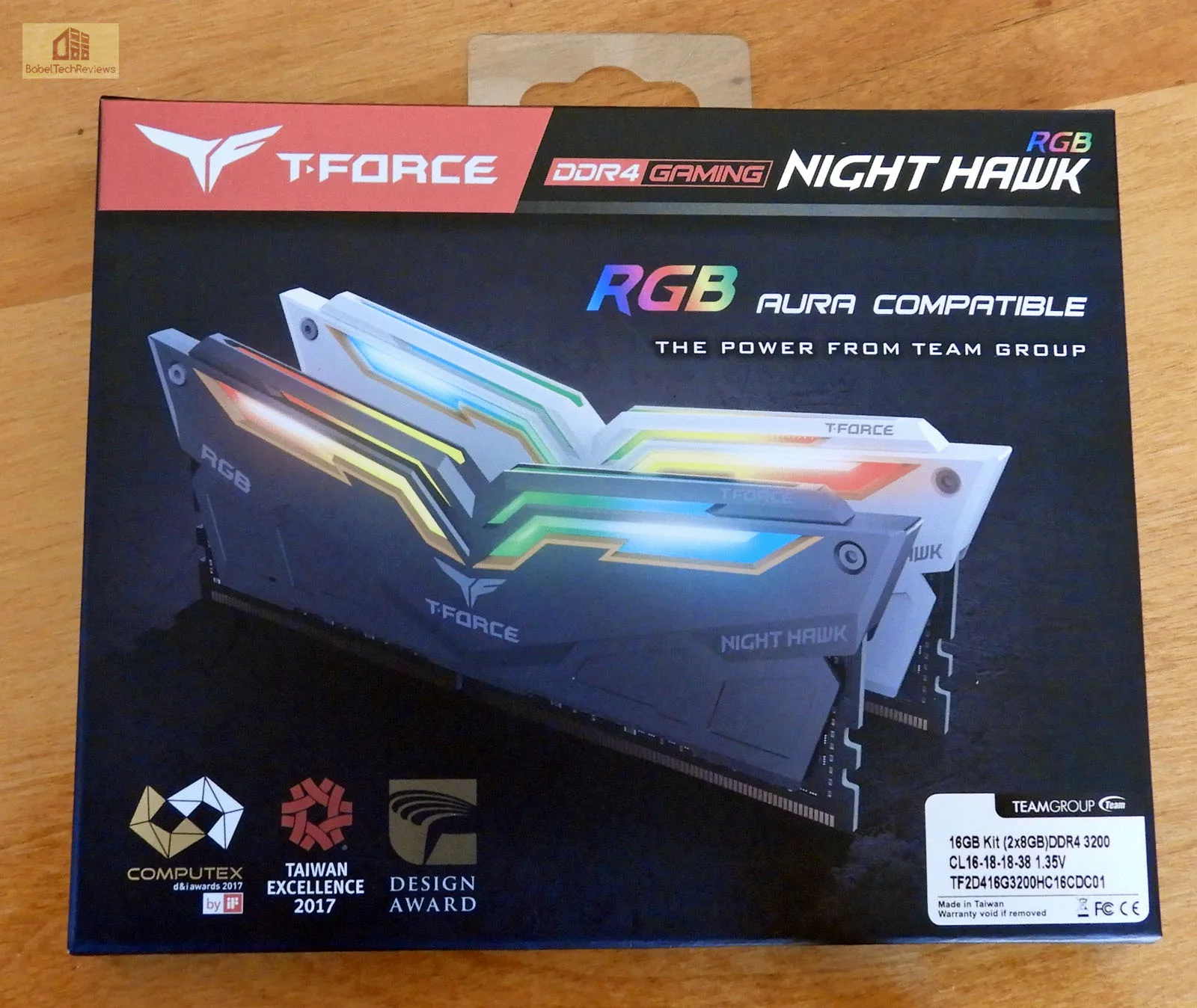 Here is the other side. The emphasis is on the T-Force hawk's spirit of flying freedom which may particularly appeal to gamers.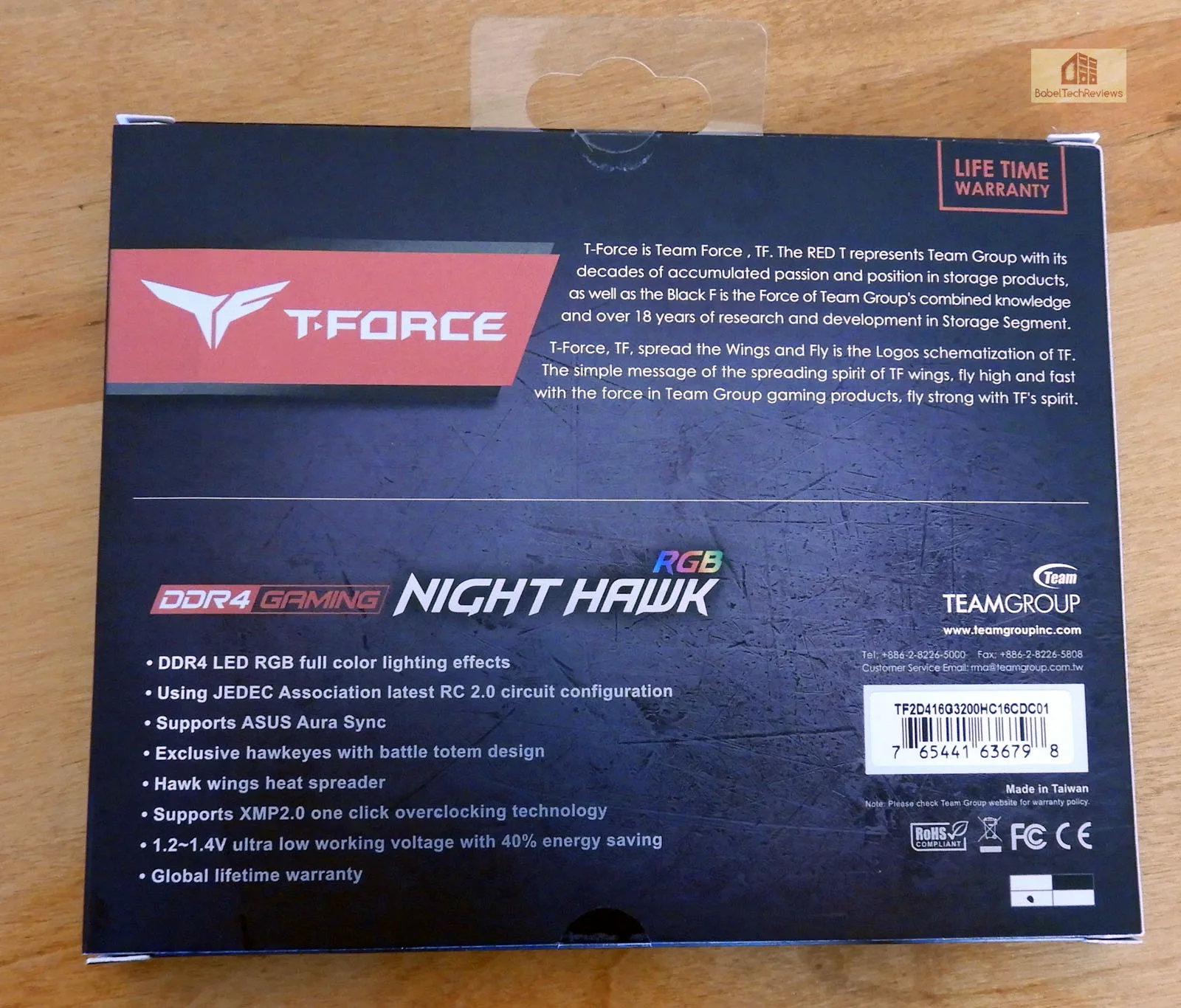 The box viewed from an edge puts an emphasis on gaming and RGB.

Here is the memory out of the packaging next to the Product Warranty Summary and Installation Guide.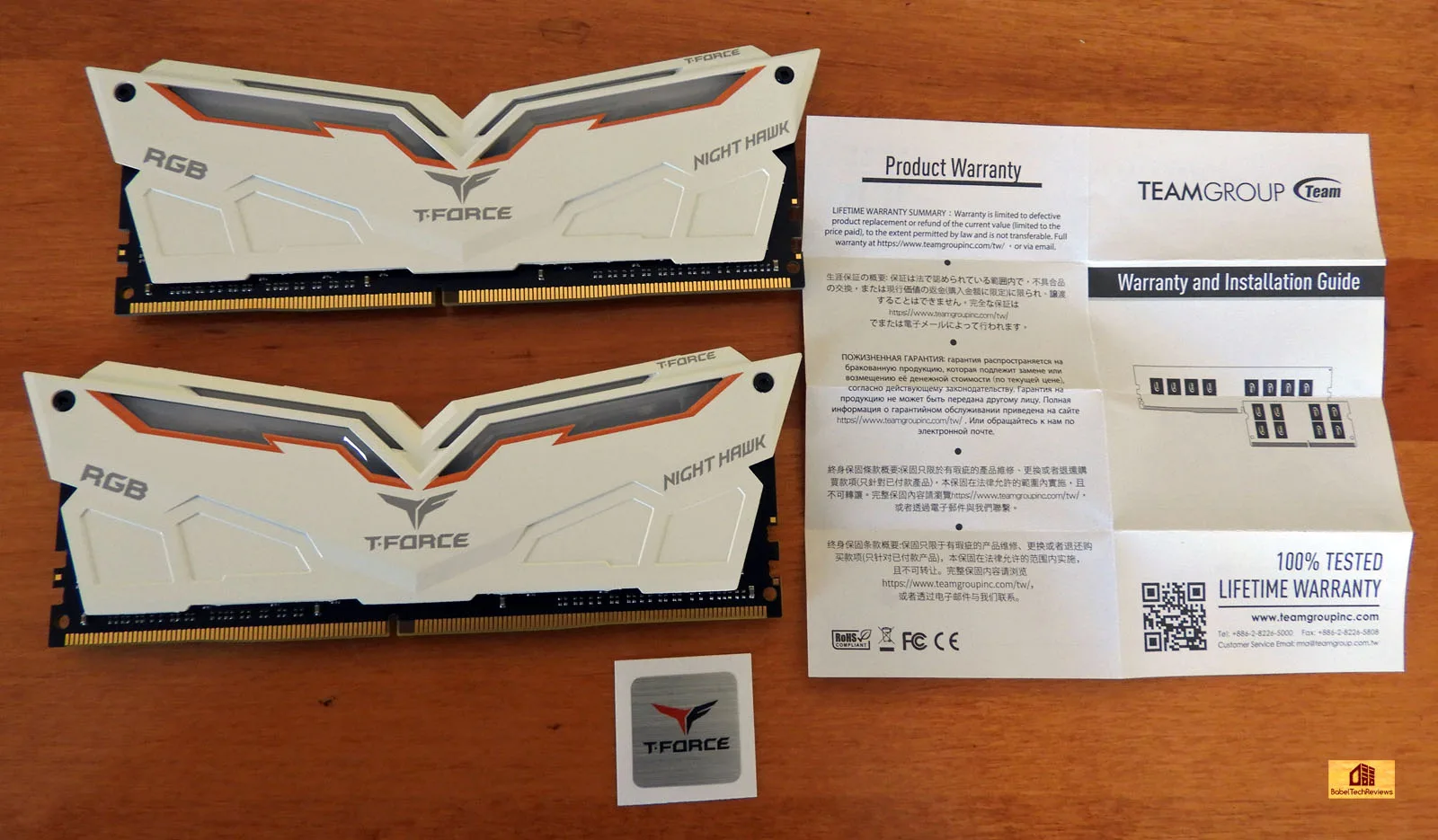 The installation guide is presented in illustrations and is easy to follow. Here is the memory with one DIMM turned over for comparison.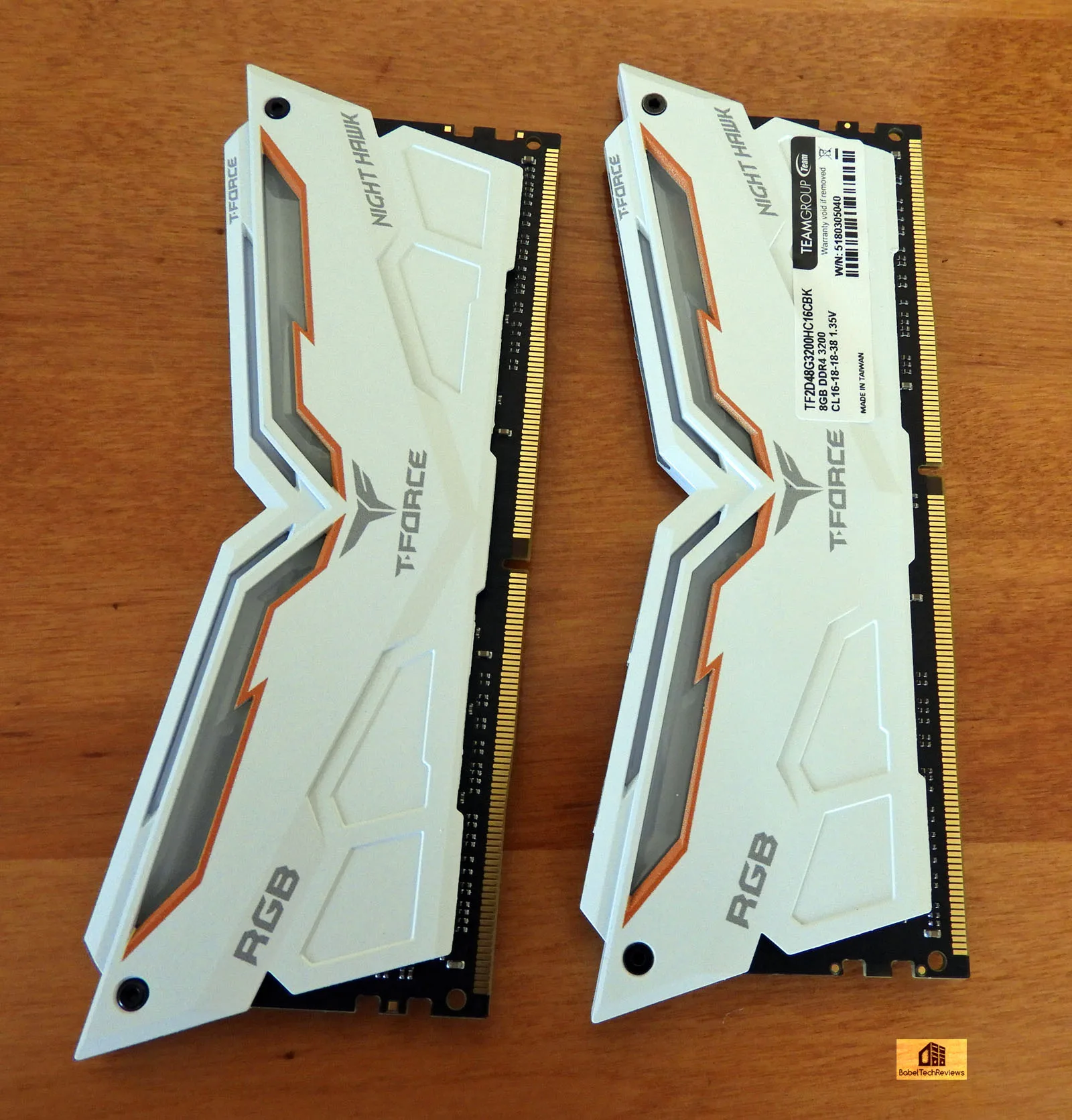 Here is a group picture together with the HyperX DDR4 3333 MHz memory kit. Both kits use heavy heatsinks and there is a similar heft and solid feel to handling them.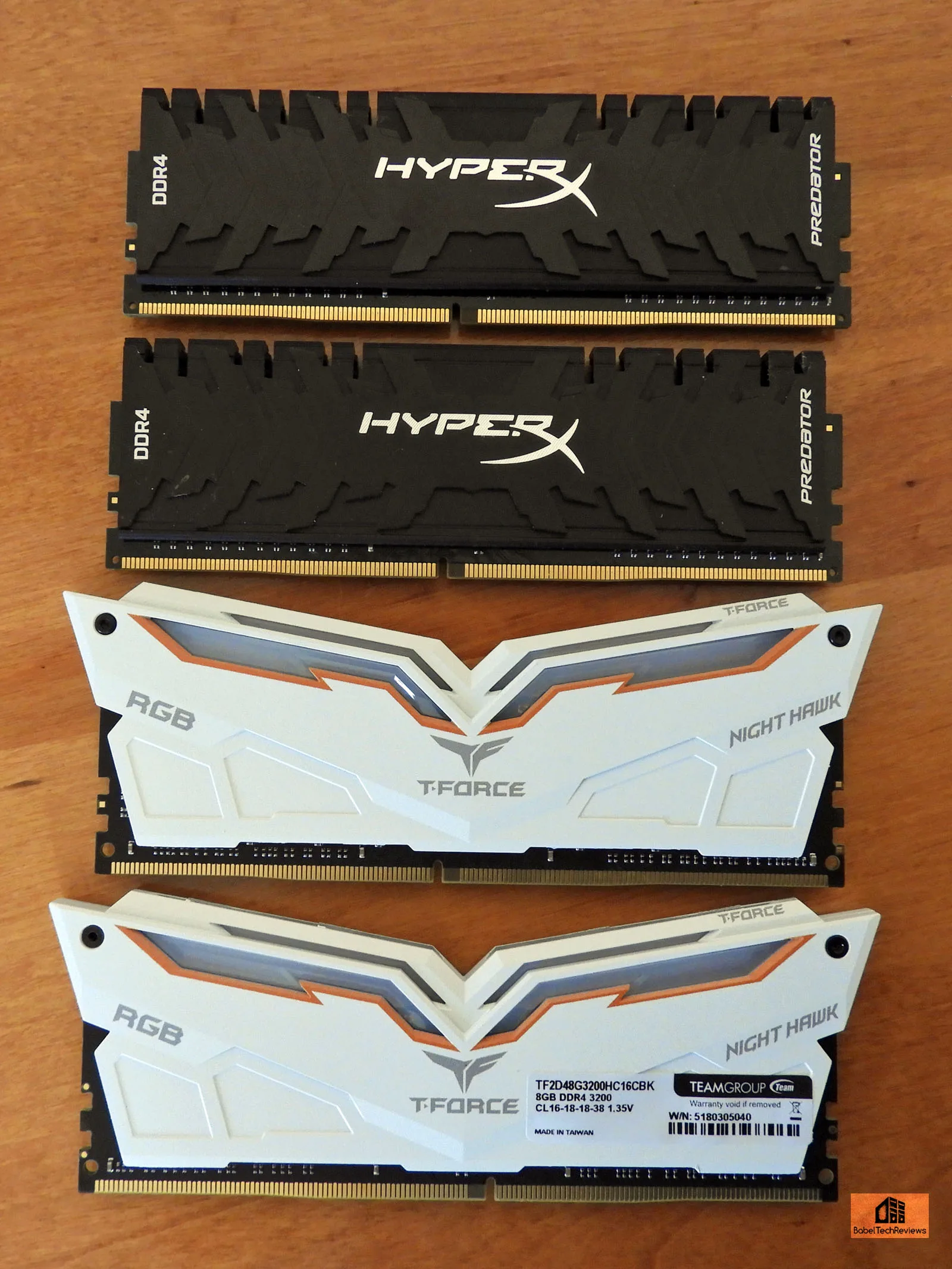 In the BIOS
Both the Night Hawk RGB memory and the HyperX Predator DDR4 show up properly configured in the EVGA Z370 FTW motherboard's BIOS although there is certainly room for performance tweaking and for overclocking. We used the XMP 2.0 Profile 1 associated with both the Team Group Night Hawk RGB memory at 3200 MHz and the HyperX Predator memory at 3333 MHz.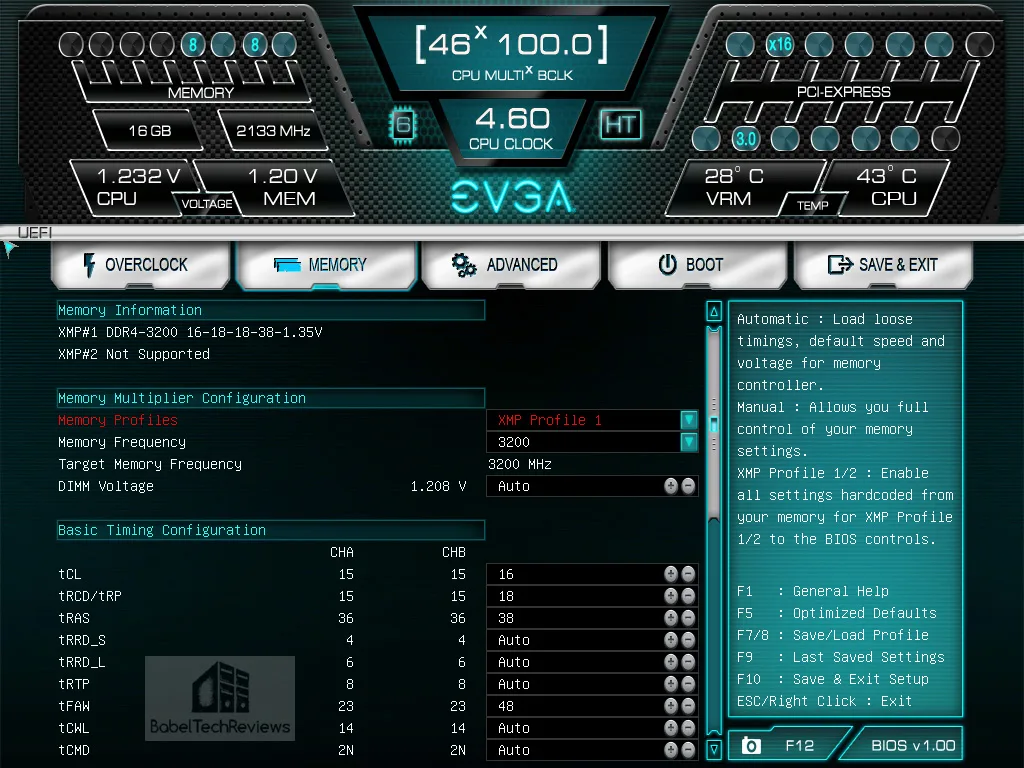 Using the automatic XMP profile 1 in the BIOS, the Command Rate is set to 2T for both memory setups and the latency is nearly identical at CAS16. We adjusted the Night Hawk's Command Rate to 1T and tightened up the timings, but found very little differences in performance so we settled on the default XMP profile settings for benchmarking our memory.
The Night Hawk timings are 16-18-18-38 while the HyperX Predator timings are almost identical at 16-18-18-36. In our experience, it is generally preferable to pick faster memory clock speeds over tighter timings to a point. Both kits nominally use 1.35V although the Night Hawk memory voltage can also be manually set from 1.2V to 1.4V (or higher at your own risk) in the BIOS.
We were able to overclock our Team Group Night Hawk RGB memory from 3200 MHz at default to 3333 MHz to match the Predator speeds, and finally to 3400 MHz which was our final stable overclock at slightly relaxed timings.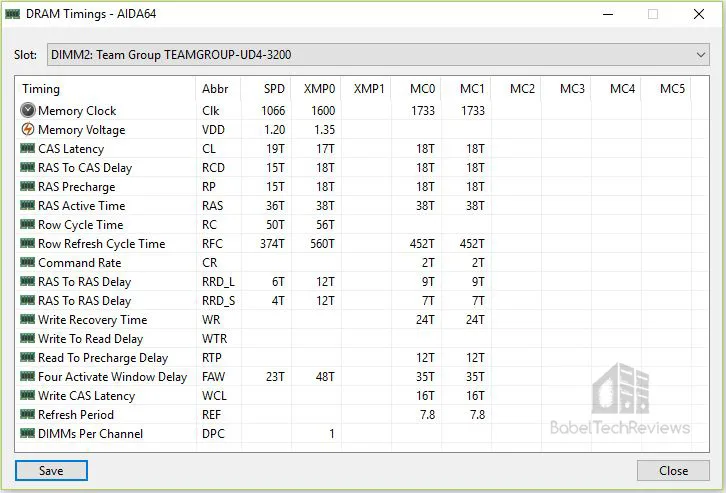 We increased our voltage to 1.395V for stability and were even able to run Prime 95 all night long without errors at 3467 MHz, but we did not see a consistent increase in performance across our benchmark suite. And even after adding higher voltage, 3500 MHz returned errors so we halted benchmarking above 3400 Mhz.
BLITZ Software
BLITZ software is Team Group's Night Hawk RPG lighting control panel. We spent a very short time with it but found it fully featured and the amount of combinations are exhaustive. Here is a screenshot: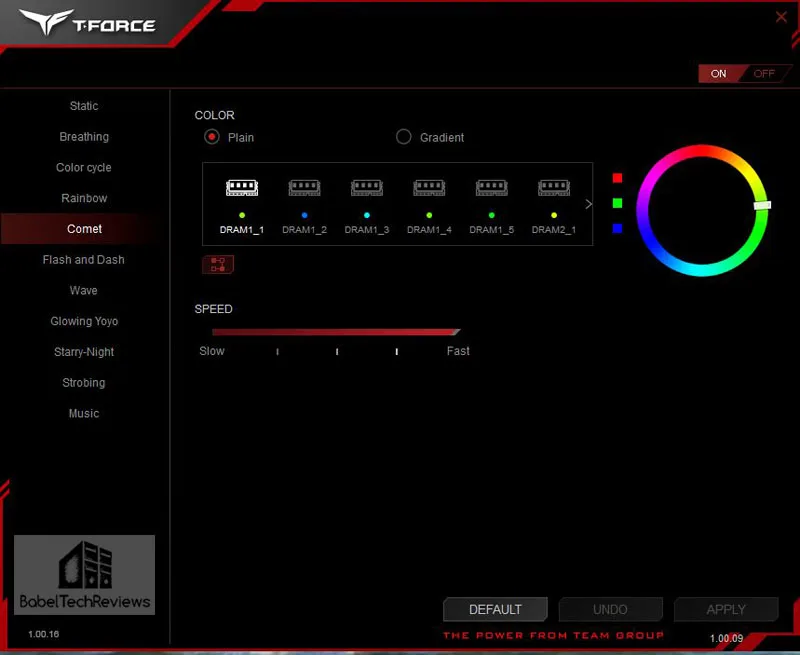 A video of a few of the BLITZ RGP lighting combinations is posted in the introduction of this review. It can be used to produce millions of combinations. BLITZ software can be downloaded from the Team Group website (scroll to bottom, "software download").
Let's look at our test configuration before we do any benching
Test Configuration – Hardware
Intel Core i7-8700K (HyperThreading and Turbo boost is locked on to 4.60 GHz for all six cores. Coffee Lake DX11 CPU graphics.
EVGA Z370 FTW motherboard (Intel Z370 chipset, latest BIOS, PCIe 3.0/3.1 specification, CrossFire/SLI 8x+8x), supplied by EVGA
Team Group T-Force Night Hawk RGB DDR4 3200 MHz (2x8GB, dual channel at 3200/3333/3400 MHz), supplied by Team Group
HyperX Predator 16 GB DDR4 3333 MHz (2x8GB, dual channel at 3333 MHz), supplied by HyperX/Kingston
GTX 1070 Ti Founders Edition 8GB, stock clocks, supplied by NVIDIA
Team Group L5 LITE 3D 2.5″ 480 GB SSD
1.92 TB SanDisk CloudSpeed ECO Gen II SSD (SXPLFA)
2 TB Seagate 7200 rpm SSHD (Solid State Hard Drive)
EVGA 1000G 1000W power supply unit
EVGA CLC 280mm CPU water cooler, supplied by EVGA
Onboard Realtek Audio
Genius SP-D150 speakers, supplied by Genius
EVGA DG-77, mid-tower case supplied by EVGA
Monoprice Crystal Pro 4K
Test Configuration – Software
Nvidia's GeForce 391.35 WHQL drivers were used. High Quality, prefer maximum performance, single display.
VSync is off in the control panel.
AA enabled as noted in games; all in-game settings are specified with 16xAF always applied. All games are DX11 except as noted.
All results show loading time in seconds.
Highest quality sound (stereo) used in all games.
Windows 10 64-bit Home edition.
Latest DirectX
All games are patched to their latest versions at time of publication.
MSI's Afterburner, latest version.
WPrime
Star Swarm Demo
3D Mark Physics Test
PC Game suite
Fallout 4
Grand Theft Auto V
Metro Last Light Redux
Project CARS 2
Rise of the Tomb Raider
Deus Ex Mankind Divided (DX12)
The Witcher 3
Kingdom Come: Deliverance
Final Fantasy XV
Synthetic Benching Suites
SiSoft Sandra 2017
AIDA 64
PC Mark 8 (Creativity Suite)
Real Bench v234
Cinebench
Nvidia Control Panel settings:
We used MSI's Afterburner to set the power and temp limits to their maximums.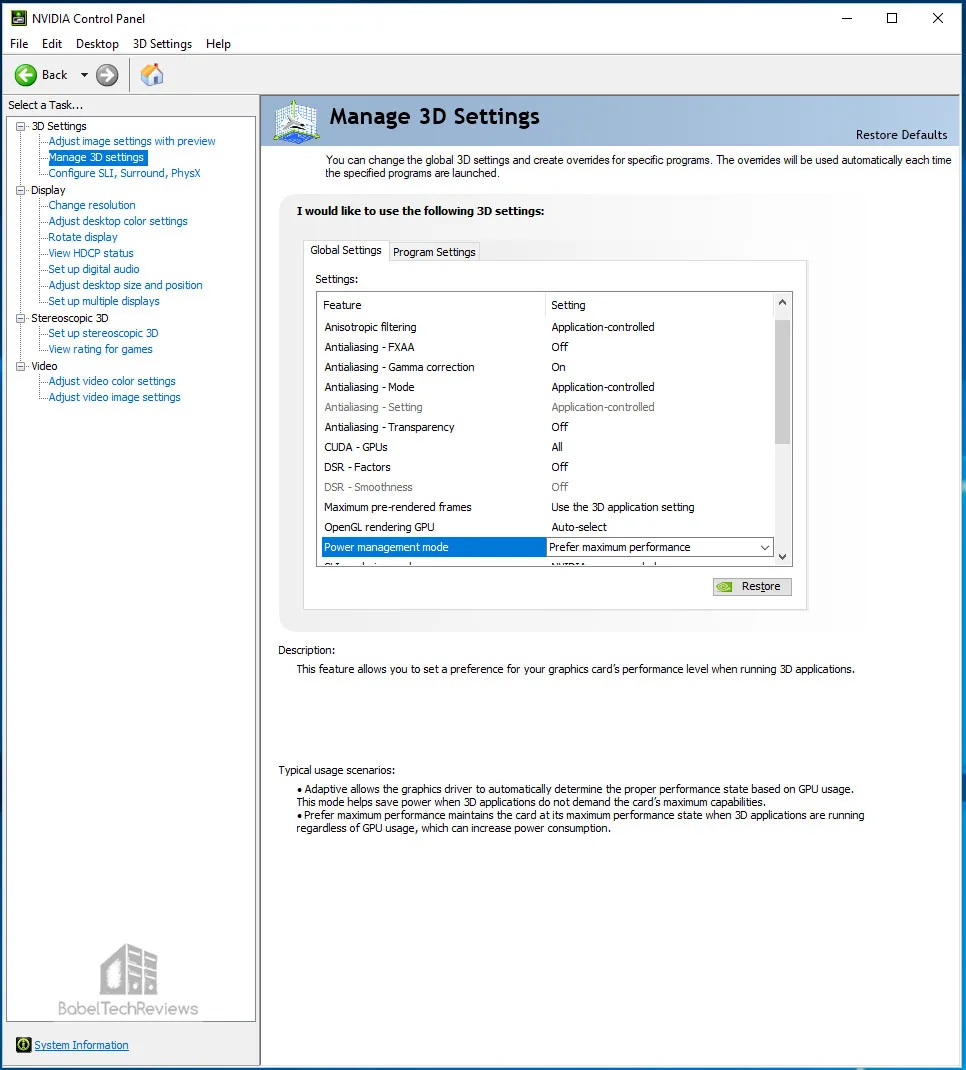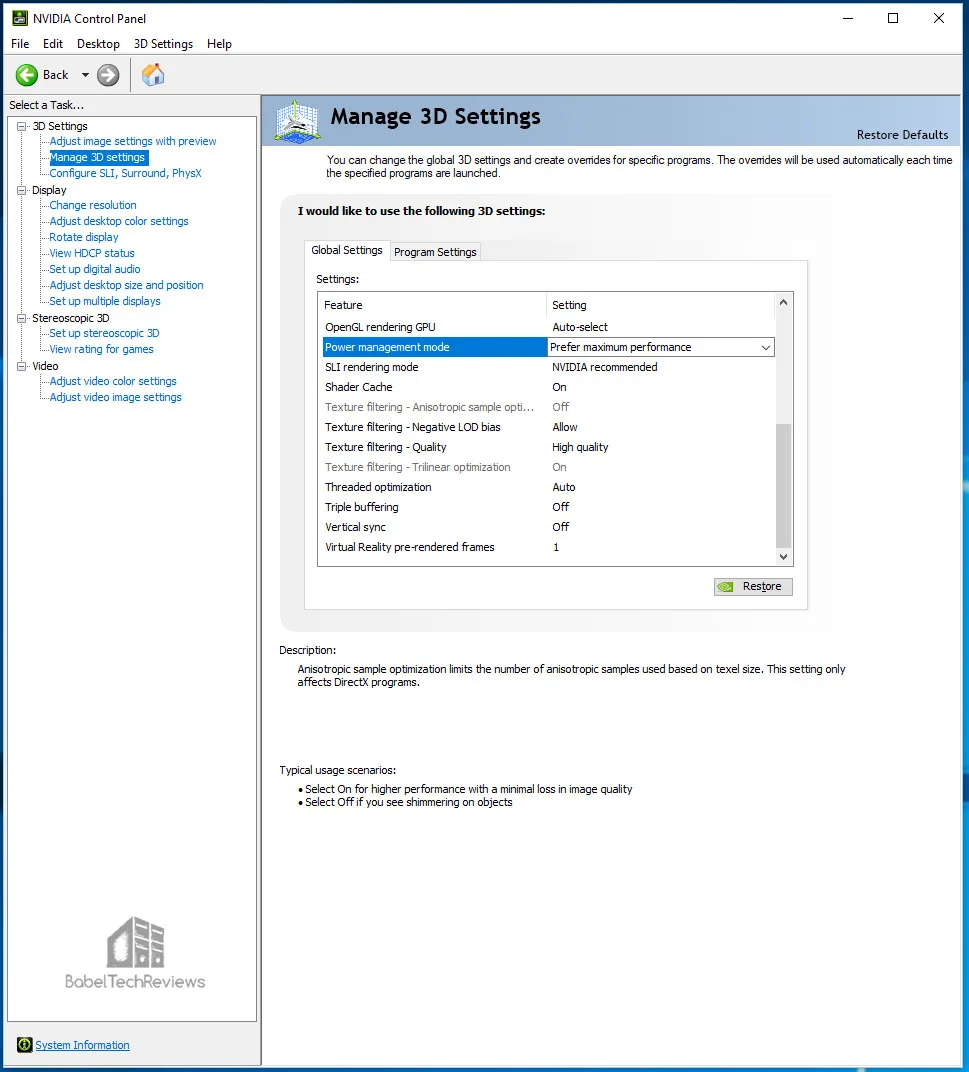 Let's head to our benching results.
Benchmarking
It is important to first look at synthetic benchmarks to highlight the differences between our memory and also what happens to application and game performance when we increase the Night Hawk's clock speeds from 3200 MHz to 3333 MHz and finally to 3400 MHz.
Futuremark is well-respected as a developer and publisher of PC benchmark applications for nearly two decades. Although 3DMark are synthetic tests, they provide a good measure of system performance. This particular test is from a custom run of Fire Strike Ultra that only tests physics which are also dependent on CPU and memory speeds.
Star Swarm Demo
Star Swarm demo is the original genesis for Ashes of the Singularity – and unlike the finished game – it is very demanding on the CPU and will show increased framerates with faster CPU and/or memory clocks.
The Game Performance Results
Below is the summary chart of 9 games some of which are sensitive to scaling with increasing CPU speeds and possibly with increasing memory clocks using a stock GTC 1080 Ti Founders Edition.
The highest DX11 settings are used but DX12 is the API chosen for Rise of the Tomb Raider and for Deus Ex: Human Revolution. The benches were run at 1920×1080, and all results show average frame rates. Maximum and Minimum frame rates are also shown on either side of the averages but they are in italics and in a slightly smaller font, and higher is always better.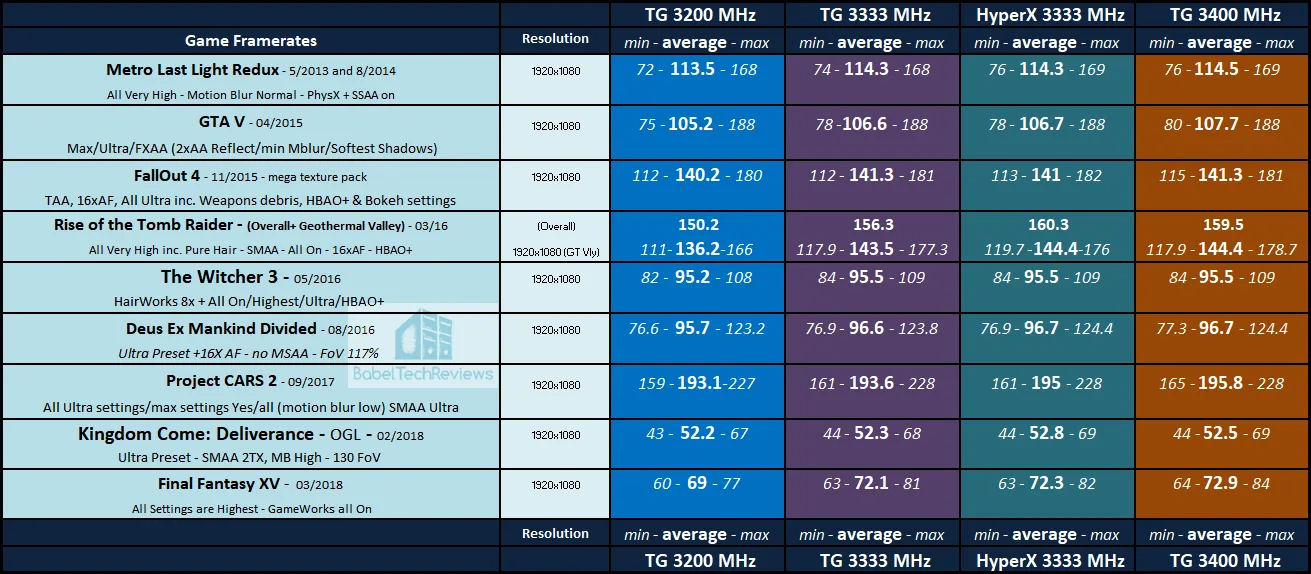 Rise of the Tomb Raider shows the most extreme performance increase from increasing the memory speeds – from 150.2 FPS average with the Night Hawk RGB memory at stock to 159.5 FPS with the memory at 3400 MHz. The other games also appear to show much smaller increasing framerates with increasing memory clocks and they results are quite regular. However, it is important to remember that benchmarking noise may affect the results.
Let's head to our conclusion.
Conclusion and Verdict
We have seen that that running RAM at a faster clock speed produces performance gains and saves time in some common tasks, but what is surprising in this evaluation is that some games can benefit from faster RAM with a fast Coffee Lake CPU and a fast video card.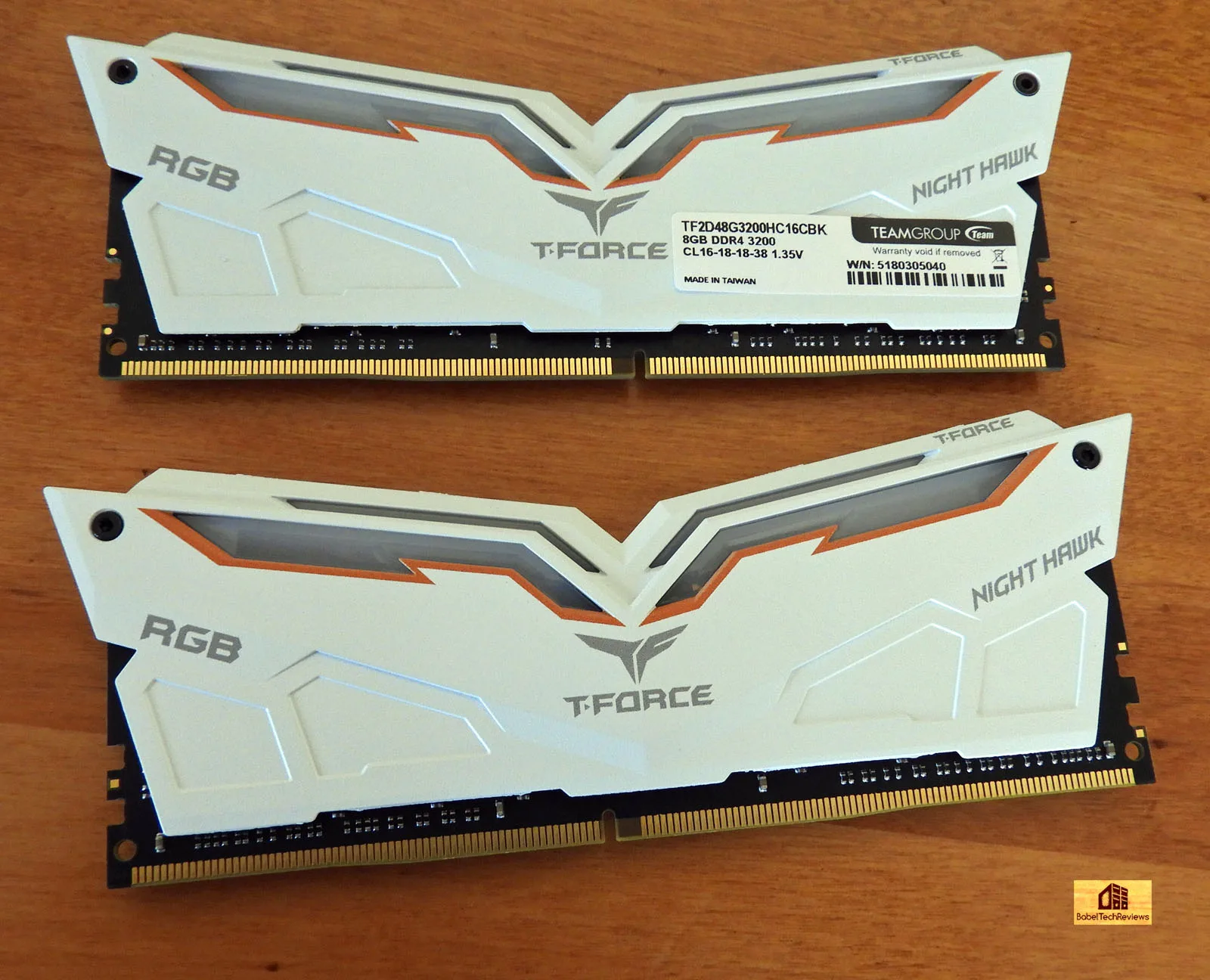 Should a gamer upgrade to premium DDR4 at 3200 MHz or higher? It's hard to say, and probably not from running at 3000 MHz especially if overclocking is possible. If a gamer is buying a new Coffee Lake CPU and DDR4 motherboard now, faster RAM can make a performance improvement in gaming. The performance improvement with faster DDR4 isn't dramatic, from zero performance improvement to perhaps adding a few framerates in some games.
Team Group Night Hawk RGB PC25600 (DDR4 3200MHz)
Pros
The Team Group Night Hawk RGB RAM is very fast 3200 MHz DDR4 that is built for high speeds at low latency. It is an enthusiast's dream. Fast, stable, and dependable, it also overclocks nicely beyond 3333 MHz to match the performance of the much more expensive HyperX Predator DDR4 3333 MHz kit.
It looks fantastic with RGB lighting which can be as conservative or as wild as a user wants with full customization opportunities including shutting it off.
BTR's evaluation sample of Night Hawk RGB DDR 3200 MHz overclocked well above its speed grade to 3400 MHz.
Voltage tolerances are great at 1.2V to 1.4V to allow for overclocking.
It comes with a lifetime warranty.
Cons
Price. Premium DDR4 commands a premium price.
Higher profile RAM may not fit well with all large air-cooled CPU heatsinks.
The Verdict
If you are an enthusiast with premium components who wishes to maximize performance from your PC, then the Team Group Night Hawk RGB DDR4 at 3200 MHz is an excellent choice as it is very fast at stock speeds coupled with an overclocked Coffee Lake CPU plus it overclocks well. And although it looks great with the lighting on, it can be turned completely off with BLITZ software.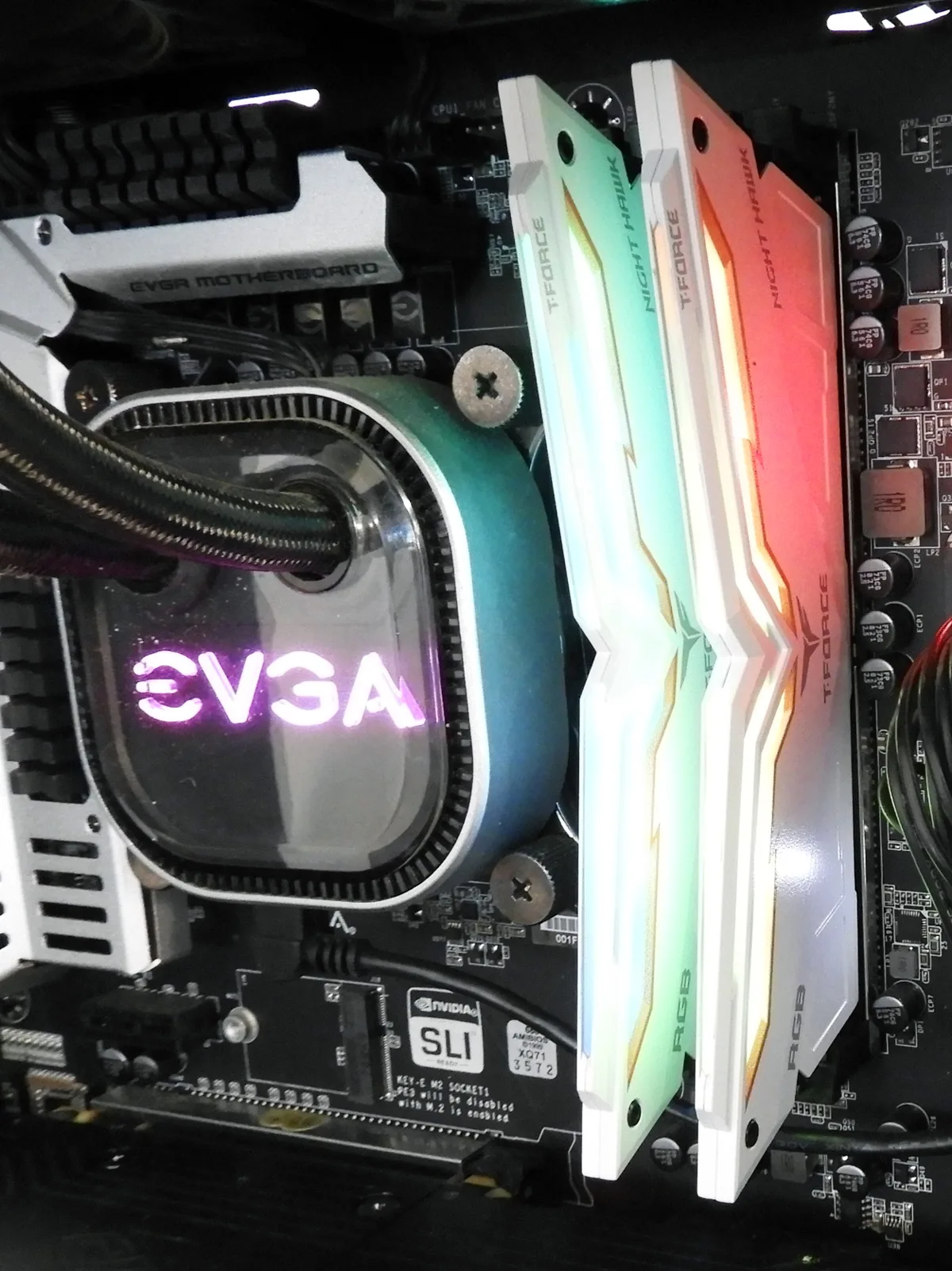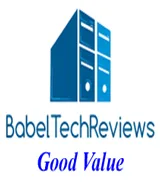 The Team Group Night Hawk RGB 2 x 8GB 3200 MHz RAM Kit is priced similarly to other DDR4 in its speed class and it is backed by Team Group who gives a lifetime warranty. It is fast at default and overclocks great to match or surpass the $244.40 HyperX Predator DDR4 3333MHz performance, and it is currently on sale at Newegg for $175.99 in black or for $189.99 in white. We feel that Team Group's Night Hawk RGB DDR4 3200 MHz deserves BTR's Good Value Award.
However, if you are on a tight budget, you are more likely to settle for slower RAM and perhaps try for an overclock. Team Group also offers lower clocked DDR4 at lower prices. For gaming, 8 GB is probably still generally sufficient although for other tasks, 16 GB will definitely be preferable. And for BTR's flagship Core i7-8700K PC, running everyday tasks at 4.60 plus GHz and for our benchmarking, we have settled on using 16 GB of Team Group Night Hawk RGB DDR4 which we will run at 3333 MHz for consistency across our benching.
Stay tuned. We are working on a Skyrim VR performance review and also bringing you a full review of Kingston's new entry-level PCIe NVMe 480 GB A1000 SSD.
Happy Gaming!