Conclusion
 The Conclusion
The Red Devil RX 6800 XT improves significantly over the RX 5700 XT and it trades blows with the RTX 3080 FE in rasterized games.  The Red Devil RX 6800 XT beats the last generation cards including the RTX 2080 Ti although it struggles with ray traced games especially when DLSS is used for the GeForce cards.  We also note that the reference RX 6800 XT is slower and less smooth for VR gaming than the RTX 3080, but some of this may be attributed to immature drivers.
For Radeon gamers, the reference RX 6800 XT is a very decent alternative to GeForce Ampere cards for the vast majority of modern PC games that use rasterization.  The RX 6800 XT offers 16GB of GDDR6 to the 10GB of GDDR6X that the RTX 3080s are equipped with.
At its suggested price of $649, or $50 less than the RTX 3080 FE, the reference RX 6800 XT offers a good value – if it can be found at all.  Unfortunately, this launch has proved to be an extremely high demand and limited supply event that has been called a paper launch by many wishing to purchase one.   And the same thing has happened to Ampere cards where the stock is still trickling in and being purchased the instant it's available.  So prices are high and many resellers are taking advantage of this demand situation by raising prices significantly.
PowerColor hasn't set any pricing on the Red Devil RX 6800 XT allowing the resellers to set theirs. They claim that their margins are actually below their usual historical low double-digit (10-12%) for a new product. However, we have seen Newegg set Red Devil pricing at $799 which puts it into competition with the very fastest RTX 3080s.   It's hard to recommend a $800 card even though it is overclocked, very nicely equipped, and well-built over a well-designed reference version for $650 – assuming AMD keeps that pricing and continues to ship reference RX 6800 XTs.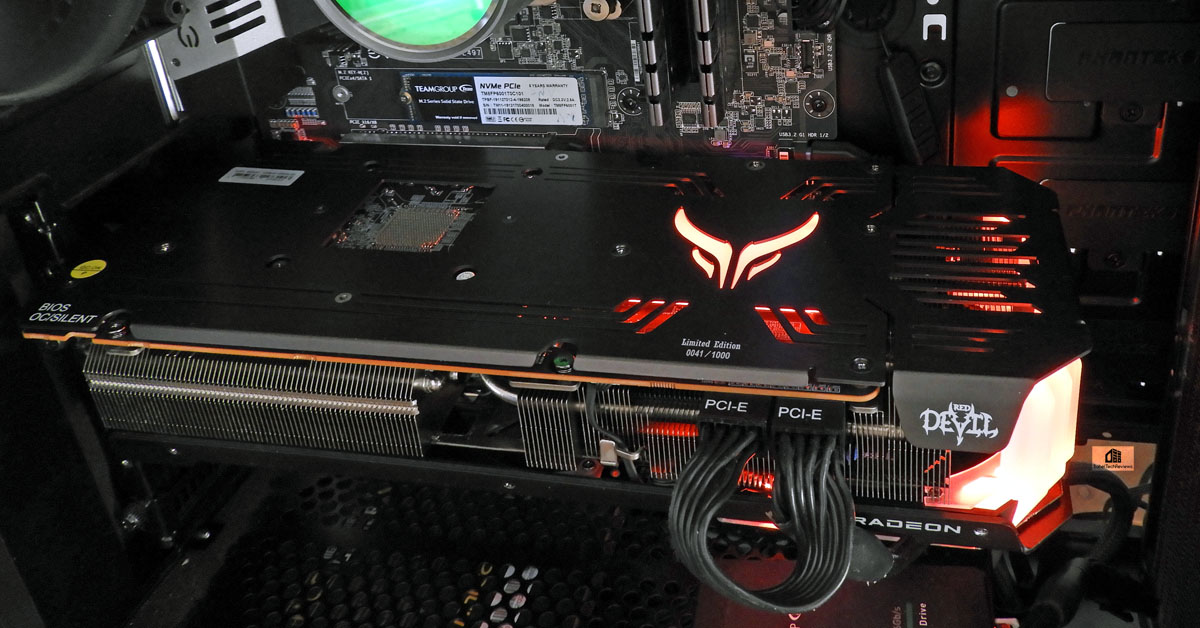 We recommend the Red Devil RX 6800 XT as a great choice out of multiple good choices, especially if you are looking for good looks with RGB, an exceptional cooler, great performance for 2560×1440 or 4K, PowerColor's excellent support, and overall good value assuming that the stock and price stabilizes.
Let's sum it up:
The Red Devil RX 6800 XT Pros
The PowerColor Red Devil RX 6800 XT is much faster than the last generation RX 5700 series by virtue of new RDNA architecture.  It beats the RTX 2080 Ti and the RTX 3070 as it trades blows with the RTX 3080 FE.
16GB vRAM may make the RX 6800 XT more useful for future gaming than the 10GB vRAM the RTX 3080 is equipped with
The Red Devil RX 6800 XT has excellent cooling with less noise than the reference version
The Red Devil RX 6800 XT has a very good power delivery and 3-fan custom cooling design that is very quiet when overclocked even using the OC mode.
Dual-BIOS give the user a choice of quiet with less overclocking, or a bit louder with more power-unlimited and higher overclocks.
FreeSync2 HDR eliminates tearing and stuttering.
Customizable RGB lighting and a neutral color allow the Red Devil to fit into any color scheme using the DevilZone software program.
Red Devil RX 6800 XT Cons
       Pricing.  PowerColor has given no suggested price and Newegg has it for $799.99.  Compared with the reference version at $649, it is too expensive and it costs more than many overclocked aftermarket RTX 3080s.  Wait for stock and pricing stability.
      Impossible to buy at a reasonable price.
      Weaker ray tracing and VR performance than the RTX 3080.  Immature drivers may play a part.
Either the reference version or the Red Devil RX 6800 XT are good card choices for those who game at 2560×1440 or at 4K, and they represent good alternatives to the RTX 3080 albeit with weaker ray tracing and VR performance.  It is offered especially for those who prefer AMD cards and FreeSync2 enabled displays which are generally less expensive than GSYNC displays.  And if a gamer is looking for something extra above the reference version, the Red Devil RX 6800 XT is a very well made and good looking card that will overclock better.
The Verdict:
PowerColor's Red Devil RX 6800 XT is a solidly-built handsome card with higher clocks out of the box than the reference version.  It trades blows with the RTX 3080.  Although we have no price or availability updates, it is a kick ass RX 6800 XT.  Hopefully there will be some solid supply coming and the market pricing will normalize.
The reference and Red Devil RX 6800 XTs offer good alternatives to the RTX 3080 for solid raster performance in gaming, and it also beats the performance of AMD's last generation.
Stay tuned, there is much more coming from BTR. This week we will continue with our Ampere vs Big Navi showdown.  Immediately, we will return to VR with a performance evaluation using the Vive Pro comparing a brand new unreleased card with the RTX 3070, the RTX 3080, the 6800 XT, and versus the RX 6800.
It you would like to comment, please use the section below.
Happy Gaming!