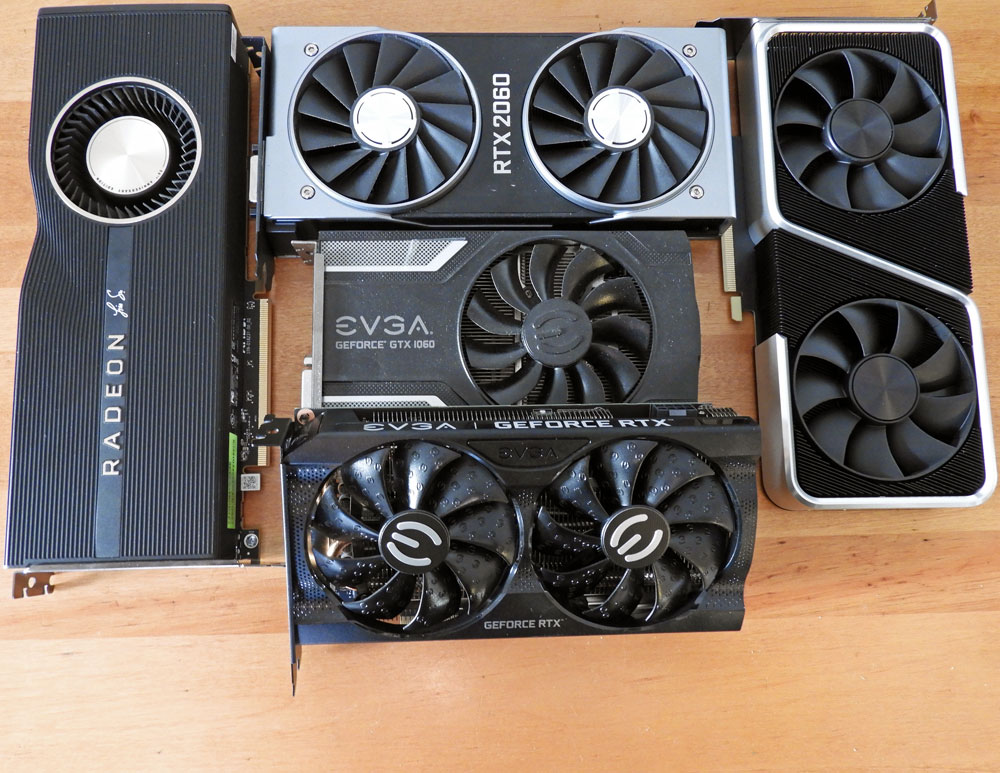 Intro
The RTX 3060 Arrives at $329 – Performance Revealed – 53 Games, SPEC, Workstation, and GPGPU Benchmarked
The RTX 3060 has arrived as the EVGA Black since there is no Founders Edition, and we will benchmark this midrange video card to compare performance with its faster sibling, the RTX 3060 Ti and against 3 other cards.  This is Part 2 of BTR's mega review using 16 VR games that will now feature 37 additional PC games, GPGPU, workstation, SPEC, and synthetic benchmarks comparing the new card's performance with the RTX 3060 Ti, the RTX 2060, the GTX 1060, and against the Radeon RX 5700 XT.
The $329 RTX 3060 is slower than the $399 RTX 3060 Ti, but faster than the Turing GeForce RTX 2060 which launched originally at $349.  It's also much faster than the Pascal GeForce GTX 1060 which was one of NVIDIA's most popular cards that launched at the bargain price of $249 four and one-half years ago.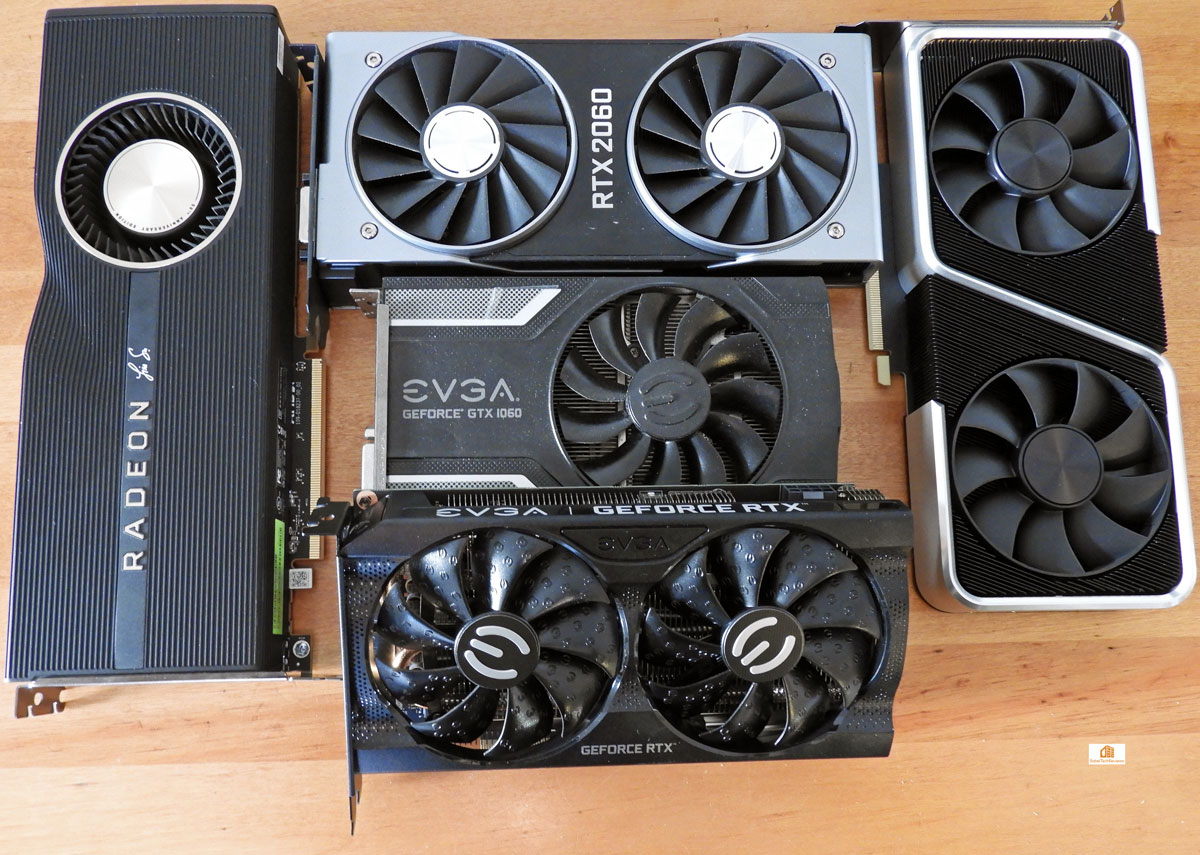 The RTX 3060 delivers 12.7 shader TFLOPs, 24.9 RT TFLOPs, and 102 Tensor TFLOPs (using the new sparsity feature) of computational power over a 192-bit memory interface using 12GB of GDDR6.  It is based on its own 12 billion transistor GA106 chip, not the GA104 chip used in the RTX 3060 Ti and for the RTX 3070.  Below is the full-chip diagram.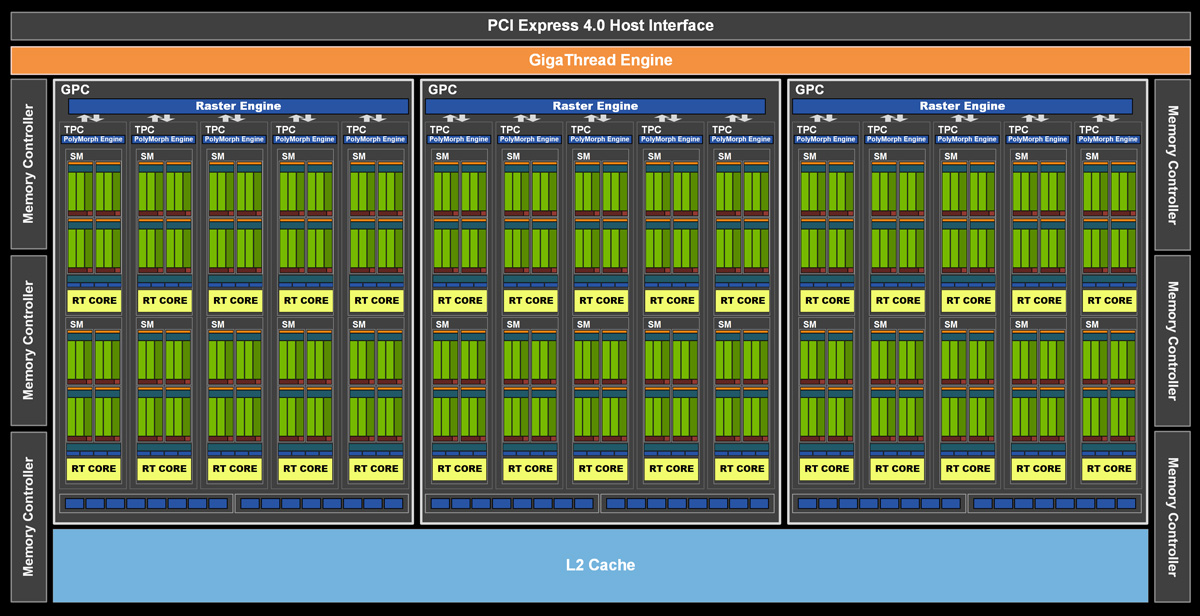 Here are the reference specifications of the RTX 3060 which are shared by EVGA's entry-level RTX 3060 Black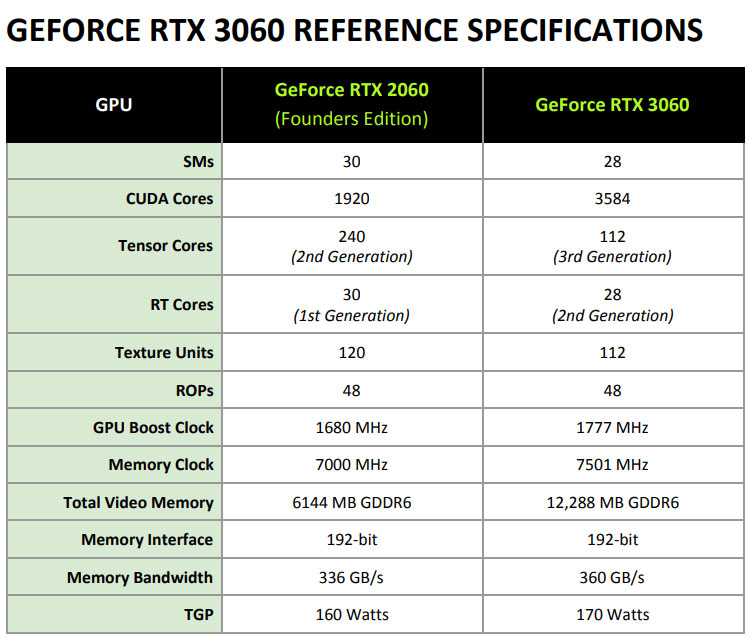 Although the reference RTX 3060 has less SMs, it features almost double the CUDA cores, and it features more advanced Tensor and Ray Tracing cores than the RTX 2060, each with the same 48 ROPs.  The RTX 3060's boost clock is 1777MHz, an upgrade over the RTX 2060, and the memory clock is 7501MHz.  One big difference is that the vRAM capacity has doubled from 6GB to 12GB which gives it a theoretical advantage when used by creators.   The memory interfaces are the same 192-bit and the memory bandwidth of the RTX 3060 has increased to 360GB/s from the RTX 2060's 336GB/s.  Finally, the total GPU power draw has also increased from 160W to 170W.
Real time ray tracing was introduced just two and one-half years ago with the Turing generation by NVIDIA and it has already become a success industry-wide as it has been adopted also by AMD, Intel, and the major consoles even though not many games have been released with it yet.  We expect it will become at least a checkbox feature for almost all major upcoming releases.  And DLSS – NVIDIA's AI upscaling solution – is the magic that makes ray traced games playable at good frame rates without impacting image quality (IQ) negatively.  It has already been adopted into 33 games and many more are on the way.  All of these features are included in the RTX 3060.
Since we have overclocked the RTX 3060, we will compare its overclocked performance versus stock.  We have added several new games to our benching suite at 1080P and at 1440P.  In addition, we will also post SPECworkstation3 GPU results and a the new version of the improved SPECviewperf 2020 benchmark which released in October.
We benchmark using Windows 10 64-bit Pro Edition at 1920×1080, 2560×1440, and at 3840×2160 using Intel's Core i9-10900K at 5.1/5.0 GHz and 32GB of T-FORCE DARK Z 3600MHz DDR4 on an EVGA Z490 FTW motherboard.  All games and benchmarks use the latest versions, and we use recent GeForce Game Ready drivers..
Let's first unbox the RTX 3060 Founders Edition before we look at our test configuration