Intro
The EVGA Z490 FTW Motherboard Overclocking Review – the Long Road to a Stable Overclock
We have recently upgraded our Core i7-8700K/Coffee Lake platform to i9-10900K/Comet Lake, and have been testing it using an ASRock Z490 Steel Legend motherboard.  Since we were unable to gain any performance from overclocking, we asked EVGA for a review sample of the Z490 FTW motherboard.
The last EVGA motherboard that BTR evaluated was the Z370 FTW which allowed our i7-8700K to reach 4.8 GHz on all cores for regular use and for benching.  We are going to review the $329 EVGA Z490 FTW motherboard using a RTX 2080 Ti by comparing it with the midrange ASRock Z490 Steel Legend motherboard with our i9-10900K at stock, and then we will overclock it.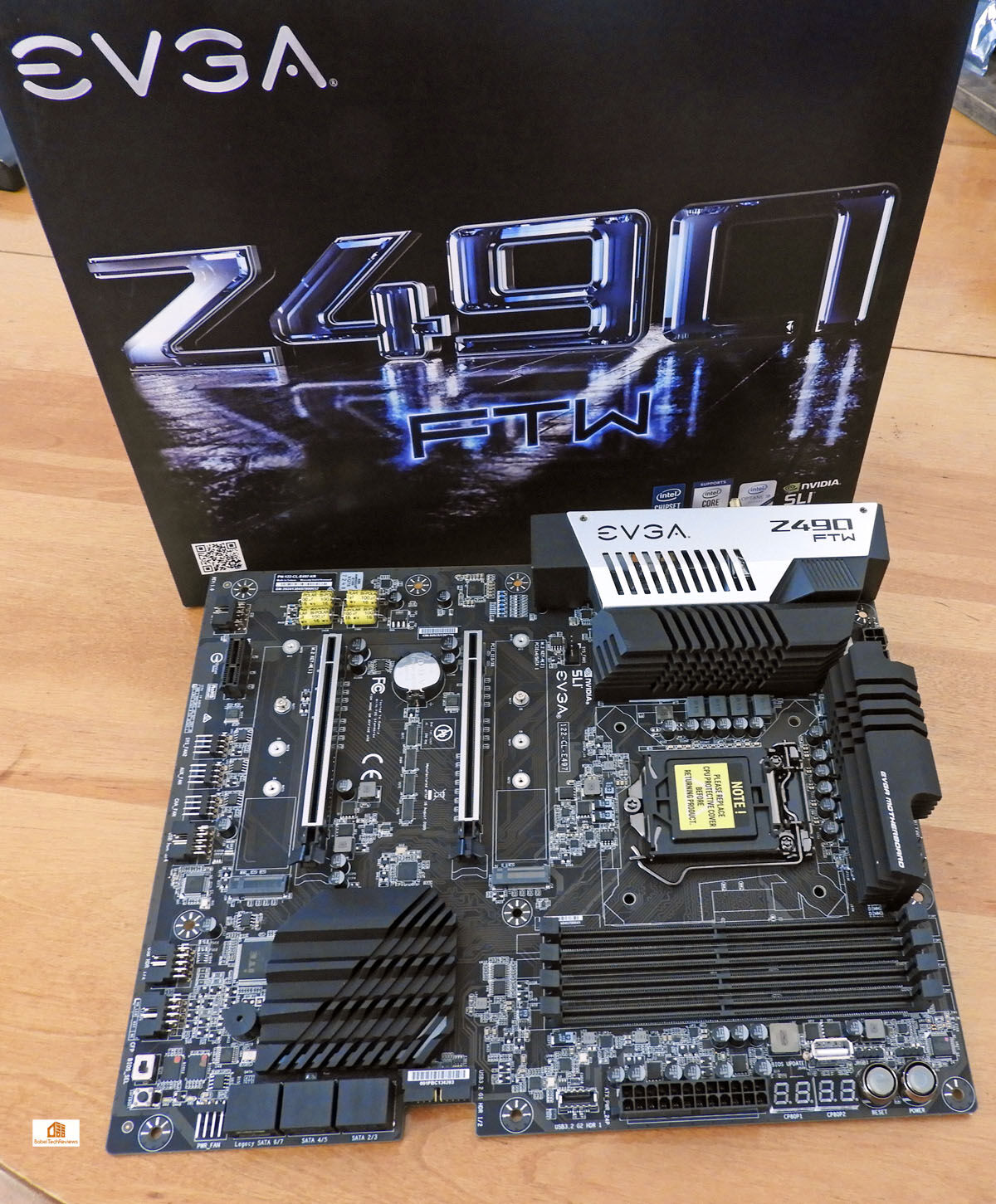 It has been a long road to a solid performance increase from a stable overclock that required us to not only change the motherboard, but we also had to make several other upgrades.  Core i9-10900 "K" CPUs are multiplier unlocked and can be overclocked beyond their stock speeds with hiqh-quality cooling.  At stock, although all 10 cores are rated to run at 3.7 GHz, individual cores each have the potential to reach much higher speeds by selectively using Intel's Boost and Velocity Boost which means there is very little room for increasing performance by manually overclocking.  We started out using a EVGA CLC 280mm CPU cooler in a Focus G case, and later we upgraded to a Phanteks P400 case to house a DeepCool 360mm AIO cooler.
Comet Lake is Intel's latest tenth generation platform and it brings some new features over the Coffee Lake platform although their IPC for gaming are identical  So far, we have found that the biggest advantage to the Comet Lake flagship i9 CPU over Coffee Lake's flagship i7 processor are the extra four cores of the i9.  A Core i9 Comet Lake gamer using 10 cores plus HyperThreading doesn't have to consider background processes while gaming, and the extra four cores over Coffee Lake's CPU may be helpful for better handling upcoming multi-threaded game ports from the next generation of console games.  In addition, we are also looking for a higher all core clockspeed well-above the 4.8GHz day-to-day overclock of our i7-8700K.
EVGA's Z490 Motherboards
EVGA has introduced another Z490 motherboard in addition to the FTW that we are reviewing – the $549 Z490 DARK – their top board.  The Z490 FTW is currently available from EVGA for $329.   The primary difference, besides several added features between the two motherboards, are a 18 phase power delivery system for the DARK while the FTW is 14 phase.  The ASRock Z490 Steel Legend uses a 11 phase power design.
The EVGA Z490 FTW is a step down from the DARK. Besides using a 18 phase power delivery instead of 14, the DARK has two extra native SATA ports, an extra USB header, and overclocking support for DDR4 to 4600MHz instead of 4400MHz. The DARK also has an upgraded Ethernet, an additional PCIe slot, and the PCB is ten layers instead of six.  These are not really major downgrades for most enthusiasts although an extreme overclocker would definitely pick the DARK over the FTW.  A motherboard may make a difference to achieving a higher CPU overclock.  The FTW Z490 MB was able to overclock our i9-10900K while our ASRock Z490 Steel Legend couldn't.
EVGA Z490 boards include cable cutouts to make cable management easier. These boards also feature metal-reinforced PCIe slots for supporting heavy video cards, 2-Way SLI/CrossFire support, multiple RGB headers, M.2 slots, Intel Gigabit NICs, switchable dual-BIOSes, and Realtek's upgraded 7.1 Channel 1220 audio.  Here are the EVGA Z490 FTW motherboard's features from their website.
DESIGN DETAILS
• Supported CPUs – Intel® Socket 1200, 10th Generation Intel® Core i9/i7/i5
• Socket Type – Intel® Socket LGA1200
• PCH – Intel® Z490
• DIMM QTY – 4 DIMM Dual-Channel
• Memory Type – DDR4 4400MHz+
• Memory Capacity – 128GB
•  6.0Gb/s Ports/Controller – 4/Intel® Z490 PCH
• RAID Support – RAID 0, 1, 5, and 10
• SATA 6.0Gb/s Ports/Controller – 2 / ASMedia ASM1061
• USB 2.0 Ports/Controller – 5 Ports (4 from internal headers / 1 from Update Port for flashing BIOS)/ Intel® Z490 USB Hub
• USB 3.2 Gen1 Ports/Controller – 4 (2 from internal header / Intel Z490 PCH
• USB 3.2 Gen2 Ports/Controller – 4x USB3.2 Gen2 Type-A/1x USB3.2 Gen2x2 Type-C/1x USB3.2 Gen2 Type-C (internal header)
• Network Speed – 10/100/1000
• Network Ports/Controller – Intel® i219V PHY
• WiFi/BT – Intel® AX201 WiFi 6/BT 5.1 module, preinstalled in the • M.2 Key-E 32mm Slot
• Audio – 7.1 Channel Realtek + EVGA NU Audio
• Audio Controller – Realtek ALC1220 + SV3H615
• Display Output – DP 1.2 / HDMI 1.4
• PCIe Slot Arrangement – 2×16, 1×1
• PCIe x16 Mechanical Slots – 2
• PCIe x16 Mechanical Arrangement – 1×16/8, 1×8 PCIe x1 Mechanical Slots – 1
• M.2 Key-M – 2x 110mm (Up to 32Gbps)
• M.2 Key-E – 1x 32mm (Vertical)
• Fan Headers – 7x 4-Pin (2x CPU PWM, 5x PWM/DC)
• BIOS Type – Latest UEFI BIOS with mouse/keyboard control, OC Robot, In-BIOS Stress
• Software – EVGA ELEET X1 Tuning Utility
KEY SPECS
• Supports Intel® Core™ 10th Generation Processor Family for LGA1200 socket
• 150% Increased Gold Content
• Intel® Z490 Chipset
• NVIDIA® SLI® Ready Enthusiast Layout
• 4 DIMM Dual-Channel up to 128GB 4400MHz+
• PCI Express® 3.0 Ready
• 5 USB 2.0 Ports (4 from internal headers/1 from Update Port)
• 4 USB 3.2 Gen1 Ports (2 rear panel, 2 from 1 internal header)
• 5 USB 3.2 Gen2 Ports (4 Type-A rear panel, 1 type-C Header)
• 1 USB 3.2 Gen2x2 Port (1 Type-C rear panel)
• 1 PS/2 (Mouse+Keyboard support)
• Intel® Optane Support
• 6 SATA 6.0Gb/s (4 on Intel® Z490 PCH/2 from ASMedia ASM1061)
• 2 M.2 Key-M 110mm up to 32Gbps
• 1 M.2 Key-E 32mm
• 1 DisplayPort 1.2 / 1 HDMI 1.4
• 1 Intel® i219V Gigabit NIC (10/100/1000)
• 1 Intel® WiFi 6/ BT 5.1 module, preinstalled
DIMENSIONS
• Width: 9.6in – 244mm
• Length: 12in – 305mm
• Form Factor: ATX Form Factor
ACCESSORIES
• EVGA Quick Installation Guide
• Rear Case I/O Panel
• 2 SATA 6G Data Cables
• 2x M.2 Thermal Pad
• 2x Antenna for WiFi
• Case Badge
• USB Flash Drive
• Contains Driver and Manual
###
The specs and the design look great.  An important consideration for any enthusiast are the warranty and product support should anything go wrong.
Warranty & Support
EVGA's Z490 motherboards come with a 3 year warranty, and registration is recommended.  A further warranty extension
is available upon registration within 30 days of purchase. For more details please visit: www.evga.com/warranty/motherboards/.
In addition, EVGA provides outstanding support including a 24/7 telephone hotline staffed by helpful professionals.  We have had multiple opportunities to use their hotline over the past decade, and we have always received high-quality and fast service – even on the weekends.  EVGA is a rare company that will allow you as a seller to transfer the remaining portion of your warranty to the second-hand buyer, and they can even cross ship RMA products so you can get back up and running quickly!
The EVGA Z490 FTW is a good-looking motherboard with excellent specifications, so let's unbox it for a closer look before we install, test, overclock, and benchmark it.