Intro
The HTC VIVE Pro 2 Review – Performance & Best Playable Settings using a RTX 3080 Ti
BTR received a Pro 2 review kit from HTC/VIVE nearly four weeks ago and we have been working to achieve the highest performance with the best visuals using a RTX 3080 Ti.  The Pro 2 is a high resolution VR headset with a per eye resolution of 2448×2448 that will cause even the fastest video cards to struggle at SteamVR's default 150% Render Resolution.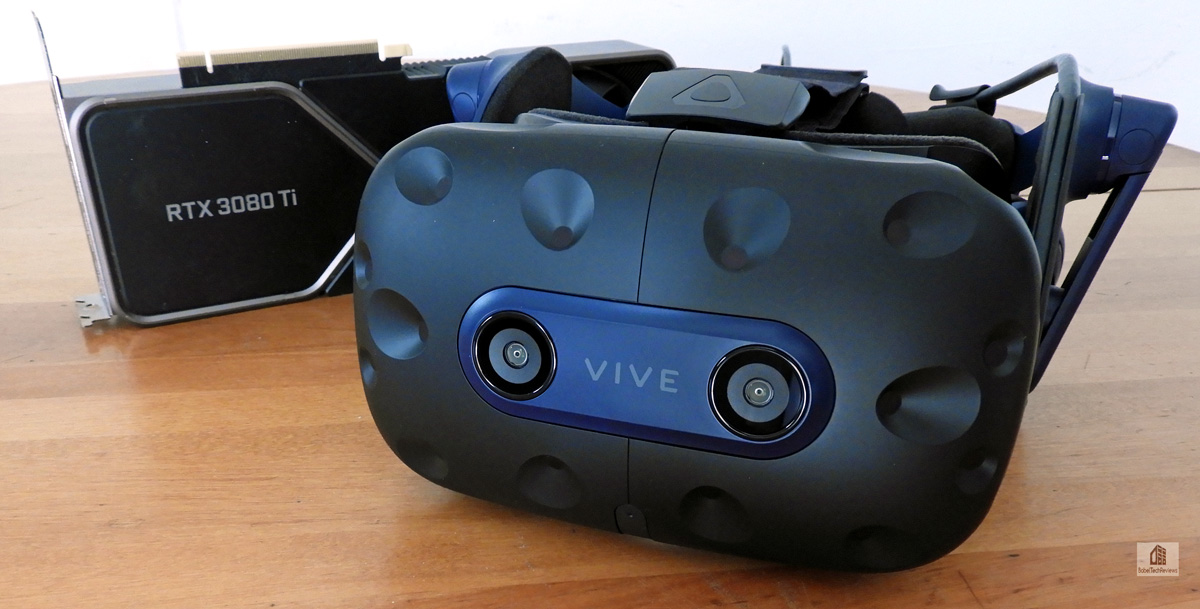 BTR has been reviewing and benchmarking VR games and hardware since 2016 when we started out with a Rift CV1 (1080×1200) and then upgraded to a Vive Pro (1440×1600) two years later, and then a Valve Index (1440×1600) especially for its wider field of vision (FoV) and higher refresh rate options 144Hz/120Hz vs. 90Hz.  Recently we reviewed a Reverb G2 on loan from Hewlett Packard (HP) and also a Reverb G1 (both at 2160×2160).
The original Pro and the Index, both at 1440×1600 per eye resolution, although they are a noticeable upgrade over the Rift CV1's 1080×1200 per eye resolution, the "screendoor" effect (the unlighted space between pixels) is still visible.  However, the Reverb G2 has almost eliminated it by using improved lenses and and an LCD display at 2160×2160 resolution per eye to earn its reputation as the best headset for VR sims even if its tracking is not perfect.  Now Vive uses an even higher "5K" resolution LCD for the Pro 2 with 2448×2448 per eye native resolution and with a new bespoke dual stacked Fresnel lens design .
The Reverb G2 at $599 and the Vive Pro 2 at $799 are competitors and they are both aimed at professional or prosumer consumers rather than strictly at VR gamers like the Index, Cosmos, or the Quest 2 are.  Although the G2 is a complete $599 VR kit, the Pro 2 headset by itself costs $799 and it still requires two base stations ($199 each) and two controllers ($199 each) making the full Pro 2 kit considerably more expensive.  The Pro 2's gaming advantages lie primarily with its outstanding base station tracking although the G2 can also be set up in a mixed VR configuration also by using Vive Trackers and dongles with base stations and SteamVR controllers.
Since 2016, BTR has continued to focus on VR, and not only do we review select VR games, we benchmark and chart their frametimes and unconstrained framerates (the performance headroom) with multiple video cards from AMD and NVIDIA using FCAT VR.  Because the Pro 2 is the newest high resolution headset, we picked the RTX 3080 Ti to test the performance of 6 representative VR games "best playable" settings.  The new Ti about 10% faster than a RTX 3080 or less than 5% slower than a RTX 3090 and its performance should be in the same class as a RX 6800 or RX 6900 XT.
Let's take a closer look at the Pro 2 which launched earlier this month and its evolution from the Pro which launched in 2018.  The improvements between the original Pro and the Pro 2 lie primarily in 3 areas: (1) improved lenses, (2) wider field of view (FoV), and (3) a higher resolution LCD.
New bespoke dual stacked lens
Wider FoV
New high resolution "5K" LCD panel (higher refresh rate to 120Hz, brighter, lower persistence, reduced mura, better contrast and colors)
Because they are so similar, we were able to simply switch out the original Pro and install the new Pro 2 in its place taking care only to replace the link box and update the software.  Everything else except for minor cosmetic differences/colors are the same.
Unfortunately, the Pro 2 sports the same only fair headphones/audio solution and the same poor microphone, but the same basic well-constructed/well-balanced headset with the same weight, ergonomics, and layout that was introduced in 2018.  We had hoped that they might have made made more improvements but HTC/Vive is concentrating on VR for industry with their completely redesigned and lighter Focus 3 so they only made the barest of necessary upgrades to an already solid headset.
We find that the screen door effect (SDE) is completely gone using the Pro 2 and its overall clarity is even better than the G2.  Although god rays and even excessive brightness are still issues for many, and some OLED purists are offended by an LED display, the Pro 2's increased clarity is impressive, and the widened FoV for those whose face fits the headset or who take the time to modify it is the difference between wearing small googles and wearing a scuba mask.
By using the Pro 2 and comparing its visuals to the older headsets, VR becomes more immersive, the colors are better, the clarity and detailing are much more impressive, and even small text can be easily read.  We even feel it edges out the G2 in 3 areas: FoV, larger sweet spot, and slightly higher overall clarity.  But the Pro 2's biggest positives are for its ability to be used wirelessly and that it is a native SteamVR headset although Vive chose to pair it with their own Vive Console.  Another plus is its ability to handle 120Hz/120FPS for action games.  It's big negative is its high price – $799 for just the headset (+$400 for the base stations/controllers) compared with $599 for the G2 which is a complete kit and has already been discounted substantially by some etailers.
After spending nearly a month with the Pro 2, we sent the review sample back to Vive and purchased our own headset from Newegg to use as our go-to set for VR and also for future benchmarking to compare performance with the Reverb G2 and with the Valve Index.  Overall – despite its faults – it is the highest resolution headset available and it works well for VR benchmarking and gaming.  However, it is a challenge to find the right game settings and the appropriate SteamVR Render Resolution to deliver an enjoyable VR experience without exceeding even the fastest video card's capabilities.
Before we check performance, let's get started by unboxing the Pro 2 on the following page.