Introducing the Vive Pro versus the Oculus Rift – Part 1
We have been benchmarking VR games since December, 2016. In early August, BTR received a Vive Pro on loan from HTC Vive, just before we left for Honolulu and then on to Gamescom. Although the Vive Pro has the same 110 degree field of view (FoV), it features 78% higher resolution than the original Vive or the Rift, and it is aimed mostly at the enterprise market, priced at $799 for the Pro's HMD (head mounted display). Since the Oculus Rift and the Vive Pro each represent competing VR platforms, we will evaluate and compare them.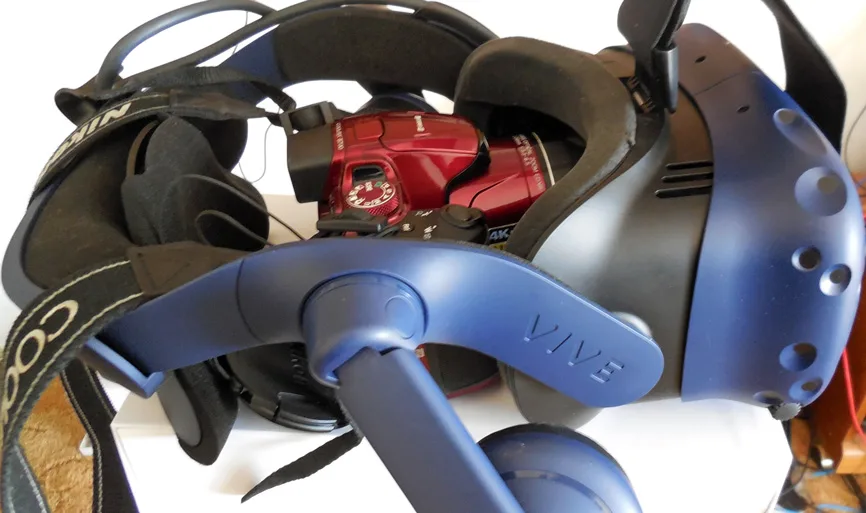 Since BTR's original VR evaluation in January 2017, using FCAT-VR we have benchmarked more and more VR games in our follow-ups until our current VR benchmark suite includes 25 VR games. We have compared FCAT-VR with our own video benchmarks by using a camera to capture images directly from a HMD's lens. For BTR's VR testing methodology, please refer to this evaluation.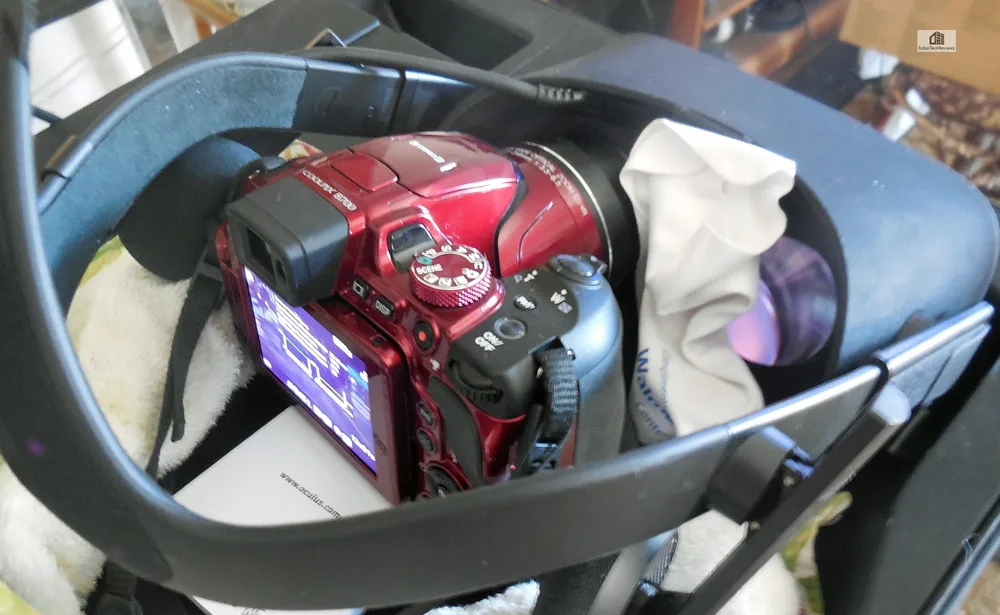 Things have changed since our original review when we wrote that the main reason we picked the Rift over the Vive is because we are mobility-limited. Two years ago, the Oculus Rift offered a great "seated" experience while Vive featured more precise-tracking for a large "room-sized" experience. Since then, there are many more SteamVR games that adapt very well to seated and to smaller-sized rooms, and the Oculus Rift also works well in a fairly large room after adding a third sensor.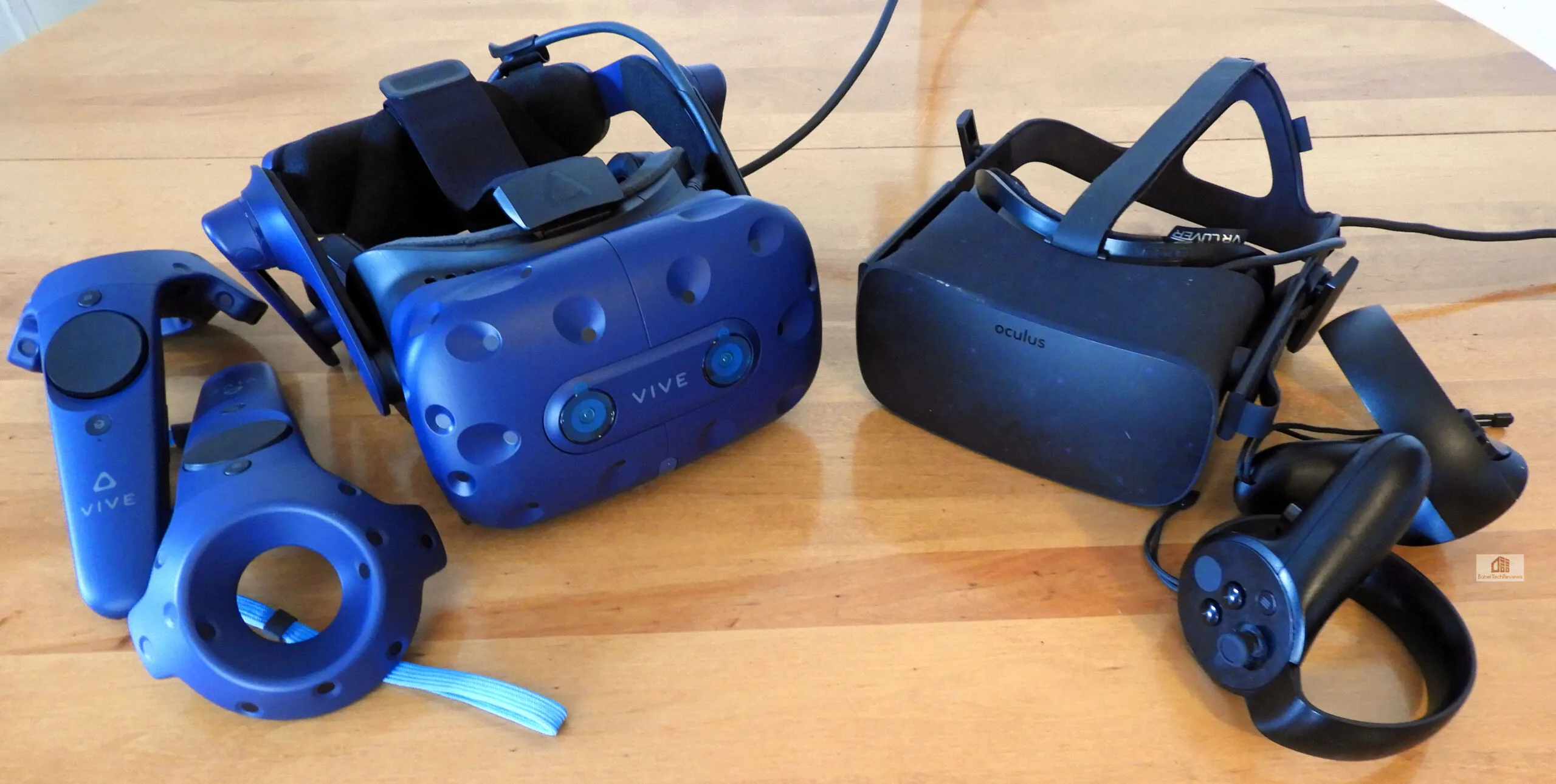 The Oculus Rift at $399 and the original Vive at $499 are competitors, but now the Vive Pro has been released at $1399 – by itself, it costs $799 for the Pro HMD. The Vive Pro is aimed somewhat at VR enthusiasts, but primarily at enterprise; at devs and for professional uses including for arcades and for simulations, because of its higher resolution (2880 x 1660/615 PPI) and large room-scale precise tracking (with two base stations up to 20'x20′; and with 3 up to 33'x33′) whereas the Rift is limited to a much smaller area.
The State of VR Today
BabelTechReviews (BTR) has continued to focus on VR, and not only do we review selected VR games, we benchmark them and chart their frametimes and unconstrained framerates (the performance headroom) with multiple video cards from AMD and NVIDIA using FCAT-VR. And we look forward to measuring the performance of twenty-five top VR games using NVIDIA's upcoming highest-performing RTX video cards.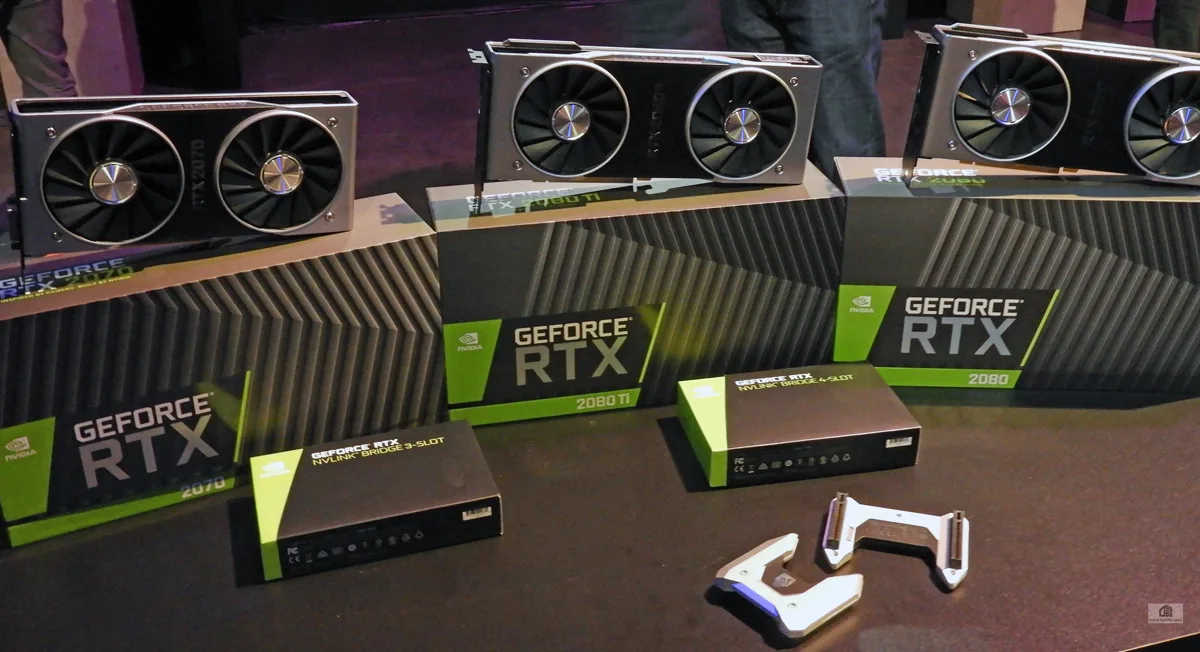 From the very beginning, we realized that VR is the future, but also that mass adoption is still years off. There is no way that most video gaming enthusiasts are going to buy a very expensive PC just to power a relatively hot and heavy HMD that isolates them from the world and tethers them by cables. Wireless and glasses-friendly smaller and lighter headsets will be needed before mass acceptance becomes possible. There is also the issue of needing an expensive video card for a great PC VR experience.
However, with the advent of NVIDIA's RTX on the desktop and Microsoft's adoption of ray tracing (RT), a whole new world of photorealistic video gaming opens up to PC gamers, and there are real implications that this same technology will be used for VR. This move to ray traced photorealism will require that the devs implement RT into each VR app. The future of VR is exciting but there is no easy pathway to this goal for many practical reasons. We were the only tech site at NVIDIA's Gamescom Editor's Day event that even asked about VR, but we are glad to report that NVIDIA is working to make VR better with Turing architecture.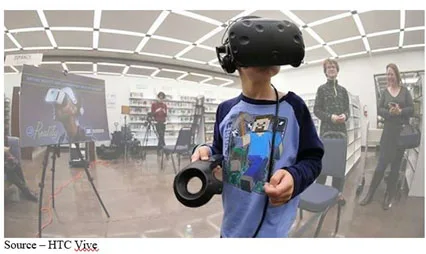 VR and AR are growing incredibly fast in the professional world already as a two billion dollar industry! – air and space travel, automotive, healthcare, training and education, have adopted VR as essential to their growth, besides entertainment. VR will not stop growing even though VR is still niche in the gaming world.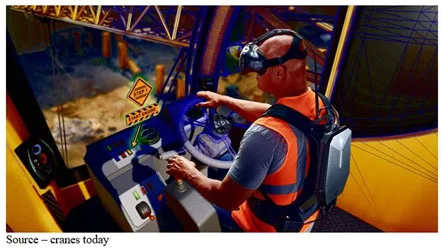 Although VR adventures are being adopted by arcades, using mechanics together with HMDs to simulate a virtual world, AAA titles are not quickly coming to VR nor do they translate into big bucks for publishers in the same way that they do for PC and console games. The big publishers, possibly with the exception of Bethesda whose popular games translate well into VR, can't make the same profit that they get from their established game franchises, so VR is largely ignored.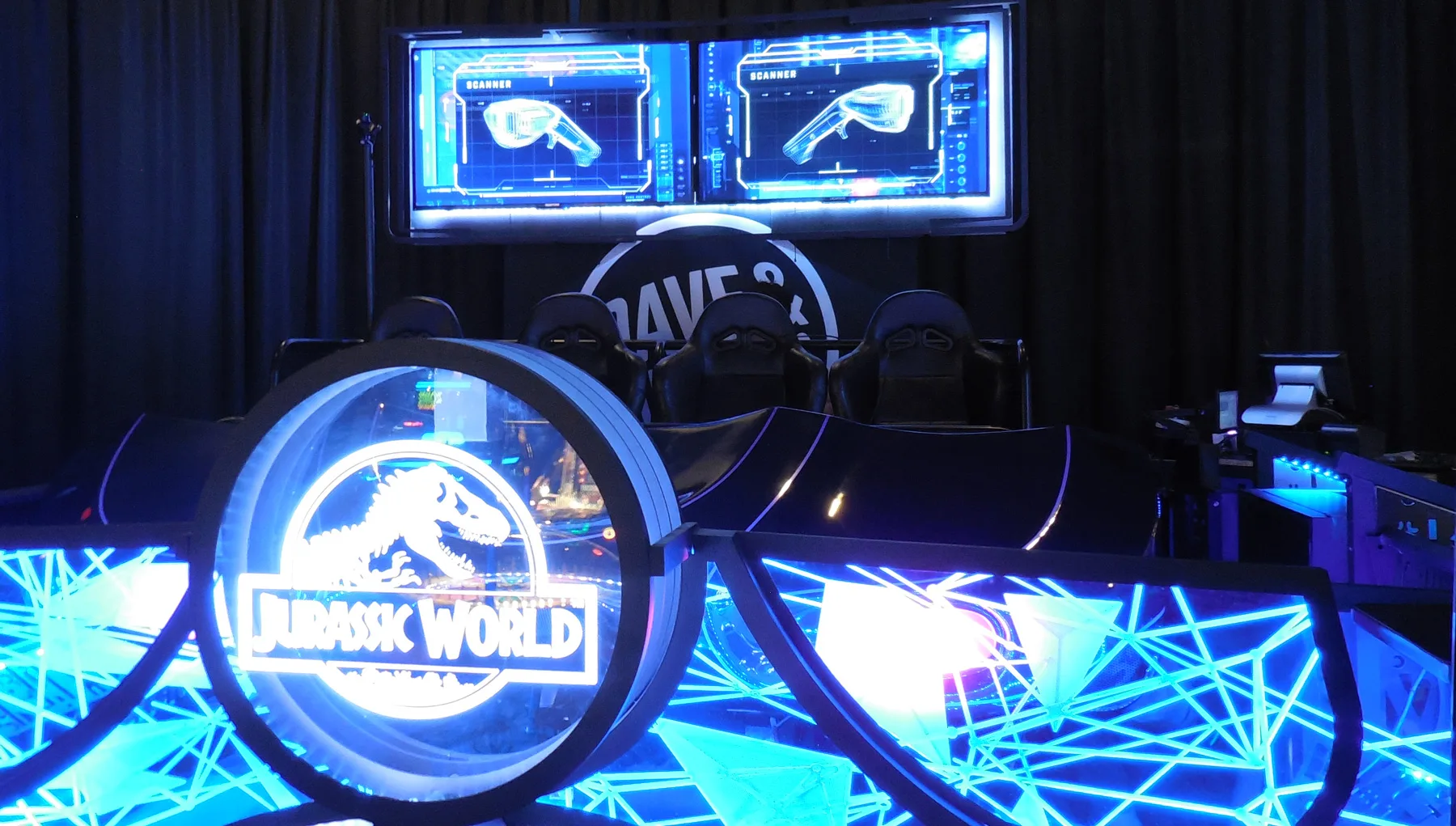 Growing VR gaming generally means that the VR independent developers are left to support what they believe in. Indies realize that virtual and augmented reality is our future, but they don't want to starve until a mythical "killer app" drives mass VR adoption. Similarly, BTR doesn't get a lot of views from VR reviews compared with regular PC reviews, but we feature them because we believe in VR's future despite experiencing its limitations every time we don a HMD.
Despite current limitations, the VR experience is beyond amazing compared with regular video gaming, and the intense feeling of "being there" in an immersive and realistic world simply cannot be conveyed by words or by video. It actually takes entering and interacting within a well-done VR production to make believers out of skeptics. But few enthusiasts can afford to recreate an arcade-like VR experience at home outside of expensive racing and/or flying sims.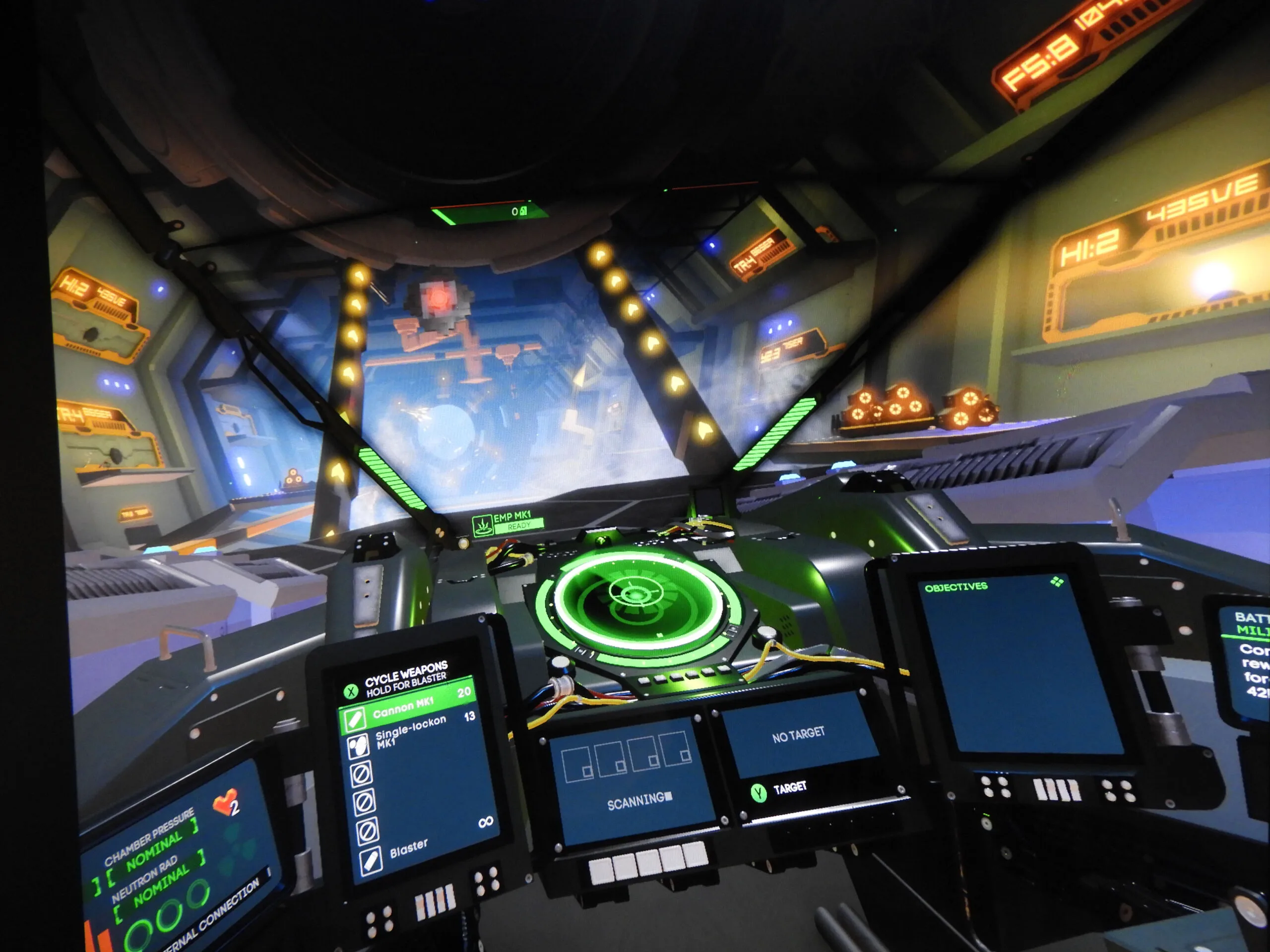 The first time this editor stepped into a VR world and crawled under a desk to examine its underside, met a T-Rex face-to-face, stared down into an abyss, and felt the wind while racing in the Indy 500, it became certain that VR will be the future of everything. Eventually.
Indie devs cannot afford to create an AAA 30-hour VR game because it takes years and a team – and financial success is never guaranteed, especially with VR. So most new full-length VR games are often priced at $30-$60 and they are generally short. Fortunately, many of them are memorable and creatively well-done VR experiences implemented in many effective but different ways which leads one to hope that even VR locomotion will finally be resolved.
Many enthusiasts who believe in VR gaming demonstrate it to all of their friends, post enthusiastically on social media, and buy all of the good games on Day 1 to "encourage" VR development. Unfortunately, their number is still relatively small which limits the size of the VR market that buys new games.
There are still many rushed and poorly thought-out VR games, and this gamer would rather play a good traditional video game on a flat screen display (called "pancake" games by VR enthusiasts) rather than a poorly-done VR game. However, as an example, Skyrim VR – a relatively old game with limited VR interactivity – is still worlds better than the pancake version.
Watching a full-size Skyrim dragon blasting out fire, or launching fireballs and spells from your own fingertips, or feeling a thunk as an arrow partially penetrates the shield you are holding for defense, imparts an immersive realism that conveys the feeling of being "inside" the game as pancake games cannot provide more than a window into a game world.
Devs could help make their own VR games more popular by implementing social sharing of in-game VR selfies and 360 degree photos, using Ansel perhaps. But VR will still be a tough sell to most video gamers, and the next generation of HMDs will hopefully fix more mainstream gaming issues with VR beyond increasing the resolution, FoV, and becoming wireless.
We asked HTC Vive, 'Why the Pro?'
An Oculus Rift sells for $399 and a Vive for $499 – but the Vive Pro costs $799 just for the headset (or around $1399 for the complete Pro setup). We asked HTC Vive why they built the Pro. They replied, and we quote:
Why did we build Vive Pro?
We built Vive Pro with enterprise in mind. Since the earliest days of Vive we've heard from businesses that they want to spend more time in VR, they want to be able to read text, and they want larger play spaces.
The Vive Pro Full Kit tackles each of these and delivers the best VR headset for an enterprise use case.
And outside of the technology of the headset, we want to make it easy for businesses to grow and invest in VR.
Vive Pro full kit delivers on the business user's demand for higher resolution, improved audio, greater comfort, and wireless freedom. This launch reflects HTC's increased focus to create products for today's most demanding and innovative VR users.
What are the most important advances in the Vive Pro?
HTC is constantly collecting feedback and developing best practices on how to innovate our products.
We work closely with our developers and enterprise partners to listen to their feedback. The Vive Pro is a great example of listening to our business partners.
Overall, we're seeing advancements in technology in the platforms with what users wants. Improved displays, audio, comfort, accessories and triple A content.
Vive Pro Advances:
Larger play space: Users will have a more realistic experience – to get up and move around. This is key to training simulations, because the system provides enough queues to create the illusion of a real-life experience, so the user will have the same reaction in a real-life experience.
Vive Pro offers improved display (78% resolution increase) and spatial audio
Tracking: our system is super accurate and creates one-to-one mirroring.
/quote
In addition, the Vive Pro, now in blue and black, features two cameras instead of one camera used for the original Vive. One of the two cameras can now be devoted to depth mapping and even for mixed reality, but these are still relatively new Pro features that devs need to develop for.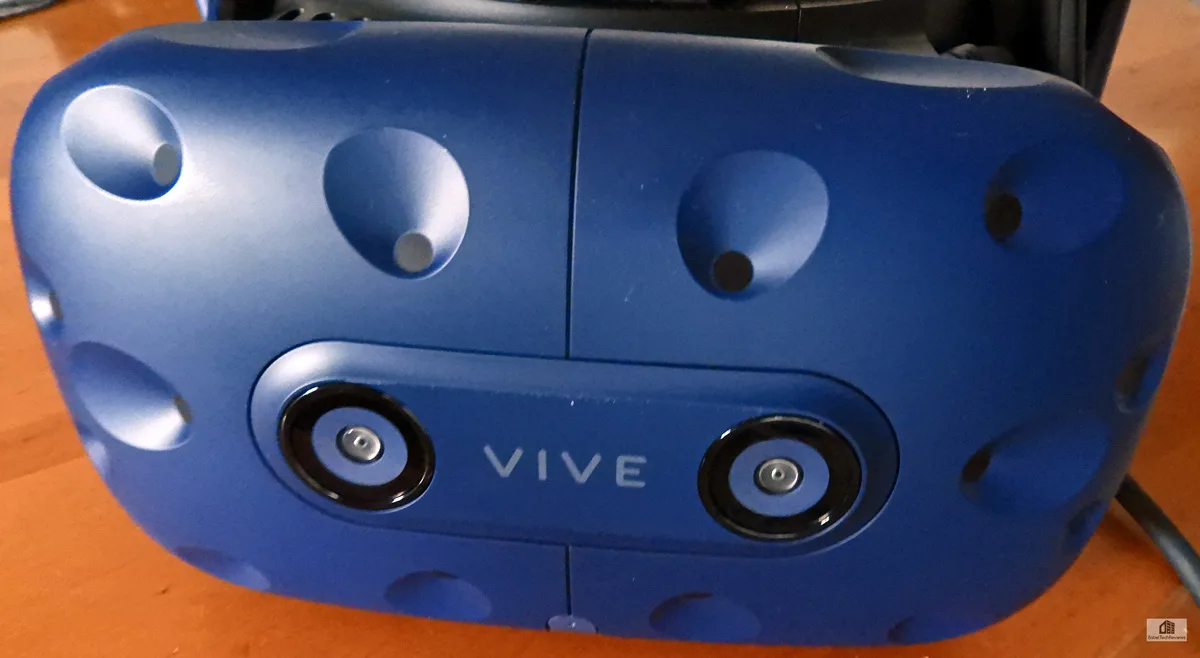 We are unable to directly compare the audio from the Vive Pro with the original Vive. We have read some user complaints on social media, and many of them appear to stem from the built-in headphones not seating on the ear properly although it works fine for us. The bass may also be a bit weak and ambient noise is audible, but that is usually the case with an open-design. For audiophiles, the Vive Pro HMD has a Type-C connection so they can remove the Pro's headphones and use their own cans with an adapter.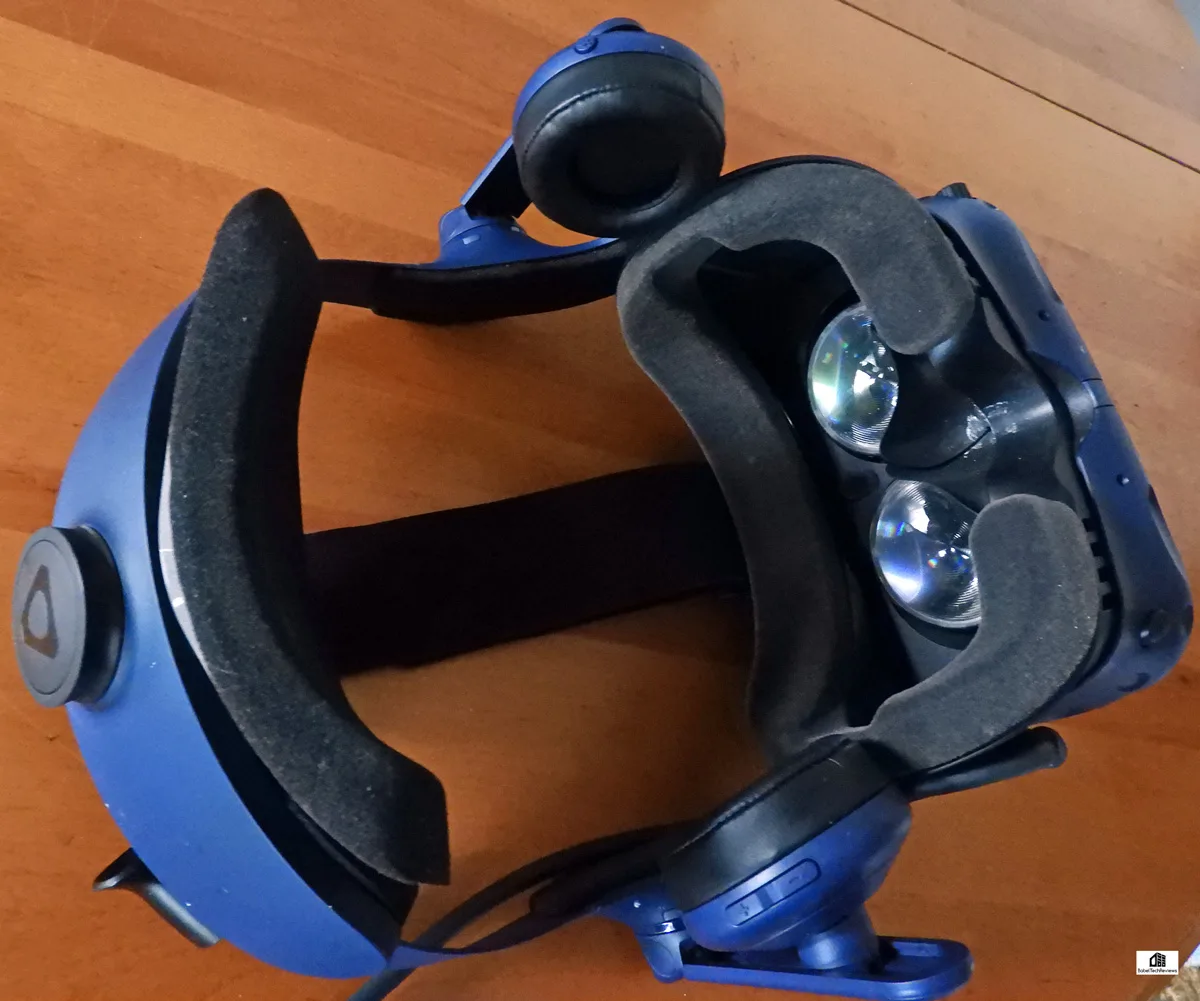 For us, the Vive Pro's audio is very good – at least as good as the Oculus Rift's; better we think, and it is noticeably spatial/positional – we can tell from which direction the sound is coming from. No doubt audio will continue to improve as devs implement audio ray tracing in real time.
We were able to experience the Vive Pro in action for enterprise at Dave & Buster's arcade in Honolulu and it is used for the Jurassic Park VR Expedition ride. The ride uses 5 PCs to power a dinosaur VR experience for 4 adventurers and also mechanically simulates a bumpy ride through a jungle teeming with huge beasts.
The ride's maintenance expert told me that the Vive Pro is the only HMD and platform that Dave & Buster's chain would consider. The Pro is suitable for this ride because of its higher resolution and high-quality electronics that qualifies it as a professional unit unlike the original Vive or the Oculus Rift. He also told me that the electronics never failed even though the HMDs took a "beating" from their constant use by the riders.
So we see that the Vive Pro is mostly created for enterprise, but also for enthusiasts who want absolutely the best VR experience today. Of course, with a 78% resolution increase, it will take a more powerful video card to power it, and we plan to test both the Oculus Rift and the Vive Pro with the most powerful video cards in the world. We will start with the GTX 1080 Ti and the Titan Xp.
We begin this series focusing on the Vive Pro and we will begin by unboxing it, setting it up and comparing its features to the Rift, and finally we will compare VR games and VR game performance across both platforms in a follow-up. We have a 25-game VR benchmark suite for the Oculus Rift, and we will compare our games' performance that are common to both platforms.
So let's get started by first checking out our test bed on the next page followed by unboxing the HTC Vive Pro on the following page.
Test configuration
Test Configuration – Hardware
Intel Core i7-8700K (HyperThreading and Turbo boost is on to 4.7 GHz for all cores; Coffee Lake DX11 CPU graphics).
EVGA Z370 FTW motherboard (Intel Z370 chipset, latest BIOS, PCIe 3.0/3.1 specification, CrossFire/SLI 8x+8x), supplied by EVGA
TeamGroup 16GB DDR4 (2x8GB, dual channel at 3200 MHz), supplied by Team Group
GTX 1080 Ti 11GB, Founders Edition stock clocks, supplied by NVIDIA
Star Wars Galactic TITAN Xp 12GB, at stock clocks, supplied by NVIDIA
480GB Team Group SSD
1.92 TB San Disk enterprise class SSD
2 TB Micron 1100 enterprise class SSD
EVGA 1000G 1000 W power supply unit
EVGA CLC 280mm CPU water cooler, supplied by EVGA
Onboard Realtek Audio
Genius SP-D150 speakers, supplied by Genius
EVGA DG-77, mid-tower case supplied by EVGA
LG 43? HDR 4K TV
Monoprice Crystal Pro 4K
Oculus Rift, 3-sensor set-up and Touch Controllers
Vive Pro, full kit including Tracking 2.0 and two base controllers, on loan from HTC Vive
Test Configuration – Software
Nvidia's GeForce 399.07 WHQL drivers.
VSync is off.
All in-game settings are specified on the charts
All gaming results show frametime results and unconstrained FPS (performance headroom)
Highest quality sound used in all games.
Windows 10 64-bit Home edition. All SteamVR titles were run under SteamVR and all Oculus Rift titles were run on that platform. When the same game is represented on both platforms, it is noted.
Latest OS updates and all games and VR applications are up-to-date at time of writing.
SteamVR, Viveport, and the Oculus Rift Store are installed and updated regularly.
FCAT-VR
Let's unbox the Vive Pro on the next page.
Unboxing
The Vive Pro arrived in a really big box that is well-designed to take good care of its precious contents. The contents are shown on the box and Viveport is advertised as allowing the user to play 5 games for every month of the free 6 month Viveport service included in the Pro's price.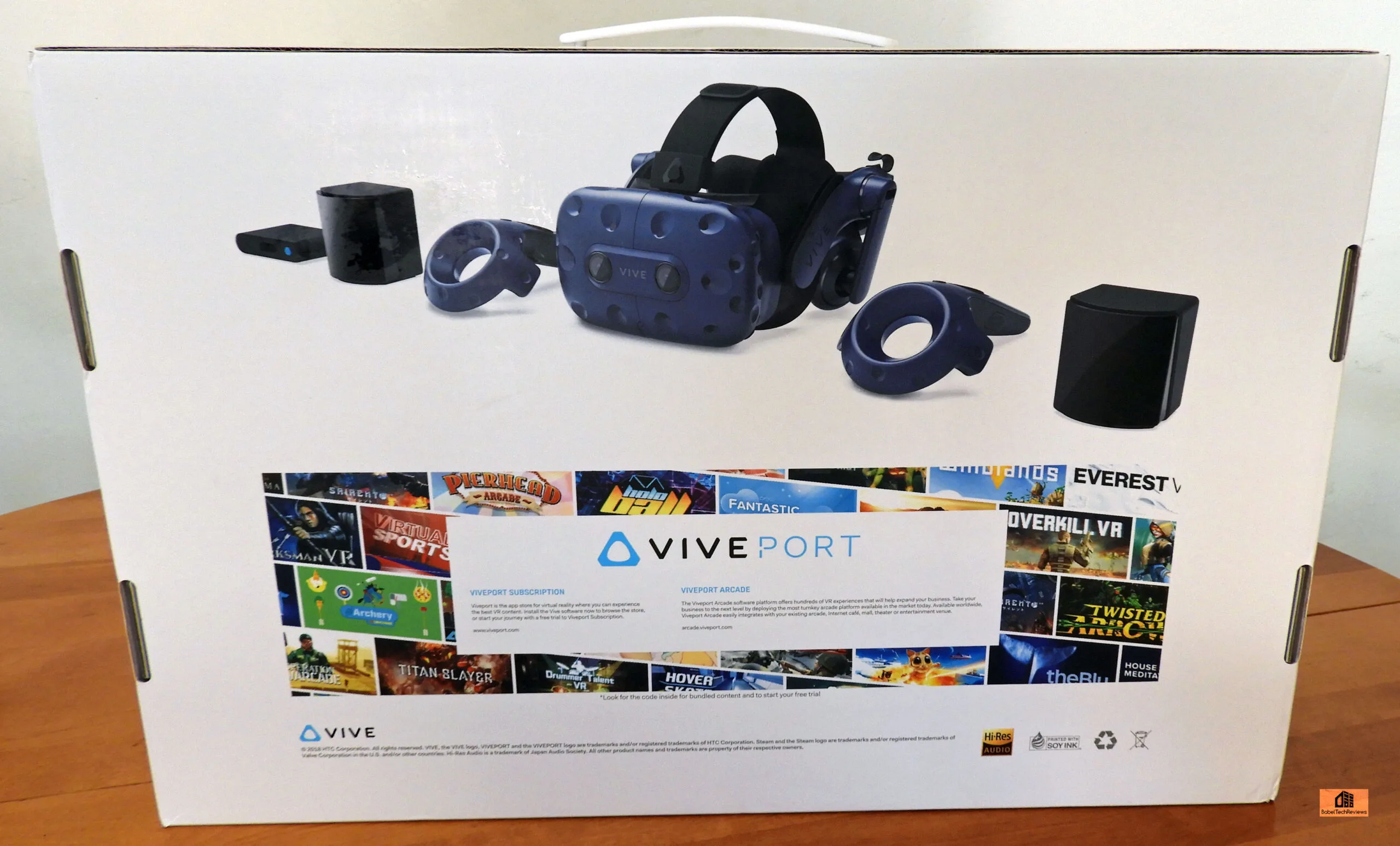 SteamVR is advertised as being compatible with the Vive Pro and 'it just works' with hundreds of titles. The updated SteamVR Tracking Version 2.0 is included.

The specifications are noted on the box and glasses wearers can rejoice that the Vive Pro fits most glasses – unlike the Oculus Rift which is very glasses unfriendly. I had to buy pediatric frames just to be able to use glasses instead of contacts with the Rift.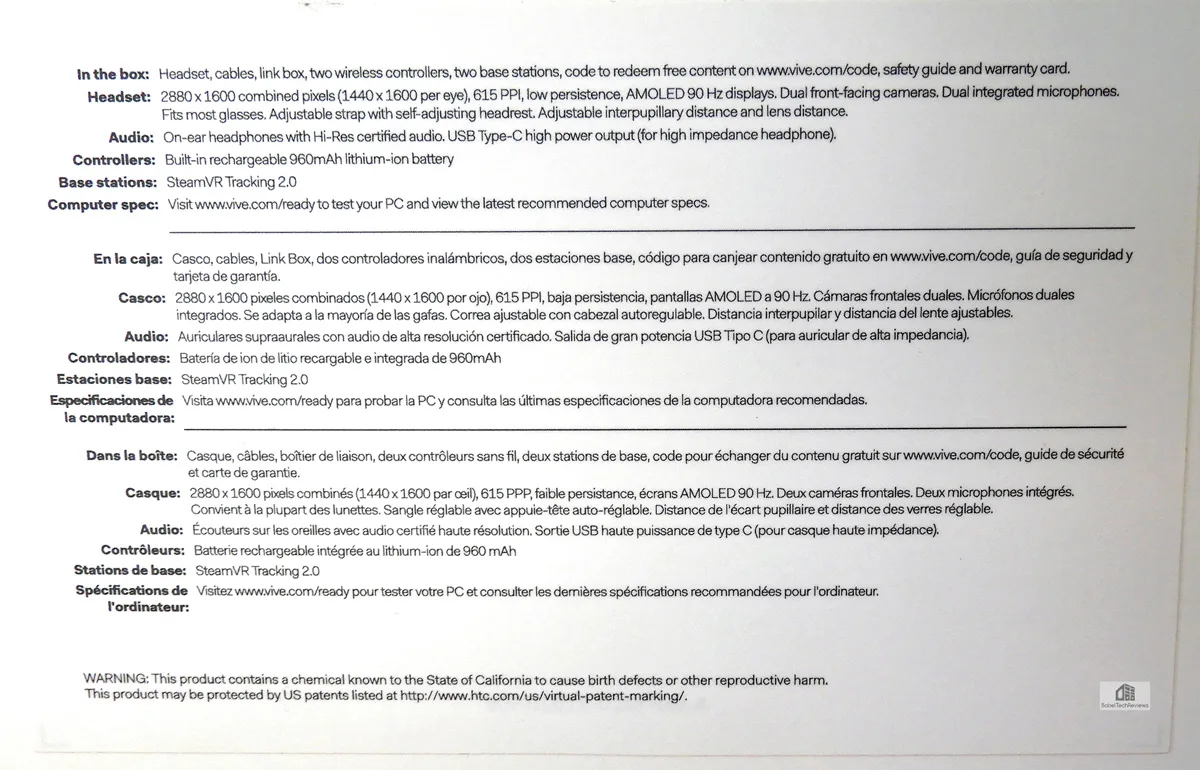 Opening the big box we see 4 smaller boxes nested inside, and each numbered box contains specific hardware that is easy to follow in the instructions (below).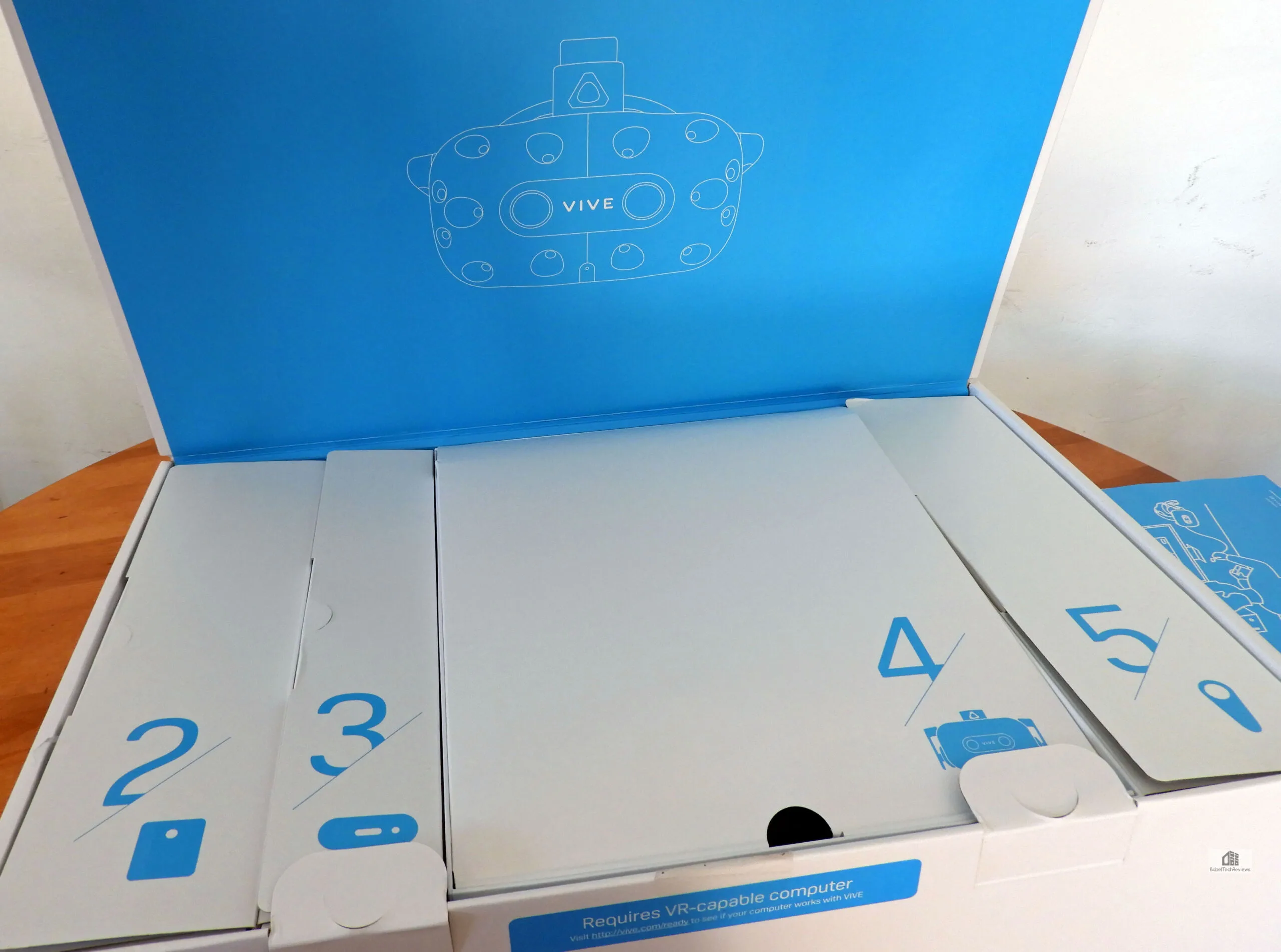 The instructions are quite clear although one has to navigate around other languages, and there are tips included for wearing the HMD headset properly.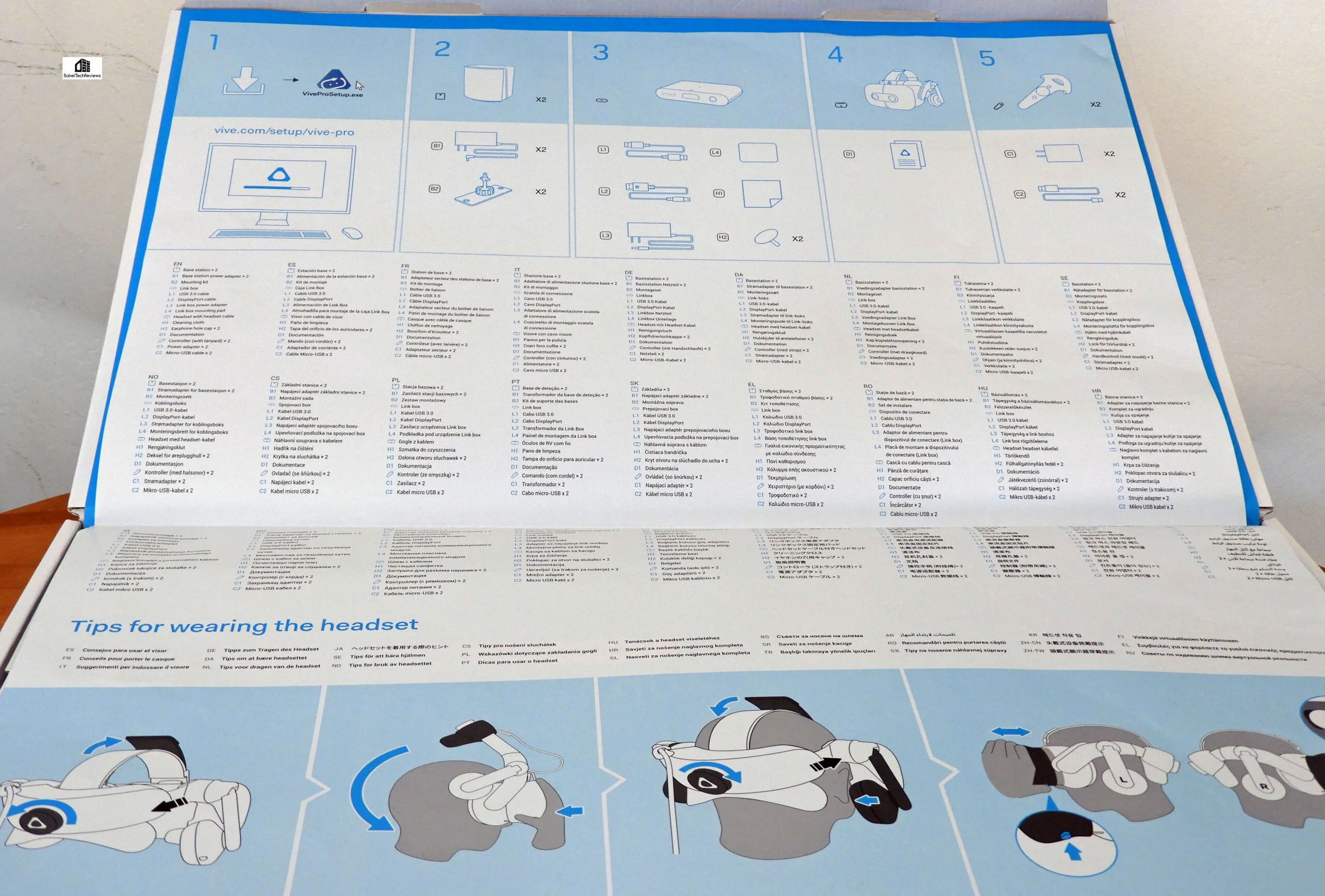 Here are the contents of the first big box- showing the opened boxes containing the HMD, the base stations, and the Vive Pro wands/controllers together with all of the accessories.
Box 4 holds the HMD and its accessories.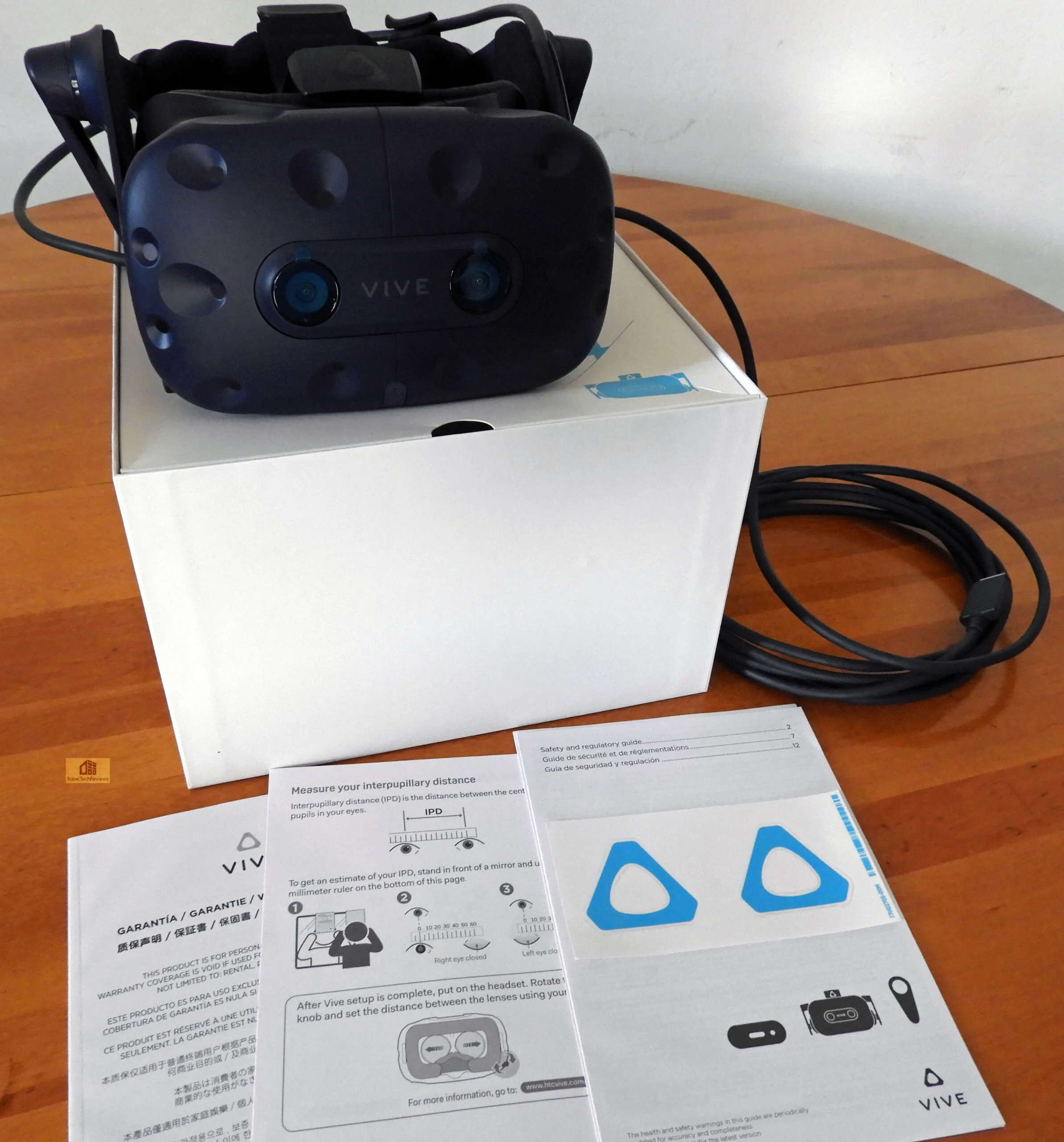 Box 2 is for the base stations and their accessories.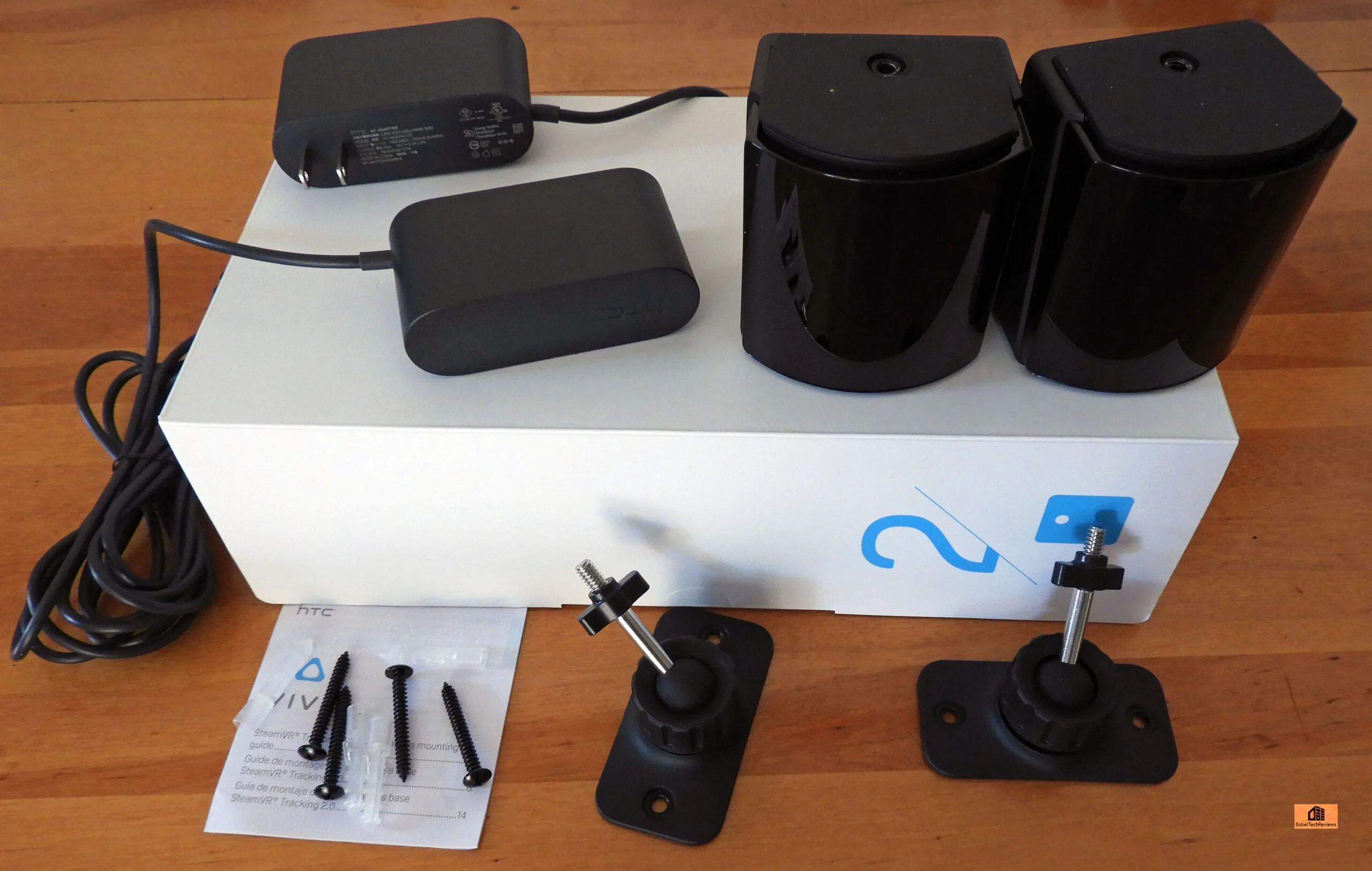 Box 3 is for the HMD control box which attaches to the PC.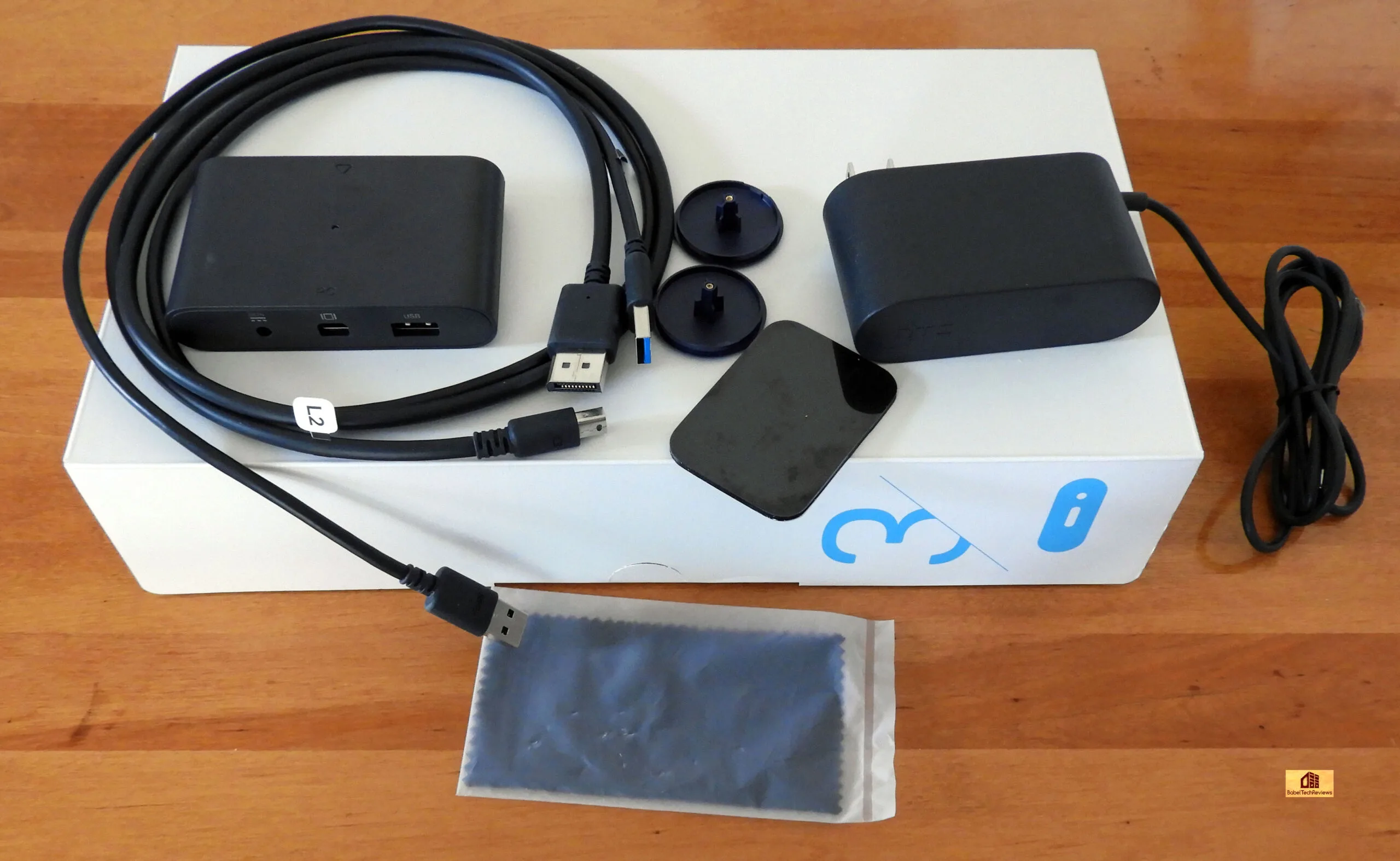 Box 5 contains the Vive Wands or controllers used to interact in the VR world. They need to be charged before use and recharged when the batteries run low.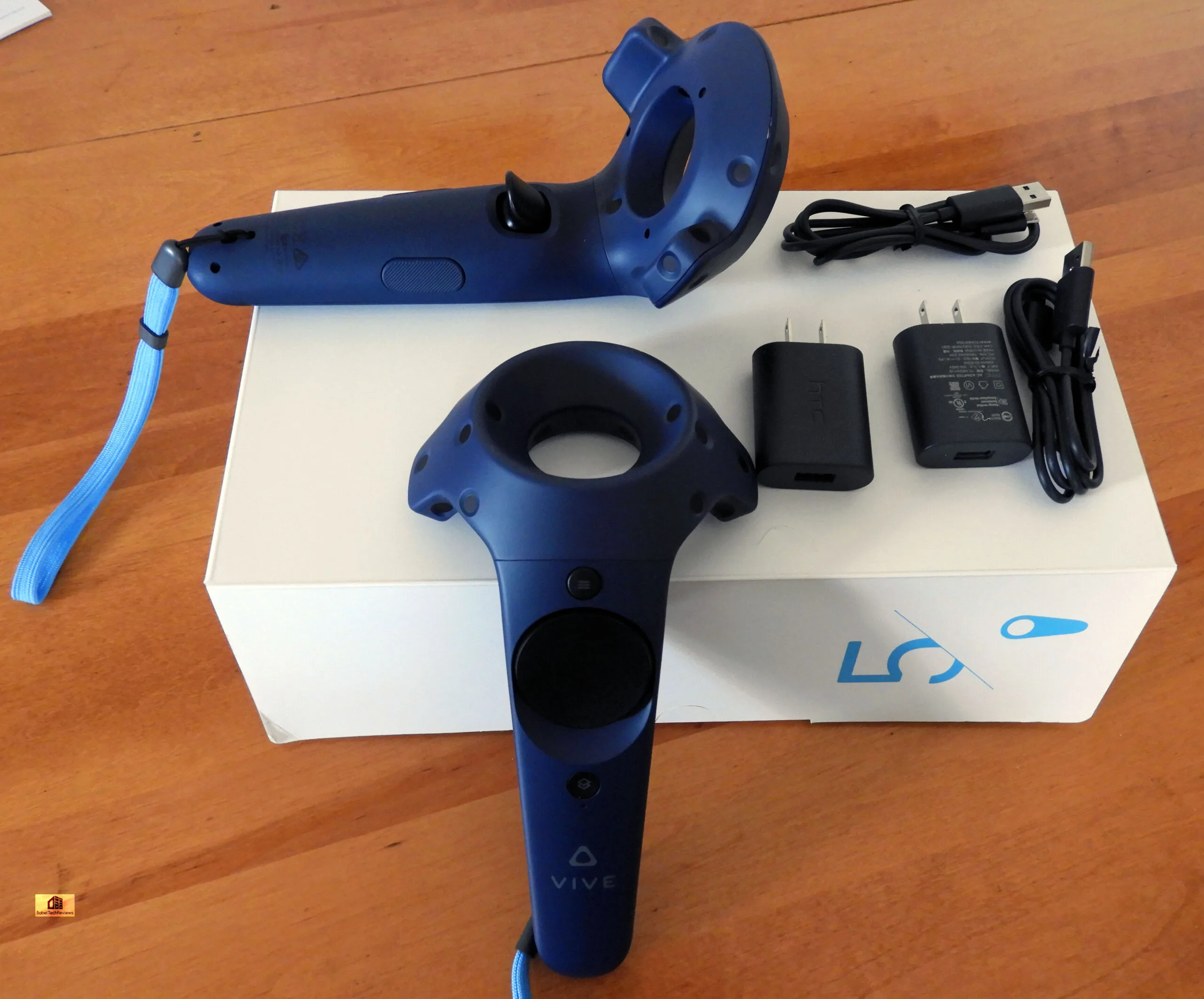 Here is everything including the instruction poster.
All the plastic wrappings have been removed and they are ready for installation.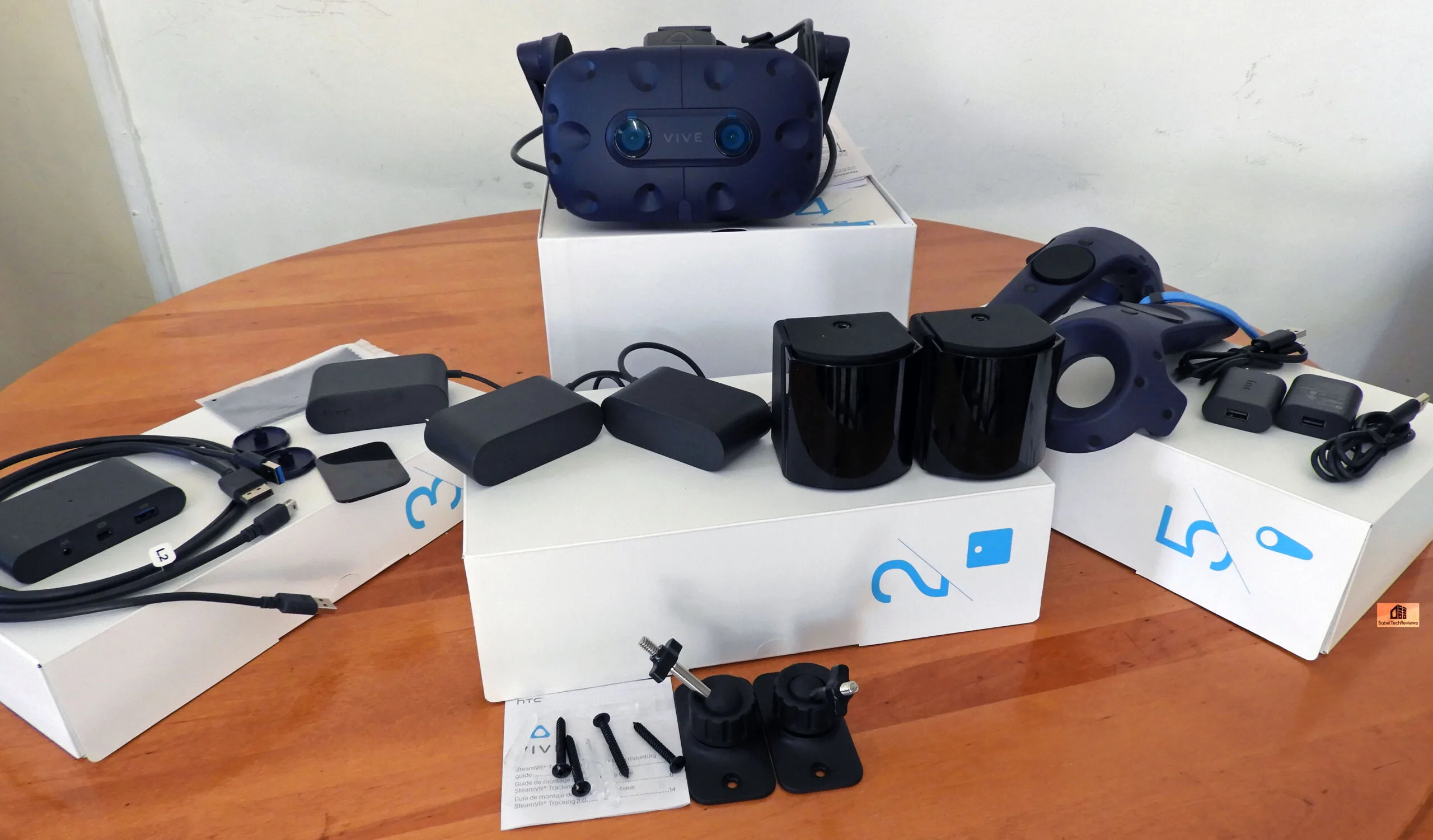 Below are pictured the Vive Pro and our first test card, the TITAN Xp. We hope to soon be able to test even faster new RTX cards from NVIDIA using the Vive Pro versus the Oculus Rift.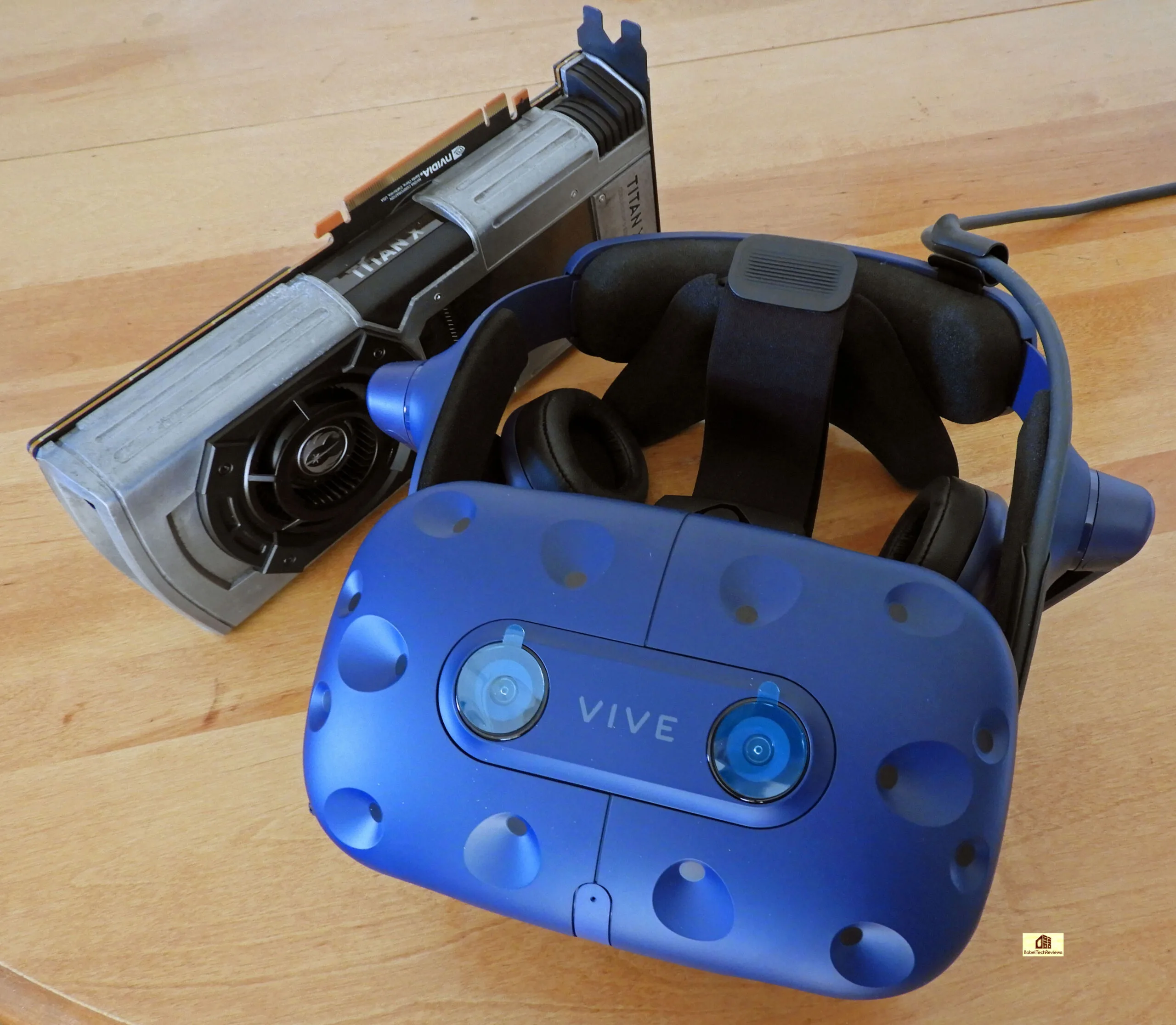 Below is the Vive Pro on the left, compared with the Oculus Rift (right).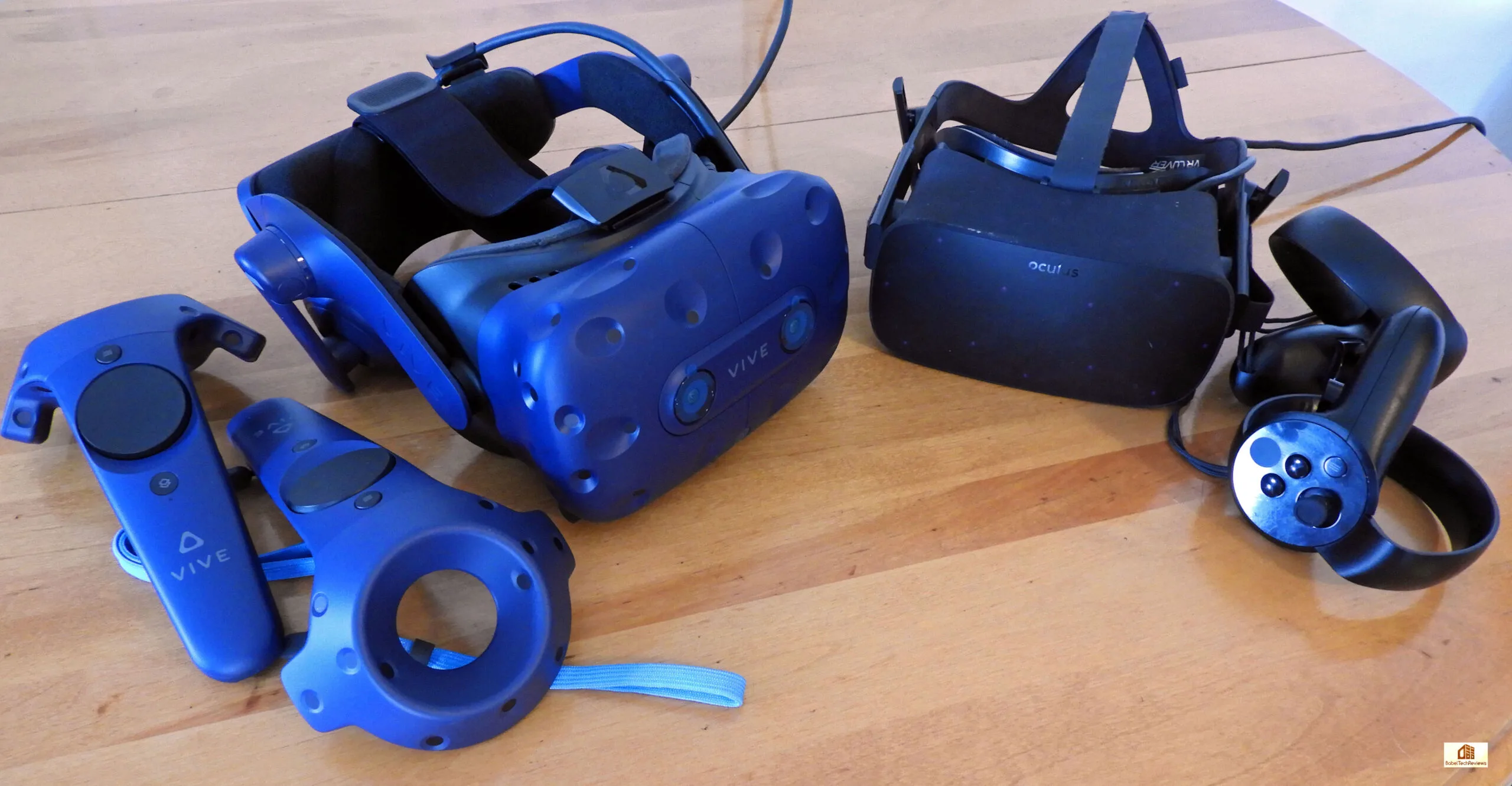 The Vive Pro is a bit larger and bulkier than the Rift, but it is more balanced, has more adjustments and fits better, although neither one will tire you out. Both HMDs generate some heat, but we never found either of them so hot that we ever had to take them off or stop playing.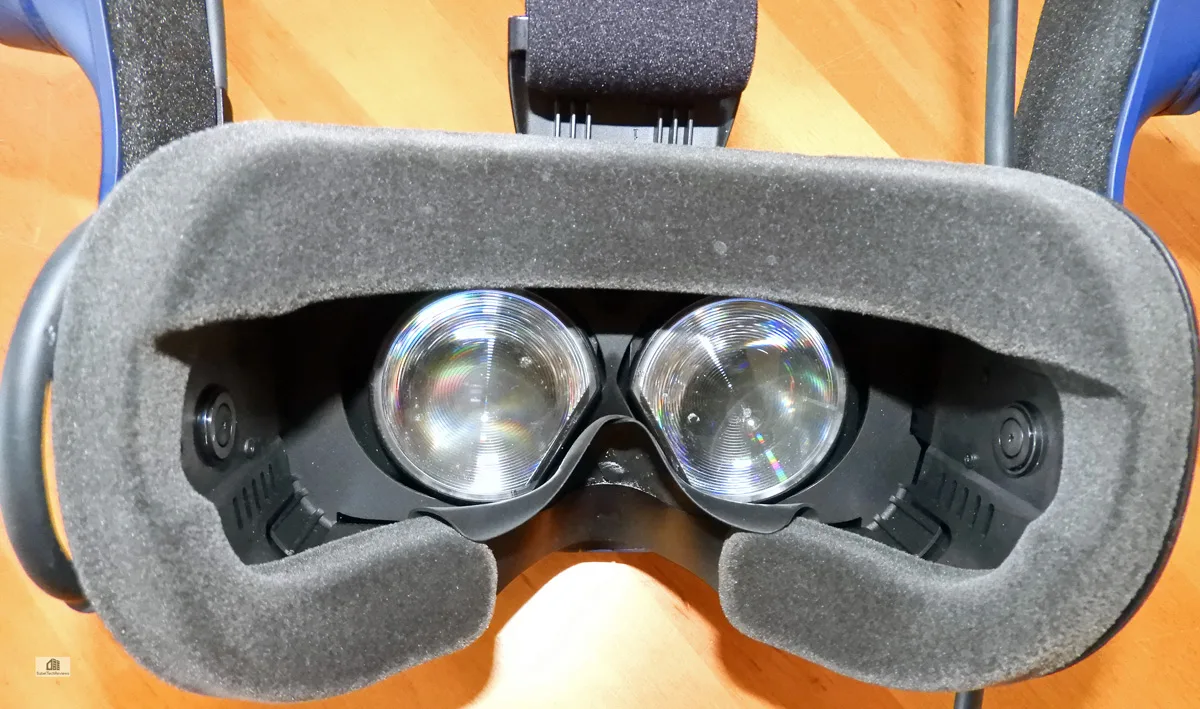 Overall, the Pro headset is more comfortable for us than wearing the Oculus Rift HMD and that is without considering wearing glasses where the Pro wins.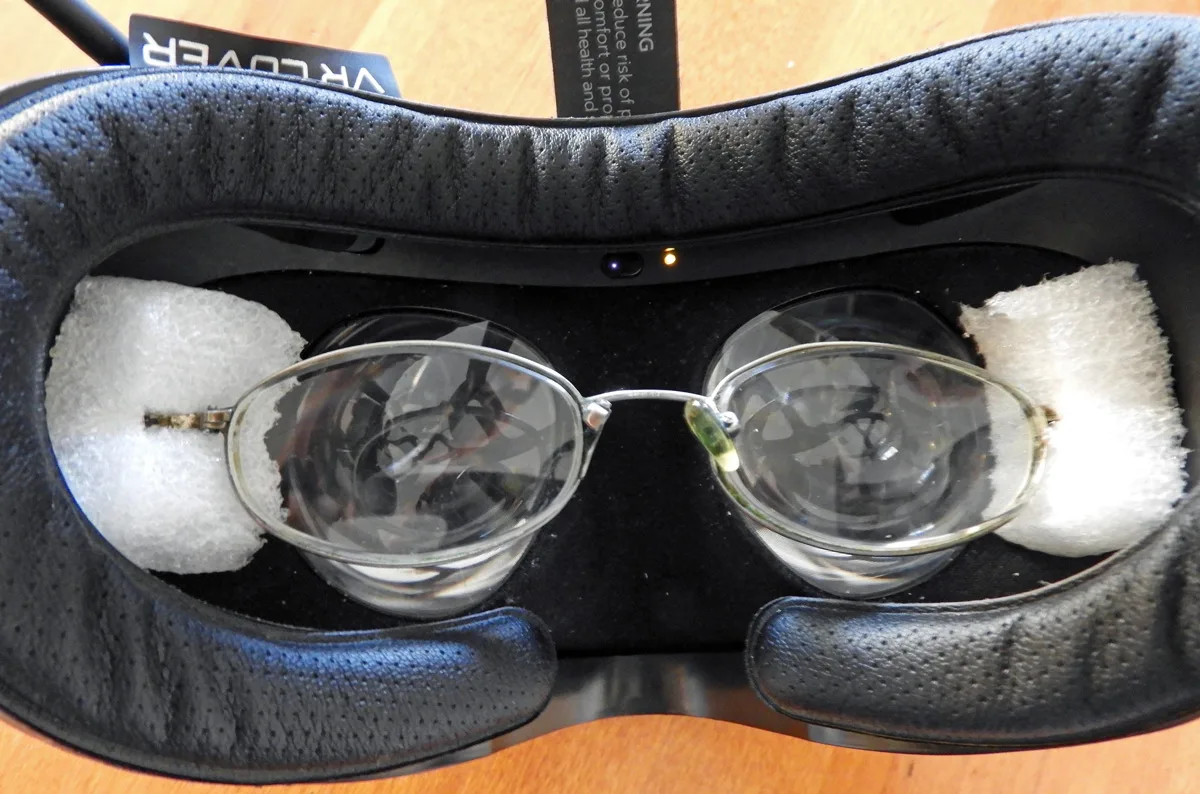 One thing we really like about the Pro that we hate about the Oculus Rift is their different approach to glasses wearers. Most glasses fit easily inside the Pro but the Rift was designed while completely ignoring the needs of glasses wearers. Not all of us like to wear our contacts, and we have had to take extreme measures to enjoy our Rift while wearing prescription eyeglasses.
The Vive Pro unboxing doesn't take very long since everything is clearly labeled and the instructions are easy for anyone to follow. Just make sure to keep everything together that comes in each numbered box separate from the other boxes' hardware.
The Vive Pro is now in blue and black instead of the all-black for the original Vive and for the Oculus Rift. I prefer all-black, and think the blue gives the Pro more of a 'toy' look, but this is purely a matter of personal opinion. The fit, comfort, and balance of the HMD are all-important, and the Pro delivers.
Next, we set up our Pro, so we first disconnected our Oculus Rift (they can coexist together easily on the same PC, but we were taking no chances) and followed the steps on the next page.
Set up
The setup for the Vive Pro and for the Oculus Rift are quite similar. You install the introductory software, make an account and sign into it, and then download the rest of the software to set up the hardware and connect it to your PC.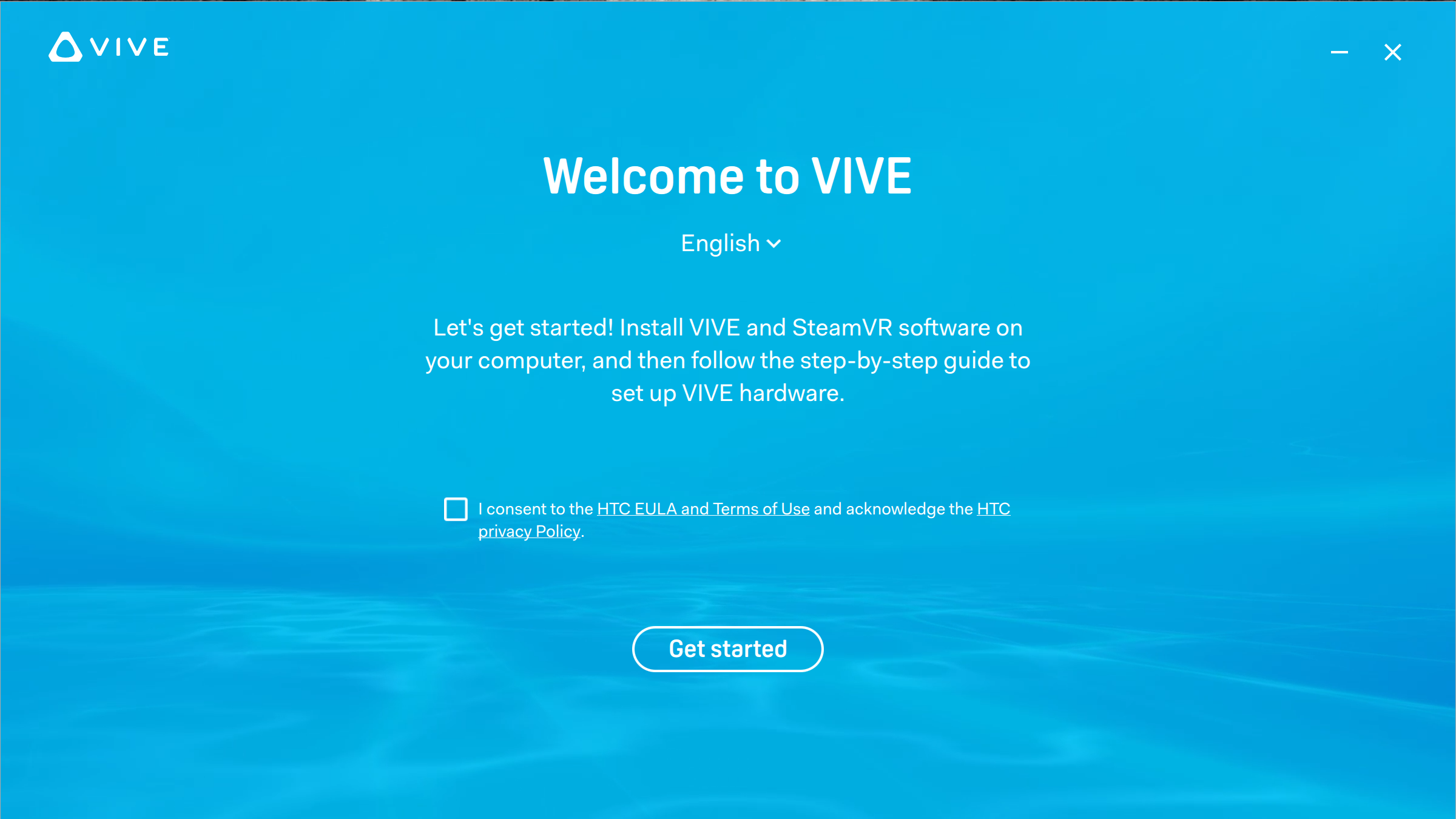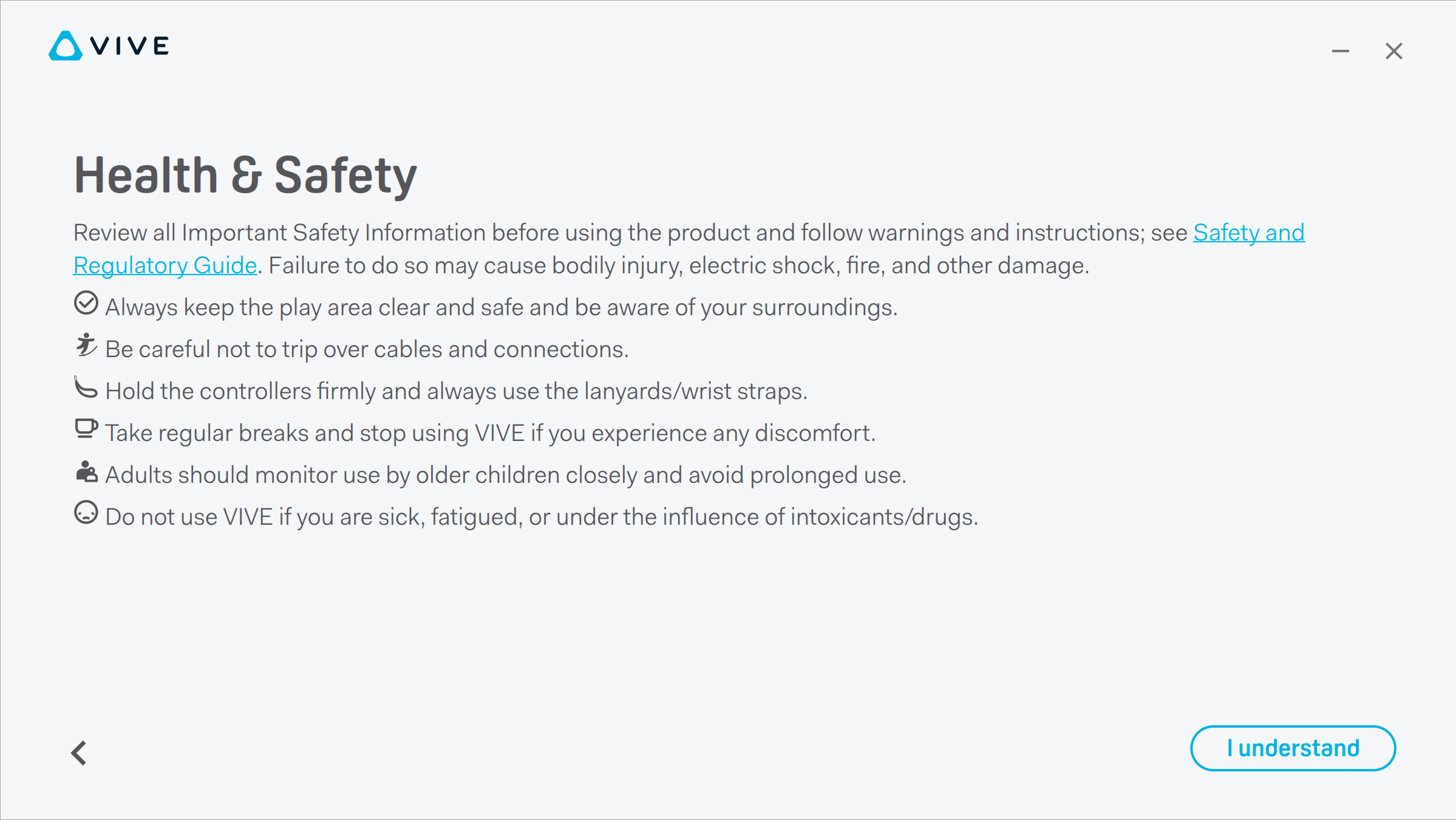 First, you are prompted to sign in or create a HTC/Vive account which allows you to play apps and games on Viveport. Pro users get a free 6-month subscription to Viveport which allows them to audition and play up to 5 VR titles every month.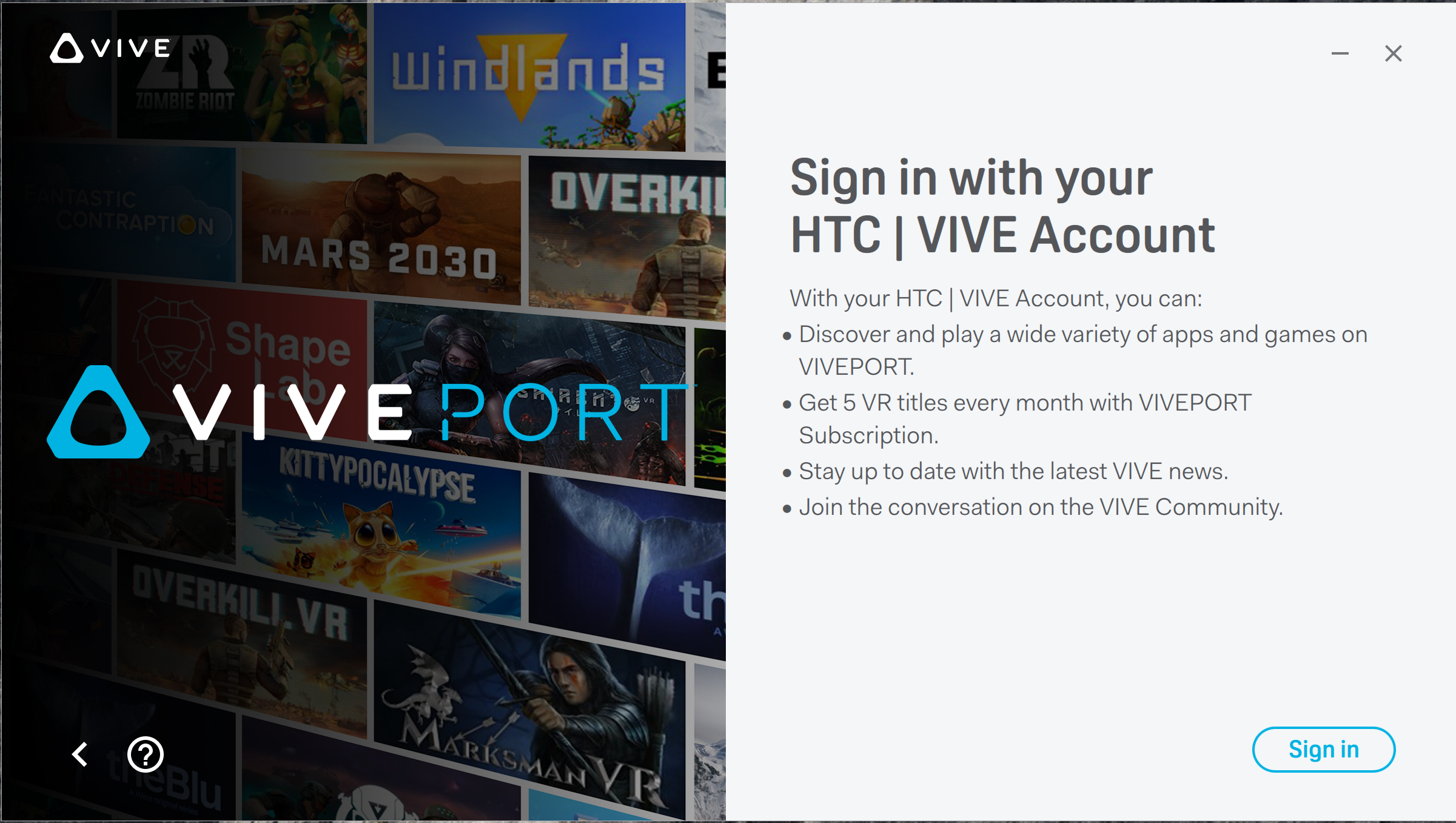 Make sure your account is secure.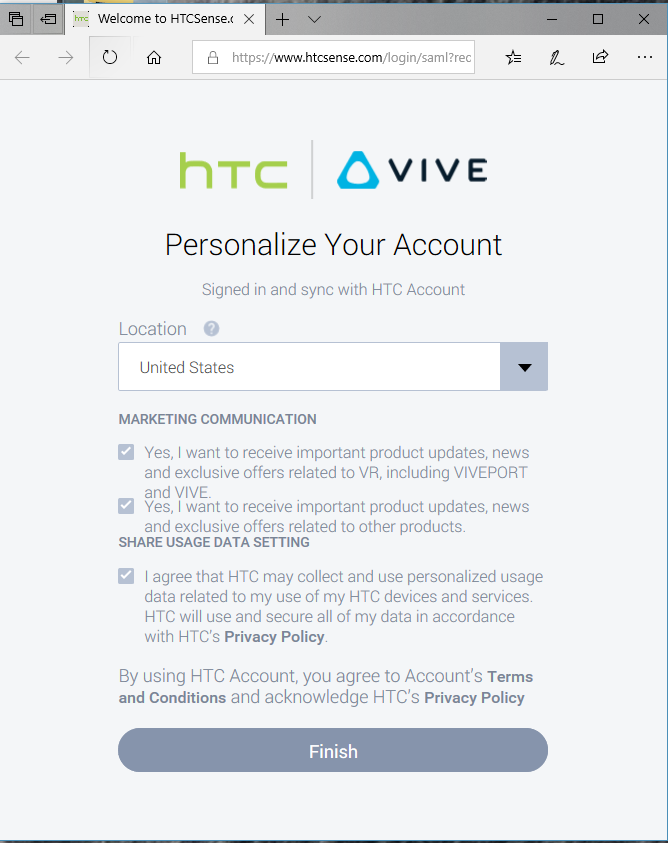 Now you are prompted to install the Vive and SteamVR software to begin the process of setting up the Pro's hardware.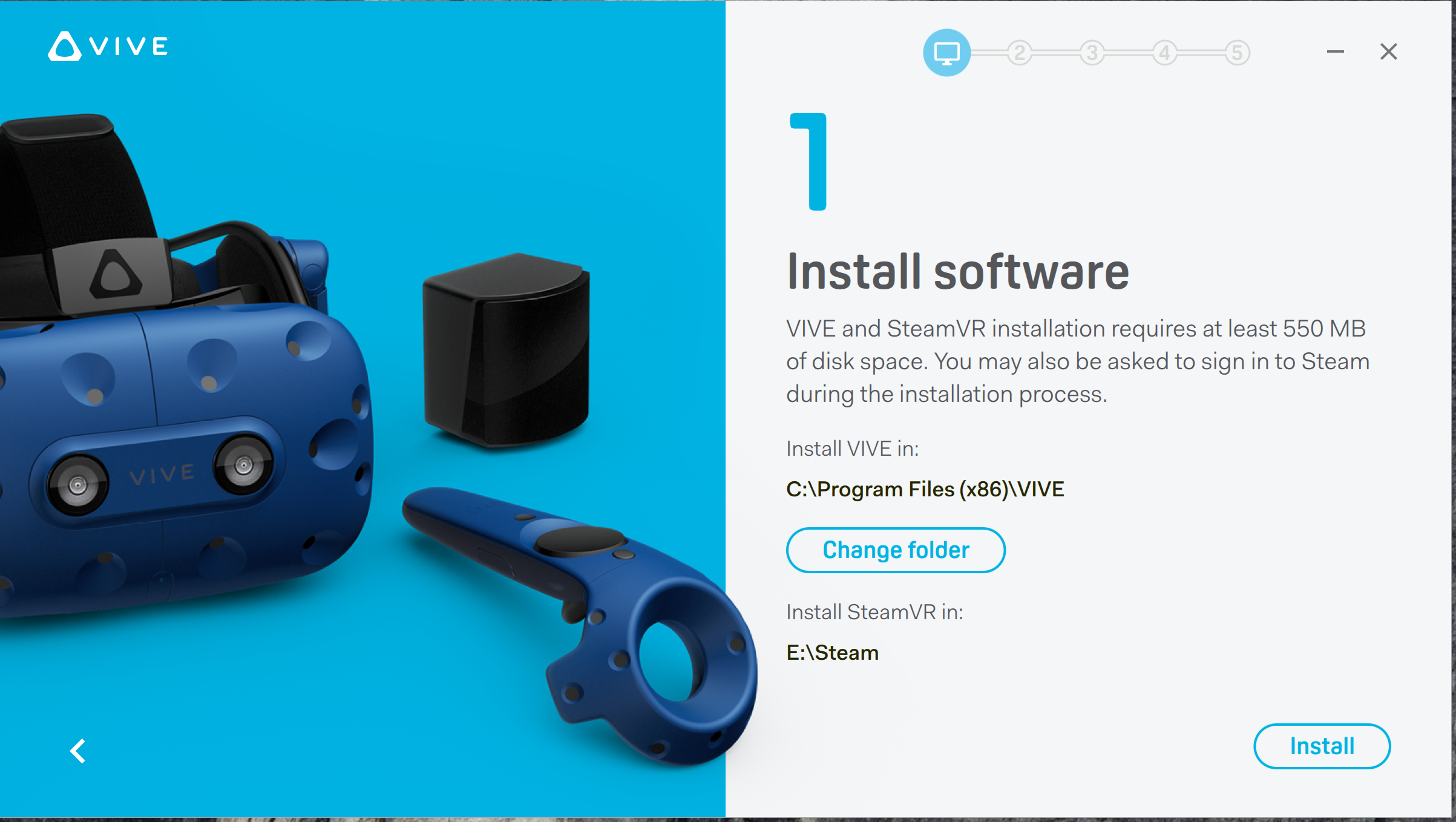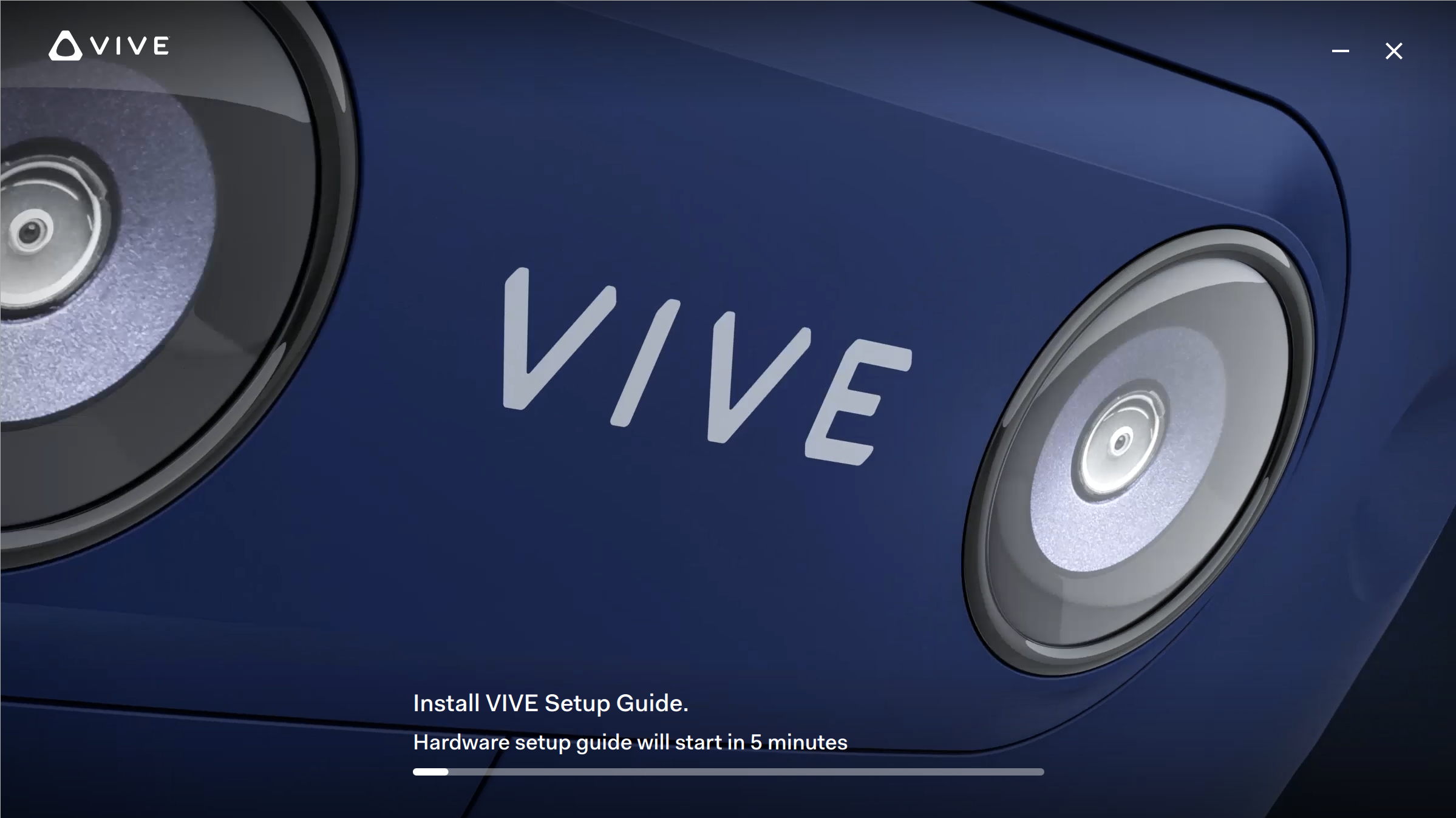 It's best to have your Pro's unboxed hardware together and ready for a physical installation.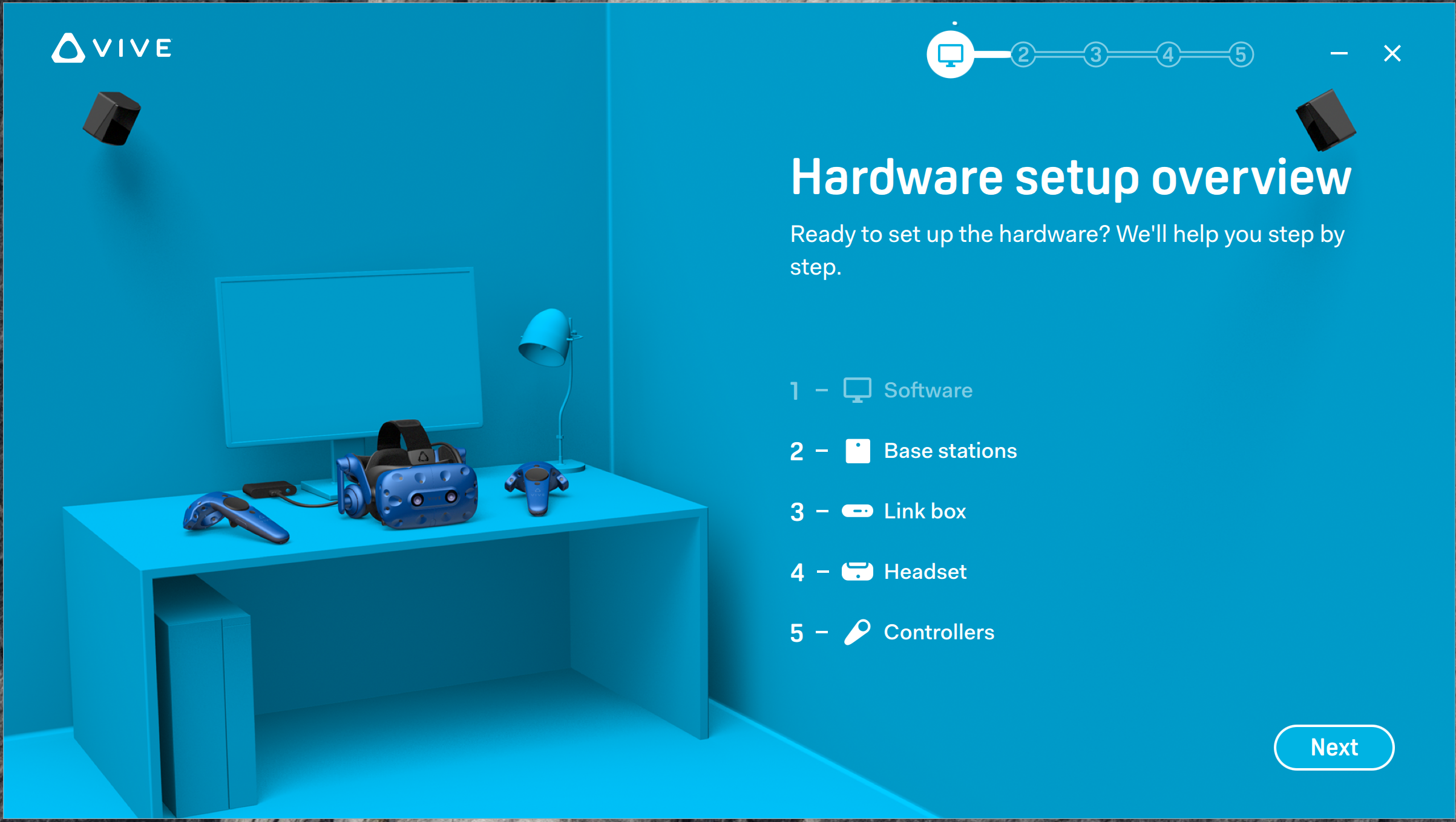 First you have to decide how much room you have to devote to VR – you have to clear everything in the play area to avoid damage to yourself or to your property.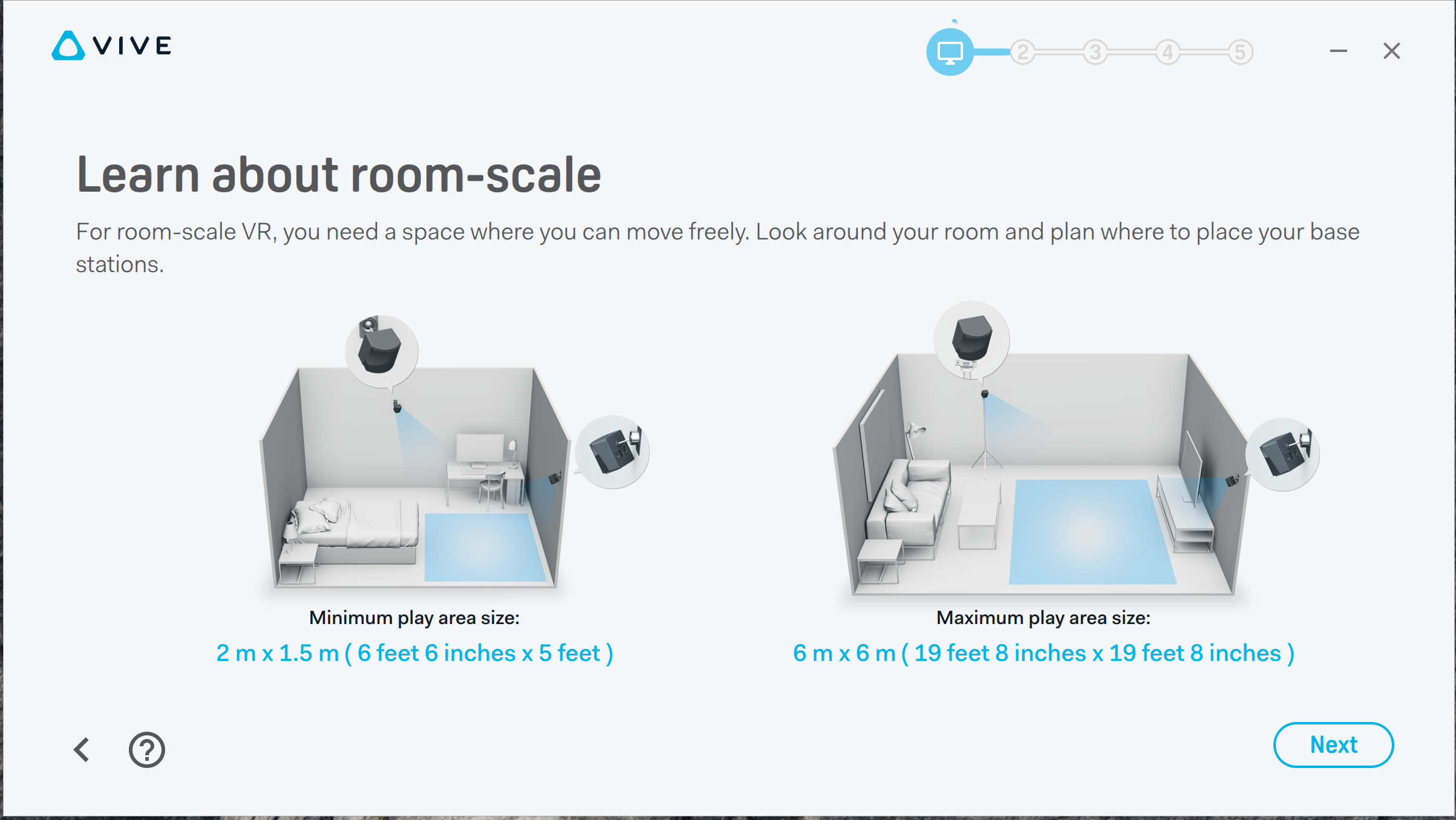 You are going to probably need a few power outlets, or you can use extension cords for the Vive Pro's low-power electrical requirements. We didn't use any tools since ours is a temporary installation.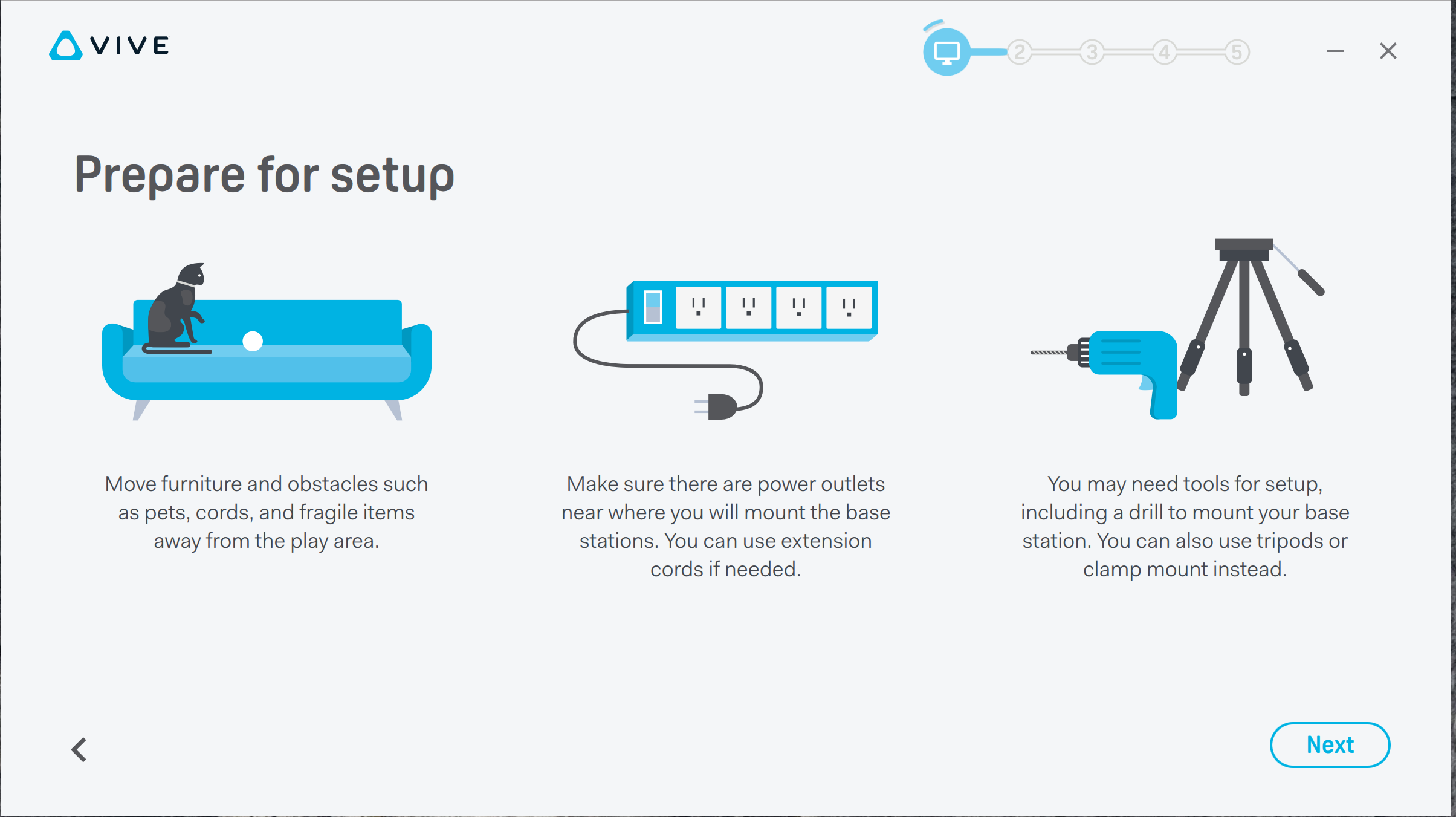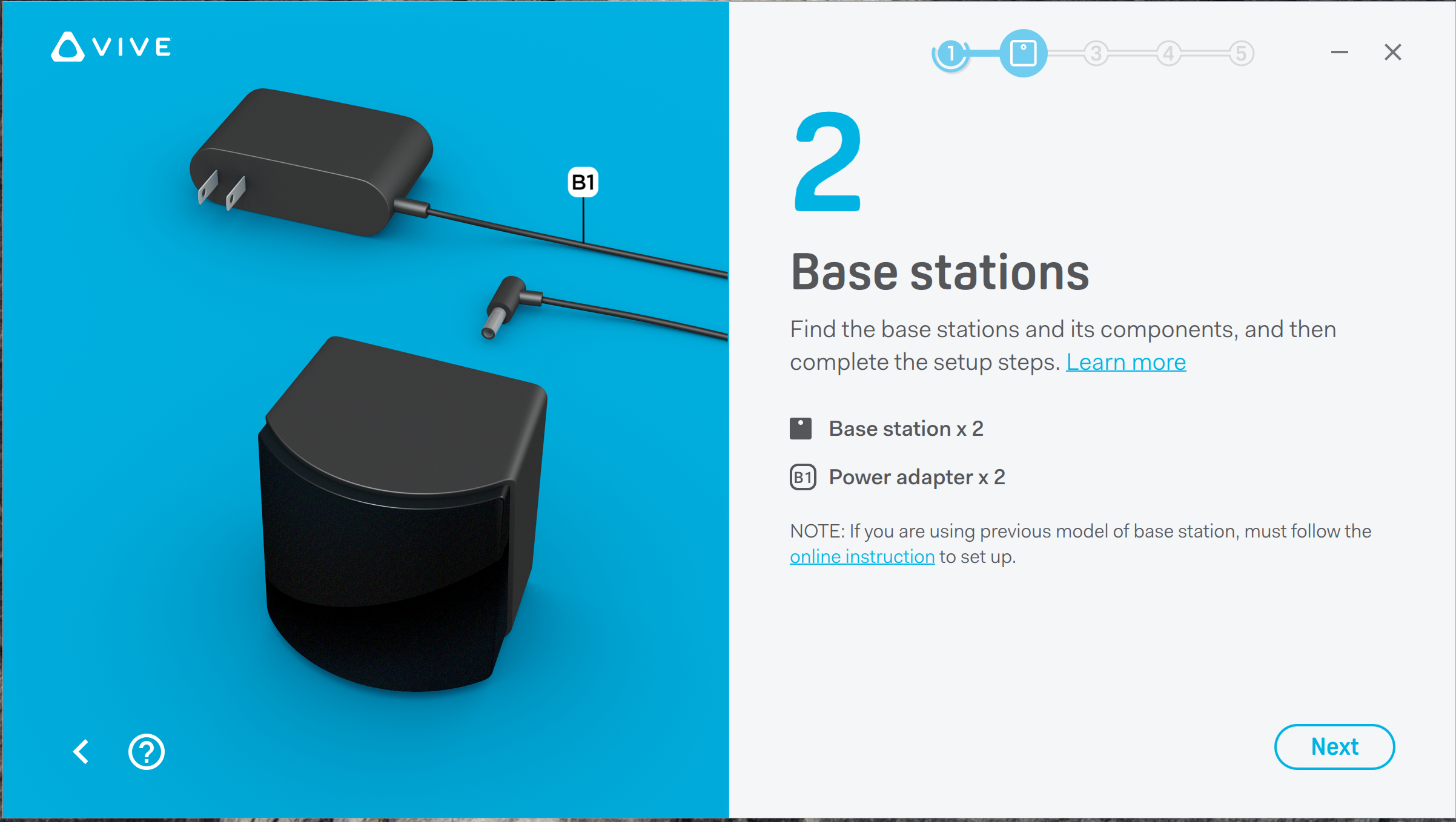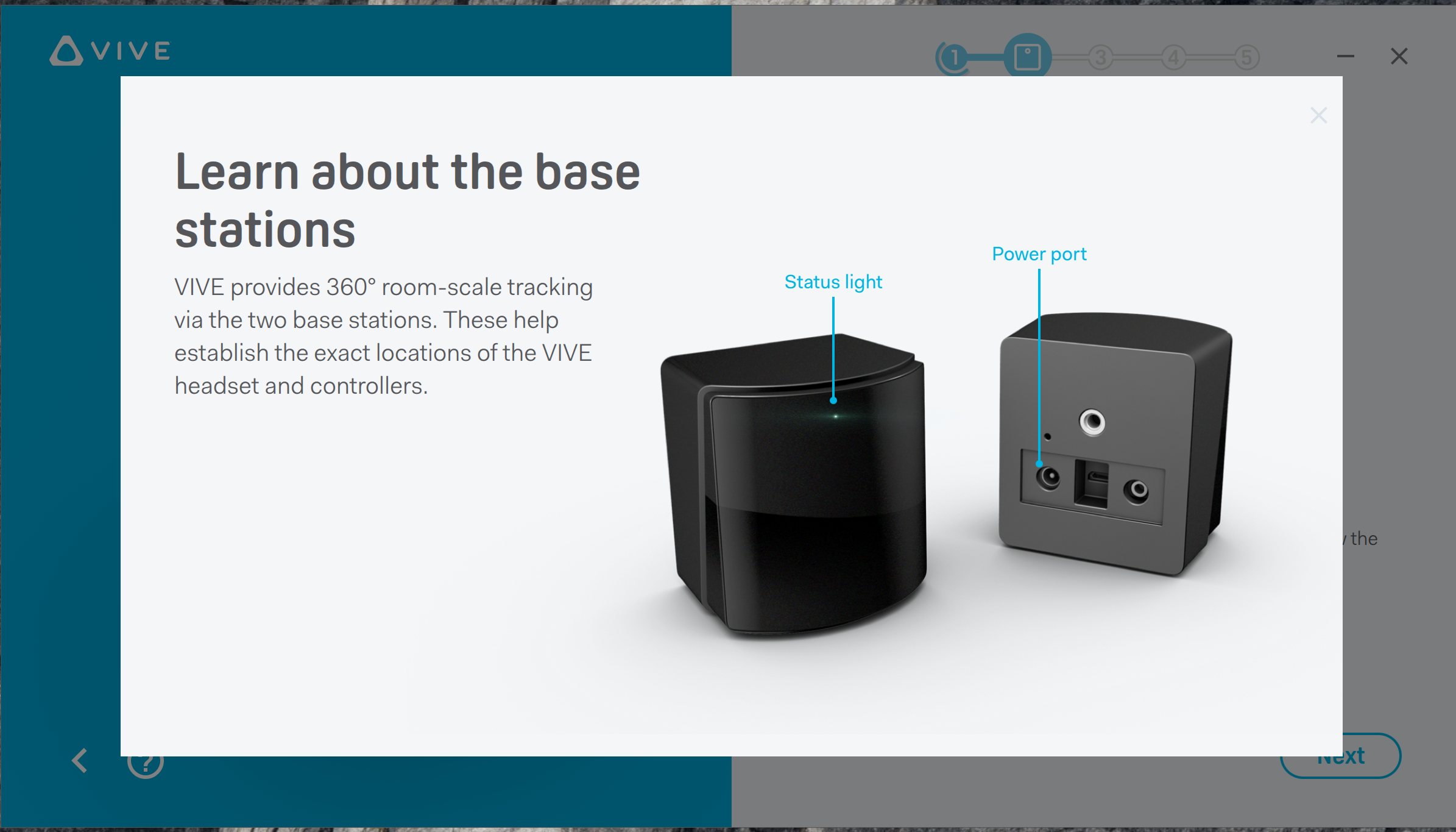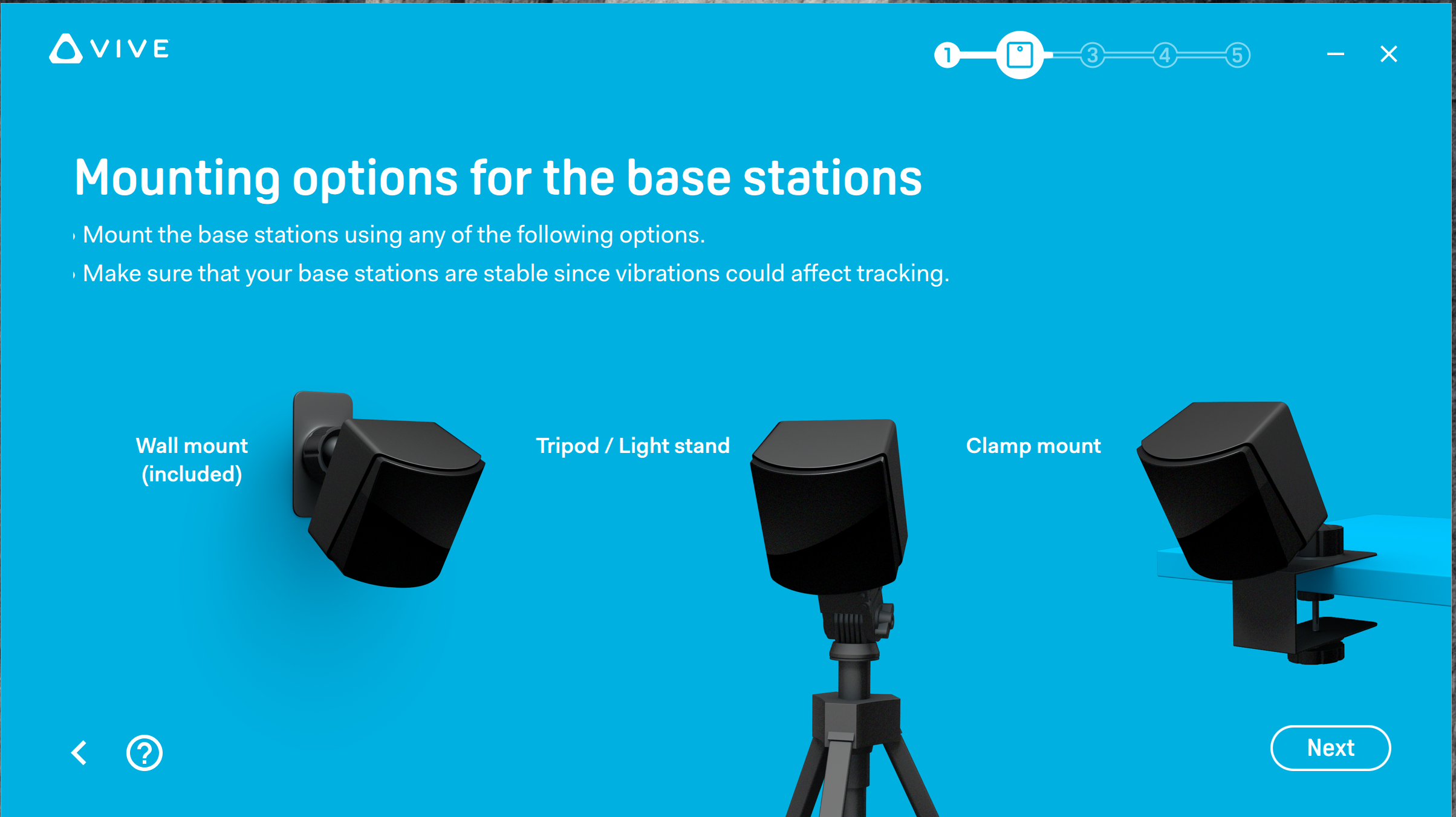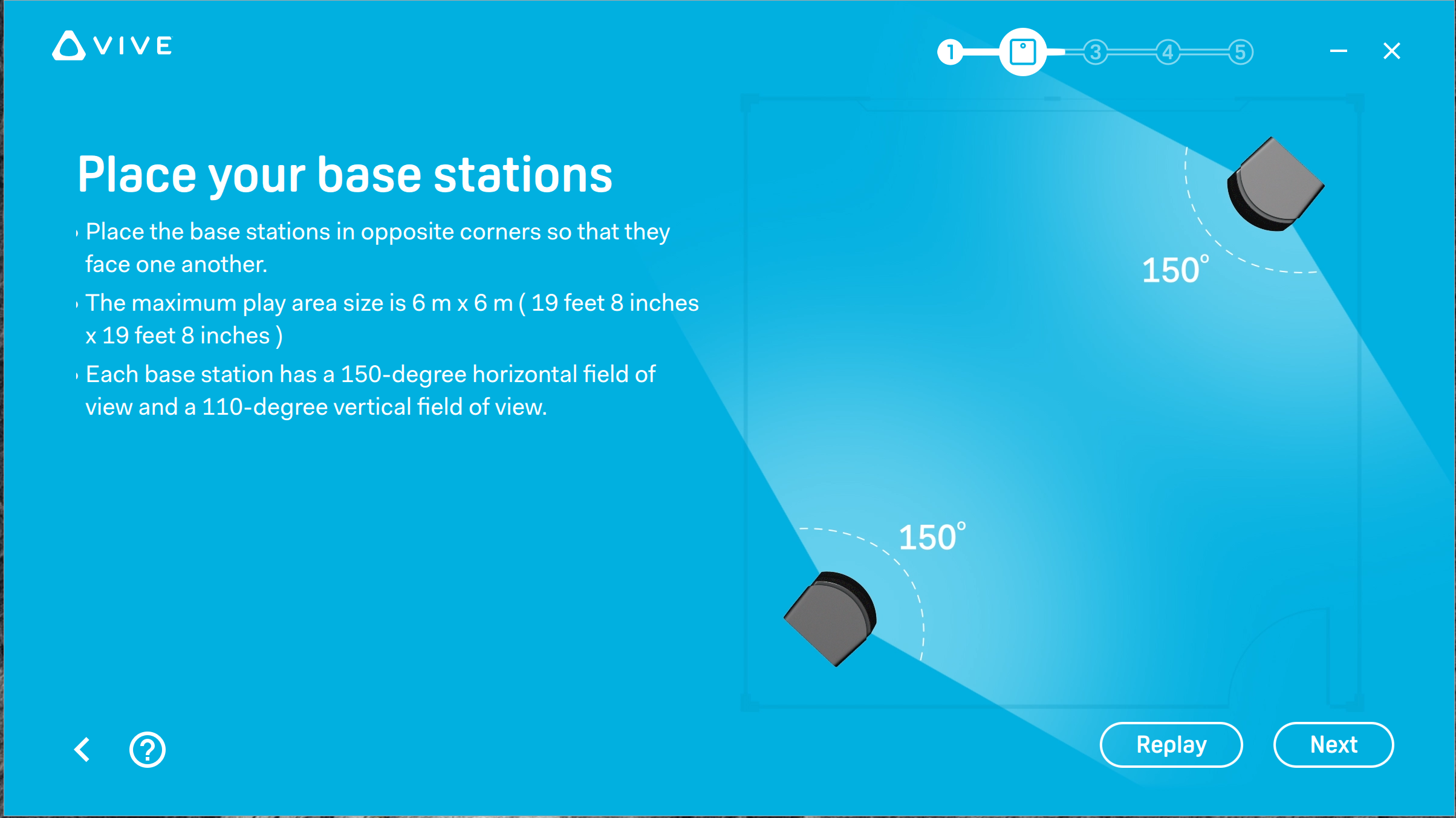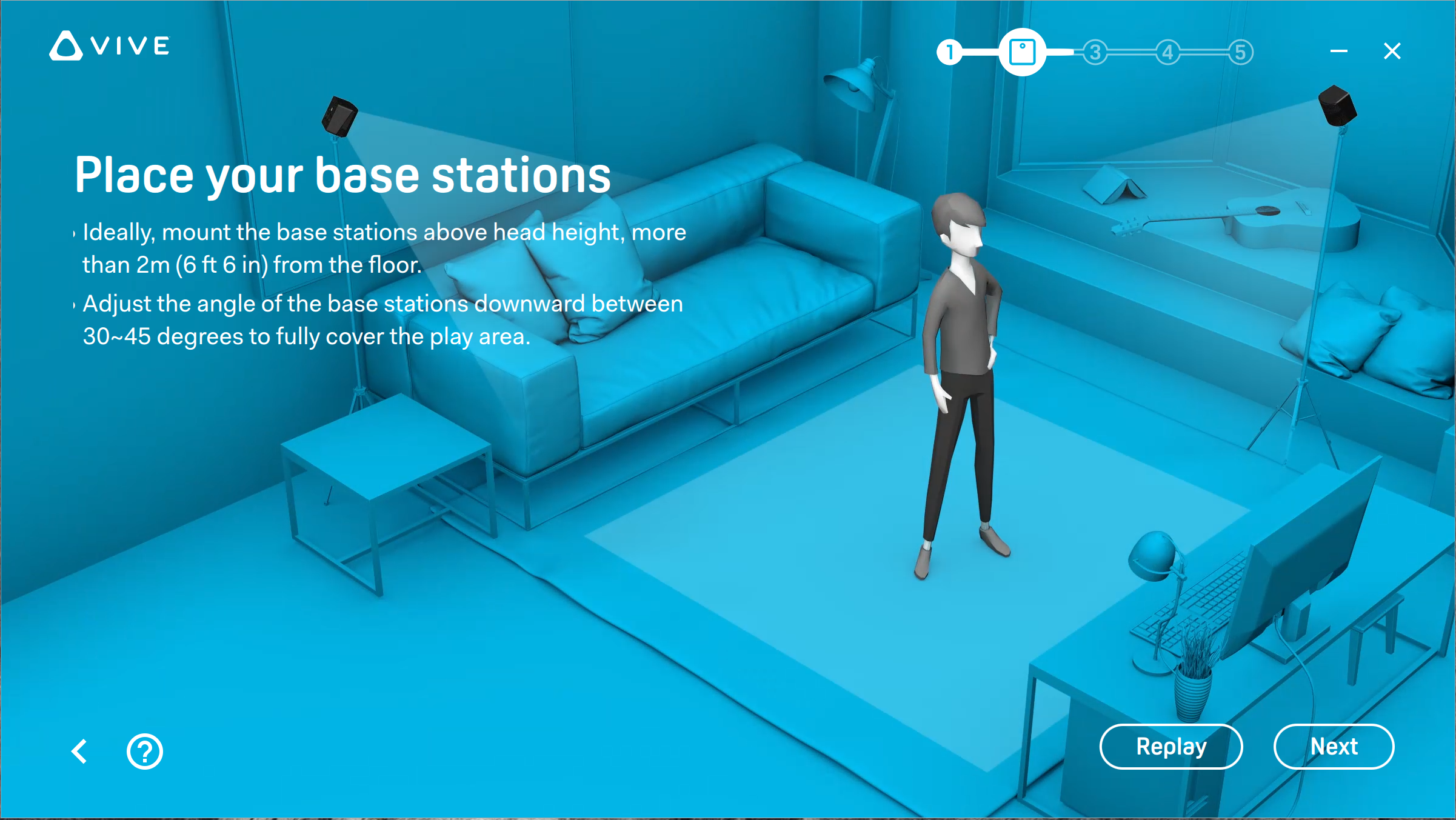 We picked a very temporary mounting since the Pro is on loan. One of the base station's mounting base is taped to the top of a 6 foot tall display cabinet – right next to our third Rift sensor.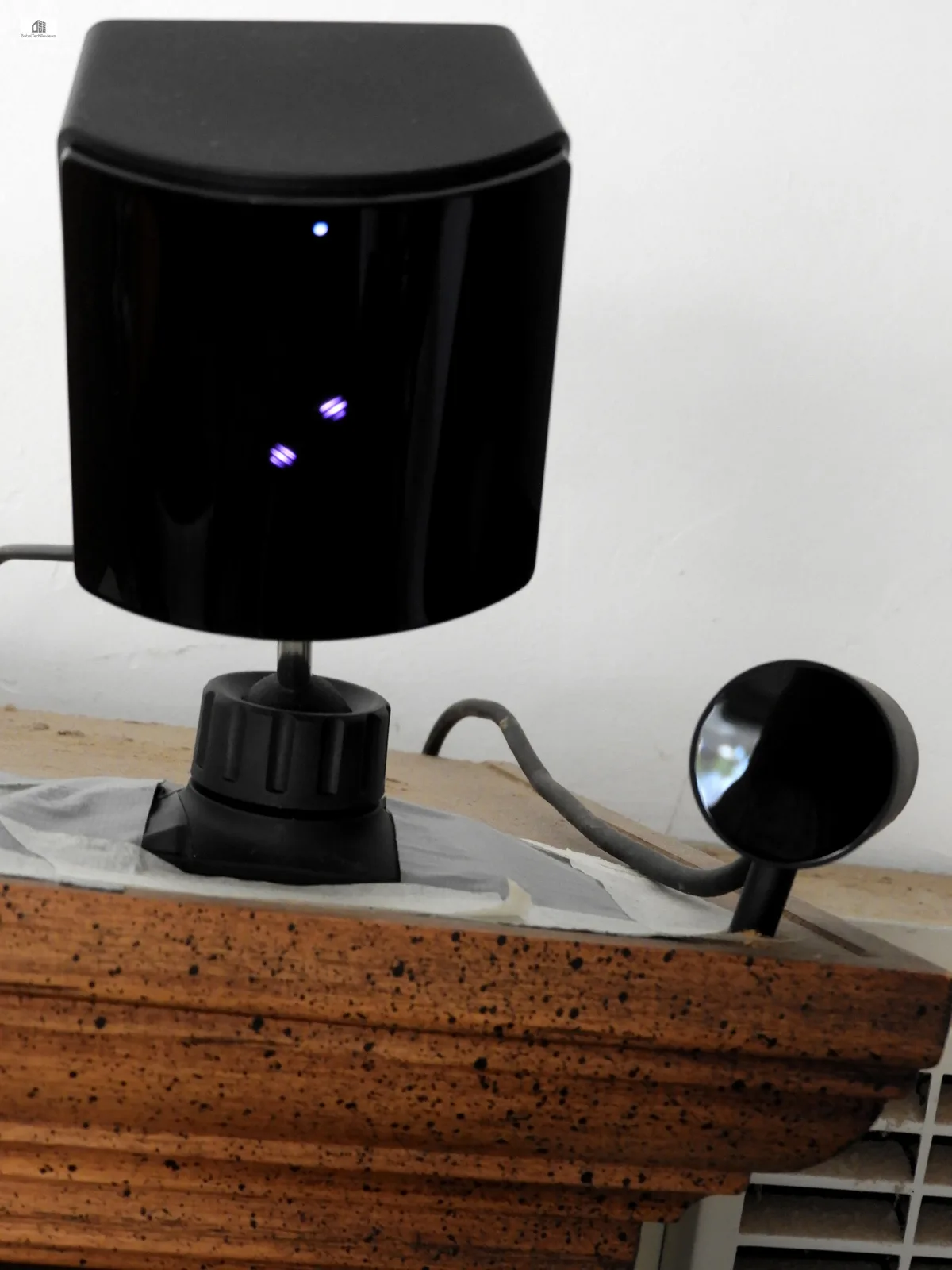 The other is mounted diagonally over ten feet away at 6 feet 8 inches height, and it is temporarily C-clamped to the end of our patio's sliding glass door window blind's rail.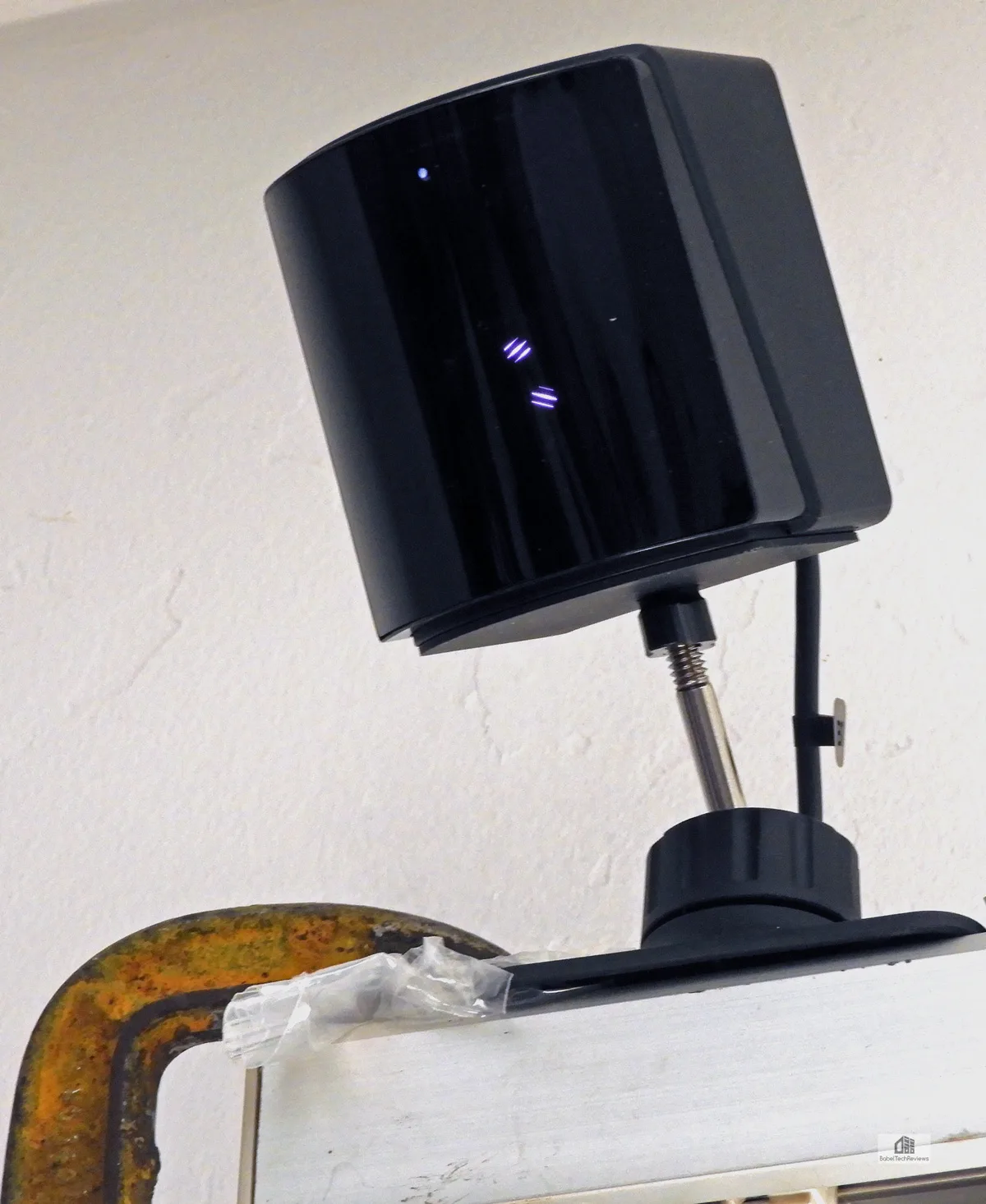 After the power cables are attached to the base stations and plugged in, the stations are set to aim about 30-45 degrees downward facing diagonally across from each other so they cover the widest possible area in the play zone.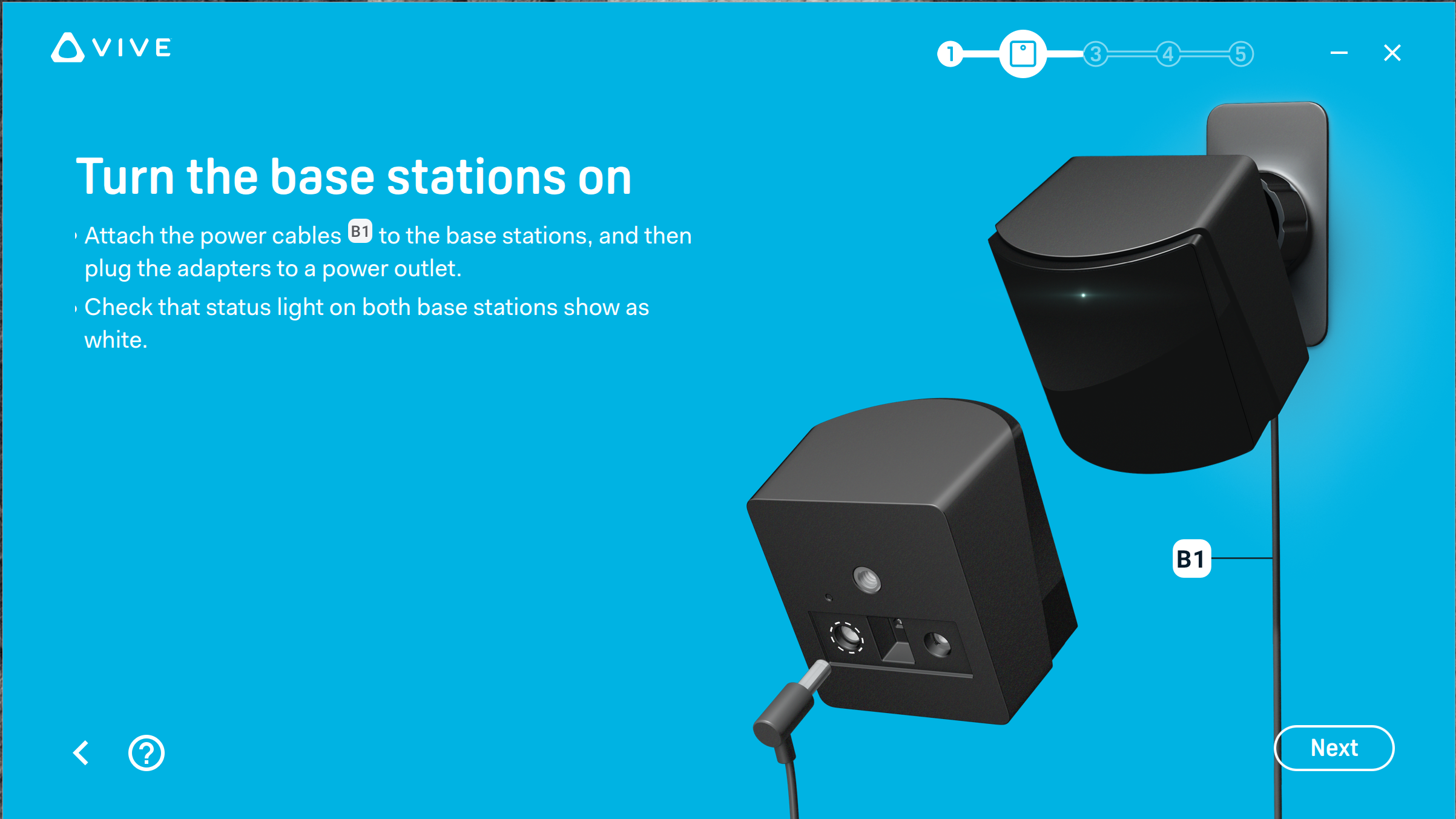 The Link box is connected to the PC next using the components as shown below. We like using the Vive set-up with the Link box better than the Oculus design mostly because the Rift requires 4 USB ports for a 3-Sensor setup, and they do not always play nicely together.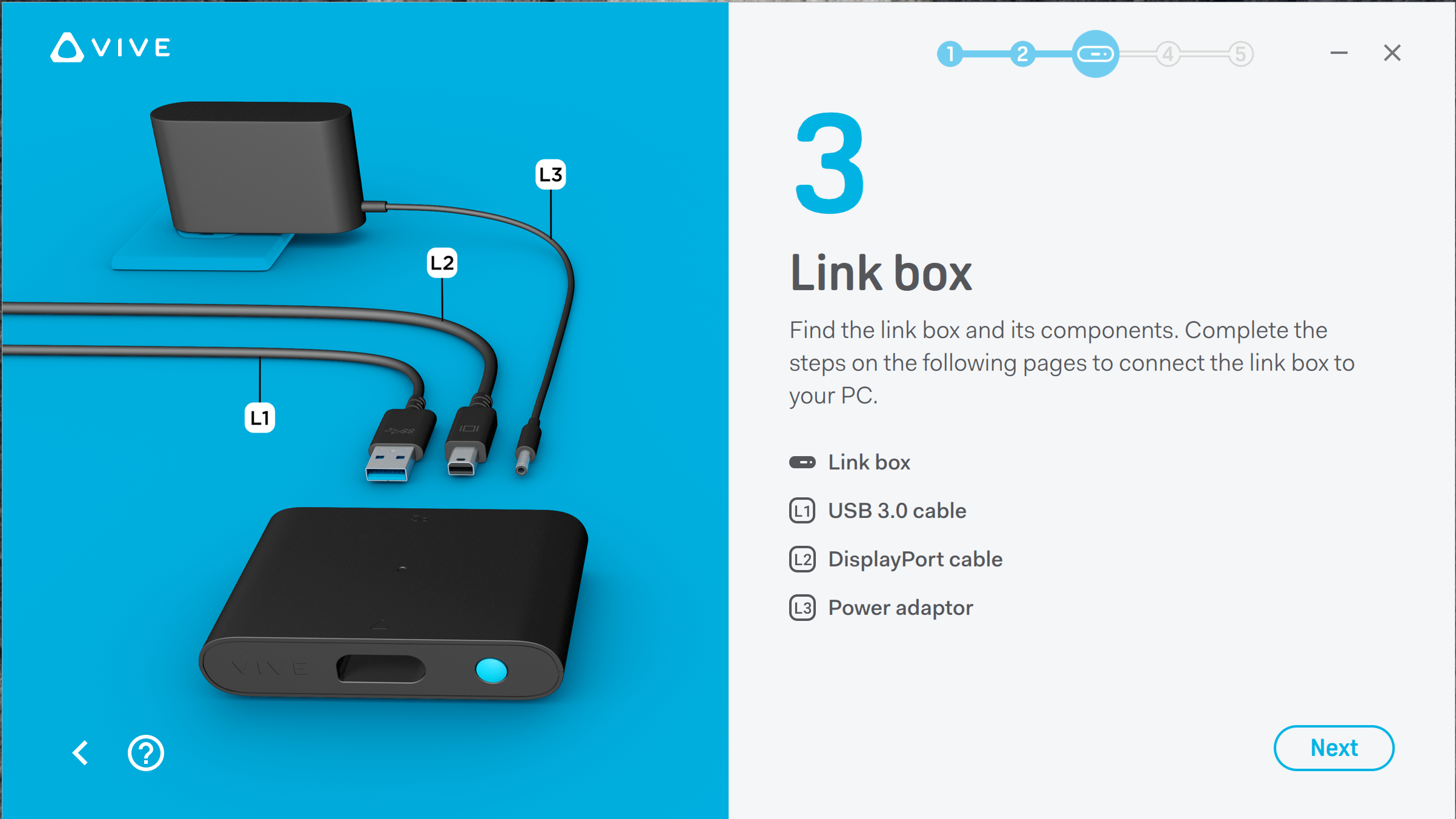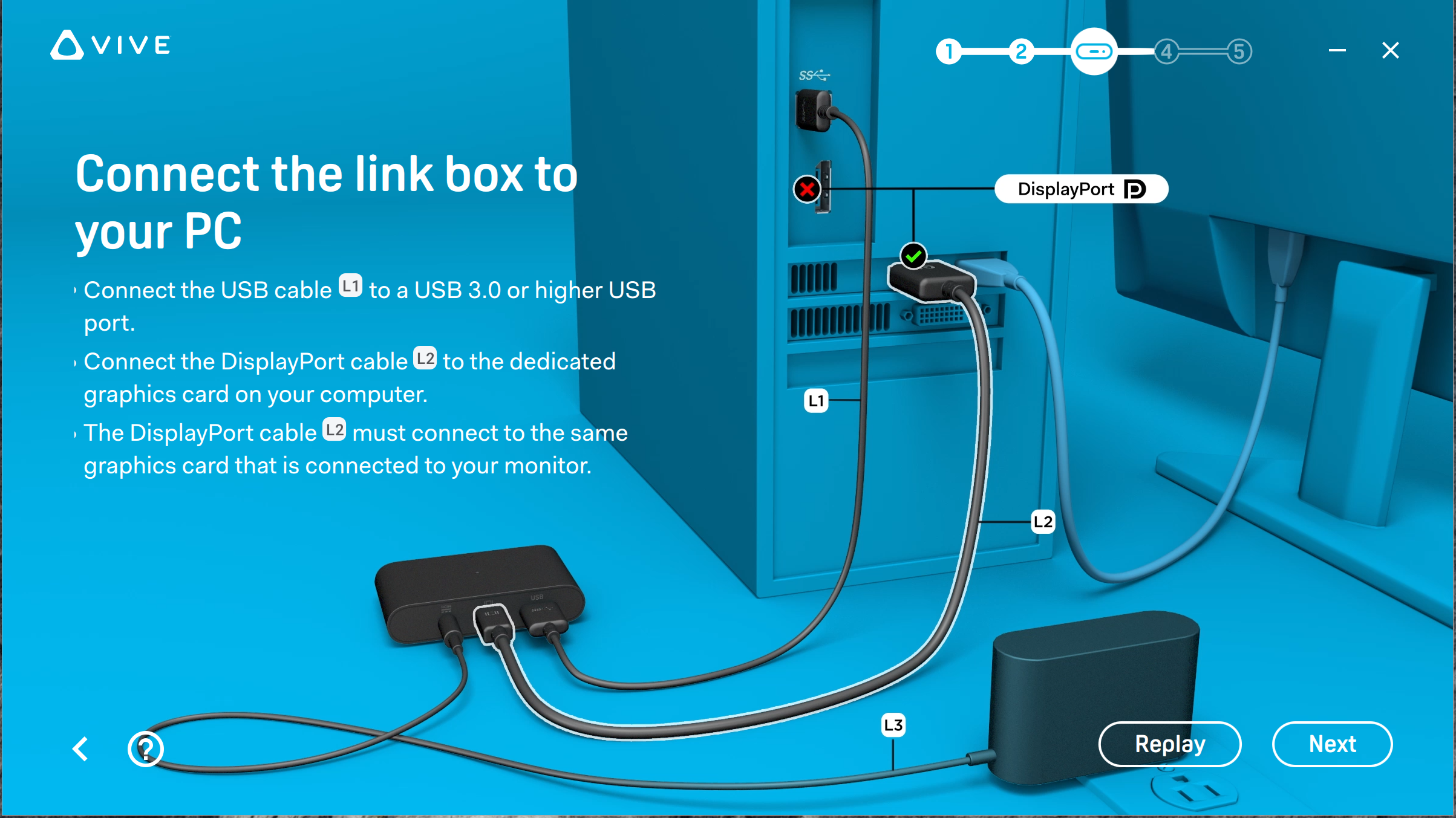 Now it is time to connect the HMD to the PC and follow the directions.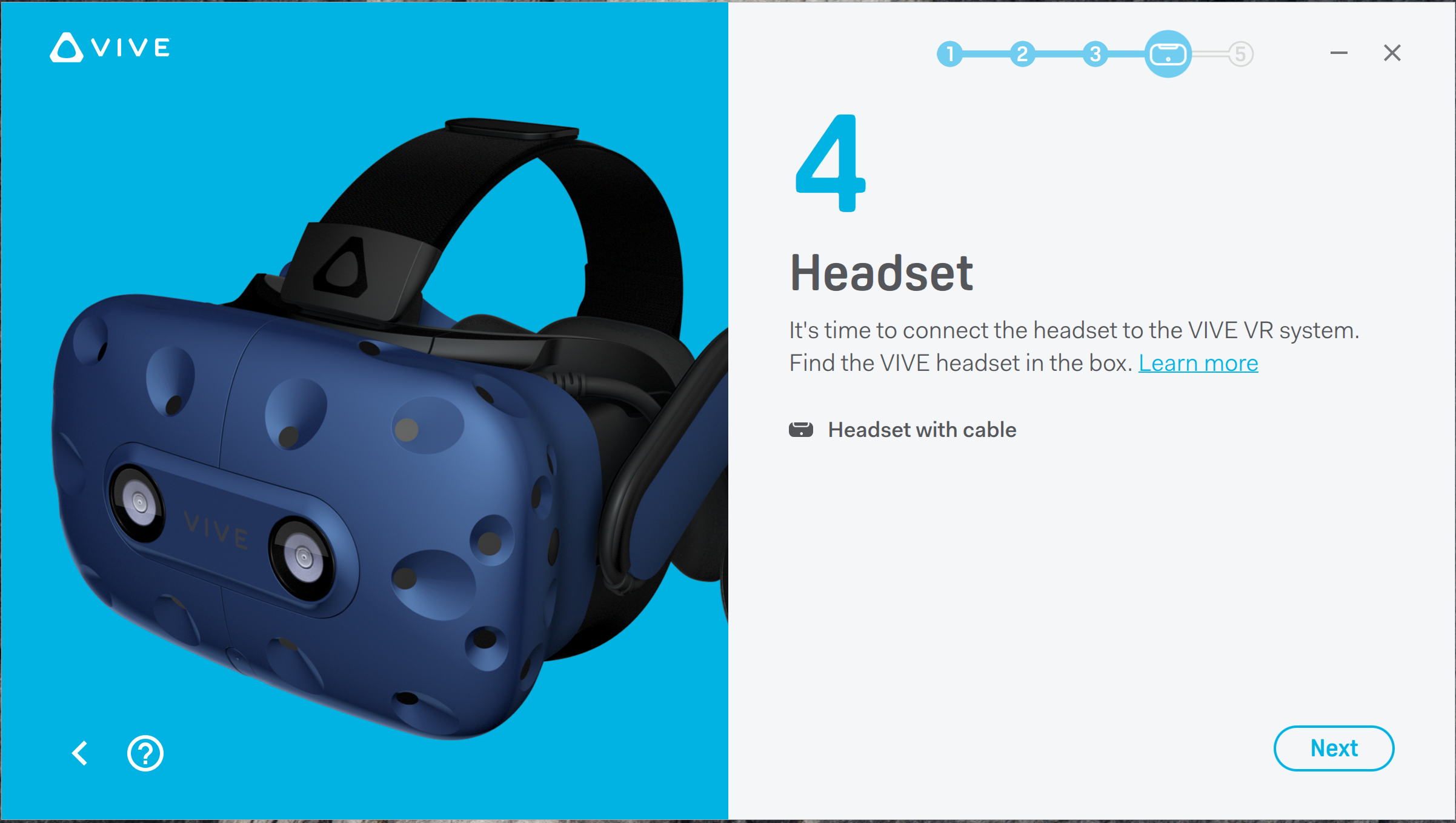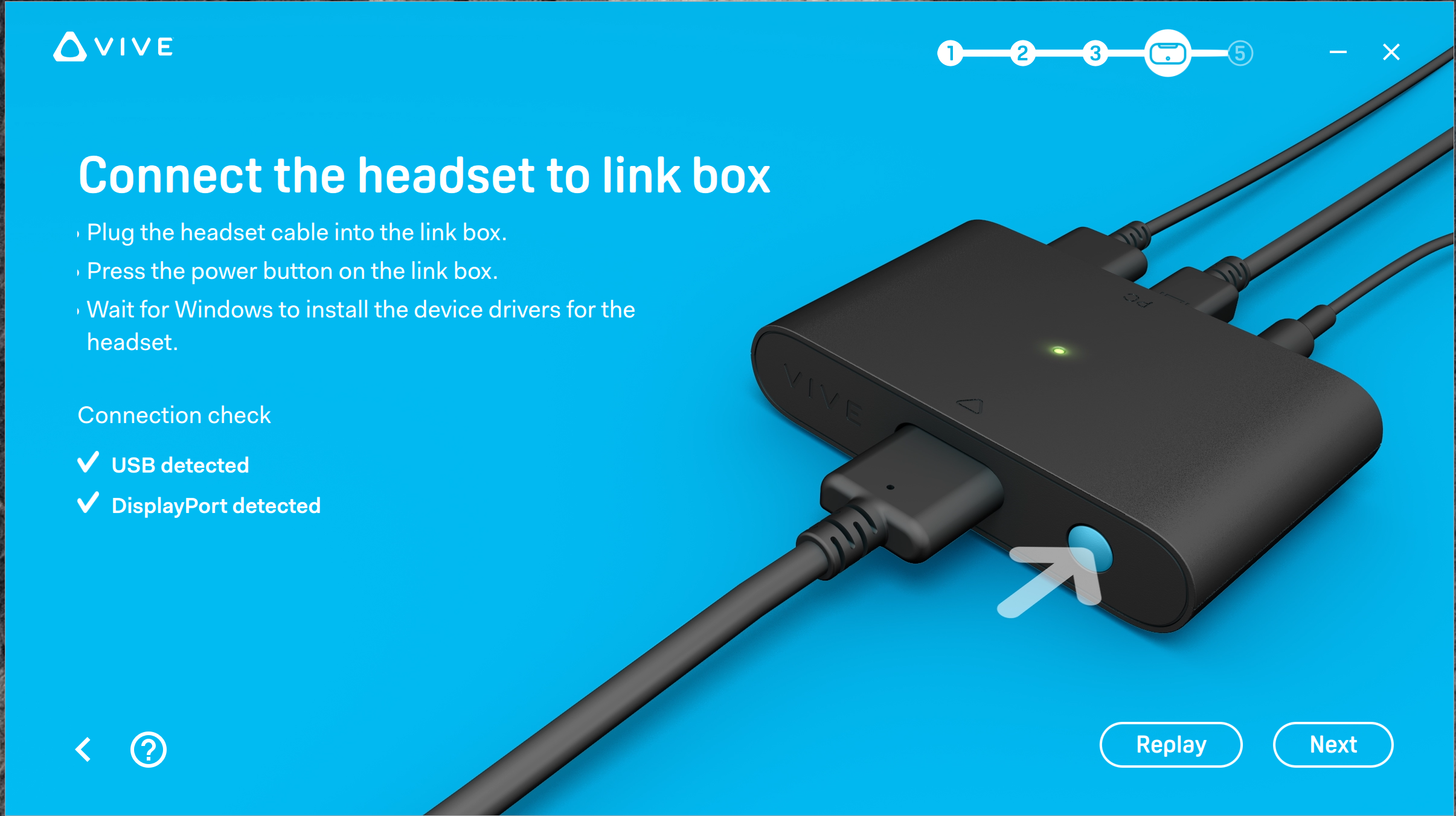 Next, after pre-charging the controllers, turn them on and pair them following the directions.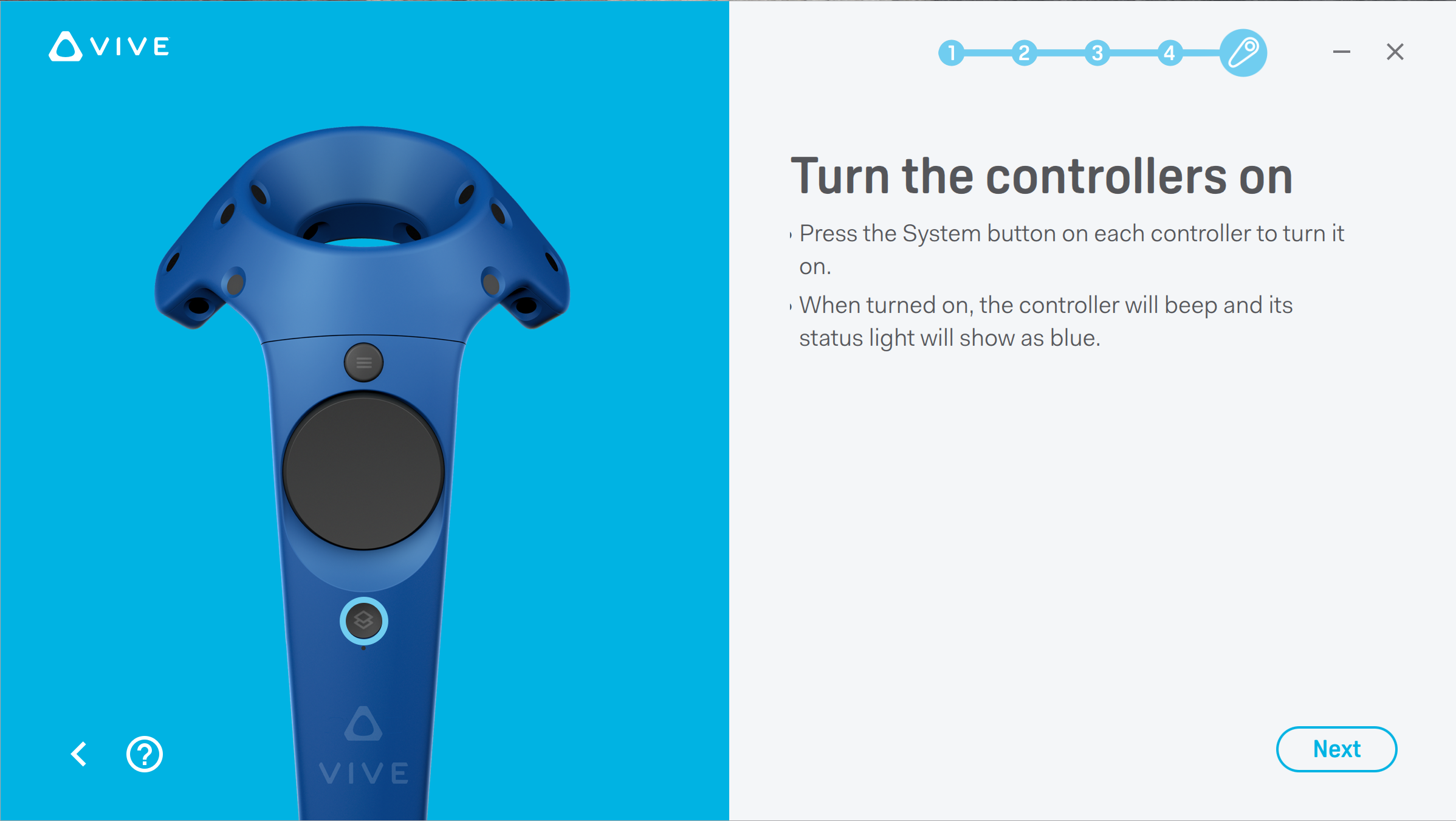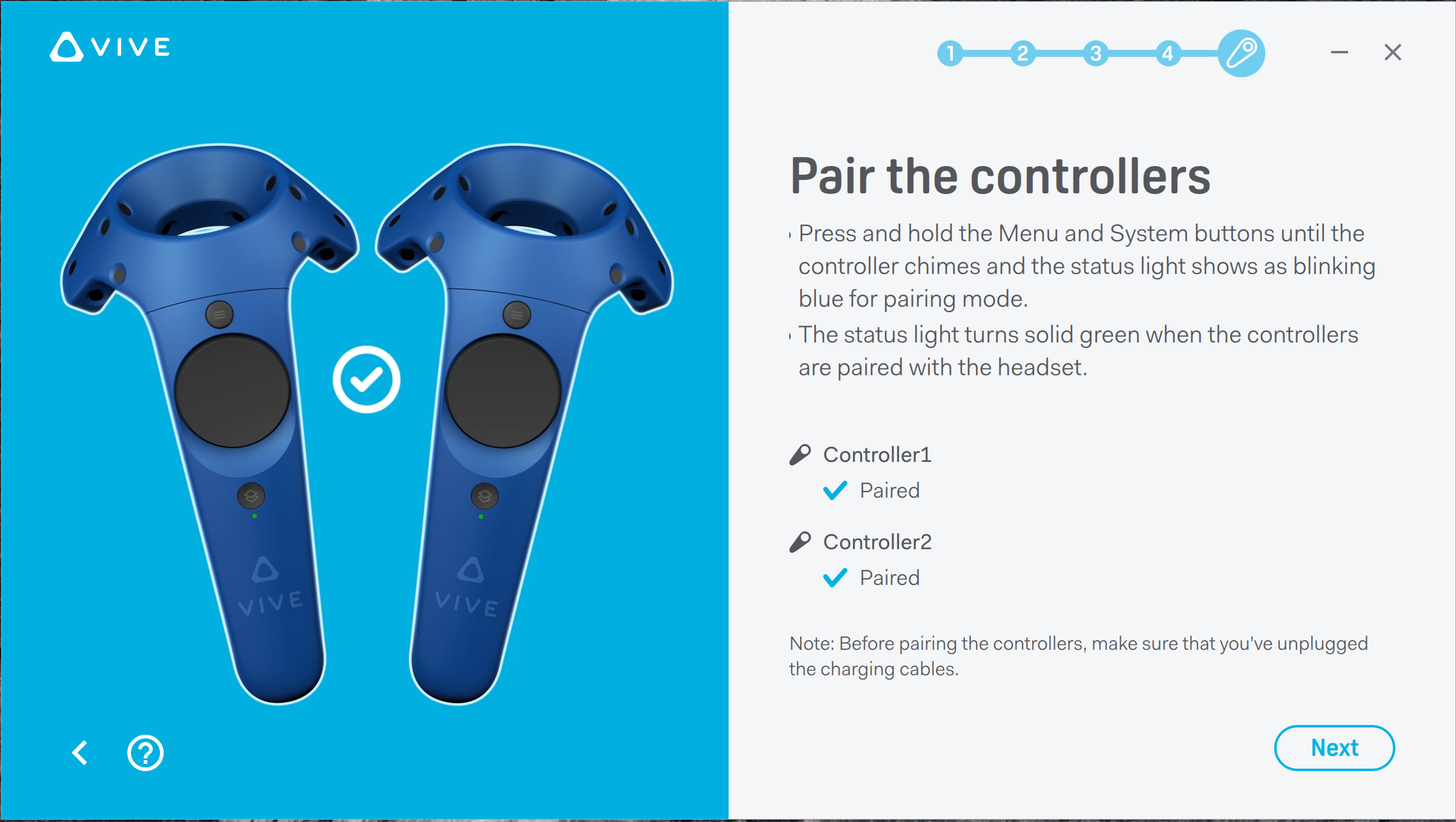 Now you must choose room-scale or standing (including seated). Standing is for a smaller area. Room-scale is considered the "best" VR experience but you are free to rerun the setup at any time if you change your mind.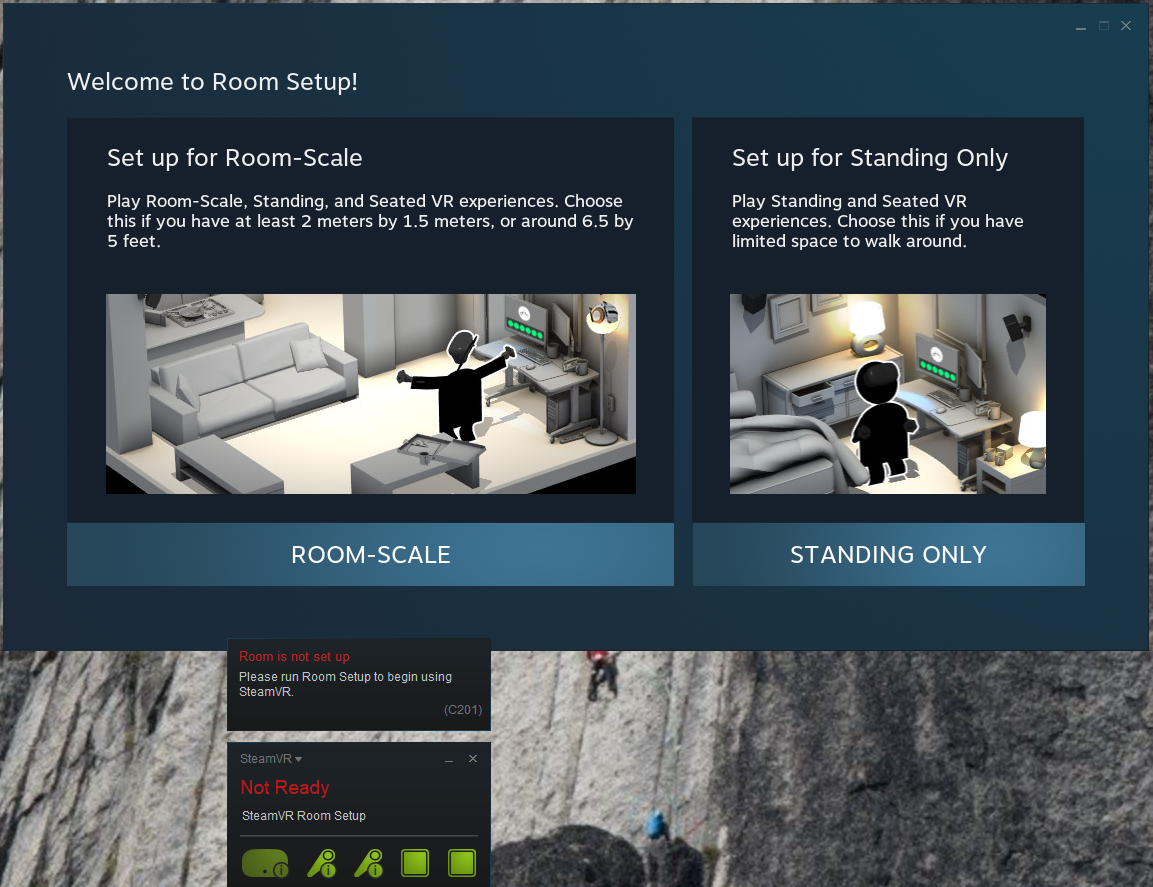 By moving furniture out of the way, we were able to get a larger than minimum Room-scale experience.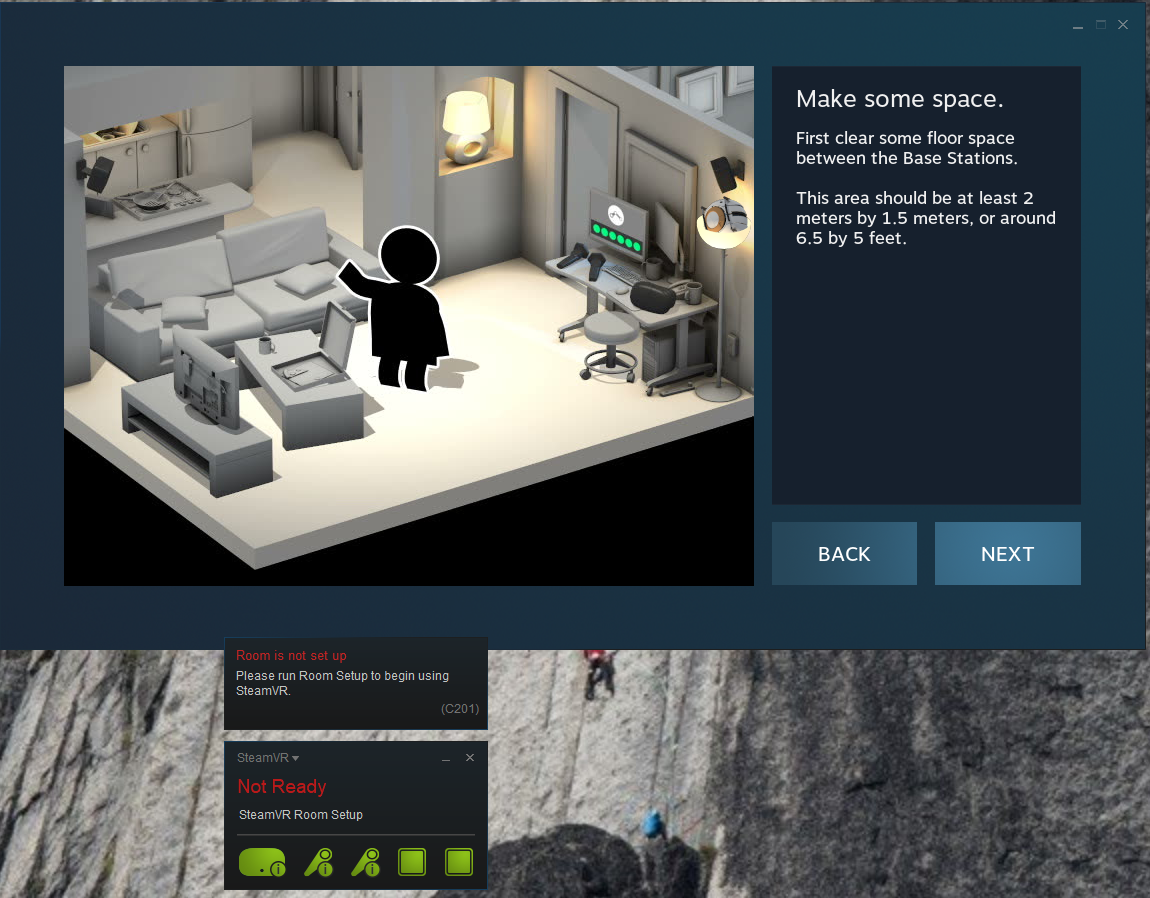 Next you have to establish tracking so the base stations can establish your controllers' location including height.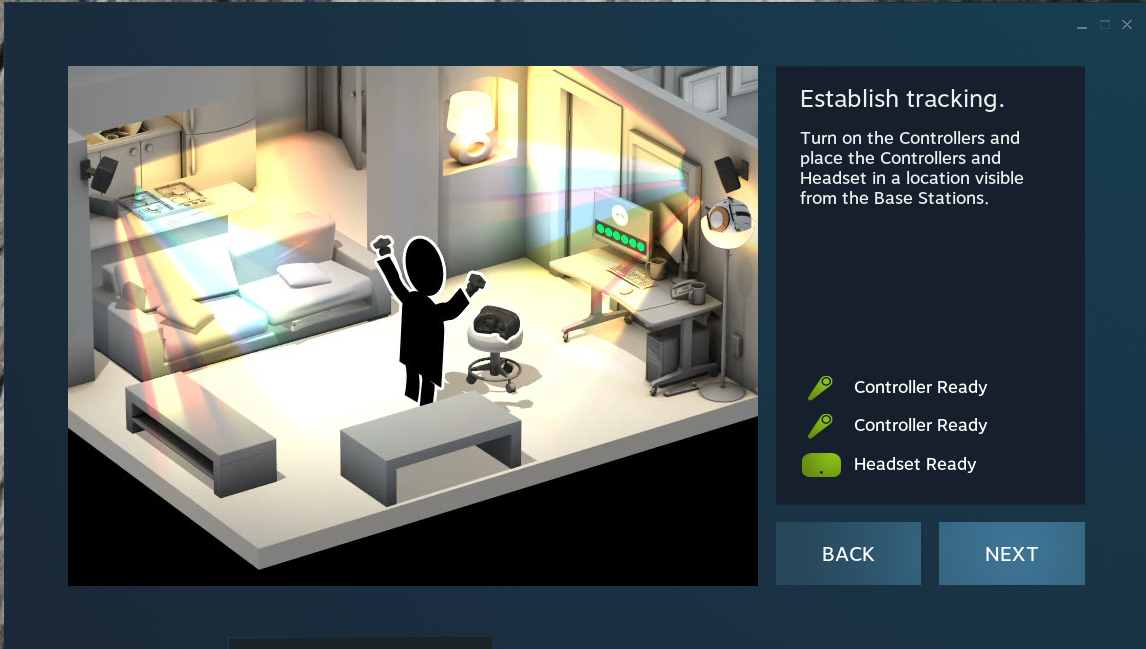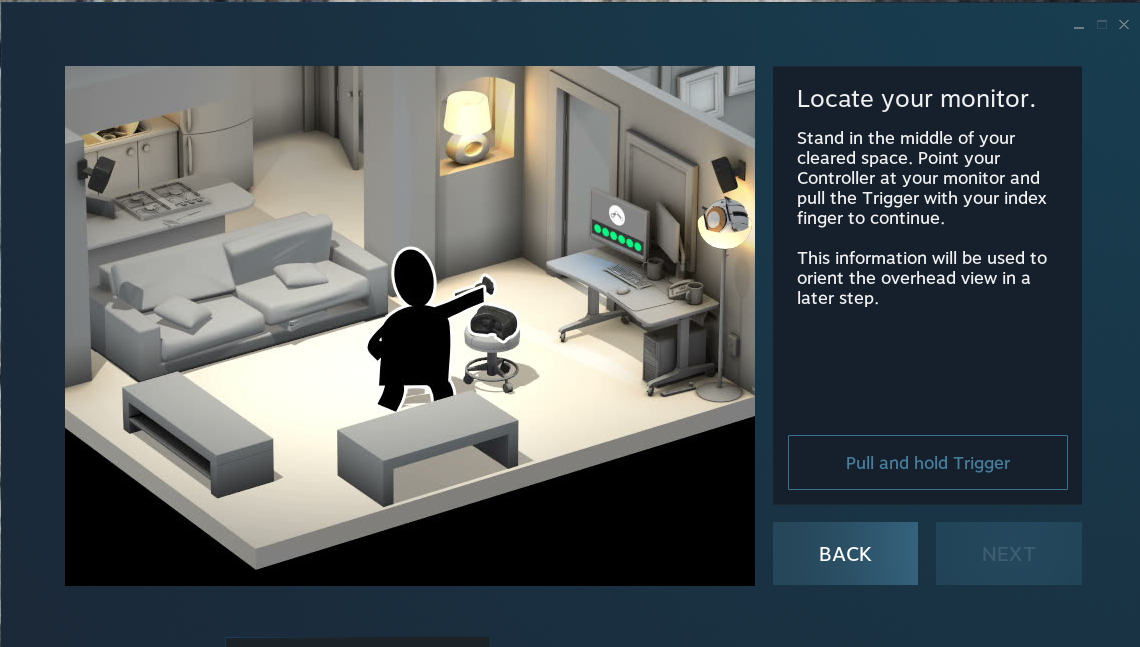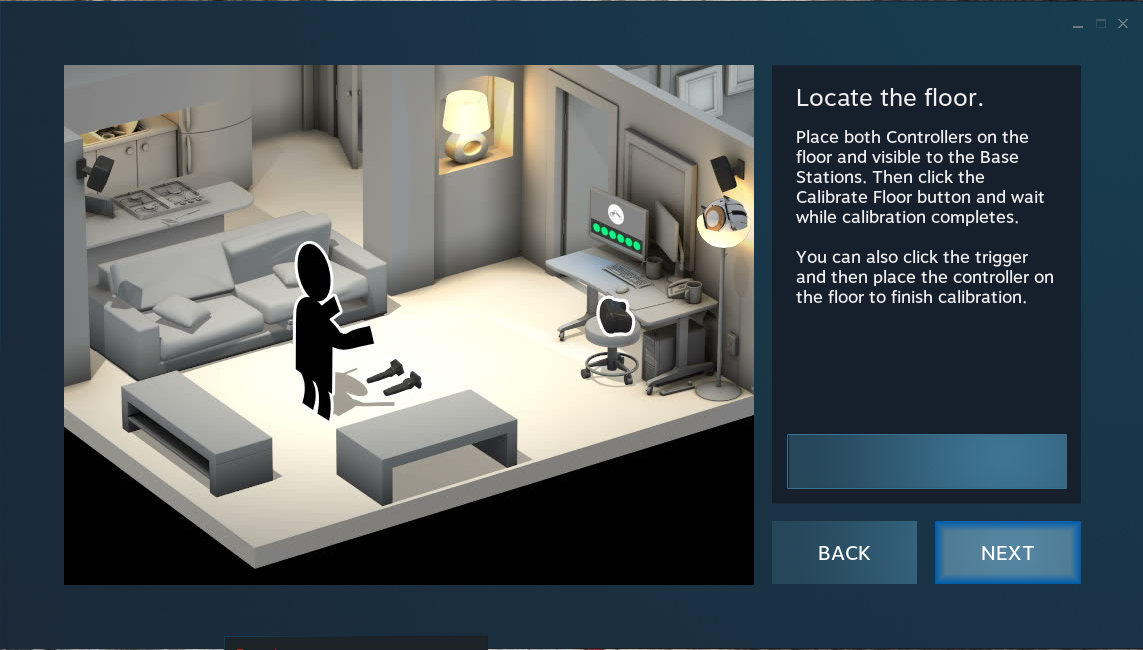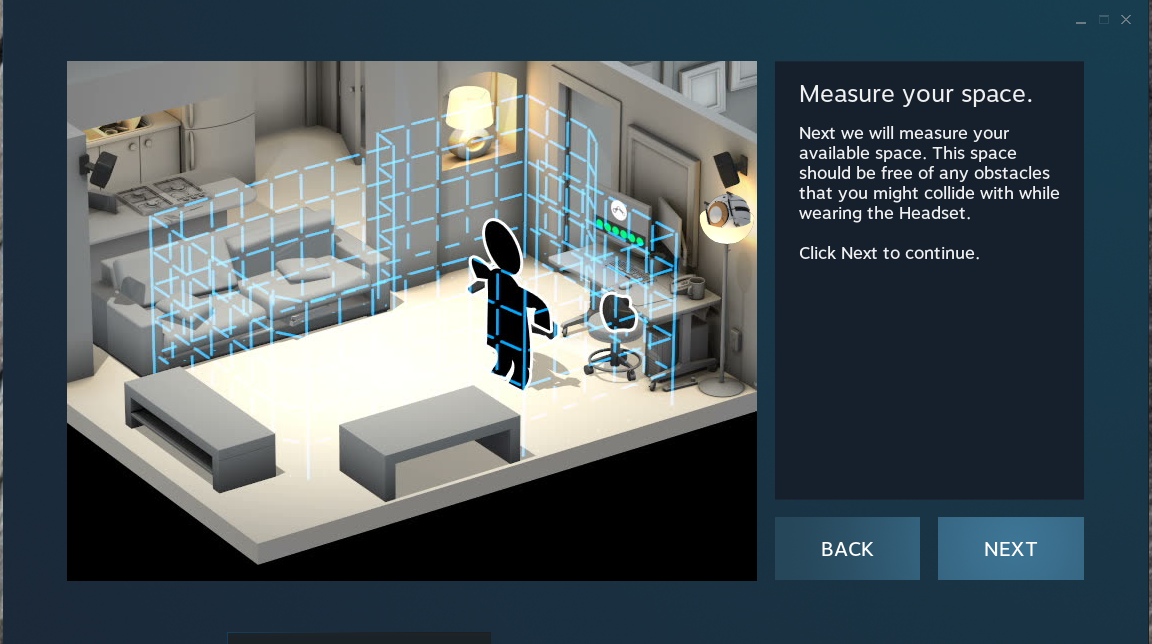 The Vive boundary system is very similar to the Oculus Rift's Guardian system. Both work really well and no valuable property has been harmed in almost two years of playing in VR. However, I have often attempted to lean on a VR object to almost plant myself on the floor as I realize that the object isn't real.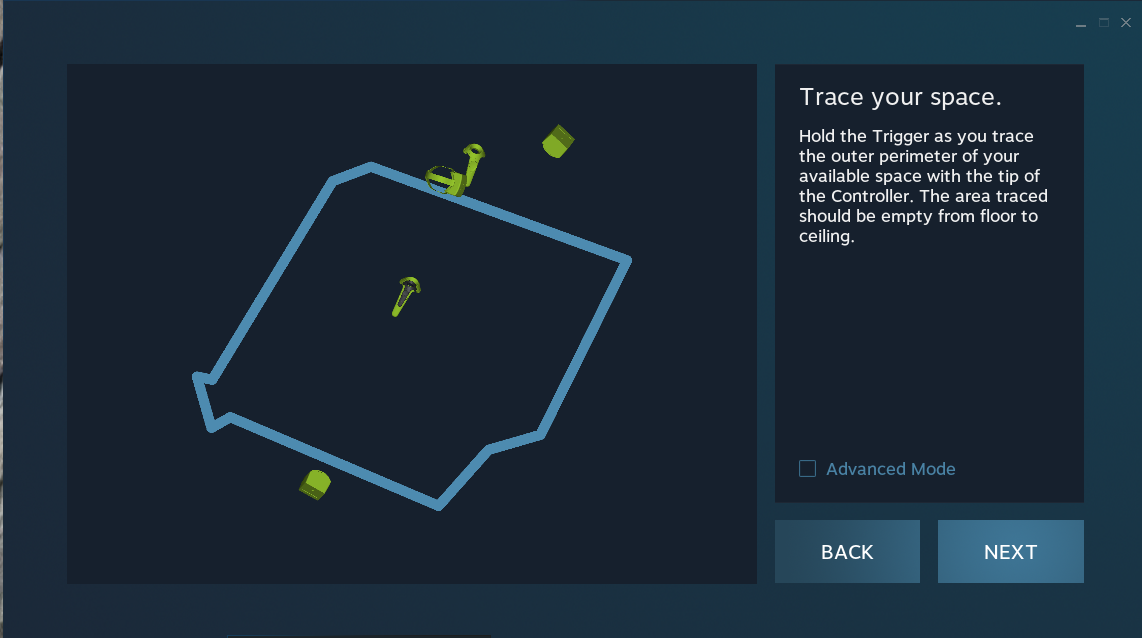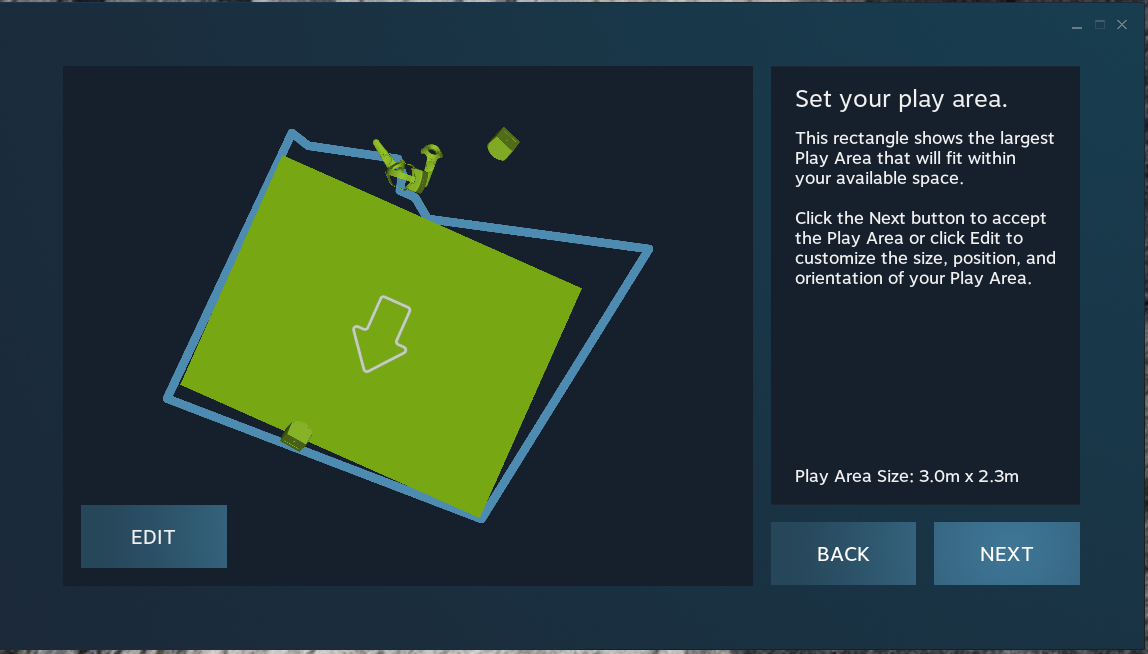 Your setup is complete and it's time to take the SteamVR tutorial inside of your HMD.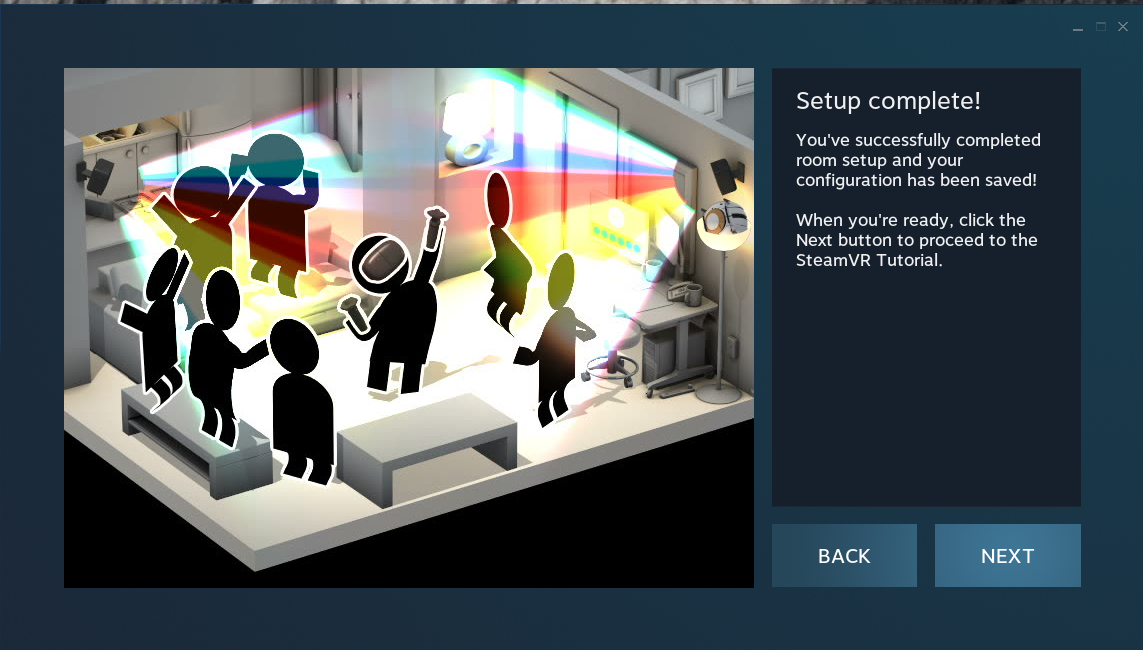 This part of the Vive installation is similar to the Rift's platform as you continue the tutorial inside the HMD and interact and learn how to use your controllers in VR.
We found the Pro setup takes a little longer than our standard Rift setup took since we had to install the bases semi-permanently and consider where they would be most effective, whereas with the Rift, one just places two sensors on the desk and it is easy to move them around. However, using a third Rift sensor complicates things for "roomscale" and the Vive Pro setup probably takes an equal amount of time as a 3-sensor Oculus Rift setup.
Tracking is superior on the Vive platform using Tracking 2.0 using its two base stations compared with even the Rift's three sensors, and the Vive Pro can track effectively in a much larger room. We really like our Touch Controllers, but we haven't spent enough time with the Vive Wands yet to decide which controllers we like better; probably the Touch. However, it is quite easy to drop out of a game with either set of controllers by accidentally hitting the wrong button.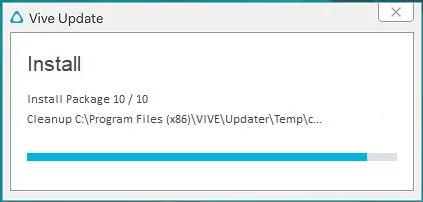 Just like with the Rift platform, the Vive Pro automatically updates itself and its applications unless you specify differently in the settings. Let's head for our next page to get an idea of the Vive Pro experience and a comparison with the Oculus Rift.
The Vive Pro Experience
Unfortunately, we haven't spent much time recently in VR since we spent 3 weeks in Hawaii and in Germany for Gamescom, but we do have impressions of the similarities and differences between the Rift versus the Pro. The text is definitely clearer and easy to read using the Pro, mostly due to its 78% higher resolution. The Pro's higher resolution makes a real difference to overall clarity, and although there is still a small screendoor effect, you really have to look for it with the Pro, whereas it smacks you in the face using the Rift or the original Vive.
A gamer cannot increase the pixel density nor use as much SuperSampling with the Pro compared with the Rift because of video card limitations. In other words, you will run out of performance headroom with the Pro much more quickly than with the regular Vive or with the Rift because of the Pro's higher resolution. By comparing the native higher resolution of the Vive Pro scenes with SuperSampled Oculus Rift scenes, we generally much prefer the higher resolution of the Pro.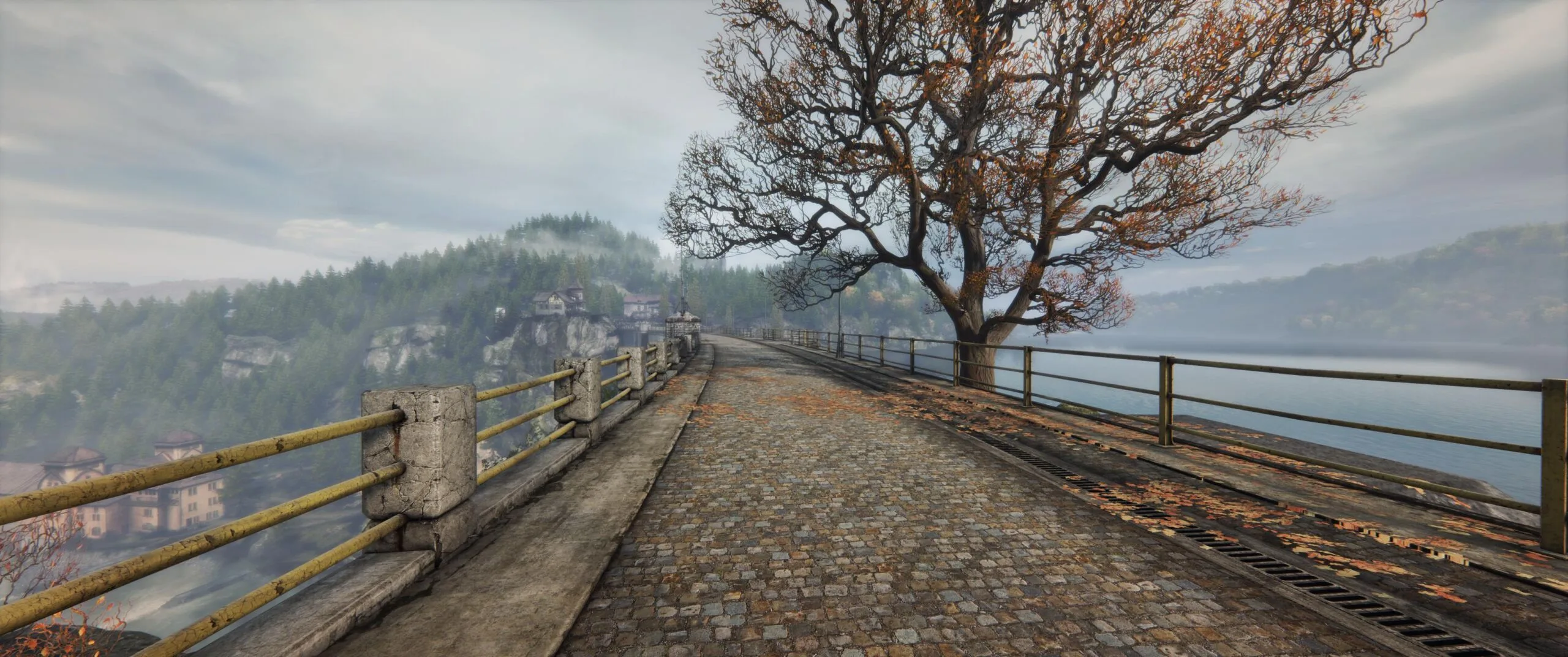 Fortunately, faster RTX GeForce cards are due to be released this month which will probably eclipse Pascal's fastest cards, and we hope to use them to benchmark Vive Pro VR games using FCAT-VR for accurate frametime charts and to measure performance headroom.
Comparing simple shooter-type games created for VR, the higher resolution of the Vive Pro over the Oculus Rift doesn't make too much difference – especially when the Rift can easily use SuperSampling. However, demanding newer games with a lot of detail or text; or even games like Skyrim VR, especially when you are looking off into the distance, the increased resolution makes a big improvement to realism and immersion. It is almost as if a fog lifts by playing with the Pro over playing with the Rift.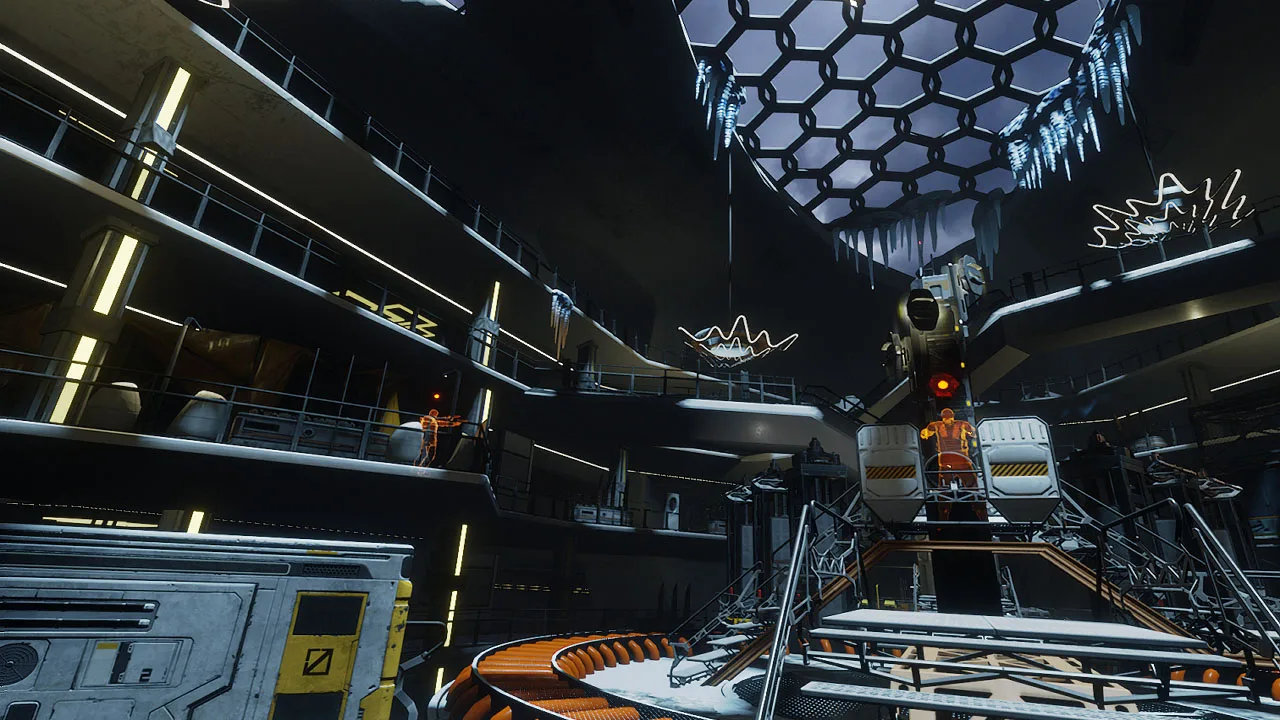 For some newer and visually demanding games, the Pro's extra resolution brings a much crisper image and the screendoor effect nearly disappears, while even small text becomes much clearer and easy to read. This improvement for text can allow for better menus with future games. The Pro's colors even seem to be a bit more vibrant, but perhaps this effect together with an improved visual "sweet spot" may just come from its higher native resolution.
The "Best" HMD
There is no such thing as the "best" HMD unless you are just talking about specs, in which case, the Vive Pro wins by virtue of its higher resolution. VR is more "alive" and immersive using the Vive Pro over the Oculus Rift or original Vive for this reviewer. However, that increase in resolution and the overall improvement over the Rift or the original Vive comes at a steep cost – $799. For enterprise, it is a no-brainer to buy the Vive Pro, but for VR gamers on a budget it is a lot of money.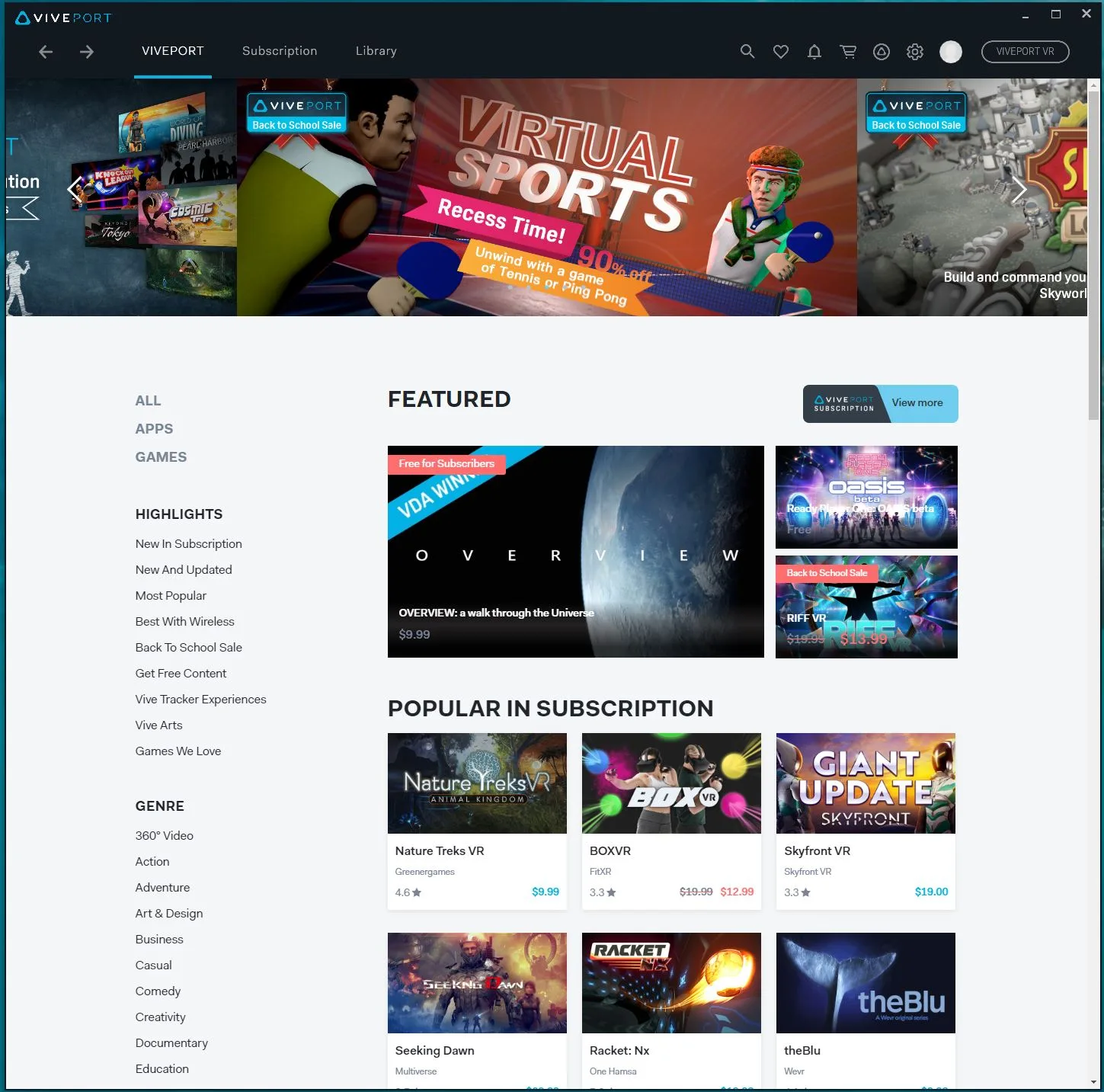 The Vive and Vive Pro both use two storefronts – SteamVR and Viveport while the Oculus Rift has their own Oculus Store although many SteamVR games will work with it – and there are many workarounds using Revive, just as the Vive may be able to play Oculus-only games.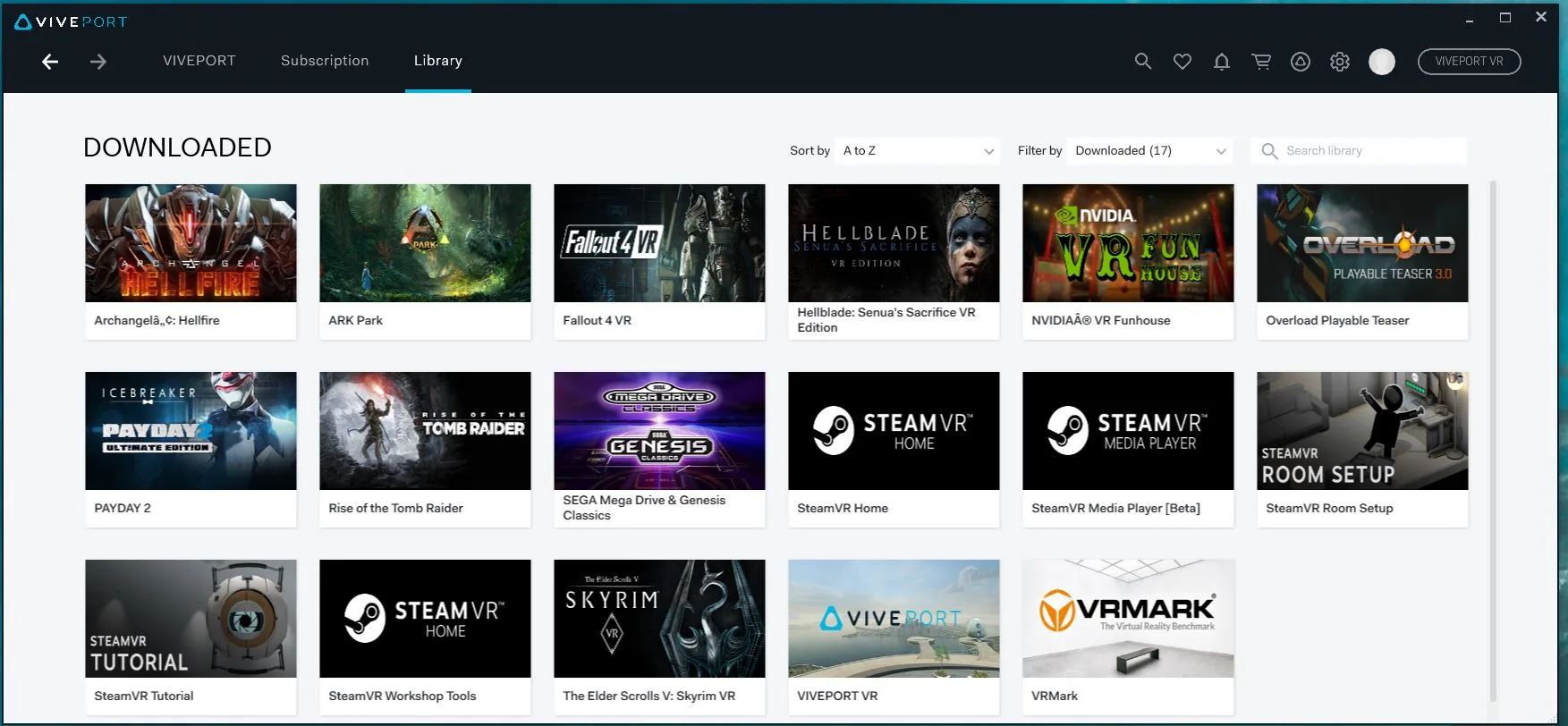 SteamVR games use the lighthouse tracking system designed by Valve but Steam also provides support for many Rift games, and it is often the platform of choice for VR gamers who may change their platforms or wish to upgrade HMDs for possibly better future compatibility.
Through the Lens Comparison
We used our camera which can focus 1mm from a HMD lens to compare similar scenes from Skyrim VR as it is available from SteamVR for both the Oculus Rift and for the Vive Pro.
However, taking images with this camera through the Pro's lens proved to be more challenging than with the Rift since it tended to focus on the lens itself (below):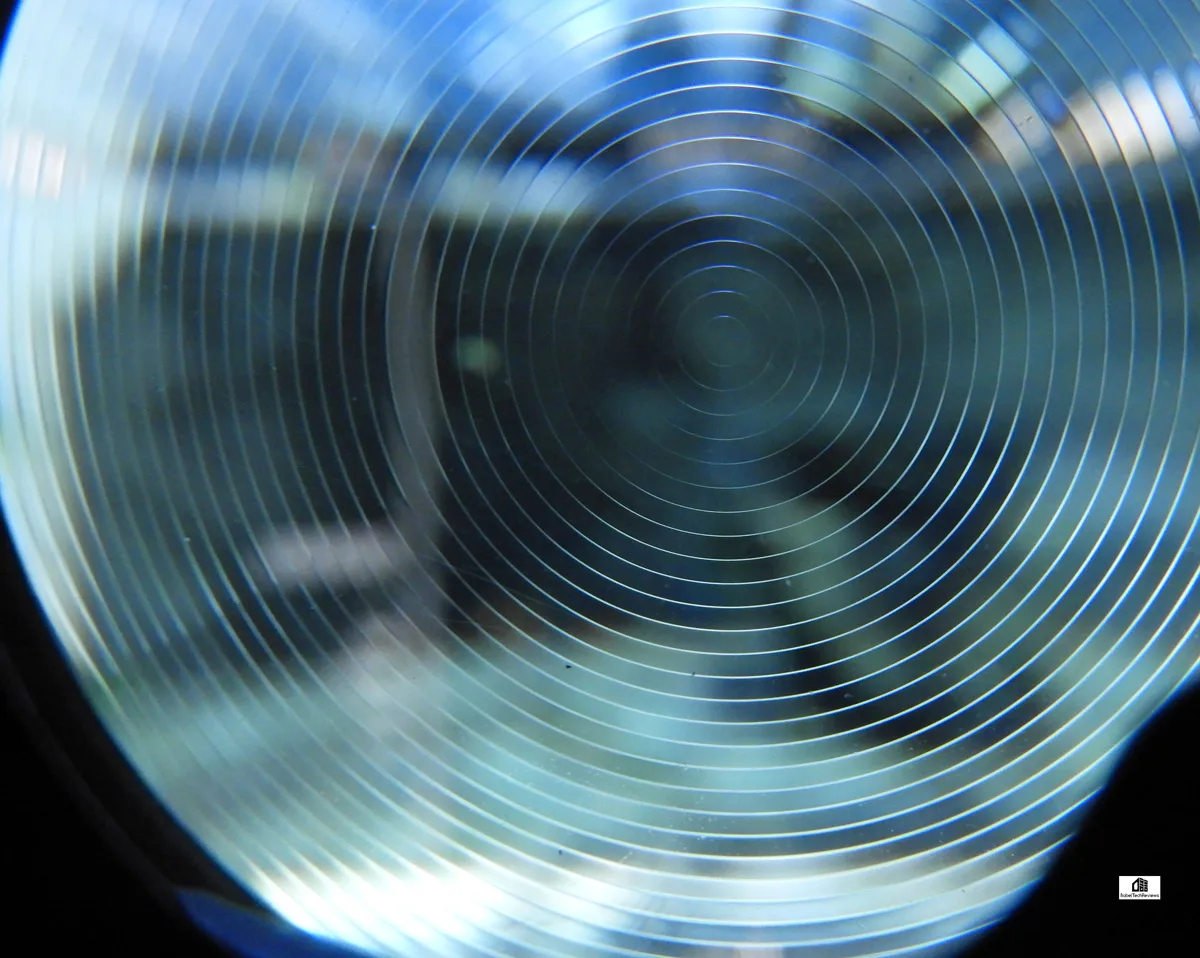 Here is one image of a menu from Skyrim through the lens of the Vive Pro. Bear in mind that our camera cannot capture a perfect image because of the shape of the lenses and there will be distortion that the human eye does not notice inside the HMD.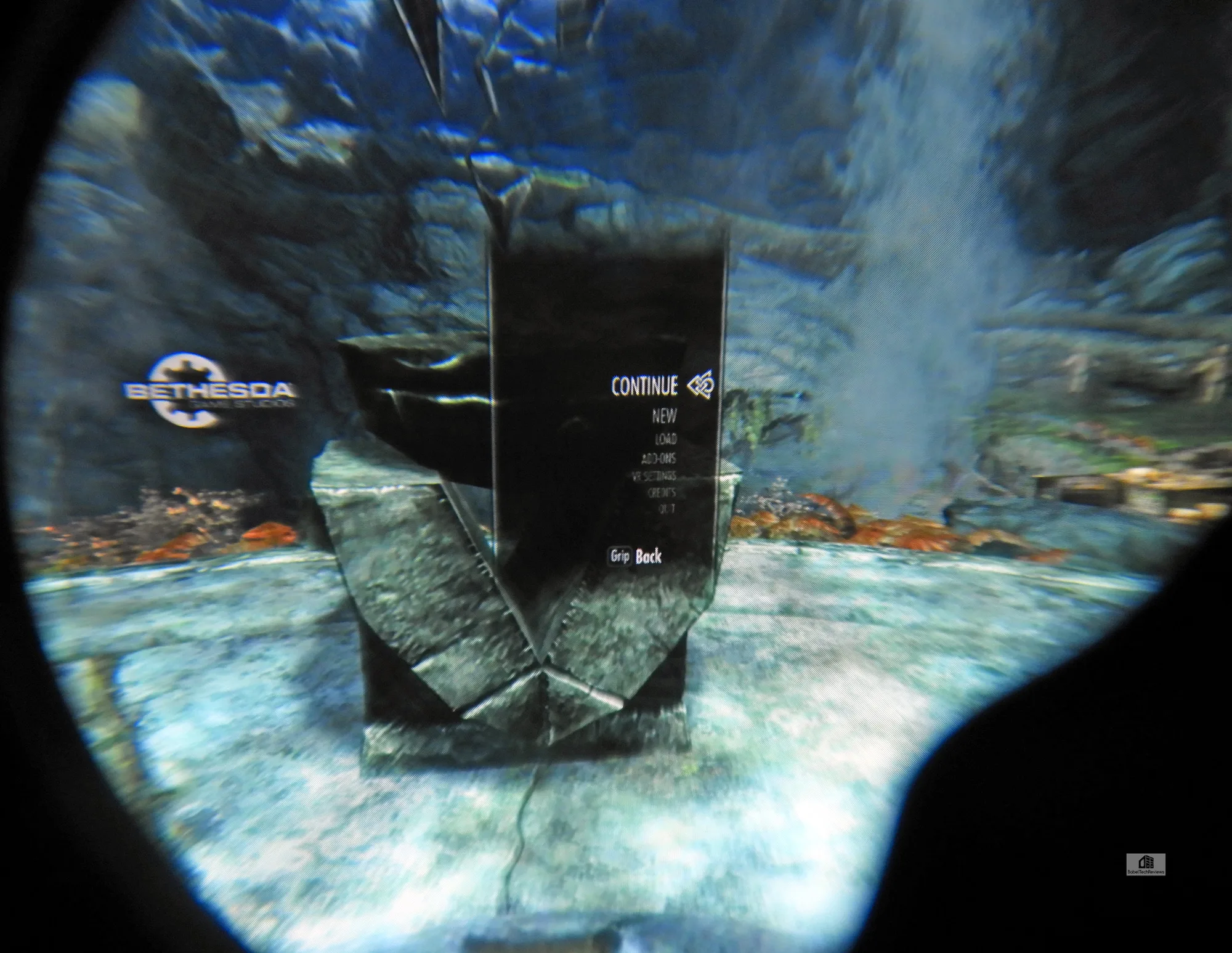 Here is another Skyrim menu captured through the Vive Pro's lens: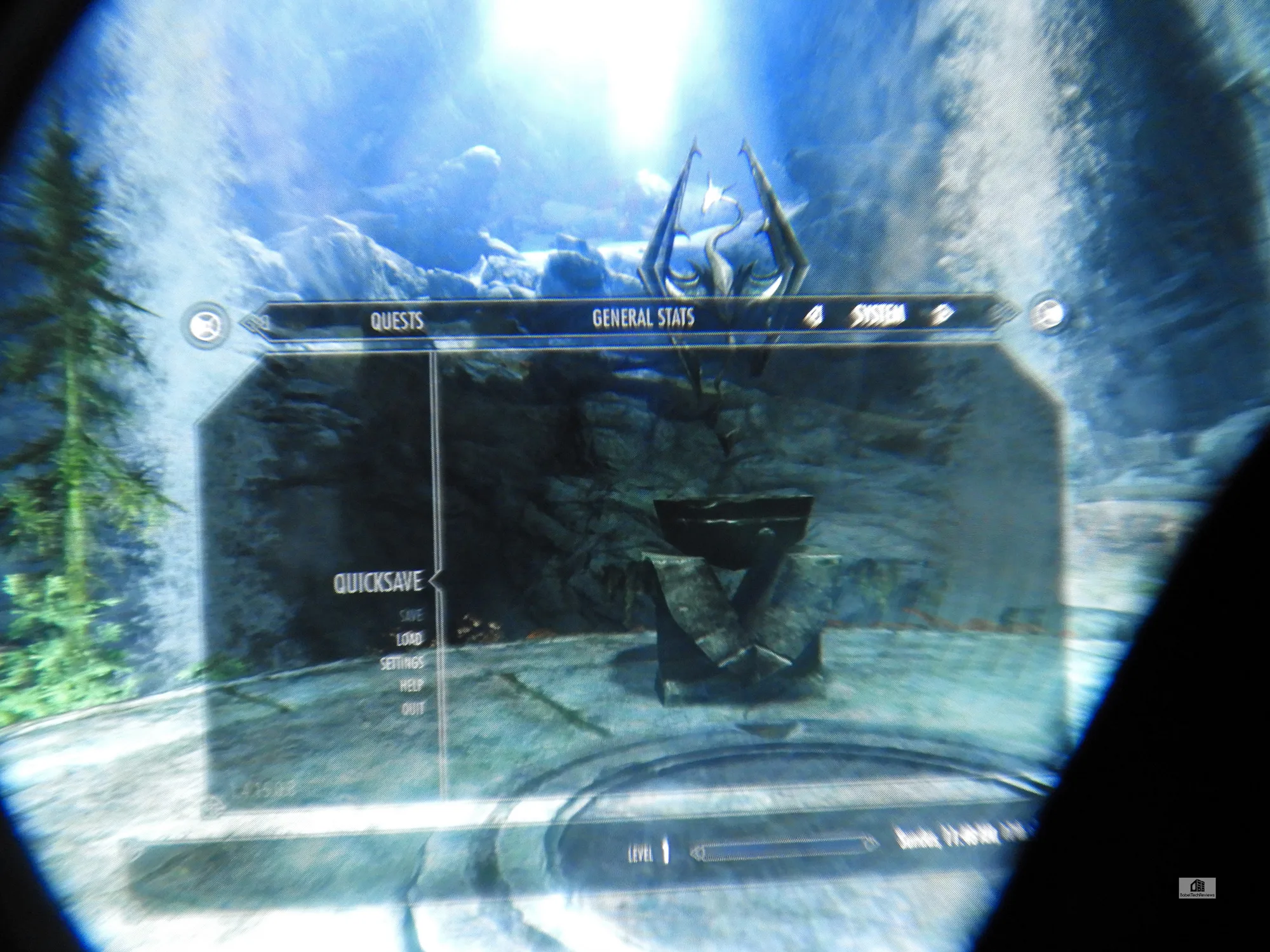 Here is an Oculus Rift menu captured through its lens.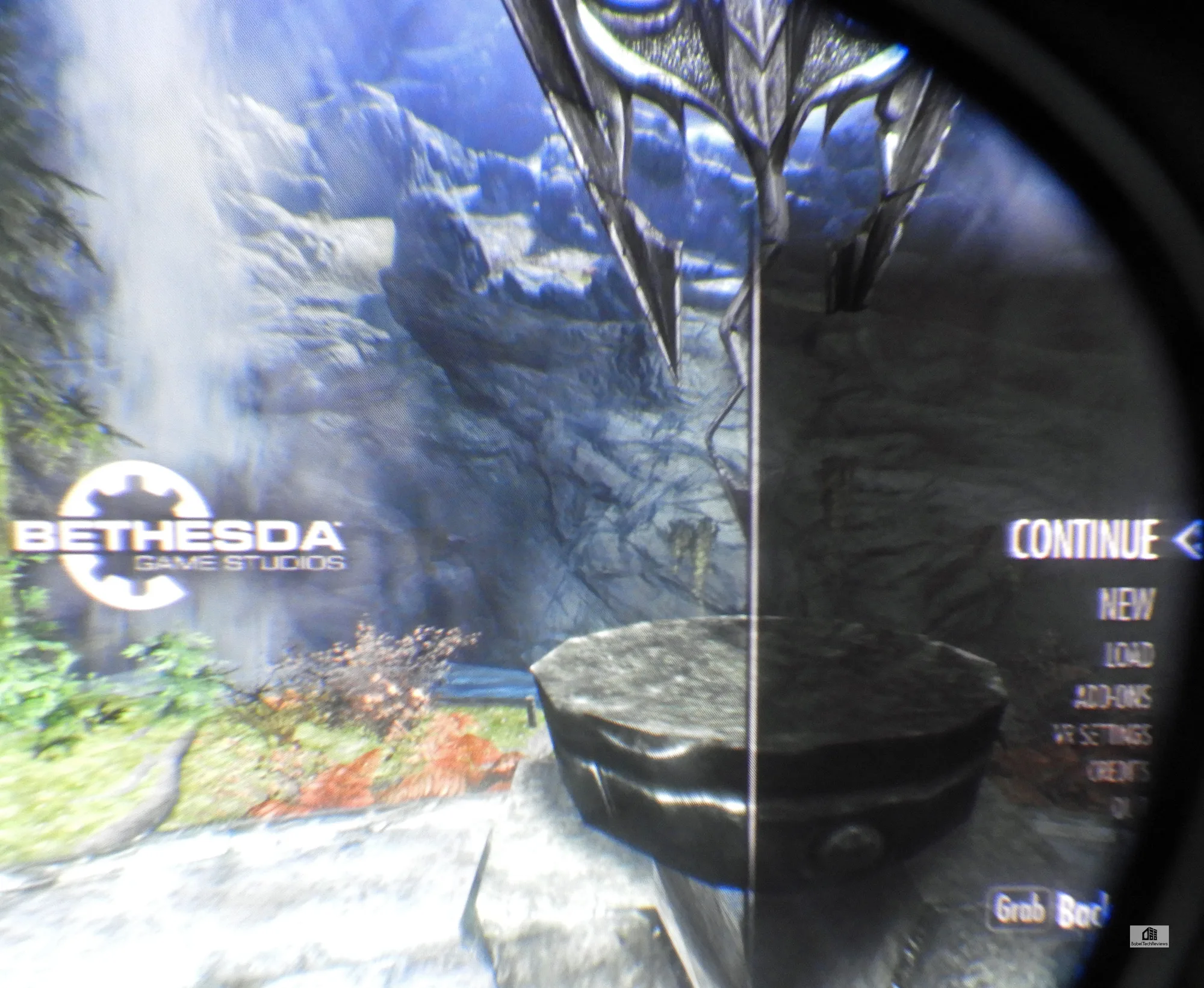 Here is another of the Rift. They are not ideal comparisons.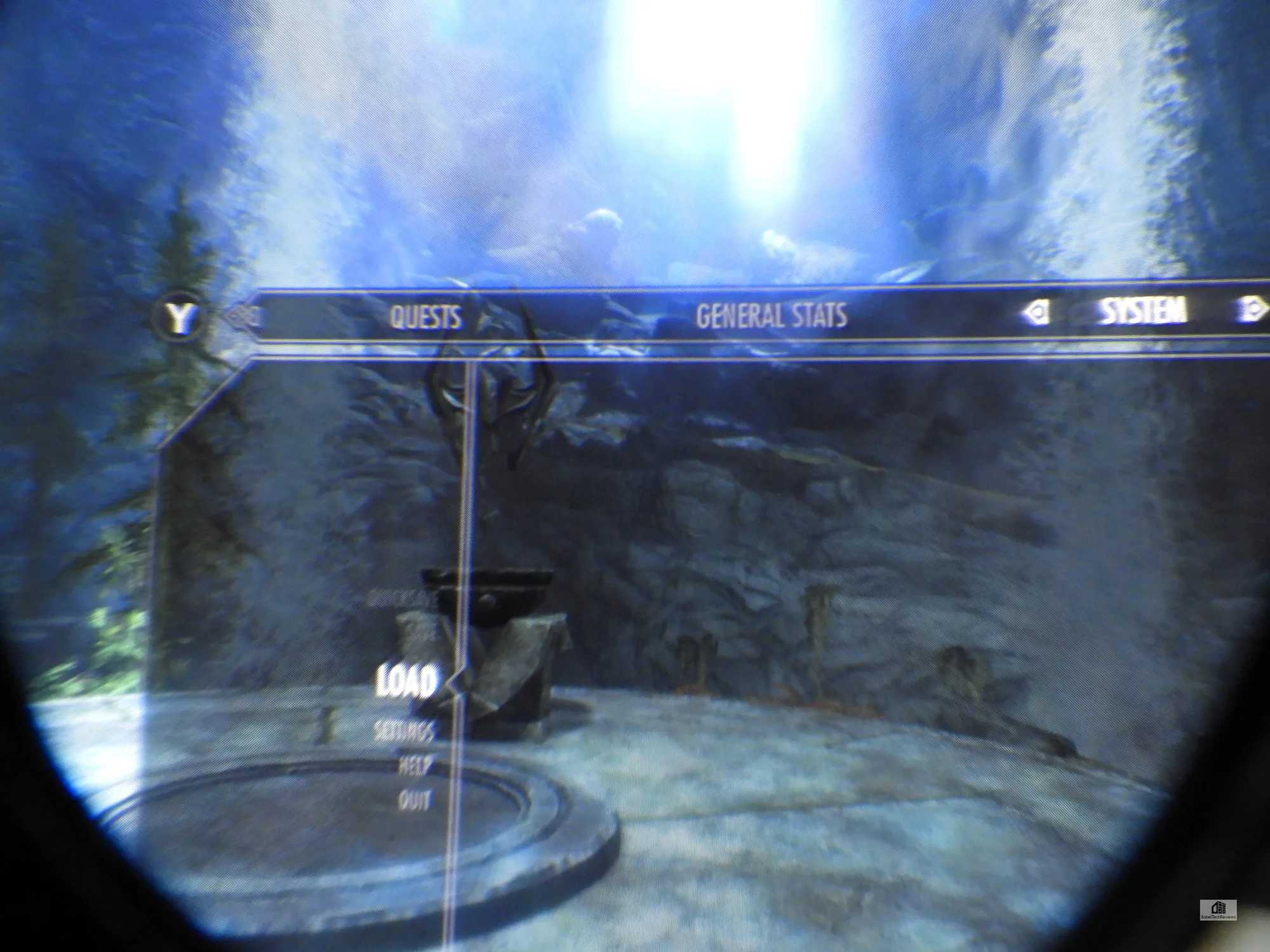 Even from some camera images imperfectly captured, the resolution is noticeably higher on the Vive Pro than either on the Oculus Rift or the original Vive. Text is clearer and there is a greater feel of immersion when actually wearing the Pro HMD compared with the Rift HMD. Let's head to our preliminary conclusion on the next page.
Preliminary Conclusion
It is impossible for us to form a final conclusion at this early stage in our Vive Pro series. We are comparing the Oculus Rift, a $399 complete consumer VR platform, to the Vive Pro which costs $799 just for the HMD. For many casual VR gamers, the Vive Pro costs too much to justify upgrading.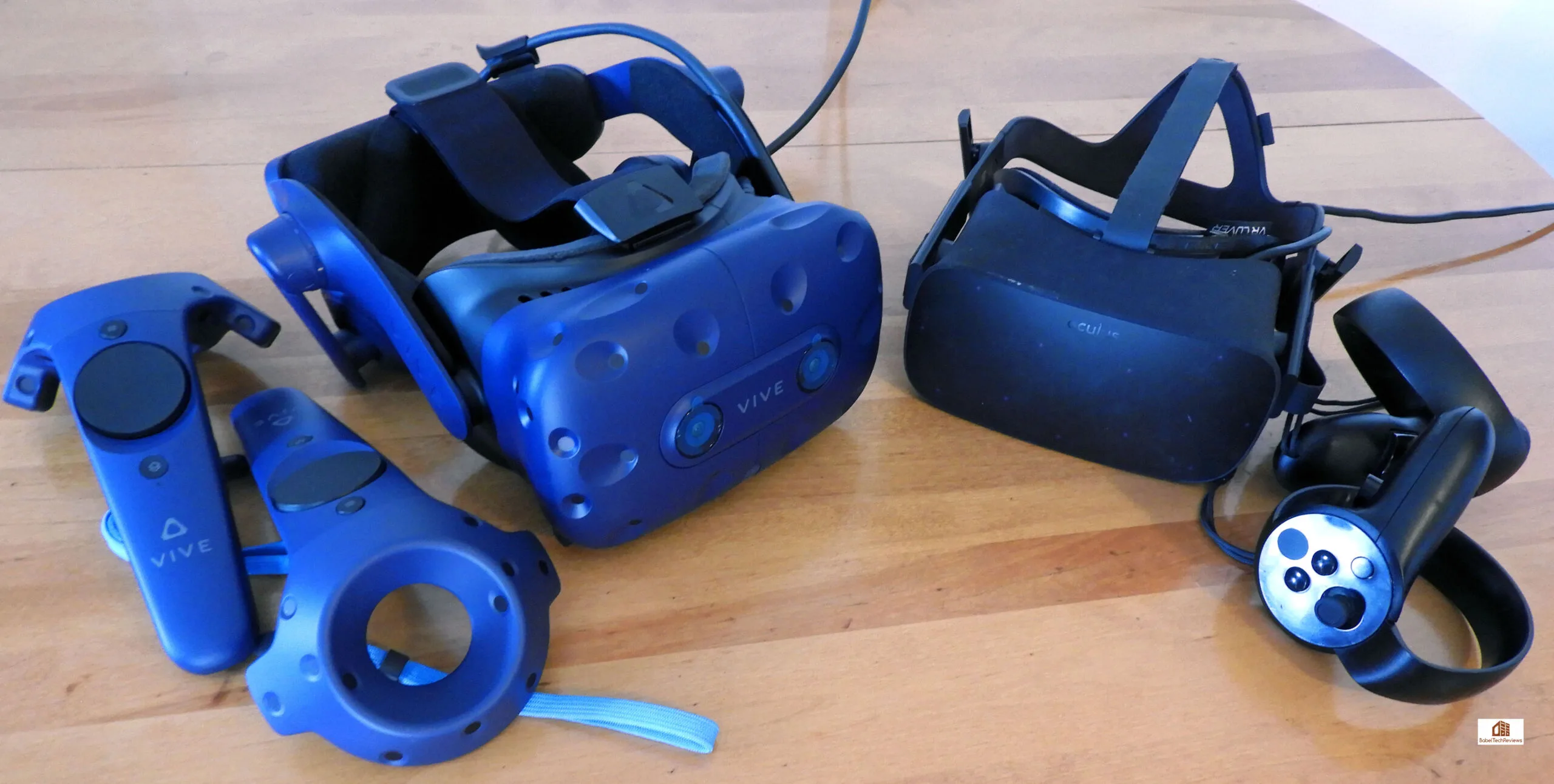 Certainly enthusiasts who are dedicated hardware hobbyists who "must have the latest" and who already own a TITAN V or a pair of TITAN Xps, may well find the Vive Pro to be an irresistible and perhaps even a trivial upgrade. And those enthusiasts who pursue flight or auto racing sim perfection will jump on the upgraded Pro simply because of its higher visual fidelity.
It is important to note the word "Pro" in its name. The Vive Pro is designed by HTC to be used in an enterprise setting – something that the Rift and the original Vive are not well-suited for. A lower than Pro resolution makes it much more difficult to read text and to see fine detail without using a lot of SuperSampling.
Healthcare, driving, machinery operation, flight training, arcades, education, and automotive all require the Pro's higher resolution that the original Vive or the Oculus Rift cannot provide. In addition, the Vive Pro gives exceptional and precise tracking over a large area which works well for arcades and for other enterprise applications. VR for enterprise is already a 2+ billion dollar industry that needs upgraded HMDs.
The Pro also comes with an optional 2-year professional service available for customers who require 24/7 live chat support and assistance with software updates behind a firewall. And to sweeten the Vive Pro deal, 5 games per month are available free from Viveport by signing up for a 6-month complementary subscription. This free subscription may not include the latest VR games, but it saves substantial money over buying and trying VR games.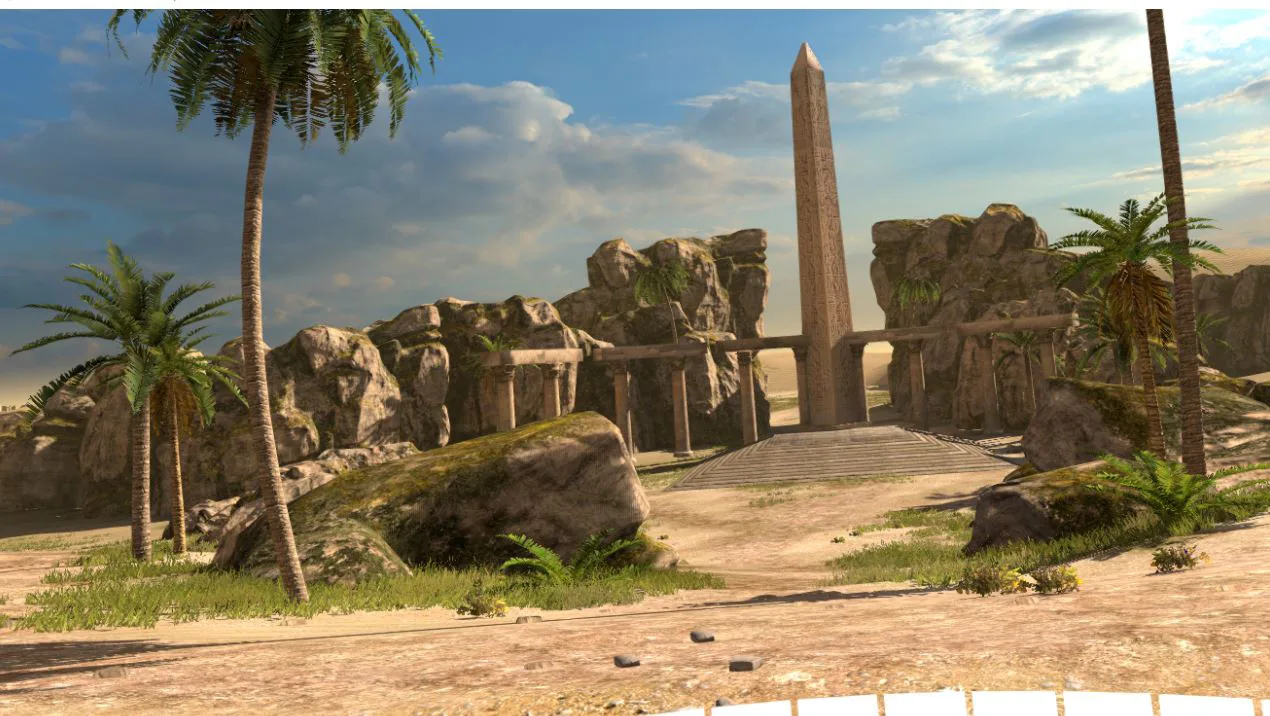 For BTR, we would love to buy a Vive Pro for continued benchmarking of the latest VR games, but $1399 is too much for us to afford, and we will have to make due with the Oculus Rift that we purchased on sale back in 2016. BTR runs minimal advertising and doesn't accept sponsored content, so our hardware budget is very small.
We want to extend our thanks to HTC Vive for loaning us a Vive Pro, and we loved testing and evaluating their wonderful hardware. We look forward to finishing our VR benchmarks and posting our Vive Pro performance results soon.
Next up, we are preparing for an important new hardware launch. A follow-up will include FCAT-VR benchmarks comparing the performance of the Vive Pro with the Oculus Rift by using the fastest consumer video cards in the world.
Happy VR Gaming!