Only the Best Will Thrive on the Theater, Home Screen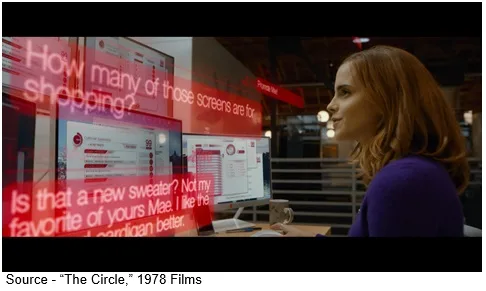 Everyone is doing their darndest to make sure that Covid stays in 2020.
Children are back in school (50 percent of the time) and the goal this fall will be full time … probably.
Susan, our avid theater-attending friend, hit her local movie house masked, safely distanced with saran wrapped, saltier than usual (and more expensive) popcorn and said she'll be trying to go back again when able.
In the interim, she'll be moviestaying, not moviegoing.
My wife is sorta interested in going to the movies again, but she wants to get through all of her new Netflix, Disney +, Prime TV, Apple TV + got to watch stuff first.
We're toying with the idea of adding Discovery's HBO max for a while this fall to catch Matrix 4 and Dune. After that, we'll see.
Of course, we've also got a lot of content from pre-2019 to catch up on at our free services – IMDb TV, Tubi.
We'd be slightly less irritated with their pathetic ads if the services and ad folks would pay closer attention to all our personal information and create/offer stuff we're even mildly interested in.
But right after that, we're ready to hit the theaters because they were crushed during Covid.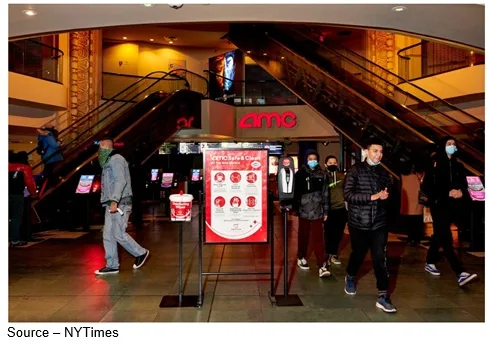 All they need are the crème de la crème of film projects and people will return to movie houses around the globe as they did in China, currently the #1 cinema market in the world.
IMAX CEO Adam Aron noted that attendance in China has recovered to near pre-pandemic levels with locally produced films – Detective Chinatown 3 and Hi, Mom – while American productions haven't fared as well.
Ticket sales had been dropping steadily in the US/Canada and the EU over the past few years while they have grown steadily in China and India.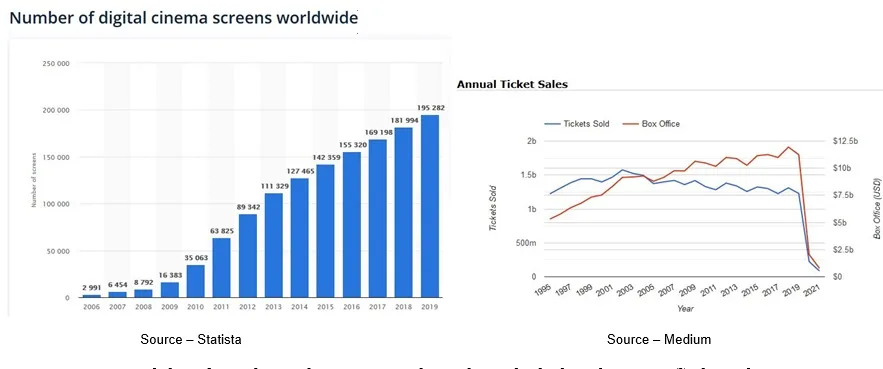 Despite the fact that movie theater attendance has been decreasing for the past 10 years, the new screens have increased. At the same time, there's no indication that the industry will slow the opening of more theaters but there are faint indications that folks are returning to the movie houses on a regular basis in large numbers.
IMAX's Aron, who recently gained a salary increase to $21M, is optimistic that based on the demand rebound in China, the accelerated pace of vaccinations in the Americas and EU as well as the backlog of major Hollywood projects, theater attendance will get stronger and sustainable.
Disney's chief executive Bob Chapek said that the company will release movies in a new way with some going to theaters on an exclusive basis, others on a day/date simultaneous release on Disney + and some exclusively on Disney +.
"Both executives are right," said Allan McLennan, CEP/Media, CEP/Media, Head of M&E North America, Atos,"We will see an increase of people going out for dinner and a show over the next six months to try to return to "normal" as they need to get out.
"Will that be sustainable?" he asked. "We don't envision that happening because many of viewers will want to return to the luxury of watching premiers and first run titles at home for convenience. Their new behavior is what we'll be evaluating.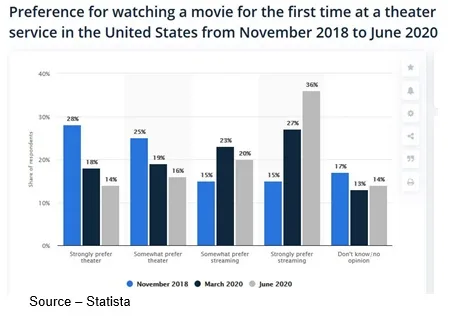 "This past year, many households upgraded their home theaters with new, larger screens; enhanced surround sound systems; reduced or eliminated their cable bundles; added four or five SVOD and AVOD services and like the convenience of being able to select a great film and watch it when they want," McLennan added.
Studios took a hit early last year along with theaters around the globe and they were left with expensive completed and nearly completed films. But they had options – sell the rights to one of the streaming services or become one.
Disney quickly signed up more than 137M subscribers worldwide with a robust library of new and existing films and shows from its roster of companies including Marvel, Pixar, Lucasfilms, ABC, 20th Century, Searchlight, India's Hotstar and other international properties.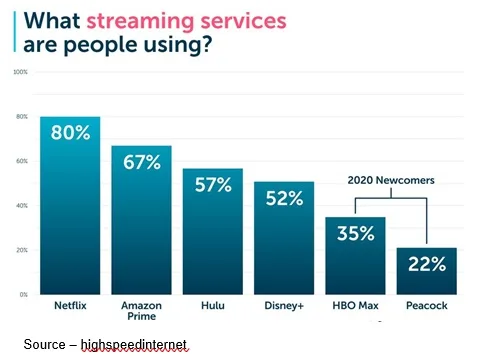 The company followed the DTC success of Netflix – more than 204M subscribers in 190 countries, Amazon Prime – 200M plus global subscribers, and Hulu (Disney owned) – 40+M subscribers.
While the four firms have the highest number of subscribers, there is still plenty of opportunity for other streaming services including Discovery/HBO Max, Peacock, Paramount + and Apple TV +.
To accelerate itself into a major global position, Chapek said the firm was planning on investing $8-$9B through 2024 in their streaming video service.
At the same time, Disney won't ignore theaters because they earned $11B in 2019 and certainly are not willing to relinquish their theatrical position.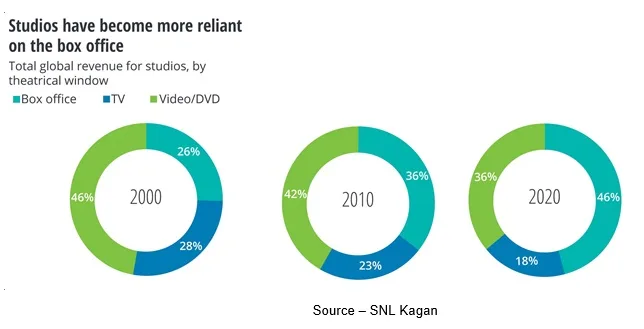 The industry had $42B in box office sales in 2019 and while studios reap more per viewer from streaming (typically 80 percent on PVOD) than with theatrical (50 percent at best) it is doubtful that the industry could ever see a $1B film solely with the project going straight to streaming.
While the 90-day window is now part of the industry's history and won't return, studios and distributors will have to determine theatrical exclusivity opportunities that are best for all parties … including the consumer.
IMAX's Aaron and his theatrical cohorts have to recognize that there are people who simply "have to/really want to" see a film in a theater – and see it as soon as possible to be first.
By the same token, there are people who haven't been inside a movie house for years – and years.
Whether it's a 17-day window or day/date release to their service, they don't care…they simply want to see the film on their screen when they hit the remote button and sit back to enjoy their flick.
Or… they'd simply wait until one of their TV networks ran the blockbuster in a few years.
It would still be new to them!
Theatrical release first is still a good thing.
Showing/seeing the project in a theater with 50 or 200+ people is important to the production team and it's a way to optimize the return on investment for the entire ecosystem.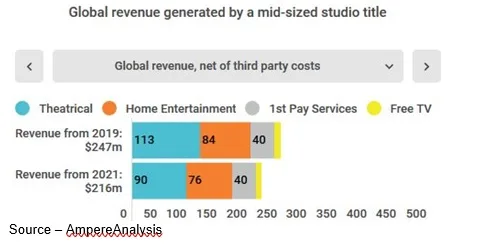 At the same time, consumer behavior and preferences are shifting, and studios need to be at the leading edge of those changes. That will enable them to invest in future films that will ultimately support the entire marketplace – producers, directors, cinematographers, film crew, production/post staff and yes … theater owners.
As Disney's Chapek said, "We certainly don't want to do anything to cut the legs off a theatrical exhibition run but the old approach — where a movie could be out of theaters and still not available for home viewing — isn't viable anymore."
McLennan noted that the US, the world's most mature OTT market and home to the world's leading SVOD services, will see revenues more than double in the coming years despite its maturity.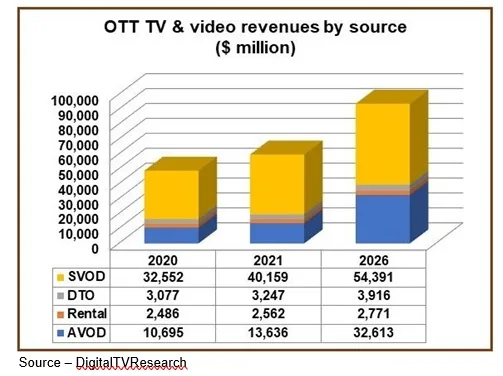 "While new offering's like Discovery/HBO Max, Peacock and Paramount + are starting to establish themselves in the market with a dizzying array of pricing options, including ad-supported, VOD is on track to grow from $42B last year to double in 2026 to more than $88B," said McLennan.
What we find interesting, intriguing and yes, boring is that many of the new SVOD entrants are pulling everything (films/series) out of their dark, musty libraries and hyping the vast amount of content they will be offering to consumers for their viewing enjoyment.
We enjoyed Mr. T in The A-Team back in the early 80s, Jack Lord in Hawaii 50 in the 60s, Richard Anderson in MacGyver back in the mid-80s.
And who can forget the hundreds (O.K., maybe 20 or 30) of Godzilla movies as he got better looking and stronger with each new release and finally took on King Kong earlier this year.
Old stuff is … old!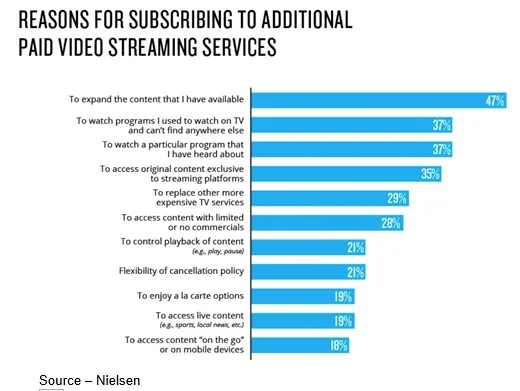 We've skimmed the line-up of films and series that are sitting in the wings waiting to be aired/shown from all of the major studios as well as international fare while attending (virtually) Sundance, TIFF, Cinequest, SXSW, Venice and Berlin; and we have to admit, there's literally a world of outstanding films we want to see.
While the rising tide of VOD demand may raise all boats, viewers will quickly step away from those that don't constantly refresh their offerings.
Perhaps for old times' sake or a real special occasion we might take our wife out for dinner and a show a few times a year.
Who knows, we may even invite Susan and her husband to show us what her favorite movie theater is providing. That is, if she's finally returned to her old habit of moviegoing.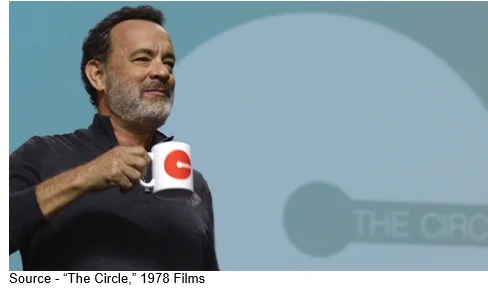 By then, we'll know this pandemic thing is well behind us and Aaron's AMC will have worked out all the kinks in getting people safely back in their seats to enjoy a breathtaking film, complete with dramatic sight/sound.
That's important because as Eamon Bailey said in The Circle, "Knowing is good, but knowing everything is better."
# # #
Andy Marken – andy@markencom.com – is an author of more than 700 articles on management, marketing, communications, industry trends in media & entertainment, consumer electronics, software and applications. An internationally recognized marketing/communications consultant with a broad range of technical and industry expertise especially in storage, storage management and film/video production fields; he has an extended range of relationships with business, industry trade press, online media and industry analysts/consultants.