Test Configuration, Overclocking & Noise
Test Configuration – Hardware
Intel Core i7-8700K (HyperThreading and Turbo boost is on to 4.8GHz for all cores; Coffee Lake DX11 CPU graphics).
EVGA Z370 FTW motherboard (Intel Z370 chipset, latest BIOS, PCIe 3.0/3.1 specification, CrossFire/SLI 8x+8x), supplied by EVGA
T-FORCE 16GB DDR4 (2x8GB, dual channel at 3866 MHz), supplied by Team Group
ASUS DUAL GTX 1660 SUPER EVO OC, on loan from ASUS
EVGA GTX 1660 XC Gaming 6GB, stock GTX 1660 Ti clocks, on loan from EVGA
EVGA GTX 1660 Ti Black 6GB, at factory clocks, on loan from EVGA
EVGA GTX 1060 SC 6GB, factory SC clocks, on loan from EVGA
Red Devil RX 590 8GB, at factory overclocked settings, on loan from PowerColor
2 x 480GB Team Group SSDs – one for AMD, and one for NVIDIA
1.92TB San Disk enterprise class SSD
2TB Micron 1100 enterprise class SSD
500GB Vulkan SSD, supplied by Team Group
Seasonic 850W Gold Focus power supply unit
EVGA CLC 280mm CPU water cooler, supplied by EVGA
EVGA Nu Audio PCIe soundcard, supplied by EVGA
Edifier R1320T Active speakers
EVGA DG-77, mid-tower case supplied by EVGA
LG 43″ HDR 4K TV
Monoprice Crystal Pro 4K
Test Configuration – Software
GeForce 436.48 drivers used for the GTX 1060 SC.  Game Ready 440.77 drivers are used for the GTX 1660 and the GTX 1660 Ti.  Press launch drivers 441.77 are used for the ASUS DUAL GTX 1660 SUPER EVO OC. See NVIDIA Control Panel image below.
AMD Adrenalin Software 19.10.2 is used for the Red Devil RX 590. See the AMD Control Panel image below.
VSync is forced off.
AA enabled as noted in games; all in-game settings are specified with 16xAF always applied
Gaming results show average frame rates in bold including minimum frame rates shown on the chart next to the averages in a smaller italics font where higher is better.  Games benched with OCAT show average framerates but the minimums are expressed by the 99th percentile frametime in ms where lower numbers are better.
Highest quality sound (stereo) used in all games.
Windows 10 64-bit Home edition. DX11 titles are run under DX11 render paths.  DX12 titles are generally run under the DX12 render path unless performance is lower than with DX11, and Borderlands 3, Total War Warhammer II and Hitman 2 are tested on DX11 and on DX12.  Four games use the Vulkan API.
Latest DirectX
All 46 games are patched to their latest versions at time of posting.
WattMan used to set Radeon cooling and power options.
Afterburner used for GeForce settings and primarily for overclocking the ASUS DUAL GTX 1660 SUPER EVO OC
ASUS GPU Tweak II
OCAT, latest version
Fraps, latest version
FrameView, latest beta
Unigine Heaven 4.0 benchmark
46 PC Game benchmark suite & 3 synthetic tests
Synthetic
Firestrike – Basic & Extreme
Time Spy DX12
Superposition
DX11 Games
Grand Theft Auto V
The Witcher 3
Fallout 4
Rainbow Six Siege
Overwatch
For Honor
Mass Effect: Andromeda
ARK: Survival Evolved
Project CARS 2
Total Wars: Warhammer II
Middle Earth: Shadow of War
Star Wars: Battlefront II
Monster Hunter: World

Kingdom Come: Deliverance
Final Fantasy XV
Far Cry 5
Conan Exiles
Assassin's Creed: Odyssey
Call of Duty: Black Ops 4
Hitman 2
Just Cause 4
Resident Evil 2
Anthem
FarCry New Dawn
Devil May Cry 5
Borderlands 3
Destiny 2 Shadowkeep
Ghost Recon Breakpoint
The Outer Worlds
DX12 Games
Civilization VI
Sniper Elite 4
Forza 7
Total War: Warhammer II
Total War: Vermintide 2
Shadow of the Tomb Raider
Hitman 2
Battlefield V
Metro Exodus
Tom Clancy's The Division 2
Anno 1800
F1 2019
Control
Gears 5
Borderlands 3
Call of Duty Modern Warfare
Vulkan Games
DOOM 
Strange Brigade
World War Z
Wolfenstein: Youngblood 
AMD Adrenalin Control Center Settings
All AMD settings are set so as to be apples-to-apples when compared to NVIDIA's control panel settings – all optimizations are off, Vsync is forced off, Texture filtering is set to High, and Tessellation uses application settings.
We use Wattman to set the RX 590's power, temperature, and fan settings to their maximums.
NVIDIA Control Panel settings
Here are the NVIDIA Control Panel settings that match AMD's settings.
We used the latest beta of Afterburner to set all GeForces' highest Power and Temperature targets and for our primary overclock of the ASUS DUAL GTX 1660 SUPER EVO OC.
By setting the Power Limits and Temperature limits to maximum for each card, they do not throttle, but they can each reach and maintain their individual maximum clocks more easily and it benefits the RX 590 as much as it does the GeForce cards.   There is almost no performance differences between using these and stock clocks although it gives more consistent benchmark results.
Let's check out overclocking, temperatures, and noise next.
Overclocking, temperatures & noise 
The ASUS DUAL GTX 1660 SUPER EVO OC is a low-power and quiet card even when overclocked.  We could not hear the card over the fans of our PC even when it ramps up, unlike with the Red Devil RX 590.  We will spend much more time manually overclocking and testing performance in our follow-up overclocking showdown versus the GTX 1660 Ti.
The ASUS Tweak II utility has three basic profiles – (1) Silent mode with a boost of 1800MHz; (2) Gaming mode with a boost of 1830MHz; and (3) OC Mode with a boost of 1860MHz.   In addition, the User1 mode allows for manual overclocking with a myriad of options including the built-in OC Scanner for automatic overclocks.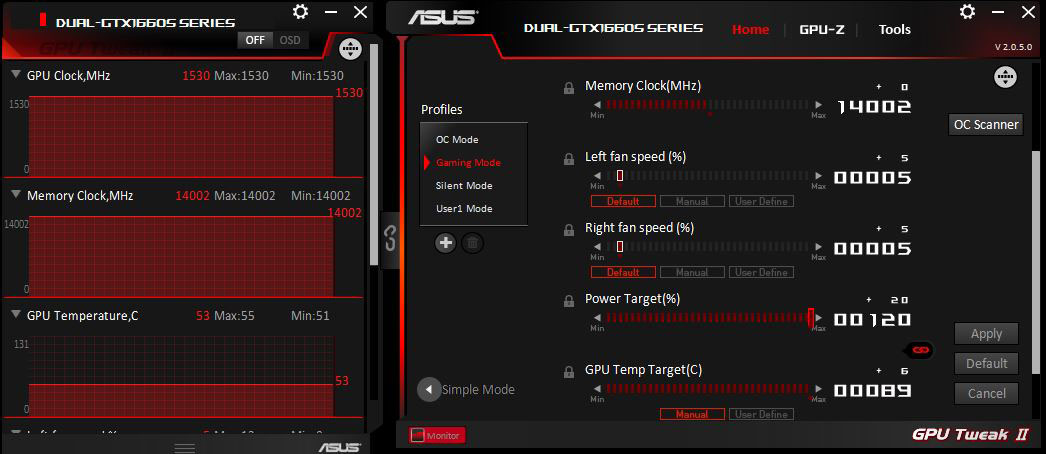 Here is Heaven 4.0 running at stock clocks which allowed the Boost to stay locked at 1935MHz which is well above NVIDIA's typical boost of 1785MHz for a reference clocked GTX 1660 SUPER.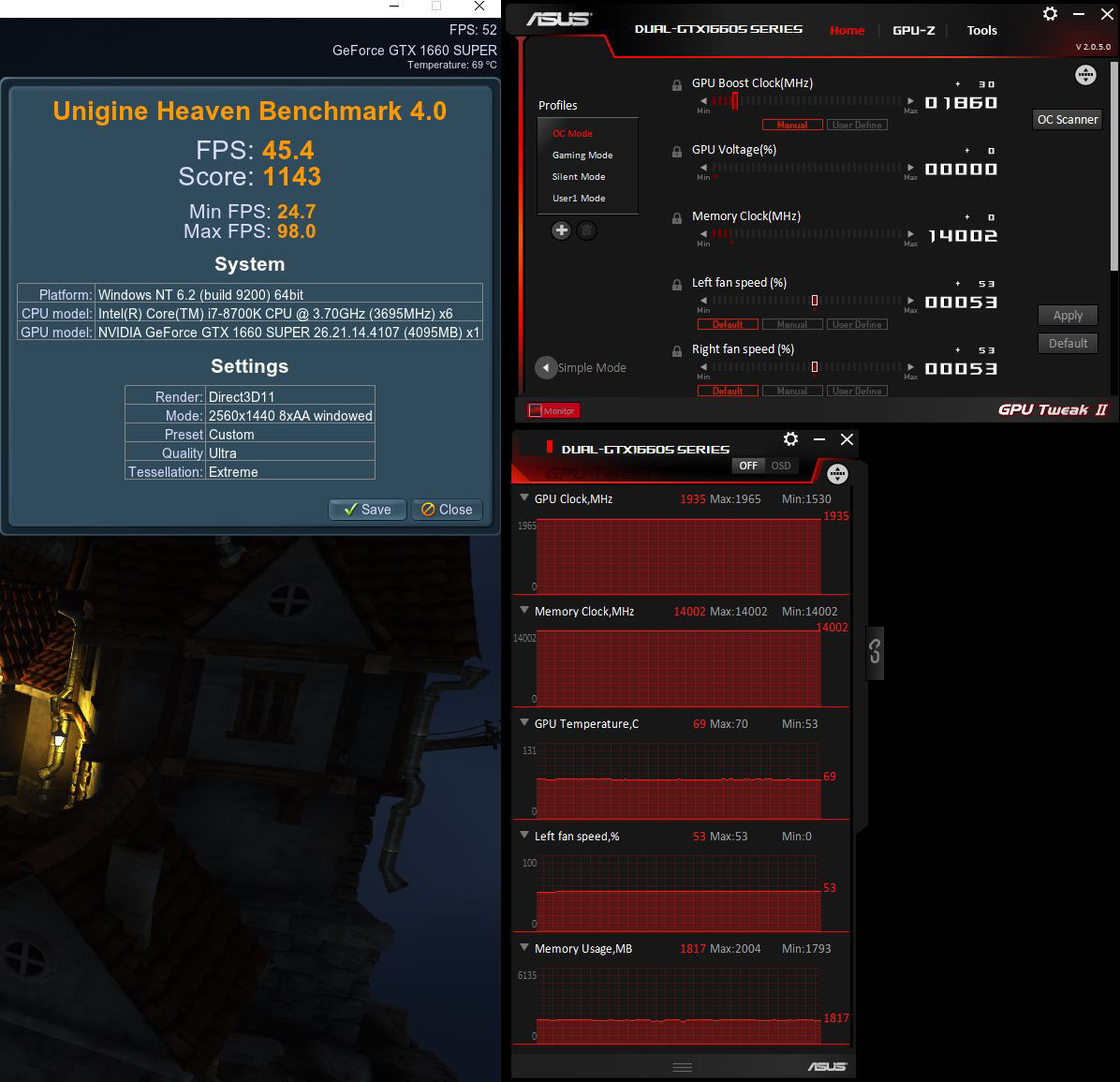 Since we have a lot more experience using Afterburner, we reached a final stable overclock of 2100MHz by adding +165MHz to the ASUS DUAL GTX 1660 SUPER EVO OC core's offset.  The vRAM is also highly overclockable as we were able to add +850MHz to the memory clocks to reach 7850MHz resulting in a nice performance boost.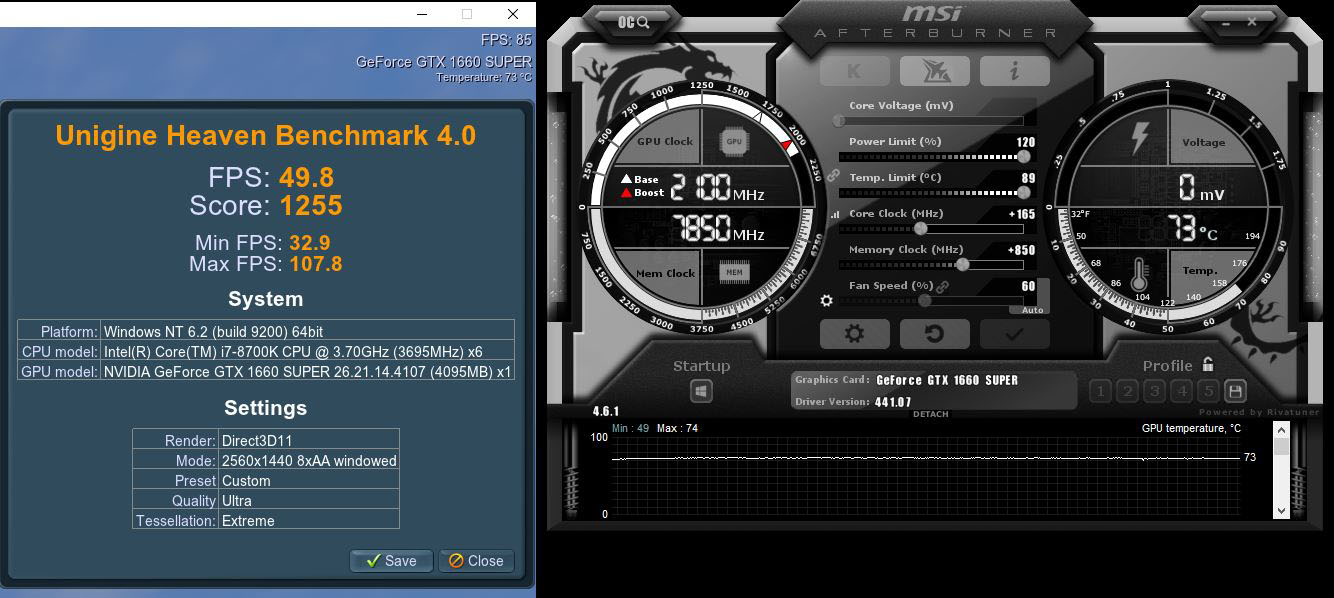 As you can see, the card stayed cool and below 73C even when overclocked to its maximum and the dual fans never became intrusive.
Let's check the ASUS DUAL GTX 1660 SUPER EVO OC's performance compared with four other cards using 46 games, and then head for our conclusion.