Benching Methodology
Benchmarking Methodology
Test Configuration – Hardware
Intel Core i9-9900K (Hyper-Threading/Turbo boost on; stock settings)
Gigabyte Z390 AORUS PRO motherboard (Intel Z390 chipset, v.F12l BIOS)
TeamGroup T-FORCE XTREEM ARGB WHITE PC4-28800 DDR4-3600MHz CL14 2x16GB kit
Kingston HyperX Predator PC4-26700 DDR4-3333MHz CL16 2x16GB kit
TeamGroup T-FORCE DARK Z FPS PC4-32000 DDR4-4000MHz CL16 2x8GB kit
Gigabyte AORUS GeForce RTX 3080 MASTER 10GB (rev. 1.0); v.F4 VBIOS, stock clocks
Samsung 500GB SSD 960 EVO NVMe M.2
WD Blue 1TB SATA SSD
Corsair RM750x, 750W 80PLUS Gold power supply unit
ASUS TUF Gaming VG289Q 28″ IPS UltraHD (3840×2160) 60Hz 5ms FreeSync Monitor (Fixed Refresh Rate On)
Test Configuration – Software
NVIDIA GeForce 466.77 drivers; 'High Quality' and 'prefer maximum performance' (on a per-game profile-basis); fixed refresh rate (globally).
Resizable BAR off.
V-Sync application controlled in the control panel, V-Sync off in-game.
AA and AF as noted in games; all in-game settings are specified.
Windows 10 64-bit Pro edition, latest updates v21H1, High-performance power plan, HAGS off, Game Mode, Game DVR & Game Bar features off.
Gigabyte and ASUS tools not installed.
Latest DirectX
All 5 games are patched to their latest versions at the time of publication.
AIDA64 Extreme, the latest version
CapFrameX (CX), the latest version
CPU-Z, the latest version
ISLC (Purge Standby List) before each benchmark.
OCCT, the latest version
RivaTuner Statistics Server (RTSS), the latest version
SiSoftware Sandra Tech Support (Engineer) 2021, the latest version
Thaiphoon Burner, the latest version
UL 3DMark's benchmark suite, the latest version
GeForce Driver Suite-related
Standard Game Ready drivers are used.
The display driver is installed.
The latest version of PhysX is installed.
Synthetic & Hybrid Tests-related
Game Benchmarks-related
We use the corresponding built-in or custom benchmark sequence.
Frametimes Capture & Analysis tool-related
CapFrameX is used for capturing and analyzing the relevant performance numbers obtained from each recorded built-in or custom game benchmark sequence.
Consecutive runs until detecting 3 valid runs (no outliers) that can be aggregated by CapFrameX using the following method:

'Aggregate excluding outliers':

Outlier metric: Third, P0.2 (0.2% FPS percentile).
Outlier percentage: 3% (the % the FPS of an entry can differ from the median of all entries before counting as an outlier).

We compare and value the results and aggregated records in terms of percentages of gain/loss, by setting the following thresholds to consider a certain % value as significant (not within the margin of error) for our benchmarking purposes:

Metric/Score > 3% when valuing synthetic and hybrid benchmarks;
FPS Avg > 3% when valuing raw performance in games.
Benchmark Suite: 5 PC Games, 8 Synthetic & 3 Hybrid Memory-Related Tests
Synthetic Tests
AIDA64 Memory benchmarks:
Sandra 2021 Memory benchmarks:

Overall Score
Memory Bandwidth
Memory Latency
Transaction Throughput
Hybrid Tests
Cinebench R23:
3DMark Fire Strike:

Physics Score
Combined Score
DX11 Games
Far Cry New Dawn (DX11)
PLAYERUNKNOWN'S BATTLEGROUNDS (PUBG) DX11
DX12 Games
Call Of Duty Warzone (DX12)
Metro Exodus (DX12)
Watch Dogs Legion (DX12)
NVIDIA Control Panel settings
Here are the global NVIDIA Control Panel settings: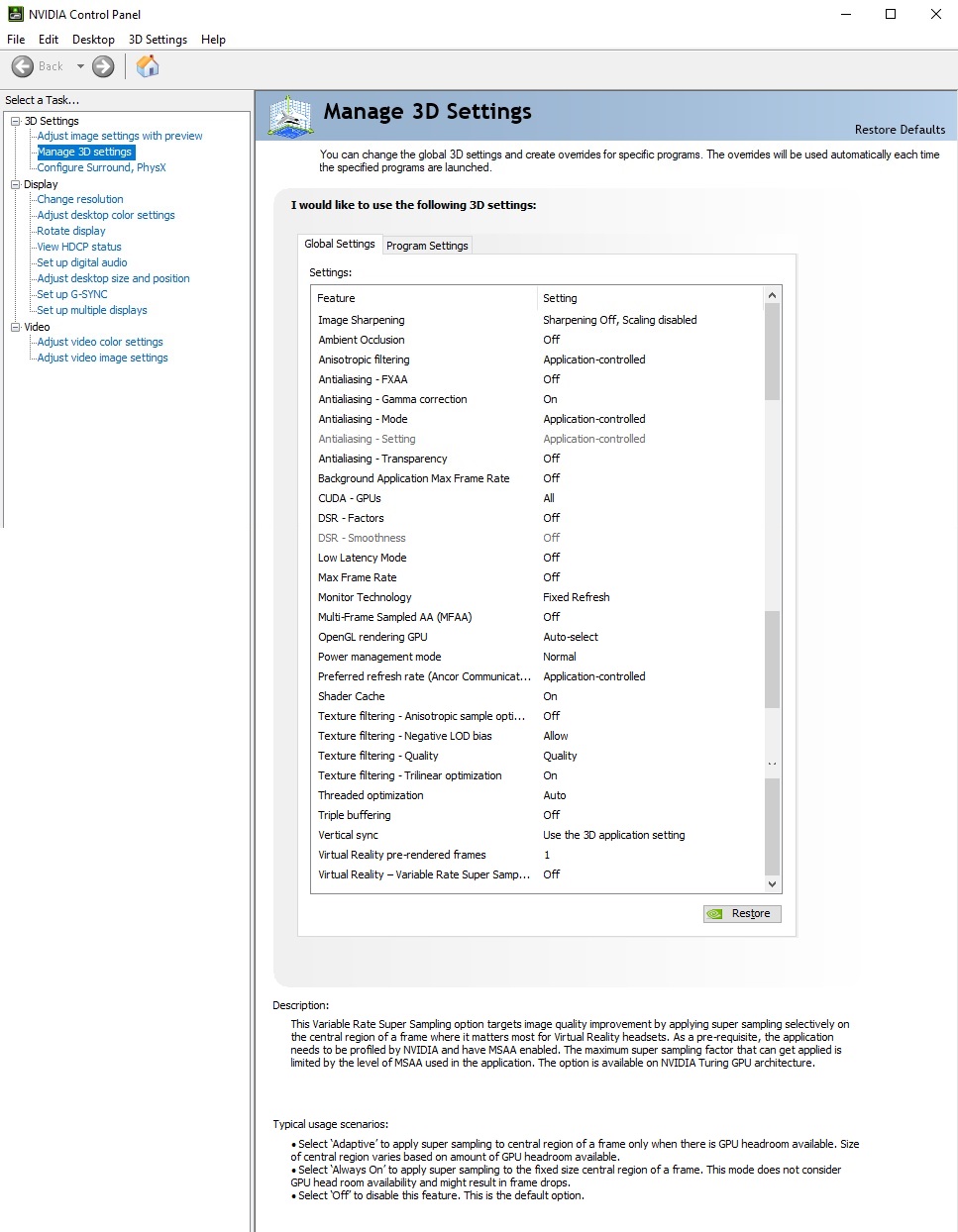 Both 'High-Quality' values for texture filtering-quality setting and 'Prefer maximum performance' for power management mode are set on a per-game or program profile-basis via Manage 3D Settings > Program settings tab.
Let's head to our overclocking and benchmarking results.