Raze Hell With The Ultimate Play: DOOM Eternal GeForce RTX 3080 Ti Limited Edition Demon Slayer Bundle Available Now
Our friends at NVIDIA have announced a way to get a RTX 3080 Ti at close to MSRP for 300 lucky gamers. The dual pandemics of COVID-19 and Cryptocurrency have pushed prices of most video cards to ridiculous heights and this is a chance to get a great bundle! Prices will probably return to normal by Autumn, but who wants to wait? Here is the press release: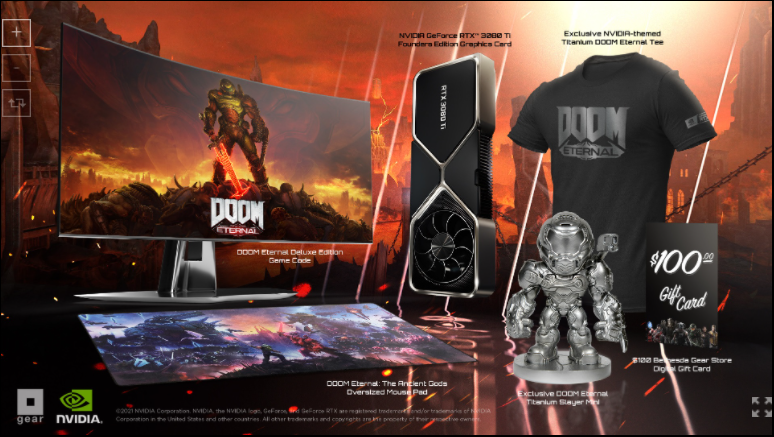 DOOM Eternal gets even better on June 29th, when the PC edition receives an upgrade that adds ray-traced reflections and NVIDIA DLSS to the much-loved first-person shooter.
To celebrate, NVIDIA partnered with our good friends at Bethesda Softworks and id Software to create a very special, limited edition DOOM Eternal bundle. Available to only 300 gamers, the Doom Eternal Demon Slayer Bundle contains a GeForce RTX 3080 Ti Founders Edition graphics card, and exclusive DOOM Eternal physical items, including:
A copy of Doom Eternal
NVIDIA's flagship gaming GPU, the GeForce RTX 3080 Ti
An exclusive Titanium Slayer Collectible mini-figure, matching the aesthetics of the GeForce RTX 3080 Ti
An exclusive Titanium DOOM Eternal-GeForce RTX t-shirt
An exclusive DOOM Eternal: The Ancient Gods oversized 15.75 inch x 35.44 inch mouse pad, featuring key art from part 2 of the campaign expansion
$100 of Bethesda Store credit (North America only)
How do DOOM fans get their hands on this bundle of awesome, exclusive items?
300 lucky gamers, whose names will be selected at random, will have the opportunity to purchase this killer deal. The bundle is only available to residents of the United States and Canada for $1450 via the North American Bethesda Store and to residents of the European Union for €1399 via the European Bethesda Store.
Related Links:
###
Good Luck and Happy Gaming!